Metsovo Greece is a little settlement that sits high in the Pindus Mountains of Northern Greece. Not much is known about Metsovo internationally.
However, this is a popular winter getaway destination for Greeks. The village is characterised by its quaint stone houses and signature red roofs. 
About Metsovo
The culture of Metsovo is somewhat different from that of most Greek villages. This is because Metsovo is a Vlach settlement.
Vlachs are an ethnic minority group who reside in mountainous parts of Greece and the wider Balkans. Their precise origins are not known. Metsovo residents speak the local dialect of Vlach/Aromanian, in addition to modern Greek.
Falling in Love with Metsovo
Metsovo sounds like a rugged, off the beaten path destination. However, upon arrival, you will find that it is quite a tourist village.
Visitors here are predominantly Greek domestic tourists. They come into Metsovo for the day on the bus from Ioannina.
The main streets of Metsovo are filled with traditional tavernas and souvenir stores that sell local delicatessen products. Cured meats and smoked cheeses are Metsovo specialties.
So too, are wooden handicrafts. All things considered, this touristic element does not detract from the charm of the village. 
During the 17th and 18th centuries, Metsovo was an important town for wool production. This was traded in nearby Ioannina, across the Balkans, and even as far as Africa! Today, a lot of locals still work within agricultural roles.
Things to do in Metsovo
A trip to Metsovo is more about enjoying the natural scenery around you, taking in the crisp mountain air, and enjoying a more laid-back pace of life. Two days here is plenty.
If you are short on time, you can take the bus from Ioannina to Metsovo in the morning and return in the evening. Suggestions of the best things to do in Metsovo are detailed below. 
Shop for Local Produce and Handicrafts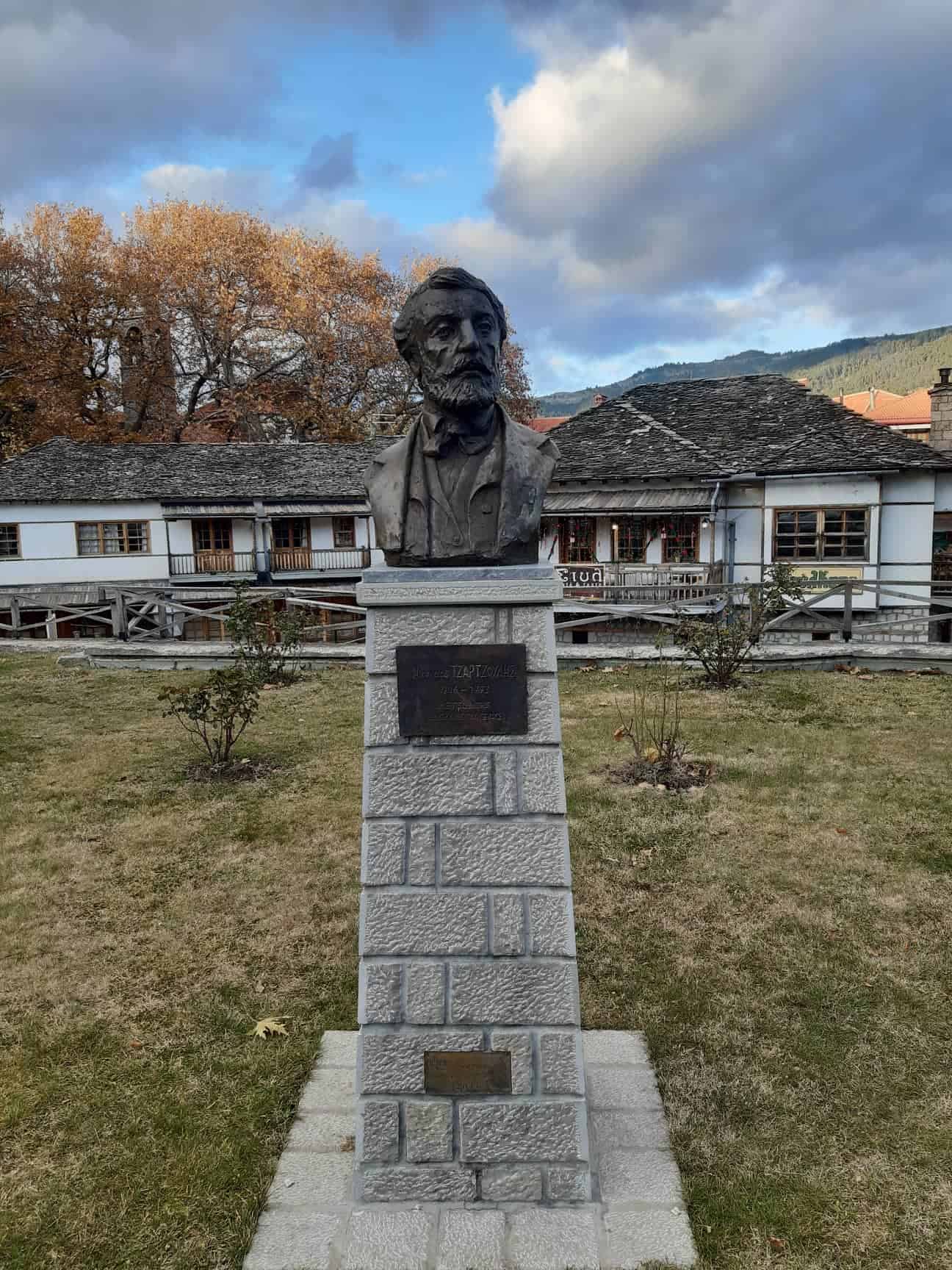 Metsovo Greece is renowned for its namesake Metsovone cheese. This is a smoked, semi-hard cheese that is made by combining sheep and cow milk.
You will find an abundance of this at the local delicatessens and gift shops. It is commonly hung outside of storefronts in phallic-shaped packaging.

Other regional cheeses exist. They make nice edible souvenirs from your time in Greece.
In particular, look out for the semi-hard metsovella cheese, and the Metsovo graviera cheese made from ewe's milk. If you don't really consider yourself a connoisseur of cheese, Metsovo has plenty of other foodie treats to enjoy.
Homemade jams, preserved fruits, and dry local wine are sold in abundance here. Store owners will carefully wrap everything for you so that you can easily transport it back home. 
Discover Eerie Abandoned Monasteries
Two interesting abandoned monasteries sit just outside the centre of Metsovo. Namely, the Monastery of Agios Nikolaos, and the Monastery of Zoodochos Pigi.
The Monastery of Agios Nikolaos can easily be reached on foot. This unique structure has been built in a style more reminiscent of a sheepfold than a religious building.
It sits amidst dense woodlands, close to the banks of the Metsovitikos river some 30 minutes from Metsovo. The monastery dates back to the Byzantine Era.
It was first mentioned in the 14th century. Agios Nikolaos has been repaired and renovated numerous times throughout the centuries.
If the monks are on site, you can head inside to admire the frescoes within. Despite being weathered by time and the elements, these are still impressive. The paintings here are believed to have been created in the 1700s.
The Monastery of Zoodochos Pigi is equally worthwhile if you have your own transport. It awaits, perched on a plateau filled with oak trees, just off the main road that connects Metsovo with Anthochori.
This monastery dates back to the 17th century. It once provided shelter for caravan traders travelling through the Balkans.
Its monks were slaughtered during an Ottoman invasion in 1820. Sadly, it has been abandoned ever since, although that adds an air of magic and mystery to your visit.
Embark on a Scenic Hike
Numerous scenic hiking trails twist and turn through the landscapes of little Metsovo. All trails are well sign-posted. They lead through peaceful woodlands, past abandoned monasteries, and secluded villages. 
The most notable trail in the area is the Ursa trail. This is a 40km footpath that leads around the circumference of Metsovo.
On its route, it passes through the Grand Forest, the meadows of Politsoara, and the ski resort of Karakoli. The Ursa trail has been recognised as being one of the best hiking trails in Europe.
Sample the Local Specialty Dishes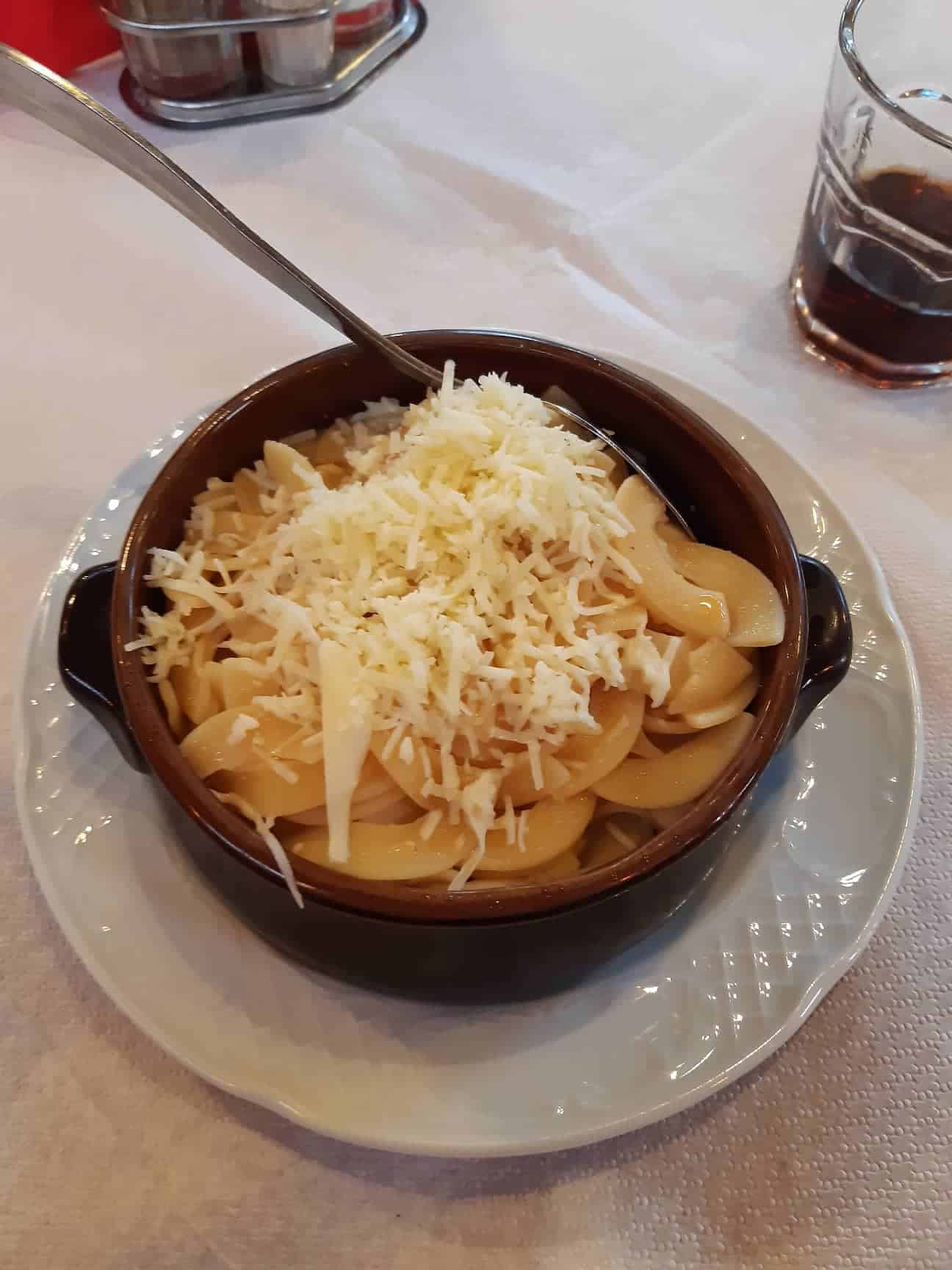 Greek cuisine is globally recognised for its sumptuous, marinated meats, and its fresh vegetables. Besides the classics though, each region of Greece also has its own local delicacies.
Metsovo could be considered a paradise for meat lovers. There are a plethora of excellent smokehouse restaurants here.
However, although there is arguably no such thing as a bad meal in Greece, there are those eateries that stand out among the crowd. The barbeque joint "Τα 5 ΦΦΦΦΦ" at Averof 1 is one such place.
Here, you can consider trying kontosouvli. This beloved local dish consists of slow-roasted pork cooked on a spit over a charcoal fire pit.
Other dishes worth adding to your Metsovo culinary radar are the country sausages, lamb served with cauliflower, and the boiled cauliflower. Be sure to try the traditional local pies on sale at the old bakeries.
Galatopita (milk pie), hortopita (pie with greens), and karidopita (walnut pie) are Evritania classics. They make a great choice for breakfast with Greek coffee, or as a light lunch.
Indulge in Art and Wine at the Katogi Averoff Winery & Museum
Restaurants and gift stores around Metsovo sell Katogi wine. This is a dry Greek wine that is produced at the village's Katogi Winery. The mountainous vineyards here are the highest in Greece.
It is possible to have a free tour of the winery and learn about the process of making wine. If you call/email the winery in advance, you can also organise a tasting.
Katogi Averoff also houses the E.Averoff art gallery within the same premises. The gallery displays the works of renowned and emerging Greek artists. Collections range from modern, contemporary pieces, to sculptures, fine art, drawings, and engravings. 
Stop for Coffee, Drinks, and Panoramic Views
There are few pastimes more quintessentially Greek than going out for Greek coffee – whether that be frappe, Freddo, Elliniko, or espresso. Stop by one of the kafenions In the village square. Here you will see a few old-timers playing backgammon as they sip traditional Greek coffee.

Κρήνη Cafe Wine Spirit at Tositsa 20 is a cute place to stop for coffee or evening drinks. Shabby chic decor and an open fire await inside this little stone coffee shop.
They serve a selection of homemade cakes and light bites for breakfast or brunch. The nearby Metsovorama Cafe Bar is rumored to have the best views in town. This the place to go to enjoy mountain views as you sip your morning coffee or your evening cocktails.
Stroll Around the Narrow Cobbled Streets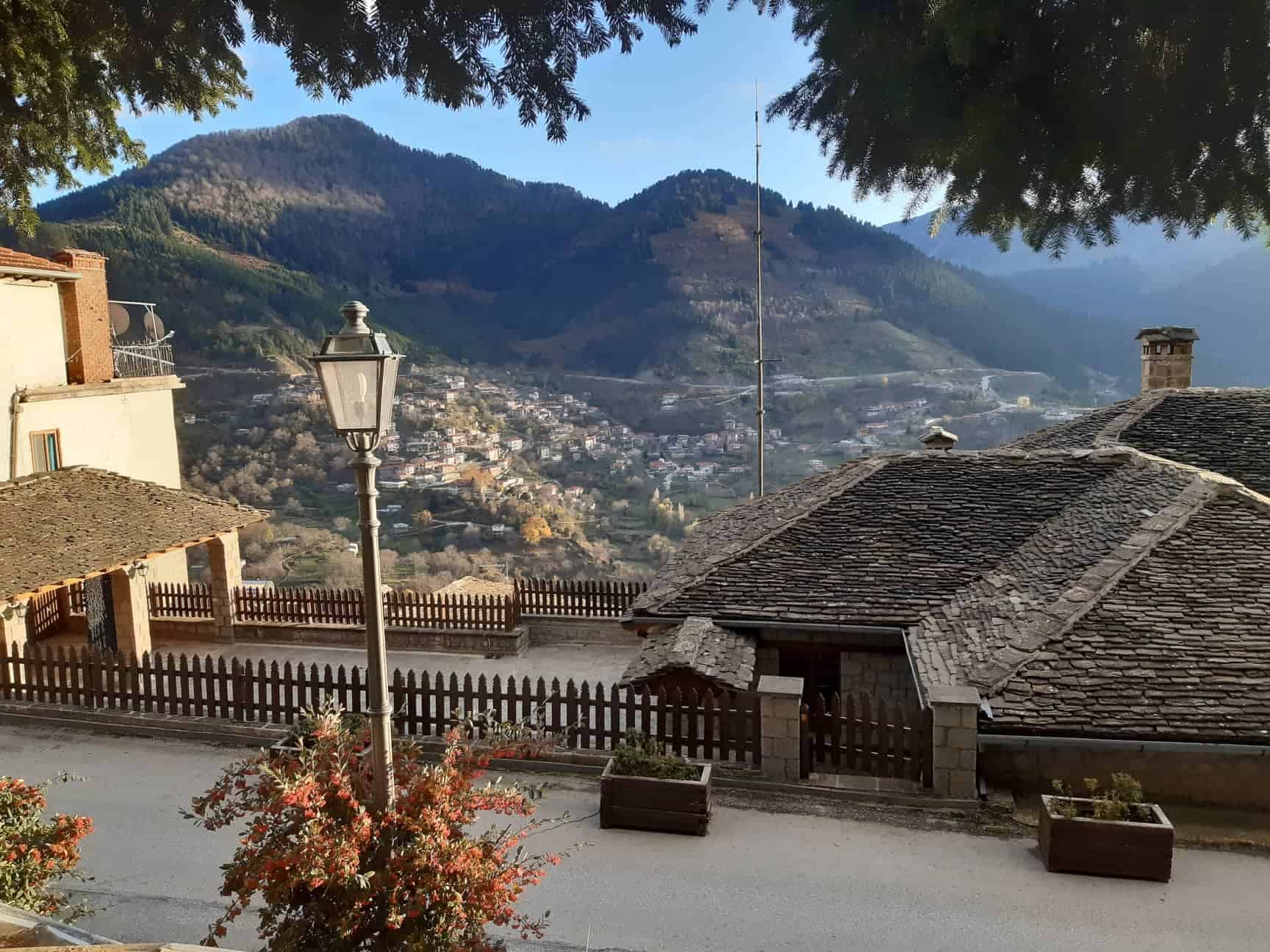 Central Metsovo is dominated by a labyrinth-like network of cobbled streets and passageways. Wandering the streets here feels like a journey back in time.
Spend some time to just explore the little streets of Metsovo at leisure – stopping to admire the occasional artisan store or delicatessen. In the village square, you can find the beautiful church of Agia Paraskevi.
A few blocks away, there is the church of Agios Georgios. This is sadly now abandoned and overgrown with moss. However, even so, the church remains eerily beautiful. 
If you wish to obtain a little more history of the area, you can consider stopping by the Metsovo folklore museum. The museum is set inside a grand 19th-century mansion that once belonged to the noble Tossizza family. Weapons and recovered artifacts from the 19th-century resistance against the Turkish occupation are on display here.
Visit the Aoos Springs Lake
If you have your own transport in Metsovo, you can drive out to the Aoos lake. The lake is situated 25km away from Metsovo centre.
Aoos Springs glistens in a magnificent shade of sapphire, and there is a lovely footpath that you can follow around its circumference. You should allow about half a day if you want to take a trip out here. Doing so is pleasant in any season.
In the warmer months, you will see Vlach shepherds tending to their sheep in the farmlands that surround the lake. Meanwhile, wild horses run free along its grassy banks. The lake is man-made and artificial, now home to some rare and impressive flora, fauna, and wildlife. 
Test Your Ski Skills
The reason many Greeks venture to Metsovo is for skiing. There are three resorts in this area: Karakoli, Zygos, and Politsies.
Both experienced skiers and complete newbies are catered to here. Lessons and equipment rentals are available on site. 
Where to Stay in Metsovo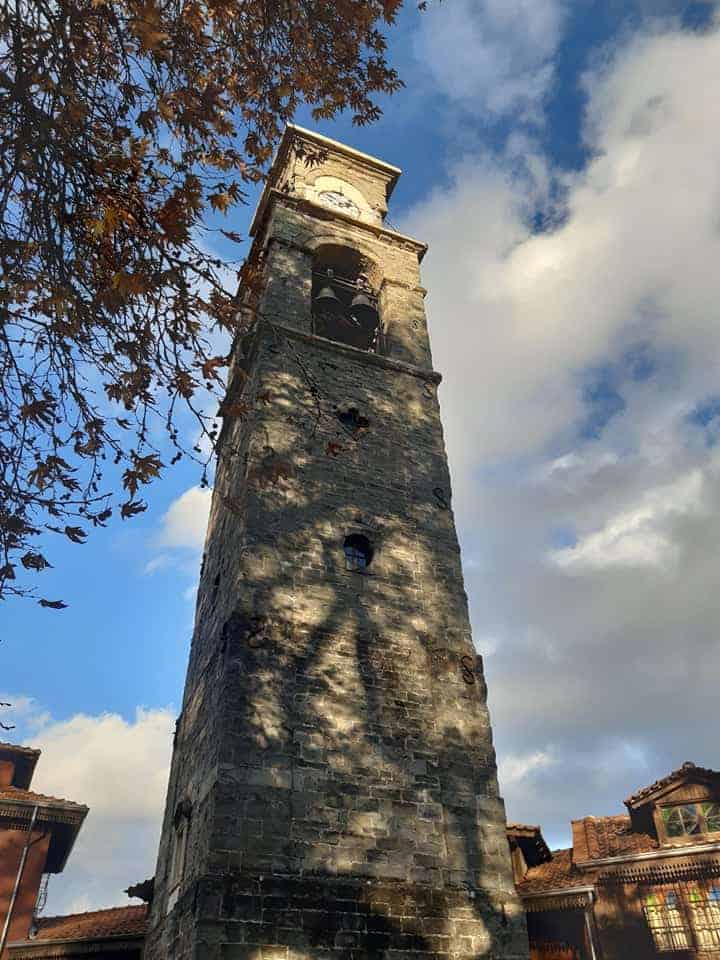 There are plenty of well-rated hotels scattered across Metsovo. It is advisable to book at least a few days in advance, particularly in the peak Christmas season.
Metsovo can get very busy in December and January. Some Metsovo hotels you may want to consider are detailed below. 
Aroma Dryos Eco & Design Hotel
Where: Averof 1, Metsovo 442 00
Aroma Dryos hotel is the definitive choice for a luxury stay in Metsovo. The stone-built property boasts elegantly decorated, spacious rooms with exposed brick walls, private balconies, and open fireplaces.
A generous continental breakfast is included in the price. You can browse the latest rates and availability at Aroma Dryos here. Rooms start from £70 a night.
Archontiko Metsovou Luxury Boutique Hotel
Where: Basilis Zaousis 5, Metsovo 442 00
If you are looking for an indulgent mountain retreat, you will love the facilities at Arcontiko. The hotel has a spa on-site which features a traditional hammam, whirlpool baths, massage chairs, and swimming pools.
The relaxation theme continues into the private rooms. Every room and suite here boasts a spa bath, stylish decor, and sweeping vistas over the Pindus mountains
Breakfast is included. You can browse the latest rates and availability here. Rooms start from £70 a night.
Hotel Bitouni
Where: Tositsa 48, Metsovo 442 00
Rooms at Hotel Bitouni in Metsovo weigh in at just £25 a night. Consequently, this is the most budget accommodation in town. Don't let the low price put you off.
The rooms and beds are very cosy, and the hotel is owned by a sweet Greek family. All rooms have spacious balconies with scenic views. This is the option I'd recommend if you are travelling through Greece on a tight budget.
Getting to Metsovo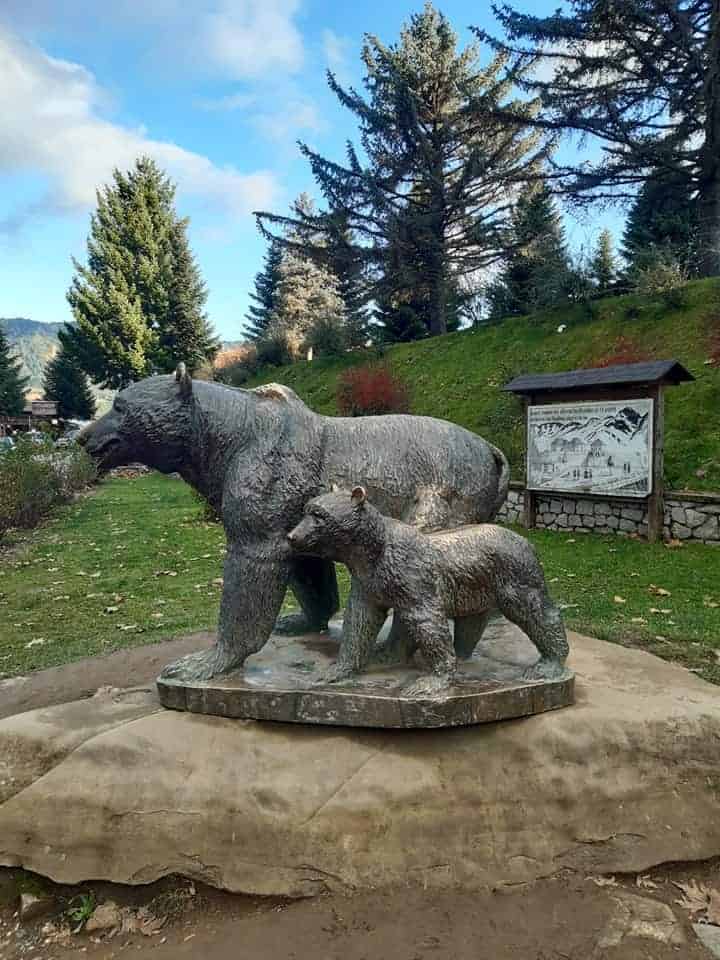 Metsovo is 50km north of Ioannina, and the journey takes one hour. One day in Metsovo is sufficient. Alternatively, you can opt to stay overnight in one of the cosy family-owned guest houses here. 
Bus Travel in Metsovo
The easiest way to get to Metsovo is to take the bus from Ioannina station. This runs at 6:00 am and 14:00 pm every day.
It is also possible to travel to Metsovo by bus from Thessaloniki. However, a transfer is necessary as there are no direct routes. You can check the latest bus times and fares via the KTEL Ioannina website here.
Driving to Metsovo
If you are renting a car in Greece, by all means, drive to Metsovo. Opting to drive gives you more freedom and flexibility than relying on public transport.
There is free parking in the centre of the village. Additionally, many of the hotels here have their own parking lots.
Driving to Metsovo is not necessarily for the faint-hearted. Brace yourself for navigating your way along narrow, winding roads as you navigate through the Pindus Mountains.
Many reputable rental companies operate in Northern Greece, including Sixt, Avis, and Europcar. You can pick up your vehicle in Ioannina and Thessaloniki.
Parting Words
Metsovo is a wonderful place for a weekend getaway during the winter months. If you have any further questions, feel free to drop me a comment below.
I have lived in Greece since 2017. I am happy to assist with any concerns you may have. Safe travels!
Geia sou! Melissa xo 
---