Looking for the best things to do in Naples, Italy? Look no further.
There are enough things to do in Naples to keep you occupied for a lifetime. Founded by the Greeks and settled by the Romans, the city is bursting with history and culture.
This is the capital of Italy's Campania region and it is grossly underrated. Naples is Italy's grittiest city and arguably the most misunderstood.
The "Centro Storico" (historic centre) of Old Napoli is characterised by graffiti-laden piazzas and a labyrinth-like network of old cobbled streets. Naples is made up of numerous "Quartieri" (districts).
Each of which has its own personality and is like a little village in itself.
Napoli
Naples has a history stemming back over 4,000 years. This is one of the oldest cities in the world.
Greek settlers founded an early colony here in the year 2000 BC. In the 6th century, they founded the ancient city of Neapolis.
Today, sunbleached ruins that remain from this old settlement can be found scattered around the city. Notably, some of the old defensive walls still stand at Piazza Bellini.
For decades, Naples has tried to shake off its reputation of being a "dangerous" city. This unfair stereotype means that many people are put off from travelling here.
However, at the same time, it saves old Napoli from the crowds of tourists seen in nearby Capri and the Amalfi Coast. Travelling to Naples ensures true local experiences that allow you to see the "real" Southern Italy.
Naples Tours
If you would prefer to explore Naples with a local until you get your bearings or feel comfortable in the city, that is understandable. There are many excellent local companies that provide small-group walking tours.
Some focus on the city's history and culture. Meanwhile, others focus on food and gastronomy, etc.
The great thing about taking a tour is having a Neopolitan on hand to ask for suggestions on the best places to eat, drink, and hang out during your trip. A number of reputable tours are detailed below for your consideration.
Things to do in Naples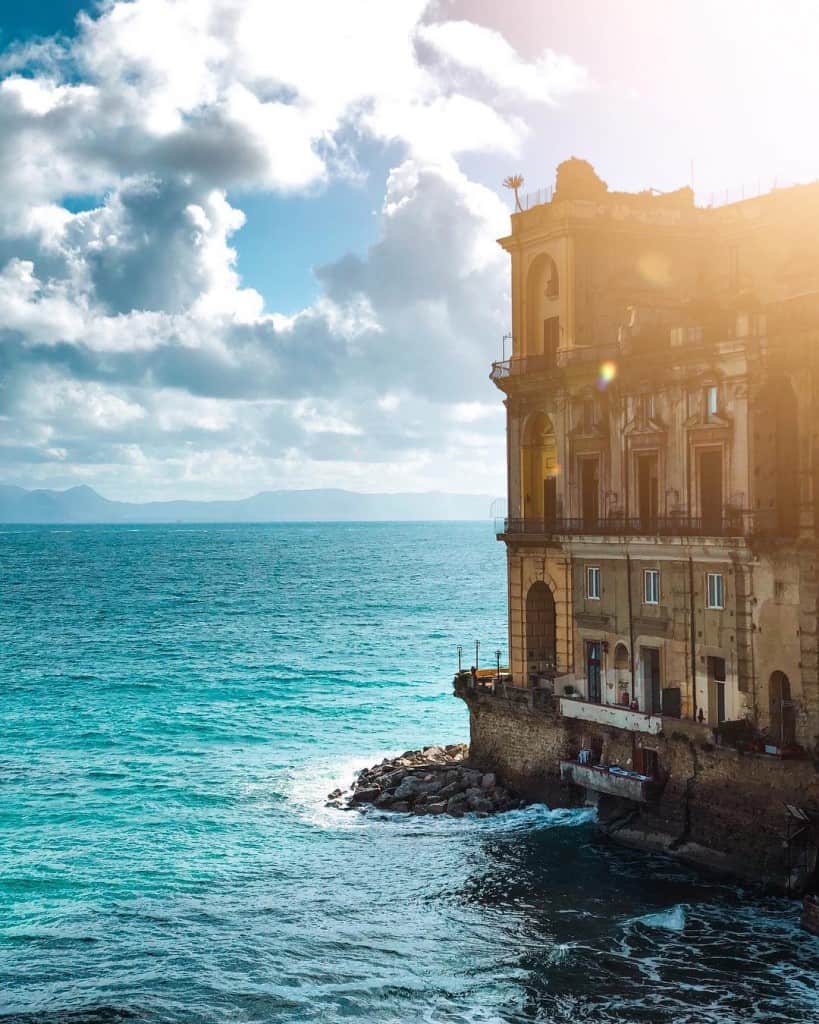 There are plenty of things to do in Naples. The city is bursting at the seams with culture.
In the historic centre, you will find three castles, two royal palaces, and an abundance of old ruins. The city's Museo Archeologico contains an impressive collection of mosaics from nearby Pompeii. Meanwhile, the Cappella Sansevero holds Italy's most extraordinary marble sculpture.
The must-see things to do in Naples are detailed below. If you have more time to spare, the lesser-known attractions are detailed thereafter.
Eat Pizza at the Place that Invented it
It is a well-known fact that pizza was invented in Naples. However, there is one little place in particular that is responsible for the delicious creation. That place is the Antica Pizzeria Port'Alba.
This is the world's oldest pizzeria. The family-owned establishment has been serving up steaming slices of piping hot portafoglio and margarita pizzas for more than 200 years.
The Antica Pizzeria Port'Alba is well worth a visit, even just for the story of being able to say you have been there. L'Antica Pizzeria da Michele is another historic pizza joint to add to your radar.
The latter has surged in popularity in recent years. This is the place where Julia Roberts and her friend dine in the movie "Eat Pray Love".
The "specialty" here is the plain margarita. L'Antica Pizzeria da Michele is perpetually crowded and it is very common to see a long, snaked queue outside. Try to come before lunchtime if you want to eat here.
Hike up Mount Vesuvius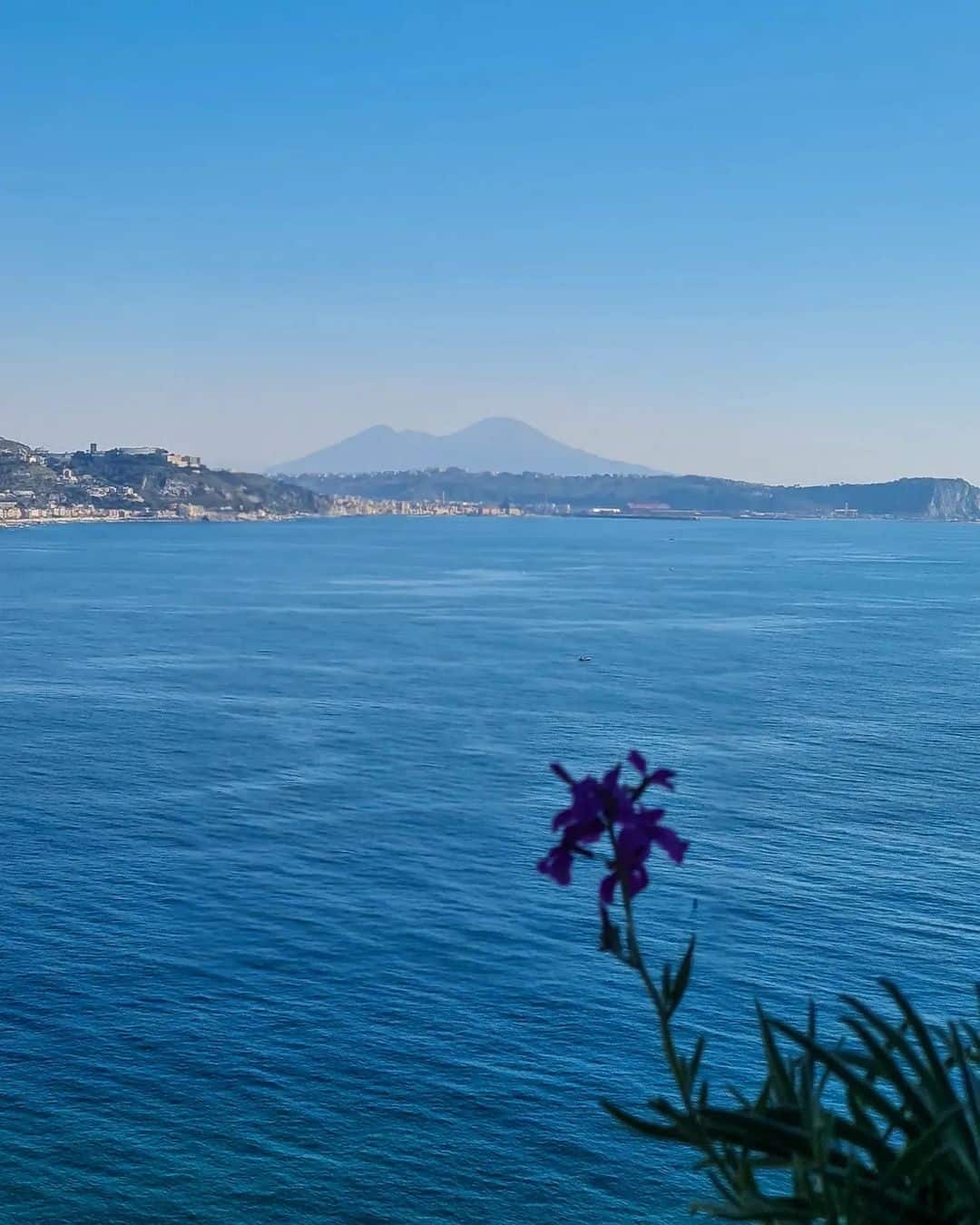 Mount Vesuvius looms over Naples. This is one of the world's largest and most active volcanoes and it can be seen from virtually every Neapolitan promenade.
The hike to the top of Vesuvius is relatively easy and takes less than 30 minutes in each direction. Even if you do not consider yourself to be in great physical shape, you shouldn't find the hike too challenging.
The ascent to the top is steady, and the route is well-paved. You can enjoy sweeping vistas over the city and the Bay of Naples as you ascend towards the calderas.
If you do not want to head to Vesuvius alone, Vesuvius tours like this one organise everything for you. You will hike to the crater and gain important information from a professional alpine guide.
Take a History Lesson at Pompeii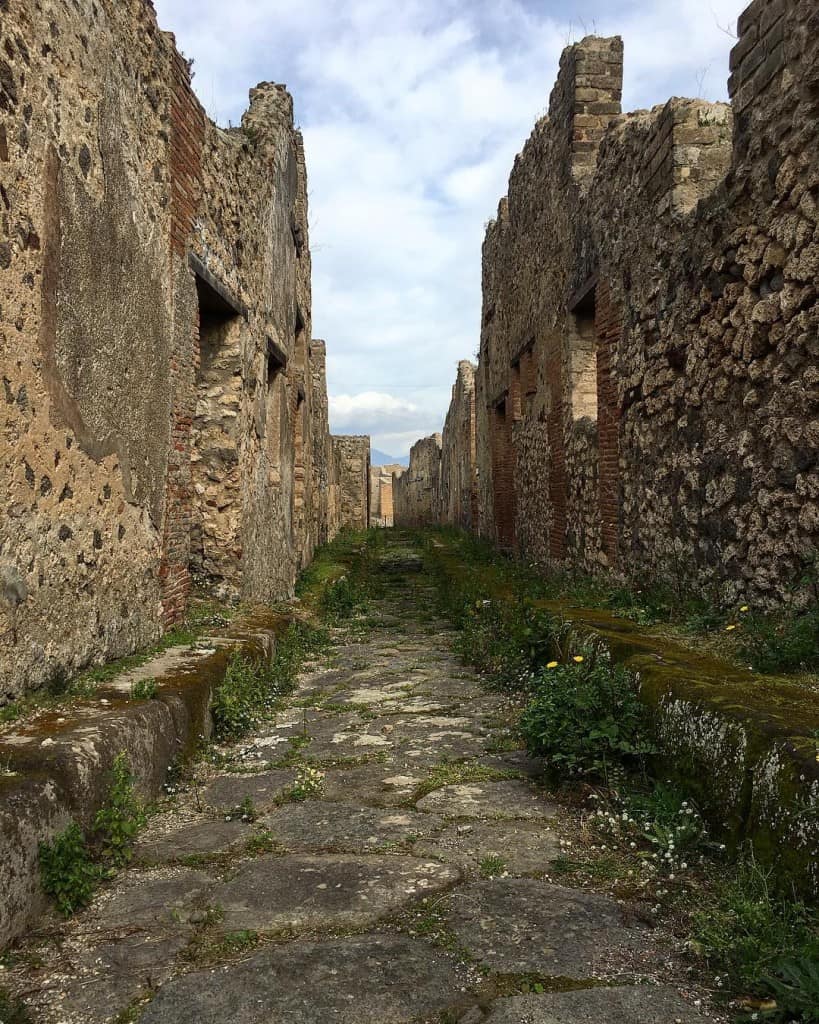 The ruined ghost city of Pompeii is probably one of the most infamous and tragic archaeological sites in the world. A catastrophic eruption of Vesuvius in 79 AD buried the city under layers of volcanic ash and stone.
Over 2,000 residents were killed in this eruption. However somehow, their bodies and many of the buildings here were perfectly preserved.
Most mosaics, sculptures, and artifacts have been removed from Pompeii to protect them. They now sit within the Archaeological Museum of Naples.
You will be awed by the sheer scale of Pompeii. As you meander down the old cobbled streets, it is easy to get a feel for what the city was like in its prime.
Many of the old houses and grand temples here are incredibly well preserved. You should set aside at least 2-3 hours to explore Pompeii.
Purchase your Pompeii entrance ticket online in advance to avoid queuing when you arrive on site. If you want to obtain more information, you can do a Pompeii tour with a local Archeologist.
Admire the Frescoes of Neapolitan Chapels
Naples, Italy is the city that boasts the highest number of churches in the world. Many Southern Italians are Roman Catholic and deeply religious.
Naples has become a city of spiritual importance. For centuries it has been known as "the city of 700 domes".
Naples is one of the oldest, continually inhabited places in the world. The various churches, chapels, and cathedrals reflect the city's age.
They have been constructed in an array of styles. Here you will see baroque, gothic, and neoclassical churches all sitting alongside each other.
This makes for an interesting mishmash of various different architectural styles. Seeing the churches from the outside is one thing, but the highlight is the vibrant, colourful frescoes painted within.
Most Neapolitan churches are open and free to enter. Sometimes the oldest, most nondescript-looking structures house the most breathtaking interiors. Some of the most notable churches to visit in Naples are:
The Church of San Domenico Maggiore


The Church of San Gregorio Armeno


Basilica of Santa Chiara


Napoli Cathedral ("Duomo")


The Basilica of San Lorenzo Maggiore
Hang Out with the Naples Couchsurfing Community
Meeting locals is always a highlight of travelling! Naples has a really wonderful, close-knit Couchsurfing community managed by Neapolitan local Luca Bianco.
Events typically take place twice a week at local bars and pizzerias. This is a great way to meet travel buddies to share your Italian adventures with.
Browse Fascinating Exhibits at the Naples Archaeological Museum
Most of the artifacts that were recovered from Pompeii and Herculaneum have been taken to the Naples Archaeological Museum (Piazza Museo, 19). This collection of items and mosaics, along with other excavated findings from Southern Italy, can be found in the fascinating chronological exhibitions here.
Everything from impressive Roman statues to breathtaking mosaics can be found within the display cabinets. The museum contains both permanent and changing exhibitions.
The latter are often travelling Italian art exhibits. Look out for the display rooms that contain rows upon rows of sculptures of aroused male genitalia.
These were used to amuse dinner guests in Italian households millennia ago. They acted as a good luck symbol during the Roman era.
Sample Neapolitan Street Food Delicacies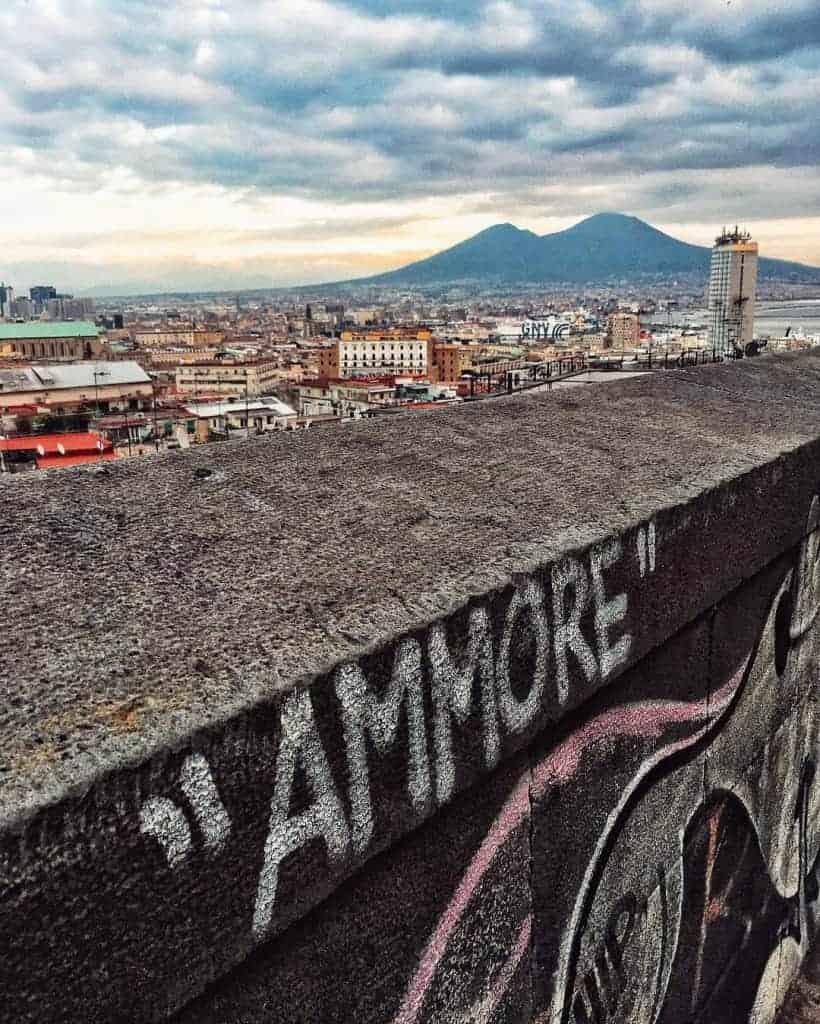 Naples food is definitely not just pizza, pasta, and gnocchi. Different regions of Italy boast different regional delicacies.
Street food is a huge part of Neapolitan culture and a great way of dining on a budget. Be sure to try the fried pizza.
This is something that you can pretty much only find in Naples. It existed here before the traditional baked pizza!
The recipe generally consists of provolone and ricotta cheese, tomatoes, and pork fried together in a dough. Just try not to think about the calories!
There is actually a local saying in Naples that states "anything that's fried is good – even the soles of the shoes!" While your cholesterol might not necessarily agree, that mantra is definitely reflected in what you see from the street vendors!
Order yourself a cuoppo. This is a little paper cone stuffed full of a weird and wonderful array of local fried delicacies.
Take the street vendor's suggestions on what to order. Alternatively, order some panzerotti (meat-stuffed potato croquettes), crispy arancini balls, and pasta cresciuta.
Jet Off to the Glamorous Island of Capri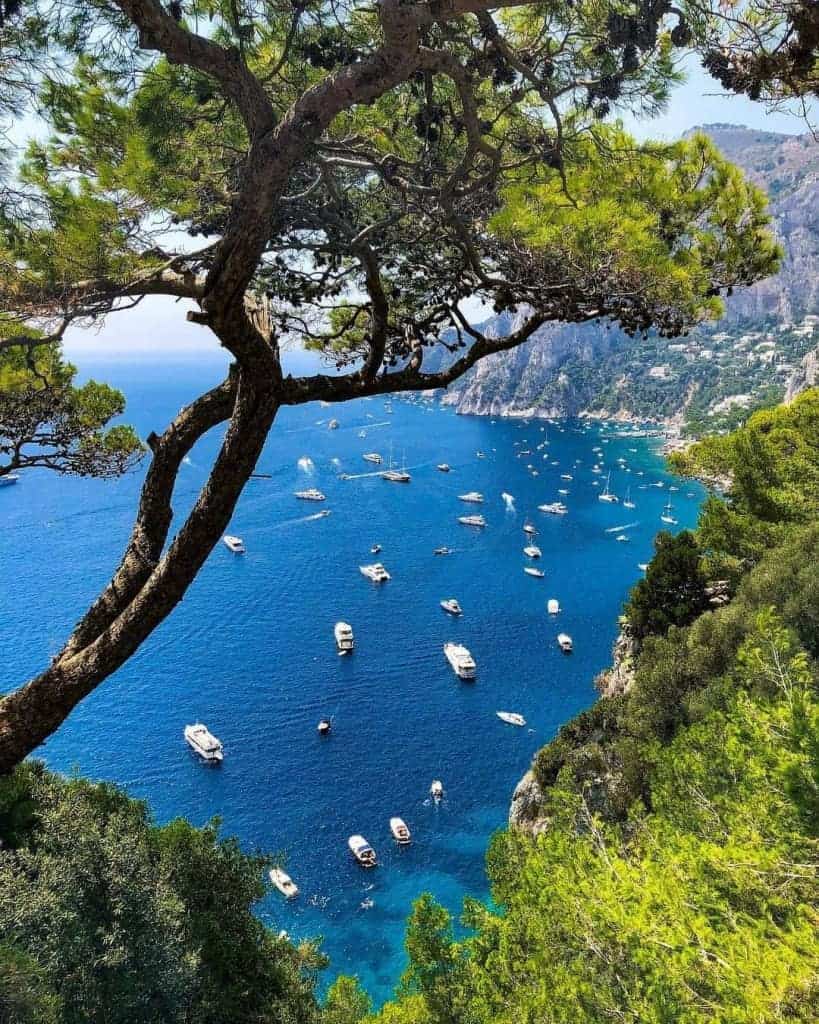 The island of Capri has become synonymous with the jet set. It is chic, elegant, and beautiful.
The stunning isle is accessible via boat from Naples harbor and makes for a perfect day trip from Naples. It's not just the high-end living and upscale ambiance that makes Capri special though.
The island also possesses unparalleled natural beauty. Capri boasts rugged landscapes and rock formations, translucent azure waters, and rolling hills filled with fragrant lemon groves. This may well be one of the most naturally beautiful places in the Mediterranean.
Falling in Love with Capri
Capri is essentially split into two sections – Capri and Ana Capri. Minibusses and colourful convertible taxis transfer you between the two as they speed along nerve-wracking cliffside roads.
In Ana Capri, let your legs dangle free as you whizz up to the 589m peak of the island's Mount Solaro. After your descent, visit the phenomenal holiday home of the Roman Emperor Tiberius at the Villa San Michele. Then head to the Capri side of the island for elegant shopping, dining, and prosecco at piazzetta – the main piazza.
Underrated Things to do in Naples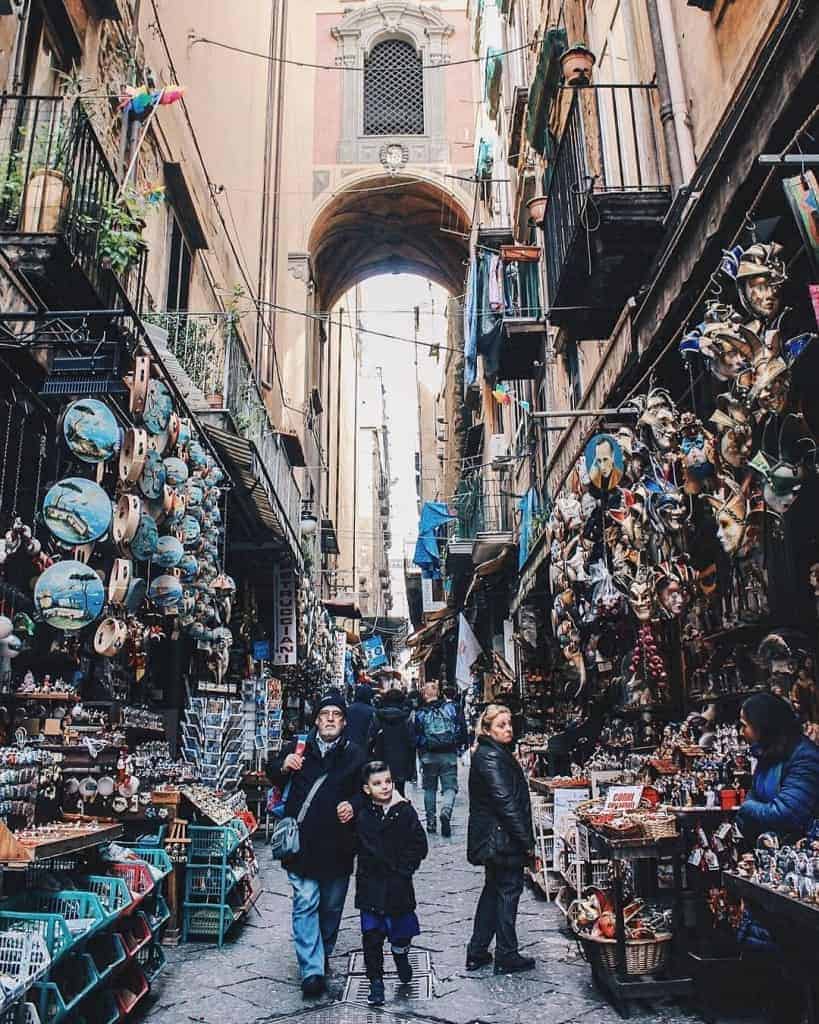 Join Italian Folk Dancers as they Waltz Through Ancient Ruins
There are a number of traditional dances that originated in Naples. The tammurriata and the tarantella are the main folk dances of the city.
Couples dance to the beating rhythm of the tamorra drum which is accompanied by singing, gypsy trumpets, and putipùs.
If you are travelling to Naples at certain times throughout the year, you can attend one of the many festivals dedicated to Neapolitan folk dancing. The Tamorra festival and the festivals of the Seven Madonnas are two such examples.
Browse the Markets at Piazza Dante
Piazza Dante is one of Napoli's many sprawling piazzas. It is surrounded by bars and restaurants where locals enjoy an aperitivo beneath the Italian sun. Local artisanal markets are often hosted in the centre of the piazza.
Here, vendors sell an array of handicrafts and premium Italian foodstuffs from across the country. Shop for balsamic and parmesan wheels from Modena, sparkling wines from Veneto, and buffalo mozzarella from Campania.

Via Port'Alba: a narrow, arched alleyway at the back left of the piazza leads to Piazza Bellini passed ramshackle second-hand bookstores, quirky coffee places, and cocktail bars cum art galleries.
Embrace the Night-life of Piazza Bellini
Piazza Bellini is a small piazza that is located just off from Piazza Dante. Bellini oozes an alternative, Bohemian vibe. It is here where dozens of young Neapolitans gather every evening to drink and socialise at the bars.
Bellini is the perfect place to sip an aperol spritz and people watch after the sun goes down. At the piazza's centre lies the crumbling ruins of the ancient Greek city of Neapolis which was once situated here.
Visit the Beautiful Beach Town of Bacoli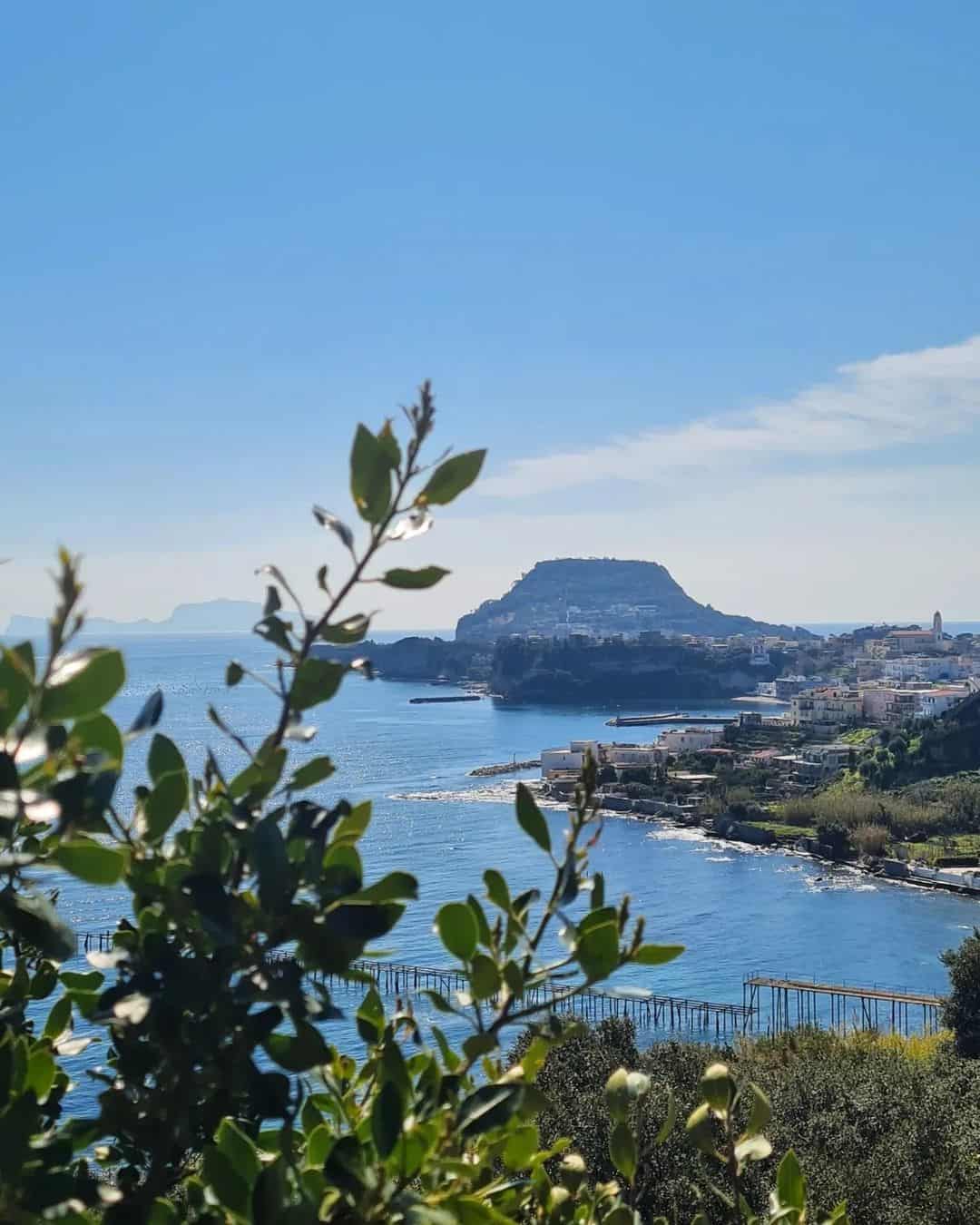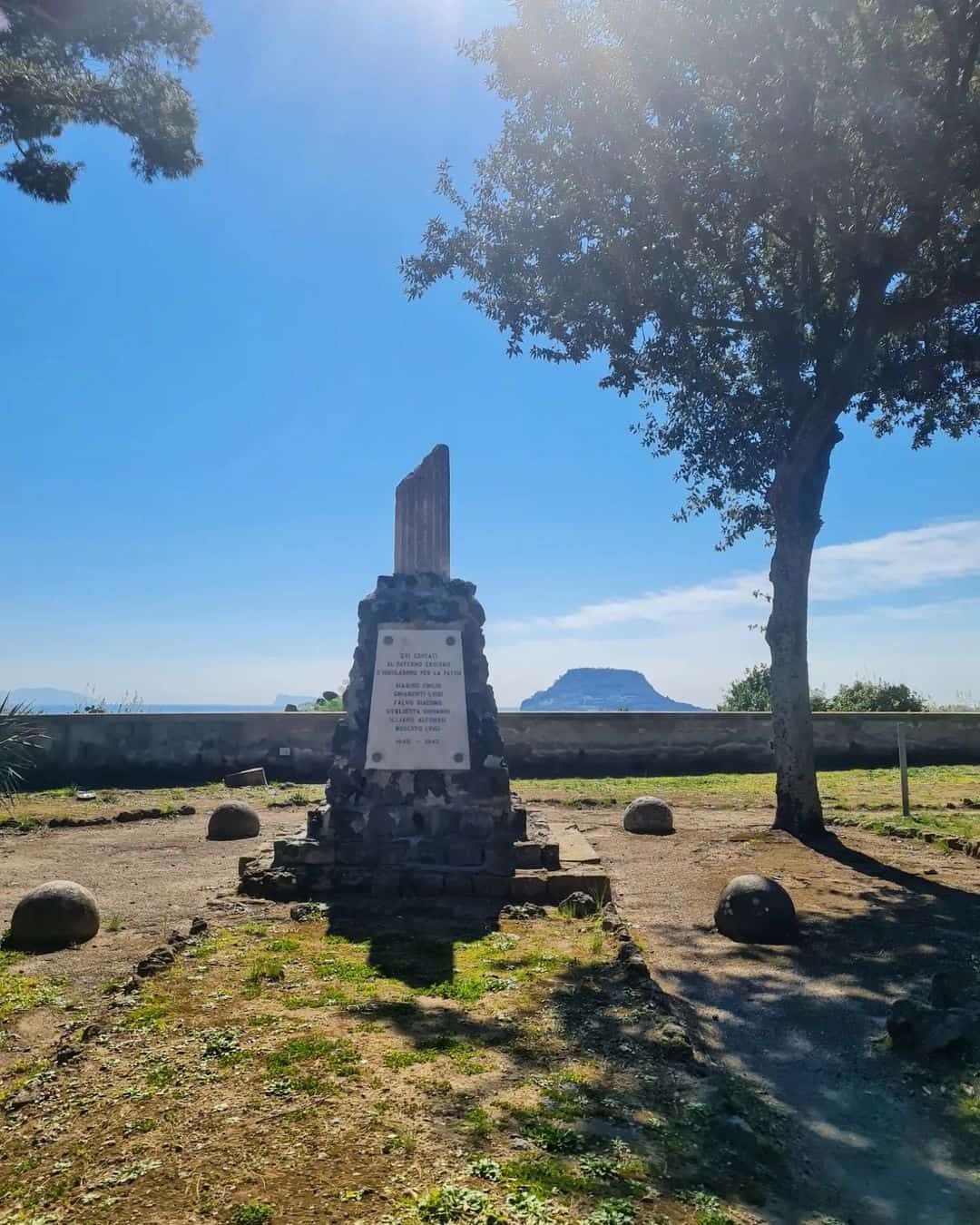 Bacoli is a beautiful little beach town just north of Naples. It is packed with quaint harbors, sandy white beaches, and beautiful lakes.
The tourists may all flock to Positano and the Amalfi Coast during summer in Southern Italy. However, the locals will venture out to Baccoli for the day.
Lago Miseno is the perfect place for an afternoon stroll by the lake, followed by gelato at one of the quaint places that overlook its waters. The coastal roads of Baccoli are packed with beach clubs and waterfront eateries.
Bacoli, Baia, and Pozzuoli are all relatively close to each other and can be visited together in one day. Buses run (infrequently) between Napoli Centrale and Bacoli.
Stop by Baia – Las Vegas for the Romans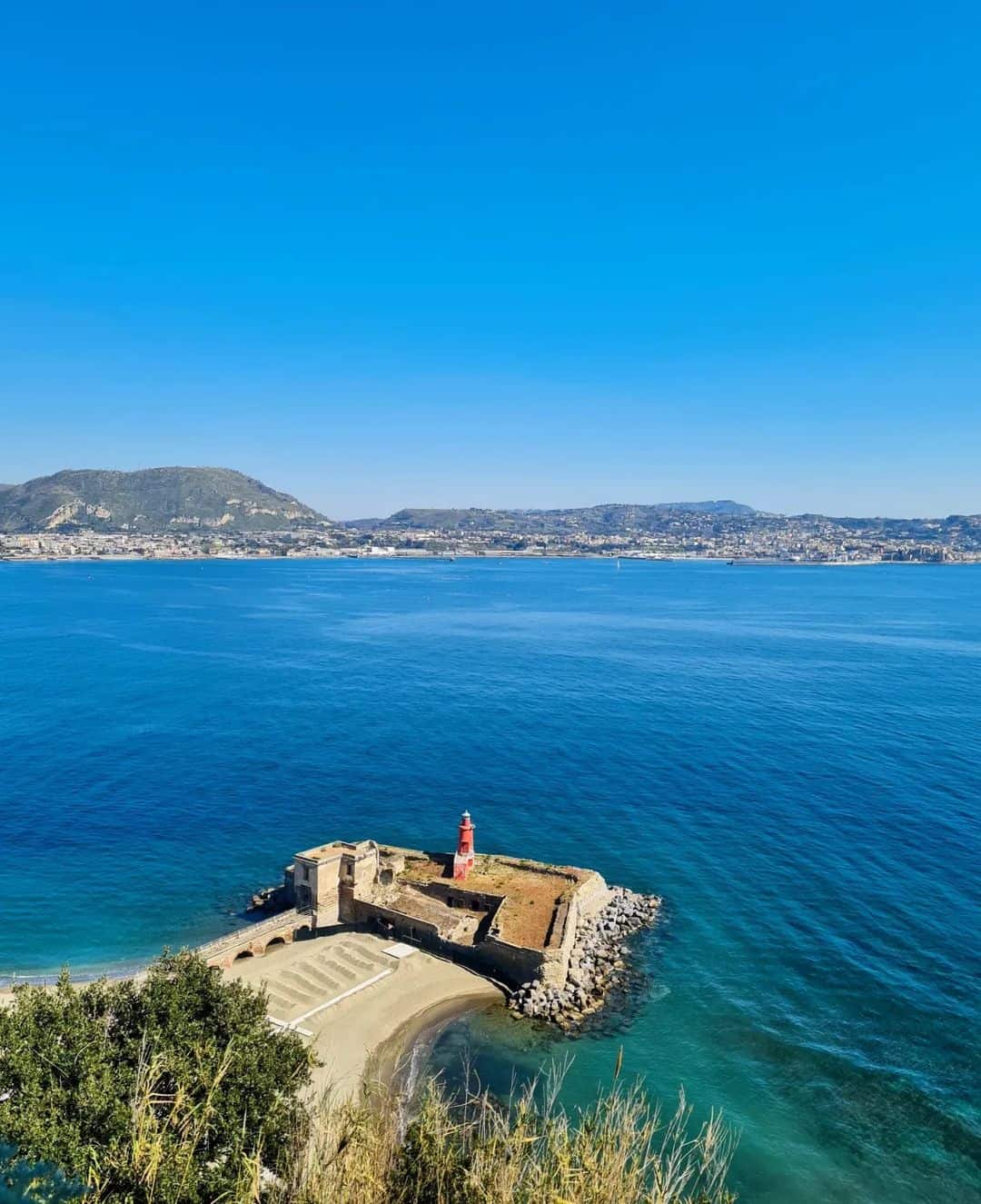 The town of Baia borders Bacoli and Pozzuoli. This was a place of significance during the Roman era.
For centuries, it was a spot where the rich and famous would travel to have fun and blow off some steam. Eventually, the town was ransacked and abandoned. As water levels in the area rose, most of Baia sunk.
Today, there are only a few crumbled ruins above ground at Baia. However, loitering below the surface, the sunken city of Baia is still incredibly well-preserved. This is one of only a small few underwater archaeological parks in the world.
Statues of Roman gods and prominent figures still stand watch, and the remnants of bathhouses and structures remain. Visitors to Bacoli can admire the sunken city on a glass-bottom boat tour, or by snorkeling down to the ruins.
Visit Campi Flegrei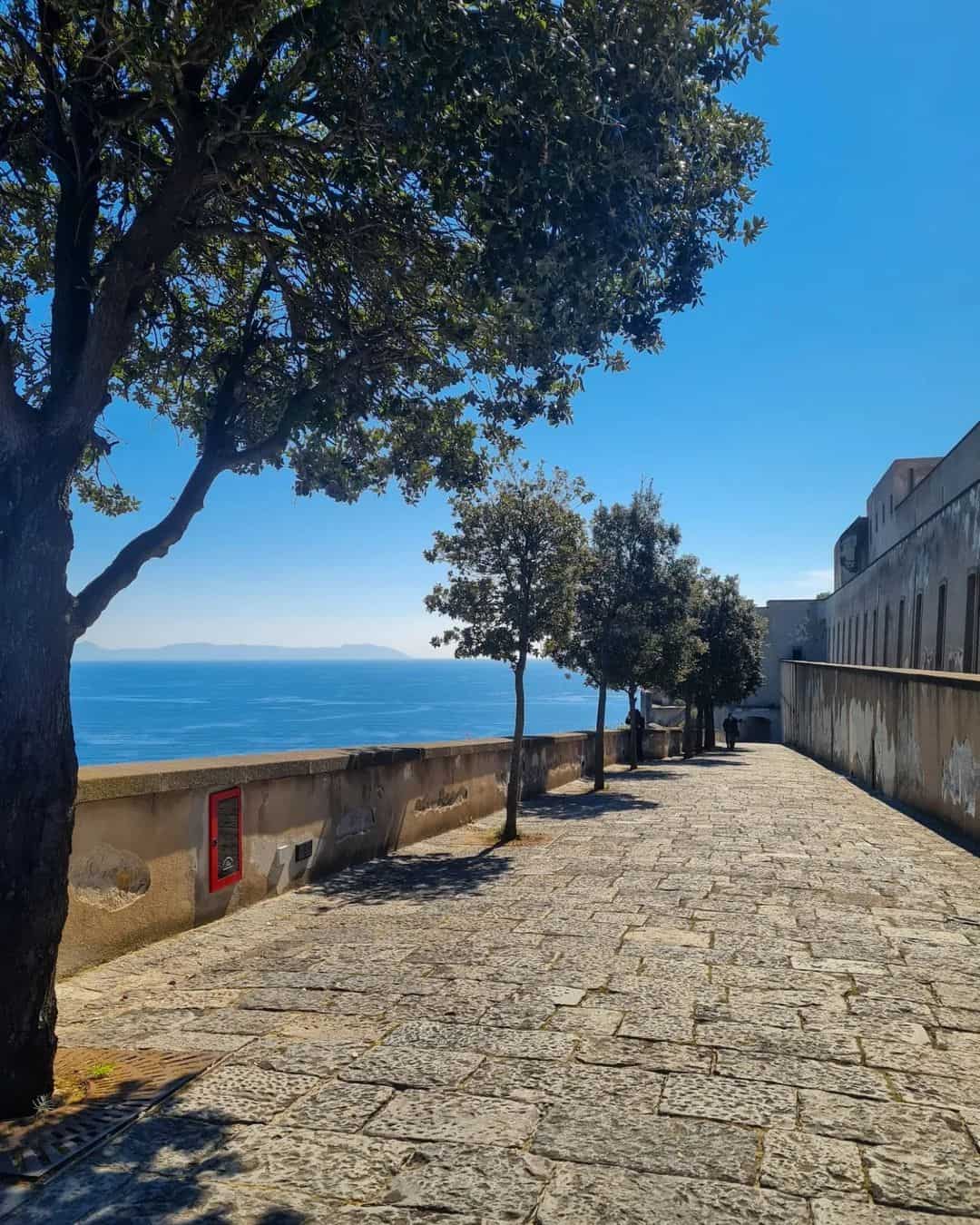 Mention of Naples often conjures up images of Vesuvius and the risk that it poses. However, the reality is that Vesuvius is not the only volcanic threat in the area. In fact, a much more dangerous volcano bubbles away beneath the surface.
Campi Flegrei is a supervolcano, like that at Yellowstone National Park. It is one of the most monitored volcanoes in the world. An eruption here would cause catastrophic damage across Europe.
One of the most notable sites within the Campi Flegrei complex is the Solfatara in Pozzuoli. The Solfatara di Pozzuoli boasts a pleasant and informative walk through otherworldly landscapes.
You can stroll past pools of bubbling sulfur and steaming fumaroles. It is one of the most active sites of volcanic activity in the Campi Flegrei complex.
Window Shop at the Street Where it's Always Christmas
Whether you are visiting Naples in December, or you are visiting in July, there is one street where it will always be Christmas. That street is Via San Gregorio Armeno.
The narrow winding alley boasts store after store of shops selling Christmas items. The presepi (scenes of the Neapolitan nativity) are displayed on the storefronts, and artisans sell hand-made figurines and local handicrafts.
Take a Day Trip to Procida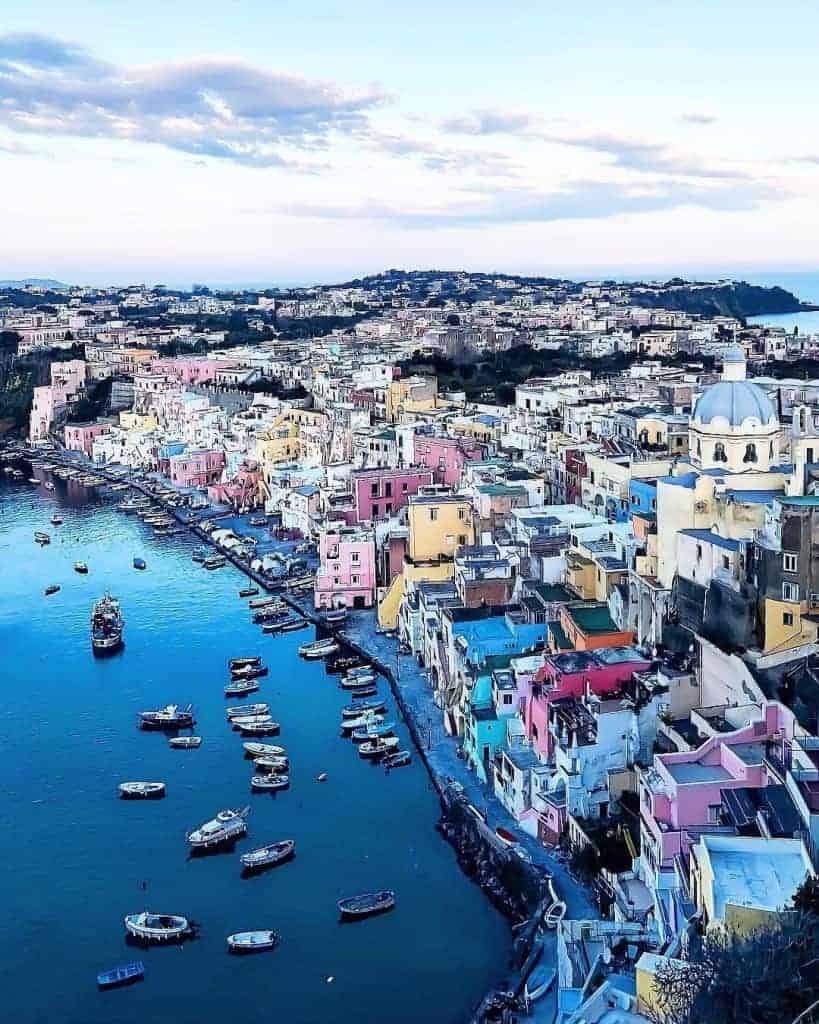 Capri may be the island at the top of everyone's Southern Italy radar. However, there are also other, equally charming alternatives to consider.
Capri, Procida, and Ischia are the three "Poet's islands" that await just a short boat trip away from the coast of Naples. While Capri can get very crowded, particularly during the summer months, most of Procida's visitors are locals.
Take the early morning ferry to Procida and scale the walls of the Terra Murata – an old 15th-century town. Indulge in fresh seafood delicacies at one of the picturesque eateries in Corricalla Bay, and unwind at one of the island's beaches.
Indulge in Neapolitan Pastries and Sweet Treats
Practically every street in Naples is home to a local patisserie. Rich, decadent desserts and pastries are a huge part of Neapolitan food culture.
To fit in with the locals, head inside one of the numerous patisseries that sit on Spaccanapoli early in the morning. Order yourself an espresso with a sfogliatelle. The latter is a crusty pastry filled with ricotta, semolina, and a dash of cinnamon.
Italian breakfasts are usually sweet. Sfogliatelle is the quintessential Naples breakfast pastry. It is best enjoyed hot and fresh from the oven.
Baba au Rhum is another Neapolitan pastry that should not be missed. This is a plain, simple sponge cake soaked in rum and syrup.
It has become pretty much a symbol of Naples. Variations of Baba au Rhum that are stuffed with ricotta, chocolate, and nutella are also available.
Explore Upscale Chiaia
Chiaia is an affluent Neapolitan neighbourhood that borders the seafront and sits close to the Piazza del Plebiscito. Its tree-lined streets are filled with designer boutique stores, chic cocktail bars, and stylish eateries.
Look out for the 16th century Palazzo Cellamare at Via Chiaia 139. This grand palace was a summer residence for Giovan Francesco Carafa. Numerous notable guests stayed here over the years, including Goethe and Casanova.
The seafront path that winds through Chiaia is a pleasant route to walk. It runs all the way from Chiaia to Naples port via the Ovo Castle and Castel Nuovo.
Take in the Sunset Views from Castel Sant'Elmo
There are three fortresses situated within Naples' city limits. Namely, Castel Nuovo, Ovo Castel, and Castel Sant'Elmo.
Each of these places is well worth visiting. The Ovo Castel and the Castel Nuovo are both situated on the seafront. Meanwhile, Castel Sant'Elmo is perched on a hill by the Certosa di San Martino.
Castel Sant'Elmo dates back to the 12th century. This was once a church that was transformed into a castle, and then further fortified.
The highlight of Castel Sant'Elmo is not the building itself, but the incredible views that it offers over the Bay of Naples. The Museo del Novecento also awaits in one of the museum's annexes. Exhibits here showcase contemporary Neapolitan art.
Sip Cocktails by Roman Ruins in Pozzuoli
Pozzuoli is a little city situated just 30 minutes west of Naples. Few people have heard of it internationally, but little Pozzuoli is of historical significance.
This is one of only four cities in the world to boast two Roman amphitheaters. Pozzuoli was founded in 529 BC by local Samnite tribes but didn't become a city until the Romans took over in 338 BC and named it Puteoli.
Today, Pozzuoli is an interesting juxtaposition of tradition meets modern living. The town is littered with ancient ruins that stand as centrepieces for various piazzas and boulevards. They sit beside trendy cocktail bars and speakeasies.
Enjoy a light lunch and an aperitivo overlooking the Temple of Serapis. Then, pay a visit to the town's Flavian amphitheatre – the third largest Roman amphitheater in Italy.
Spend a Day on the Beaches of Ischia
Ischia is the largest of the three Poets islands that sit across the Bay of Naples. It is locally renowned for its thermal baths, luxurious spas, beautiful gardens, and pristine beaches.
Scale the walls of the Aragonese castle for incredible panoramas over the island. Then, relax on the secluded beaches that border azure waters.
Visit Ercolano – the Better Preserved Pompeii
Pompeii wasn't the only city that was affected by the 79AD eruption of Vesuvius. The nearby town of Herculaneum ("Ercolano") was set to suffer the same fate.
Herculaneum is smaller than Pompeii. However, is much better preserved and representative of what a working Roman town looked like. It is possible to tie in a visit to the two sites in one day.
Experience the Macabre at the Fontanelle Cemetery
Dozens of meters deep beneath the surface of modern-day Naples are several burial sites containing mass graves. The Fontanelle Cemetery is an old quarry that was transformed into an underground cemetery in the 17th century.
It was created as a hurried, final resting place for 250,000 Naples residents who died of the plague. Mass, unmarked graves and piles of skulls add a creepy, unnerving atmosphere. However, the site is also steeped in spirituality and superstition.
According to local legend, caring for a skull here helps to release its soul to heaven. Superstitious older Italian nonnas believe that they will be granted a wish in return. Don't be alarmed if you see a few locals whipping out their old handkerchiefs and polishing random skulls.
Watch a Performance at the Oldest Working Opera House in the World
The Teatro di San Carlo opera house in Naples is the oldest working opera house in the world. It dates back to the 1700s and still hosts performances to this day. Even if you cannot speak Italian, a visit to the opera is a wonderful thing to experience at least once.
Small electronic translator devices are located in front of your seat. The shows are so emotive that you have a good grasp of what is happening anyway.
Naples Travel Tip:
The Campania Arte Card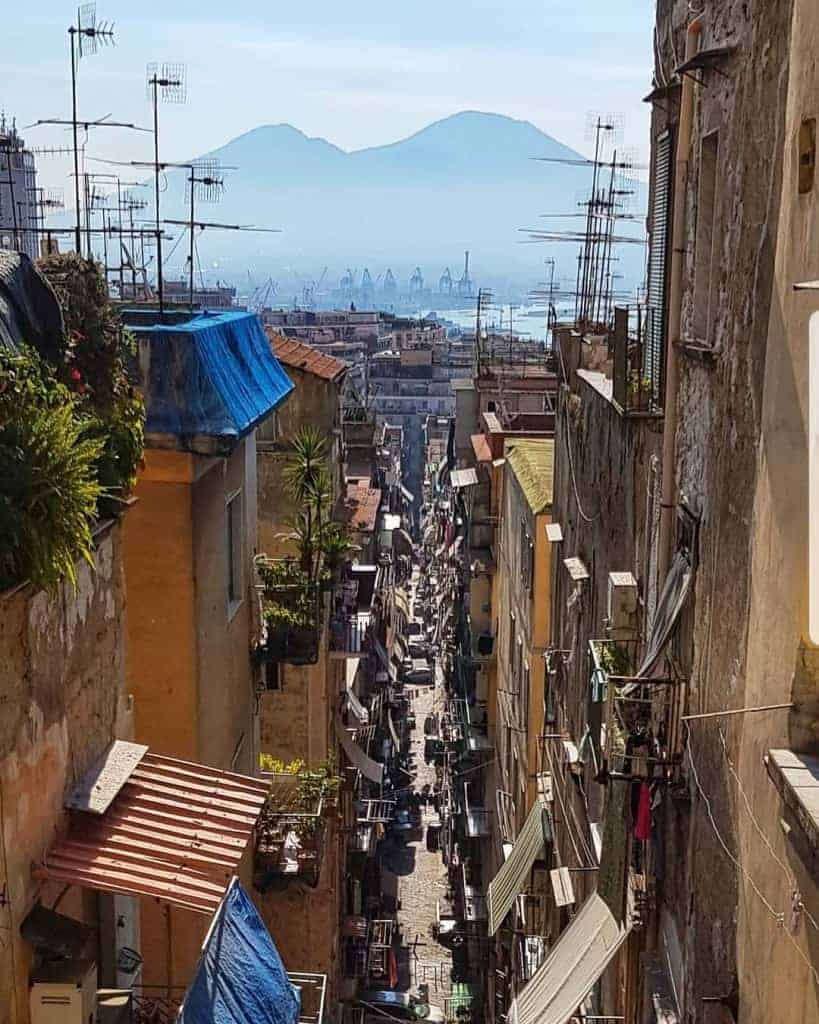 It is possible to purchase a discount card in Naples that enables you to have free/discounted access to various historical and cultural sites around the city. This is called a Campania Arte Card.
Consider picking up a Campania Arte Card swiftly after arriving in the city. It can be purchased at the airport, and at the ticket office of various tourist sites (at the archaeological museum, at Pompeii, etc).
There are variations of the Campania Art Card available. The cards allow free access to five sites, free use of public transportation (including the Circumvesuviana), and reduced entry at additional sites.
Prices start from $12 for those under 25 and $21 for those over 25. It will save you a fair amount of money even if you only visit a few Naples attractions.
Things to do in Naples:
Is Naples Safe?
One thing that always comes up at any slight mention of Naples is the question of whether or not it is safe to travel there. It's sad, but Naples has earned itself a bit of a reputation for being a "dangerous" city.
Petty crime and the Mafia seem to be the main causes for concern. However, petty crime such as pickpocketing and theft happens in major cities worldwide.
Is Naples safe? Yes.
Just practice basic common sense when visiting Naples as you would when travelling anywhere else. For instance, don't walk alone at night, don't flash expensive items. Most visits to Naples are trouble-free.
Parting Words
Do you have any further questions about things to do in Naples or travel in Southern Italy in general? I used to live in Naples and would be happy to assist!
Feel free to reach out to me via email or to drop me a comment below. Safe Travels, Melissa xo
---