Gobustan National Park and its surroundings are a highlight of any trip to Azerbaijan. The area is one of the most popular day trips from the Azeri capital of Baku and boasts natural and historic attractions that are quite unlike anything you will find elsewhere.
Gobustan Azerbaijan (spelt Qobustan in Azerbaijani) is a town south of Baku that retains a lot of its soviet architecture. It can be an interesting place to explore in itself, however, the highlight of visiting the area is the Gobustan National Park that awaits to the northwest of the settlement.
Here, you will find the largest collection of petroglyphs (caveman paintings) in the world. Nearby, you will also find mud volcanoes – a weird and wonderful natural phenomenon.
Gobustan, Azerbaijan
You should dedicate a full day of your Azerbaijan itinerary to exploring the petroglyphs and mud volcanoes of Gobustan. The two attractions are a short drive away from each other.
Internationally, very few people have even heard of Gobustan or Gobustan National Park. The benefit of this is that the site is seldom if ever, occupied by more than a handful of tourists. Boarding an old Lada cab and venturing out into the desert with locals here is a true adventure.
The Main Attractions of Gobustan
Gobustan sits approximately 67km south of Baku. The archaeological park here dates back to 1966. In 2007, it was designated as a UNESCO world heritage site.
Gobustan National Park and Petroglyphs
Gobustan National Park and its resident petroglyphs sit just west of the town of Gobustan. You will find this area marked on the map as "Gobustan Rock Art Cultural Landscape".
"Petroglyphs" is a funny old word that you may not be familiar with if you're not incredibly into archaeology. The word "petroglyphs" actually comes from ancient Greek.
The name originates from the word "petros" meaning stone, and "glyphein" meaning "to carve". In simple terms, petroglyphs are caveman engravings that have been carved into caves and stones.
The collection here at Gobustan is the largest of its kind in the world. They date back over 40,000 years to the time of the Ice Age.
The site is expansive and stretches over 537 hectares. There are more than 6,000 petroglyphs to be found here.
Admiring the Gobustan National Park Petroglyphs
It is fascinating to see how detailed some of the carvings are. Particularly since they were created during a time when people had very few tools and resources.
Within the rocks and caves, you can find old settlements, cave homes, and burial sites. It is believed that the site was inhabited by humans from the last Ice Age, through the Upper Paleolithic Age, and up until the Middle Ages.
The Petroglyphs depict scenes of prehistoric life such as tribal dances and hunting for animals. It is believed that these tribal dances would be performed by people here as they started to prepare to go out on a hunt.
Earthquakes have led to the national park looking so higgledy-piggledy with rocks seemingly strewn all over the place. So, the site has changed through the centuries.
However, many of the caves here where cavemen once lived are still standing today. Some of the groupings of rocks are actually ancient burial mounds.
Gobustan National Park Museum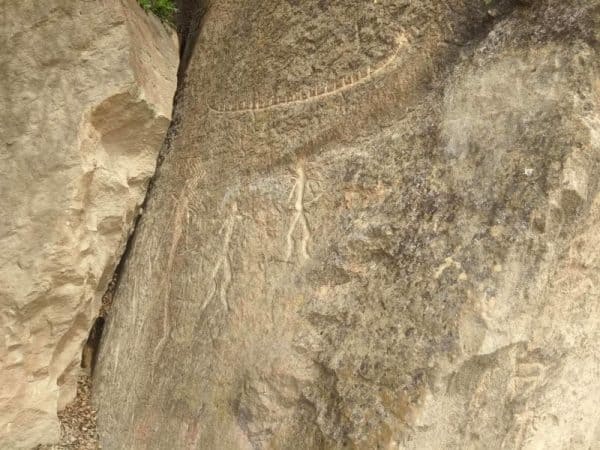 A small museum sits at the entrance to the Gobustan National Park site. Its exhibits include weapons, carving tools, and artefacts recovered from the Gobustan region.
The exhibitions showcased here are displayed in a number of different languages including English. It is best to visit the museum before exploring the caves and petroglyphs site.
The museum helps you to put everything into context, and it provides some information on where specific carvings are located. Additionally, the information placards can help you to understand what various symbols and imagery mean.
Remember that Azerbaijan is new to tourism
Do remember that Azerbaijan is still relatively new to tourism. It wasn't until Baku hosted the Eurovision song contest in 2012 that people really started to consider visiting the country.
Consequently, be sure to be armed with lots of patience when you visit. The tourism infrastructure is still developing. The Gobustan National Park petroglyph site itself isn't very well signposted and with the exception of some of the displays in the museum, nothing in the national park is explained.
So, you essentially feel as though you are just blindly wandering around a huge field of rocks. There are no information boards next to any of the petroglyphs either
So, finding any petroglyphs within the cave complex is the first challenge. Then, when you are able to find a petroglyph, there is no information provided to explain what it is supposed to represent.
Admission to Gobustan National Park
Admission to Gobustan National Park costs 4 Azeri Manat per person (£1.70). This includes the museum and the national park site.
The Gobustan Mud Volcanoes
The dry, arid, desert landscapes that surround the Gobustan mud volcanoes are otherworldly. Wandering around here makes you feel almost as though you are on Mars, rather than somewhere in the Caucuses!
Mud volcanoes of all different heights, widths and depths are scattered around the desert. At random intervals, you will hear a gurgling noise as one spurt out a river of ice-cold, gooey mud.

Occasionally, the eruptions are bigger and wind up covering a crowd of unsuspecting tourists in a layer of mud. That is always fun to watch.

Mud volcanoes are a strange phenomenon that you may not have previously realised even existed! Approximately 50% of the world's mud volcanoes can be found here in Gobustan Azerbaijan.

There are some mud volcanoes in Iran and Pakistan in the Makran mountain range. Several more can be found in the Xinjiang province and if you travel to Cartagena Colombia, you can also visit the Reserva Volcan de Lodo El Totumo mud volcano there.
These strange volcanoes can be formed when gases below the surface of the earth find a weakness in the ground. Their eruptions are interesting, particularly here in the desert as the desert heat means that the mud solidifies and cracks in a matter of seconds before your eyes.
Hanging out at the Gobustan mud volcanoes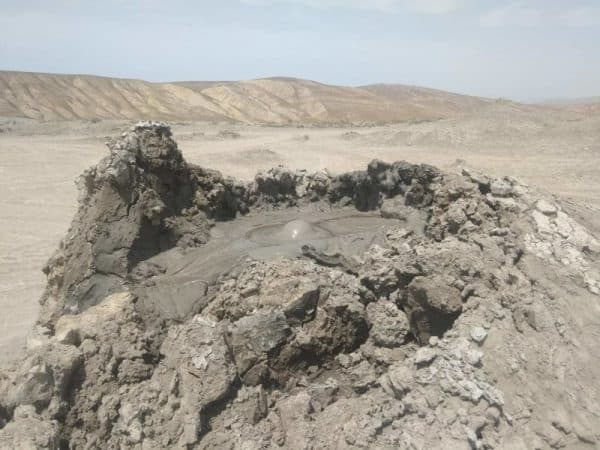 Azeris will tell you that the mud from the Gobustan mud volcanoes is great for your skin. Dead sea mud from Israel is renowned for its skincare properties so this may be the same, right?

You may see locals lathering big handfuls of it all over their faces and bodies. You can also scoop some up in a water bottle or container and take some back to your hotel to give yourself a facial later if you like.

Do be careful as you explore the site. Most of this comes down to common sense and it is clear to see where you should and shouldn't be walking.

However, some of the volcanoes are bottomless and yes, sadly there have been instances where tourists have fallen in. Don't climb up the craters or go too close to their edges.

Apparently, there were once caution signs scattered around the desert here. However, the local Azeri cab drivers gathered them up and threw them all away so as not to scare tourists and lose business.
That may be a rumour but it is still alarming. Just be cautious!

The mud volcanoes are free to enter and explore. However, you will need to get a local Gobustan cabbie to drive you here.
Gobustan town
Gobustan town, home to a population of 14,000, is nothing to write home about and is far from beautiful. However, if your time in Azerbaijan is short, a brief wander through the streets can be an interesting experience.
Gobustan has a completely different feel to it than Baku. Arriving here can be something of a culture shock when you compare it to the glittering hi-rises of the capital.
The town is filled with dusty roads and Soviet-style tower blocks. It makes you question if you are still in the same country.
Getting from Baku to Gobustan
Getting to Gobustan from Baku is not an easy feat and requires a little advanced planning, particularly if you hope to do the trip independently. There is no public transport that runs directly to the site.
Renting a car in Azerbaijan is not advisable due to the poor conditions of most roads here. It is even less advisable to attempt this when visiting Gobustan where you face a very real possibility of getting lost in the desert on your way to the mud volcanoes.
Your main options for reaching Gobustan National Park and the nearby mud volcanoes are to either participate in an organised tour or hire a local driver to take you there.
The various options for travelling to Gobustan from Baku are discussed below. Generally, the best option is to hire a private driver to take yourself and other travellers there, or to participate in a tour.
Trying to get from Baku to Gobustan by bus adds a lot more time and stress to your day. It doesn't work out much cheaper either, considering the fact that you will need to find a cab in Gobustan to take you to the mud volcanoes and are very likely to be ripped off or over-charged.
Organise a Gobustan Tour
One option for getting from Baku to Gobustan is to take a tour. There are many reputable tour companies that run daily tours to and from the area.
Several tour companies also stop by the "burning mountain" of Yanar Dag, and the spectacular Bibi Heybet Mosque. Opting to take a tour takes a lot of the stress and logistical planning out of organising a day trip.
A number of reputable Gobustan tours are detailed below for your consideration. It is a good idea to reserve your place online in advance to avoid any disappointment!
Take the bus from Baku to Gobustan
Travelling to Gobustan by bus is not that simple since you need to make a couple of connections. However, if you may prefer this option, the route that you need to take is outlined below for your convenience.
Step One: Get from Baku to Gobustan
First, you need to take the metro to Iç Eriseher station. From the square near Baku old town, take bus number 6 and tell the driver that you want to go to Gobustan.
He will know where to drop you off and will leave you in a place to get another bus. From here you need to take bus number 195, telling the driver you want to visit the petroglyphs.
You will disembark bus 195 close to the limits of Gobustan town. Consider downloading an offline map such as "Maps Me" so that you can follow your route and ensure you're headed the right way.
Step Two: Find a cab driver in Gobustan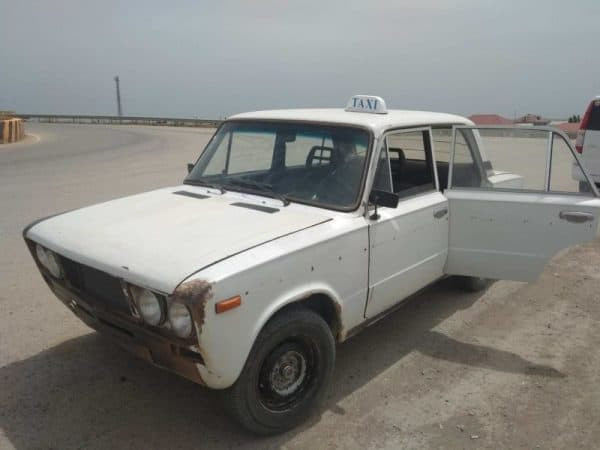 You will need to take a cab to visit the Petroglyphs and the mud volcanoes from Gobustan town. The mud volcanoes are way out in the middle of the desert and you need a local to take you to them.
You will note that there is a large group of cab drivers that wait at the roundabout just outside of Gobustan. Most of them drive old Lada cabs that they will joke are "designed for offroading".
You should expect to pay around 10 manat for the cab driver's services but be prepared to haggle! Never take the first price offered. They may start their negotiations at around 35-30 manat.
Is it advisable to travel to Gobustan National Park by bus?
Opting for the metro and bus combo is the cheapest way to get to Gobustan. It will cost you no more than around 1 manat for all of your bus and metro connections.
However that being said, it can be difficult to communicate since most people here do not speak English. If you cannot speak Russian or Azeri, try to use google translate on your phone.
Alternatively, download a picture of the petroglyphs to show the driver where you want to go. This option can be quite stressful if you wind up missing a connection and waiting around for buses for long periods of time. So, it is generally better to hire a private driver or join a tour.
Take a cab or hire a private driver in Baku
Hiring a driver is a convenient way to get from Baku to Gobustan. You can expect to pay around 90 manats for a return trip, including a brief stop at Yanar Dag on your way back to Baku.
Uber exists in Baku. Some drivers will be happy to take you out to Gobustan. You can also ask your hotel/accommodation provider to provide you with a quotation for hiring a driver for the day.
Always be prepared to haggle. The first price that you are offered for anything in Azerbaijan is always an inflated one that you are expected to negotiate. 90 manats for the round trip is pretty reasonable.
Be prepared to change drivers
Note that you may have to exit your Baku cab and hire a local cab briefly when you arrive in Gobustan. Getting to the mud volcanoes requires going off-road across sludgy, dirty desert plains.
Many Baku cabbies will not be willing to get their cars muddy. Not to mention, they probably don't know exactly where the mud volcanoes are since they are not local.
Don't be alarmed if you have to change drivers briefly. It takes less than five minutes to get to the mud volcanoes, and the trip should only cost you 10 manat or so.
Additional info for taking a cab to the mud volcanoes
Keep in mind that Gobustan/Qobustan is pronounced as Gobustan (Go-bus-tan). Make the "G" sound heard otherwise cabbies and bus drivers might not know what you are talking about.
Expect an adventure reminiscent of a comedy sketch as you make the short journey from Gobustan roundabout to the volcanoes. Many of these old Lada cabs have seen better days and the drivers often have to comedically get out, push their cars along, and top up the gas tanks with water at random intervals.
You are also unlikely to see seat belts in the cars. The fact that the ride is so bumpy means being thrown from left to right with every turn and bump.Its all part of the fun!
Prices of Visiting
Gobustan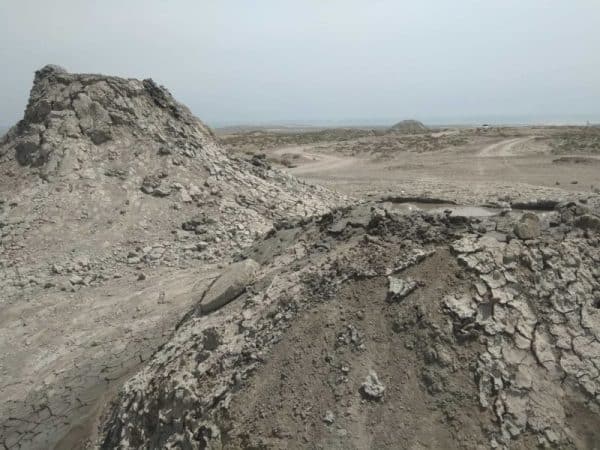 The price cost for taking a trip from Baku to Gobustan will vary a lot depending on whether you choose to organise the trip independently or go on a tour. Tours can set you back around £75 per person. However, they are inclusive of everything.
Organising a private driver will cost you 90 manat (circa £40) before you take into consideration the extra fees for the museum admission, Gobustan local cab driver, and any lunch/drink costs.
Organising the trip independently works out cheaper if you are travelling as a group and sharing the costs of a driver. If you are a solo traveller in Azerbaijan, you may prefer the comfort of a tour for a price that is not that much higher than doing it all independently.
Parting Words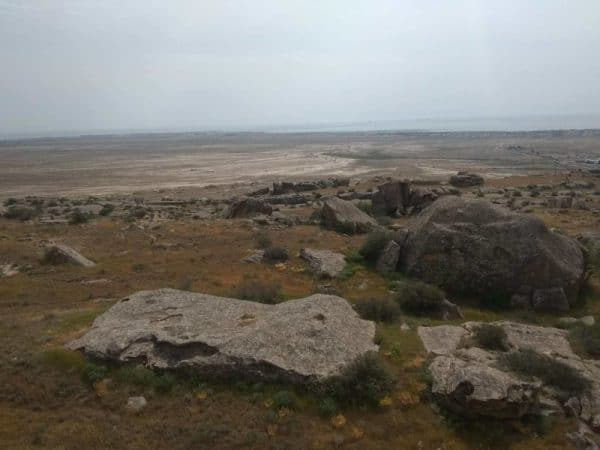 Do you have any additional questions about Gobustan and Gobustan National Park, or about planning a trip to Azerbaijan in general? You may find this Azerbaijan Travel Guide useful.
Please don't hesitate to reach out to me if you need anything. Safe travels! Melissa xo
---