Day trips from Naples Italy are plentiful and varied. There will be something for you in Campania and beyond, whatever your interests.
Naples itself is a raw, gritty, lively, historic, and grossly underrated city. The Campania capital is deserved a long weekend's worth of exploration in itself.
Even if you base yourself here for a month, you would still feel as though you had barely scratched beneath the surface of things to do here. However, if you want to escape the high octane chaos, there are plenty of day trips from Naples you can do too.
The opportunities for adventure in Southern Italy are plentiful. Sail out to breathtaking island archipelagos, hike dormant volcanoes, whizz around quaint rural towns on the back of a Vespa, or learn about Greco-Roman archaeological sites. The possibilities are endless.
Go it Alone or Guided Tour?
All of the day trips from Naples discussed in this article can be reached independently – either by public transport or by renting a car. Doing so is both simple and affordable.
The Circumvesuviana train runs frequent, efficient services between central Naples and the touristic sites of Ercolano, Pompeii, and Sorrento. You may be surprised to note that the Campania region of Italy also boasts a comprehensive bus network that serves many of the smaller towns and villages.
All things considered, sometimes there may be occasions where you prefer the assistance of a Tour Guide. Booking the services of a Guide can provide more information and help you put the sights you are seeing in more context.
It's all a matter of personal preference. For each day trip suggestion, I have provided information on how to get there via public transport, and guided tours that may be of interest. This way, you can choose which option is the best for you.
The Best Day Trips from Naples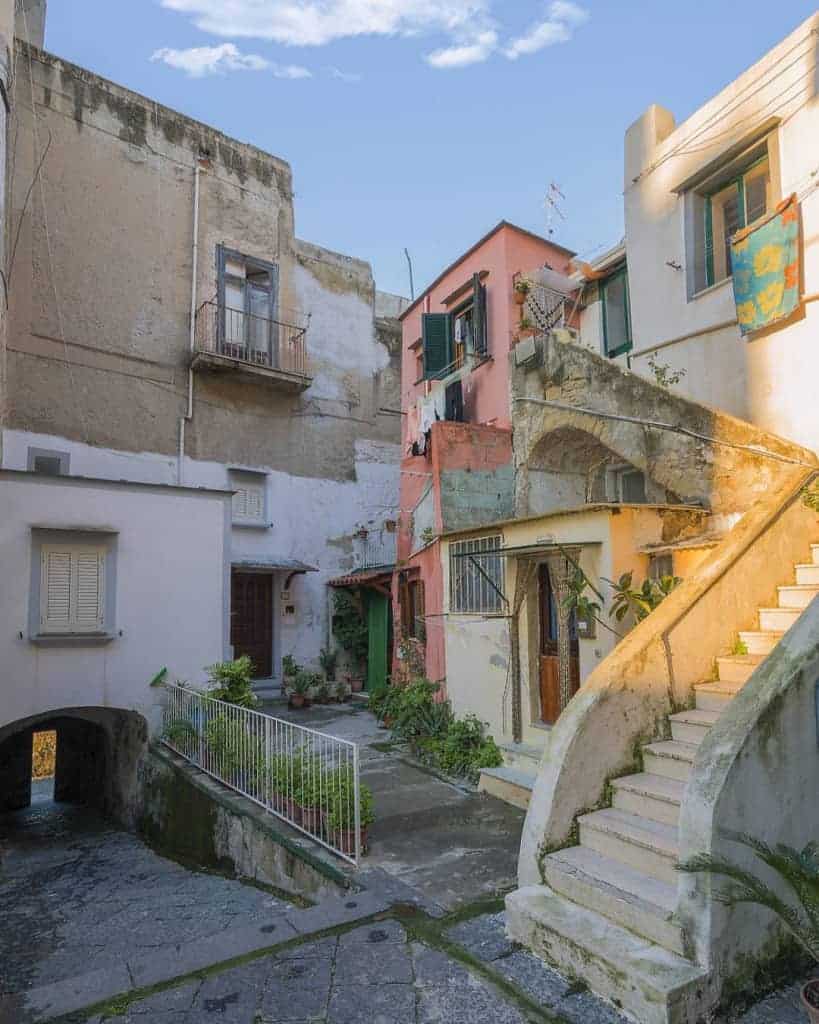 A collection of some of the best day trips from Naples are provided below. Some of these are real Italy bucket list items. Others are off-the-beaten-path hidden gems.
Fall in Love with the Beach Town of Bacoli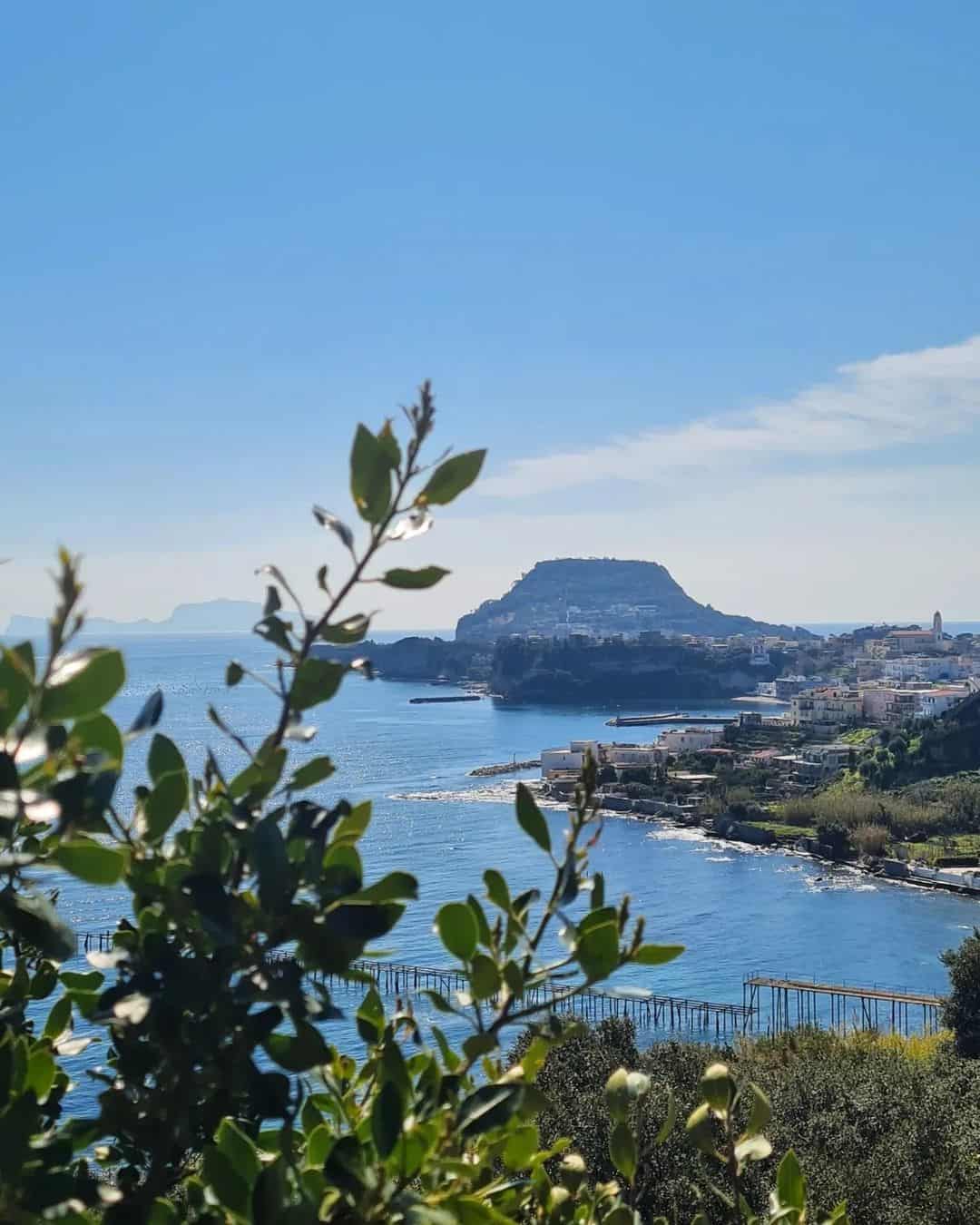 Bacoli is a charming little beach town that sits just north of Naples and Pozzuoli. Many Neapolitans venture here during the summer months to relax on the town's white-sand beaches and dine at the chic restaurants that line the coast.
While the tourists head south to Amalfi, the locals venture north to Bacoli. Enjoy a pleasant stroll around Bacoli's Lake Miseno, before stopping for an aperitivo or a gelato at one of the elegant bars that overlook the water.
It is possible to cycle (or walk) all the way along the coastline from Baia, to Bacoli and Miseno. The Piscina Mirabile are underwater Roman baths that make an interesting visit for anyone interested in history.
Getting to Bacoli from Naples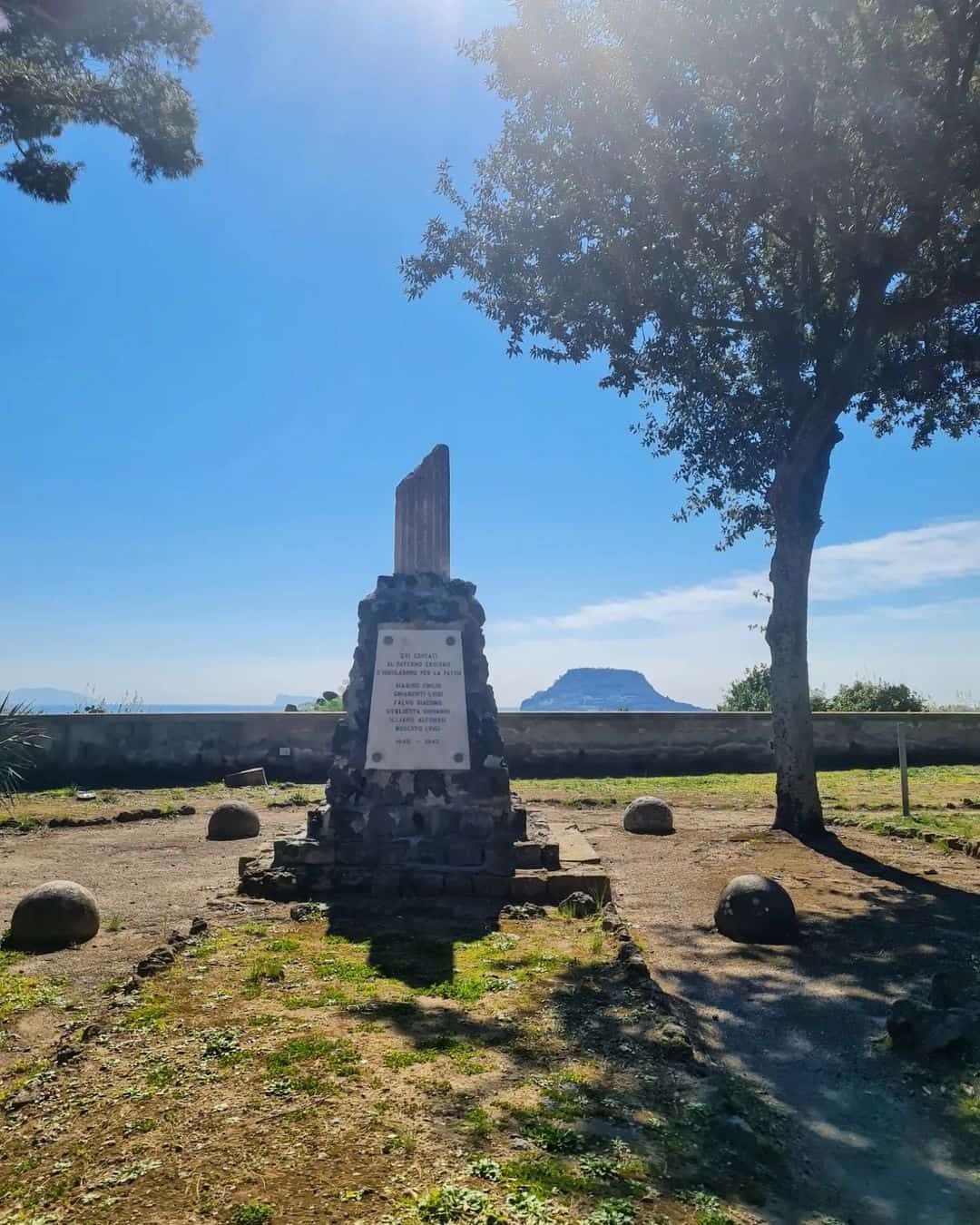 It is easy to reach Bacoli via public transport from Naples. From the terminal bus station on Via Galileo Ferraris, take the bus bound for Bacoli/Torregaveta.
The buses run hourly and the journey takes just over an hour. You will pass through wonderful coastal scenery at Pozzuoli and Baia as the bus makes its way to Bacoli.
Do note that public transport in Southern Italy is not always on time and the schedule for the Napoli – Bacoli bus should be seen as more of a guideline. Have plenty of patience and try to arrive at the bus stop at least 10 minutes before departure time.
Stroll Around Lago d'Averno – Gateway to the Underworld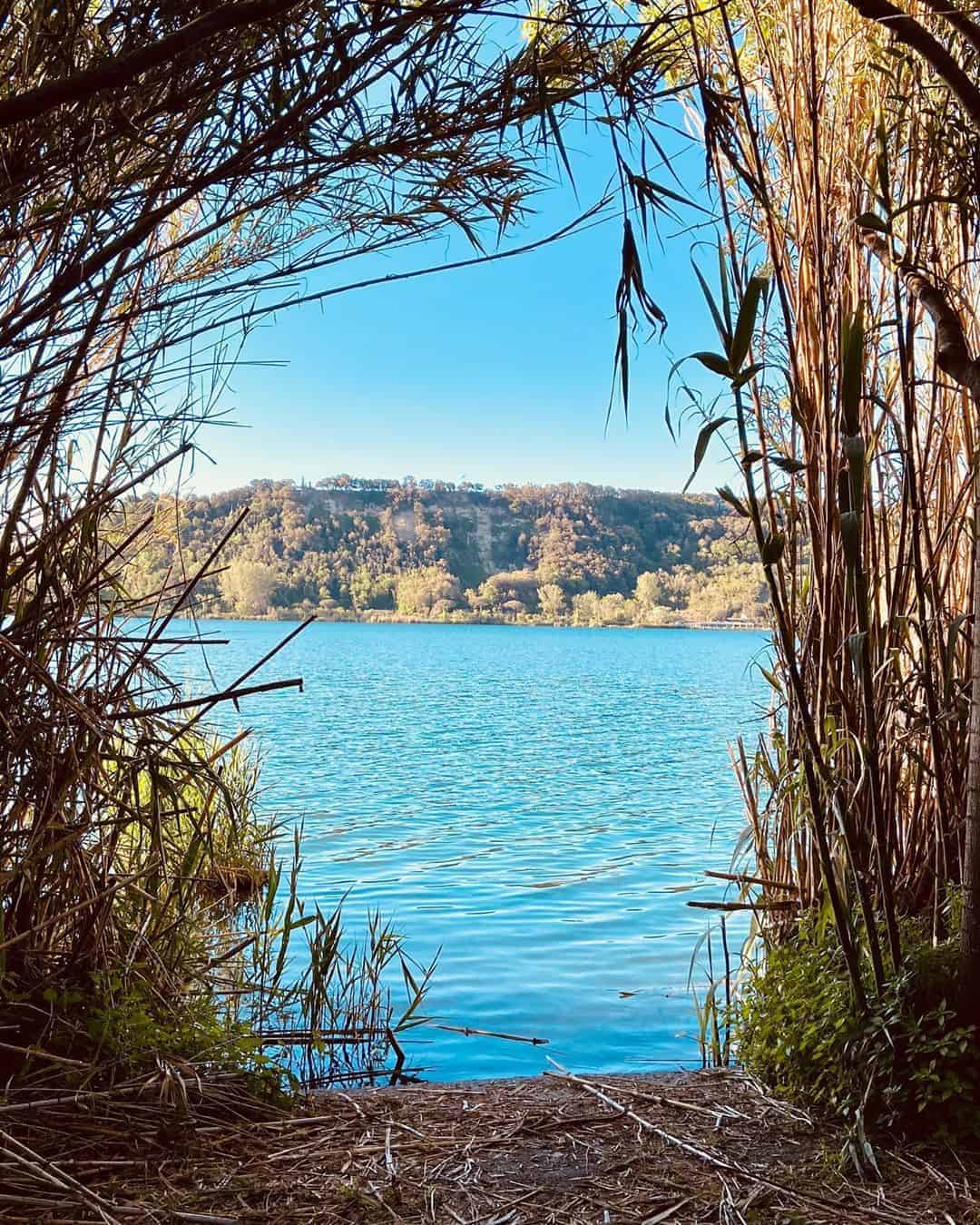 Avernus (Lago d'Averno in Italian) is a volcanic crater lake that is part of the Campi Flegrei volcano complex. The lake is a popular spot for a morning jog, a brisk afternoon walk, or a picnic on its grassy banks.
The atmosphere around the lake is peaceful, yet eerie. Averno's history is rooted in Roman and Greek mythology.
In ancient times, it was believed to be the entrance to Hades' Underworld and a portal into hell(!) The name Avernus stems from ancient Greek and translates to "without birds".
The fumes that were emitted from the lake deterred birds from flying overhead. Centuries ago, the lack of birdsong and wildlife in this area further strengthened locals' beliefs that death and evil lurked in the area.
Getting to Lago d'Averno from Naples
It is easy to get to Lago d'Averno from Naples. Take the 9 9104 train from Naples Montesanto to Lucrino.
At Lucrino station, cross Via Miliscola and walk down Via Italia until you see the lake. The entire journey takes around 30-40 minutes.
Sail Out to Beautiful Capri
Capri is a vision. The island idyll boasts steep cliffs that arise from perfectly azure waters, elegant mansions draped in bougainvillea, and pristine beaches with secluded coves and translucent waters.
There's a reason that this is one of the most popular travel destinations in Italy. The beautiful island of Capri has been synonymous with glamour and jet-set living for centuries.
Thousands of years ago, the island was adored by Roman Emperors whose decadent mansions still stand today. Take the chair lift to the peak of Monte Solaro, wander the narrow streets of Anacapri, and enjoy a romantic boat ride into the infamous blue grotto.
Getting to Capri from Naples
It is easy to take a ferry to Capri from Naples' Beverello port, close to Piazza Municipio. The trip takes approximately 40 minutes and boats leave at regular intervals throughout the day.
Suggested Capri Tours
Explore the Ruined City of Pompeii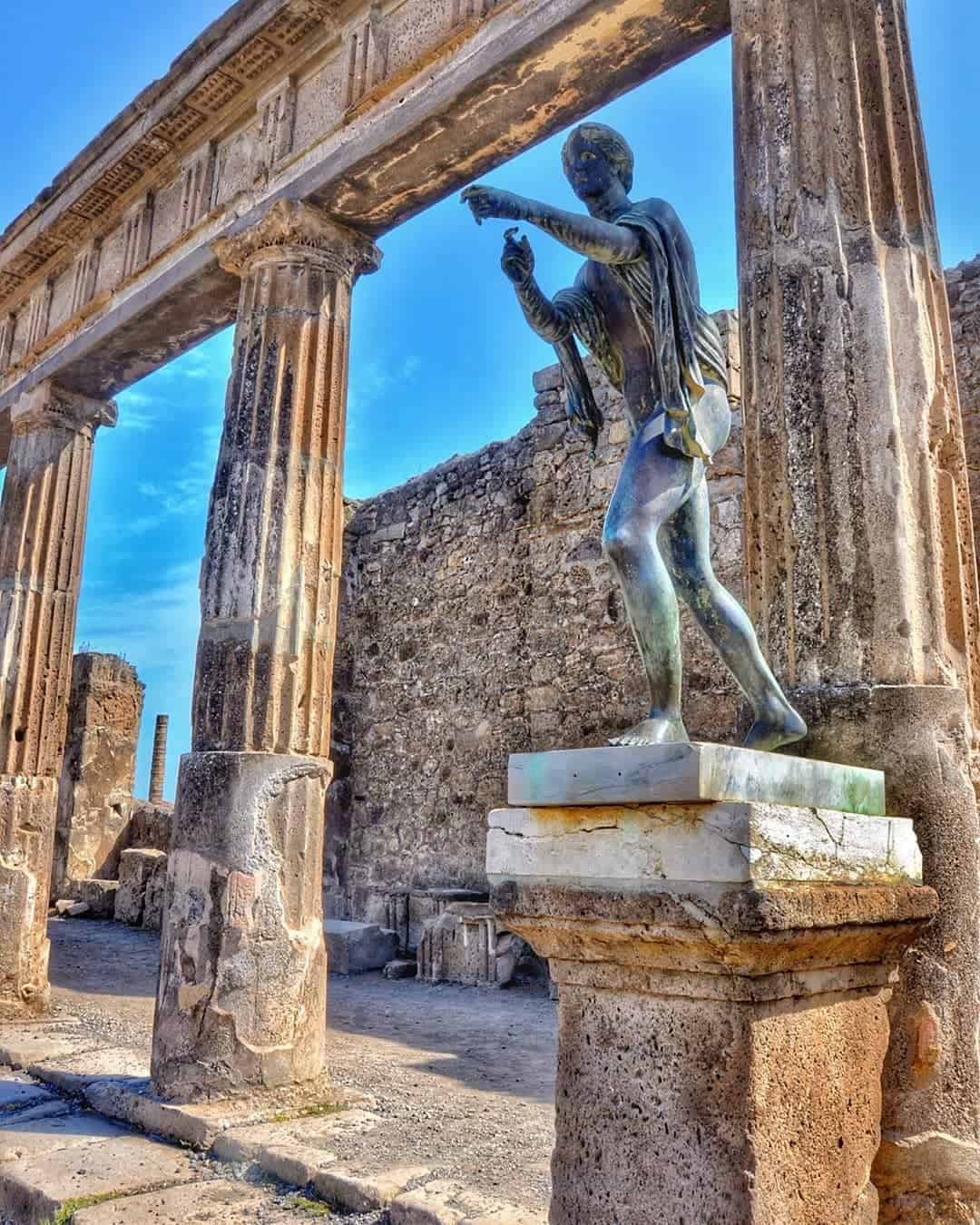 Pompeii is one of Europe's most fascinating archaeological sites. The city is remarkably well preserved considering the catastrophic volcanic eruption that completely wiped out its inhabitants back in 79AD.
Exploring Pompeii presents the opportunity to wander the same cobbled streets that the Roman nobles walked down hundreds of years ago. Look out for the Temple of Apollo – the oldest building in Pompeii.
Similarly, don't miss the House of the Vettii – a preserved Roman villa, and the thermal baths. It should be noted that many of the artefacts from Pompeii have been removed from their original location and are now on display at the Naples Archaeological Museum.
Getting to Pompeii from Naples
The Circumvesuviana train runs from Napoli Centrale to Pompeii Scavi station. Pompeii is just 26km south of Naples and services run at regular intervals. It is possible to see Pompeii and Ercolano in one day.
Suggested Pompeii Tours
Ancient Greek City of Paestum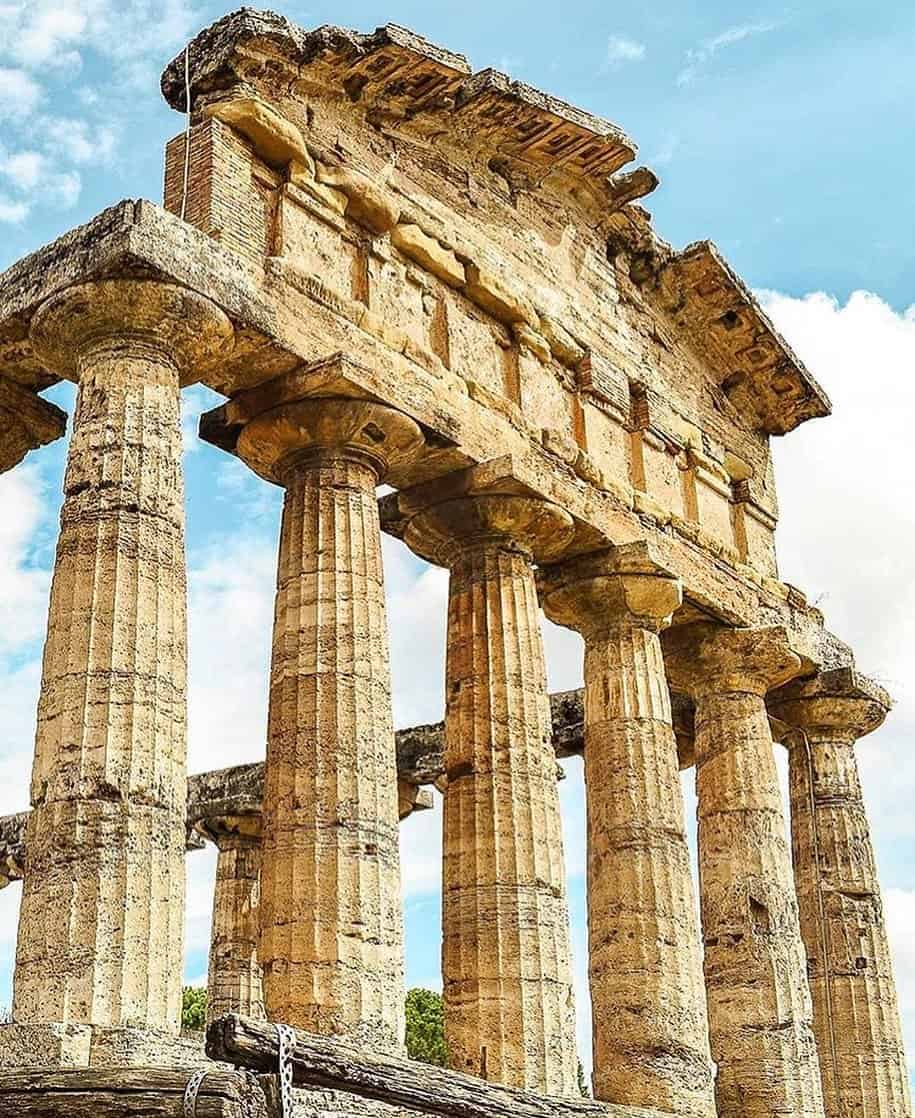 Paestum is an ancient Greek (yes, Greek!) city in the south of Italy. The area is renowned for its magnificent Greek temples that are remarkably well preserved and are equally as impressive as the Acropolis in Athens, just without the crowds.
The city was founded by Greek colonists in 600 BC. There are three grand temples to look out for: the Temple of Hera I, the Temple of Athena, and the Temple of Hera II.
There are also remnants of Roman ruins nestled between the Greek temples, including a forum and the remains of an old amphitheater. Paestum is one of the best places in Italy for off-the-beaten path travel.
Getting to the Paestum from Naples
You can take the train from Naples to Paestum. The journey takes between an hour to an hour and a half depending on the specific train you take. Tickets cost approximately €8.50 and trains depart at regular intervals throughout the day.
Fall in Love with Sleepy Procida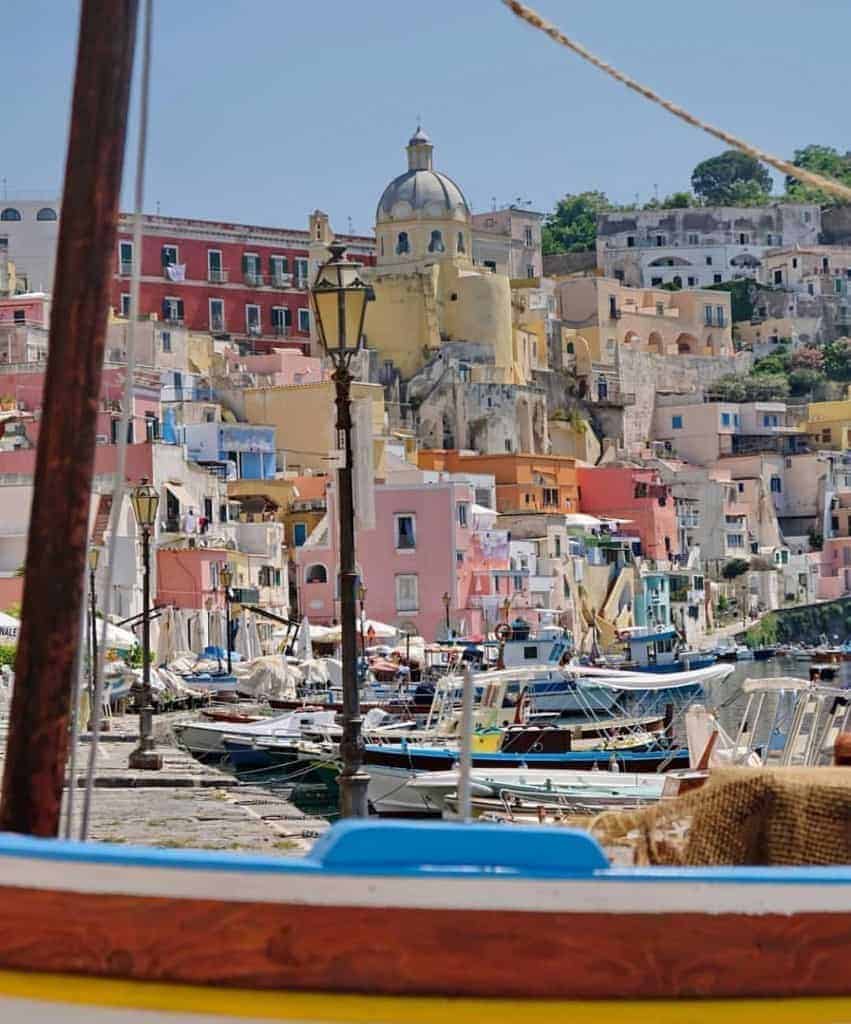 Idyllic Procida is the smallest and most authentic of the three islands in the Bay of Naples. Procida is so small that you could easily walk the entire circumference of the island in a day.
While tourists flock to Capri, locals sail out to Procida. This is great because many of the restaurants, stores and coffee shops here come without the touristic price tag.
Ancient walled towns, painted monasteries, picture-perfect houses, and near isolated beaches lay in waiting here to reward you for stepping off the beaten path. You can come here early in the morning, have breakfast by the port, explore the island, and be back in Naples in time for evening cocktails in Chiaia.
Getting to Procida from Naples
It takes around 40 minutes to reach Procida by ferry from Naples. Boats depart at regular intervals throughout the day. The precise schedule changes according to the season.
Procida tours to consider
Soak in the Hot Springs of Ischia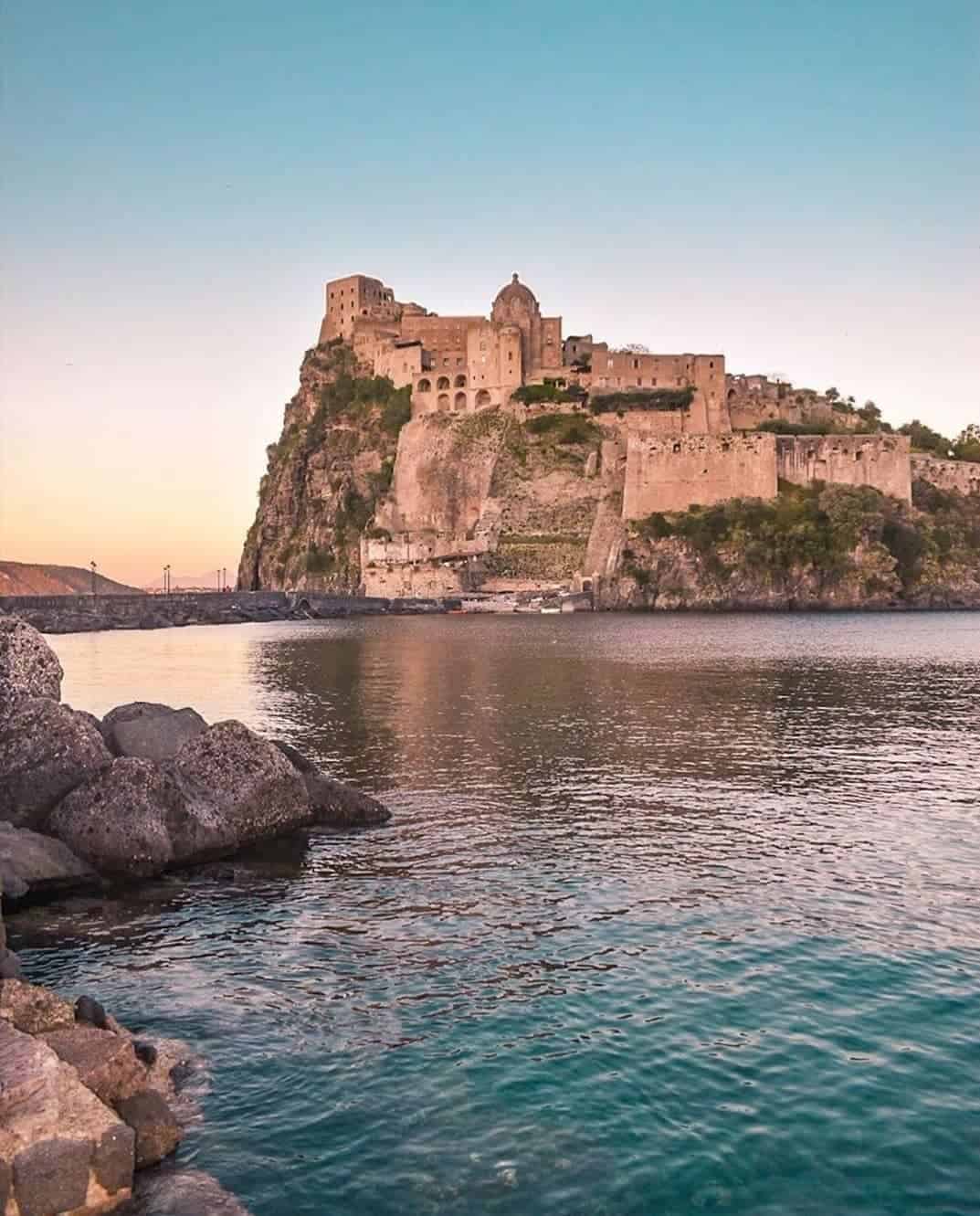 Ischia is the largest of the three islands in the Bay of Naples. It is beloved by locals for its natural hot springs and thermal baths which provide everything you need for a relaxing getaway.
Several towns are scattered through the landscape of Ischia. The northern coast of the island is more built-up and cosmopolitan, while the southern part of Ischia exudes a sleepy ambiance and tranquil, secluded beaches.
Head to the northern town of Ischia Porto if you want to sample some of the best bars in Southern Italy. For manicured gardens, spas, and luxury hotel stays, venture to Lacco Ameno and Forio.
Getting to Ischia from Naples
It takes approximately an hour and fifteen minutes to get to Ischia from Naples. You can take a ferry or a hydrofoil boat from Naples port.
Boats leave at regular intervals throughout the day. The precise schedule changes depending on the season.
Suggested Ischia Tours and Tickets
Campi Flegrei
Mount Vesuvius may be the most famous Naples volcano but it is certainly not the only one. The supervolcano Campi Flegrei sits to the north of the Campania capital.
The huge area of the caldera consists of a whopping 24 craters. The majority of the site sits beneath the sea. The volcano solfatara is no doubt the most interesting section of the volcano. The site boasts smoking fumaroles and volcanic mud baths.
Note: The solfatara has been closed since September 2017 due to a tragic accident. If you climb the hill close to the entrance while in Pozzuoli, you have a great view of the fumaroles. The site may reopen in the future pending maintenance work.
Getting to Campi Flegrei from Naples
Trains from Napoli Centrale depart regularly for Pozzuoli. Take the train to Pozzuoli Solfatara for Campi Flegrei.
Have Dinner by the Sea in Pozzuoli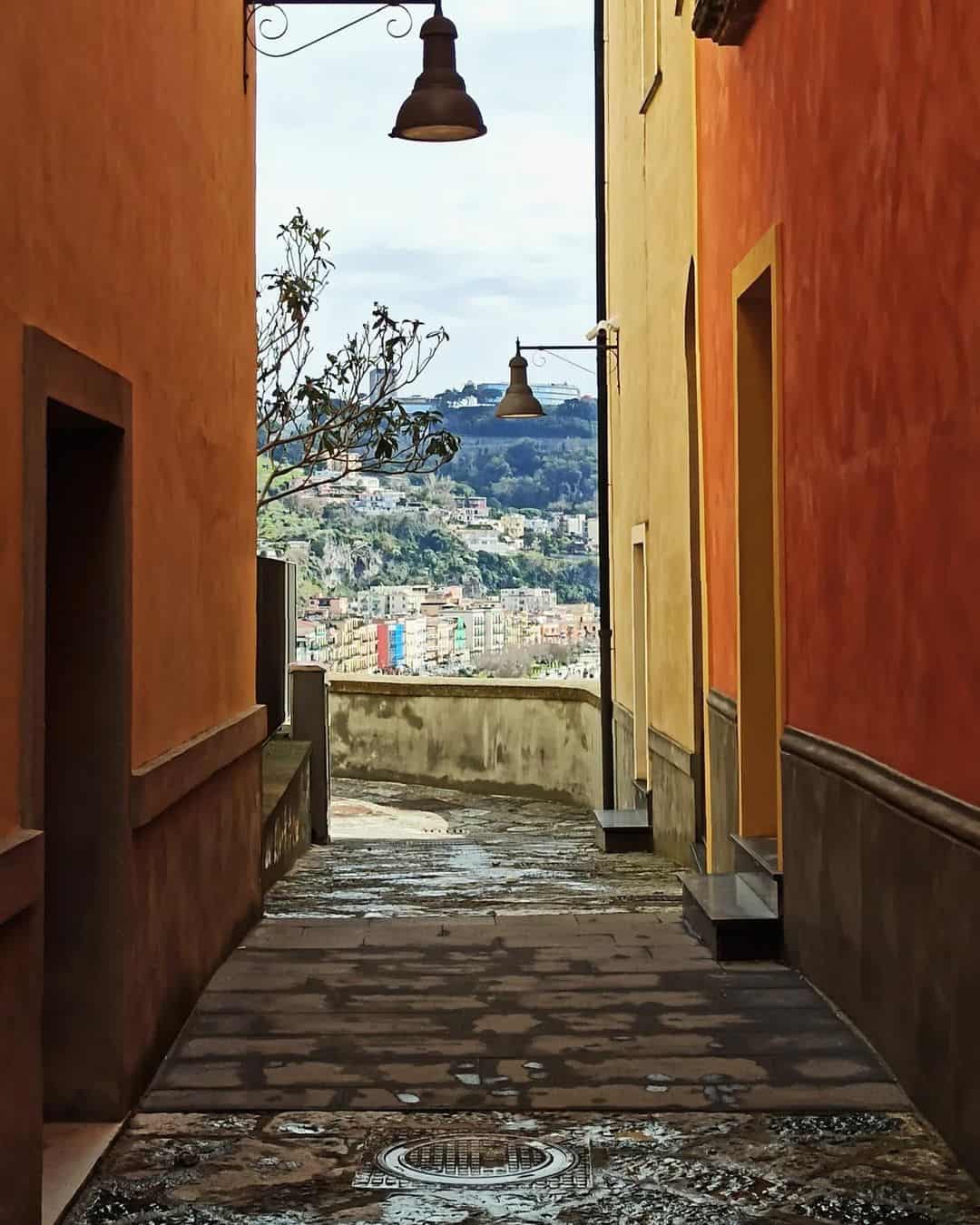 Pozzuoli is a beautiful beach town that sits just north of Naples. It was founded in 530BC by political exiles from the Greek island of Samos and is known for being the birthplace of Actress Sophia Loren.
The little town is rich in Roman history and is home to an excellently well-preserved Flavian amphitheater and the Temple of Serapis. The latter is a Roman ruin that was previously completely submerged beneath the Bay of Naples.
It was only discovered in recent years when the local government drained the area. It is illuminated by night and is a charming thing to look across to as you dine in the trattorias nearby.
Pozzuoli hosts plentiful dining and nightlife options. The chic bars that line the seafront are a great place to sample some of the best seafood in Campania.
Getting to Pozzuoli from Naples
It is easy to reach Pozzuoli by train or metro. You can board the Metro Line 2 at Napoli Centrale, or take the Circumflegrea train from Montesanto station.
Recommended Pozzuoli Tours
Uncover the History of Ercolano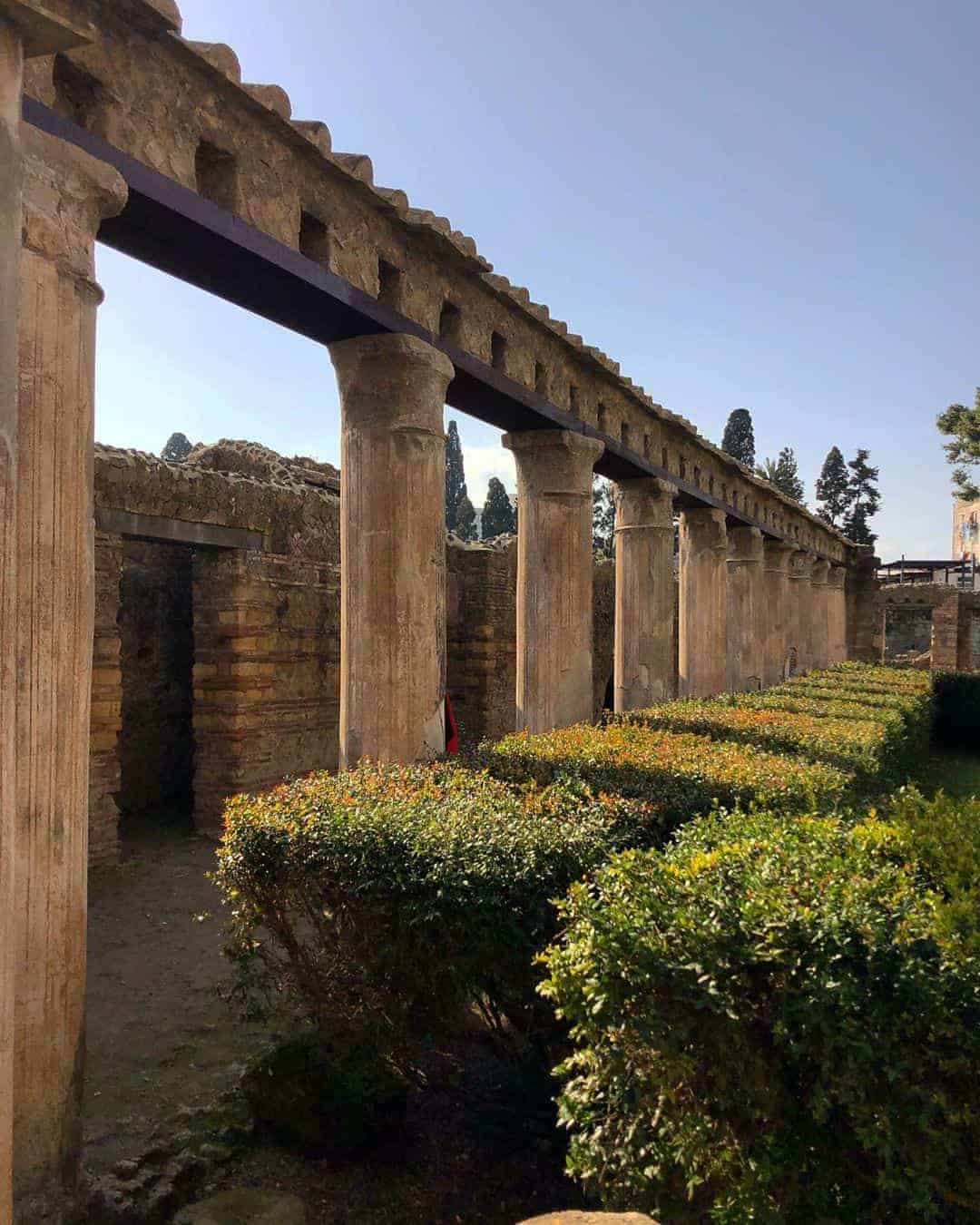 It was 79AD when the noble city of Pompeii was destroyed. However, a lesser-known fact is that four other Roman settlements were destroyed at the same time. One of these was the city of Ercolano (Herculaneum).
The town was much wealthier than Pompeii and is notably better preserved with entire building structures remaining in place. The site is so expansive, there are still sections that have not yet been excavated.
Getting to Ercolano from Naples
You can take the train to Ercolano-Scavi from Naples. The archaeological site is situated a short walk from the train station.
There are two different trains that service this route. Namely, the Naples – Sorrento line, and the Naples, Torre Annunziata, Poggiomarino line. Services run at regular intervals throughout the day.
Suggested Ercolano Tours
Take a Short Amalfi Coast Road Trip
The Amalfi Coast is a stunning 50km stretch of coastline that runs along the Tyrrhenian Sea. It is comprised of stunning pastel coloured beach towns that cascade down craggy hilltops, fragrant lemon groves, and sheer cliffs.
This is one of the most desirable travel destinations in Italy, and for good reason. If you are limited on time, it is possible to explore the Amalfi Coast on a day trip from Naples.
You can do this independently by renting a car in Italy or utilising public transport. Alternatively, you can use the services of a local tour company.
Start the day by travelling to Sorrento. Have a short walk through the old town and have a spot of breakfast before continuing onwards to Positano and then the town of Amalfi.
Getting to the Amalfi Coast from Naples
It is possible to do an Amalfi Coast day trip via public transport if you do not have access to a car. You can take a train from Naples Central station to Sorrento. You can then take buses between Sorrento and Positano, and Positano and Amalfi.
Suggested Amalfi Coast Tours
Book an Italian Wine Tasting
Campania is one of Italy's best wine-making regions. This area is known for its rich, velvety red wines.
Dozens of varieties of grapes grow in the fertile soils around Vesuvius – some of which do not grow anywhere else in the world. The Aglianico grape is one of the most important grapes in Campania.
It is used to make two of Southern Italy's most beloved wines – the Aglianico del Taburno and Taurasi. A pleasant day trip from Naples is to treat yourself to a vineyard tour and wine tasting.
You can reach out to vineyards that appeal to you and organise a tasting independently, or you can book a place on a wine tour that typically includes a couple of stops.
Suggested Wine Tasting Tours

Act Like a Local in Portici
Portici is a small city that seemingly blends into Naples. It may not be a common touristic destination, but there is plenty to see and do here.
Portici is best enjoyed while visiting the nearby ruins of Ercolano. Start the day with an espresso and a generous slice of Italian plum cake in Piazza San Ciro and be sure to stop by the Royal Palace of Portici.
The palace is a grand mansion that was built by King Charles III for the dynasty of the Bourbons of Naples. The town centre provides a great opportunity to simply people watch and observe local life.
Getting to Portici from Naples
It is easy to get to Portici from Naples. You can opt to take the bus or the train. It takes less than 15 minutes to reach the city via both methods. Board the train from Napoli Centrale (Piazza Garibaldi) to Portici Via Liberta, or take the 156 bus from Naples' Galileo Ferraris.
Hike Vesuvius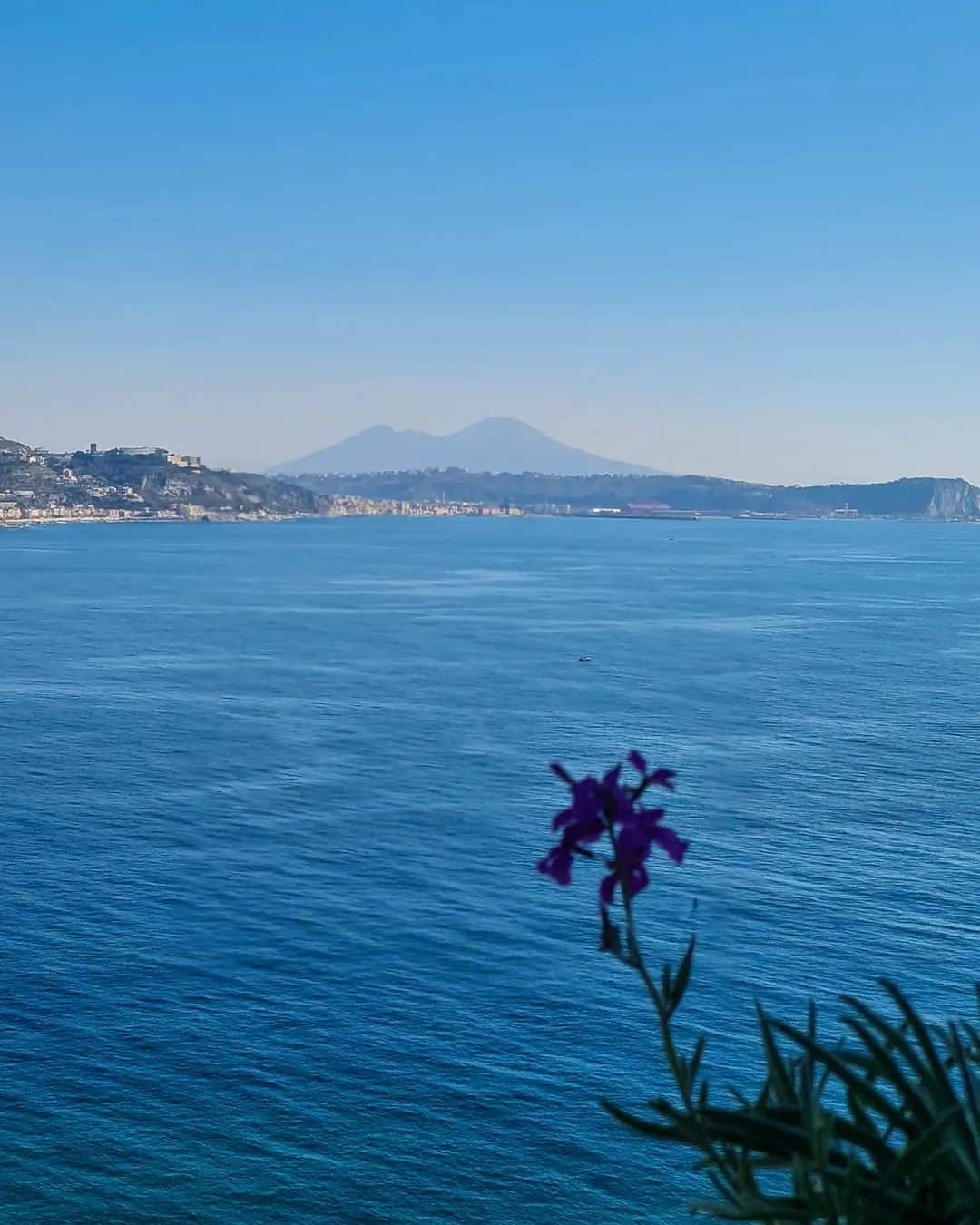 Hiking a huge, active volcano, and enjoying the panoramas from its peak is a highlight of any trip to Naples. The Mount Vesuvius trail is a 2.1-mile trail.
The hike is a little steep on the incline, but the terrain is relatively flat. This is manageable for people of all ages and hiking abilities.
The hiking route is clear and well-marked so you can easily hike Vesuvius independently. However, many organised tours depart from Naples to Vesuvius if you prefer that option.
If you want to cut down on your hiking time, you can board a bus at the base of the volcano which takes you halfway to the top. Tours by 4×4 are also available.
Getting to Vesuvius from Naples
It is easy to get to Mount Vesuvius by train and bus. The bus is probably the easiest option as this takes you to the square close to where the hiking trail begins.
You can take the EAV Napoli-Vesuvio bus from Piazza Piedigrotta terminal in Naples. If you prefer to take the train, board the Trenitalia train to Salerno and get off at Portici-Ercolano stop.
The Portici-Ercolano station is still a way away from Vesuvius so you need to either take a cab or walk to the Gianturco-San Pasquale metro. Then, hop on line 5, and get off at "Vesuvio".
Suggested Vesuvius Tours
Spend an Afternoon in Positano
The pastel coloured beach town of Positano is the quintessential postcard image of the Amalfi Coast. The colourful houses cascade down a craggy hilltop towards the sea in a beautiful blend of pink, peach, and orange.
Every street and every turn in Positano presents a photo opportunity. Explore the narrow cobbled streets, admire the beautiful frescoes inside the Church of Saint Mary of the Assumption. Then, grab an ice cream from a local gelateria and relax on the shores of Positano Spiaggia.
The Path of the Gods trail is a 7km hiking route that is worth attempting from Positano. The route takes you from Nocelle to Bomerano and provides breathtaking views over the Amalfi Coast and out to the islands of Procida, Ischia and Capri.
Getting to Positano from Naples
There is no direct train between Naples and Positano. The easiest way to reach the beach town is to take the train from Naples to Sorrento. From Sorrento, you can take the 5070 bus to Positano.
Suggested Positano Tours
Visit the Offbeat Pontine Islands
The Pontine islands are an Italian archipelago that floats off Italy's west coast in the Tyrrhenian Sea. The islands escape the attention of most international tourists.
However, they are a popular summer escape for residents of Rome and Naples. These islands were once used as prison islands.
Today, cerulean waters, paradisiacal beaches, and cosy beach bars give the Pontine archipelago a more pleasant ambiance. There are five islands here and it is possible to "hop" from one to another over the course of a long weekend.
Sail out to the upscale islet of Ponza, exploring its boutique stores, chic nightlife, and pristine coastlines. Then, continue on to laid back Ventotene.
Ventotene is a humble little island where cars and vehicles are prohibited, and the island's little villages are a perfect example of traditional Italian life. Travelling here feels like being transported back in time.
Getting to the Pontine Islands from Naples
Ferries to the Pontine Islands run on a limited route, so time your schedule accordingly. SNAV runs two separate routes.
It runs from Casamicciola, Ischia to Ponza five times a week. There is also a service from Casamicciola to Ventotene five times a week.
Hike the Parco Nazionale del Cilento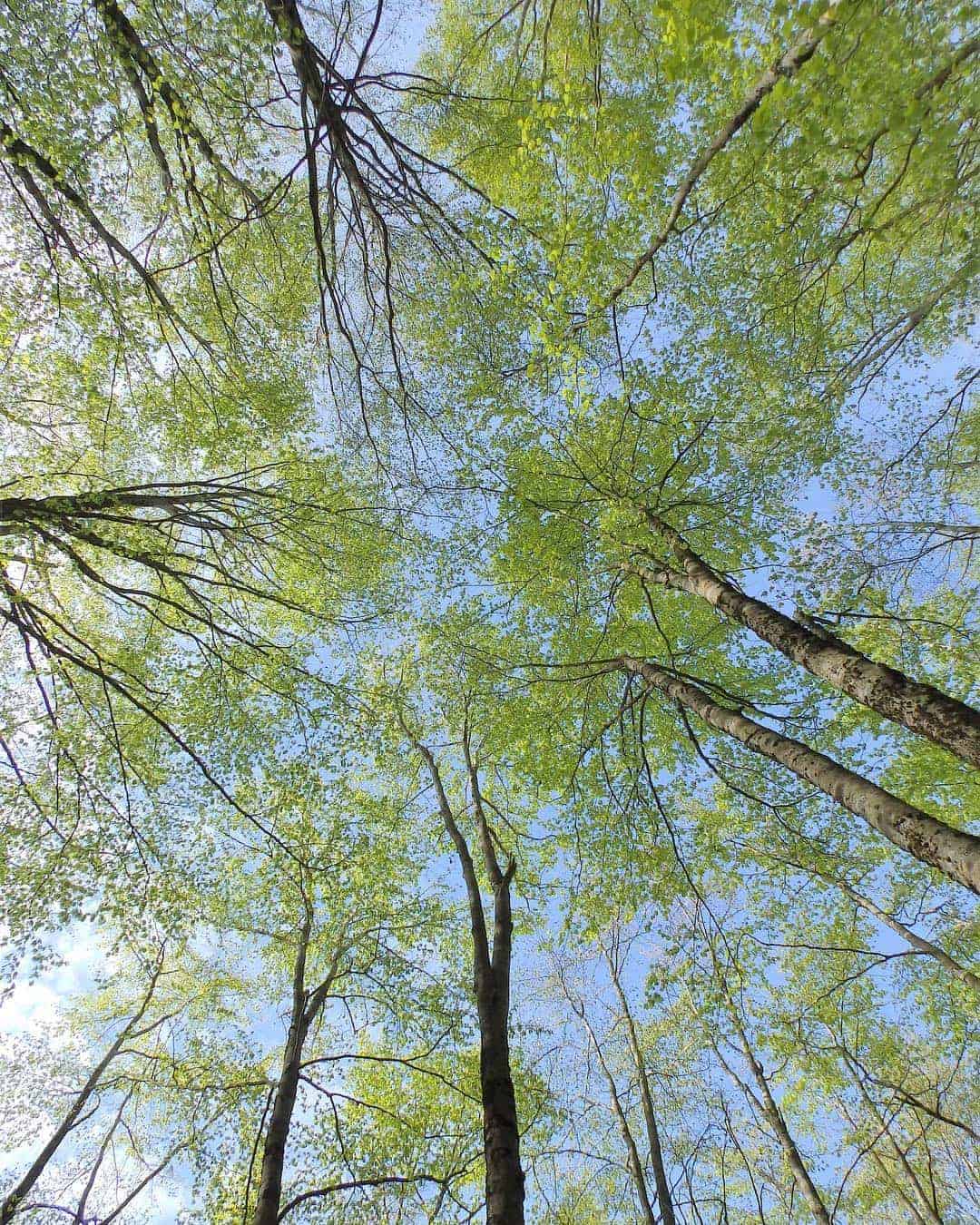 If you enjoy getting back to nature and escaping the hustle and bustle of a crowded city, you can consider visiting the Parco Nazionale del Cilento on one of your day trips from Naples. This Italian national park awaits in the district of Salerno.
It offers countless hiking trails through pristine nature, past waterfalls, natural pools, and pristine woodland. There are hiking trails here for every age and ability.
The path of the Innamorati takes you from Ascea's southern beach and along cliffs where you can enjoy sweeping panoramas out to sea. Meanwhile, the trail of the centenarian trees takes you more inland. As you follow the trail you pass through woodlands filled with one-hundred-year-old trees.
Getting to the Parco Nazionale del Cilento from Naples
It is not easy to get to Parco Nazionale del Cilento without having your own car. The journey takes approximately three and a half hours by public transport and involves several transfers.
Caserta
The city of Caserta lies 36km north of Naples. Caserta may seem like "just another" Italian city at first.
However, there are several unique and fascinating buildings and attractions nestled within the city limits. The Royal Palace of Caserta is a grand royal residence that was once occupied by the Kings of Naples.
It is one of the largest European palaces that was constructed during the 18th century. You could easily spend an entire morning exploring the palace and its vast gardens.
The Casertavecchia is also an interesting place to visit. This is the old Caserta – a now-abandoned medieval town at the foot of the Tifatini Mountains.
Getting to Caserta from Naples
Trains between Naples (Napoli Centrale station) and Caserta run regularly throughout the day. The journey takes approximately 40 minutes and tickets cost €3.40.
Visit Sorrento
Land of sirens, lemon groves, and a unique landscape. It's no surprise that Sorrento is a popular tourist destination.
The majority of Sorrento's main points of interest are located within the city's historic centre. This makes it easy to see virtually everything in a day.
When you've had your fill of ancient cathedrals, beautiful architecture and winding alleyways, head to Marina Grande. This is Sorrento's traditional fishing harbor and a lovely place to enjoy your dinner with a sea view.
Getting to Sorrento from Naples
It is easy to reach Sorrento from Naples. You can board the Circumvesuviana train at Naples Centrale station and take the train direct to Sorrento. Double-check your ticket before departure as some train services require a change at Torre Annunziata.
Spend an Afternoon in Baia:
Las Vegas for the Romans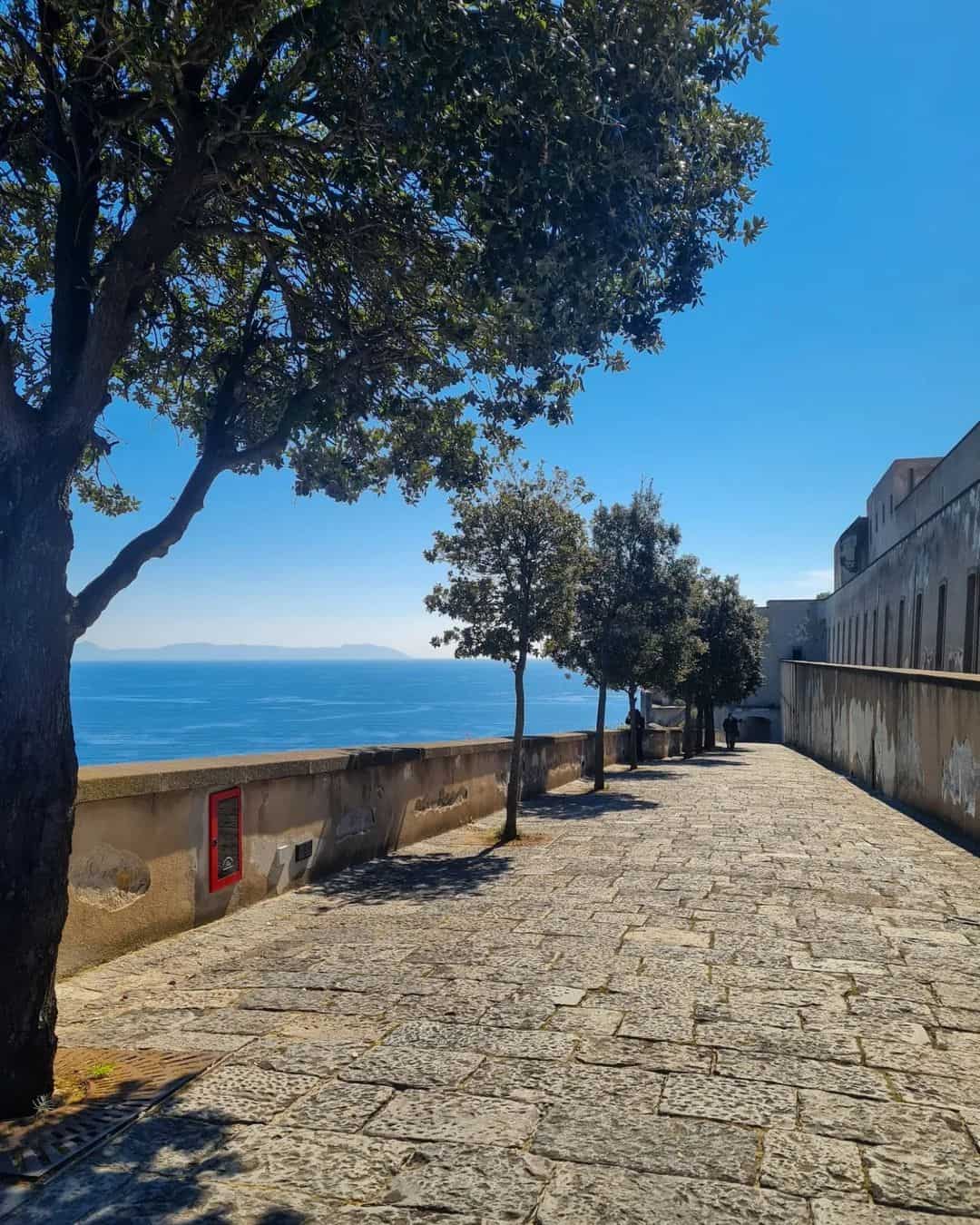 Once upon a time, Baia was a party town for the Romans. Today, very little of the city remains.
Most of Baia is now underwater yet fascinatingly, it is very well preserved beneath the surface. Baia is one of the world's only underwater archaeological parks.
It can be marveled at on a glass-bottom boat tour, or reached via scuba diving. What remains of the town is a quaint little area consisting of quiet fishing piers and cocktail bars overlooking the sea.
Getting to Baia from Naples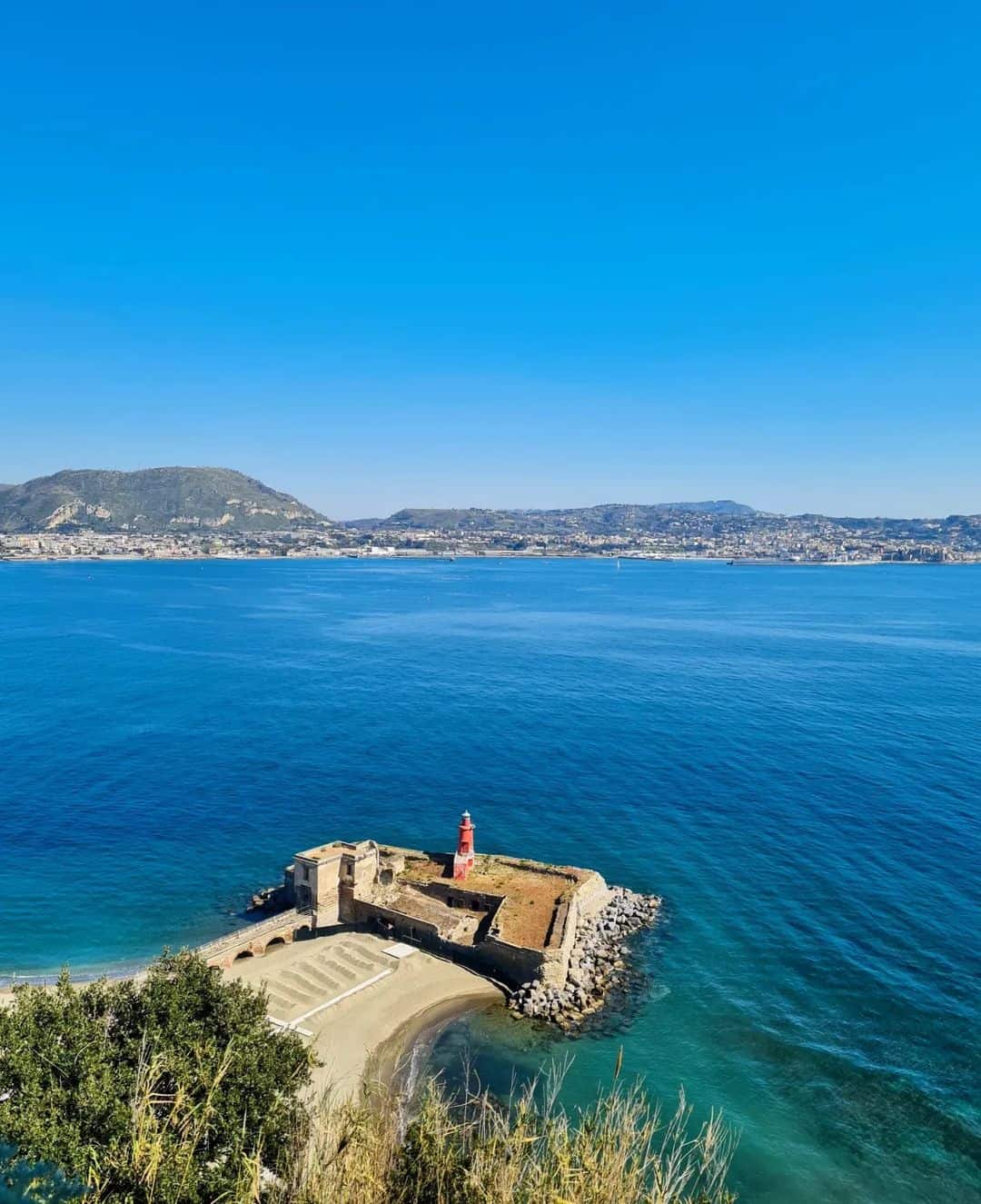 Buses from Naples to Baia run hourly from the terminal bus station at Via Galileo Ferraris. Board the bus bound for Bacoli/Torregaveta and get off at Baia.
You can ask the conductor to advise you when you arrive at Baia. You will know you are approaching when you see a small street lined with shops selling diving equipment.
Parting Words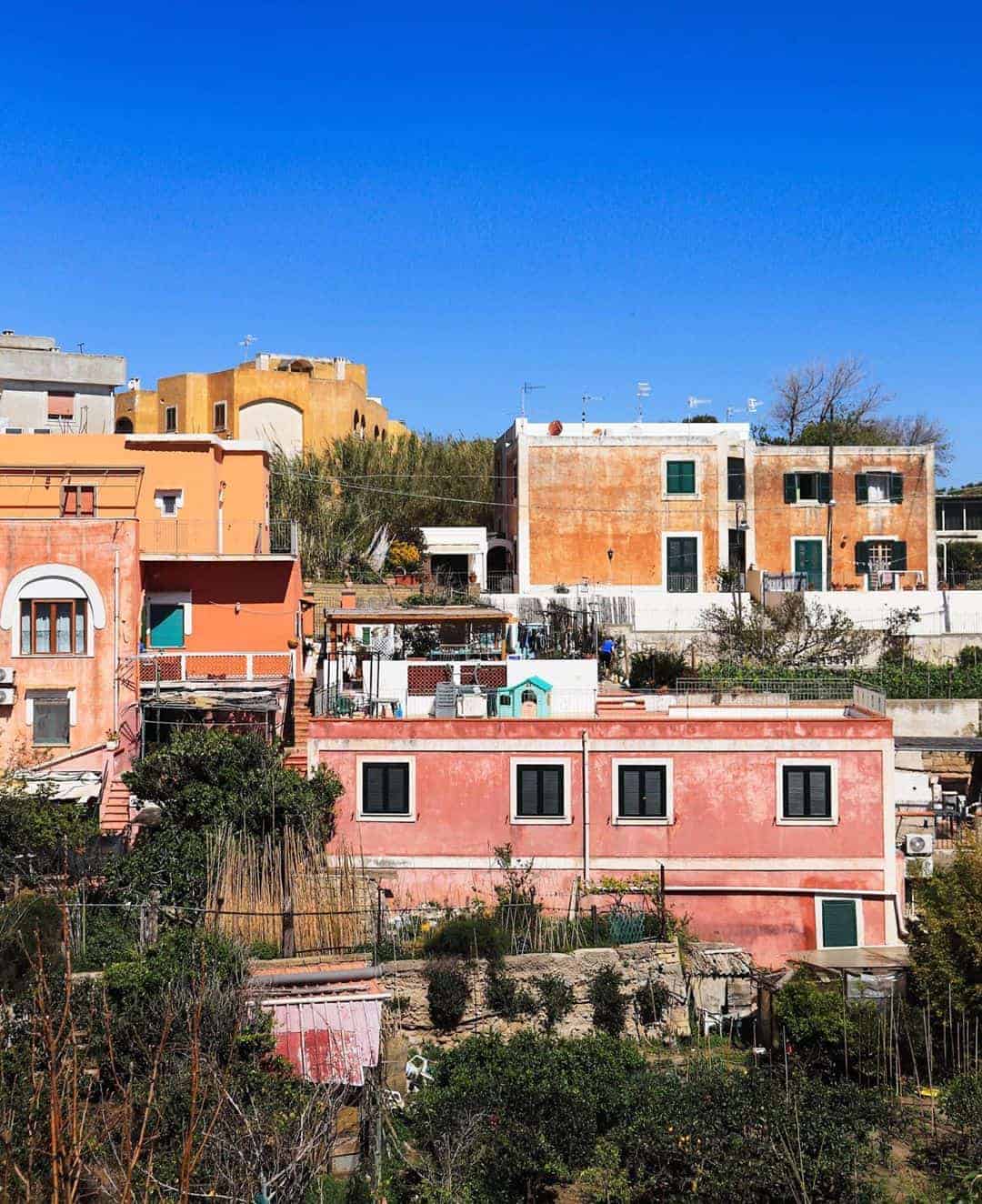 Have any further questions about organising day trips from Naples or planning your first trip to Italy in general? Please don't hesitate to reach out to me if you need anything.
Safe travels! Melissa xo
---