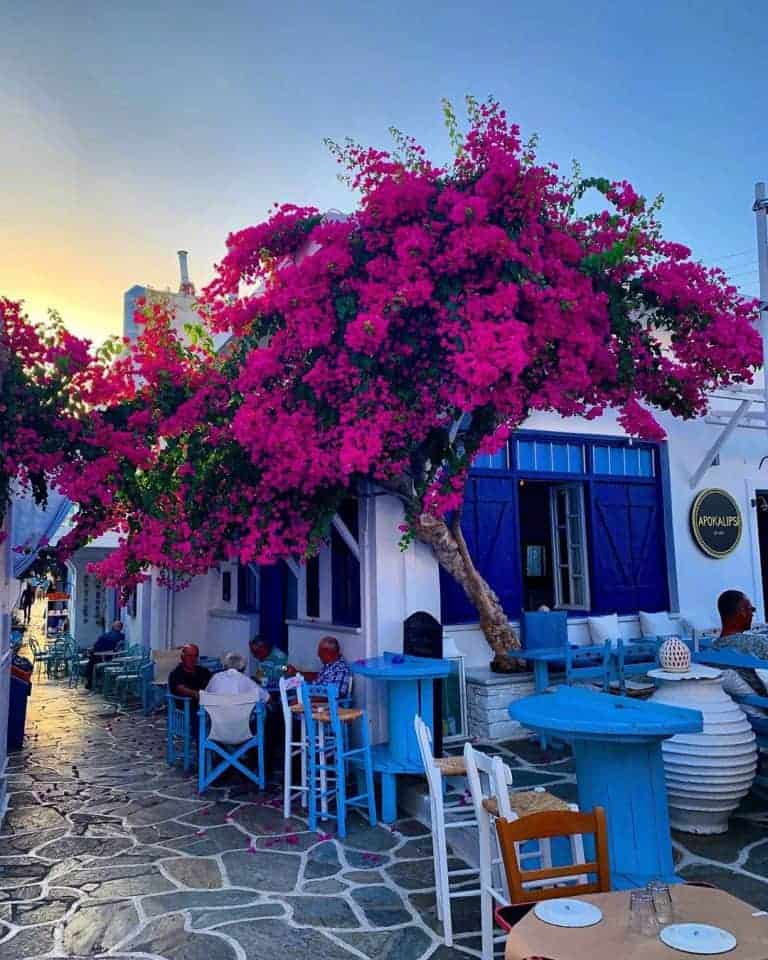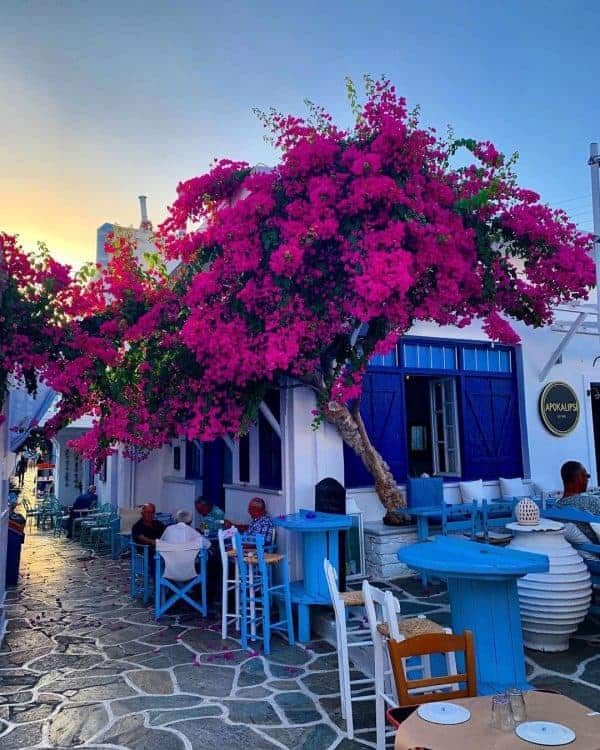 Island hopping in Greece is a travel experience that many people daydream about, and rightly so! Few things are better than wandering through the quaint narrow passageways of sleepy Cycladic villages, swimming in clear cerulean waters, or whizzing across the sea from one beautiful place to another.
The main caveat to enjoying your Greek island hopping adventure is the planning stage. Deciding which Greek islands you want to visit, and how you are going to get from A to B is not so easy. Afterall, there are more than 6,000 islands in Greece and an infinite number of possible itineraries for island hopping in Greece!
Island Hopping in Greece:
About This Guide
I have lived in Greece for the past three years and I have had the pleasure of exploring the country pretty extensively during that time. This guide aims to answer all of the questions that you may have about island hopping in Greece. It discusses common FAQs, and then provides a selection of sample itineraries for your reference.
This guide is a bit of a beast (!) and some sections may make for fairly dry reading (unless you get off on reading about ferries. In that case – totally not judging!) Feel free to use the Table of Contents to navigate to the most relevant sections!
Island Hopping in Greece:
Go it Alone or Take a Tour?
Greek island hopping cruises and tours are big business here in Greece. Both services purport to take some of the hassle out of planning your own trip but I strongly disagree. Booking your boats and accommodation independently rewards you with both significantly better prices, and more flexibility over your trip.
Buying ferry tickets in Greece is not as complicated as you may think. If you find yourself on a Greek island cruise, you will often find that the boats stop at the ports for just a few hours at a time. This means that you don't have a lot of time to explore each place, and a ton of other tourists arrive at the same time making each place very crowded. This guide will give you the tools you need to plan everything by yourself.
Flying into Greece to Start Your Adventure
To begin your Greek island hopping adventure, fall in love with a handsome waiter named Stavros, and start your own Mamma Mia type story, you first need to decide upon your entry point into Greece.
Athens Eleftherios Venizelos International Airport is the main and largest airport in the country. Many Greek islands also have their own international airports.
If you are planning to kick off your Mediterranean adventure with a large, popular island such as Santorini, Zakynthos, or Crete, then you will easily be able to find a direct flight to that island from within Europe. If you are travelling from the United States, or other places farther afield, the best option is to fly into Athens and then take the ferry.
Ferry Ports in Greece
A summary of the various ferry ports in mainland Greece, and the island groups that they service, is detailed below.
Piraeus Port
The main ferry port in Greece is the Piraeus port in Athens. This port services routes to the Saronic Gulf Islands, the Cyclades, and other islands close to Athens. 
Overnight services from Piraeus also run to islands that are a little farther afield – e.g. Crete, Rhodes, etc. It is easy to reach Piraeus from Athens airport or Athens city centre.
Rafina
Rafina is Athens' second-largest port. The port is a little trickier to reach than Piraeus. Most services that run from Rafina also run from Piraeus. For your convenience, I'd advise you to use the Piraeus port. 
Lavrio
Lavrio is Athens' smallest ferry port. It is mostly for private use (affluent Athenians store their yachts and boats here). It also runs some services to Kea.
Thessaloniki
Lovely Thessaloniki is a great jump-off point for exploring dreamy Halkidiki and northern Greece. Thessaloniki's port is mostly commercial, however, boats run from here to Limnos, Lesvos and Chios islands.

If you want to explore the Sporades from here, you need to go to Volos port. Similarly, you need to go to Kavala port if you wish to explore some of the Northern Aegean islands (Thassos, etc)
Ouranoupoli
Ouranoupoli is not a large port per se, however, this is the place that you need to come to if you wish to take a boat tour of the Mount Athos peninsula, or to visit some of the smaller islands off the coast of Halkidiki (Ammouliani island, etc). 
Volos
Volos is a picturesque port town that is well worth exploring in itself. You need to come here if you wish to take a boat to the Sporades – Skiathos, Skopelos, Skyros, etc.
Kavala
The port of Kavala in Northern Greece offers frequent services to Lesvos, Chios, Thassos, and Limnos. Services are more frequent from May to September. 
Keramoti
Keramoti port sits in the Northeastern part of Greece. This is the main boarding point for ferries to Thassos island.
Patras
Patras is a university town and the home of the major Greek festival Apokries. You can take ferries from here to the Ionian islands of Kerkira (Corfu), Kefalonia, Ithaca, and Kythira. Patras is also a major port for boats travelling across to Southern Italy.
Igoumenitsa
Igoumenitsa port serves similar routes to Patras. You can reach the Ionian islands and Italy from here. If you find yourself in Parga, or the Northwestern region of Greece, this port may be more convenient for you than Patras.
Airports in Greece:
Domestic and International
Numerous international and domestic airports are scattered across the Greek islands and mainland. If you get boat sick and don't want to go island hopping in Greece by ferry, it's possible to take domestic flights to most regions of the country.
You can find domestic flight tickets from one part of Greece to another for less than $50 each way. There are a number of budget carriers that service the various routes – including Ryanair, Jet2, Wizz Air, and Aegean Air.
International Airports in Greece
Astypalea

Athens 

Chania, Crete

Corfu

Heraklion, Crete

Kalamata

Kefalonia

Kos

Lefkada (Preveza)

Lemnos

Lesvos

Mykonos

Rhodes

Samos

Santorini

Sitia

Skiathos

Thessaloniki (Halkidiki)

Volos

Zakynthos
Note: Many flight routes to Greek island airports are seasonal. Some routes are only operational between May and September. If you are travelling out of season, you can fly into a major airport such as Athens, and then book a domestic flight onwards. 
Domestic Airports in Greece
Chios

Ikaria

Kalymnos

Karpathos

Kythira

Milos

Naxos

Paros

Skyros

Syros

Flight booking tip: It may be easier to fly direct to an island but the prices may vary substantially. If you are somewhat flexible about your trip, try searching for flights to "Greece" on Skyscanner. You may find that it is cheaper to fly into a different airport than the one you first considered!
When to Plan Your Greek Adventure
Island hopping in Greece is very much seasonal. Although most of the popular Greek islands are inhabited year-round, the tourist season only operates from May – September. Outside of that period, most businesses are closed. 
The best time of year to visit Greece is somewhat dependent on where you are going and what you plan to do when you get there. Generally speaking, you should try and avoid July and August. Travel prices soar in the peak summer months and popular destinations are heaving with tourists.
For summer sun on your chosen Greek islands, opt to plan your Greek island hopping trip in early June or late September. If you want your trip to revolve more around nature and hiking, consider travelling during the shoulder seasons of April/May and late September/early October.
Suggested Greek Island Hopping Itineraries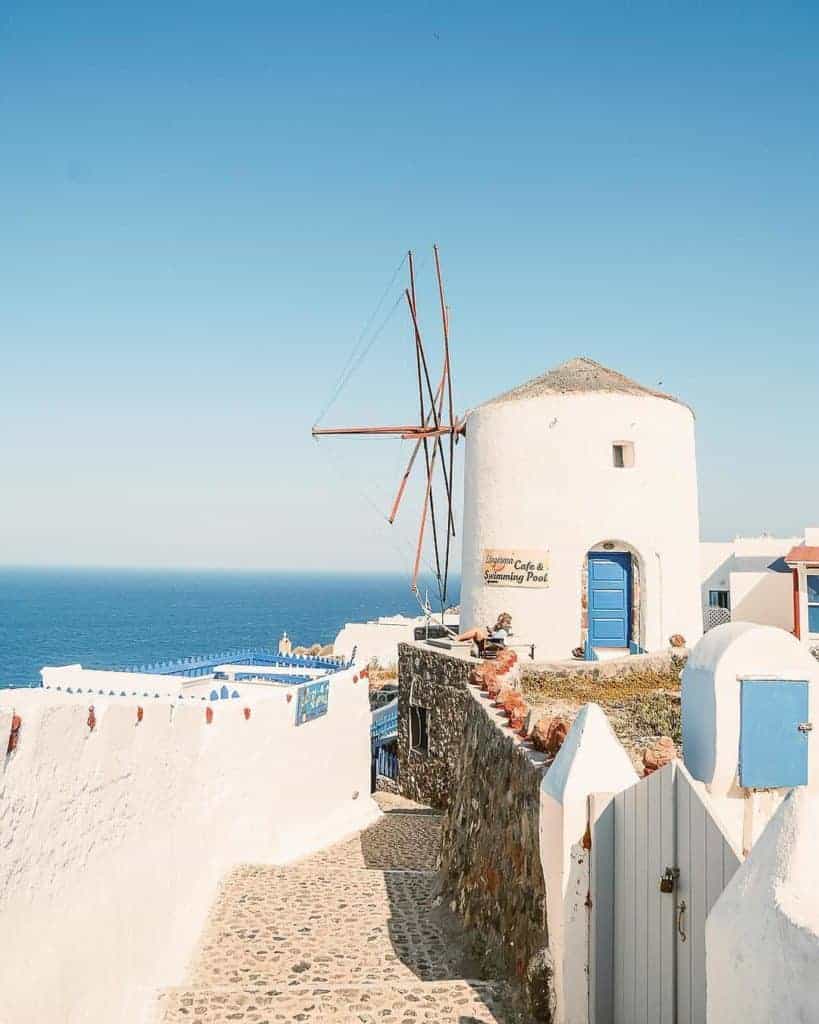 The options for island hopping in Greece are pretty much infinite! There are so many stunning islands here and simply not enough time to explore them all. The suggested Greek island hopping itineraries below are rough outlines based on popular routes. I've also provided some suggestions for drawing up your own itinerary. 
14 Day Cyclades Itinerary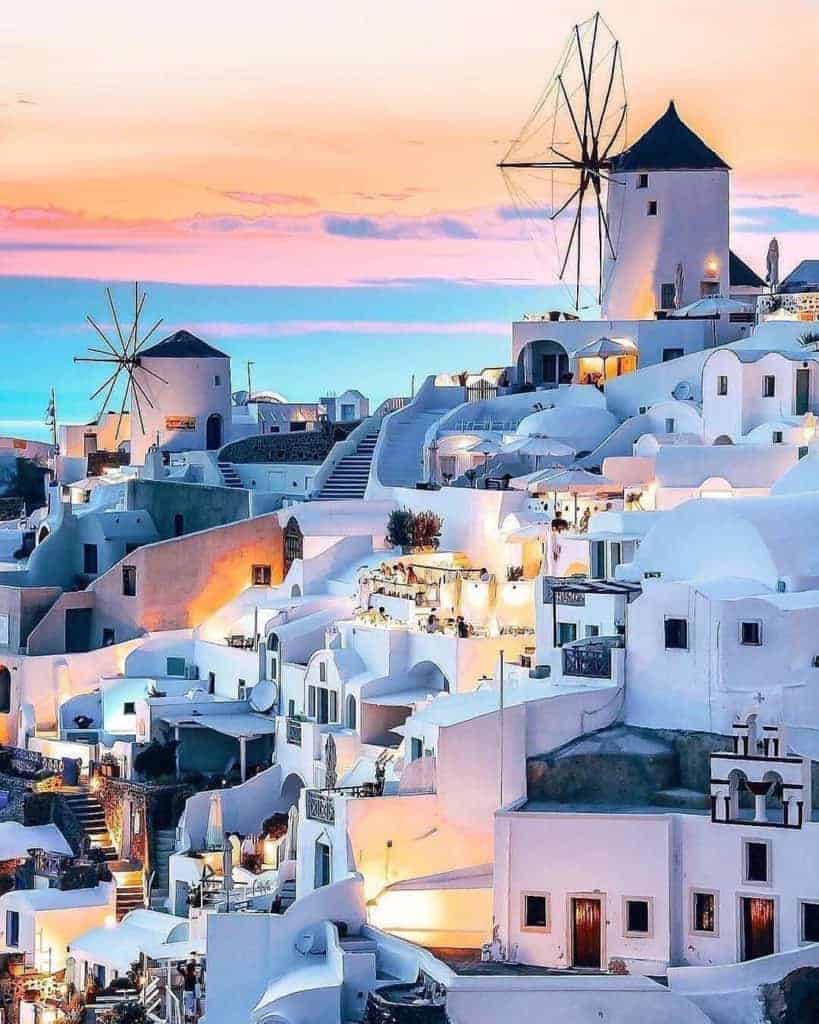 Days 1-3: Santorini 

Days 4-7: Mykonos

Days 8-10: Kea

Days 11-14: Paros
The Cyclades are the postcard-perfect image of Greece that makes people dream of visiting the country. Envisage quaint Cycladic houses painted in tones of blue and white, dramatic natural scenery, and bustling cobbled pizzas teeming with life. 
Days 1 – 3: Santorini
Start your Cycladic Greek island hopping itinerary in beautiful Santorini. Although Santorini is very popular among tourists, that does not detract from the island's charm. There is a reason that some places are so well-loved! 
If you spend a few days on this dreamy Cycladic isle, you will have the opportunity to explore both Fira and Oia. Spend some time exploring the quaint streets of Fira, and browsing through the elegant boutique stores that showcase the works of local independent designers.
Enjoy dinner with a view in scenic Ammoudi Bay, and dust off your hiking shoes for the 10km walk from Fira to Oia. Santorini is famed for its majestic sunsets, so scope out a good vantage point to base yourself at when the sun goes down.
Days 4-7: Mykonos
The Greek island of Mykonos is synonymous with glitz and glamour. The island has gained a bit of a reputation in recent years as being a party destination among the jet-set but the reality is that Mykonos is so much more than that. This pretty little island has a little something for everyone. 
When you arrive in Mykonos, wander up to the windmills at Chora. This is the island's most famous landmark and from up here you can enjoy breathtaking panoramas across the island. The view here is especially beautiful as the sun sets over the Cyclades, and the sky is illuminated in hues of oranges and reds.
By day, the old port at Mykonos is a nice place to hang out. This area is comprised of a labyrinth-like network of narrow passageways, boutique stores, and ramshackle coffee places where locals play backgammon. By night, head for dinner and drinks in chic Little Venice – a neighbourhood where the bars and restaurants exist in the form of stilted houses perched over the water.
Days 8-10: Kea
Kea is a lovely little Cycladic island that escapes the attention of most tourists. The island's capital is Ioulis – a charming hilltop village filled with higgledy-piggledy whitewash buildings. The main draw of Kea though, is the island's incredible natural scenery.
Kea has the largest concentration of hiking routes on any Greek island, making it a great destination for those who love immersing themselves in the great outdoors. One particular route to consider is the hike to the ancient city of Karthea on the southeastern coast of the island. The route leads past secluded beaches and coves, remote churches, and the sunbleached ruins of crumbling ancient temples.
Days 11-14: Paros
The Cycladic island of Paros provides an interesting juxtaposition of traditional Greek island life meets modern living. Here, you can find peaceful rural villages and idyllic beaches sitting side-by-side with towns that boast a colourful nightlife scene.
If you spend a few days in Paros, you will have plenty of time to relax on the island's numerous beaches, as well as exploring its various towns and churches. Naoussa, Parikia, and Lefkes are all spots worth visiting while in Paros.
Island Hopping in the Saronic Gulf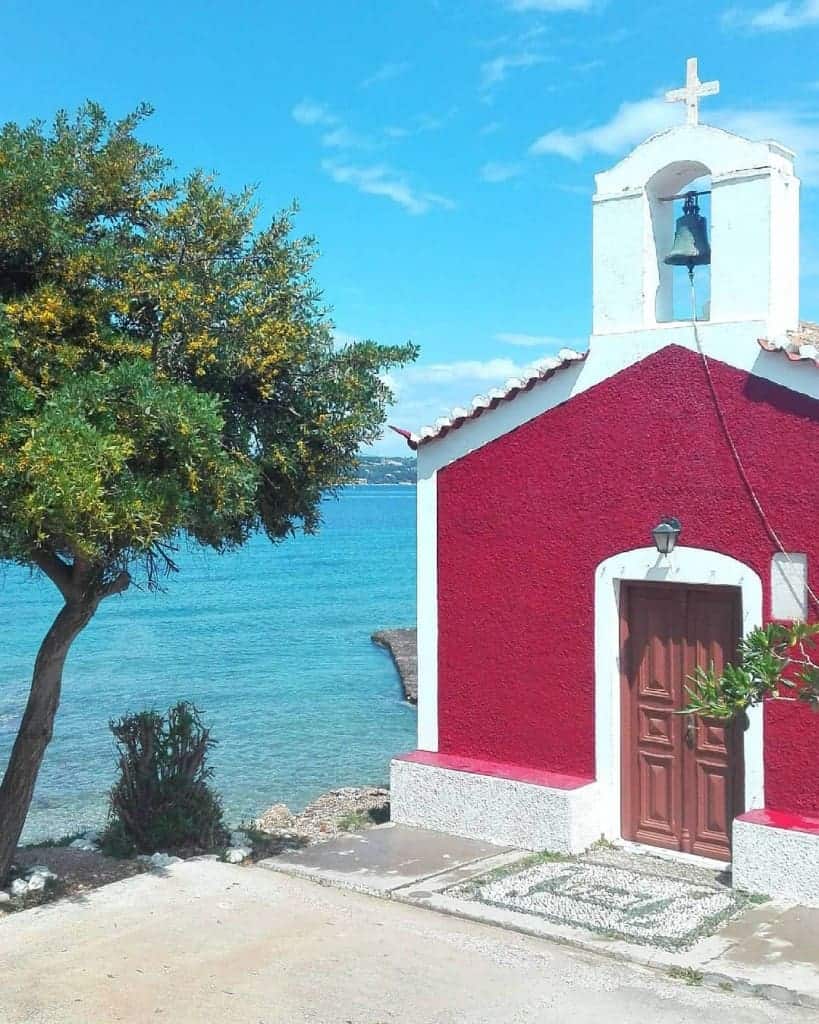 The Saronic Gulf islands in Southern Greece often get overlooked in favour of the neighbouring Cyclades. This floating archipelago is characterised by its rugged natural landscapes, its wild hiking trails, and its translucent cerulean waters.
If you visit the Saronic islands in the shoulder seasons of Spring and Autumn, you will find them relatively crowd-free. These islands are only ninety minutes away from Athens – making them the perfect place to venture to if you also plan on enjoying an Athens itinerary.
Days 1-2: Hydra 

Days 3-5: Spetses

Days 6-7: Poros

Days 8-10: Agistri
Days 1&2: Hydra
The Greek island of Hydra (pronounced ee-dra) is home to one of the most beautiful ports in all of Greece. Travelling here feels like taking an adventure back in time. There are no cars or vehicles on Hydra island and people get around on horses and donkeys!
The port area is home to adorable artisanal stores and seafood tavernas that are so quintessentially Greek. Most people that visit Hydra only come for the day.
Escape the port area and you will have the island's beauty to yourself. There is a wonderful coastal trail that leads from Hydra port to the fishing villages of Kamini and Vlychos, taking you through fragrant flower fields, and stunning nature. 
Days 3-5: Spetses
Spetses island is a nature lover's paradise. Aside from the small, upscale town that encompasses the port area, Spetses is essentially one huge national park
Just like Hydra, officially there are no cars and vehicles on Spetses island. A popular way for travellers to get around is by renting ATVs and bicycles. The hiking trails of Spetses twist and turn through woodlands to reveal hidden beaches, secluded monasteries, and fascinating caves.
Days 6&7: Poros 
The charming island of Poros is a perfect place to enjoy a little R&R while island hopping in Greece. Surrounded by dense pine forests and idyllic coastlines, there isn't much to "do" on Poros island per se, but it is a great place to get into the laid back Greek island mindset.
Relax on the shores of Love Bay or Askeli beaches, hike to the Monastery of Zoodochos Pigi, or take a boat across the Peloponnese town of Galatas.
Days 8-10: Agistri
Agistri is the smallest of the Saronic islands. However, what Agistri lacks in size, it more than makes up for in scenic beauty. Aside from the main towns and villages, Agistri boasts miles of pristine coastlines, hikes through nature, and peaceful forests where figs, oregano, and lemons grow wild.
Sunseekers should head to the beaches of Chalkida and Skala – the former offers peaceful seclusion on a beach encompassed by cliffs. The latter is well-serviced and boasts plenty of places to grab dinner or rent sunbeds and parasols.
8 Day Sporades Itinerary
The Sporades are situated on Greece's east coast and await just a stone's throw away from Volos. These islands can be a little awkward to get to, but they are certainly well worth the journey.
This itinerary is perfect for those seeking a true beach getaway where the ultimate purpose of the trip is to kick back and relax.
Days 1-4: Skopelos
Days 5-8: Skiathos
Days 1-4 Skopelos
Skopelos is perhaps one of the most underrated travel destinations in all of Greece. It was this island that provided the setting for "Mamma Mia".
Despite the popularity of the movie, Skopelos has remained relatively under the radar. Skopelos is not filled with overcrowded resorts like Zakynthos or Corfu, and there is no indication that this island was ever the location of Pierce Brosnan's terrible singing!
Spend some time exploring Skopelos town and Glossa. Both areas are the perfect examples of sleepy Greek island life.
As you navigate through the cobbled streets, and the whitewashed Cycladic houses, you are met with old-timers playing backgammon in crowded piazzas, young locals whizzing through alleyways on mopeds, and Greek yiayias haggling at local markets. To unwind beneath the Mediterranean sun, add the beaches of Panormos and Kastani to your Skopelos itinerary. 
Days 5-8 Skiathos
A short boat ride from Skopelos brings you to the island of Skiathos. Skiathos is well developed for tourism, but that does not detract from its charm. This little island has a little something for everyone – lush pine forests, cerulean waters, and a vibrant nightlife scene.
The beaches of Agia Paraskevi, Troulos, and Koukounaries are perfect for those seeking sun, sand and sea. Those wanting to sightsee and uncover more history of the region will enjoy taking a boat ride across to the Medieval Castle of Skiathos.
How Long to Spend on Each Island
If you have only one or two weeks to dedicate to your Greek island-hopping itinerary, it's understandable that you may want to cram in as much as possible. At a minimum, you should spend 3-4 days on each island. The only exception here is perhaps some of the Saronic islands where there is less to do.
Rushing from island to island is exhausting. Besides, if you try and cram too much in, you will find that you are spending large chunks of your trip on boats!
Practical Advice for Buying Ferry Tickets in Greece
There are a few things to consider before buying your ferry tickets for island hopping in Greece. The main queries are addressed below.
Different Greek Ferry Types
There are different types of ferries that service the various seaways across Greece. A lot of routes are serviced by hydrofoils and speedy little boats that dash from island to island in a couple of hours. Other routes require taking a ferry that equates to as much as 6-10 hours of travel time.
Many routes between the Greek islands and the mainland are serviced by both speedy hydrofoils and ferries. This means that you can choose your preference. Hydrofoils obviously get you to your destination faster, however, they are much bumpier. 
Where to Buy Ferry Tickets
You can buy Greek ferry tickets online, in person at the port ticket offices, or at kiosks in several Greek airports (including Athens international). Arguably the most convenient option is to buy the tickets online.
When to Buy Ferry Tickets
You don't usually have to buy your tickets in advance. However, for peace of mind, I would generally advise you to try and purchase them online a few days before you intend to travel. This is especially the case if you plan on island hopping in Greece in August, or you are travelling on popular routes in the summer months (for example, taking the ferry from Athens to Santorini)  
Ferry Services
Practically all boats and ferries in Greece have small bars/snack shops on board. Even if you are travelling on the small hydrofoil boats, you will be able to at least buy a sandwich and coffee. Larger ferries tend to provide larger dining facilities with seating areas.
Sea Sickness
Some of the small speedy ferries are notorious for causing travel sickness as they whizz along choppy seas. The Santorini-Athens boat is one such example. If you suffer from seasickness, you should opt for the slower ferries where you can. 
The problem with some of the smaller boats is that not only do they provide a bumpy ride over choppy seas, they are also set out in airplane-style seating and you are strapped into your chair. Whether you are seasick or not, this is not the most pleasant boat experience – especially when you find that everyone around you is suffering from seasickness! 
Ferry Routes
You should check the specifics of the ferry schedules before you embark on your Greek island-hopping adventure. Most ferries run between Athens and the islands, but some ferries do not necessarily run between all islands. For example, you can go from Athens to Hydra or Athens to Spetses, but you cannot go from Spetses to Methana. You have to access Methana via another island first. 
Have any further questions about island hopping in Greece or Greek travel in general? I have been living in Greece for three years now and I will gladly assist where I can. Don't hesitate to drop me a comment below if you need help. Safe travels! Yiassou! Melissa xo
---