"When is the best time to visit Greece?" This is a question that is probably at the forefront of your mind if you are organising a Greek vacation.
That makes sense! You want to travel at a time that lets you combine the best weather with fewer crowds and decent weather, right? This guide has got you covered.
As you can imagine, the best time to travel to Greece varies depending on what you want to see and do during your time here. The seasons in Greece offer very different conditions.
Assuming that you are drawing out a Greece travel itinerary that involves island hopping, relaxing on idyllic beaches, and admiring sun-bleached ancient ruins in Athens, I will give you the short answer.
Generally speaking, the best time to visit Greece is either late Spring/early Summer (May and early June) or mid/late September. This is the shoulder season, and visiting during this time enables you to escape the crowds and the sky-high prices of travelling in the peak summer months.
The Best Time to Visit Greece by Season
To look a little more in detail at the best time to visit Greece, let's have a look at what each of the seasons in Greece are like. Greece is a Mediterranean country in the heart of Southern Europe.
As such, temperatures here are much milder than in most European countries throughout the whole year. We don't really feel Autumn conditions in Greece until late December.
Winters are relatively mild. However, it does get cold between December and February and snow is not unheard of, particularly in the northern part of the country, and areas like Serres, Kerkini, Kastoria, and Ioannina.
Summer may be the typical time for going away on vacation. However, keep in mind that summers in Greece are extremely hot and humid.
Temperatures of between 35 and 40 degrees are not unheard of between late June and late August. This is unbearable for some.
So, if you are open to considering travelling in May or September, you will still enjoy ¨summer¨ conditions yet without the excessive heat. In these periods, temperatures tend to linger around 25 degrees celsius.
You might even find this more pleasant! You will be able to spend more time outside without burning to a crisp, or having to constantly duck into air-conditioned venues to escape the intense midday sun.
Shoulder Season in Greece
(May and June)
The early summer months are the best time to visit Greece by a country mile. The lower prices and lesser crowds as compared to the peak season are a given. However, the weather at this time is much better also.
The Weather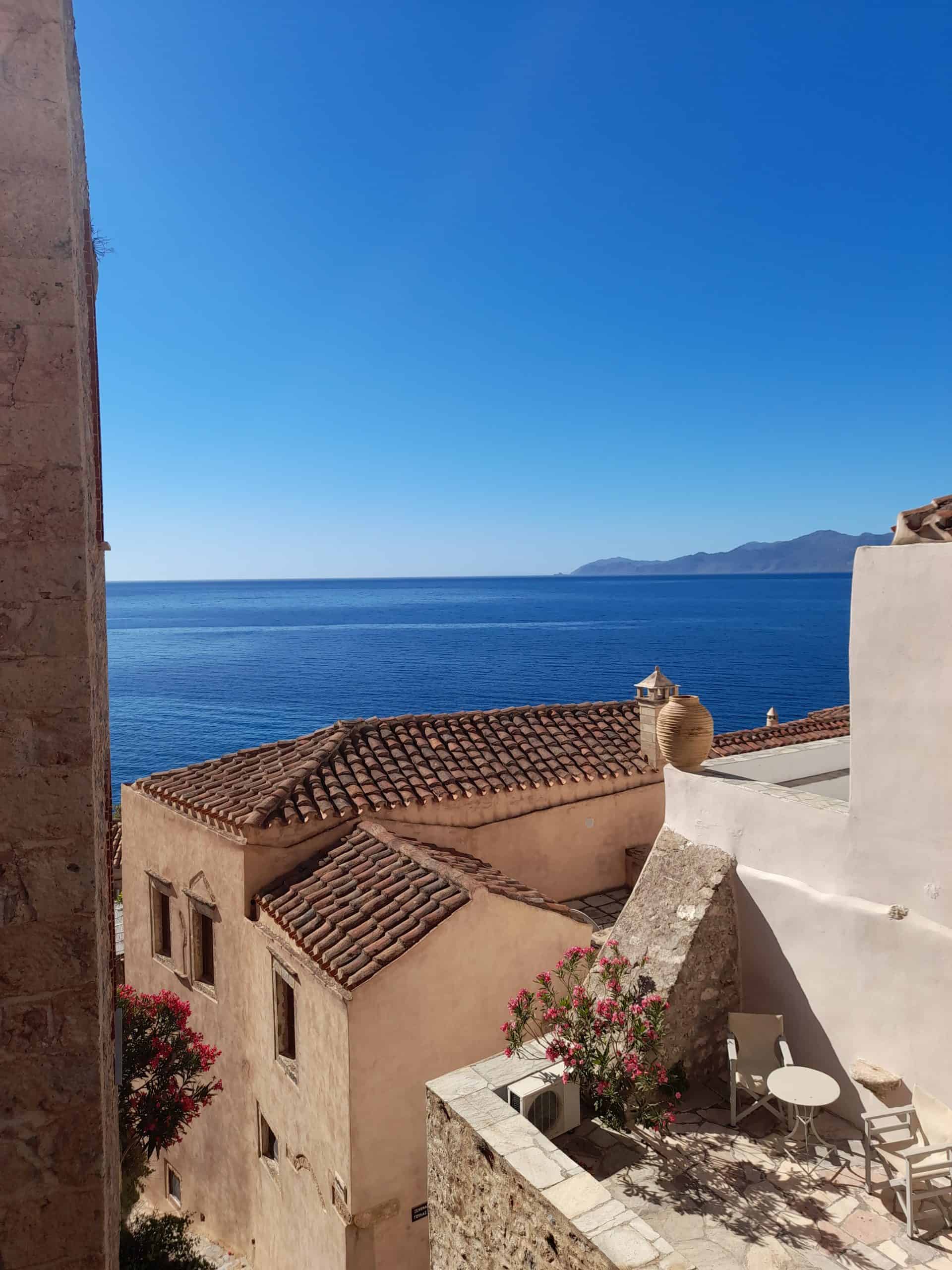 If you are planning on visiting Athens or going island hopping, you can expect temperatures of between 25 and 30 degrees Celsius during the months of May and June. This is perfect for enjoying the beaches and swimming in the cerulean waters.
At the same time, it is not that hot that sightseeing or walking around for extended periods of time becomes unbearable. From the end of April, the tourist season for the islands starts up again for the year.
Hotels and local businesses open their doors for the first time of the year, and the ferries between the Greek island groups and the mainland start operating on a much more regular schedule. In some remote islands like Skopelos island and Alonissos, you may find that you have entire stunning beaches virtually all to yourself.
The Prices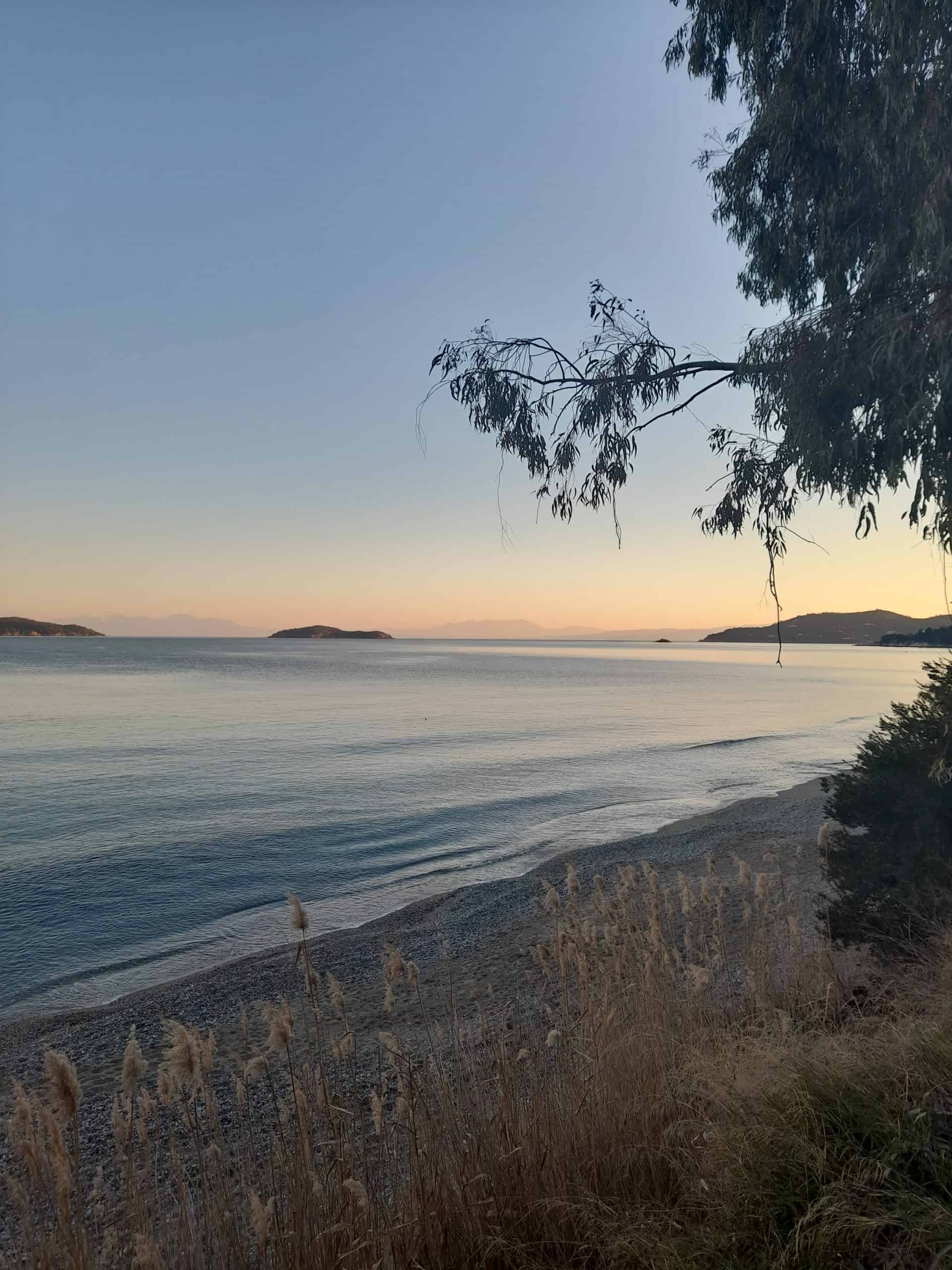 You can enjoy significant discounts if you travel around the Saronic Gulf Islands, the Sporades, the Ionian, and the Cyclades out of season. In early May, for instance, you may note that accommodation and ferry tickets are a THIRD of the prices that the same services cost in July and August. This is not a marginal difference.
May and June do see a steady trickle of tourists visiting the mainland and the islands. However, this is nothing like the levels that you see in the summer.
During this time, you will still enjoy little luxuries like being able to purchase boat tickets to the islands at the last minute. Not to mention, accessing Athens museums and important Greek landmarks without phenomenal queues.
Temperatures in the northern and central regions of mainland Greece are slightly cooler, particularly in mountainous areas. If hiking in Greece interests you, the months of May and June are warm and pleasant for visiting places like Meteora monasteries and Ioannina lake.
Visiting Greece in the Summer
(July and August)
Summer is the busiest period for people to travel to Greece. Proceed at your peril!
Just kidding. However, this is the peak season for Greek tourism.
You are best advised to avoid travelling during July, August, or the first week of September. Travel costs (flights, accommodation, ferries, tours, etc) can be as much as 60% higher during this time! This is particularly the case during August.
Moreover, many of the budget hotels and ferry services sell out very quickly. As such, you ought to make sure that everything is booked in advance.
Crowds, Crowds, Crowds!
Do not underestimate how crowded the sights of Athens and the Greek islands get in July and August. If you are dreaming of watching a romantic, peaceful sunset over the blue-domed roofs of Santorini, think again.
The popular Cycladic islands have been major victims of over-tourism in recent years. Those world-famous Santorini sunsets do not necessarily have the same ethereal, mystical ambiance to them if you are sharing them with 34,083 people beside you.
Even getting around Greece is a nightmare during the summer. I live in Athens and will do my damndest to try not to fly in and out of Eleftherios Venizelos airport during July or August.
Why? Well, it sometimes takes me as much as two hours to get through customs, get a metro ticket, and get out of the airport, as compared to the 30 minutes it takes me in October or something! Ugh!
The Weather
Keep in mind that Greek summers are very hot and humid. Temperatures often soar to 35-40 degrees, and sometimes even higher.
While hotels and Airbnbs are air-conditioned, the vast majority of restaurants, bars, and coffee shops are not. This can be very uncomfortable if you are not used to these kinds of temperatures.
Walking outside or exploring cities for extended periods of time is almost unbearable. If you plan on hiking and walking in Greece during the summer, try to set out as early in the morning as possible to beat the midday sun.
If your schedule truly only allows you to travel to Greece during the summer months due to school holidays or something, at least try and opt to visit in July rather than August. At this time, the crowds and prices will be marginally reduced.
You can also check out "lesser-known" alternatives to popular islands. For instance, i.e places like Lefkada, Skopelos, Kythira, Syros, etc as opposed to the infamous Santorini, Corfu, Skiathos and Mykonos.
There are dozens of off-the-beaten-path islands in the Cyclades that most international tourists have never even heard of. It is possible to find peace and tranquility in Greece during the summer months. You just have to know where to look.
Greece in Autumn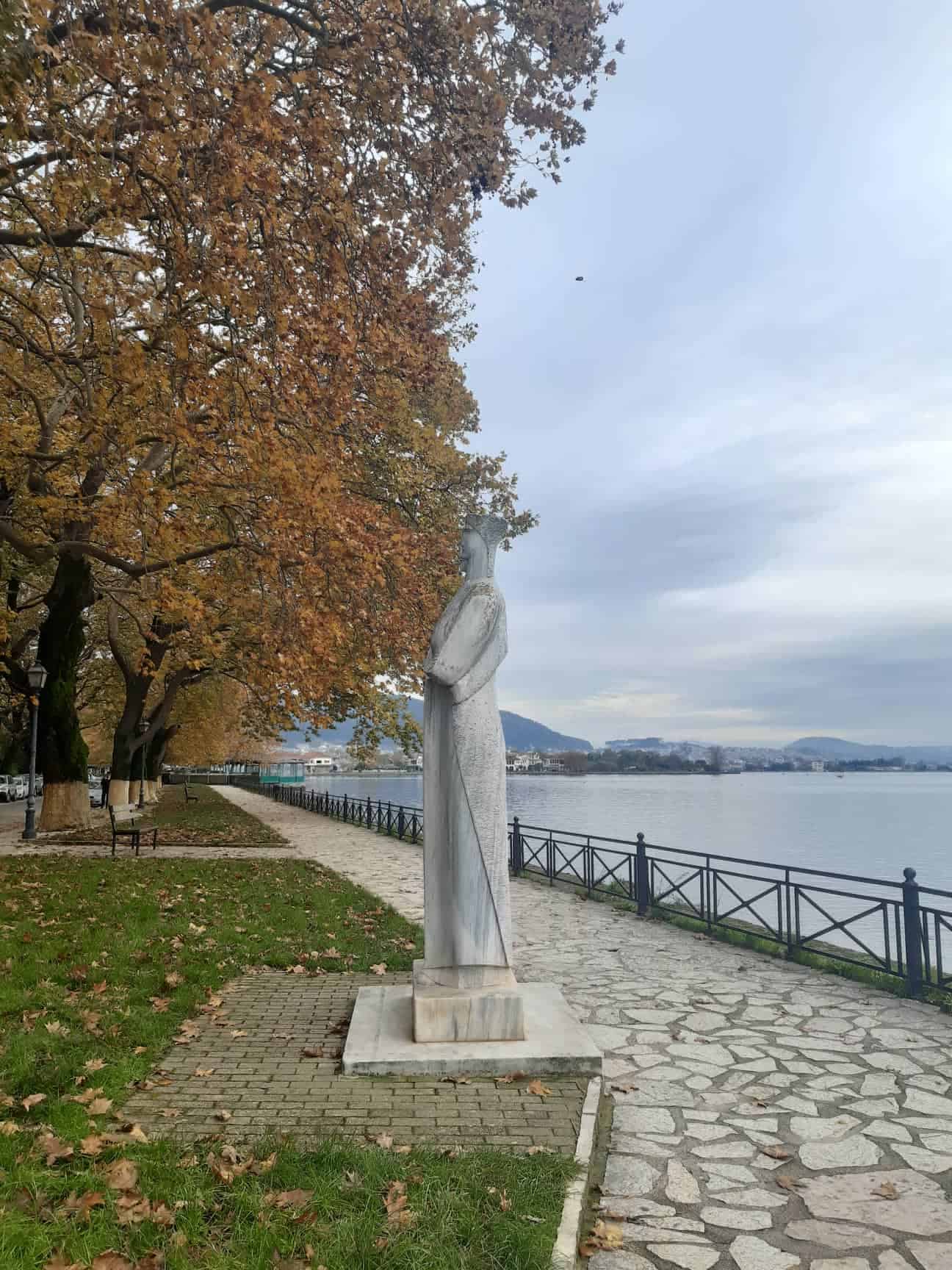 After the first two weeks of September, the number of visitors to Greece starts to taper off. The tail-end of September and the first week of October is a pleasant time to visit Greece.
Temperatures are still relatively warm during Autumn in Greece. Conditions tend to be around 25-30 degrees Celsius in the daytime.
Prices drop by up to 20% by mid-September. Furthermore, there is more availability at hotels and B&Bs.
In mid-October, boats between the islands and the mainland start operating on a reduced schedule. Tourism is very seasonal in Greece and outside of May-September, some of the islands essentially close down.
Outside of the islands though, Autumn is one of the best times to visit Greece. This is particularly true if you are interested in hiking and nature.
The Mani and the Louisos Gorge in the Peloponnese are rewarding trails to follow. So too is the Samaria Gorge in Crete, or the routes around Mount Parnitha in Athens.
Winter in Greece
Most people associate Greece with its islands and consider the country as a Mediterranean summer getaway. That said, winter in Greece also has plenty to offer. However, it's just that it is a completely different style of travel.
The Weather
Don't make the mistake of thinking that Greece is one of those countries that are hot all year round. It isn't.
Winters in Athens often see temperatures that dip below 10 degrees Celsius and in Northern Greece, it is even colder. 2018 saw some of the heaviest snowfall for years!
Weather factors aside, if you are a cultural traveller that is considering a city break in Athens. Or alternatively, perhaps you are embarking on an exploration of Greece's historical and archaeological sites, winter is a great time to travel to Greece.
Winter is also one of the cheapest times to visit Greece. This is perfect if you are exploring Greece on a budget!
The Prices
During this time, you can generally find decent budget hotels across the country for as little as 25 euros per night. Offbeat Greek cities and island destinations may have Airbnbs available for as little as 15 euros a night!
A week in Heraklion, Crete in January can be booked for just £90 for an entire week! Woah!
Winter in Greece also presents the opportunity to stay in cozy log cabins in dreamy rural villages surrounded by mountains and dense woodlands. Greece's winter travel options aren't really well-known among international tourists.
However, little mountain-top villages like Arachova, Metsovo, and Karpenisi are perfect for skiing, walking, and generally getting back to nature. Most Greeks have several weeks' vacation time during the Christmas period. Cosy winter getaways are a popular choice for locals.
The Best Time to Visit Greek Islands
Island hopping in Greece is a major draw for a lot of people. Popular islands like Santorini, Mykonos, Zakynthos, and Crete may seem to steal the show but there are actually more than 220 inhabited islands in Greece, and literally thousands of Greek islands in total.
So when is the best time to visit the Greek islands? Honestly, it depends!
Greece is actually a bigger country than most people realise and its plethora of islands are distributed among different Greek island groups. Namely, they are the North Aegean Islands, the Sporades, the Ionian, the Dodecanese, the Saronic, and the Cyclades.
Generally speaking, the more southern island archipelagos see warmer temperatures than their northern counterparts. They also stay warmer longer.
Best time to visit Greece and her most popular islands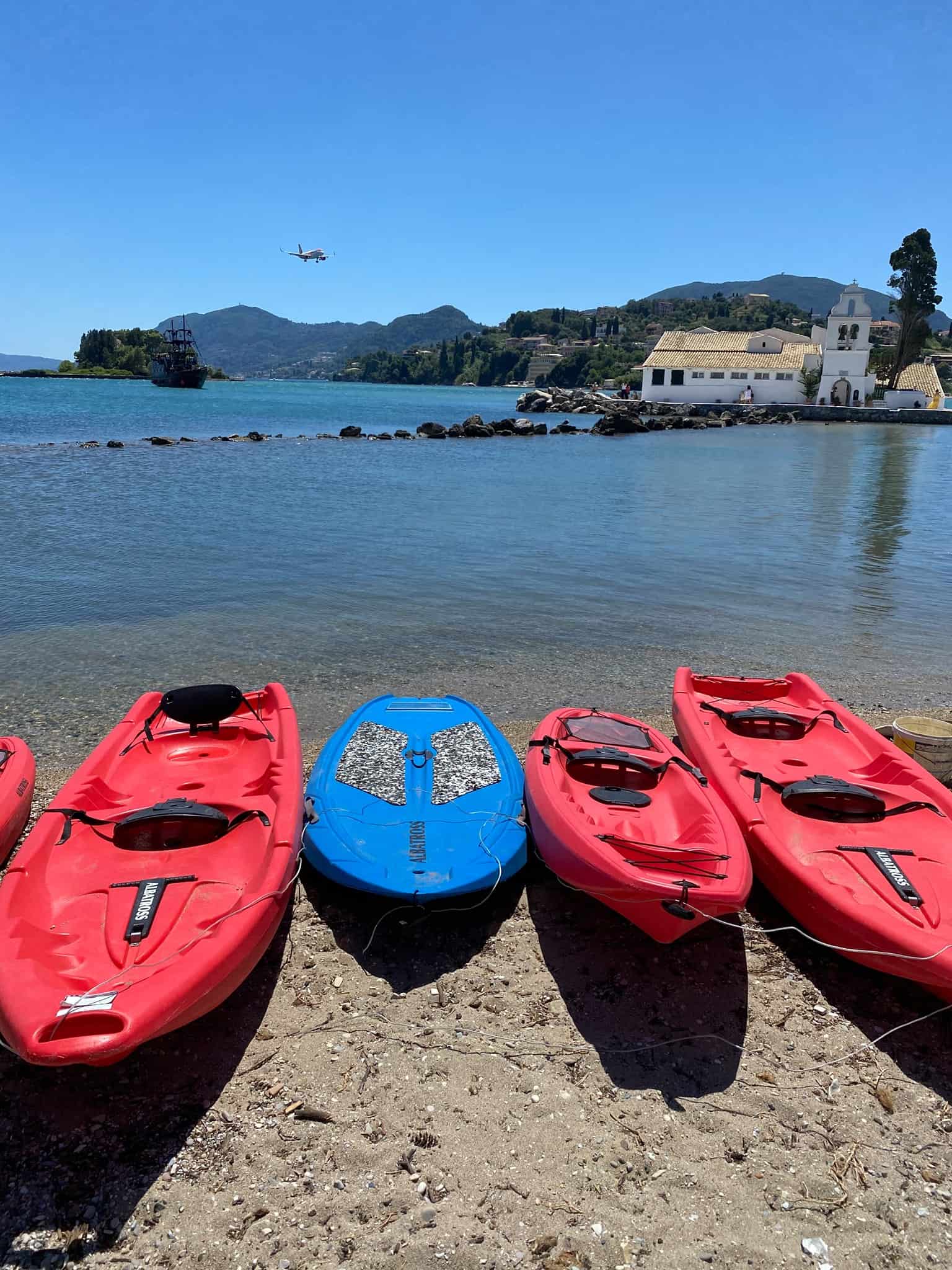 So, the question of the best time to visit Greece and the Greek islands is not so straightforward as there are differences for each island group. The best time to visit Greece and some of her most beautiful and popular islands is detailed below.
Best time to visit Skiathos: late May, June, September


Best time to visit Skopelos: late May, June, July, September


Best time to visit Alonissos: late May to September


Best time to visit Corfu: late May, June, September


Best time to visit Santorini: late May, June, September, October,


Best time to visit Mykonos: late May, June, September, October


Best time to visit Milos: late May to early October


Best time to visit Naxos: late May to early October


Best time to visit Crete: late May to early October


Best time to visit Zakynthos: June to early October
Best Time to Visit Greece by Activity
The Cheapest Time to Visit Greece
The best time to visit Greece on a budget is during the shoulder season. For the islands, this is essentially May and early June, or September.
For Athens, Thessaloniki, and other city breaks head to Greece between October and March. Certain archaeological and historic attractions across the country are free on the first Sunday of the month between November and March.
The Best Time to Visit Greece for the Beaches and Swimming
Late May, June, and early September are the best time to make the most of the summer sun in Greece. Temperatures are between 25 and 30 degrees Celsius on average. Water temperatures are also pretty warm.
The Best Time to Visit Greece for Hiking and Cycling
Visit between March and early June, or September to early November if you hope to embark on a hiking or cycling adventure. During these times, temperatures are pleasant but not too hot for being outside for long periods. Accommodation and flight costs are also much lower.
The Best Time to Visit Cultural and Historical Sites
Visit in the spring (March to May) or Autumn (September to early November) if you will be visiting outdoor cultural and historical sites. Some destinations, like Mystras and Monemvasia, are just too hot to walk around in the summer.
Spring and Autumn are great choices for planning a trip that involves a lot of outdoor exploration. This way, you can enjoy days spent wandering around sun-bleached ruins in pleasant climes and sunshine.
Winter is a good option if you are on a budget. Greece sees more than 250 days of sunshine a year. Even when it gets colder in the winter months, it is usually still dry with blue skies.
Festivals and Events in Greece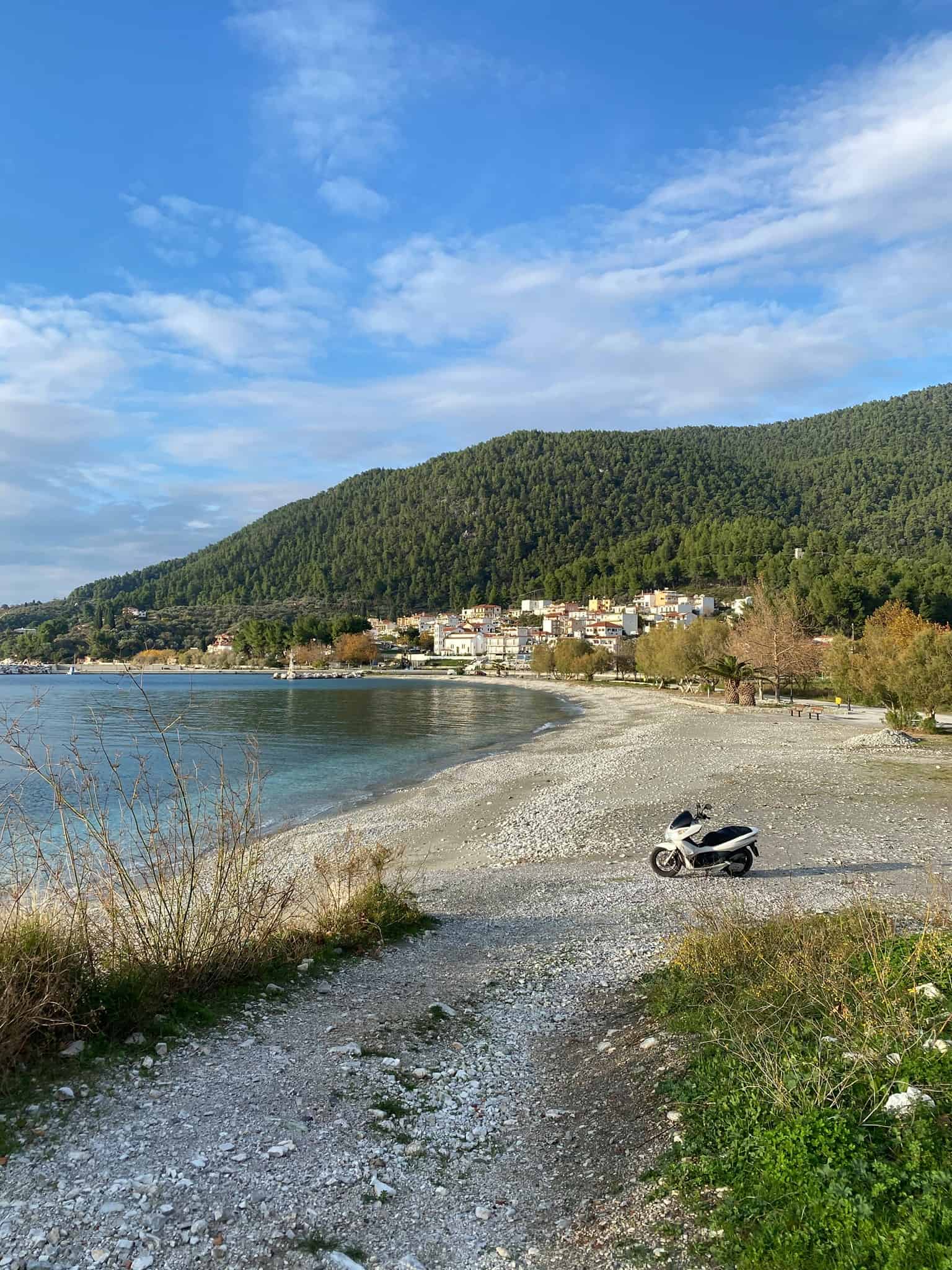 If you are heading to Greece and are interested in tying in your travel dates with some cultural events or festivals, you may want to consider some of the below events when you plan your trip. There is something happening virtually every month throughout the various seasons in Greece.
February and March:
The Patras Carnival (Apokries)
Carnival is the Greek answer to Halloween. Throughout February, people have costume parties all over the country.
The final celebration of this period is the Patras Carnival. This vibrant event sees thousands of Greeks take to the streets of Patras to dance, drink and sing.
A procession leads through Patras' main streets featuring giant decorated floats, coaches, and papier-mache figures. This is one of the best seasons in Greece if you like partying.
During the weeks that lead up to the Patras carnival, costume parties are hosted at bars and clubs across the country. If you are in Athens, head to one of the costume parties in the Gazi district.
April:
Greek Orthodox Easter
Greece follows the Orthodox calendar and their Easter takes place at a different time to Christian/Catholic Easter. For Greeks, Orthodox Easter is even more important than Christmas!
An array of events take place across the country during this time. On Good Friday, candlelight processions march through the streets of towns and villages to commemorate the death of Christ.
This is called the Epitaphios and non-Greeks are welcome to respectfully join. In Athens, there is a firework display at the top of Mount Lycabettus
May, June, and July:
The Athens Epidaurus Festival
The Epidaurus Festival is a charming annual cultural event that takes place in and around Athens. Some shows are also hosted at the nearby Ancient Theatre of Epidaurus.
This is one of sixteen stunning UNESCO-protected sites in Greece and is worth visiting in its own right. Buses run frequently between central Athens and the theatre.
The festival hosts a range of performances. Shows range from ancient Greek dramas, to live jazz music, operas, and ballet dances.
August:
The Dormition of the Virgin Mary
The 15th of August is one of the most important days in the Greek Orthodox calendar. This is Dormition Day. In other words, it is the day that the Virgin Mary fell asleep and was resurrected, before being taken up to heaven.
Many shops, restaurants, and businesses across the country close on this day. Towns and villages across the country have celebrations with live music and dancing.
Meanwhile, pilgrims make their way to local monasteries to pay their respects. The Proussos Monastery in Central Greece is a particularly popular pilgrimage route.
October:
Ohi Day (The Day of No)
Ohi Day is celebrated by Greeks on the 28th of October every year. This day is the anniversary of the day that the Greeks said no ("ohi") to Mussolini and the Italians when they asked that Greece surrendered to Nazi Germany.
If your trip coincides with this day, you can catch military processions in Athens, Thessaloniki, and other towns and cities. Towns across the country have parades, and buildings are adorned with Greek flags.
November:
The Thessaloniki International Film Festival
The Thessaloniki International Film Festival takes place in the Northern Greek city every November. It acts as a platform for new Film Directors to showcase their latest projects.
Thessaloniki Film Festival may not quite be Cannes. However, it is quickly emerging as one of the most glamorous cultural events in Southern Europe.
Anybody can buy show tickets. Opting to do so can really enrich your Greek experience.
December:
Christmas and New Year in Athens
Athens is magical during the festive period. A grand, illuminated Christmas tree is set up in Syntagma Square.
Meanwhile, several outdoor ice-skating rinks pop up around the city overlooking notable attractions like the Acropolis. Don't worry about shop closures if you find yourself in Athens on Christmas Day.
Although a lot of restaurants close, many are still open to serve travellers. A Greek souvlaki Christmas dinner might not be the usual choice but it'll be the one that you remember!
Final Thoughts
Do you have any further concerns about the best time to visit Greece or about travelling here in general? I have lived here since 2017 and would be happy to assist with any questions you may have.
Feel free to drop me a comment below. Safe travels!
Geia sou! Melissa xo
---