Encountering Airbnb problems when you travel can have a really negative impact on your vacation experience. Nowadays, the use of Airbnb has become so mainstream that many travellers do not think twice before making a reservation through the platform.
In various places around the world, the use of Airbnb makes travelling much more affordable. Not to mention, the platform seemingly gives you more bang for your buck as compared to making reservations through hotel booking sites. 
Airbnb Problems:
The Appeal of Airbnb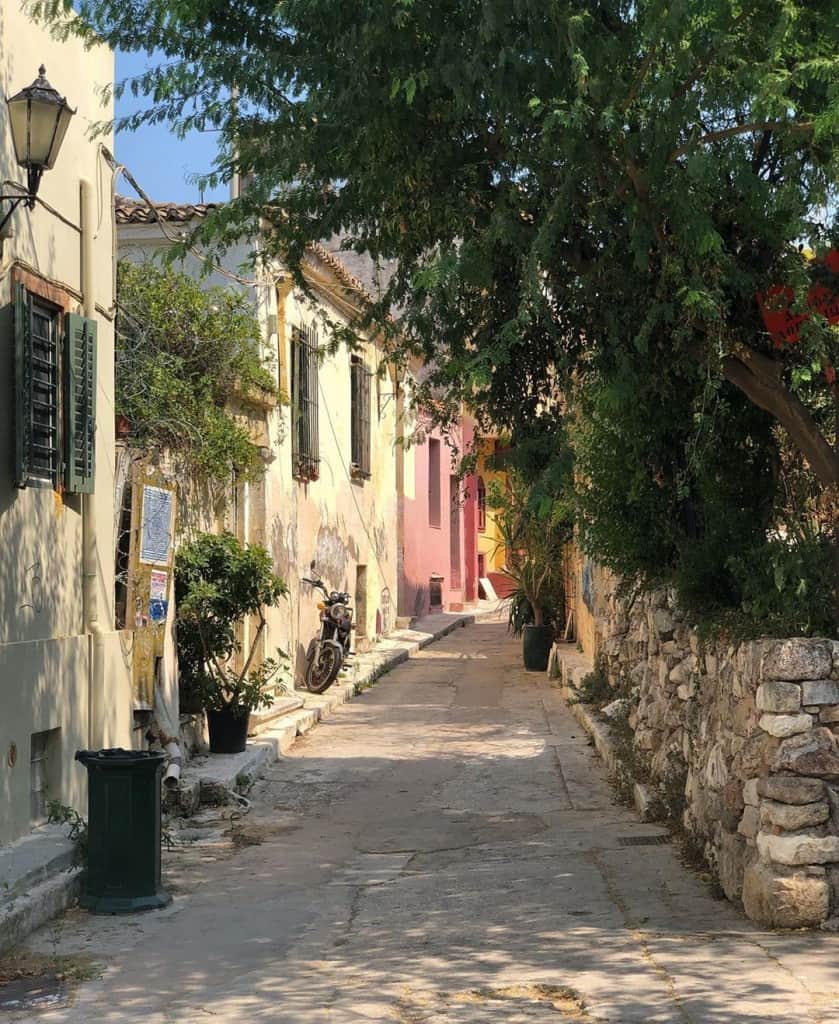 As an example as to the supposed magic of Airbnb, you could reserve a double hotel room in Athens for $60 a night, whereas for the exact same price, you could also get yourself a spacious three-bedroom apartment.
When you compare the two options, at first glimpse it seems almost like a no-brainer: why would I have a cramped, cookie-cutter hotel room when I can have a spacious pad that feels like a home away from home?
As an experienced Airbnb-er, I can tell you that when things go smoothly with Airbnb, the platform seems just swell. When things go bad, however, it is incredibly stressful and there is very limited help on hand to resolve your issues.
At times of trouble, you will find that Airbnb essentially wash their hands of all responsibility for your problems, and reiterate that they are just a third party, making the entire experience a nightmare if you are dealing with a problematic host or guest.
Airbnb Problems:
My Experience with Airbnb
I have been using Airbnb since the platform was first introduced. I'll hazard a guess that this was way back in around 2013/14 when the sharing economy was a relatively new concept. At that time, I was so blown away by the concept that I recommended Airbnb to anyone and everyone. Actually, I am pretty sure that my friends thought that I was getting royalties from Airbnb (I wasn't!). 
For two and a half years I practically lived out of Airbnb apartments as a Digital Nomad – I would book an apartment for a month at a time, and the platform enabled me to live in a bunch of different cities around the world. This was great for me at first. I loved that this enabled me to feel like I was "local" in different cities across the globe.
Living out of Airbnbs meant that I never had to keep paying rent for an apartment I wasn't in, as I would with a long term rental. As was probably to be expected as someone who was using the platform constantly, eventually I started running into problems with Airbnb.
Airbnb Problems You Should Know About
This article is written from the perspective of an Airbnb guest, not a host. A handful of common Airbnb problems are detailed below. This should help give you a frame of reference for what happens should you encounter certain situations. Many of these examples all based on my own experiences, which ultimately led to me boycotting the platform for my travels.
It should go without saying that if you ever find yourself in danger, or you feel particularly threatened by a host or an accommodation environment, you should alert the local authorities.
Airbnb Are Just a Third Party 
As I mentioned above, one of the biggest Airbnb problems is that Airbnb consider themselves as simply being a third party. Essentially you could compare Airbnb to a job advertisement board. Airbnb consider themselves as the platform on which hosts advertise their properties, but after that, the communication is between you and the host.
This is not a problem if you have a host that is good and ethical. On the other hand, if your host is an arsehole, you are at their mercy.
As an example, you may arrive at an apartment with wifi that does not work, and a structural problem that means the ceiling is crumbling inwards (this actually happened to me). If you tell the host and Airbnb that the apartment has so many issues and is not fit to be rented out, Airbnb will tell you to sort it out with the host. This can ultimately feel like you are banging your head against a wall if you have an unreasonable host.
Airbnb May Cause an Ethical Problem in Certain Cities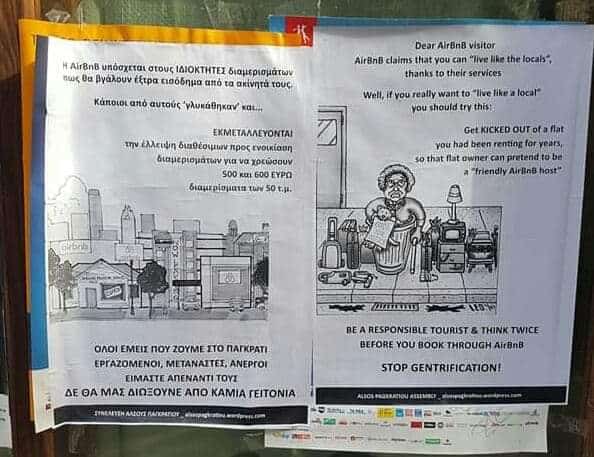 The original mantra of Airbnb was that the platform enabled travellers to "live like a local". Airbnb gave travellers the chance to stay in authentic neighbourhoods and immerse themselves in the culture of the places that they visited. Unfortunately, as the platform has grown, this has started to come at the expense of the comfort of the locals.
I draw a lot on my own experiences here, although this is admittedly a problem all over the world. I live in Athens, Greece, and Airbnb has had a profoundly negative impact on the lives of Greek people. Obviously this is a city that is still recovering from a crisis, and Airbnb has impacted citizens in the worst possible way.
In Athens, greedy people often purchase several properties and rent them out as Airbnb apartments. This has driven up the costs of rentals and properties locally and has made living in certain parts of the city unaffordable for Greeks.
Consider that the average Greek person makes 500-700 euros a month, and 250 euros for a studio apartment is an average rental rate. Then consider the fact that greedy Airbnb hosts now charge tourists 600 euros a month for the same tiny studios, and 900-1000 a month for one-bedroom apartments. This is not a marginal increase.
Many of those who move to Athens or young Greek people who want to buy their first property simply cannot find an apartment because all of the properties are being gobbled up by Airbnb. All of this brings me to my next point…
Anti Airbnb Attitudes Can Ruin Your Trip
While the responsibility for resolving the matter of how Airbnb impacts locals and economies falls more on Airbnb and the local authorities to better regulate things, rather than on you as a traveller, it can certainly impact your trip. I believe that in order to be thoughtful, ethical travellers, we should be supporting communities, not hurting them.
Ethics aside, let's look, more selfishly, at how a very anti-Airbnb attitude can impede your travel experience. Again, I'm using Athens as an example. Here we have such a major problem with Airbnb taking over the city that people are starting to leave up aggressively-worded flyers and posters that tell Airbnb guests that they are not welcome.
In some apartment buildings, you can see signs that say things like "Airbnb guests do not knock on my door and ask for help. I am not a tourist office!", or more intimidating notices such as "police will be called in the event of unknown persons passing through the building!". This is enough to put a dampener on any trip.
Anti-Airbnb attitudes are understandable though. It's hardly pleasant if you have random people entering your building every day of the week, and you are stopped dozens of times a month for advice.
Negative Experiences Have to be REALLY Bad Before You Can Leave 
If you stayed in a hotel, the wifi did not work, the room smelled of urine, and the ceiling was crumbling inwards, you would not be obliged to stay there. Hotels and other accommodation businesses typically have strong ethics regarding Customer Service and upholding their brand reputation. This is not necessarily true of Airbnb hosts.
This is a real-life scenario by the way. I arrived at an Airbnb apartment in Greece, and within 5 minutes of arriving, I discovered all of the above issues.
I told the host that the apartment was not fit to be rented out and he refused to give me my money back. I had to send a long sequence of photos and evidence to Airbnb to prove my case. Each time, Airbnb tried to argue against having to return my money. "If the host gets someone to clean the apartment so it doesn't smell like a public bathroom, will you stay?", "Can't you be patient and spend 3 of your 7 days without wifi?"
Airbnb goes completely against any mantra of "the customer is always right". Actually, Airbnb even goes against the ideology of "the customer is sometimes right". Once you have paid your money, you are very unlikely to see it again, so you had better hope you don't book somewhere unpleasant.
It's Difficult to Get Hold of Airbnb as a Matter of Urgency
If you arrive at an Airbnb apartment and the place is not as described or it has major issues, you are advised to contact Airbnb as soon as possible. If you stay at the accommodation and notify Airbnb a day or two later, your case weakens.
While contacting Airbnb as soon as you know there is an issue sounds fair enough, the challenge then lies in trying to get a hold of them. Contacting Airbnb through their help centre and resolution platform means response times of up to 24 hours – far too slow in an urgent scenario.
You can try to tweet @Airbnbhelp on Twitter, however, responses are equally slow.
The best way to get a hold of Airbnb when you need a fast response is to phone their call centre. However you should expect long hold times, and constantly being told that you need to wait for a callback, as Airbnb will ping-pong between speaking to you and the host to try and understand the situation. This can be incredibly stressful if you are arriving alone in a foreign country late at night, and also contending with patchy phone signals and high call charges.
Disputes Become a "He Said, She Said" 
If you raise an issue about a property that you are staying at with Airbnb, you must prove it with photographic evidence. After that, Airbnb will go back to the host and verify as to whether what you are saying is in fact correct. This becomes incredibly frustrating when you have ample evidence about a scenario and you are dealing with something unsanitary and unpleasant. You start to feel like two bickering siblings telling their Mum what happened.
Airbnb Have Little Concern for Your Safety 
In August 2018 I rented an apartment in Catania, Eastern Sicily. The apartment had no reviews and was a new listing, which is something that would normally put me off. However, in this case, I was travelling during the peak season and there were no other options. I thought to myself "what's the worst that can happen?" It turned out things could become pretty sketchy.
I rented an apartment listed from a woman named Giuliana, however, it was an older man who showed me into the apartment. One morning, I heard a strange sound coming from the kitchen and the man had let himself into the apartment to move something from the kitchen. I told him and Airbnb that this was inappropriate, however, it happened again a few days later when the man entered the apartment at night and I was in my underwear.
After that, I made sure that the door was bolted and I pushed a chair against it. When the man tried to let himself into the apartment a third time, I felt incredibly uncomfortable and left the apartment early. Airbnb acted as though I was being dramatic over nothing, and told me that my leaving the apartment (despite that being due to inappropriate host behaviour and safety concerns) meant that I had gone against their refund and cancellation policy and I would not get any money back.
A very upsetting incident as far as Airbnb properties and their lack of safety due diligence go is the case of Carla Stefaniak, an American who was murdered at an Airbnb property in Costa Rica. This is an extreme circumstance, however, Carla's killer was someone who was working at the property despite being in the country illegally and having a criminal record. A hotel would have conducted background checks on their staff and not allowed this person to work at their site.
Apartments May Not Adhere to Safety Regulations 
Hotels have to adhere to certain health and safety regulations. In most hotels, you will find fire escape plans, along with working fire alarms and carbon monoxide testers that are checked periodically. In Airbnbs, there are no such checks.
I had a (minor) shock from a light switch in the Catania apartment mentioned above. This resulted in having to have an electrician out, and the bedroom electrics being rewired. This is something minor but goes to demonstrate the lack of any checks carried out on apartments. Literally anyone can list an apartment on Airbnb, no questions asked.
Fire Alarms, Carbon Monoxide Testers, and Other Devices May be Absent 
Many Airbnb apartments do not contain fire alarms and carbon monoxide testers. It seems as though Airbnb have twigged onto the idea of this being a concern in recent years. As a result, Airbnb now asks hosts to specifically state whether they have a carbon monoxide tester in their apartment or not.
If you rent an Airbnb apartment and it does not have a carbon monoxide tester, you are advised to carry your own portable device. I think that realistically, most people do not carry such devices. As a result, the safety concern remains.
Reviews May Be Removed or Mysteriously Disappear 
I rented an apartment in Greece last year and wanted to extend my stay via the platform. The owner wanted me to pay cash – presumably to avoid having to pay the Airbnb service fee and any additional taxes/fees. I did not feel comfortable paying hundreds of euros in cash, and after declining, the host became very argumentative.
I wrote in my review that the host tried to pressure me to pay in cash. I even had screenshots of our conversation. Airbnb, however, removed the review. Why would they remove reviews when someone had clearly acted untoward? Presumably, because they didn't want to irritate a cash cow, and potentially lose money in the service fees that they could accumulate from him through the year.
You May be an Illegal Guest 
Just like there is a major issue with the way that Airbnb is impacting local economies, there is also a major issue with people illegally subletting their apartments. As I mentioned already, there are very few requirements necessary for listing a property on Airbnb – just snap a few pictures, add a description and you're all set.
As a reference for that, it is estimated that as many as 70% of listings in New York City, USA are illegal. In an attempt to regulate Airbnb, and to encourage long term rentals as opposed to short term lets, the city's state made the use of Airbnb conditional and specified that it should only be used in instances where properties are rented out for longer than 30 days at a time. Despite that, the vast majority of properties listed are available for significantly lesser periods.
Profits for renting properties on Airbnb can be high, so it's not surprising that some renters think that they can make some extra cash by renting out their apartments while they go away for the weekend. It is widely believed that a large percentage of properties on Airbnb are illegal sublets.
Imagine how uncomfortable it would be if you are staying in someone's apartment when the landlord discovers that they are illegally subletting it! That isn't a crazy paranoid thing to think about either, it has actually happened a few times! In Barcelona, the government has actually employed a team of people whose responsibility is to track down illegal listings and investigate those that look sketchy.
You Lose the Amenities Offered by Hotels 
There are many added extras that come with staying in hotels. Hotels, unlike Airbnbs, have reception services that are typically available 24/7. At hotels, you can pretty much rock up whatever time you like and check into your room. At Airbnbs however, you have the inconvenience of having to liaise with your host, and sometimes having to wait around for your host to arrive.
Hotels also offer luggage storage and housekeeping by default. That's not to say that you need to have someone cleaning your room every day, but it's nice to know that the room is organised for you at the end of your stay.
What I am about to say can be perceived the wrong way, so hear me out. Many Airbnb hosts charge an additional cleaning fee for your stay. I am absolutely not condoning leaving a mess and leaving a ton of dirty dishes behind, but what I have noticed is that hosts have often left negative comments in reviews such as "I found lots of her hair in the bathroom" (Okay but I paid £30 for a cleaning fee?), or "He didn't bother to mop the floor before he left!".
Sure you should take care of the places that you stay in, but at the end of the day, you are on vacation. Don't you think that it's a little unpleasant to stay somewhere where the host is late to meet you, and then nags at you like your Aunt Freda because you didn't mop the floors?
You are at the Mercy of Your Hosts 
Although it can have a negative impact on their ratings, hosts can cancel Airbnb reservations right up until the last minute. In this instance, Airbnb apparently provides assistance and support in finding alternative accommodation. As advised, though they can be fairly tricky to get hold of, even in urgent scenarios.
Hotel overbookings and cancellations are pretty rare, but the chance of an Airbnb host leaving you high and dry is a real threat. The idea of arriving in a foreign country that I am unfamiliar with and noticing that my host has cancelled my reservation is far too stressful for me to think about.
In the event that a host does cancel your reservation and you have to book a last-minute hotel, there are limitations on how much Airbnb will reimburse you for the additional costs of a hotel room. As an example, if you booked an apartment for $50 a night, you may only be eligible to reclaim 150% of that amount. When you are booking at the last minute, you may find that the only hotel choices that remain are those that are very expensive, thus leaving you out of pocket.
You Are Not Insured 
When you stay at a hotel, you and your possessions are covered. An Airbnb is considered as private property and therefore you are not insured.
There is no guarantee as to how safe various properties and neighbourhoods are. If you leave your expensive photography equipment in your room and it mysteriously goes missing, Airbnb will wash their hands of any responsibility. Remember, they are just a third party! 
Airbnb Service Fees Bump up the Prices  
It's important to assess the cost breakdown when you book a property on Airbnb. What can at first look like a good deal at $50 a night, may well amount to much more after cleaning fees and Airbnb service fees are added.
Airbnb service fees are essentially the platform's "cut" of connecting you with the property. This varies depending on the season and the duration of your stay, but the fees can actually be pretty high. When you consider that hotel platforms like booking dot com do not charge such fees, you may realise that your Airbnb property is not as economical as you first thought.
Big Brother May Be Watching 
When people talk about hidden cameras and voyeurs in Airbnbs, I mostly just roll my eyes. I generally think that this is pretty unlikely but you honestly never know. There have been reported incidents of people finding cameras in their Airbnbs. The scary thing is that the way that technology has advanced these days makes it difficult to detect hidden cameras.
Hidden cameras may be teeny tiny, and hidden away inside other household devices, making them virtually undetectable. Realistically most of us don't wander around our travel accommodations disassembling every item to check for cameras. Who knows how many instances of voyeurism have occurred? At least in hotels, there are fewer people with access to your room, and the opportunity to tamper or install hidden cameras.
The Argument "For" Airbnb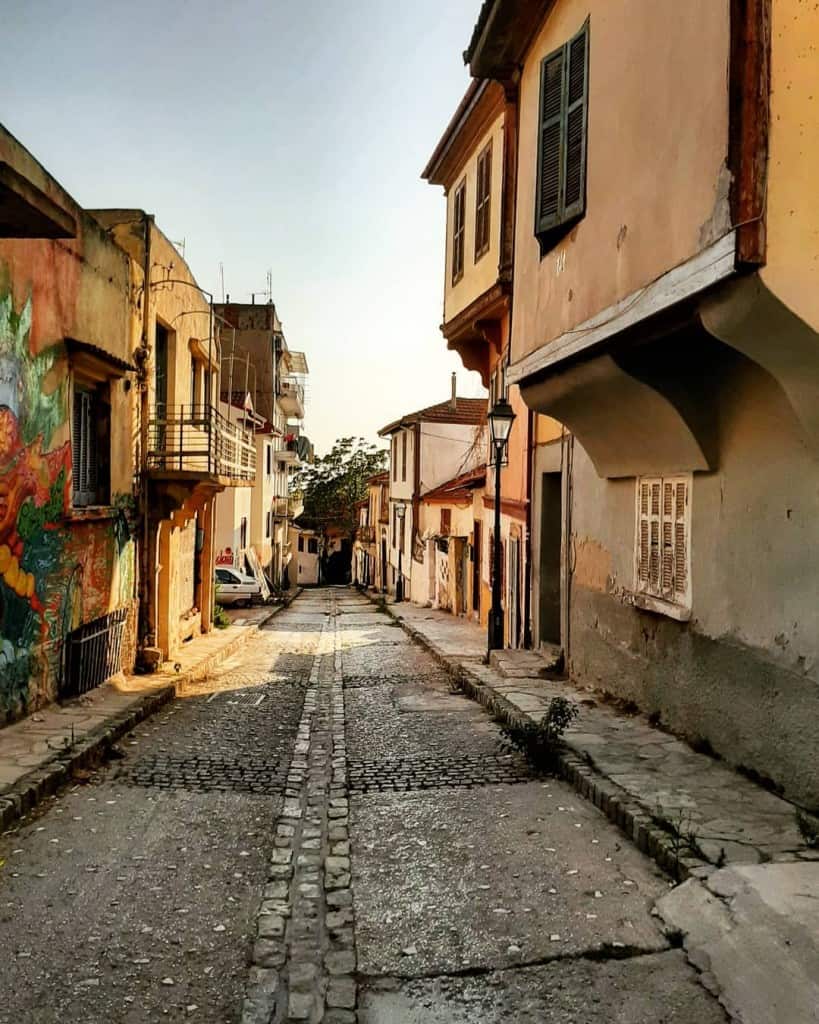 It would be wrong of me to say that all hosts on Airbnb act unethically, or to tell you that you should completely boycott the platform. The reality is that among those who buy up several properties in a city, and charge extortionate rates that drive up local prices, there are good hosts.
When I visited Tokyo and Hong Kong, for example, I rented people's spare rooms in their apartments. The ladies that I stayed with were just as much interested in a cultural exchange as they were interested in making a little extra through the platform. It's just a case of Airbnb and the local governments better regulating the platform, along with you as a guest trying to identify those hosts who genuinely care.
Further Reading on Airbnb Problems
Further case studies, statistics, and updates on Airbnb problems will be added to this article as and when they become available. One interesting resource, if you want to correlate the numbers with the case studies, is the site "Get the Data". This creates reports using public Airbnb statistics in order to show the specific impact of Airbnb in various cities across the globe.
Have anything to contribute to this conversation regarding Airbnb problems? Feel free to drop a comment below. Safe travels! Melissa xo
---