This Uzbekistan Travel Guide aims to be an exhaustive resource for covering everything that you need to know before travelling to the beautiful Central Asian country of Uzbekistan.
With an ancient history spanning back thousands of years, breathtaking silk road architecture, and cities that feel like an Arabian nights fantasy come to life, there are countless reasons to consider an adventure to Uzbekistan.
This is one of the easiest destinations to travel in Central Asia, and as the local government works to promote Uzbekistan to the world as a tourism destination, there has never been a better time to travel here.
This Uzbekistan Travel Guide is pretty exhaustive so feel free to use the table of contents below to navigate to the specific sections that are relevant to you as you plan your Uzbekistan itinerary.
A Little About Uzbekistan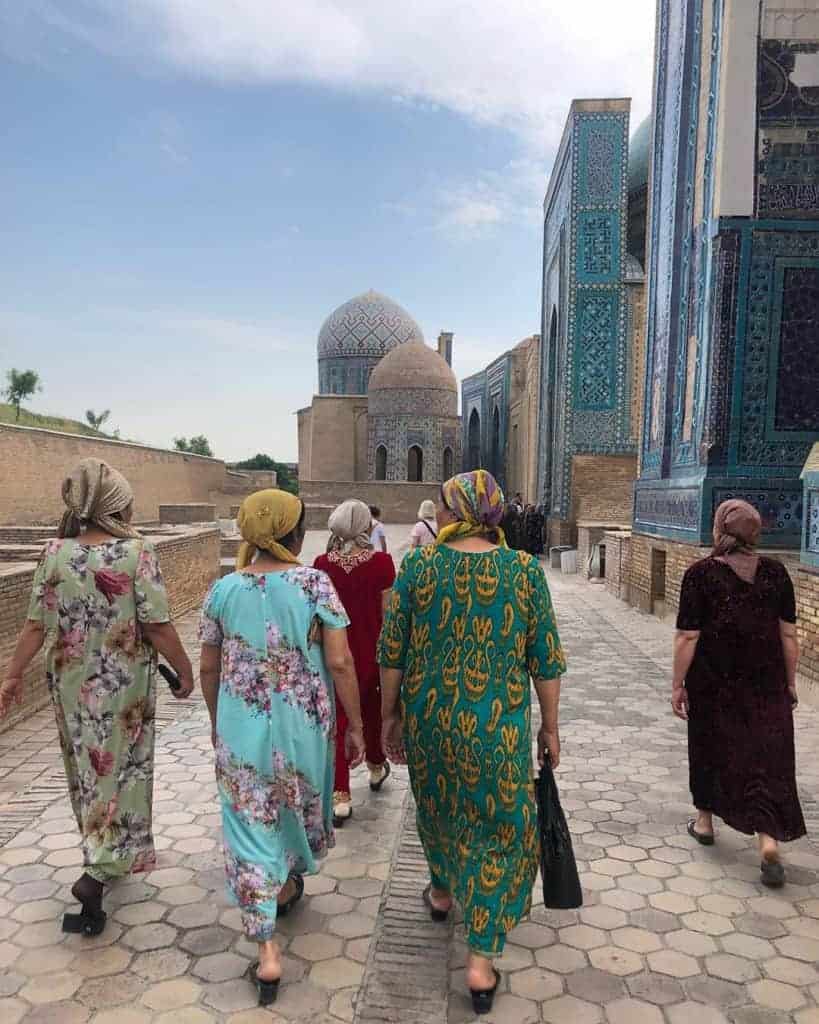 Uzbekistan's history spans back over 2,500 years. Situated on the old Silk Road trade route where merchants and their camels would trade spices, silks, fabrics, and handicrafts from China to Italy, Uzbekistan had a much sought after location. As such, these lands have been invaded and taken over countless times over the centuries – perhaps most notably by Mongolian warlord Genghis Khan.
Uzbekistan was once part of the Soviet Union and strong influences of Russian culture remain prominent throughout the country. After obtaining independence from the USSR in 1991, Uzbekistan became a dictatorship under the control of Islam Karimov.
Since Karimov's passing in 2016, Uzbekistan, a formerly hermetic country, has made waves towards opening up to the world and inviting foreign tourists to wander its deserts and settlements.
Where to Travel in Uzbekistan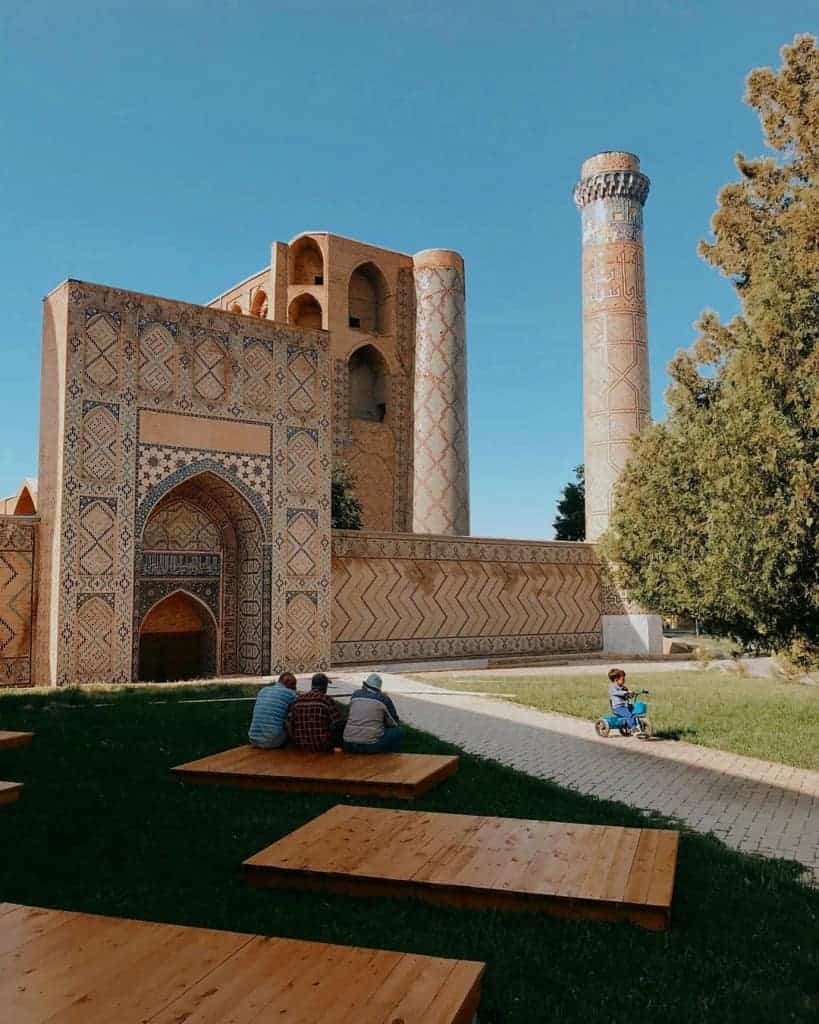 The Silk Road cities of Samarkand, Bukhara and Khiva are undoubtedly among the main draws of travelling to Uzbekistan. These cities are incredibly well-preserved and wandering through them feels almost as though you are stepping back in time.
Exploring the labyrinth-like alleyways of Khiva at dusk, or sitting in a rooftop tearoom admiring the sunset over the madrasas of Bukhara make you feel as though you are somewhere centuries ago. In fact, sometimes it almost feels as though you are going to see a camel caravan come rolling past at any moment, or a merchant carrying spices.
Silk road architecture aside, Uzbekistan offers a varied and very rewarding travel experience. Off-the-beaten path cities like Urgench and Fergana Valley provide insight into the modern nation and its people, post the Soviet era. Uzbek people are perhaps some of the most hospitable and friendly in Central Asia.
Those interested in dark tourism can also stop by Moynaq and the dried up Aral Sea – one of the worst environmental tragedies in human history.
Is Uzbekistan Safe to Travel to?
Uzbekistan is a perfectly safe travel destination, though I can understand if you have some skepticism about that. In the UK, we don't hear an awful lot about this little land-locked country, and the fact that it ends with -stan, and borders conflict-laden Afghanistan makes our minds automatically think the worst.
I was anxious before my trip to Uzbekistan, but after spending two weeks there as a solo female traveller, I can assure you that I felt safer there than I have done in some parts of Europe. Uzbekistan once ranked as one of the safest travel destinations in the world.
Uzbekistan is a police state, and although the presence of Officers on every corner can sometimes feel unnerving, their existence is to ensure the safety of people and travellers, and this is a definite factor in the country's low crime rate.
For further assurances about the safety of travelling in Uzbekistan, you can review the British government travel advice for Uzbekistan, and note that no major incidents, terrorist attacks or crimes against visitors has been reported. If you are feeling concerned, I am sure that you will touch down in Uzbekistan and wonder what on earth you were ever worried about.
Uzbekistan Travel Guide:
Currency
The official currency of Uzbekistan is the Uzbek som. This is extremely weak and heavily inflated. £1 equates to approximately 10,800 Uzbek som. US Dollars are also widely accepted by a lot of hotels, tour guides, cab drivers and businesses. In fact, sometimes they are even preferred.
If you can, I would advise you to bring some US dollars into the country and get some Uzbek som on arrival – split your spending money 50/50 between the two currencies.
The US dollars can be used for things like hotels and tours, and the Uzbek som is your local pocket change for taking cabs, having dinners, etc. The main reason for this is that Uzbek som is worthless outside of Uzbekistan and difficult to exchange into another currency. Opting to use dollars minimises your chances of being stuck with loads of som at the end of your trip.
Money Matters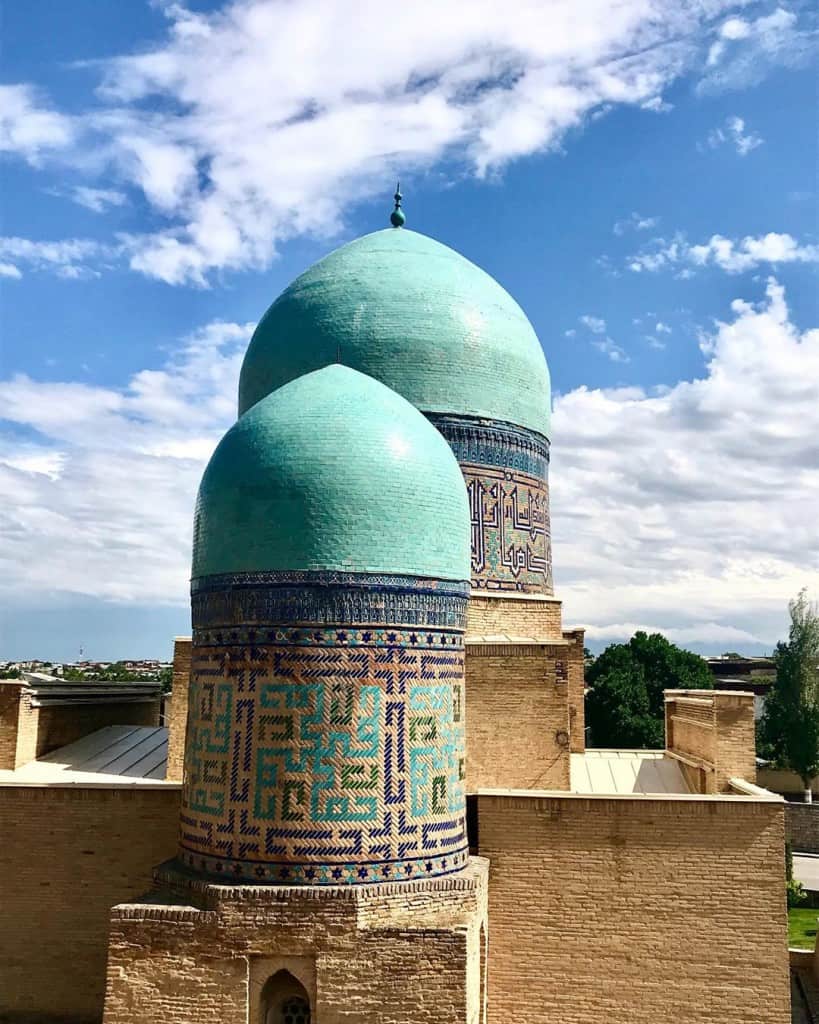 Uzbekistan is a cash society. Credit and debit cards are not widely accepted, although some hotels will take them. There are some ATMs in larger cities like Tashkent, Samarkand and Bukhara, but often you find that they are out of order or just do not work.
Try and save yourself the stress of running all over the city like a headless chicken in 40 degree heat frantically looking for an ATM and try and budget in advance how much spending money you will need.
It is also worth noting that Mastercards seem to be more widely accepted than visa cards (both visa debit and visa credit). I don't have a credit card, just a visa debit, and I had a lot of difficulty finding banks that would accept the card.
In the past, Uzbek som would be exchanged on the black market. Today, banks offer the same competitive rates as the government is trying to stamp out the existence of the former.
I would just advise you to use the banks to exchange currency in Uzbekistan. This way, you know that you are getting a deal at an agreed rate, rather than having to worry about haggling or the exchange person trying to short you a few dollars…
Languages and Communicating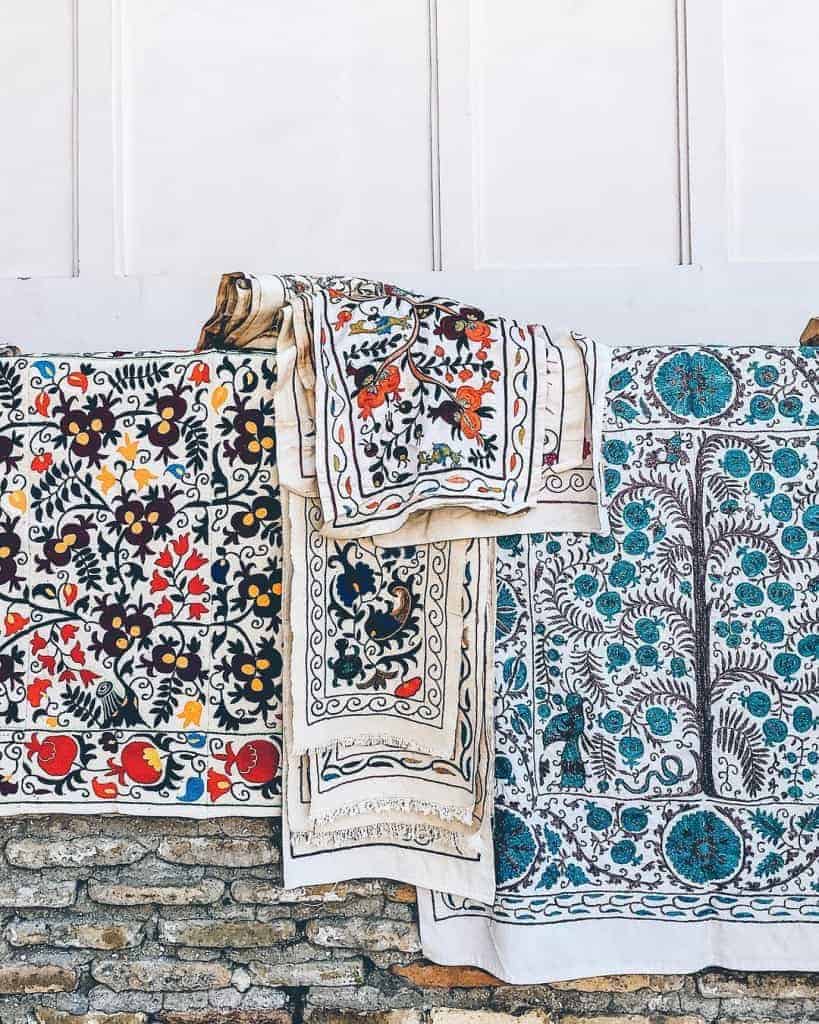 The official language of Uzbekistan is Uzbek. Russian and Tajik are also widely spoken. Not many people speak English, but you can just about get by with a small handful of words paired with enthusiastic miming and Google translate!
If you are going to learn a bit of a language in advance of your trip, I'd probably recommend Russian. This is unofficially the second language of Uzbekistan, and is likely going to come in more useful in your future travels than Uzbek which is only spoken here. Russian is also spoken in nearby Azerbaijan, Kyrgyzstan, Kazakhstan, Turkmenistan, and Tajikistan.
I downloaded a few useful apps for learning Russian prior to my trip. Even the free versions of these apps were useful. Those apps were:
Travel Insurance for Uzbekistan
I would strongly advise you to ensure that you purchase comprehensive travel insurance for your trip. Uzbekistan has very limited options for medical treatment should you require it, and the standards are generally extremely poor.
Should you get sick or be involved in an incident, you will probably have to be taken to India or Eastern Europe to be treated. As you can imagine, that isn't going to be cheap so make sure you have sufficient medical coverage on your insurance plan!
I highly recommend using World Nomads for your Uzbekistan travel insurance. They are practically the only provider that offers a comprehensive cover for off-the-beaten path destinations. World Nomads also provides cover for things like repatriation, hiking incidents, and theft.
You can use the comparison tool below to get an insurance quote for your trip.
Visas and Entering Uzbekistan
Historically it was pretty tricky to enter Uzbekistan. You used to need to apply for a visa at an Uzbek embassy in advance of your trip, and visas could get pretty expensive. No more!
As of February 2019, citizens of over 45 countries can enjoy visa-free access to Uzbekistan. This includes travellers from the United Kingdom, the United States, and the majority of the EU countries.
In general, processes for entering Uzbekistan have loosened up a lot over the last few years, as Uzbekistan works to position itself as a tourism destination.
Even if you are not from one of the 45 countries eligible to travel visa free, you can apply online for an e-visa. Check the specifics with your country's government travel advice before you book your trip.
Police Registration for Uzbekistan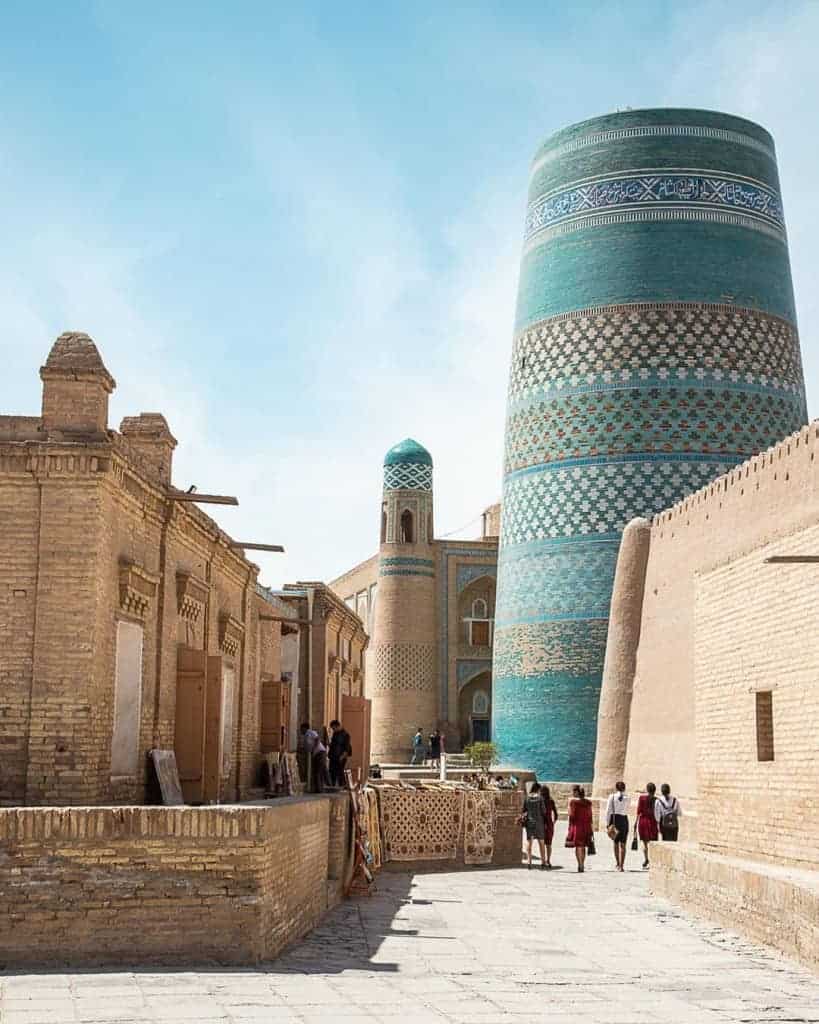 Quite a big ball ache (sorry I'm female – can I still get ball ache?) of travelling in Uzbekistan is the constant need to obtain "registration" and proof of your whereabouts within the country. It's not a complicated process really, just an annoyance. This basically means obtaining a slip of paper at every place that you stay.
To obtain police registration in Uzbekistan, simply tell the person on reception at your hotel/hostel when you check in that you need registration. They will provide you with a slip of paper that proves that you stayed there that night.
If you opt to couchsurf or do a homestay, you must register via an online portal called Emehmon. If you take an overnight train, like the one I took from Urgench to Tashkent, you should retain your ticket as proof for that night.
Once again, progress seems to have been made in this area of Uzbekistan travel. Fines and implications of not registering correctly were very harsh in the past – you could be detained or fined up to $2500 if you missed something or did not register correctly! When I exited Uzbekistan on the 4th June 2019, my registration papers were not checked.
I would say that it is better to be safe than sorry and to still obtain and save these, but that hopefully this process will become obsolete soon.
Religion and Cultural Customs
Officially, Uzbekistan is a Sunni Muslim country, though you will find that it is mostly secular and the majority of the people are not practicing religion. The Russian population of Uzbekistan are predominantly Christian, and there is a small Jewish community here also.
People hear that a country is Muslim and automatically fret that it will be ultra-conservative and that they don't know what to wear so as not to offend.
It should be noted that Uzbekistan is not the Middle East, and the people think of themselves as liberal and open-minded. Women do not wear abayas, or burkas, and it is not uncommon to see young Uzbeks wearing dresses and shorts. Alcohol is also legal here.
Costs of Getting to Uzbekistan
It is likely that the bulk of the cost of your Uzbekistan trip will come from flight costs. Only a limited number of carriers fly to Uzbekistan currently, with the main providers being Turkish Airlines and Uzbekistan Airways.
It cost me almost $600 for a return flight from Athens to Uzbekistan which is not cheap. On the plus side, at least Uzbekistan is not an expensive country to travel in once you get there.
Exact flight prices will obviously vary depending on where you are departing from and it goes without saying that flights are likely to be cheaper if you travel during the off-season.
By the way – it is worth noting that flights in and out of Uzbekistan are moderately higher than flights to neighbouring countries (e.g. Kazakhstan and Kyrgyzstan). If you are open to a wider exploration of the Silk Road region, you could save as much as $100 or more by flying first into somewhere like Astana, Kazakhstan, or Bishkek, Kyrgyzstan.
Uzbekistan Travel Guide:
Customs Upon Entering Uzbekistan
A lot of the information online regarding travelling to Uzbekistan is outdated and no longer relevant, which is precisely why I decided to write this Uzbekistan Travel Guide. The country previously had very strict border controls and there were many rules and customs that travellers needed to be mindful of before entering.
You should still research the rules and customs of Uzbekistan before your trip – you absolutely should! However, keep in mind that processes are much more relaxed lately since Uzbekistan had a change of Prime Minister and wants to encourage more tourism.
The main aspects of Uzbek customs and border control are broken down below.
Customs Form
Historically, you were given a customs form upon entering Uzbekistan which required that you specified everything that you were carrying, any medicines, and a declaration of the exact amount of currency. This was then checked with a fine tooth comb when you exited the country to ensure that nothing was amiss.
I travelled to Uzbekistan for two weeks from May 2019 to June 2019. I flew into Samarkand and out from Tashkent. I was NOT given a customs form, nor were the other travellers I encountered. The only time that you have to fill in a declaration now is if you are travelling with over $2000 of cash.
Carrying Medicines into Uzbekistan
Medicines is one area where Uzbekistan border guards are extremely strict. It is imperative that you know what you can and cannot take into the country with you. This document specifies all the details of what meds you can and cannot take into the country with you and the quantities.
Specifically, the guards are looking for anything containing codeine, as well as anxiety meds like xanax which are illegal in Uzbekistan. Make sure that you carry the correct paperwork and doctor's notes for prescription meds and leave the super strong painkillers with codeine in behind!
Standard things like painkillers are fine. Neither me nor my bags were checked for meds. I carried just a few boxes of paracetamol and a box of ibuprofen.
Carrying Money into Uzbekistan
If you are travelling to Uzbekistan with currency over the value of $2000 USD you have to declare it. Again, historically, when you entered Uzbekistan you had to declare all of the money that you were carrying. If you exited the country with more than what you arrived with, they assumed that something sketchy had gone on or that you had worked in the country. This was not checked for me, but again I would err on the side of caution and try not to leave the country with more than what you entered with.
Sensitive Information
Border guards periodically check through people's phones and computers upon arrival and exit. This used to be a lot more commonplace than it is now, but random checks can't be ruled out. If you have any pornography or explicit images and videos on your devices, you should remove them before travelling.
This sensitive information clause also extends to books which may be checked. Again, err on the side of caution and don't pack anything that may be perceived as controversial.
Internet and Wifi Connectivity in Uzbekistan
The internet in Uzbekistan is not as bad as I thought it was going to be. I mean, it's by no means fibre optic and fast enough to stream movies online, and usually it was too slow to make calls via Facebook Messenger or WhatsApp, but it was fast enough to get by and quickly check some information, send a message, or upload a video to Instagram stories (priorities!!).
You should note that wifi is not widely available in Uzbekistan. Most hotels have wifi, and some touristic restaurants do offer it, but otherwise it's more of a luxury than a commonality. I would strongly advise you to buy a local Sim card if you want to stay better connected.
Sim Cards in Uzbekistan
Sim cards in Uzbekistan are very cheap to pick up. I paid just 30,000 ($3!) for a card with 3 gigabytes of data, plus some calls and messages. I purchased a sim card from Beeline which seems to be your best option, as most of the other retailers would not offer a card to someone who did not have an Uzbek passport.
If you need to add more data, calls, or whatever to your Uzbek sim account, you can simply drop by one of the many kiosks that are dotted around throughout most major towns and cities.
By the way, it's worth adding that when I first went to a Beeline kiosk in Urgench, they told me that I could not have a sim card because I was not Uzbek. I knew this to be false because other travellers I met were using Beeline so I simply went to another store. Perhaps this was just someone who did not know the company processes, but worth keeping in mind.
Using VPNs When You Travel
For a number of reasons, I always use a VPN when travelling (virtual private network). If you are travelling a lot, the chances are that sooner or later you will need to book a hotel, a flight, a train, or whatever else online and use your bank card/credit card details to do so.
This is pretty risky on a public wifi network and the last thing that you want while backpacking in Uzbekistan is to get your banking details taken.
Using a VPN also has other benefits of course – it helps you access sites that may be otherwise prohibited locally.
Food Culture in Uzbekistan
Food in Uzbekistan is ehhh. It's okay. It is not inedible, but it wasn't something that inspired me. I am normally a major foodie and so it was strange to travel somewhere where I didn't especially look forward to meal times.
A lot of Uzbek food is meat based, and vegetarian options can be very limiting. At least I really liked the Uzbek breakfasts which were very similar to the kahvalti that you get in Turkey, and served on lots of cute tiny dishes and plates.
Some of the most prominent local dishes are detailed below. In Tashkent, there is a little more variety. Also in Tashkent there is a large Korean population so it is easy to find delicious K-food if that is something you want to sample.
Plov
If there was a national dish of Uzbekistan, plov would be it! Unfortunately I was not a fan of plov, but some people really adore it. You will find this dish EVERYWHERE. Plov is basically pilau rice cooked in lamb fat, served with beef, carrots and onions. The texture is a little oily (due to the lamb fat) so plov is definitely not for everyone.
Lagman
Lagman is a hearty beef noodle soup that was my favourite dish in Uzbekistan. If you have travelled elsewhere in Central Asia, you have probably stumbled across lagman somewhere else already.
Manti
Manti are meat dumplings (usually made with minced mutton or beef) that are steamed and usually served with yoghurt or a spicy sauce.
Shashlik, Kabob and Tandir
You can find a lot of grilled meat dishes in Uzbekistan that are quite similar to what you would expect to eat in Greece or Turkey. I was so happy to see them! You cannot find pork because Uzbekistan is a Muslim country, but beef, lamb, mutton and chicken are very common and usually served with a deliciously spiced tomato garnish and a number of small side salads.
Kompot
Kompot is not a meal, but I wanted to mention it here as it was one of my favourite things in Uzbekistan! Kompot is a homemade Russian fruit juice typically prepared with cherry, or apricots, or a combination of the two. This is no standard homemade juice. I am sure I will be dreaming about kompot for the weeks and months to come!
Being Vegetarian or Vegan in Uzbekistan
Being a vegetarian in Uzbekistan is not easy. That said, in the interest of being an optimist, it's not that bad either, perhaps just a little limiting. A lot of menus offer hearty vegetable soups and salads.
Although I do eat meat, I didn't really like a lot of the local dishes so I frequently ordered salads, lentil soups, and side orders of breads. As I say, the only problem is that there are not so many options available.
Many hostels and hotels have shared kitchen facilities, so you could also opt to shop at local markets and prepare some meals yourself.
Uzbekistan Travel Guide:
Getting Around Uzbekistan
Trains are the best way to get around Uzbekistan, but it should be noted that a lot of the tracks are still currently in development. Some parts of the country are serviced by an efficient, modern, high-speed train, whereas others use rickety old Soviet style trains. Both are quite an experience! Marshrutkas, domestic flights, and private drivers are other options detailed here.
Train Travel in Uzbekistan
The Afrosiyob is a modern, high-speed Spanish manufactured rail network that serves Tashkent, Samarkand, and Bukhara. The trains are sleek, run on regular schedules, and get you from one city to another within just a few hours. It is generally advisable that you buy your tickets in advance a day or two before as they tend to sell out.
Some areas of Uzbekistan are still only serviced by old Soviet-style trains. The trains are pretty much set out like the Trans Siberian railway – envisage dormitories or shared cabins filled with bunk beds.
Journeys take much longer on the Soviet trains (17 hours versus 6 for example!) but are a rewarding experience. I did this journey from Urgench to Tashkent and had the opportunity to meet a lot of lovely locals. Train tickets on both train types are very affordable.
Shared Cabs (Marshrutkas) in Uzbekistan
Some destinations in Uzbekistan are best reached by marshrutkas. Marshrutkas are small shared taxis that leave when full. Tickets are typically just a few dollars at maximum.
You may want to take a marshrutka when travelling from Khiva to Urgench, Bukhara to Khiva, or from Urgench to Nukus and Moynaq/the Aral Sea.
Domestic Flights in Uzbekistan
If you want to include Khiva in your Uzbekistan trip but can't bear a long overland journey via road or train, you can take a domestic flight from Tashkent to Urgench. The journey takes just an hour, and should not cost more than $50-$100 if booked in advance.
Taking Cabs in Uzbekistan
Within cities, sometimes you may want to take a cab. Unfortunately I had extremely negative experiences with cab drivers in Uzbekistan who always tried to charge me what was literally 10 times the price. I think that this is reflective of cab drivers wherever you go – they are a breed of their own!
As a rule of thumb, it should cost 5000-8000 som for a short journey, and maximum 10,000-12,000 for journeys of 8-10km. Cab drivers will usually tell you that it's 50,000 but that's a con to try and rip you off. It's very cheap here. Stand your ground and always negotiate.
Sometimes I felt extremely annoyed when I wanted to travel 5 minutes in the rain, and the cab drivers would not take me for the actual rate. It made me dread needing to take one. In Tashkent, you should download the Yandex taxi app which is a bit like Uzbek Uber and helps you avoid all of this.
Crossing Land Borders from Uzbekistan
Perhaps you are travelling to Uzbekistan as part of a wider Central Asia itinerary. Uzbekistan is bordered by five countries – Afghanistan, Tajikistan, Kyrgyzstan, Kazakhstan, and Turkmenistan. Many people use the land borders to cross between the countries, however it should be noted that there is some conflict in some of the regions, and borders can be closed unexpectedly.
Conduct some basic research on the specific border that you want to cross before travelling there, and check the current situation at the time of travel.
Budget For Travelling in Uzbekistan
I spent approximately $600 (excluding flights) for two weeks of travel in Uzbekistan. I think that that's not bad, but you can definitely do it for much cheaper than I did! I stayed in boutique hotels, ate at higher end restaurants, took cabs, and bought a load of silk scarves with that budget, so not bad considering.
Some average costs of travelling in Uzbekistan are detailed below.
Hostels: $6-10 per night for a dorm bed (plus $2 city tax)
Mid Range/Boutique Hotels: $20-35 a night (plus $2 city tax)
A bus ride across a city: $0.10
A short cab journey: $0.50-0.80
Meal at basic restaurant including drink and side dish: $3-3.50
Meal at higher end restaurant including drink and side dish: $5-9
Cost of a day's private Tour Guide: $25-30
When to Travel to Uzbekistan
Either Spring or Autumn are the best times to visit Uzbekistan – in other words, from March to early June, and from September to early November. During the summer months, temperatures exceeding 55 degrees celsius are not unheard of and would make exploration very uncomfortable! During the winter, it gets fiercely cold.
Locals in Uzbekistan
Uzbeks are generally very friendly and hospitable people who are curious and interested to meet with foreigners and improve their English. I had dinner with some lovely local girls through Couchsurfing in Tashkent, and encountered some really friendly people in Urgench and on night trains who shared their food with me and invited me into their homes. That said, I think that experiences are more rewarding in places not frequented by tourists.
In Samarkand, Bukhara and Khiva, locals are becoming accustomed to tourism and a lot of the times I felt people trying to rip me off. This was not just the taxi drivers, but sometimes also the people at the hotels who I felt like I could not trust to help me because they gave me a false, over-inflated rate.
To avoid being scammed and conned, check the prices of things in advance so that you know what you ought to be paying. Stand your ground, and remember that Uzbekistan is a very cheap country. An extra $5 here, $3 there quickly mounts up.
My trip to Uzbekistan was not sponsored and I paid for everything myself, motivated by a strong desire to explore this beautiful Silk Road nation, it's beguiling blue architecture, and its historic cities.
I will be building more Uzbekistan travel resources here on the site soon, but if you have any questions about this Uzbekistan travel guide, feel free to drop me a comment below or ping me an email. Safe travels ! Melissa xo
Disclaimer: This Uzbekistan Travel Guide does not currently contain affiliate links though these may be added in the future. This means that if you choose to make a purchase through some of the links contained on this page, I may obtain a small amount of commission at no additional cost to you.
This aids me in keeping up with the costs of running High Heels and a Backpack and enables me to continue to provide free travel advice here. Thank you for understanding.

---