Lahic, Azerbaijan is a tiny mountain village situated in the Ismailli region of Central Azerbaijan. Its narrow cobbled streets, fresh country air, and breathtaking panoramas capture the hearts of many of those that travel through the Caucasus.
Few people may have heard of Lahic internationally. However, within Azerbaijan, the village is of great cultural and historical significance. During the days of the old silk road trade route, merchants would pass through Lahic on their adventures from East to West.
A Little History of Lahic, Azerbaijan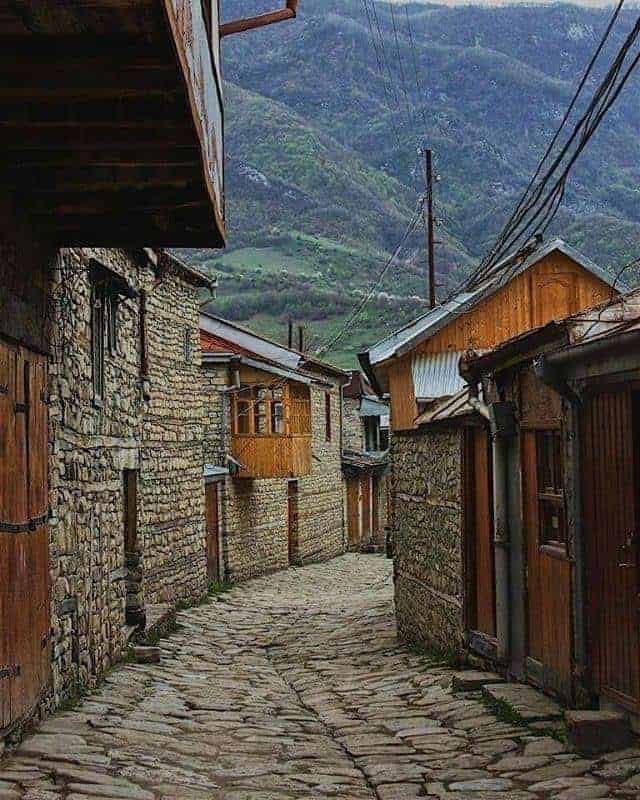 A settlement has existed here in some form or another for thousands of years. The little village of Lahic was founded in the 5th century BC, thus making it one of the oldest villages in all of Azerbaijan.
Lahic is home to less than 800 people. The remote location of the village (in the foothills of the Niyal mountain range) means that for centuries, the people here were cut off from the remainder of their country.
As such, the people of Lahic do not speak the national language of Azeri. Instead, they speak "Tat" – a village language specific to this part of rural Azerbaijan. Tat is more comparable to Farsi than it is to Azeri or Turkish.
Back in those days, it was incredibly difficult to access the village. The dangerous mountain road was not built until much later.
Consequently, Lahic could only be reached by spendng several days walking through the mountains. Even today, there are small towns and villages in the area that are only accessible by a rickety rope bridge extending over an unwelcoming canyon.
Lahic's Silk Road Roots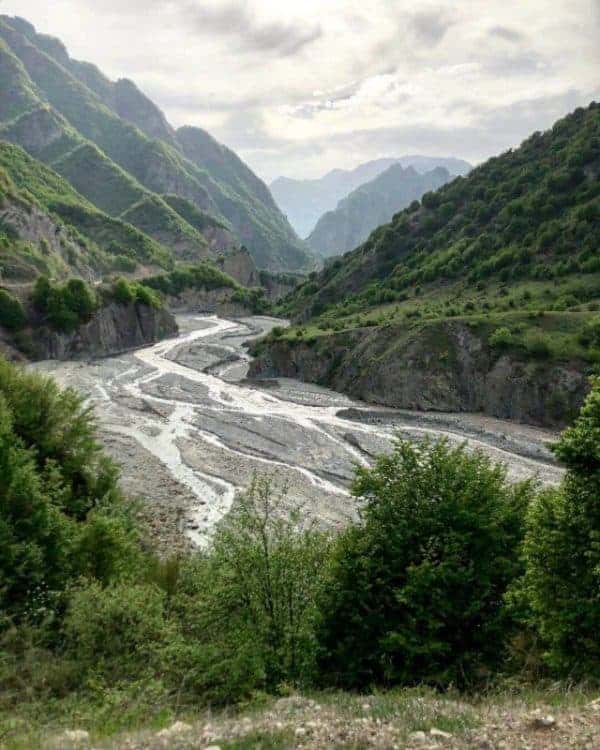 The treacherous mountain terrain that surrounds Lahic means that farming the land here is near impossible. As such, people had to develop crafts and marketable skills in order to make a living.
During the times of the silk road trade route, Lahic was renowned for quality carpet weaving and copper crafts. Merchants would pass through here on their way back from Samarkand and Bukhara, Uzbekistan. Artisanal products made in Lahic fetched high prices in Baghdad bazaars.
Today, most typical methods of agriculture are still not possible here. However, many locals farm sheep for their wool and meat.
The demand for Lahic artisanal items is not what it once was all those years ago. Yet there is still a market for exquisite handmade Lahic copper items, knitted socks, and handpainted ceramics.
Visiting Lahic Today
Travelling to Lahic feels almost like being transported back in time. The oil money and flashy cars in Baku have been replaced by horse-drawn carts.
Locals carry around grass and bails of hay while teenagers galloping through the narrow cobbled passageways on horseback. You quickly discover that Azerbaijan outside of the capital is a different animal entirely.
Lahic is only a small settlement. Indeed, you can wander the entirety of its streets in less than an hour.
However, it is incredibly pleasant to base yourself here for a couple of days or even a long weekend. This way you can truly immerse yourself in rural Azeri life, and even attempt to conquer some of the hiking rails to hidden waterfalls and stunning lookout points in the nearby woodlands.
Hiking in and Around Lahic
The ascent to the top of the nearby Mount Babadagh is a challenging uphill climb to a 3,629m peak. From up here, you can enjoy 360-degree views that extend for miles across Azerbaijan.
As you make your way around Lahic, you will notice many different architectural styles and building designs. In fact, the village is actually divided into three separate sections: Asavarro, Baadvan, and Araghird.
The Different Districts of Lahic
Each of these three areas of Lahic has their own distinct personalities. They are essentially little villages within themselves. Each one boasts its own mosque, central square, and hammam. Not to mention, they are all known for their respective individual crafts.
Shop for Lahic Handicrafts
There are few souvenirs more unique or thoughtful than one-of-a-kind items handcrafted in Lahic. Treading through the town, there is the unmistakable clink clinking of metal as copper craftsmen and blacksmiths finesse their works.
Many of the coppersmiths here operate small independent businesses hat have been passed down through their families for generations. You will only really see men working in this trade.
Meanwhile, the ladies of the village will create beautiful carpets and knitted clothing items. Throughout the year, you will find locals sitting at the sides of the streets selling fresh herbs that they have gathered locally – a perfect edible gift for your loved ones back at home.
The village of Lahic is much more touristic these days. For instance, it's likely that colourful Ali Baba hats and fridge magnets were not for sale in the times of the camel caravan traders!
However among the facades, there is authenticity to be found. Behind the main streets, you can find the workshops of many artisans, weavers, blacksmiths, and copper craftsmen.
Locals are usually more than happy to welcome the weary traveller inside and to show them how they perfect their wares. They will gladly discuss their trade with you without expecting you to purchase something in return. The village is a perfect stopping point on any Azerbaijan itinerary.
Where to Stay in Lahic
There are plenty of charming guesthouses and homestays in Lahic. Even if you simply rock up to the town with nowhere booked to stay, you will find that many of the villagers here are happy to rent out their spare rooms and welcome the opportunity for a cultural exchange with travelelrs.
A First-Hand Account of Visiting Lahic, Azerbaijan
The marshrutka I was travelling in screeched abruptly to a halt and everyone inside lurched forward. The driver grunted and gestured to me that it was time for me to leave. I was travelling to Lahic, though the bus didn't stop there, and my host in Shamakhi had negotiated with the driver to drop me somewhere nearby.
As it transpires, "somewhere nearby" happened to be a fork in the road surrounded by remote farmland. He dropped my suitcase to the floor and sped off towards Qabala, leaving me in a cloud of dust.
I glanced across to the road sign. It was 18km from here to Lahic.
Almost on cue, a mint green Lada cab came hurtling towards me along the deserted highway. He said he would drive me to Lahic for 20 manat, which I haggled down to 15. I had no frame of reference as to whether this was a "good" price to get to Lahic, or not so I handed over the amount.
The Terrifying Mountain Road to Lahic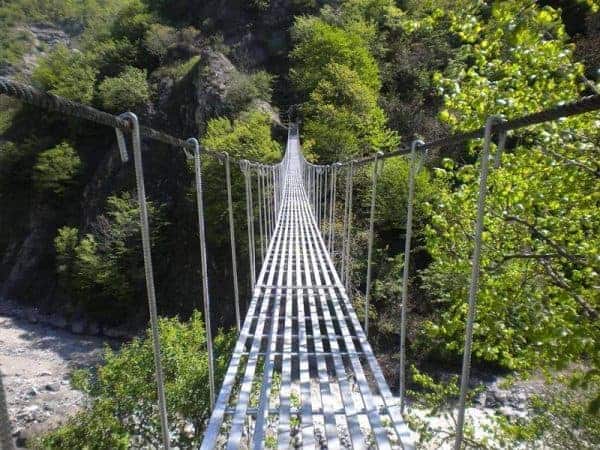 The road to Lahic is both dangerous and beautiful. Think winding roads, wide enough only for one car to pass through, with sheer drops off a cliff's edge on either side.
Additionally, the journey is taking place in an old Lada which lets out billows of thick black smoke and makes questionable noises as it accelerates uphill. My driver was comical. He seemed almost like a caricature in his mannerisms.
He fiddled around lighting his cigarette and rummaging around in his pocket for a mint. Then having to frantically reach back for the steering wheel and turn it hurriedly to ensure that he didn't veer us over the edge of a cliff.
When he saw something of note. For instance, a small waterfall, a particularly beautiful mountain range or dense forests filled with running horses, he would nudge me excitedly with a "eh? Eh?" It was as if he too were seeing this for the first time.
How to Get to Lahic
The easiest way to get to Lahic is via a marshrutka (shared taxi) to Ismailli. This is your best and cheapest option if you are travelling from Baku, Sheki, Qabala, or some of the small villages in the area. For instance, Xinaliq, Quba, etc.
The only reason I was dropped at a fork in the road was because I was travelling from Shamakhi and I figure that the driver thought it would be easier to drop me here than to travel to Ismaili and then backtrack.
Pin it For Later!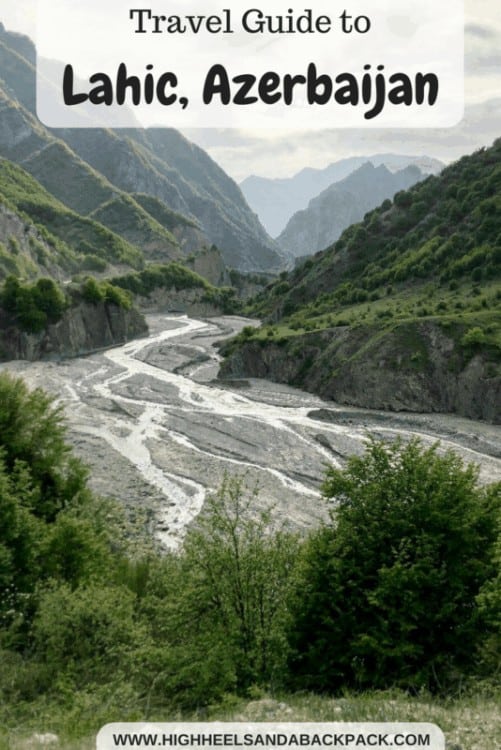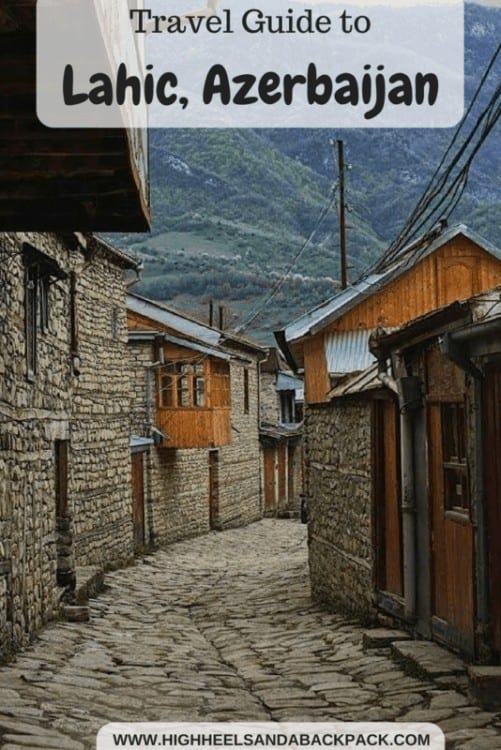 Final Thoughts
If you have any additional questions and concerns about planning a trip to Azerbaijan, or about exploring Azerbaijan as a solo female traveller, please don't hesitate to drop me a comment in the box below. You may also find this Azerbaijan Travel Guide useful.
Wishing you safe travels, always! Melissa xo
---