Travelling to Lahic, Azerbaijan: The meshrukta I was travelling in screeched abruptly to a halt and everyone inside lurched forward. The driver grunted and gestured to me that it was time for me to leave. I was travelling to Lahic, though the bus didn't stop there, and my host in Shamakhi had negotiated with the driver to drop me somewhere nearby.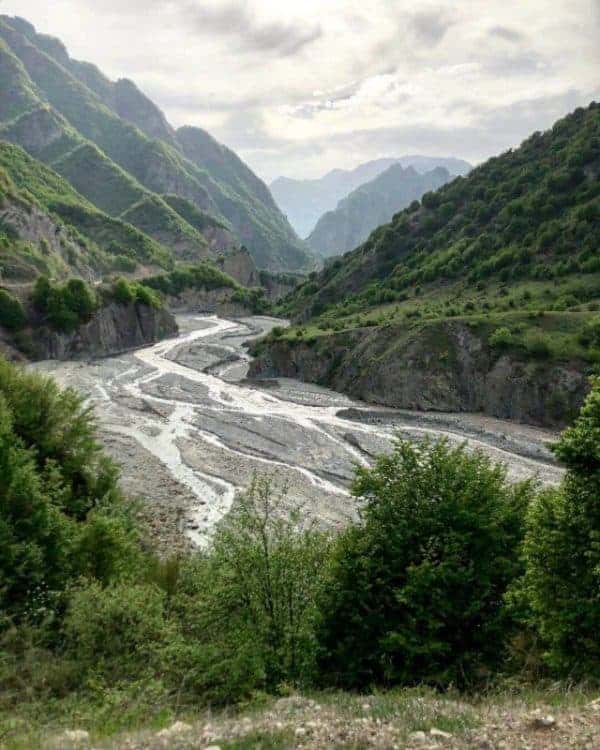 As it transpires, "somewhere nearby" happened to be a fork in the road surrounded by remote farmland. He dropped my suitcase to the floor and sped off towards Qabala, leaving me in a cloud of dust.
I glanced across to the road sign. It was 18km from here to Lahic.
Almost on cue, a mint green Lada cab came hurtling towards me along the deserted highway. He said he would drive me to Lahic for 20 manat, which I haggled down to 15. I had no frame of reference as to whether this was a "good" price to get to Lahic, or not so I handed over the amount.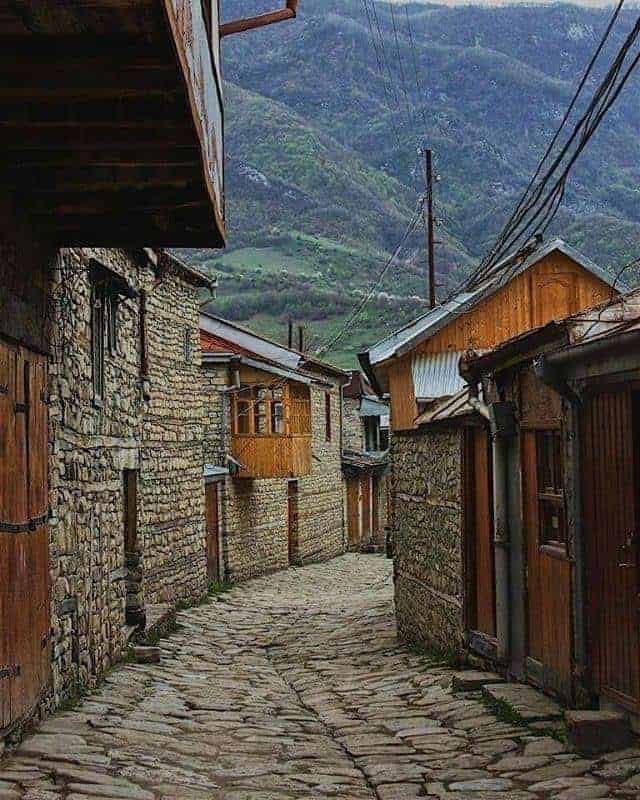 The road to Lahic is both dangerous and beautiful. Think winding roads, wide enough only for one car to pass through, with sheer drops at cliff's edge either side. All of that, and the journey is taking place in an old Lada which lets out bellows of thick black smoke and makes questionable noises as it accelerates uphill.
My driver was comical – similar to the one that I had in Qobustan, he seemed almost like a caricature in his mannerisms. He fiddled around lighting his cigarette and rummaging around in his pocket for a mint, having to then frantically reach back  for the steering wheel and turn it hurriedly to ensure that he didn't veer us over the edge of a cliff.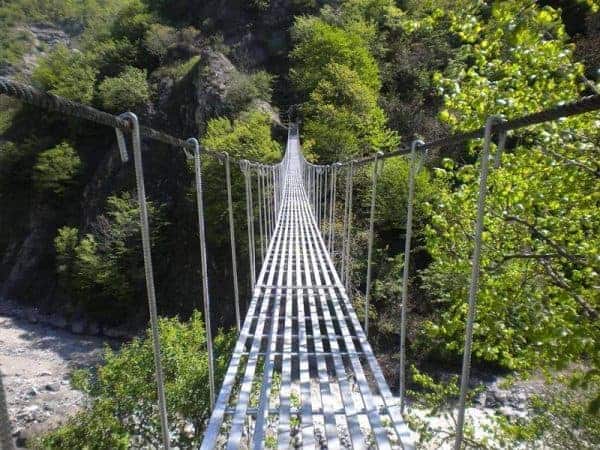 When he saw something of note – a small waterfall, a particularly beautiful mountain range or dense forests filled with running horses, he would nudge me excitedly with a "eh? Eh?" as if he too were seeing this for the first time.
Travelling to Lahic feels almost like being transported back in time. The oil money and flashy cars in Baku have been replaced by horse drawn carts carrying around grass and bails of hay and teenagers galloping through the narrow cobbled passageways on horseback.
Treading through the town, there is the unmistakable clink clinking of metal as copper craftsmen and blacksmiths finesse their works.
The treacherous mountain terrain that surrounds Lahic means that farming the land here is near impossible. As such, people had to develop crafts and marketable skills in order to make a living.  During the times of the silk road trade route, Lahic was renowned for quality carpet weaving and copper crafts. Artisanal products made in Lahic fetched high prices in Baghdad bazaars.
Back in those days though, it was incredibly difficult to access the village. The dangerous mountain road was not built until much later and  Lahic could only be reached by several days walking through the mountains. Even today, there are small towns and villages in the area that are only accessible by a rickety rope bridge extending over an unwelcoming canyon.
The village of Lahic is much more touristic these days (it's likely that colorful Ali Baba hats and fridge magnets were not for sale in the times of the caravan traders!) However among the facades, there is authenticity to be found. Behind the main streets, you can find the workshops of many artisans – weavers, blacksmiths, and copper craftsmen. They are more than happy to welcome the weary traveller inside and to show them how they perfect their wares.
Related Article: One Week Azerbaijan Itinerary 
Getting There
The easiest way to get to Lahic is via a meshrushta (shared taxi) to Ismailli. This is your best and cheapest option if you are travelling from Baku, Sheki, Qabala or some of the small villages in the area (Xinaliq, Quba, etc).
The only reason I was dropped at a fork in the road was because I was travelling from Shamakhi and I figure that the driver thought it would be easier to drop me here than to travel to Ismaili and then backtrack.
I've been mesmerised by the concept of travelling the silk road trade route for as long as I can remember. I personally can think of nothing more exotic then travelling through lands unknown and treading in the footsteps of caravan camel traders through mountain passes and quaint little villages. To me, Lahic, in central Azerbaijan embodies all of that.
Where is Lahic?
Lahic is a small village high in the mountains of Ismaili province, central Azerbaijan. It can make for a perfect day trip from Baku, or a nice stopping point as part of a cross country Azerbaijan itinerary.
Pin it For Later!
---