Embarking on an Uzbekistan itinerary is a once-in-a-lifetime travel experience. Uzbekistan is perfect for those who enjoy wandering off the beaten path.
There is nowhere quite like Uzbekistan. This land-locked Central Asian country boasts magnificent Islamic architecture, a rich culture, and fascinating history.
However, despite being one of the most important nations during the days of the old Silk Road, Uzbekistan is not a popular travel destination. It captures the attention of only the most intrepid adventurers.
Falling in Love With Uzbekistan
Uzbekistan can be found at the heart of central Asia, between the rivers of the Syr Darya and the Amu Darya. Uzbeks are one of the oldest ethnic groups on Earth and indeed, this region has a rich history dating back several millennia.
Countless civilisations have invaded and conquered Uzbekistan over thousands of years. Each has left its mark on the country´s culture and architecture.
This was largely due to Uzbekistan´s advantageous position on the Silk Road trade route. Merchants and their entourages had to pass through the cities of Andijan, Samarkand, Bukhara, Khiva, etc, and everyone wanted a slice of that prosperity.
Persian, Greek, Arab, Mongol, and Russian leaders have occupied Uzbekistan. The Achaemenid Empire ruled over the area for several centuries until Alexander the Great invaded, triggering the Hellenistic period.
The Greco-Bactrian Kingdom prospered throughout the 2nd century, until the nomadic Kushan tribe founded the Kushan state. A plethora of various empires and territories developed within what is today known as Uzbekistan.
In the seventh century, the Arabs conquered Uzbekistan. Notorious Mongol Warlord Genghis Khan then invaded in the 12th century. The country really flourished in the 14th century when Amir Temur came to power.
In more recent history, Uzbekistan was, of course, a part of the Soviet Union until it gained its independence in 1991. Today, Russian is widely spoken, as is Uzbek.
The Russian influence and Soviet period has significantly shaped the way Uzbekistan is today. The country is a fascinating juxtaposition of East meets West, and ancient tradition meets modern living.
Uzbekistan Travel Itinerary:
The Perfect Two Week Route
Anywhere between two and three weeks is a perfect time to dedicate to your first trip to Uzbekistan. Historically, it was tricky to obtain an Uzbek tourist visa.
However, with an amount of political reform taking place within Uzbekistan, and a focus on opening the country up to tourism, things have become easier. Most nationalities can now enjoy visa-free travel in Uzbekistan for up to 30 days.
That includes British and European citizens. Check your government travel website to check your country´s specific entry requirements.
Uzbekistan often has strict entry requirements. Do your research and browse through Uzbekistan travel guides before you go.
If you are short on time, you can also get a flavour for this beautiful country and see its main highlights in just a week. At the very least, you should not miss Bukhara, Samarkand, and Tashkent. Khiva is magical, but it is a little out of the way for a short trip.
This Uzbekistan travel itinerary follows a recommended two-week route. Variations and possible extensions are then provided.
A trip to Uzbekistan can also be combined with an exploration of other silk road destinations. For example, nearby Kyrgyzstan or Azerbaijan.
Tashkent (2 days)


Samarkand (3 days)


Shahrisabz (1 day)


Bukhara (3 days)


Khiva (2 days)


Fergana Valley (2 days)


Departure from Tashkent
Days One and Two:
Tashkent
The most common route into Uzbekistan is to start the journey in the country's capital of Tashkent. This is a good opportunity to meet fellow travellers since most people start their Uzbekistan itinerary here.
Tashkent, with its wide sprawling boulevards and Soviet architecture is markedly different from the rest of the cities that you will explore during this Uzbekistan itinerary. The capital was mostly rebuilt in 1966 following a huge earthquake that practically flattened the city.
Consequently, there isn't really much to see in Tashkent by way of historical buildings. However, there is still charm and culture to be found hidden away.
One of Tashkent's highlights is the city's abundance of green open spaces. Surprisingly, Tashkent is quite beautiful.
Haggle Your Way Through the Chorsu Bazaar
Tashkent's Chorsu Bazaar is a vibrant and lively local market that is well worth stopping by while in town. The bazaar here at Eski-Juva square dates back over 100 years.
It is predominantly housed in traditional domed roofs intended to keep merchants and traders cool during their negotiations. Everything from fresh delicious fruit from the Fergana Valley, lepeshka (toasted bread), nuts, spices, meat, and kazy (horse sausage) can be found throughout Chorsu Bazaar.
Be sure to check the handicrafts section. Here, intricately detailed ceramics and gorgeous IKAT fabrics and tapestries are on display.
Enjoy an Evening Stroll Through Tashkent's Beautiful Parks
Tashkent is very green and scenically beautiful for a capital city. Expanses of lush green parks scattered throughout the centre.
The Amir Timur square is a particularly nice place to stop for a picnic or an al-fresco lunch. Treat yourself to a freshly brewed cappuccino, a slice of cake, and a little people-watching at the nearby book cafe when you're done.
Dine at the Central Asian Plov Centre
Plov is essentially the national dish of Uzbekistan. The dish is comprised of rice cooked in lamb fat, beef, carrots, and onions.
You will find plov everywhere while travelling through Uzbekistan. Yet the plov centre in Tashkent is particularly interesting. Here you can see the dish prepared in a giant qazan which makes for a great photo opportunity.
Ride the Tashkent Subway
The Tashkent Metro is no ordinary metro. It was constructed during the Soviet era and is the oldest of its kind in Central Asia.
It also doubled as a nuclear bomb shelter during an era when the Soviets were concerned about an attack from the Americans. Every single stop along the Tashkent subway route is designed differently.
Each station is decorated with elaborate artwork and grand, sometimes peculiar-looking interiors. A metro ticket costs just 1200/$0.15. You can get on and off at each station, admiring the various artworks as you go.
Admire Modern Islamic Architecture
The Minor Mosque and the Hazrat Imam Complex are both beautiful Islamic structures situated in Tashkent. Both of these buildings are relatively modern.
The latter is home to the Uthman Quran. This is the oldest copy of the Quran in the world.
Sample Korean Food
Tashkent is home to a large Korean population. As such, there is an array of excellent restaurants serving delicacies from South Korea.
Apgujung restaurant is considered the best in the city. They even hosted the Korean Prime Minister during his visit.
Check out the Classic Soviet Architecture
If you are interested in Soviet architecture, there are a few places that you can check out. The Hotel Uzbekistan, the Lenin Museum, and the Palace of arts are all interesting places to observe.
Where to Stay in Tashkent
Top Chan Hostel (Budget Choice)
This is "the" place to stay in Tashkent. It seems that every single backpacker that you encounter will stay here.
This is a great place to meet travel buddies if you are travelling solo. Not to mention, Top Chan has a reputation for being a really fun hostel.
Private rooms with shared bathrooms are available as well as dorm beds.
The Rooms (Boutique/Mid-Range Choice)
The Rooms Boutique Hotel is a wonderful, independent boutique property in Tashkent. The rooms are plush and gorgeous, and the hotel was only opened in Spring 2019 so everything is brand new and modern..
Click here to check rates and availability at The Rooms Boutique Hotel.
Days Three to Five:
Samarkand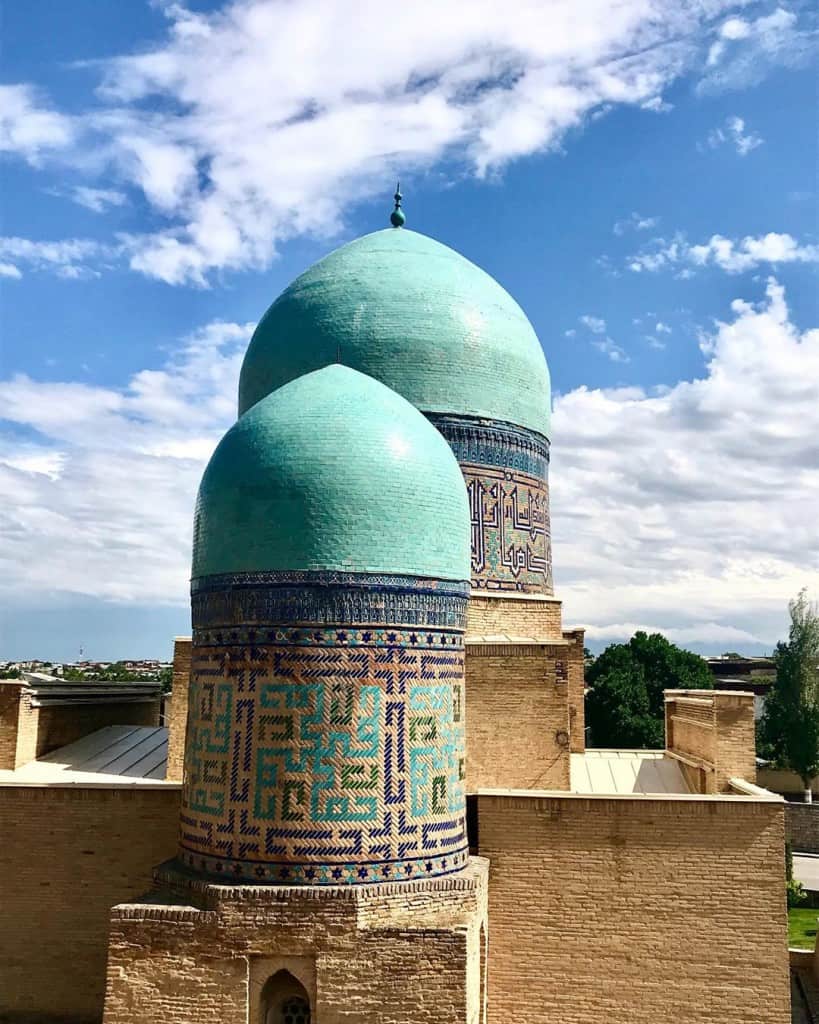 Samarkand was one of the most important stopping points on the old Silk Road trade route. For centuries, poets, writers, and scholars have affectionately written about the "golden road to Samarkand".
The city´s old town is a sea of glistening turquoise domes, intricate mosaics, and grand, imposing madrassahs. It was founded in the 7th century B.C. as ancient Afrasiab. It really thrived under the rule of Timur in the 14th to the 15th centuries.
The Registan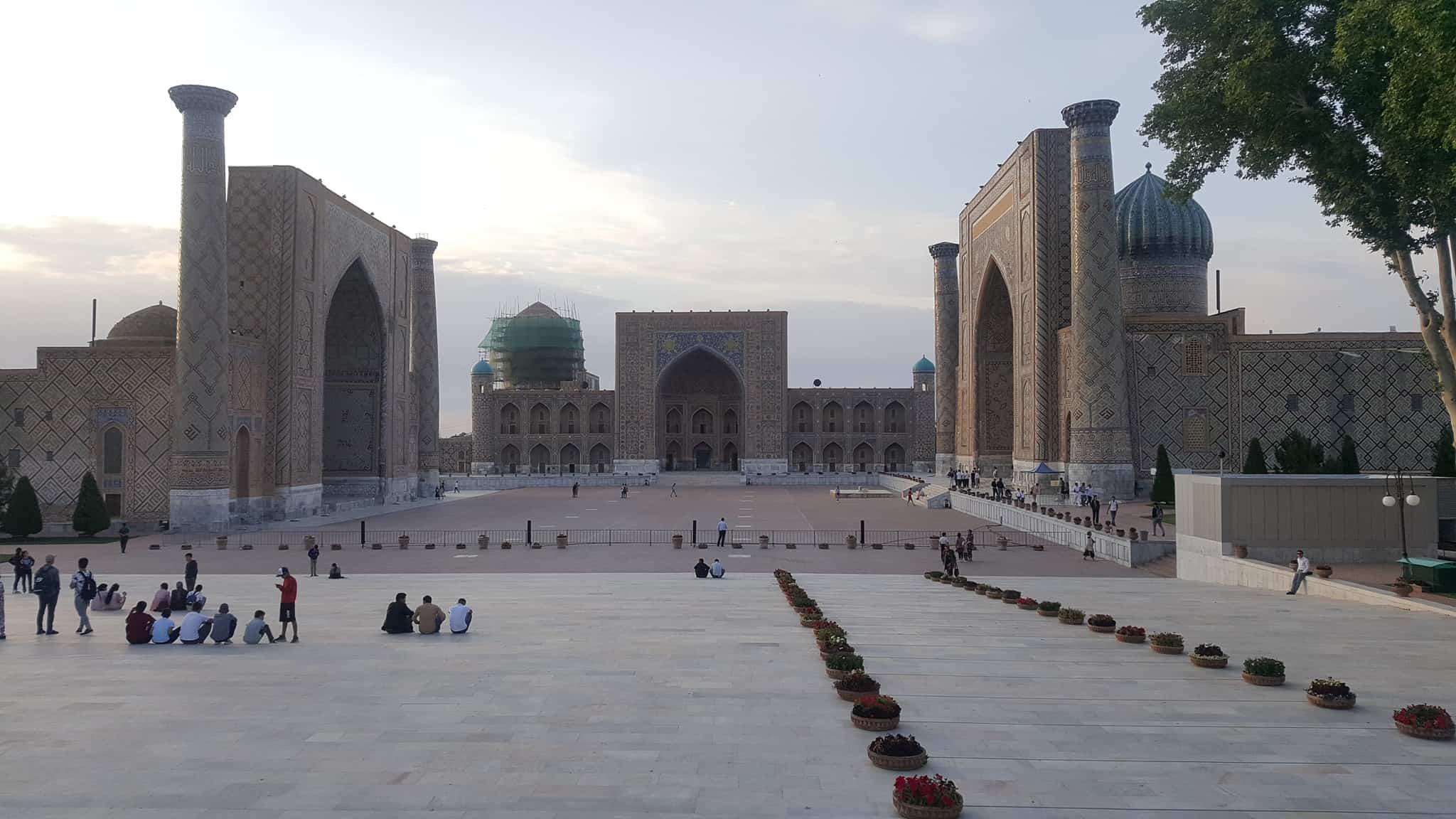 With its majestic, tilting madrasas and turquoise-domed roofs, the Registan is the centrepiece of Samarkand. It is also, perhaps one of the most inspiring sights in the region.
During the days of Amir Timur, the Registan was the central square of Samarkand. The square overflowed with vibrant markets and merchants selling the exotic wares they had procured from lands far away.
The three madrasas that surround the square are the oldest in Central Asia. Sadly, their predecessors were destroyed by Genghis Khan during his invasion of Uzbekistan.
Shah-i-Zinda
The Shah-i-Zinda is a grandiose Necropolis in the heart of old Samarkand. It serves as the final resting place for many notable figures in Uzbek history.
The initial monument that was built at Shah-i-Zinda was constructed over a thousand years ago. However, the site has been expanded numerous times over the centuries. The combination of different architectural styles, craftsmanships, and colours contributes to Shah-i-Zinda´s higgledly-piggledy appearance.
Organise an Uzbek Wine Tasting
Alcohol is not only legal in Uzbekistan, it is produced here too. If you are interested in sampling some local wine during your Uzbekistan itinerary, stop by the Hovrenko wine factory.
The factory has been in operation since 1868. You can do a tasting here that allows you to sample 8-10 local wines, cognacs, and balzams.
The site also pairs as a museum. There are some interesting photographs and exhibits that discuss wine production during the Soviet occupation.
The Bibi Khanym Mosque
Amir Timur built the grand Bibi Khanym mosque after he invaded India. He spent his newly acquired riches on constructing one of the grandest mosques in the region.
During the 15th century, this was considered as being one of the most beautiful religious structures in Central Asia. Today, the Bibi Khanym Mosque has been heavily restored. However, it is still well worth a visit.
The Gur-e-Amir Mausoleum
The beautiful Gur-e-Amir mausoleum is the accidental final resting place of Amir Timur. His sons and grandsons are also buried here.
Amir Timur had built himself a crypt in Shahrisab. Yet, after he suddenly passed away and the roads to Shahrisabz were covered in snow, he was buried here.
Visit the Gur-e-Amir mausoleum in the evening for the best experience. At this time, the crowds have dispersed and the site is illuminated with beautiful twinkling lights.
The Siyob Bazaar
The Siyob Bazaar is the largest market in Samarkand and sells a vast array of products. While here, sample the famous Samarkand bread, and kurt. The latter are Uzbek cheese balls that are not for every palette but worth a try!
Where to Stay in Samarkand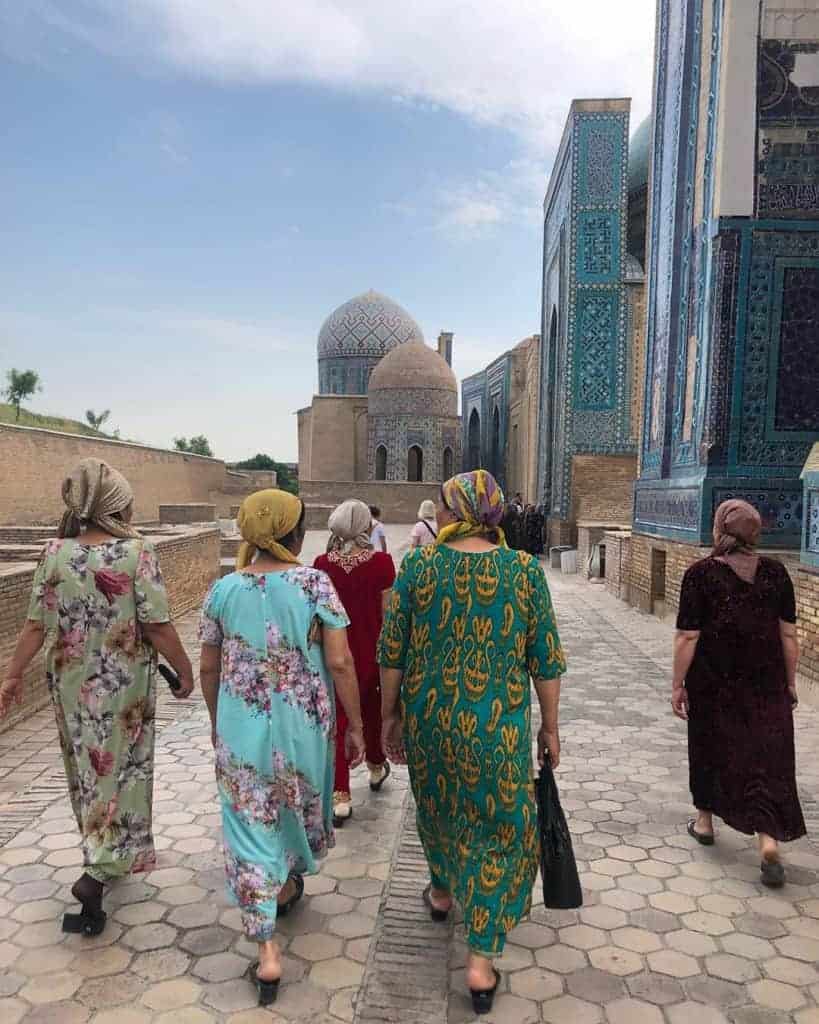 Budget: The B&B Emir is a cosy, comfortable hostel and hotel that is situated very close to the Gur Emir complex and a short walk from the Registan. The owners are very friendly, and this is a great place to meet other travellers.
Click here to check the latest room rates and availability.
Boutique: Hotel Platan is an excellent option for those with a more flexible budget. Double rooms start from $35 a night and are incredibly plush and spacious. You almost feel as though you are sleeping in a palace! Hotel Platan also boasts its own serene garden and hosts a very lavish breakfast.
Click here to check the latest room rates and availability.
Day Six:
Shahrisabz
Shahrisabz is a nice day trip to take from Samarkand and a worthy stop on your Uzbekistan itinerary. The city may be small but it is overflowing with beauty.
Shahrisabz awaits off the main Silk Road tourist trail and so it sees far fewer visitors than nearby Samarkand or Bukhara. Shahrisabz also played an important role in Uzbek history. This was the birthplace of Amir Temur.
It is possible to travel to and from Shahrisabz from Samarkand in just a day. However you can also opt to stay overnight if you really want to get a feel for the place.
The Dorut Tilavat Complex
The three blue domes of the Dorut Tilavat Complex are one of the first things that catch your eye as you enter Shahrisabz. They shimmer beneath the midday sun.
The complex is an interesting historical site that was in construction for more than 80 years. As new leaders came and went, they added different structures and annexes to the site.
The complex is comprised of mausoleums, mosques and madrasas. It could be compared to the Shah-i-Zinda on account of its higgledy-piggledy appearance and mishmash of architectural styles.
The Ak Saray Palace
The Ak Saray palace was Amir Timur's summer palace during his reign. It took 24 years to complete and was a lavish, imposing structure.
Sadly, today, very little remains of Timur´s vacation home. Many of the stunning mosaics are still in place.
So too are the 35-metre walls of the entrance. However, the middle of the palace has completely collapsed. Regardless, what remains provides a fascinating glimpse into the lives of Ancient Uzbek nobility.
The Kok Gumbaz Mosque
The Kok Gumbaz mosque is the largest Friday mosque in Shahrisabz and was constructed by Ulugbek, the grandson of Amir Timur. It has been heavily restored, but its courtyards and interiors are still pleasant to explore.
Where to Stay in Shahrisabz
There are only a couple of hotels located in Shahrisabz. Most travellers tend to visit on a day trip from Samarkand.
Hotel Bek and Oq Saroy Hotel are two local properties with very good reviews. They are reasonably priced, at an average of $40 per night.
Days Seven to Nine:
Bukhara
Bukhara was once the capital of Uzbekistan. It has a rich history spanning back over 2,500 years.
Exploring Bukhara feels like stepping back in time. Sipping tea in quaint tea rooms overlooking sprawling plazas and grand madrasas, getting lost among the narrow winding passageways, and browsing the bazaars is a magical experience.
Bukhara is a highlight of any Uzbekistan itinerary and if your schedule permits, you can consider spending as long as 5 days here. The city is divided into an old and new town. For the best experience, base yoursel f in old town Bukhara.
The Chor Minor
The Chor Minor complex is a very special madrasah. It is tucked away down a narrow backstreet away from the centre of Bukhara.
The structure is interesting because it is not built in the traditional Islamic design. It is based on the Charminar gateway in Hyderabad, India.
It boasts four minarets instead of the traditional two. Once upon a time, local boys studied here during the day, and at night it became a hotel for travelling merchants.
Sample the Best Lagman in Uzbekistan
The old town of Bukhara is the most historic and charming. But for the real authentic Uzbek food, you want to venture into the modern part of the city.
Dolan restaurant is widely regarded as selling the best lagman (beef noodle soup) in Uzbekistan. Even Uzbeks from other parts of the country go out of their way to dine here when they are in town. You need to get a cab to and from Dolan but it is only 50 cents each way and well worth the effort.
Sip Tea Overlooking Ancient Madrasahs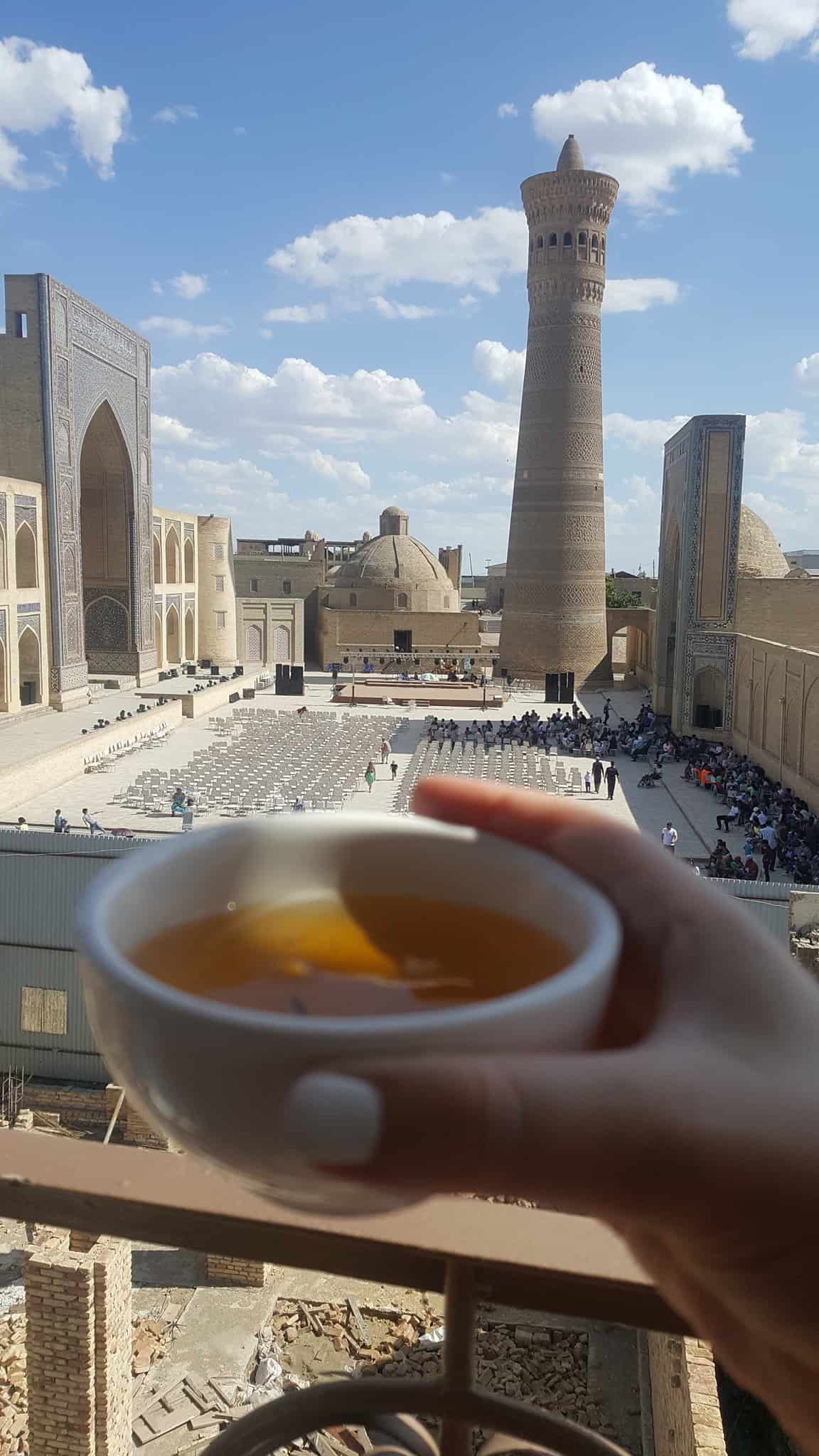 There is a multi-story, rickety old wooden cafe situated just to the left of the Kalyan mosque. This cafe, named Chasmai Mirob definitely boasts the best views over Bukhara.
This is an incredibly pleasant place to sip spiced tea as you overlook the sunset over the Po-i-Kalyan. Despite it's incredible views, it seems that most tourists don't notice this place.
You could sit here for hours people watching and seeing Uzbek life go on beneath you. Definitely worth a stop.
Lyab-i Hauz Square
The Bukhara Lyab-i Hauz Square is one of the few remaining hauzs (ponds) in the city. Historically, there were hundreds of these little ponds and pools around the city but they were eventually drained due to disease.
Lyab-i-Hauz is essentially the central square of old Bukhara. It is surrounded by madrasahs, mosques, cafes, and gelaterias. Visit the square in the evenings for dinner or a pot of tea at the square's namesake restaurant.
Po-i-Kalyan
The Po-i-Kalyan complex has become the iconic image of Bukhara. It is situated in the central Registan square of the city.
At one end, the Kalyan mosque boasts beautiful courtyards and exquisite Timurid architecture. On the other, the Mir-i-Arab Madrasa is a still-functioning Islamic school.
The icon of the Po-i-Kalyan is no doubt the Kalyan minaret. This is also often referred to as the tower of death!
The tower dates back to the 11th century. There are many rumours about this tower. Some say that centuries ago, criminals would be pushed to their deaths from the top window!
The Kalyan minaret is one of only a few ancient structures that Genghis Khan did not destroy when he invaded Uzbekistan. Camel caravan traders would know that they were approaching Bukhara when they saw Kalyan minaret shimmering ahead in the desert.
Where to Stay in Bukhara
Note: I stayed at the Rizo Boutique Hotel in Bukhara and had a very uncomfortable experience with the owner making advances towards me. Avoid!
Budget: Rumi is pretty much the "in" place to stay in Bukhara if hostels are your thing. Furthermore, the beds here cost just 8 euros a night! Most independent travellers seem to choose to stay at Rumi and it has an excellent reputation.
Click here to check the latest prices and availability at Rumi.
Boutique: Samani Bukhara is a good mid-range option for travelling to Bukhara. The hotel is located in the beating heart of the city's old town and its modern, comfortable rooms are decorated with unique Uzbek art.
Click here to check the latest prices and availability at the Samani Bukhara.
Days Ten and Eleven:
Khiva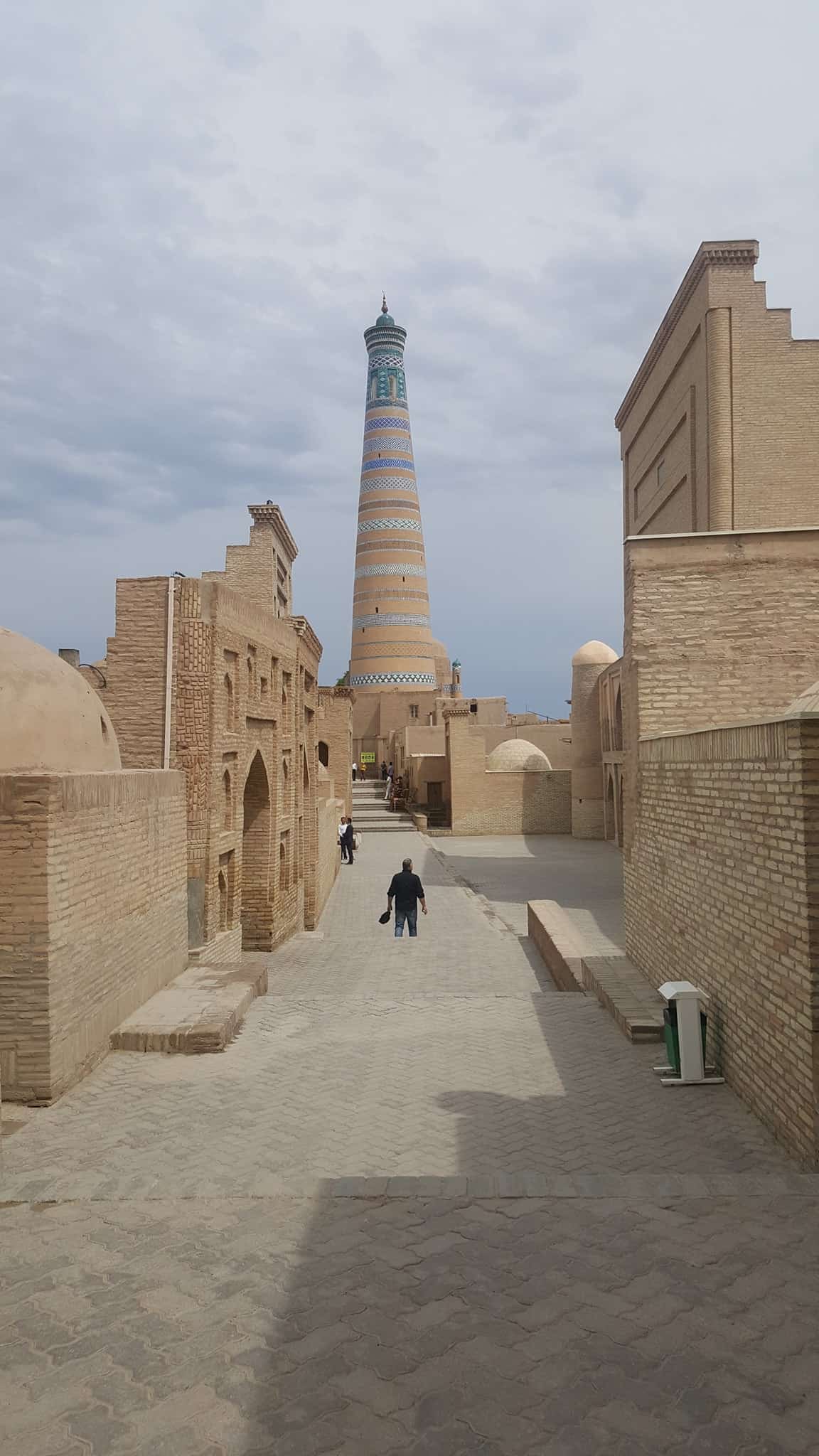 Khiva is a cute compact Silk Road city. It boasts a labyrinth-like network of winding narrow streets, adorable tearooms, and breathtaking Islamic architecture. Khiva captures the hearts of many of those who visit it.
The city was once synonymous with the slave trade, and despite its gorgeous appearance, has some very dark roots. The Itchan Kala (old town) of Khiva is UNESCO protected.
Khiva is a little far away from the other sites on this Uzbekistan itinerary. It is found in the Xorazm Region of western Uzbekistan.
It is a five-hour drive from Bukhara and a seventeen-hour train journey from Tashkent. Is Khiva worth it? Yes. Exploring Khiva is key to understanding Uzbekistan's Silk Road heritage.
Explore the Itchan Kala
"Itchan Kala" relates to Khiva's walled old town. This is incredibly well-preserved and feels almost like stepping into a movie set or a scene from Aladdin.
You can purchase a ticket on arrival which for $10, grants you access to the majority of the museums, mosques and exhibits in old Khiva. Be aware that some sites, such as the Islom-Hoja Minaret, are not included in the admission price.
Kala Minor Minaret
The Kala Minor minaret is the cute stubby blue structure that you may have seen in images of Khiva. This obscure-looing tower is, in fact, an incomplete minaret.
Many legends surround Kala Minor and why it was left incomplete. When construction started, it was intended to be the tallest minaret in the orient.
Some say that the leader of Bukhara felt jealous of Khiva's efforts and had the architect killed. Others say that the architect fled. In any case, these theories add to the mystery and charm of the structure.
The Islom-Hoja Minaret
The 1908 Islom-Hoja minaret is the tallest structure in Khiva. It is possible to climb to the top for a small fee in order to enjoy incredible views over the city. Keep in mind though, the stairways are very narrow and not for the claustrophobic!
The Juma Mosque
Khiva is home to a particularly beautiful Juma mosque (Friday mosque). By this point in your Uzbekistan itinerary, you have probably seen countless mosques. This one is interesting however as the ceiling is supported by wooden columns.
Dine in an Old Madrasah
The Khorezm art restaurant is an interesting eatery set in the grounds of an old madrasah. This building was once te Madrassah of Allakuli-khan.
The restaurant offers both national and regional delicacies. Don´t miss the Khiva specialty dish shuvit oshi – green spaghetti with vegetable bullion.
Where to Stay in Khiva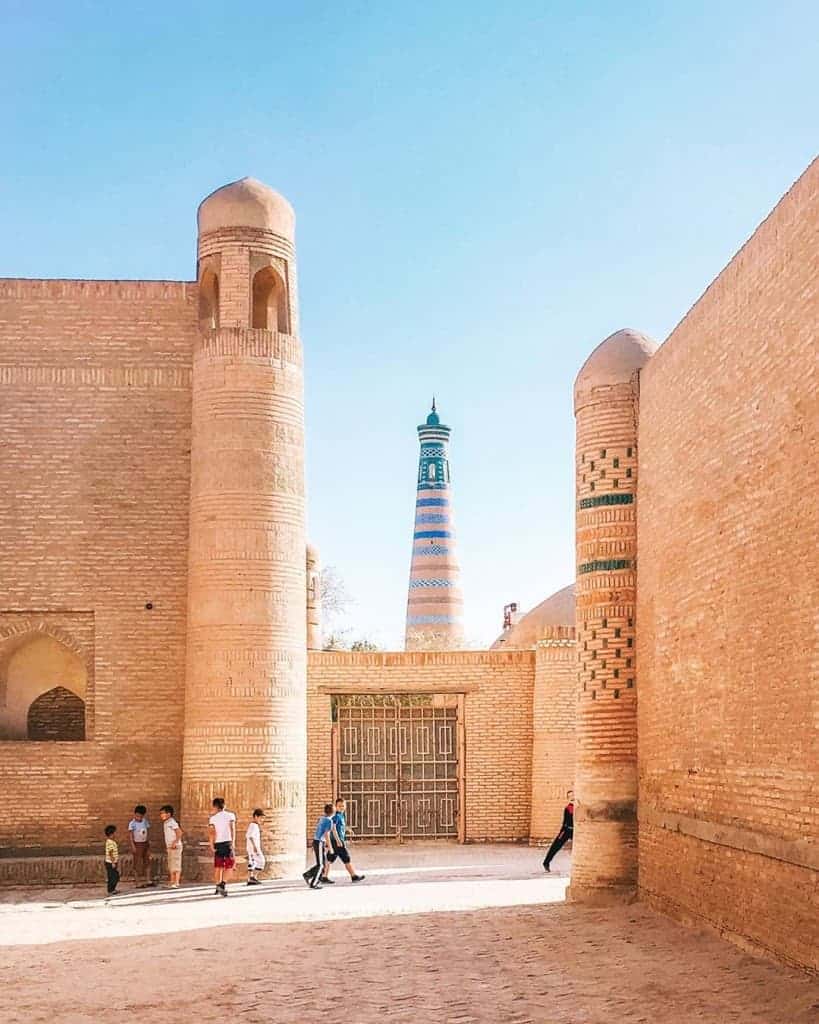 Budget: Khiva Alibek
There are several budget hostels and homestay experiences available in Khiva. Khiva Alibek is the lowest cost option that is close to the old town. Dorms here are priced at just $14 per night.
Click here to review the latest rates and availability.
Boutique: The Arkanchi Hotel
The Arkanchi hotel is a very spacious, comfortable hotel in the heart of old Khiva. Rooms here cost no more than $40 a night and the hotel has an incredible rooftop from which you can enjoy marvelous views over the city as you enjoy breakfast.
Click here to review the latest rates and availability.
Days Twelve and Thirteen:
The Fergana Valley
The Fergana Valley provides a very different travel experience to the Silk Road cities of Bukhara, Khiva, and Samarkand. There are not a huge amount of sites to see here per se. However, the region provides an insight into true Uzbekistan life and culture.
Various towns and villages are scattered throughout the Fergana region. Consider making Fergana city your base and then use it as a point from which to explore the surrounding areas.
Margilan
Take a free tour of one of the various silk factories in Margilan. In other parts of Uzbekistan, you may be able to purchase beautiful scarves and rugs but it is here where the production takes place. Margilan bazaar too is a very worthwhile place to explore.
Kokand
Kokand is perhaps the most scenically attractive stopping point in the Fergana Valley. There are a few notable sites here. Those include the grand Khudayar Khan Palace, and a very interesting Juma mosque.
Andijan
I met a very lovely Uzbek family on the train to Tashkent who invited me to visit them in Adijan. There are a few mosques and markets. If you are crossing the border to or from Kyrgyzstan, it is worth spending a little extra time in Andijan.
Day Fourteen:
Depart Tashkent
As the final day of your Uzbekistan itinerary approaches, board your plane at Tashkent international airport onwards to your next destination. Samarkand also has an international airport with frequent connections to Turkey.
Uzbekistan Itinerary:
Possible Trip Extensions
If you have a little longer to spend in Uzbekistan, you may want to consider extending your itinerary in order to incorporate the below destinations.
Urgench
Urgench is a large city in the Khorezm region of Uzbekistan. It is situated just 30 minutes from Bukhara. If you take the train from Bukhara, Samarkand or Tashkent to Khiva then you will more than likely have to stop in Urgench.
Honestly Urgench is not very touristic at all, and sightseeing opportunities here are few. However I felt that the locals I encountered here were some of the kindest in Uzbekistan!
Urgench has a very interesting market (Urgench bazaar). Here you can find everything from traditional clothing to fruits and vegetables.
I got the feeling that the people in Urgench did not see many tourists. During my day there, I went for tea with locals, and got invited to Uzbek weddings. If you have time to spare, it's a nice place to spend a day and there are a few nice hotels in the centre.
The Fortresses of Khorezm
There are dozens of ancient fortresses that once guarded the Kyzylkum desert during the Silk Road era. They can be found close to Khiva and Urgench.
Many merchants passing through the region fell victim to nomadic thieves who would burst out of the wilderness to rob them. As such, many of these fortresses were constructed to protect them.
It is tricky to get to the fortresses of Khorezm without a car. You can opt to visit them on an organised tour departing from Khiva.
Alternatively, you can negotiate a price with a local driver if there are a few of you. Toprak-Kala, Ayaz-Kala, and Kyzyl-Kala are three notable fortresses to add to your radar.
Moynaq and the Aral Sea
The Aral Sea is perhaps the worst environmental disaster in human history. During the Soviet era, water from the sea was redirected to the cotton fields in order to maximise production. Unfortunately, this led to the sea drying up and thousands of local fishermen losing their jobs.
Today, you can take a bus to Moynaq from Nukus in Karakalpakstan. The journey is a relatively long one so you may want to stay overnight in Nukus. The next day, travel to Moynaq to see the rusting ships that lay eerily abandoned here.
Termez
Termez is a site reserved for only the most voracious travellers. It is perched on the border between Uzbekistan and Afghanistan and is not all that easily accessible. You need to obtain a special permit to allow you to enter this region.
There are some interesting sites to see in Termez. However, the city has a more rugged, unexplored feel to the rest of the country.
Don´t miss the early Alexandrian ruin of Kampyr Tepe, the Buddhist sites of Fayaz Tepe and the Zurmala Stupa, and the pre-Islamic sites of the Kyrk Kyz Fortress, the Jarkurgan minaret.
You can also visit an old Buddhist monastery named Kara Tepe, and the ruins of Ayrtam. However, both sites are very close to the Afghan border.
Final Thoughts
Have any additional questions about this Uzbekistan itinerary? I spent two weeks in this beautiful nation in May 2019 as a solo female traveller.
I would be happy to assist with any queries and concerns you may have. Just pop me a comment below!
Safe travels,
Melissa xo
Disclaimer: This Uzbekistan Itinerary may contain affiliate links. This means that should you choose to make a purchase through some of the links on this page, I will obtain a small amount of commission at no extra cost to you. Thanks for understanding.

---