Solo female travel in Uzbekistan may not sound like the usual choice. That said, I have just returned from a two week solo adventure around this beautiful Central Asian country and I can tell you that it is a much easier place to travel independently as a woman than you may think.
My trip to Uzbekistan has been one of my favourite adventures so far. That is definitely no small feat. After visiting almost 50 countries, I am not all that easy to impress but Uzbekistan stole my heart and I would strongly recommend it to anyone who enjoys cultural travel and getting off the beaten path.
When I plan a trip, I decide upon somewhere that I want to go and then go about researching it. I never really let the fact that I am a solo woman impact my decision one way or another.
That said, I can understand that some destinations seem more nerve-wracking or challenging for solo travellers than others, which is why I am committed to writing solo female travel guides for off-the-beaten-path places on this site.
Why Uzbekistan?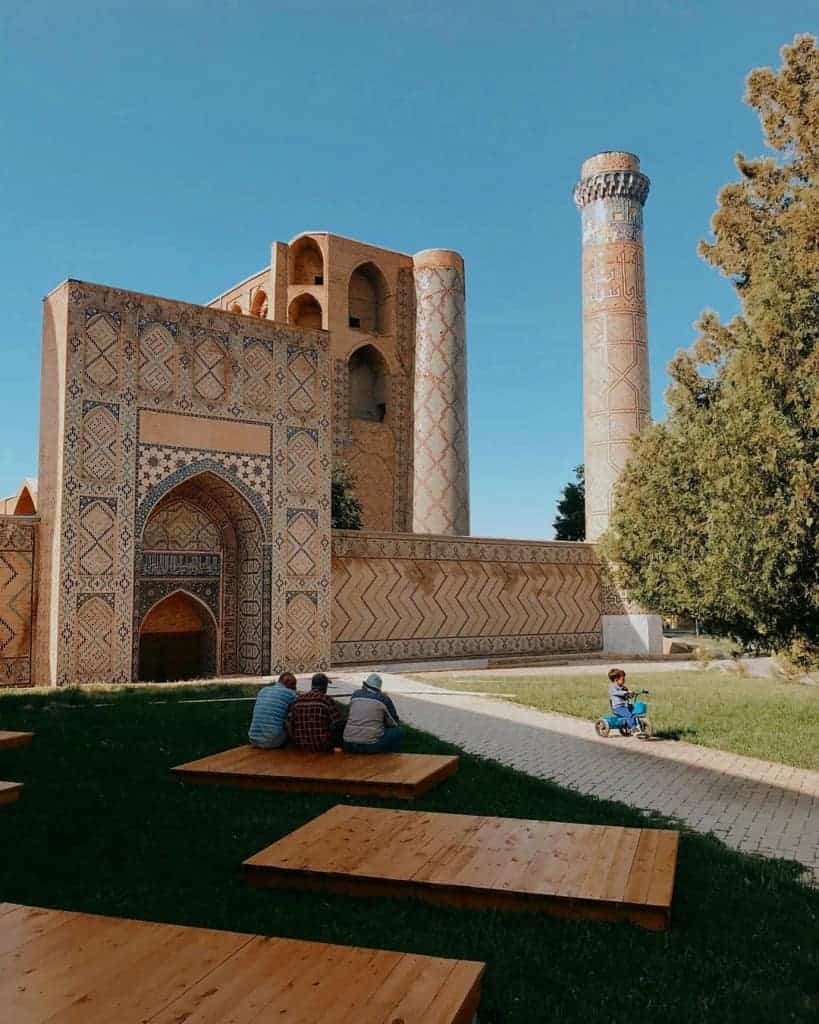 Mesmerized by the images I'd seen of Uzbekistan's ancient Silk Road cities, their breathtaking Islamic architectural sites, and their labyrinth-like network of old town streets, Uzbekistan had been at the top of my travel bucket list for a very long time.
I really wanted to travel to Uzbekistan in 2018 when I went to Azerbaijan, but at the time, the process to obtain an Uzbek visa was lengthier and not as easy as it is now. As of February this year, the government of Uzbekistan waived the need for British travellers to have a visa. As such, it seemed like there was no better time to go and I was really in need of a break!
Solo Female Travel in Uzbekistan:
Where to Travel
Tashkent
Combining modernity and antiquity, Tashkent is the typical starting point for most people's travels through Uzbekistan. That said, Tashkent is markedly different to most cities that you will explore during your time in the country.
Tashkent highlights include:
Chorsu Bazaar – A traditional market that has been operating for centuries
Plov Centre – An interesting eatery famous for the national delicacy "plov"

Tashkent Metro – Filled with fascinating art pieces and doubling as a bomb shelter

Hazrat Imam Complex – A beautiful structure home to the oldest quran in the world

Hotel Uzbekistan – A classic example of brutalist Soviet architecture.
Samarkand
Treading the golden road to Samarkand is often cited as the main reason that many travellers want to venture to Central Asia. Regardless of how many times you have seen it photographed, marvelling at the Registan with its turquoise domes and beautiful courtyards is an experience that feels almost ethereal.
Samarkand highlights include:
The Registan – The main square from Amir Timur's rule

Gur-e-Amir  – The final resting place of Amir Timur

Shah-i-Zinda – A beautiful necropolis filled with palatial tombs

Hovrenko Wine Factory – A nice spot to sample an array of Uzbek wines

Bibi Khanym Mosque – A stunning mosque that was considered the most beautiful in the orient

Siyob Bazaar – The largest market in Samarkand
Bukhara
Once the capital of Uzbekistan, Bukhara's history stems back over 2500 years. Its old city is incredibly well preserved. Exploring the winding passageways and tearooms makes you feel transported back to the days of the Silk Road traders and camel caravans.
Bukhara highlights include:
Chor Minor – A unique madrasah constructed in an Indian architectural style

Chasmai Mirob – An adorable tea room that offers incredible views over the city

Po-i-Kalyan – A beautiful complex of historic mosques and madrasas

Lyab-i-Hauz Square – A central square comprised of a beautiful pond and many tea rooms.
Khiva
Once synonymous with barbarism and the slave trade, the tiny city of Khiva lies in the extreme west of Uzbekistan. Khiva is quite a trek to get to but is the highlight of most Silk Road adventures. The old city is incredibly well preserved and almost feels like something from a movie set.
Khiva highlights include:
Itchan Kala – Old town filled with historic mosques and museums

Kala Minor – An unfinished minaret with a fascinating backstory

Islom Hoja Minaret – A towering minaret that offers incredible views over the city

Juma Mosque – An intricately designed Friday mosque with wooden interiors
Encountering Other Travellers in Uzbekistan
Solo female travel in Uzbekistan may sound pretty adventurous and daring. Actually, when you touch down in the country, you will realise that the pearl of Central Asia is not quite as off-the-beaten-path as you thought.
As you explore the sights and cities of Uzbekistan, you will note that you share them with dozens of people on organised tours – mostly older citizens from America, the UK, and Western Europe.
Though this may seem annoying sometimes when you just want to take some good photos without 10,856 people loitering in the back of them, it is reassuring in some ways as you never feel isolated or alone in a remote place.
The Independent Travel Scene in Uzbekistan
Package tour groups aside though, word about Uzbekistan has not yet got out to the independent travel/ backpacking community. I met only a small handful of fellow backpackers in Uzbekistan so I would say that you need to be someone who is self-aware and okay with their own company before you head off to Uzbekistan.
Uzbekistan is definitely not comparable to a well-trodden route like Southeast Asia, so you may find that you will spend days travelling without encountering others. In this way, Uzbekistan is a great travel experience if you want to push yourself out of your comfort zone.
Advice for Meeting Travellers and Locals
Most people start their Uzbekistan itineraries in Tashkent, and a lot of them stay in popular hostels such as Top Chan. I'd recommend starting here where you can perhaps meet others to share your journey with. From Tashkent, you can go on to Samarkand, Bukhara, Khiva and a few other spots with your new-found travel buddies.
Couchsurfing is emerging in Tashkent, and I met some lovely people through the hangouts and events on this app – both locals and fellow travellers. You will find a lot of locals here that are eager to improve their English and excited to show travellers around.
If you are interested, you can message a few locals in advance. I don't personally feel comfortable meeting up with men, and I was quite happy to see that there were a lot of female couchsurfers in Tashkent that I still keep in contact with now.
General Safety in Uzbekistan
Uzbekistan is a very safe country. At one point, Uzbekistan was listed as being one of the safest countries in the world due to its low crime rates!
I think that the reason for a lot of the low crime rate is due to the fact that Uzbekistan is a police state. In some ways, this feels a little daunting. As you walk around the various cities, you will find dozens of police stationed at every street corner at all hours of the day. In the end though, you realise that they are there for the safety of the local people and the tourists.
A lot of travel resources about Uzbekistan warn you to give the police a wide berth and make mention of corrupt cops expecting bribes from tourists or giving them false charges for accessing free buildings, etc. I didn't really have any negative experiences like this.
Many of the police that I encountered in Uzbekistan were friendly and helpful. One of the cops stationed at the Gur-e-Amir mausoleum in Samarkand saw me struggling to take a picture with my selfie stick and the next thing I knew, he was running left and right helping me to capture the best angles on my photos!
Safety as a Solo Woman Traveller in Uzbekistan
I felt very safe walking around in Uzbekistan. Honestly, sometimes I even forgot that I was in an exotic place so far away from home. As I wandered around markets, mosques, architectural sites, and museums, nobody really bothered me.
I mean, to be able to walk around and have nobody bother you is something that we take for granted at home, but what I mean by that is that Uzbekistan is not like Morocco, Egypt, or some parts of the Middle East. You will not be grabbed and pulled in bazaars, catcalled, or offered camels. Uzbekistan is a very pleasant place to visit as a solo female traveller.
Communicating in Uzbekistan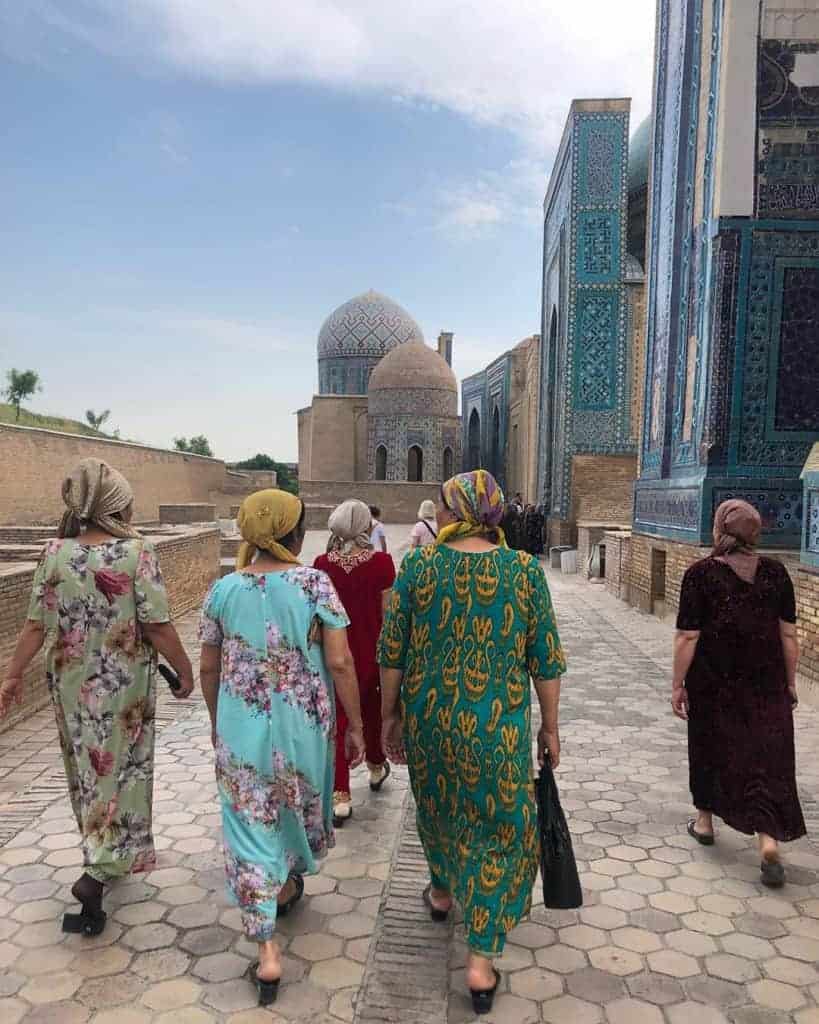 It is important to be aware that for the most part, very few people in Uzbekistan speak English. Even if you find yourself in the most "touristic" areas such as Samarkand, Bukhara, and Khiva, you will still be faced with hotel employees and tourism staff that can't speak English.
Officially, Uzbek is the main language of Uzbekistan but Russian is also very widely spoken. If you are able to, I'd recommend you to try and learn just a handful of phrases in Russian or Uzbek to make communicating a little easier.
If all else fails, Google Translate is a lifesaver! Pick up a local sim card for a few dollars and you will get quite a generous package with calls, texts, and data. That way if you ever need to communicate, translate is at your fingertips!
Encounters with Local People
Honestly, my encounters with people in Uzbekistan were mixed. I am not saying that to be negative, I'm saying it to be honest and give a realistic view of my experience.
Some people I encountered were incredibly warm and welcoming, whereas I found others very rude. I guess that this is nothing out of the ordinary really – you find good and bad people wherever you go in this world and Uzbekistan is no different.
On the whole, I was not incredibly blown away by the kindness of the people as I was when travelling alone in Oman or in Japan. By the same token, I would not say that locals in Uzbekistan were unfriendly.
Positive Encounters in Uzbekistan
My best experiences in Uzbekistan happened "off the beaten path". Honestly, I cannot express how much nicer the people were in places like Tashkent, Urgench, and Fergana, as opposed to in touristic destinations.
To give you an example, I took a cab in Urgench before boarding my night train to Tashkent. My cab driver was quite concerned about me waiting by myself for the train for hours. He showed me around a local market, bought me some strawberries (!) and sat with me for a while drinking delicious Uzbek tea and eating Samsa (meat pies) while I passed the time.
When I boarded the night train, a really nice family from Andijan invited me into their cabin to share home-cooked food and stories from our different cultures.
Negative Encounters in Uzbekistan
On the contrary to the above, I also had some unpleasant experiences in Uzbekistan.
I hate to write negative things but I wouldn't be giving a full view of what solo female travel in Uzbekistan was like if I hid these things from you. I often felt quite frustrated with the way people constantly tried to scam me – especially taxi drivers or people working in touristic positions.
Of course, I appreciate that Uzbekistan is not an affluent country. Uzbekistan is one of the poorest places in the -stans. It makes sense that if they are struggling to get by and they see all of these rich tourists entering their country they see them as a way to make money. That said, I had a lot of experiences where people not only tried to charge me a price that was marginally more than the actual price, but 10 times that amount. When I refused or questioned it, they got pretty aggressive and angry.
I am not sure if some of this was because I was a woman travelling alone in Uzbekistan and therefore they thought that I would not be able to stand up for myself (?) or because I was British and they assumed I had a lot of money. Anyway it tainted my experience in some places.
Cab Drivers in Uzbekistan
Cab drivers in Uzbekistan will routinely try and charge tourists 10 times the price. The standard is 5000 som for a short journey but they will tell you 50,000. Sometimes I would be standing in the rain with my huge backpack and they would not take me for the actual rate.
I had a particularly bad experience in Urgench when the cab driver agreed 10,000 (I could not be bothered to haggle) to take me to a sim card store. It was closed so he drove me to another that was about 2 blocks away. After this, he expected 50,000 soum and started screaming at me, huffing and puffing about how it was unfair.
I generally felt that I could not trust a lot of the people that worked in hotels or tourist facing positions. This is a shame because usually, you trust that the hotels will help their guests not to get ripped off, whereas in Uzbekistan they are usually also running their own scams. As an example, I asked for my hotel in Bukhara to help me get a cab to the train station and they told me it was $10 when it was, in fact, $1.
My Worst Experience in Uzbekistan
The worst scam I received in Uzbekistan was when staying at the Scheherazade hotel in Khiva. The lady told me that she would organise my ticket for me from Urgench to Tashkent and told me that it was $35 for a private cabin. I paid, trusting she had booked me the correct ticket.
When I arrived at the train, I discovered that she had booked me a bed in a 53-bed cabin and pocketed most of my money. As I was travelling alone, I did not feel safe spending a 17-hour overnight journey in a bunk bed surrounded by drunk men, and I thought that was a pretty appalling thing for her to do.
Encounters with Men in Uzbekistan
Honestly, I received quite a lot of male attention in Uzbekistan. This was not as forward or as aggressive as in some countries, but it was male attention nonetheless. For the most part, it was just something like a comment or a whistle. I had one very negative encounter at a hotel I stayed at.
I stayed at the Rizo Boutique Hotel in Bukhara which I strongly advise other solo female travellers to avoid. When I checked in, the owner made some remarks about my appearance which made me feel uncomfortable but I dismissed it and went out exploring.
When I arrived back to my room later that day, the owner used the personal information that I provided for my reservation to start messaging me on Facebook. He contacted me in the middle of the night asking to come to my room to "get to know me better" and when I told him no, he started banging on my door and it made me feel very uncomfortable.
I don't think that this is necessarily representative of Uzbek men, simply an errant weirdo that you could encounter anywhere in the world. In any case, I advise solo women travelling in Uzbekistan to avoid the Rizo Boutique hotel in Bukhara.
What to Wear as a Solo Female
Officially speaking, Uzbekistan is a Muslim country and the majority of the population identify themselves as Sunni Muslims. Hearing that probably makes you assume that Uzbekistan is a place where you need to be incredibly covered up but the reality is that the country is mostly secular, and the majority of the people do not practice religion.
Many of the old mosques and madrassas that you see in Uzbekistan do not function anymore and have been transformed into museums, art galleries, and even restaurants! There are many beautiful Islamic buildings here, but you will never hear the call to prayer echoing from minarets. Uzbekistan reminded me of Azerbaijan in this regard.
Solo female travellers in Uzbekistan can enjoy some freedom in terms of what they should wear while they are out exploring. Uzbek culture is still more conservative than western culture, so leave the short shorts and the crop tops at home, but don't worry about having to be incredibly covered up like you would in the Middle East.
Summer dresses, t-shirts, and knee-length shorts are generally fine for travelling in Uzbekistan. You will often see that even local girls are dressed the same. Uzbeks consider themselves as having a very liberal mindset.
The only place that you should dress more conservatively is in the Fergana Valley where people are a lot more religious. Here I'd advise covering your legs and your shoulders.
Do I have to Cover My Hair?
Uzbek women often wear colourful headscarves but this is more a matter of culture than of religion. When you enter mosques, you will usually not have to cover your hair and you will note that locals do not either. Again, the only exception to this rule is in the conservative Fergana Valley where people are often more religious.
Conclusion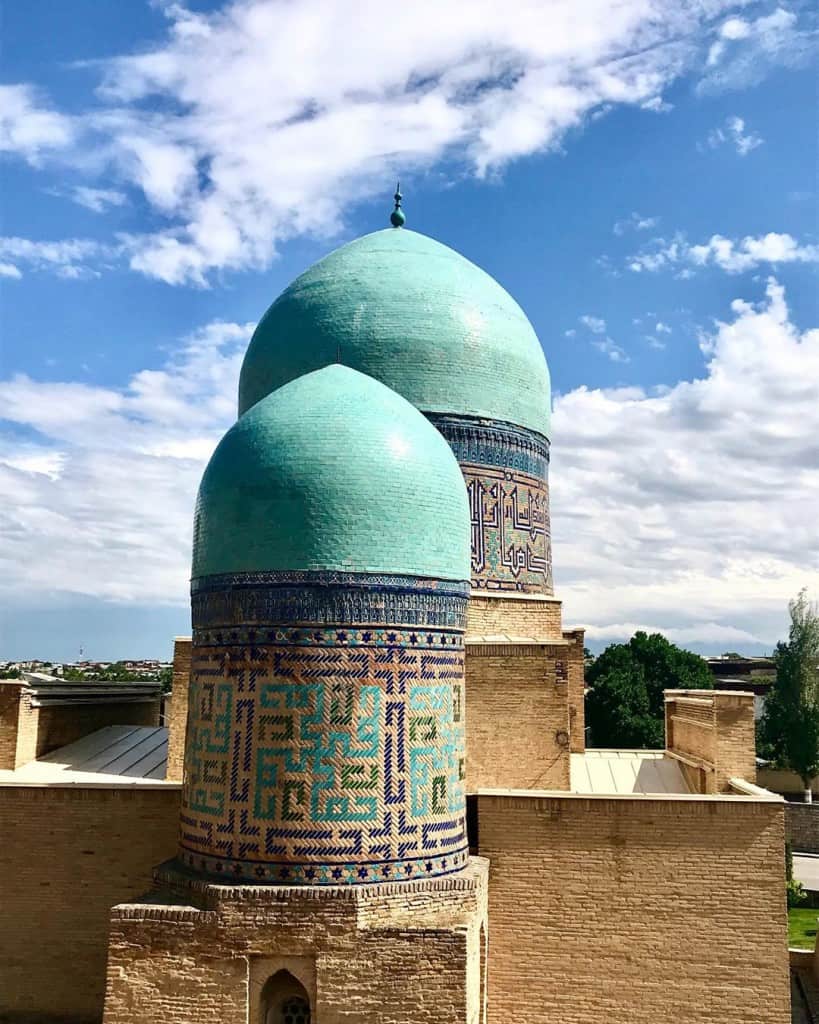 Overall I thoroughly enjoyed my solo adventure through Uzbekistan. I hope that the negative aspects that I have mentioned don't make Uzbekistan seem off-putting in any way, but simply act as things to keep in mind during your own trip.
Try and exert the same levels of basic common sense in Uzbekistan as you would at home or anywhere else – be mindful of over-friendly strangers and don't walk around alone after dark.
With the right preparation and mindset, your trip to Uzbekistan ought to be one that is memorable for a lifetime, and for all the right reasons.
For more general and practical advice on travelling to Uzbekistan, I have written this Travel Guide to help with things such as entry requirements, acquiring police registration, and so on.
Do you have any questions about solo female travel in Uzbekistan that you feel have not been answered above? Please don't hesitate to drop me an email or a comment below. Safe travels! Melissa xo

---