Solo female travel in Uzbekistan is far from a common choice. Uzbekistan is about as off the beaten path as you can get as a travel destination in itself anyway.
Mention travelling here to most people and chances are that they haven't heard of the country nor could they locate it on a map. Others are anxious at the sheer mention of any country ending in "stan". 
It is only avid travellers with dreams of following the route of Marco Polo and venturing along the old Silk Road trade route that are familiar with Uzbekistan and everything that this vibrant country has to offer. It can be daunting planning a solo trip somewhere when you don't know anybody else that has travelled to that destination. 
Still, travelling alone as a woman in Uzbekistan is not as intimidating or scary as it may seem. The country is very safe for people of all ages and genders, including solo women.
This guide to solo female travel in Uzbekistan has been written by an experienced British Travel Writer who also happens to be a solo female traveller. In the 50+ countries that I have travelled to, a few stand out as my favourites.
One of those such places is Uzbekistan. I spent three weeks travelling around the country overland by train and bus.
Hopefully, with this guide, you will have the confidence and know-how to comfortably plan your own trip to the Central Asian country.
Solo Female Travel in Uzbekistan
My solo trip to Uzbekistan has been one of my favourites so far. That's no mean feat considering that I have travelled to 52 countries, mostly solo.
I started in Samarkand, spent a week in Bukhara to attend the annual Silk & Spice festival, took a cab to Khiva for a few days and explored the vibrant local markets of Urgench. From Urgench, I took the night train to Tashkent and then travelled onwards to the Fergana Valley.
Yes, Uzbekistan is safe
The matter of safety is likely one of your main concerns if you are planning a solo trip to Uzbekistan.
Uzbekistan is a very safe country. At one point, Uzbekistan was listed as being one of the safest countries in the world due to its low crime rates!
Violent crime is rare in Uzbekistan and even petty crime like pickpocketing and bag-snatching is uncommon. Use the same common sense precautions as you would anywhere else in the world and you will be completely fine in Uzbekistan.
Is Uzbekistan safe for women travelling alone for the first time?
Uzbekistan is arguably the kind of place that you travel to alone when you have already had some solo travel experience. This is not because it is especially dangerous, but because the language barriers, the unfamiliar alphabet, and the lack of tourism infrastructure in some parts of the country (e.g. Fergana valley) can be challenging to deal with.
You don't need to write off travelling here entirely if it is your dream to visit Uzbekistan and the Silk Road cities. It is just somewhere where you need to have your wits about you more than say, interrailing in Europe or travelling solo in Greece.
If you have never travelled alone before, it's a good idea to plan a short solo trip first – even if it is just a weekend away in your own country. That way, you get the hang of managing the logistics of organising a trip, handling a budget, etc.
I felt very safe walking around as a solo female traveller in Uzbekistan. Honestly, sometimes I even forgot that I was in an exotic place so far away from home.
As I wandered around markets, mosques, architectural sites, and museums, nobody really bothered me. You will not be grabbed and pulled in bazaars, catcalled or pestered.
Uzbekistan is not its neighbours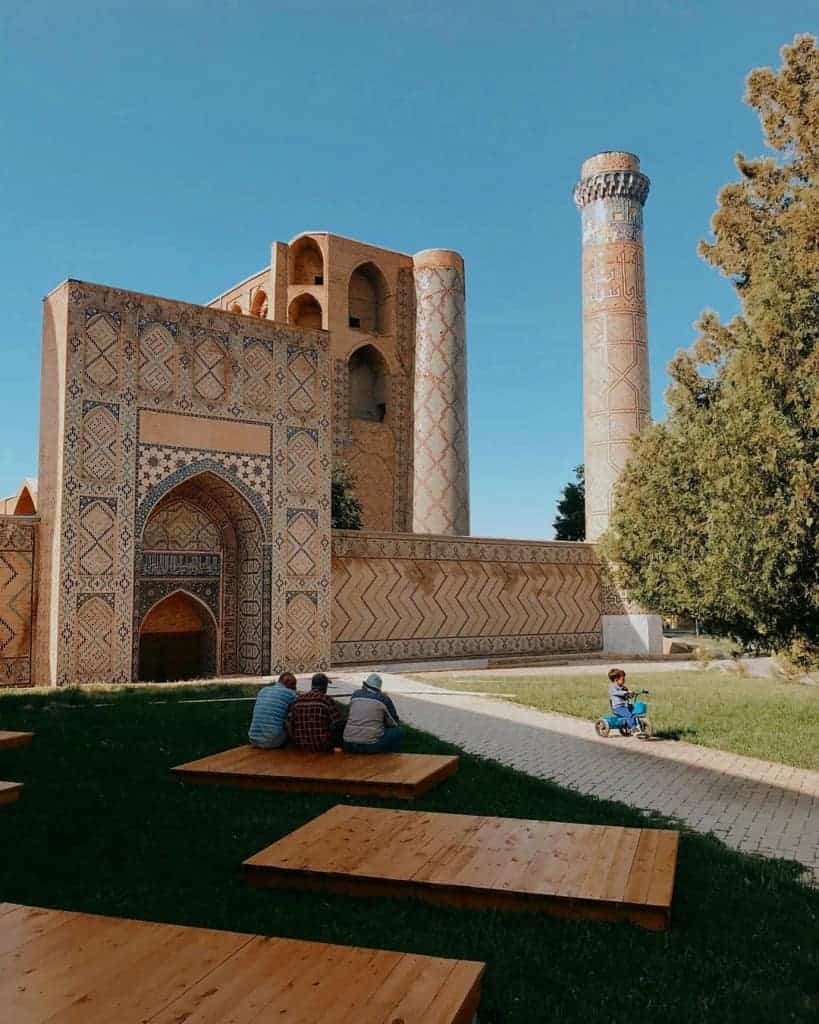 People are often anxious about travelling to Uzbekistan when they glance at a world map and see the part of the world where it sits. The little landlocked nation is bordered by Kazakhstan, Kyrgyzstan, Tajikistan, Afghanistan and Turkmenistan.
Afghanistan is the most concerning name on this list. However, a country is not its neighbours.
The Afghan border is one of the most heavily fortified borders in the world and tourists are not permitted to travel within 5km of it, nor are they advised to travel to the Termez region of Uzbekistan.
The Uzbekistan government want to protect both their own people and the people that visit the country. So, protecting this border is imperative for them and incidents in Uzbekistan are virtually unheard of.
Don't let Uzbekistan's geographic location but you off travelling there, or its neighbours scare you.
Tips for Traveling alone as a woman in Uzbekistan
Consider starting in Tashkent
Both Tashkent and Samarkand have international airports in Uzbekistan. You can fly to both cities from Istanbul, Turkey, and from a number of other destinations around the globe.
(If your starting point is in Europe, you likely have to transfer flights in Turkey).
There is arguably nothing wrong with flying into either of these Uzbek airports. You can easily book a flight to whichever one works out cheaper for you based on your starting point.
However, most travellers tend to start their Uzbekistan itinerary in Tashkent and then travel on to Samarkand, Bukhara, etc. Opting to do the same means you are more likely to meet other travellers on arrival so that you can share your trip. (If that is important to you). 
Tashkent also has better public transport links between the airport and the city. From Tashkent's Islam Karimov international airport, you can take bus numbers 67, 94 and 11 to the city centre.
From Samarkand, you need to take a taxi. Although this should only cost a couple of dollars, prepare to be given an overly inflated price at first. Haggling is a must. 
Uzbek people are generally friendly and hospitable 
You can't really generalize an entire nation of people. However, for the most part, Uzbek people are very warm, welcoming and hospitable. 
Tourism is becoming an increasingly important part of the local economy. The government recently shared a goal for the tourism industry to grow from $1 billion in 2018 to $2.2 billion in 2025.
Tourists are welcomed and valued and local people are always interested in hearing the stories of travellers. In the more remote and off-the-beaten-path parts of the country, people are even friendlier! 
When taking a 17-hour night train across the country, I was invited to a wedding in Fergana Valley and met a lot of local families that shared their food with me and wanted to practice English. 
I took a cab in Urgench before boarding my night train to Tashkent. My cab driver was quite concerned about me waiting by myself for the train for hours.
He showed me around a local market, bought me some strawberries (!), and sat with me for a while drinking delicious Uzbek tea and eating Samsa (meat pies) while I passed the time. I had to assure him that I'd be okay as he was so worried about my safety!
When I boarded the night train, a really nice family from Andijan invited me into their cabin. We shared home-cooked food and stories from our different cultures.
What to wear as a solo female in Uzbekistan
Officially speaking, Uzbekistan is a Muslim country and the majority of the population identifies themselves as Sunni Muslims. Hearing that probably makes you assume that Uzbekistan is a place where you need to be incredibly covered up.
However, the reality is that the country is mostly secular, and the majority of the people do not practice religion.
Many of the old mosques and madrassas that you see in Uzbekistan do not function anymore. They have been transformed into museums, art galleries, and even restaurants!
There are many beautiful Islamic buildings here. However, you will never hear the call to prayer echoing from minarets. Uzbekistan reminded me of Azerbaijan in this regard.
No set dress code for solo female travel in Uzbekistan
Solo female travellers in Uzbekistan can enjoy some freedom in terms of what they should wear while they are out exploring. Uzbek culture is still more conservative than western culture.
Leave the short shorts and the crop tops at home, but don't worry about having to be incredibly covered up like you would in the Middle East.
Summer dresses, t-shirts, and knee-length shorts are generally fine for solo female travel in Uzbekistan. You will often see that even local girls are dressed the same.
Uzbeks consider themselves as having a very liberal mindset. Women here take pride in their appearance and always sport colourful dresses with catching eye cat designs and sparkly shoes.
The only place that you should dress more conservatively is in the Fergana Valley where people are a lot more religious. You should cover your legs and your shoulders in this area.
Watch your personal belongings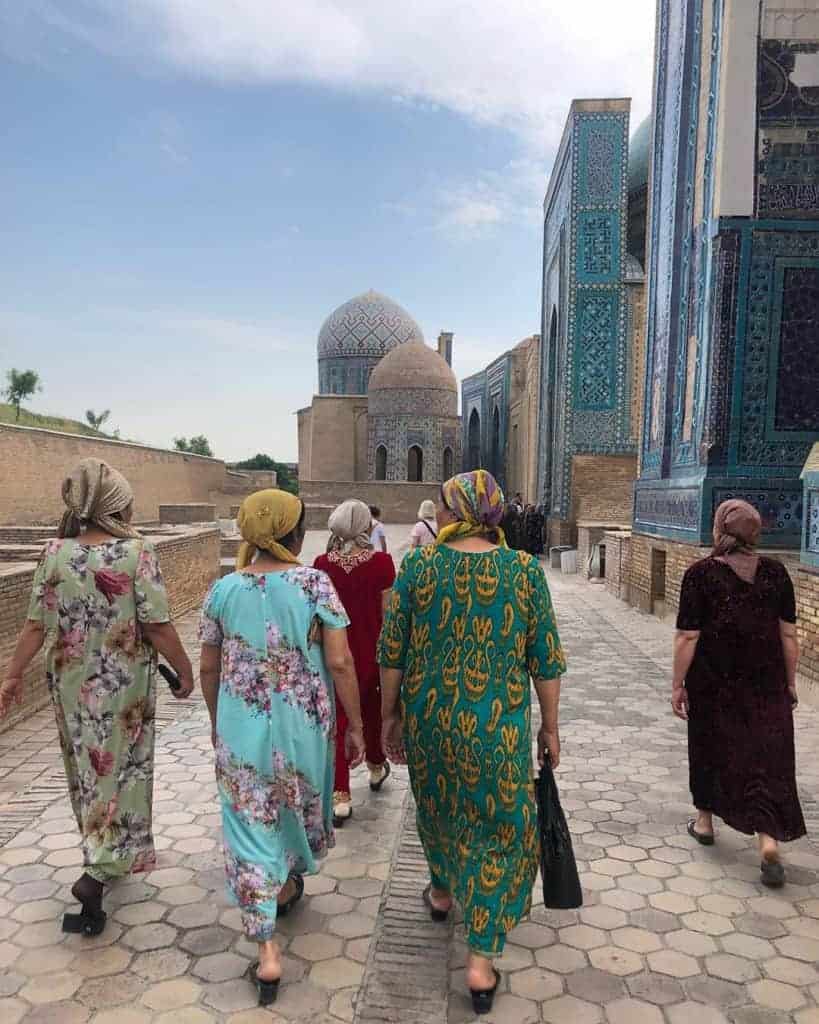 Crime is rare in Uzbekistan and even petty theft and pickpocketing are basically unheard of here. Still, things do happen here occasionally, like anywhere around the world. 
Always keep an eye on your personal belongings. Never wander off in a coffee shop and leave your laptop or bag unattended, even for a moment.
In crowded marketplaces like the Chorsu Bazaar in Tashkent, it is a good idea to walk with your bag in front of you. If you travel frequently, you might want to consider investing in a theft-proof backpack.
Theft-proof bags (like the ones offered by Pacsafe) are a little more expensive than regular backpacks. However, they come with additional safety features such as a TSA-approved mesh locking system. 
They are waterproof and slash-proof. Their long-term and lifetime warranties mean that they are a worthy investment if you travel a lot. 
Know that Uzbekistan is a police state
Uzbekistan is a police state and you will find that every attraction and every city has a high police presence. You could be wandering past the Registan in Samarkand late at night when not a soul is around and you will still see Uzbek police stationed in the little outposts out front.
A lot of travel guides to Uzbekistan warn about the police being sketchy or corrupt. However, the Uzbek police force underwent a huge reform in 2019 and things have changed a lot in the last few years.
Perhaps there isn't such a need for such a high police presence everywhere but this is nothing to be intimidated by. You are still probably best off minding your business and opting not to interact with the Uzbek police if you don't need to.
However, the likelihood is very slim that they will stop you or try and pester you for bribes. In my experience, they said hello, offered helpful directions and even offered to help me take photos!
Any "bribes" is usually someone trying to make a quick buck rather than anything else. (E.g. a cop allows a tourist into a closed-off building for a small cash fee. Not saying you should try that – just that it happens!) 
Most travellers don't need a visa
Upon entry, most British and EU nationals are permitted to stay up to 30 days in the country without requiring a visa. Other nationalities may be permitted to stay for 60 or 90 days visa-free.
Check your government's travel website to see if you qualify for visa-free entry to Uzbekistan. Even if you do not, the new Uzbek e-visa process makes applying for a tourist visa much easier than it once historically was.
Uzbek borders aren't as strict as they once were
Uzbekistan used to be notorious for strict border checks. Foreign tourists were almost met with suspicion and border agents would comb through hand luggage, electronic devices, etc.
This has changed in recent years as Uzbekistan aims to promote tourism. Bag searches and intense questioning are the exceptions, not the rule. (Although you should still ensure that you aren't travelling with any prohibited items).
Allow some flexibility in your schedule
It pays to have a vague itinerary of what you want your Uzbekistan itinerary to look like, where you will be travelling, and how long you will be spending in each destination. But at the same time, sometimes flexibility and unexpected changes are the highlights of travelling.
You might find that you love Bukhara and want to stick around a little longer, or you might decide to incorporate an extra stop into your trip.
Share your itinerary with friends and family (but off social media)
Your friends and family may want you to keep them updated on your adventures through Uzbekistan, particularly if you have parents who are anxious about you travelling alone! It is better not to share your location in real-time on social media (especially if you have public accounts.)
You should never share stories and posts from places you frequent or the hotel you are staying in. That isn't an Uzbekistan thing, it's the best practice for traveling alone in general.
Take a guided tour to get your bearings 
A guided tour is a great way to get your bearings in a new city and gain confidence if you are travelling somewhere that you are anxious/nervous about. Several reputable local tour companies operate around Uzbekistan – particularly in Khiva, Tashkent, Samarkand and Bukhara.
There are small group tours where you are likely to meet other like-minded travellers, as well as private tours. Both are usually very reasonably priced.
The advantage of exploring with a local guide means that you have an expert on hand to ask for recommendations on the best things to see and do, where to eat, what to eat, etc. They will help you to discover neighborhoods and restaurants that you may not have found independently and will give you more information and context to the various sights you see. 
Book online in advance to secure your place, particularly if you are travelling during the high season. (April to May and September to November).
Try and memorise a handful of Russian or Uzbek phrases
English is not widely spoken in Uzbekistan and it can be difficult to try to communicate with people. Even trying to buy a bus or train ticket is a challenge.
Obviously, it is not realistic to expect yourself to be able to pick up a completely new language in a matter of weeks before a trip somewhere. However, if you can learn a handful of phrases in Russian or Uzbek, you'll make your life a lot easier.
You should also make sure to download Google Translate for your trip. That way, when you are having trouble communicating with someone, you can simply type out what you are trying to say to them in English and the app will automatically translate it into Russian.
Uzbek is the official national language of Uzbekistan. However, as Uzbekistan is a former Soviet republic, the vast majority of people are fluent in Russian as a second language.
If you are visiting Uzbekistan as a stopping point on a wider Central Asia itinerary, you may find it more useful to learn some Russian rather than some Uzbek. This is because Russian is spoken in various languages in the region.
That being said, Russian is definitely more challenging. Uzbek is a Turkic language and shares a lot of similarities with Turkish and Arabic.
You may find some of the words and pronunciations easier in Uzbek.
Useful phrases in Russian
A handful of useful phrases in Russian are detailed below. You can also use Duolingo to practice for a couple of minutes a day.
Privet (Привет!) – Hi!


Poka (Пока!) – Bye!


Spasibo (Спасибо) – Thank you


Dobryy ootra (Доброе утро) – Good morning


Dobryy vecher (Добрый вечер) – Good evening


Dobryy noche (Доброй ночи) – Good night


Izvinite (Извините) – Excuse me


Nice to meet you


I'm sorry


How are you?


I don't understand


I'd like a … please


How much is it?


Can I have the menu, please? 
Dealing with male attention in Uzbekistan
You may find that you attract a fair amount of male attention in Uzbekistan even if you dress modestly. This is mostly because you look different and because solo female travel in Uzbekistan is not the most common choice. 
You are probably one of only a handful of solo female travellers that local people have seen. (If they have seen any at all!)
This is usually just curious glances or the occasional silly whistles, noises and comments. While it should be possible to travel wherever you want and wear whatever you want as a woman without harassment and catcalling, unfortunately, that is not the world that we live in sometimes. 
You cannot control the actions of everybody around you. However, you can control how you react to them.
Catcalling is best ignored. Do not give the person any time or attention and continue on with your day. 
Although it can be annoying, if you dwell on catcalling or silly comments, the only person whose day is ruined is your own. In Uzbekistan, you are unlikely to deal with aggressive harassers. 
The fact that the country has a strong police presence is a sufficient deterrent.
Get an Uzbek sim card when you arrive
It is a good idea to purchase an Uzbek SIM card shortly after you arrive in Uzbekistan. This way, you can stay connected during your trip.
Wi-Fi is not widely available in restaurants and cafes in Uzbekistan as it is in other countries. Most hotels do have Wi-Fi.
However, you will often find that it doesn't extend to all of the rooms and is only available in the hotel lobby, or it is patchy and slow.  While travelling can be an opportunity to disconnect from the online world, you'll probably need Wi-Fi to check directions, use Google maps, research what to do, use Google Translate and contact local hotels.
Beeline, Ucell, Mobiuz and UZMobile are the main sim card providers in Uzbekistan. Beeline is a good choice for foreigners as you can get a tourist sim card simply by showing your passport.
Their tourist sim card plan is called "welcome". It costs 30 000 UZS for 32 days and comes with 3 GB of data, as well as 1 GB for Telegram, WhatsApp, and Viber, and 100 cell phone minutes.
If you need to top up your plan, you can go to any Beeline store. (They exist in most large towns and cities). You'll find 4G in large cities and 3G in remote areas.
Consider investing in an alarmed doorstop 
An alarmed door stop is a useful safety device for solo female travellers, wherever you go. You can push it against your door in a hotel room/Airbnb.
If someone tries to force their way in, an alarm will sound that can be heard up to several thousand feet away. This may be enough to scare the person away.
(Or at least give you plenty of time to up and move rooms). You can purchase these for a couple of dollars from Amazon.)
How to meet other travellers in Uzbekistan
Solo female travel in Uzbekistan may sound pretty adventurous and daring. However, when you touch down in the country, you may be surprised to see how many foreign tour buses there are, particularly in the spring and autumn.
The main demographic of tourists that come to Uzbekistan are older travellers (often aged 60+ or thereabouts) from the US, the UK and Western Europe. It is a good idea to visit places like the Shah-i-Zinda and the Registan early in the morning or later in the afternoon if you want to avoid the crowds.
It can be annoying sometimes when you just want to take some good photos without 10,856 people loitering in the back of them. However, if you are nervous about solo female travel in Uzbekistan, it can be reassuring to see other people and know you are not alone in a remote place.
Uzbekistan is still just emerging as a backpacker destination. You might meet a few travellers in Tashkent or at hostels in Silk Road cities but as you go off the beaten path, you don't really see any independent travellers around.
You really need to be someone who is self-aware and okay with their own company before you head off to Uzbekistan. Uzbekistan is definitely not comparable to a well-trodden route like Southeast Asia.
You may find that you will spend days travelling without encountering others. In this way, solo female travel in Uzbekistan is a great travel experience if you want to push yourself out of your comfort zone.
Use Couchsurfing to meet people
Couchsurfing is emerging in Tashkent. You will find a lot of locals here that are eager to improve their English and excited to show travellers around.
Couchsurfing isn't just for staying at someone's house. In Uzbekistan, you can use it for organising a "hang out" and meeting someone for lunch or coffee.
Consider messaging a few locals in advance of your trip and see if they will be around during your travel dates. You may also see other travellers on the app.
Be careful of scams
Uzbekistan is not an affluent country. It is one of the poorest places in the -stans.
Unfortunately, scams do happen occasionally when someone tries to make a quick buck by charging you more or changing the price of something at a restaurant after you have eaten. I feel that as a woman travelling alone in Uzbekistan, I was more of a target and people thought I wouldn't know the correct prices or question them.
The worst scam I received in Uzbekistan was when staying at the Scheherazade hotel in Khiva. The lady told me that she would organise my ticket for me from Urgench to Tashkent and told me that it was $35 for a private cabin. I paid, trusting she had booked me the correct ticket.
When I arrived at the train, I discovered that she had booked me a bed in a 53-bed cabin and pocketed most of my money. As I was travelling alone, I did not feel safe spending a 17-hour overnight journey in a bunk bed surrounded by drunk men, and I thought that was a pretty appalling thing for her to do.
I was able to pay for a private room. But I had to buy a whole new ticket and it wasted a lot of money.
Avoid this sketchy hotel
The only particularly scary or unnerving experience that I had in Uzbekistan was at a hotel I stayed at in Bukhara. I had stayed at the Rizo Boutique Hotel in the old town which I would strongly advise other solo female travellers to avoid. When I checked in, the owner made some remarks about my appearance which made me feel uncomfortable but I dismissed it and went out exploring.
When I arrived back at my room later that day, the owner used the personal information that I provided for my reservation to start messaging me on Facebook. He contacted me in the middle of the night asking to come to my room to "get to know me better".
When I told him no, he started banging on my door and it made me feel very uncomfortable.
I don't think that this is necessarily representative of Uzbek men, simply an errant weirdo that you could encounter anywhere in the world. But it seriously creeped me out and I ended up barricading myself in my room and then checking out early to go to Khiva.
Solo Female Travel in Uzbekistan:
Where to Travel
The most common route to travel through Uzbekistan is to travel by rail to the major cities: Samarkand, Tashkent, and Bukhara. Charming little Khiva is very far out of the way in the Xorazm region. However, it is well worth the journey.
If your schedule permits, you should also consider travelling to Moynaq and the Aral Sea, the autonomous region of Karakalpakstan, and the conservative Fergana Valley. Public transport in Uzbekistan is good. It is easier to get around independently than you may think.
Tashkent
Tashkent is the typical starting point for most people's travels through Uzbekistan. This is the country's capital.
Starting here means that you are more likely to encounter other solo adventurers and travel buddies to share your journey with.
That said, Tashkent is markedly different from most cities that you will explore during your time in the country. A devastating earthquake in 1966 levelled out the city and destroyed most of its interesting architecture.
Everything was rebuilt in Soviet style. Silk road highlights are few and far between here.
However, the Uzbek capital provides an interesting insight into life in Uzbekistan today.
Tashkent highlights include:
Chorsu Bazaar – A traditional market that has been operating for centuries


Plov Centre – An interesting eatery famous for the national delicacy "plov"


Tashkent Metro – Filled with fascinating art pieces and doubling as a bomb shelter


Hazrat Imam Complex – A beautiful structure home to the oldest Quran in the world


Hotel Uzbekistan – A classic example of brutalist Soviet architecture.
Recommended Tashkent tours
A handful of reputable Tashkent tours that are great for women traveling alone in Uzbekistan are detailed below. Reserve your place online in advance to avoid disappointment!
Samarkand
Samarkand is often the main reason that many travellers want to venture to Central Asia at all. Indeed, the "golden road to Samarkand" has been written about time and again by Travel Writers, poets, and creatives.
The city is filled with ancient treasures. However, it is the Registan, with its turquoise domes and beautiful courtyards that is the piece de resistance.
This ancient square is encompassed by dazzling blue and white madrassas and was the main rendezvous point during Amir Timur's rule. It is one of the best examples of Islamic architecture in the country.
The atmosphere here at night is almost ethereal. At this time the tourists have gone, the locals ride around on their bicycles, and the sky behind the madrassah is illuminated in gentle shades of pink and orange.
Samarkand highlights include:
The Registan – The main square from Amir Timur's rule


Gur-e-Amir – The final resting place of Amir Timur


Shah-i-Zinda – A beautiful necropolis filled with palatial tombs


Hovrenko Wine Factory – A nice spot to sample an array of Uzbek wines


Bibi Khanym Mosque – A stunning mosque that was considered the most beautiful in the Orient


Siyob Bazaar – The largest market in Samarkand
Bukhara
Once upon a time, Bukhara was the capital of Uzbekistan. The city's history stems back over 2500 years.
Some of the ancient structures here, like the famous Po-i-Kalyan "tower of death" minaret date all the way back to the 11h century. Bukhara's old city is incredibly well preserved and many locals still live within its confines today.
Exploring the winding passageways and tearooms makes you feel transported back to the days of the Silk Road traders and camel caravans. You should dedicate at least 3-4 days of your solo female travel in Uzbekistan to exploring Bukhara.
Bukhara highlights include:
Chor Minor – A unique madrasa constructed in an Indian architectural style


Chasmai Mirob – An adorable tea room that offers incredible views over the city


Po-i-Kalyan – A beautiful complex of historic mosques and madrassas


Lyab-i-Hauz Square – A central square comprised of a beautiful pond and many quaint tea rooms


Khiva
The tiny city of Khiva lies in the extreme west of Uzbekistan. Khiva is quite a trek to get to but is the highlight of most Silk Road adventures.
The old city is incredibly well-preserved and almost feels like something from a movie set. Historically, Khiva was synonymous with barbarism and the slave trade. From here you can take day trips to the desert fortresses of Uzbekistan.
Khiva highlights include:
Itchan Kala – An old town filled with historic mosques and museums


Kala Minor – An unfinished minaret with a fascinating backstory


Islom Hoja Minaret – A towering minaret that offers incredible views over the city


Juma Mosque – An intricately designed Friday mosque with wooden interiors
Getting Around as a Woman Alone in Uzbekistan
There is a range of different public transport options in Uzbekistan and they are all relatively cheap to use. The country has an extensive rail network and three different types of trains run between the major cities and stopping points. 
Buses service even the most far-reaching towns and villages and can be a nice alternative when trains aren't available. For long distances, e.g. the journey from Tashkent to Khiva/Urgench, you can take domestic flights.
Train
There are three different types of trains in Uzbekistan. The Afrosiab runs between Samarkand, Bukhara and Tashkent.
This is a modern, high-speed train that has been designed by a rail company in Spain. The carriages are sleek and comfortable with all the amenities and this is the fastest way to get from A to B.
You can buy tickets for the Afrosiab train at the ticket office of the local stations. It is generally a good idea to stop by the day before you plan to travel as tickets do sell out.
Uzbekistan night train
An old-fashioned, Soviet-style overnight train runs between Urgench (for Khiva) and Samarkand and Tashkent. It can take a whopping 17 hours to get from Urgench to Tashkent.
However, arguably the journey is worth it for the experience alone. These trains are reminiscent of those on the Trans-Siberian express and riding them feels like going on a great adventure!
They are made up of dorms (with 50+ beds) and private carriages. It is generally worth paying a little more to travel in a private dorm, especially as a woman traveling alone in Uzbekistan.
It is mostly local men that take the dorms and it isn't the most pleasant environment. (Very hot, stuffy and smelly).
There is no dining cart so you should be sure to pack some food and snacks. Police are stationed every few carriages on board, and everyone's tickets and ID documents are checked when boarding. So, you don't have to worry or stress about your safety on board as a woman travelling alone in Uzbekistan.
Cabs in Uzbekistan
Cabs can be a good way to get around cities in Uzbekistan, particularly as the bus network can be overwhelming to navigate. (And involves a lot of waiting around for buses to actually show up).
Uber doesn't exist here. However, you can use Yandex taxis in Tashkent (a similar style ride-sharing app).
Taxi drivers are often a law unto themselves the world over and the same is true in Uzbekistan. It can be frustrating to be constantly quoted prices that are constantly higher than the correct going rate.
The prices quoted aren't usually marginal increases either, they are substantially more. This happens a lot in touristy areas like Samarkand.
For example, you ask a cab on the street to take you somewhere and the price should be 5,000 SOM but they quote you 50,000. Sometimes, the people would rather sit there for hours with no fare than take a tourist for the correct rate, essentially shooting themselves in the foot.
If you need transfers to and from your hotel in Khiva, Samarkand, etc, it is better to ask your hotel to organise it for you. Ask a local what the correct going rate is so that you have it in your mind and you can negotiate accordingly if someone tries to rip you off.
Domestic flights 
Uzbekistan is a vast country. Khiva, in the western Xorazm region is very isolated and a long way away from Bukhara, Tashkent, and other places you may visit during your trip.
The long drive from Bukhara to Khiva can be painful. The night train from Tashkent/Samarkand to Khiva and back is even more so. 
You may want to consider taking a domestic flight from Tashkent to Khiva. There is a distance of 987km between Tashkent and Khiva.
By train, this takes 14-17 hours. By flight, it is just 1.5 hours. 
Flights are operated by Uzbekistan airways and depart most days of the week. It is a good idea to book your tickets online in advance to secure the best deals.
You are looking at around $50-$60 each way per person.
FAQs about Solo Female Travel in Uzbekistan
Do you have any further concerns or queries about traveling as a woman alone in Uzbekistan? The answers to some frequently asked questions on the topic are detailed below.
Hopefully, you will find the information that you're looking for there. If not, please do not hesitate to reach out to me.
Can a woman travel alone in Uzbekistan?
Yes, a woman can comfortably travel alone in Uzbekistan. You should never let your gender, physical appearance, age, etc deter you from travelling anywhere you want to go. 
Uzbekistan is a safe country with friendly locals, a fascinating history and a rich culture.
What is the dress code in Samarkand?
There is no dress code in Samarkand per se. However, as a solo female traveler in Uzbekistan, it is better to err on the side of conservative dress.
The local women dress modestly and it is a good idea to follow suit so as not to draw attention to yourself. Long dresses/skirts that come down to your knees or ankles are fine, as are trousers and jumpsuits.
You don't have to worry about covering your shoulders or arms. However, it is generally better not to have your cleavage on display or your mid-rif showing.
Is Uzbekistan tourist friendly?
Uzbekistan is a very tourist-friendly country. The people are friendly and hospitable and generally enjoy engaging with travellers. 
In some of the more "touristic" areas such as the markets near the Registan in Samarkand and the covered market near the Kalyan Mosque Minaret in Bukhara, you may encounter pushy street vendors. These are still just people trying to get by and make a sale, and you never really encounter anyone with bad intentions against tourists in Uzbekistan. 
Do I have to cover my hair in Uzbekistan?
Uzbek women often wear colourful headscarves but this is more a matter of culture than of religion. When you enter mosques, you will usually not have to cover your hair and you will note that locals do not either.
Again, the only exception to this rule is in the conservative Fergana Valley where people are often more religious. If you are travelling here, it pays to carry a scarf or a pashmina like this one in your bag just in case.
Final thoughts on solo female travel in Uzbekistan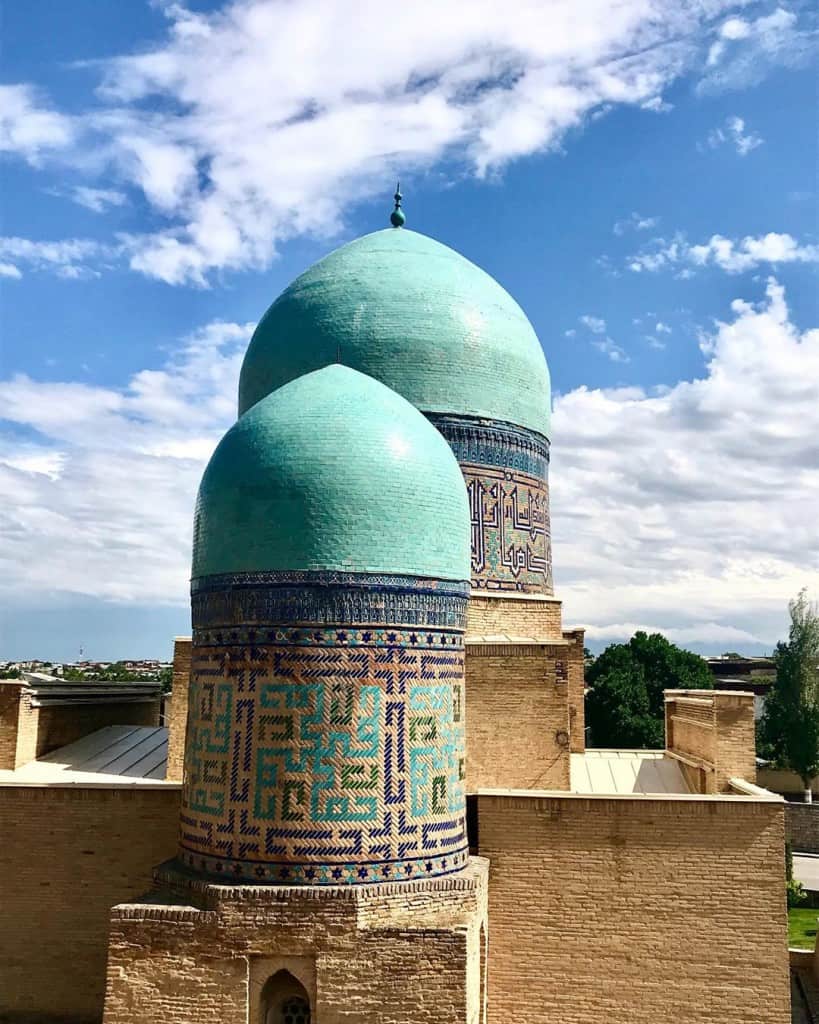 Overall I thoroughly enjoyed my solo adventure through Uzbekistan. I hope that the negative aspects that I have mentioned don't make Uzbekistan seem off-putting in any way, but simply act as things to keep in mind during your own trip.
Try and exert the same levels of basic common sense in Uzbekistan as you would at home or anywhere else. Be mindful of over-friendly strangers and don't walk around alone after dark.
With the right preparation and mindset, your trip to Uzbekistan ought to be one that is memorable for a lifetime, and for all the right reasons.
For more general and practical advice on travelling to Uzbekistan, I have written this Travel Guide to help with things such as entry requirements, etc. If you are travelling to Uzbekistan as part of a wider Central Asia trip, you might also enjoy this guide on solo female travel in Azerbaijan.
Do you have any questions about solo female travel in Uzbekistan? Please don't hesitate to drop me an email or a comment below.
Safe travels! Melissa xo

---