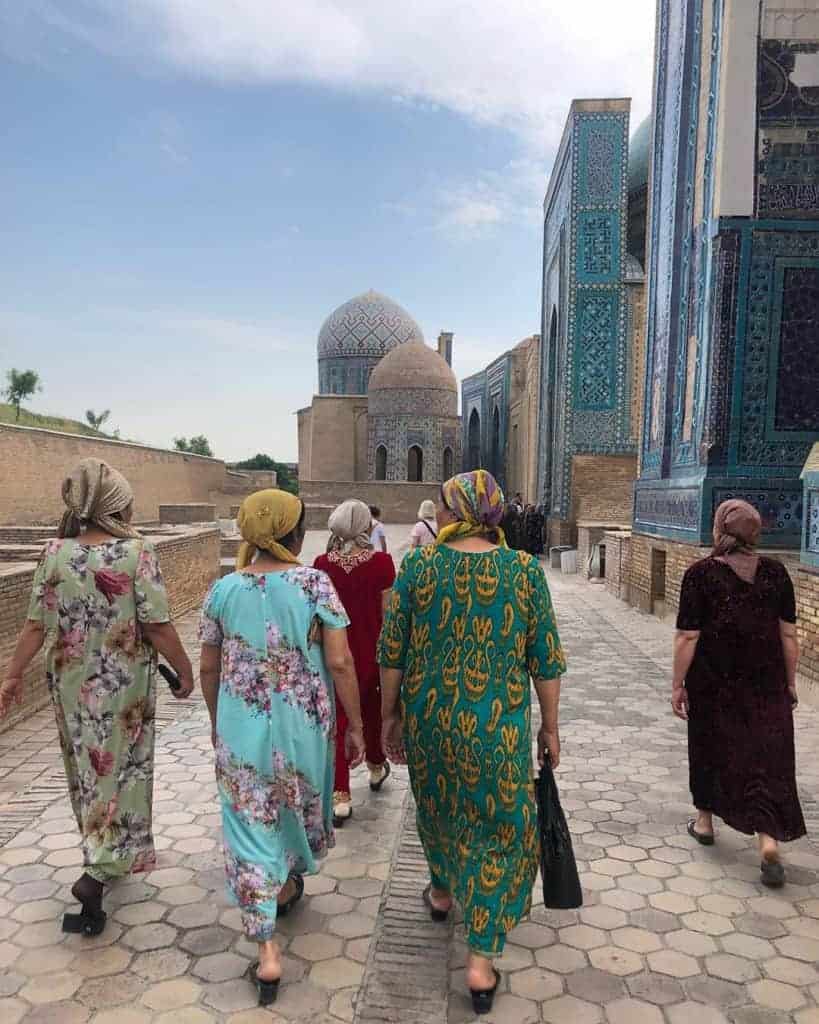 There are plenty of things to do in Samarkand to warrant spending three or four days here. For centuries, people have spoken about treading the "golden road to Samarkand".
This is the city that springs to most people's minds at the mention of Uzbekistan's Silk Road heritage. This guide will help you to organise your schedule in Samarkand,
21 Cultured Things to Do in Samarkand, Uzbekistan
Samarkand is the oldest continually inhabited city in all of Central Asia. During the days of the Silk Road trade route, it was an extremely important stopping point on the journey from China and Mongolia to the Mediterranean.
Most of the sights in Samarkand date back to the 14th century and the reign of conqueror Amir Timur. Unfortunately, thanks to the invasions led by Mongol Warlord Genghis Khan, anything that predates that was destroyed.
Samarkand is essentially divided into two halves. The old part of town encircles the Registan in a sea of grand turquoise domes and ornate mosques. Modern Samarkand is comprised of Soviet-style architecture and local markets. Base yourself in the former to feel as though you are back in the days of the camel caravans.
Marvel at the Registan
Samarkand's Registan Square is the city's most iconic landmark. In the days of the Silk Road, market stalls selling rich tapestries, fragrant spices, and beautiful silks filled this square. It was the main rendezvous point in town, a place for public announcements and more gruesomely, a place for executions!
Registan Square is probably the image of Uzbekistan you have seen in all the travel magazines. The piazza is encircled by three Islamic madrassas – each more ornate and beautiful than the one before it.
Unfortunately, you cannot just wander freely into the Registan. Admission costs 40,000 so'm per person (circa $4). Young travel and tourism students wait outside the entrance and can guide you for an hour for $2.
If you are interested in learning a little more about the history of the different madrassas and hearing a fascinating story about the butcher buried beneath them, I recommend speaking with a guide. I hired a lovely guy who was able to give me a lot of insight into life in Uzbekistan.
See the Sunset Behind the Registan
The Registan is breathtaking at any time of day. By night, it becomes even more spectacular. As the last few tourists leave the grounds, the entire complex is illuminated by twinkling lights.
Depending on when you travel to Uzbekistan, you may be surprised at precisely how many people on organised tours that you encounter. It's unrealistic to expect to have Samarkand attractions to yourself all the time. However, it can be something of a mood killer when you share these ancient sites with 743 camera-wielding tourists from the UK.
When the evening draws in, the atmosphere in Samarkand changes completely to something almost magical. The last few tourists trickle out of the sites, and local kids start whizzing around on their bikes. Meanwhile, older residents sit on the grass outside the Registan square sharing flasks of tea.
Try the Samarkand Bread
One of the foodie delicacies of Samarkand is the city's namesake Samarkand bread. You will find babushkas selling it at the sides of the road in the markets around the city.
You cannot find Samarkand bread anywhere else in the country. When I took the night train from Urgench to Tashkent, I met a lot of locals from Fergana Valley who were really excited to stop at Samarkand station just so that they could pick up some of the bread!
Samarkand bread is cooked in a tandyr oven and kneaded into beautiful shapes. It is softer and much fluffier in texture than most savoury breads.
Mysteriously, the bread stays soft for a really long time! Uzbeks do not leave the city without a handful of the namesake loaves of bread.
Visit the Gur-E-Amir Mausoleum
The beautiful Gur-E-Amir Mausoleum marks the final resting place of Amir Timur and his grandsons. Timur's burial here was accidental.
He had built a decadent crypt for himself in Shakhrisabz. However, he died unexpectedly at a time when the path to Shakhrisabz was covered in thick snow and inaccessible.
Above the crypt, it reads in Arabic "Whoever opens this shall be defeated by an enemy more fearsome than I". Of course, then, people had to go and open it.
When Uzbekistan was a part of the Soviet Union, a Soviet Anthropologist opened the crypt to inspect the remains. The next day, Hitler invaded the Soviet Union!
Practice Your Haggling Skills at the Siyob Bazaar
The Siyob Bazaar is the largest market in Samarkand. In Persian, "Siyob" means Black Water, and the market was named after the nearby Black Water stream that sits north of the city.
Although tourists often pass through the market on their way to the Bibi Khanym mosque, Siyob Bazaar predominantly caters to locals. This is a dekhkan.
In other words, it is an agricultural market where you can buy fresh fruits and vegetables from local farmers. Seasonal produce is sold alongside candied dates, dried fruits, and hundreds of different fragrant spices.
From saffron strands to parsley and dill, the Siyob Bazaar is a great place to pick up unique souvenirs such as spices or Uzbek teas. There are also a few stalls that cater to the tourists and sell things like silk scarves and handmade ceramics.
Admire the Higgledy Piggledy Shah-i-Zinda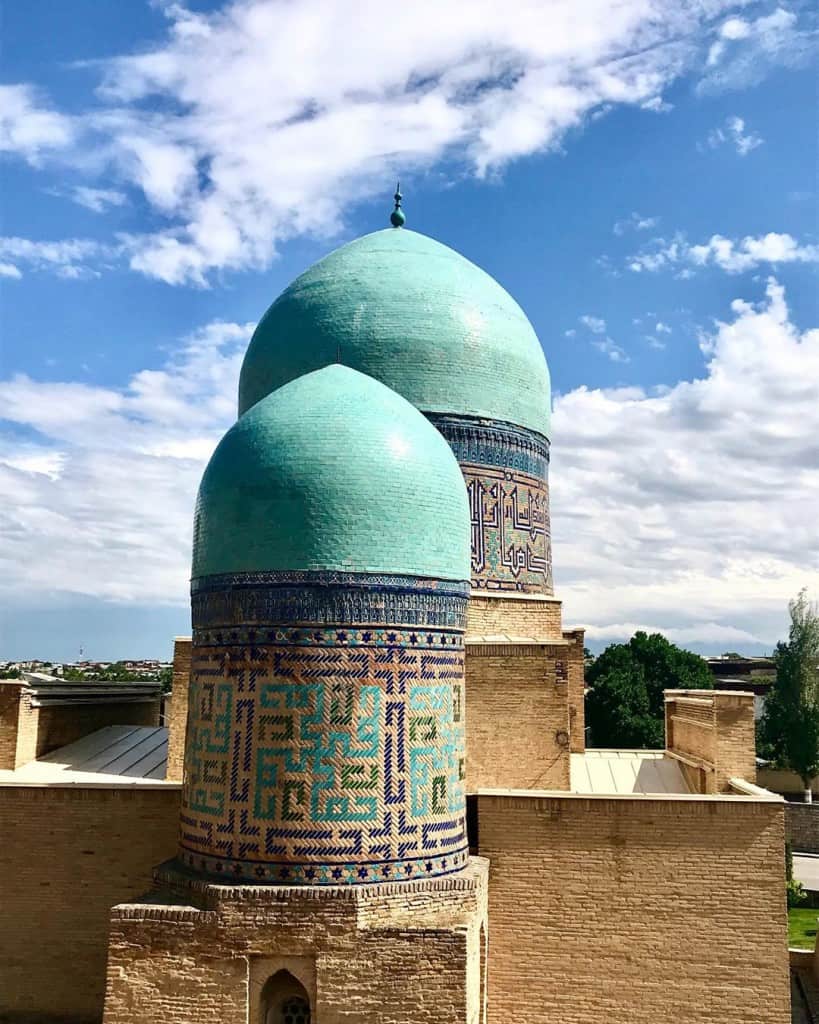 Samarkand's Shah-i-Zinda is an expansive necropolis and one of the world's longest examples of a site that is continually being constructed upon. The necropolis that sits here is the final resting place of hundreds of Uzbeks – both noble and common.
The site has a higgledy-piggledy layout and appearance. This is because the Shah-i-Zinda has been expanded upon time and again over the course of several centuries.
It is predicted that the first tombs at the Shah-i-Zinda were constructed way back in the 11th century. Additions were made way up until the 19th century. As such, the site is a fascinating mishmash of various architectural styles.
Indulge in Uzbek Cuisine
Uzbek cuisine is not for everyone. That said, when in Rome, or when in Uzbekistan as it were, you should at least try the local food.
Plov is essentially the national dish of Uzbekistan. This is comprised of beef and pilau rice that is cooked in lamb fat.
Plov makes an appearance on practically every restaurant menu here so you certainly won't be short of places to try it. There are regional variations to the dish across the country. For instance, Samarkand plov is slightly different from Tashkent's plov, etc.
For what is apparently the "best plov in town", head to Osh Markazi restaurant. Here, the plov is cooked in a giant pan, with drizzles of oil, and an array of vegetables. The serving sizes are huge, and the finished dish is served to you on a colourful plate.
Drink Spiced Tea in Eclectic Tearooms
Hanging out in coffee shops isn't really a thing in Uzbekistan. Instead, the country boasts fabulous colourful tea rooms where you can unwind with a refreshing pot of spiced black Uzbek tea.
Bibikhanum Tea House is a lovely place to stop by for a tea break. The decor is bold, vibrant, and unapologetically Uzbekistani.
Think bed tables painted in every colour of the rainbow, rich tapestries that hang from the walls, and multicoloured rugs. Not to mention, the service is among the friendliest in town!
Bibi Khanym Mosque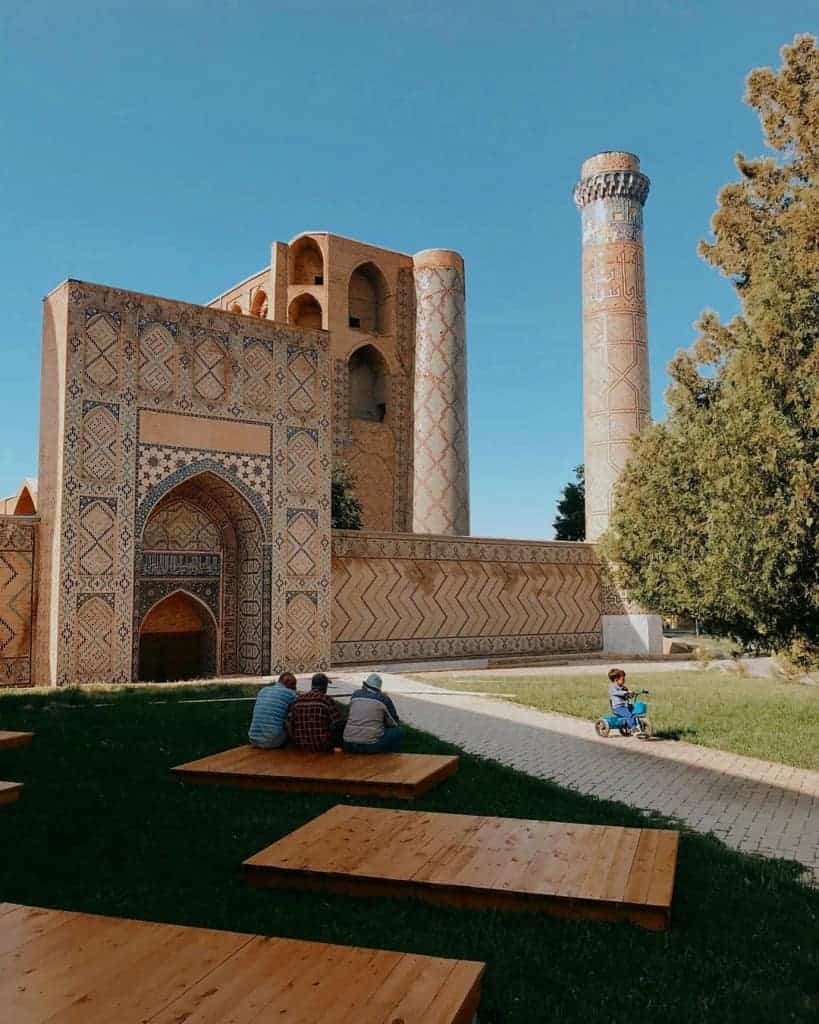 Once upon a time, Samarkand's Bibi Khanym Mosque was one of the largest mosques in the world. Unfortunately, it has been quite destroyed and rebuilt over time.
Regardless, it still has its charm. The grand mosque was financed with the riches that Timur acquired after he invaded India.
Sample the Finest Local Wines
While Uzbekistan is a predominantly Sunni Muslim country, alcohol is widely available here. In fact, the country is mostly secular and a lot of the residents do not practice religion.
In Samarkand, you can find the Hovrenko Wine Factory. This is a place that has been creating Uzbek wines since 1868.
Uzbek wine is mostly very sweet. If you stop by here, you are able to taste a selection of eight wines along with a few cognacs and balzams. (Balzam is a really strong Eastern European/Soviet liquor).
Hovrenko Wine Factory does not appear to strictly adhere to its opening times. If you swing by here randomly, you may find that it is closed.
It is recommended to call ahead to organise the tasting. You can ask your hotel reception to do this for you.
Order Shashlik from the Samarkand Kebab King
For the best shashlik in town, stop by Ikrom Shashlik. As far as Samarkand residents are concerned, this is the only shashlik spot worth knowing about.
The owner is something of a local legend. He has been operating the grills here for 20 years and cooking meat to marinated, tender perfection.
The shashlik is served with warm homemade pita bread, fresh salad, piles of onions, and a deliciously spiced tomato sauce.
Stop by the Aksaray Mausoleum
If you pass through the Gur-Emir mausoleum and its rear gardens, you are met with the Aksaray mausoleum that sits behind it. Translated from Turkish, Aksaray means "white tower". You don't need to set time aside to visit this mausoleum, it's just worth stopping by while you're at Gur-E-Amir.
Aksaray was constructed in the 14th century. the building was heavily destroyed. Improvement works were recently made and the site was opened to tourists.
Nobody is entirely sure who the mausoleum was constructed for. However, it is believed to contain the remains of a governor. In any case, the interior is off the mausoleum a decorated with opulent furnishings and decadent gold ceilings.
Explore the Abandoned Settlement at Afrasiab
Afrasiab is what remains of an ancient settlement that once stood north of Samarkand. The town dates back to the 6th century BC and is made up of houses that are carved into the stone faces of the hills.
The entirety of Afrasiab and its residents were wiped out after Genghis Khan invaded Samarkand. This area is a little difficult to reach as it sits outside the city centre and can only be reached with a private car and driver. There is also an interesting museum on site that contains numerous artifacts that have been recovered from the region.
See the Remains of the Ulugh Beg Observatory
Ulugh beg Observatory dates back to the 14th century. It is not the most exciting Samarkand attraction and may only be worth considering if you have additional time to spend in the city.
When the observatory was constructed, it was one of the most advanced space observation centers of its time. Today you can wander among the stone passageways of the observatory just like the stargazers of centuries ago.
Pay Your Respects at the Hazrat Khizr Mosque
The Hazrat Khizr mosque sits perched atop a hill just across from the Bibi Khanym mosque and the Siyob bazaar.
The site is compact and is often overlooked. However, what the mosque lacks in size, it makes up for in spiritual importance. Hazrat Khizr is one of the oldest Muslim sites in Samarkand.
In Islam, Khizr was an important Saint. It is said that he appeared in front of the Samarkand governor as an apparition and instructed him to build a mosque on this hill. The original construction was destroyed during Genghis Khan's invasion and was rebuilt several times thereafter.
Hazrat Khizr is worth stopping by after you've stocked up on Samarkand bread at the Siyob bazaar. From this hilltop position, you can enjoy magnificent views across Samarkand. The city is a sea of turquoise domes and glittering minarets from up here.
Check Out the Work of Local Artists at the Chorsu Art Gallery
Samarkand's Chorsu Art Gallery can be found within the obscure-looking hexagonal building that sits behind the Registan. The building displays the contemporary works of numerous Uzbek artists.
The creations inside the gallery of those who are both established and emerging in the Uzbek art space. You may be interested to stop by here after a day of sightseeing.
Take a Day Trip to Shakhrisabz
Shakhrisabz is overlooked by a lot of people that visit Uzbekistan. While it is not necessarily worthwhile to stay overnight, it's an interesting place for a day trip.
The city sits 80km south of Samarkand, in Uzbekistan's Kashkadarya province. It can be reached via bus or with a private driver.
Shakhrisabz has more than 2,400 years of history. Amir Timur was born here, and there are numerous interesting sites that you can visit related to the Timurid period. Don't miss the Ak-Saray Palace, the Tomb of Jahangir, and the Crypt of Timur.
Where to Stay in Samarkand
Travelling in Uzbekistan is very affordable. There are accommodation options in Samarkand to suit every budget and travel style.
Budget Choice: Furkat Guesthouse
I stayed at the Furkat Guesthouse which was just a few minute's walk away from the Registan. It wasn't something luxurious, but it was very affordable, central, and the family that owned it were very sweet.
I arrived at the hotel at 7 am but the owner still let me check in some seven hours early. Rooms here start from around $20 a night including breakfast.
Click here to check the latest room rates and availability.
Luxury Choice: Bibi Khanum Hotel
The great thing about opting to stay in one of Samarkand's "luxury" hotel options is that these hotels are not accompanied by luxury price tags. The Emirkhan hotel is one of the highest-rated hotels in the city, and rooms start from just $90 a night.
The spacious rooms and decadent interiors are fit for a Sultan! Click here to check the latest room rates and availability.
Getting from the Airport to the City
Samarkand is one of the main cities that people think about when someone mentions the Silk Road. You'd be forgiven for thinking that Samarkand Airport is a big international hub but it certainly isn't.
Samarkand International is basically a small strip of runway and one conveyor belt in the middle of nowhere. I started my solo female trip to Uzbekistan by flying to Samarkand. To my surprise, when I stepped outside to catch some kind of bus, I was met with barren wasteland and a few stray dogs running around.
I saw a long queue, joined it, and discovered it was basically a line of people waiting for the bus to Moscow. Ha! To find a cab, you need to exit the airport and walk down towards the car park.
Getting into the City by Cab
Cabs in Uzbekistan are not always marked and you will generally find a lot of local people that give lifts to make a bit of extra cash. It's not necessarily sketchy, it's the way it is here.
Samarkand International is not too far away from the city centre. You shouldn't pay more than around 10,000 so'm to get from the airport to the city.
A Note About Airport Facilities
The airport has two ATM machines but they were both out of order when I arrived. There's a small currency exchange and I was lucky that the ladies working in it opened it up, especially for me when I arrived at 6 am. If you can, make sure that you have at least some US dollars with you when you arrive.
Getting to and from Samarkand from Other Uzbek Cities
I flew into Samarkand from Istanbul but I think that I was a bit of an anomaly. Most people start their Uzbekistan adventures in Tashkent. To get from Tashkent or Bukhara to Samarkand, you can take the train. The trains that run between these destinations are very clean and modern.
You can buy train tickets at the stations. Generally, you are okay to purchase tickets on your intended day of travel.
Not many people speak English in Uzbekistan. However, the people working at the train stations and transport hubs generally know enough to help you get a ticket. All of the information will be displayed in Russian, but you can show the ticket to the conductor on the platforms and they will assist you in finding your seat(s).
Getting Around the City
The trolleys are perhaps one of the best ways to get around Samarkand. A one-way ticket is 1200 som regardless of what stop you need to travel to.
The Samarkand bus runs between the train station and the "new" part of town, all the way to the historic centre. It stops outside all of the main attractions – the Registan, Gur e Amir mausoleum, etc.
Samarkand by Cab
You can also get around Samarkand by cab. It should cost 4000-5000 som to cover large distances in Samarkand (i.e. between the new and old town).
That said, I had pretty bad experiences with Uzbek cab drivers in general. You will often find that they try and charge tourists ten times the price – i.e. 50,000 so'm instead of 5,000. It's only a few euros but it soon adds up when you're constantly being ripped off.
Sometimes I noticed that they would let me stand in the pouring rain rather than take me for the actual rate. I really dislike aggressive negotiating so I generally preferred to take the bus.
Final Thoughts
Have any further questions about the best things to do in Samarkand, or planning an Uzbekistan itinerary in general? I spent three weeks travelling solo through Uzbekistan and would be happy to assist you with any queries you may have. I also composed this comprehensive Uzbekistan travel guide that addresses the main FAQs and concerns.
Drop me a comment below if you need anything and I'll get back to you as soon as I can. Safe travels! Melissa xo
---