With few resources available to help an intrepid adventurer plan their trip to Azerbaijan, I decided to write this Azerbaijan travel guide to answer any questions you may have.
If you are somebody that looks for travel adventures that lead you off the beaten track, away from the tourist trail and open your eyes to experiences that few have seen before you then Azerbaijan could be just the place for you.
This mysterious nation was notoriously difficult to enter until the Azerbaijan e-visa was introduced recently and though there is so much to see here, word about travelling in Azerbaijan hasn't really gotten out yet.
This guide is fairly comprehensive. Feel free to use the table of contents to navigate to the most relevant sections.
Azerbaijan Travel Guide:
Understanding Azerbaijan's Culture
Azerbaijan is not a country that we hear a lot about in the west, at least not where I grew up in the UK. Once part of the Soviet Union, Azerbaijan gained its independence in 1991.
Azerbaijan, like it's neighbour Uzbekistan, is a country that is mostly secular. Although officially the main religion of the country is Islam, the vast majority of people are not religious. You seldom hear the calls to prayer echoing through the towns and cities of Azerbaijan, and alcohol is widely consumed.
Places to Visit in Azerbaijan
Some of the best places to visit in Azerbaijan are detailed below. For more practical advice on planning your trip, and what route to follow, I have also written this Azerbaijan itinerary.
Baku
Situated at a crossroads between east and west, the Azeri capital of Baku presents a magnificent juxtaposition of ancient culture meeting modern contemporary living.
As the host of various prestigious sporting events in recent years, Baku is poised to become the new Dubai. A lot of travel destinations in Azerbaijan may be too isolated and rugged for some, but Baku is a perfect spot as either a starting point for a wider Azerbaijan itinerary, or as a base to explore the interesting sites nearby – the mud volcanoes of Gobustan, Ateshgah temple, and Yanar Dag for example.
While in Baku, don't miss the opportunity to wander through the ancient passageways of the mysterious palace of the shirvanshahs, marvel upon the iconic Heydar Aliyev centre, or sample delectable cuisines from around the globe at the colourful Nizami street.
Lahic
Nestled high in the Caucasus mountains, the quaint little village of Lahic was once a very important stopping point along the old Silk Road trade route.
The land that surrounds Lahic is rocky, mountainous, and unsuitable for farming. As a result, the people of Lahic concentrated their efforts on making handicrafts – specifically copper casting and carpet weaving.
Lahic-made products fetched high prices in Baghdad bazaars during the days of the camel caravans.
Lahic is not easy to get to but is well worth the journey, even if the village has become a little accustomed to tourists today. Many of the streets and passageways of Lahic are now overflowing with souvenir shops but there is still authenticity to be found in family homestays and in visiting crafts workshops to see local artisans at work.
Gobustan and the Mud Volcanoes
If unique and alternative sites and activities are your thing when you travel, then Gobustan definitely checks that box. Gobustan itself is a very Soviet-looking town that provides an interesting contrast to glistening Baku. The town aside though, the main attractions here are the mud volcanoes and the petroglyphs.
In a small site outside the town centre, Gobustan national park is the home of one of the largest collections of petroglyphs (caveman paintings) in the world. Some of the carvings and drawings here date back over 40,000 years!
If you can negotiate a price with a local cab driver here, you can also go speeding off into the desert to check out the mud volcanoes – an interesting phenomenon that I hadn't even heard of before I arrived in Azerbaijan!
The mud volcanoes are pretty unusual – the landscape here looks like something from Mars, and at frequent intervals, the volcanoes let out a trickle of cold, sticky mud. This may all sound pretty unusual, but my trip to Gobustan and the mud volcanoes was one of the highlights of my Azeri journey.
Sheki
Sheki, in northern Azerbaijan, is often the last stop for those travelling in Azerbaijan before they make the journey across the Azeri border to neighbouring Georgia.
Though it is small and compact, Sheki is one of the most interesting stopping points in the country for those interested in silk road architecture and heritage. Most notably, you can stay in an awesome caravanserai that feels like you have travelled back in time (no wifi, lit by gas lamps, etc).
Don't miss the nearby village of Kish, home to beautiful walking trails and an old Albanian church.
Quba
Quba is a small city located some 150 miles north of Baku. The highlight of Quba is the breathtaking scenery that is to be found in this region, particularly around the smaller villages of Laza and Xinaliq.
Though Azerbaijan is slowly starting to see a trickle of tourists that increase each year, this region is pretty off-the-beaten-path and you are likely to be the only foreigner exploring the area when you go. I recommend using Quba as a base to move around the surrounding villages.
Azerbaijan Travel Guide:
Getting to Azerbaijan
You have a few options for entering Azerbaijan and can do so by air, sea or rail/land border crossings. With that said, there are certain visas that you may need to possess for doing so. I have expanded on this below.
Enter Azerbaijan by Air
It is very easy to travel to Azerbaijan by air. Several flight carriers offer routes to Baku international, including a number of budget airlines such as Pegasus.
Be cautious of taxi scams at Baku international if you plan on arriving in this way. Drivers frequently charge tourists 10 times the actual price, so I would advise you to use Uber or Yandex taxi to order your cab.
Enter Azerbaijan Overland
When I left Azerbaijan, I did so by crossing the border with Georgia. This was a very easy and pain-free process and I guess the guards are accustomed to seeing foreign tourists.
From Georgia, you can cross the border from Tbilisi to Ganja, or from Lagodekhi to Balaken (for Sheki). I used the latter.
Travellers can also cross the borders from Iran to Azerbaijan, provided they are in possession of relevant visas.
A night train runs between Tbilisi and Baku via Ganja which is another option that omits having to chop and change on various marshrutkas and buses.
Enter Azerbaijan by Sea
Quite the adventure is to enter Azerbaijan by the sea! This could be a suitable option if you are already travelling through Central Asia.
You can cross into Azerbaijan by boat from Kazahkstan, Turkmenistan, and Karakalpakstan (in Uzbekistan). Again, this is assuming that you have all of the necessary visas in place.
What to Expect When Travelling in Azerbaijan
As far as I'm concerned, there are two sides to Azerbaijan: Baku, and the rest of the country. Thanks to an influx of oil money, the glittering capital of Baku is trendy and reminiscent of any European capital.
A comprehensive public transport network of metros and buses services the capital city and its surrounding areas so it is easy to get around. English is pretty widely spoken, and travelling in Baku just feels like visiting another European city. When you branch a little farther out though, things change completely.
Many of the smaller towns and villages in Azerbaijan are isolated and tricky to get to. Public transport servicing these places is pretty much non-existent.
With that said, Azerbaijan is rich in undisturbed, natural beauty. Locals in rural areas are friendly and welcoming, even when language barriers mean that they cannot easily communicate with you.
The great thing about travelling in Azerbaijan is having all of this beauty to yourself.
Getting a Visa For Azerbaijan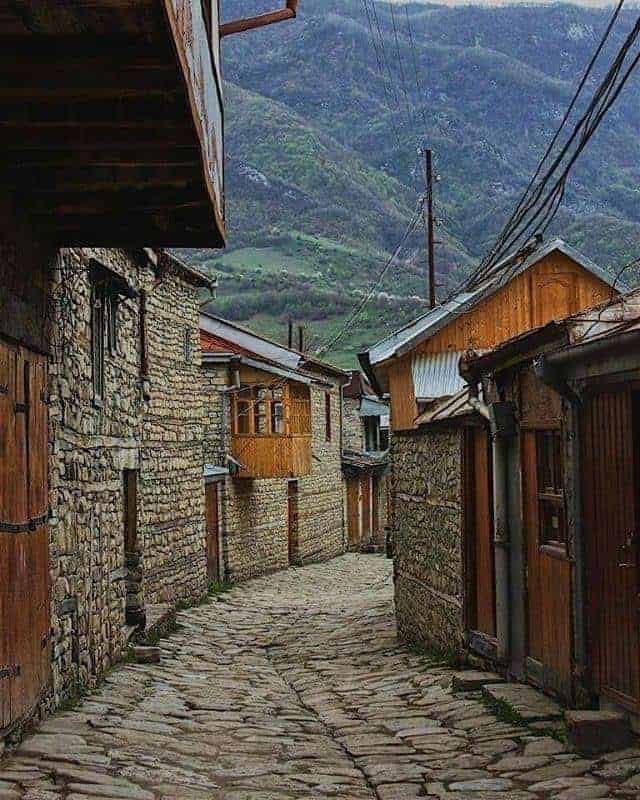 Until recently it was incredibly difficult to get a visa for Azerbaijan, however, the new e-visa makes this process quick and painless. Citizens of most countries are eligible for an Azerbaijan e-visa (including British and American citizens.
The process takes just three days. Double-check your eligibility and the Azerbaijan visa requirements before applying for an Azerbaijan visa.
By the way, BE CAUTIOUS! There is another site that looks incredibly similar to the official Azerbaijan e-visa site but it is actually a tourism company that charges three times the price of the actual Azerbaijan visa fee. (aka it is essentially a scam and not what you want or need).
I have clarified the correct addresses for buying your Azeri visa below:
Azerbaijan Official Evisa Website: Evisa.gov.az
Azerbaijan Dodgy Rip Off Evisa Website: Evisa.com.az
If you have travelled to Armenia in the past, you may have difficulty in obtaining an Azerbaijan visa since the two countries are technically at war.
I had no issues with my visa when I arrived in Azerbaijan, it was just glanced at briefly, stamped, and then I was sent on my merry way.
IMPORTANT:
Azerbaijan Police Registration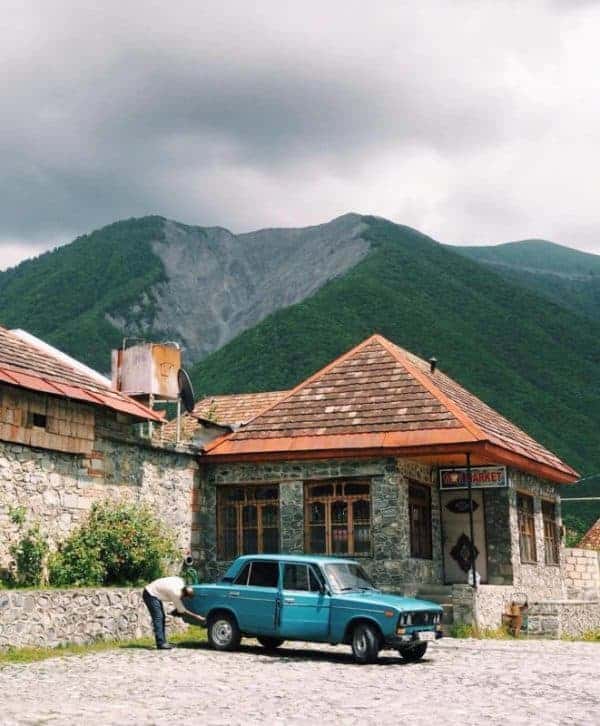 You must register yourself as travelling in Azerbaijan if you intend on staying in the country for more than 15 days. Failure to do so will result in a hefty $200 fine upon exiting the country.. Or you could refuse to pay the fine and be banned for re-entry for several years, I'm not judging (judging just a little – I strongly recommend the former).
Anyway, the process is pretty straightforward so you have no excuse really. If you are staying at a hotel or hostel, they will take care of this for you.
All I had to do was give the lady at my hotel a scan of my visa and passport and she sorted the rest for me. If you are staying at an Airbnb, you will have to do it yourself – try and have an Azeri friend help you.
What Language is Spoken in Azerbaijan?
The official language of Azerbaijan is Azeri, a Turkish dialect. If you have travelled to Turkey previously, you will notice a lot of similarities between these two languages. Years of Sovietism means that Russian is also commonly spoken.
A lot of Azeris speak decent English in Baku, particularly the younger generations, however, venture outside the capital to visit Quba and other more rural places and you will not find anyone that speaks English, nor that has even heard of it.
To make things just a little more complicated, in some towns and villages people don't even speak Russian or Azeri at all, but have their own local languages. For example, in the village of Lahic, the people speak tat – a language which is nothing like Azeri, and closer to Iranian Farsi.
Communicating with Locals
Unfortunately, I cannot speak Russian or Azeri bar one or two words here and there. If you are travelling along the Silk Road, it's advisable to learn at least a little Russian since this is the most widely spoken language in the region, however, I got by just fine with using the Google Translate app on my phone.
Some useful apps that you may want to consider downloading to help your Russian along (if you are interested) are listed below. Even the free versions of these apps were very useful.
What to Eat in Azerbaijan
I have heard mixed reviews from other travellers regarding the food in Azerbaijan but honestly, I really enjoyed it. The food I encountered was tasty and diverse, especially if you compare it with nearby countries like Uzbekistan or the other -stan nations.
In all honesty, many Azeri dishes are very similar to what you would find in Greece, Turkey, or the Middle East – a blend of Turkish style dishes (especially meats, dolmas, and shawarmas) and Arabic style foods (like my beloved shakshuka).
A few things to consider sampling in Azerbaijan are summarised below for your reference.
Yarpak Xangal – Delicious and filling, yarpak xangal is a dish comprised of sumptuous marinated meats, pasta, onions, and Greek yogurt.


Dolmas – As per what you may have sampled previously in Greece or Turkey, dolmas are made up of lovely flavourful meat pieces wrapped in vine leaves and typically served with a small side salad.


Piti – Piti is a very common dish in Azerbaijan, albeit one that is not for everyone. This soup is cooked in a clay pot and is typically comprised of meatballs (lamb or beef), chickpeas, vegetables, and potatoes. It is doused in lamb fat and has a somewhat oily consistency.


Kebabs – There are lots of great barbeque spots around Azerbaijan. You will often find restaurants where lots of raw, skewered meat is set out behind the counter and you can select a few skewers. Lyulya kebab is a particularly nice one that consists of minced lamb. Be sure to enjoy it with a generous dollop of the spicy homemade Azeri tomato sauce.


Dushbara – Dushbara are dumplings that are kind of like Azerbaijan's answer to tortelloni. The dough is stuffed with minced meat, onions, and vegetables and served in a broth with spices and seasonings.


Menemen – Azeri breakfast is typically very similar to Turkish breakfast (menemen). This is usually eggs (boiled, fried or omelette) served with chopped tomatoes, cucumbers, deli meats and cheeses, and breads.


Shakshuka – My beloved shakshuka is also available in Azerbaijan! This is poached eggs served with tomatoes and spices.
How Much Does Travelling in Azerbaijan Cost?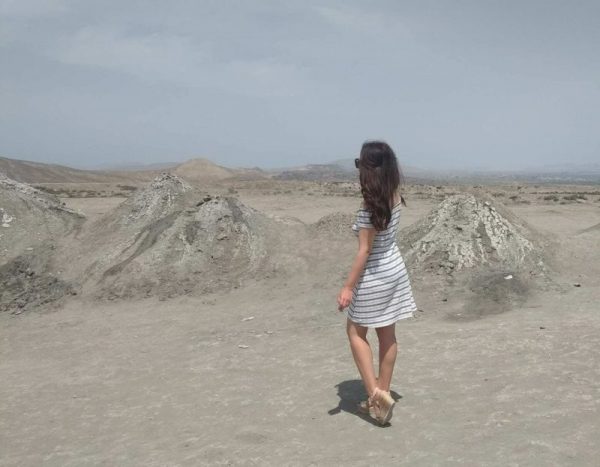 Azerbaijan is probably one of the cheapest countries that I have travelled to. While I am by no means a lavish luxury traveller, I am not a budget backpacker either. I stayed in decent hotels, ate out for every meal and often took cabs and my daily budget didn't typically exceed $20 – $30.
There were a few exceptions to that when I stayed in particularly touristic areas or I fell victim to a scam, however, for the most part, Azerbaijan is a budget-friendly destination for both backpackers and mid-range travellers.
Travelling in Azerbaijan Cost Breakdown
For your reference, I have included a breakdown of some of the main costs of travelling in Azerbaijan below:
Budget Hostel Accommodation – Between $6 and $12 per night for a dorm room


Mid Range Hotel (local 4 stars) – Between $20 and $35 per night ( I stayed at the Vania Hotel in Baku which was just $15 a night for a double room including breakfast – definitely recommend!)


Fast Food (Kebab, etc) – Between $1 and $2


Meal at a Local Restaurant – Around $6 including starter and drink



Meal at a "Nice" Restaurant in Baku – Around $9 including starter and drink


Beer at Local Bar – $2


Beer at Night Club in Baku $4


Baku Metro Ride – $0.12 (Yes, seriously)


Baku Bus Ride – $0.12


Uber Ride in Baku – Between $2 and $4


Marshrutka Shared Bus Between Cities – Between $2 and $4
As you can see, depending on your travel style it is very easy to keep your costs of travelling in Azerbaijan down to around $20-$30 per day. Admission fees are generally pretty low in Azerbaijan too and it often costs less than $1 to enter museums and notable sites.
The main issue you may have that upsets your budget for Azerbaijan is dealing with scams in Azerbaijan which I will get to later…
Religion in Azerbaijan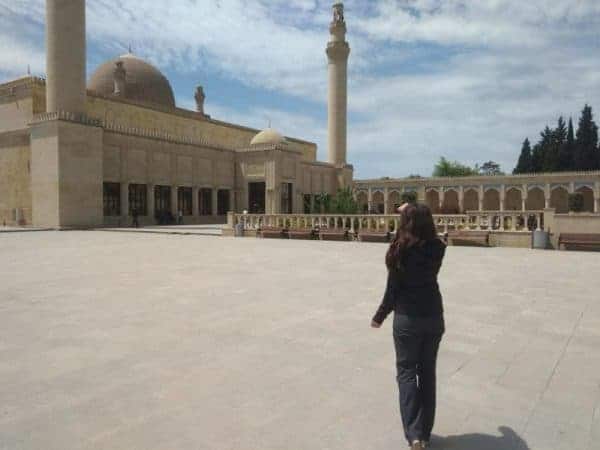 As I mentioned, Azerbaijan identifies itself as a Muslim country but it is mostly secular. That might have you thinking that you need to dress conservatively, to cover your arms and legs and to be modest much like travelling in the Middle East, right? Not exactly.
Though the official religion of Azerbaijan is Islam, it is a largely secular country and very few people actually practice the religion. It was unusual to me to see the beautiful minarets of so many ancient mosques scattered around Baku but to find there were no calls to prayer.
Alcohol is also widely available in Azerbaijan. Decades spent under the soviet rule means that many Azeris love their vodka as much as their Russian neighbours!
What to Wear
In Azerbaijan, you will not find people wearing headscarves or other typical Muslim attire. Walking around Baku in shorts and a tank top will also not cause offense – you will find that other local women are doing exactly the same!
With that said, I generally preferred to err on the side of conservative, especially in the more remote areas where travellers (particularly solo female travellers) are an uncommon sight. You will find that despite not being incredibly religious, people in rural Azerbaijan tend to dress more modestly as part of the culture.
Is Azerbaijan a Safe Place to Travel?
I generally felt pretty safe in Azerbaijan and I visited the country as a solo female traveller. Travel guides will warn you about pickpockets on the Baku metro but I think they exist in pretty much any major city.
I felt perfectly safe in Baku even when walking around the city centre alone in the evenings. Just exert basic common sense and you will have a safe, trouble-free time.
Internet and Wifi in Azerbaijan
Baku is pretty good for wifi – most hotels, restaurants, and cafes offer it and the speed is decent. In more remote areas, you will find it in some hotels but it isn't so reliable and can be very slow.
For that reason, I would recommend taking an Azeri sim card so that you can stay connected.
Sim Cards in Azerbaijan
Azercell sim cards are pretty cheap and can help you to ensure that you stay connected wherever you are when travelling in Azerbaijan. For 10 manat you can receive 5GB of data.
Unfortunately, though, sim card scams are a thing in Azerbaijan and there are some unauthorised dealers that try selling them for whatever price they want. For this reason, you should visit one of the below authorised Azercell sellers upon arrival in Baku.
33a, 28 May Street





Ganjilik Mall (First floor at Maxi.az store. Ganjilik Mall is located at Gankilik metro station)





26a Tagiyev Street





B.Bagirova Street
Transport in Baku
Getting around Baku is very easy and straightforward. The city has an excellent network of buses and trains. Taxis and Ubers are also readily available.
Taking Ubers in Baku
I took Ubers quite a bit in Baku and even when it felt like I was travelling all the way from one side of the city to the other, the price never really exceeded 2 manat.
The Uber drivers were nice and friendly and I had no issues. I would recommend that you always check the car reg before getting in though. I have heard of people shouting "Uber!!" when it's not actually an Uber, but some random bloke with a car trying to make a few dollars…
There is also the "Yandex" taxi app that is essentially the same as Uber. Though I didn't use Yandex in Azerbaijan, I had only positive experiences when using it in nearby Uzbekistan.
Riding Buses and Taking the Metro in Baku
As above, it's incredibly cheap to ride buses and the metro in Baku. It is actually not possible to buy single-ride tickets here, you need to buy a BakiKart (Baku Card).
These are available at some metro and bus stations but unfortunately the machines that sell them have no English options – only Russian and Azeri. Ask a friendly local to help you out! Fortunately, I was frowning and pressing random buttons and a guy just materialised to help me out. The card costs 2 manat, which is around $1 or 80p.
Taking a Cab From Baku Airport to Baku City Centre
It should cost you 13 manat to get a cab from Baku airport to Baku centre. That equates to around 5.70 GBP or $7. I would strongly recommend that you take an Uber to get from the airport to Baku because the taxi drivers will do their damndest to rip you off.
Scammed at Baku Airport
I was pretty irritated because I arrived in Azerbaijan at around 2 am. I asked the woman working at the airport information desk the price of getting a cab from Baku airport to the city so as not to get ripped off, and she told me it would be 30-40 manats.
That seemed fine except as above – the price should be 13 manats according to some locals I met in Baku. A fellow traveller and I checked Uber too and the price there is 13 manat.
When I got outside, the cabbies tried to charge me 100 manats! I pushed for 40 because according to the woman at the airport, that was the going price (turns out she was wrong).
The cab driver agreed however when I reached my hotel he wouldn't let me out of the car and insisted the journey cost him so much in gas that I had to pay an extra 10 manat – aka, another $6. Unfortunately I met a male solo traveller in Baku who had the exact same experience as me.
For that reason I would recommend using Uber, saving yourself a small fortune and not helping these tricksters continue to scam travellers.
Getting Around Azerbaijan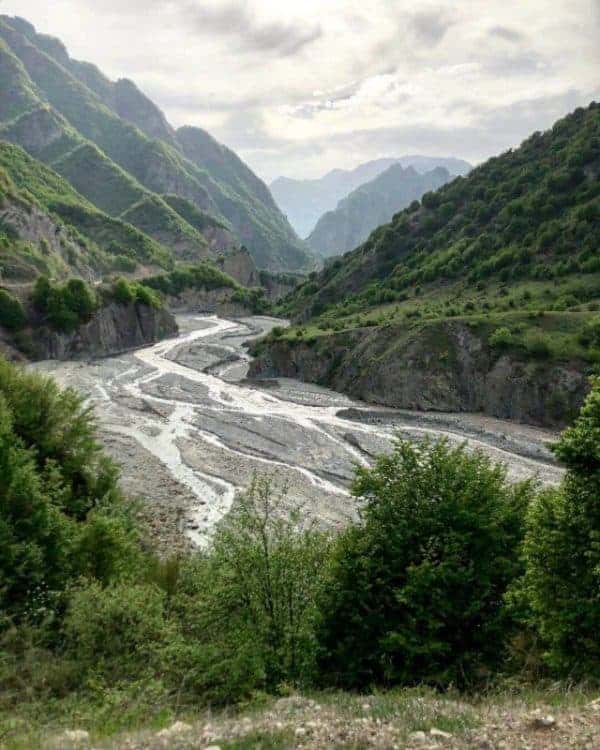 As you can see, it is pretty cheap and easy to get around Baku. For the rest of the country, things are not so simple. I have broken down the various transport options in Azerbaijan below.
Travel Azerbaijan by Rail
Public transport is limited in Azerbaijan. The only train route is one that runs from Baku to Ganja and Tbilisi, Georgia, therefore missing most of the tourist route.
As such, this is not really very useful (unless you only want to visit Baku and Ganja and miss out on all the good stuff in the middle!)
Marshrutkas
Arguably the best and cheapest way to get around Azerbaijan is by taking a marshrutka. Marshrutkas are shared minivans that depart when full.
Marshrutkas service most major cities (Baku to Shamakhi, Lahic, Ismaili, Quba, Qubala, Sheki, and Ganja). The ride will not cost more than 4-5 manats even though they are covering huge distances.
In some areas, these are really infrequent (circa once per day). Sometimes the buses arrive already full which can be a problem for you and means that you have to try your luck haggling with cab drivers.
Related Article: The Mud Volcanoes of Gobustan
Scams in Azerbaijan
Ugh. I'm sorry to write this but it feels as though travelling around Azerbaijan is synonymous with being scammed and ripped off. Before I travelled to Azerbaijan other travellers and bloggers warned me about this and although I don't want to be a negative Nancy, I want to share my experience.
To be honest, bar the airport taxi ride, I had only positive experiences in Baku and I was singing the country's praises. However, when I left Baku, I had problems at every turn and it actually turned me off spending any longer in the country. I don't want to be too much of a Debbie Downer, but I believe it's important to prepare yourself and so I have noted some of the most common scams to be aware of in Azerbaijan below.
Menu Scams
Once or twice when I ate out at a restaurant, I noticed that the bill that came back to me was completely different to the prices that I saw on the menu. The worst incidence of that was when I ate at a place called Sultan House Restaurant in Sheki (including the name in case you find yourself in Sheki and see it on the main strip – avoid it!)
It was something like 1 manat for a coffee and 5 manats for a Turkish breakfast (a "menemen" tomato omelette with tomatoes and cucumber on the side).
The guy also gave me some sob story about how his Mum had baked a cake so I also ordered this cake. The bill that came back to me was 5 manat for the coffee, and FIFTEEN MANAT for the breakfast (he told me it was actually 5 manat per ingredient, yeah right). The cake was 7 manat.
The total was 27 manat – aka, the most expensive meal I ate in Azerbaijan, even exceeding meals at fancier places. This was just a diner with dirty cutlery. I asked the guy to double-check the prices but he said I misunderstood the menu and the prices changed.
When I disputed, a group of thuggish guys surrounded my table and started yelling at me in Azeri. This type of thing happened to me a few times travelling in Azerbaijan.
Taxi Scams
Like travelling anywhere, you need to research the correct prices for cabs and haggle with the drivers. In Azerbaijan, I noticed cabbies quoting me prices that were not just a few manat above the actual price but anywhere between 5 and 10 times the amount.
I also had a terrible experience with a cab driver in Ismaili who, when I told him that I couldn't afford to take a cab to Sheki but wanted to take a bus, watched me sit and wait at the bus stop in the rain for 3 hours before shoo-ing my bus away when it arrived, telling the driver I was waiting for another bus, and then laughing and telling me I had to take a cab after all. What an asshat.
Another guy agreed on a price with me, which I confirmed back several times, but then when we arrived at the destination, he said I had agreed to a price that was five times more and tried running off with my suitcase.
Don't Leave Money Unattended
This never happened to me, but it was mentioned to me by other travellers so I am including it here for your reference. Some travellers told me that there were occasions where they handed over an amount for a bill, the person scuttled off to get some change, and they either never materialised again or they disputed owing change.
I often stayed at hotels where they advised me that they couldn't afford to give me change until the next day in which case I went out, bought some gum, and gave them the exact amount.
Solo Travel in Azerbaijan
Is Azerbaijan solo travel-friendly? Well, that depends. Due to the language barriers, the scams and the difficulty in getting around by public transport, travelling solo in Azerbaijan isn't the easiest thing in the world, however, I never felt unsafe or afraid.
If you are a solo male traveller, you will be fine. As a solo female, there are some additional considerations that I have expanded on below for your reference, but nothing really sinister.
Solo Female Travel in Azerbaijan
I had both good and bad experiences in Azerbaijan. After some time, the perpetual scams really irritated me. I don't know if my being a woman had something to do with it and that maybe people thought that I would be less likely to contest, who knows?
Attitudes Towards Solo Female Travellers
The thing that didn't sit well with me about Azerbaijan was the way I was treated as a solo female traveller. For instance, men would become very aggressive towards me and seemed thuggish in their approach when they were trying to trick me and I dared to question them.
When I disputed my restaurant bill in Sheki, a group of men encircled me and one leaned against my chair, forcing me into the table and trapping me inside. To me, that is really disgusting behaviour towards a woman.
Male Attention in Azerbaijan
I received a lot of attention from men which made me uncomfortable at times. Strangely I never really saw any Azeri women (alone or accompanied) anywhere in a lot of the towns and villages – it was all men working in and sitting at restaurants and tea rooms and they would all stop what they were doing to stare at me or take my photo when I entered somewhere.
In Shamakhi, guys in cars kept approaching me and two actually had an argument over who spoke to me first.
One thing I would say is to be cautious of over-friendly males in Azerbaijan in any capacity. For example, I was getting harassed a lot by men in Shamakhi, and the guy that owned my hotel gave me his number in case of emergency, but then he too kept contacting me all the time. Ugh.
If I was sitting alone, sometimes people would just seat themselves at my table, in which case a firm "NO' or moving seats worked.
For more inspiration on travelling to Azerbaijan, review these interesting facts about Azerbaijan.
Do you have any questions or queries about travelling to Azerbaijan or anything I should add to this Azerbaijan Travel Guide? Feel free to reach out to me. Safe Travels, Melissa xo
---