Renting a car in Sicily is one of the best ways to get around the little Southern Italian island. Public transport here leaves a lot to be desired and although trains and buses across the island exist, they run on infrequent schedules and can be unreliable.

Even getting to well-known coastal towns and historical attractions is not all that easy in Sicily without a car. Places that should theoretically be straightforward to get to often require multiple bus transfers.

Journeys that should be relatively straightforward can wind up taking hours. Getting anywhere in Sicily can really start to test your patience and so, if you can drive and you are confident enough to drive overseas, doing so here comes highly recommended.
Renting a Car in Sicily in 2023
Renting a car in Sicily gives you a lot more freedom and independence than having to depend on public transport. It also enables you to travel more off the beaten path to secluded beaches and rural country villages that you would otherwise not be able to reach.
Several reputable international rental firms operate in Sicily – including the likes of Avis, Budget, and Europcar. Smaller, local firms can also be pretty good and should not be written off.

Use a rental car comparison website like Discover Cars to compare the different deals available. Always read past reviews, particularly if you are opting to rent through an independent company. 
Cost of Renting a Car in Sicily
The costs of renting a car in Sicily are pretty reasonable – even in the height of summer! Tourism here is very seasonal and the peak season runs between late May and late September, with July and August being the busiest months.
If you want to rent a car in Catania for a week in August, you are looking at a price of approximately € 234.26 for 7 days. That's just €33.5 a day and the rate includes unlimited mileage, collision damage waiver, theft protection, third-party liability insurance (TPL), and roadside assistance.
Palermo pickups are comparable in price. (They are slightly more expensive at € 297.27 a week, arguably because Palermo is the capital and the more popular entry point into the country.)
If you travel to Sicily out of season, you can secure even better prices with car rental companies. In October, you can secure a Catania rental for just € 97.16 for 7 days.
In late November, you can secure one for €46.75 for 7 days. That is just €6.7 per day!
Be sure to use a comparison site like Discover Cars so that you can search for the best rental prices between various providers. A lot of rental car companies (including Discover Cars) also offer free cancellation – meaning that you can lock in a good price on your rental in advance, and you can easily change or cancel it if your travel plans change. 
What type of car should you rent in Sicily?
You want to look into hiring a small, economy-sized vehicle for exploring Sicily. This is because the streets here are narrow and not wide enough to accommodate large vehicles.
This can be quite a culture shock if you are visiting Europe from the US or Canada. Honestly, if you try to rent a larger vehicle or an SUV, you will get into difficulty because you simply won't be able to fit down streets and alleyways in some city centres, and you will struggle on country roads, many of which are only wide enough for one car to pass at a time.
A small vehicle like a Fiat Panda, a Fiat 500, a Citreon C1, a Toyota Aygo, or a Lancia Ypsilon is perfect for exploring Sicily. These cars are big enough to fit a family (4-5 people) and a couple of bags, and small enough to fit down narrow streets.
If you are travelling with a lot more luggage or things like baby strollers, etc, you might want to look at a slightly larger vehicle. If you are unsure, you can contact customer service for the rental company you are using to ask for their best recommendation.
Look for a vehicle with air conditioning
It can get very, very hot in Sicily from June onwards. (Temperatures often soar well above 35°C-40°C!)
If you are driving beneath the Mediterranean sun during midday, the heat can often feel unbearable. So, its a good idea to make sure your car has powerful aircon (and to test it when you pick up the vehicle!)
When to book your Sicily rental car
You should try and book your Sicily car rental as far in advance of your travel dates as possible. Generally speaking, the closer to your departure dates you leave it, the more expensive it becomes. The same could be said of planning all aspects of your trip to Italy!
Most cars in Italy are small and manual. Automatic cars are often in limited supply so if you specifically want/need to rent an automatic, that should be an additional reason to reserve your car as far in advance as possible.
If you book at the last minute or try and get a car at the airport or in person on arrival in Sicily, you may find that prices have shot up significantly.
Deposits for vehicles may or may not be required depending on the specific company you use.
It is a good idea to purchase your car insurance at the same time that you reserve your vehicle. That way, you have the peace of mind that everything is already organised and taken care of well in advance of your trip.
Car insurance for Sicily car rentals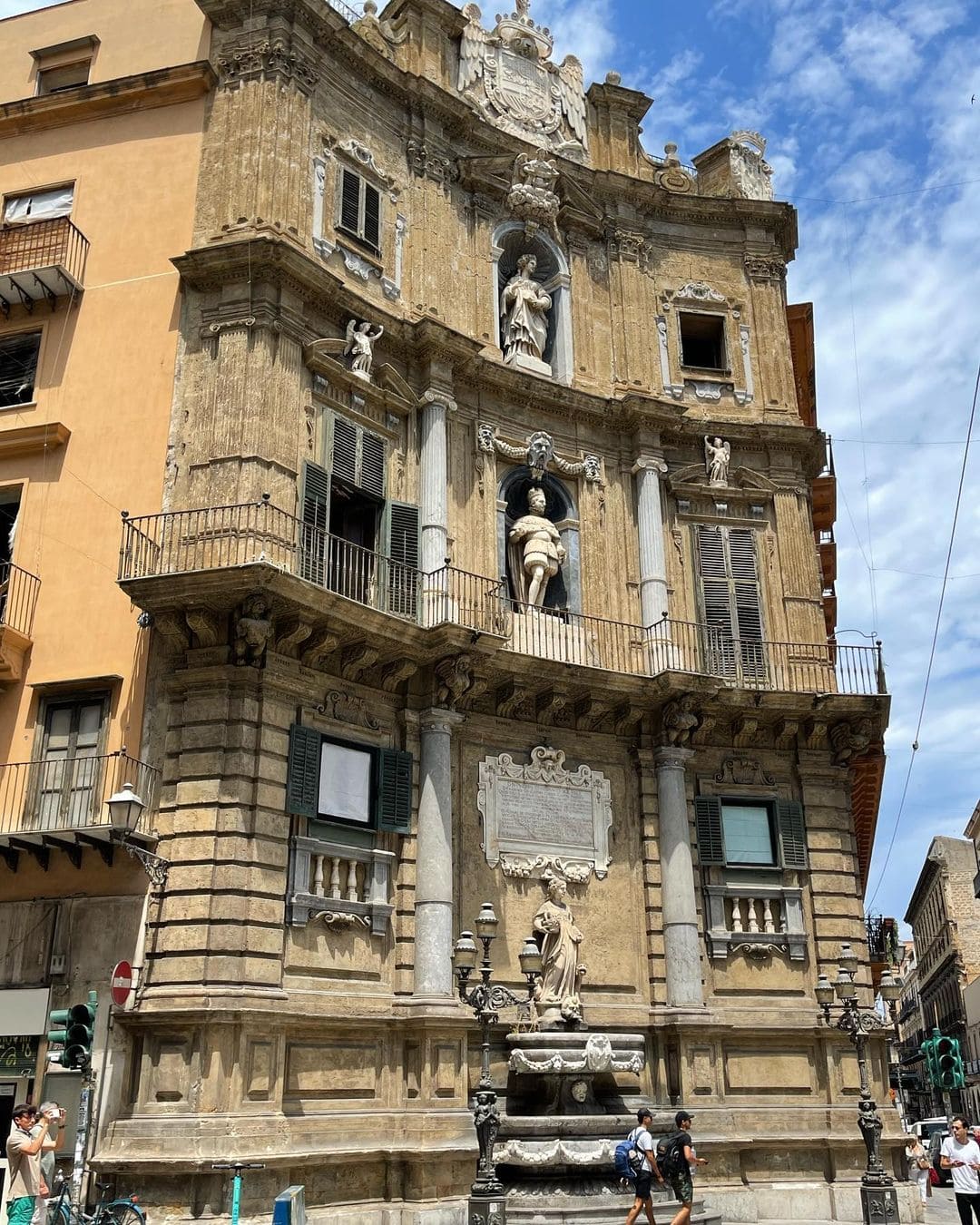 Purchasing comprehensive insurance is essential for renting a car in Sicily (and renting a car in Italy in general). By law, you must have Third Party Liability, Collision Damage Waiver (CDW), and Theft Protection insurance.
These are generally included in the initial quotations. However, it is a good idea to opt to purchase full coverage insurance.
That way, you are covered for any and every eventuality. It also means that you don't have to pay an excess (which is often around €1000-€2000!
Southern Italy and Sicily are safe for the most part. However, petty crime is more common here than in the Central and Northern parts of the country.

Full coverage insurance plans often also include Personal Effects Protection which covers your personal belongings should anything happen to be taken from within your car. (You should also not leave valuable items in the car or on display).

Always read the small print of any policy that you are considering so you know precisely what you are covered for. If you have a credit card that comes with international car insurance, it is worth keeping in mind that Italy is excluded from most international policies.
Understand the requirements for renting a car in Sicily
You must be 18 years old to rent a car in Sicily. The maximum age limit varies from company to company but it generally tends to be around 70-75 years old.

If you are under 25 or you have only recently obtained your driving license, you may be required to pay an additional premium. A full driving license is required and if your driving license was issued from outside of the EU (excluding the UK), you also need to have an International Driving Permit (IDP) in hand.

Fortunately, the process for acquiring an IDP is fairly straightforward. But it is something that you should organise in advance of your Sicily itinerary.
Getting an International Driver's Permit for travel to Sicily
The process varies depending on which country you are from. It is important to note that you must apply for an IDP in the country where your driving license was issued. You can check the information for all countries here.
If you are British and aged 18 and above with a full driving license, you do not need an IDP to drive in Italy. However, if you want one for your travels, you can get your IDP from the post office for £5.50.
If you are American, you need to print out and fill out your IDP application and then take it to your nearest AAA branch. The permit fee in the USA is $20.
Do note that you must apply for your IDP in your home country. You cannot get it in Italy/Sicily!
Make copies of all important documents
Theoretically, the Sicilian police can ask you to present your driving license, other ID documents, and rental papers at any moment. Realistically, this is only likely to happen if you are involved in some sort of accident.

You will need to present your passport and driving license to the rental office when picking up your vehicle. You need to carry your license and vehicle details with you at all times.

It is also a good idea to make copies of everything. At the very least, take photos of your passport, driving license, and rental information, store it on your phone and upload it securely to the cloud. This is good practice whenever and wherever you travel.
Airport pickups are popular
Sicily is home to four international and two national airports. Usually, you will fly into Palermo's Falcone Borsellino Airport or Catania's Vincenzo Bellini Airport.

Both are serviced by numerous international flight routes to other destinations in Europe, the Middle East, and further afield. It is possible to collect your rental vehicle from both of these airports.

This is perhaps the most convenient option. However, sometimes, prices are higher if you opt to collect your vehicle from Catania airport rather than Catania city centre and from Palermo airport rather than Palermo centre.

Sometimes, the price difference is marginal but it is worth playing around with the quote tool on rental comparison platforms to double-check. If you are planning on spending a couple of days in Catania or Palermo, you might find it preferable to get a bus or transfer to the city.

You can explore both of Sicily's main cities on foot. That way you may find that you save yourself some money as you may not necessarily need a rental car for the first couple of days of your trip.
Think carefully about your pick-up and drop-off points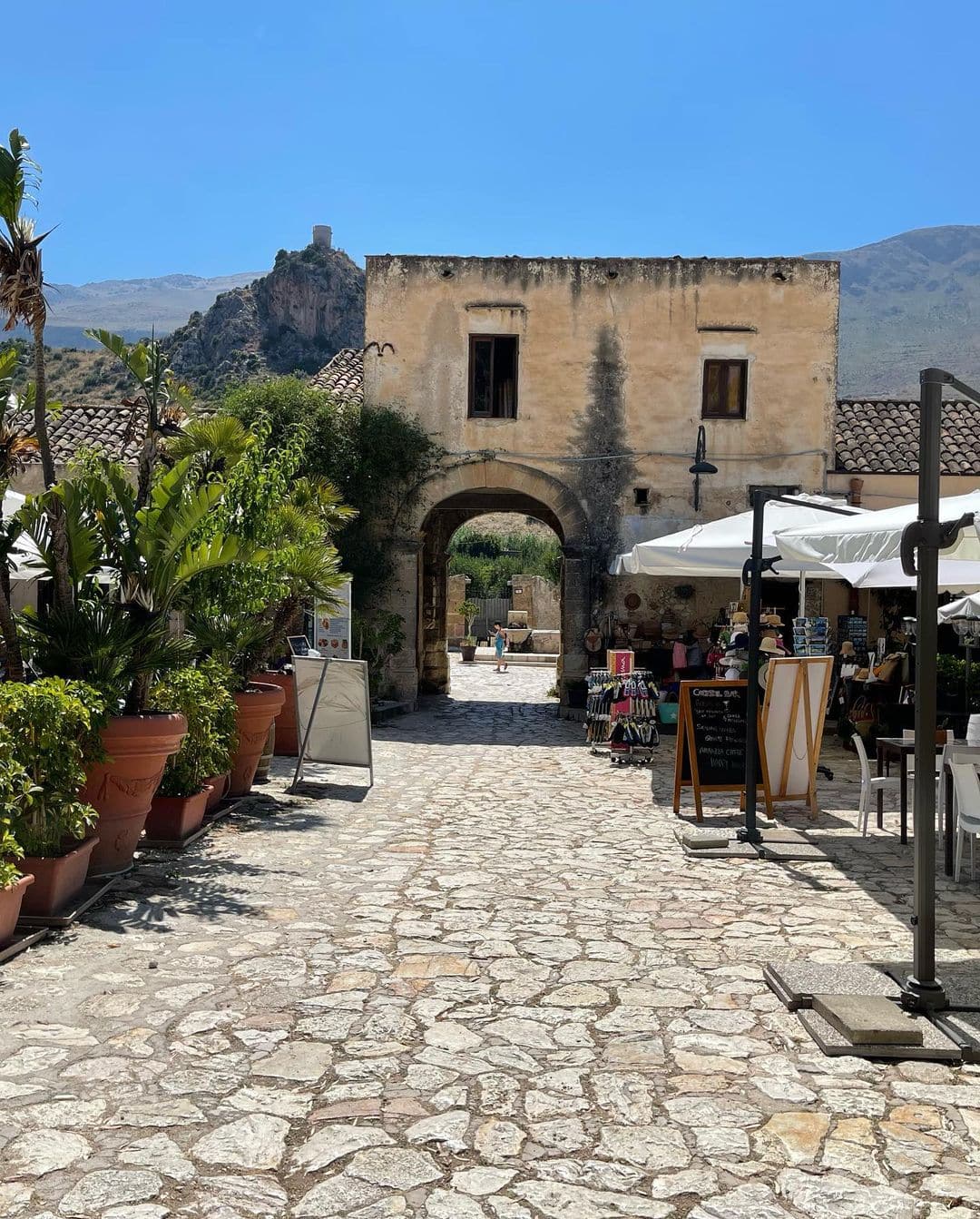 One-way rentals (i.e. rentals whereby you pick your vehicle up from one place and drop it off in another) often cost more than a rental where you collect and drop off your vehicle in one place. Sometimes the price difference is significant and it often works out better to plan your itinerary so that you travel around Sicily in a loop.

For instance, you might be considering collecting your rental car in Palermo, driving east across the island, and dropping it off at Palermo airport. Check everything carefully to see what option is best based on convenience/cost.
Thoroughly check your vehicle before driving off with it
Wherever you travel, you should always be very careful about checking your rental car thoroughly before driving off with it. Unfortunately, scams do happen from time to time.
You will usually be asked to sign an inventory confirming the condition that the vehicle was in when you picked it up. Be sure to document every nick or scratch and check both the inside and the outside of the vehicle.
Read your rental agreement thoroughly so you know precisely what is included, what is not, and any additional fees you are likely to incur.

It is a good idea to photograph everything. That way, you have time-stamped photo evidence of the condition the car was in when you collected it.

So, if your rental company tries to dispute anything later, you are covered. Save the photos on your phone and upload them to the cloud. Do the same when you return the vehicle.

It is a good idea to do this whenever you travel and rent a car. It is better to be safe than sorry.
Getting gas in Sicily
A gas station in Italy is known as a benzinaio. You may also hear them referenced as distributore di benzina or a stazione di rifornimento.
You will usually find plenty of gas stations scattered around the island – in cities, towns, and rural areas. Use your GPS or Google Maps to see where they are located.

Some gas stations, like many businesses, close in Sicily on Sundays. Others remain open.
Google and Google Maps will usually inform you of their opening times. A lot of Sicilian gas stations open around 7 am and close at around 7-8 pm, with a brief closure in the mid-afternoon for siesta.

Bizarrely, the price of gas can vary from one part of the island to another. However, as of June 2023, the island average is around €1.82 per liter.
In Italian, diesel is diesel, benzina is petrol, and senza piombo is unleaded petrol. It is important to check what type of fuel your vehicle needs before you arrive at a gas station as there is often no one around to ask.
(If you are unsure, there should be a sticker somewhere in the vehicle that states the type of fuel the car uses. It may be on the dashboard, the fuel door, or the car key.)
Most gas stations in Italy and Sicily are self-service. However, some stations do offer full-service which is obviously the more expensive option.
(When you want someone to fill your tank, a simple "benzina/senza piombo/diesel" per favore" is all you need to ask.)
Few people speak English in Sicily, but any efforts to communicate in Italian are appreciated.
Taking Italian rental cars across borders
If you are renting a car on the mainland or renting a car in Puglia for example, many rental companies will be fine with you taking your vehicle to other Italian districts and across borders. (But always double-check, never just assume).
However, if you are renting a car in Sicily and hoping to cross to the mainland to explore southern Italian regions like Calabria, Basilicata, Campania, and Puglia, you may have an issue. A lot of car companies do not want their vehicles traveling on the ferry.
So again, you need to double-check this in advance. They may allow it, but they may not, depending on the specific company.
If you want to take your vehicle into neighbouring European countries, you will usually be required to pay a cross-border fee. This covers your insurance, taxes, and any other fees required.
Catania car rental
You can get a Catania car rental for between €5 and €35 a day. Prices vary depending on the season and demand.

Cheaper isn't always better so use a comparison website like Discover Cars to obtain a few no-obligation quotes. If a deal seems too good to be true, sometimes it is.

You can pick up your Catania car rental from Catania airport or the city centre. Renting a car in Catania puts you in a good place to then explore Sicily's eastern coast. You can drive north to the charming town of Taormina, and south to Siracusa, Ortigia Island, Noto, Pozzallo, and Ragusa.
Returning your Sicilian rental car
Make sure that you are aware of any requirements for returning your Sicilian car rental. Remove all your personal belongings from the vehicle and give it a quick clear out to be sure not to incur any additional fees.
Most Sicily rental companies require customers to return their cars with a full tank of gas so double-check if this is a requirement for you. (Sometimes if it is and you return the car with the gas tank 50% or 80% full, you will be billed for an entire gas tank anyway!)
Take photos once more so that you have time-stamped evidence of the condition the car was in when you returned it. If the car has incurred any damages, you will need to pay any charges directly to the rental company and then claim it back through your insurance.
Driving in Sicily in 2023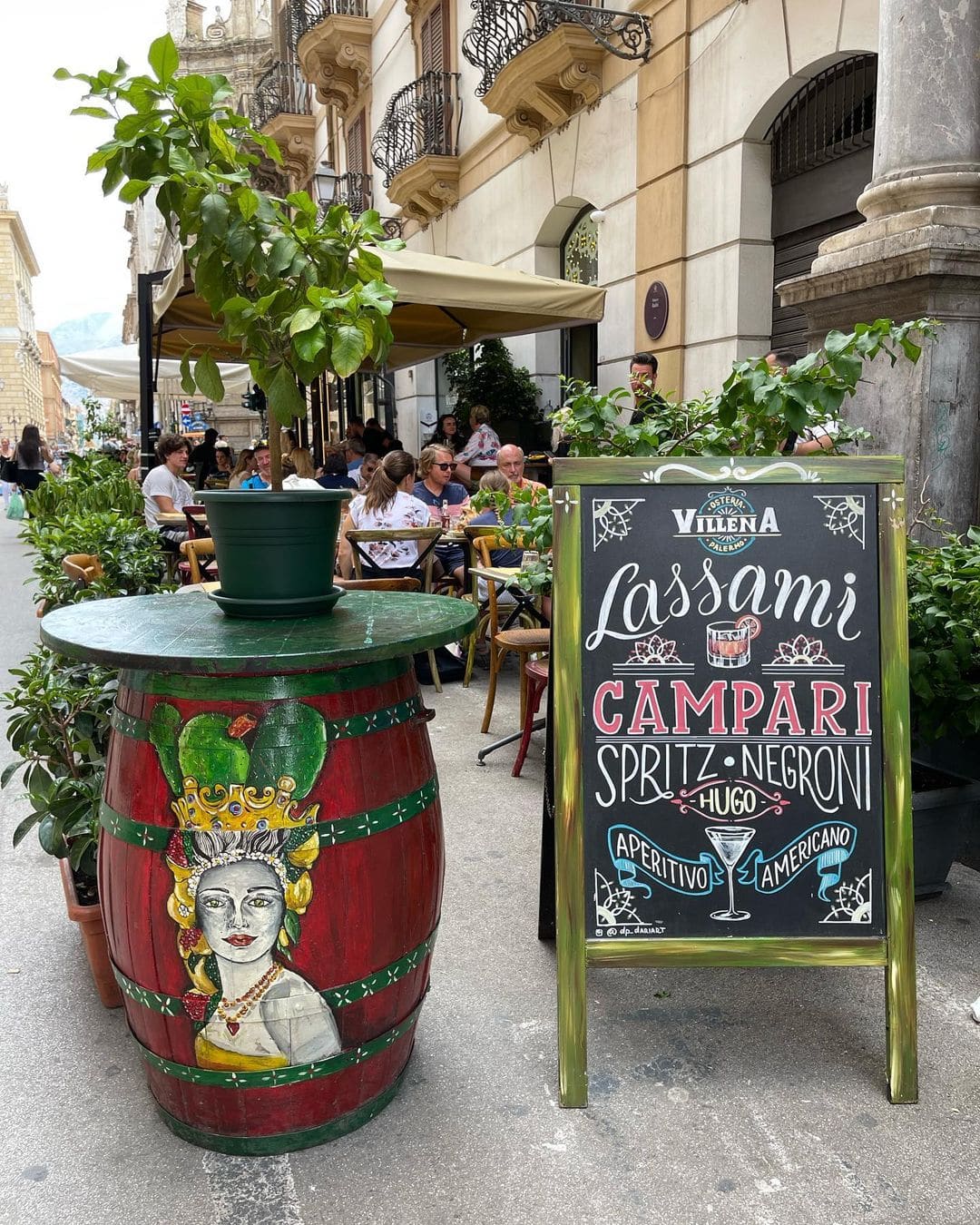 Driving in Sicily as a tourist is intimidating but it doesn't need to be terrifying if you approach it calmly and know what you are getting yourself into before you go. In Sicily, it is very important to always be mindful of other drivers – arguably more than elsewhere.
Some useful driving tips for exploring the island by road are detailed below.
In Sicily, you drive on the right and overtake on the left, much like the rest of Europe


Roads are usually in decent condition but things can get a little bumpier in really rural areas


Honking your horn is illegal in Italian/Sicilian cities unless it is to avoid an imminent collision. You will find a lot of drivers honking erratically out of annoyance and rage but it is best not to follow suit


Note that there are different types of roads in Sicily – highways (autostrade), national roads (strade statali), regional roads (strade regionali), and local roads (strade comunali)


Some country lanes are very narrow and have sharp, blind turns. Honk when turning to let vehicles traveling in the opposite direction know you are coming.


Many Italian drivers do not indicate when turning. (Even though the law requires them to do so when entering a roundabout). Don't expect them to signal. They often see their act of physically turning as their way of signaling.


Be careful driving at night as there are no street lights in rural areas


Vehicles coming from the right have priority at junctions and roundabouts unless signs indicate otherwise
Sicily road trip ideas
If you are visiting Sicily for the first time, it is understandable that you may want to see everything. However, the island is actually larger than you may realise (it is the largest island in the Mediterranean Sea!).
So, you might find it preferable and more manageable to draw up an itinerary that focuses on a certain part of the island. For instance, on the East or West Coast.

A cross-island itinerary is great if you don't mind a lot of driving. You can start in Palermo, drive along the coast to the seaside town of Cefalu, visit the sunbleached ruins at Agrigento, fall in love with beautiful Siracusa and Ortigia island, and then visit Catania, Taormina, and Mount Etna.

An East Sicily road trip allows you more time to focus on the underrated coastal towns close to Catania. For instance, Aci Trezza and Acireale. You could also drive all the way up to Messina where you can see the mainland Italian region of Reggio Calabria across the water.
Basically, the possibilities are endless. Don't feel that you have to do it all in one trip!
Zona Traffico Limitatos in Sicily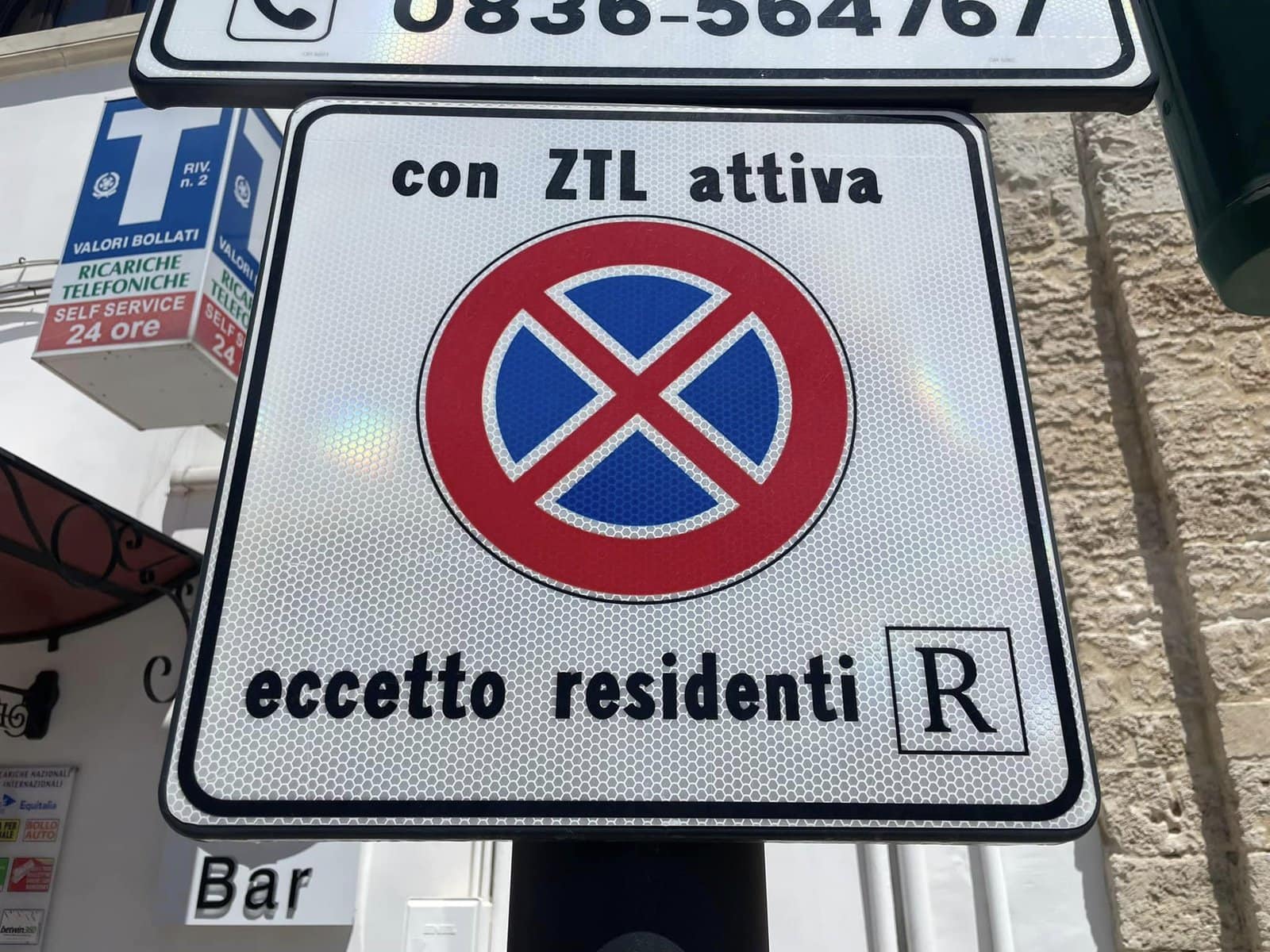 One of the most important things to be aware of when renting a car and driving in Sicily is the existence of ZTL areas (Zona traffico limitatos). These are restricted areas (usually the historic centres of tourist cities) that aim to curb the amount of traffic and congestion.

ZTLs are enforced by cameras and the fines for accidentally driving into one can be hefty. (They are often anywhere between €50 and €320!)
Even if you unknowingly drive through a ZTL, you may return home from your vacation to receive a fine. This is likely not the souvenir that you want!
Worst still, when you drive through a ZTL with a rental, rather than your own car, the rental company may slap additional extra charges on top of the inconvenience of them having to notify and follow up with you about the fee. Yikes!

ZTL zones are usually signposted. You will know you are approaching one when you see a sign of a red circle on a white background.

Not all ZTLs are created equal. Some do not allow access throughout the day, while others are only restricted at certain times.

The sign will usually display additional information if restrictions only apply at certain times. This will be in Italian but it is pretty self-explanatory, even if you don't speak Italian.
ZTL/Restricted traffic zones in Sicily
In Sicily, Palermo is a low-emission zone. The below areas are ZTLs/restricted traffic zones.
Agrigento


Castellamare del golfo


Catania


Cefalu


Centuripe


Gela


Leonforte


Marsala


Punta Secca


Ragusa


Regalbuto


Siracusa


Taormina
Road conditions in Sicily
Road conditions in Sicily are fine for the most part. If you have spent any amount of time driving in Europe, driving here is not too dissimilar from driving in Greece and other Southern European and Balkan countries.
The roads are usually in decent condition and well-maintained. They may not be as sleek and clean as roads in Western Europe but they are fine, free from potholes and damage, etc.
Speed limits in Sicily
Speed limits in Sicily are displayed in km/h. If you are caught speeding (speed cameras are present across the island), not only will you incur a fine for speeding, but you will also incur an additional fee from your rental company.

So, it is important to drive carefully. You will notice a lot of Sicilian drivers bolting along the roads at unnecessarily high speeds. Don't follow suit.
Speed limits in Sicily are as per below.
Built-up areas: 50km/h


Local roads: 90 km/h


Non-major highways: 110 km/h


Highways: 130km/h
Road Rules in Sicily
The road rules in Sicily are fairly standard in terms of what you would expect across Europe. Whether people follow them is another matter entirely, but just watch out for your own driving and you will be fine.
The blood alcohol limit in Sicily is 50mg of alcohol per 100 ml of blood. Fines for driving under the influence are heavy and can be accompanied by a prison sentence.


Driving over the speed limit can result in on-the-spot fines by Italian police


Seat belts are compulsory for all passengers inside a vehicle


Children's car seats are compulsory for children under the age of 12. If children reach 4 feet, 9 inches in height (1.5 meters) before the age of 12, they can be secured using just a seatbelt.


You should turn on your headlights on highways and outside of built-up areas. It is also important to note that some tunnels are not illuminated. The headlights on most Italian vehicles do not come on automatically when entering a dark tunnel so remember to turn them on.
Toll roads in Sicily
The majority of roads in Sicily are free from tolls. However, there are exceptions.

The A18 (Messina to Catania) and the A20 (Palermo to Messina) are both parts of the Sicilian freeway and require tolls. These must be paid in cash and so it is always a good idea to keep plenty of coins and small notes with you.

Toll prices range between 1 and 5 euros. You can alter your GPS route so that you avoid toll roads and make your journey cheaper. However, since tolls are not expensive, it is generally not worth the inconvenience to take the longer route.
Parking in Sicily
Finding parking spaces in Sicily is surprisingly easy, particularly in smaller towns and villages. You can usually find free on-street parking anywhere and you will note a uniquely Sicilian skill of people being able to fit their vehicle into even the tightest, most obscure spaces.
Always look out for the colour-coded markings on the road. White lines mean free parking, blue lines mean paid parking (and you should spot a meter nearby) and yellow lines mean disabled parking only.
Major cities have large, paid parking garages. (Look out for roadsigns with a capital letter ¨P¨)
FAQs About Renting a Car in Sicily
Do you have any further questions or concerns about renting a car in Sicily? The answers to some frequently asked questions on the topic are detailed below.
Hopefully, you will find the information you are looking for there. If not, please do not hesitate to reach out to me!
Is it worth renting a car in Sicily?
It is well worth renting a car in Sicily. Although the train network connects major cities with tourist destinations like Taormina, Syracuse, and the Valley of the Temples in Agrigento, services are often slow or irregular.
Plus there are a lot of charming villages, beaches, and ruins on the island that are extremely difficult to get to if you do not have access to a vehicle. (For instance, Corleone on the western side of the island, the gorgeous Vendicari Nature Reserve, Erice, the spectacular white cliff beach of Scala dei Turchi, and the Messina village of Savoca.)
Where is the cheapest place to rent a car in Sicily?
You should use a comparison website like Discover Cars to compare prices and offerings between various different Sicilian rental companies so that you can find the cheapest. Car rentals tend to be cheaper in Catania than in Palermo and on other parts of the island. 
Is driving in Sicily difficult?
Driving in Sicily can be intimidating at times because Southern Italian drivers are often aggressive, speedy, and take the road rules as mere guidelines. The main Sicilian cities of Catania Palermo and Trapani are the worst places to drive because of congestion and complicated road rules such as one-way streets and ZTL zones in the historic centres.
With patience and the ability to remain calm and focus on your own driving, you will be fine. But if you are a nervous, inexperienced driver or you have never driven overseas before, it can be daunting.

(Fortunately, there's lots of practical advice for you in this article from someone who used to live in Italy!)
What does it cost to rent a car in Sicily?
A car rental in Sicily can cost anywhere between €6 and €33 a day for a small, economy-sized vehicle including the essential car insurance needed for Italy. Of course, this varies depending on the season with the summer months being the most expensive.
This price increases if you start looking at larger vehicles or luxury cars.
Can I rent a car in Sicily as an American?
Yes. It is fairly straightforward to rent a car in Sicily as an American.
You just need to have a full driver's license, an international driver's permit, and usually, a credit card for security purposes.
Do I need an international driver's license to drive in Sicily?
You should note that there is no such thing as an international driver's license. However, you do need an international driver's permit to drive in Sicily if you do not hold a driving license from an EU country.
(Note that even after Brexit, British people do not need an IDP for Italy/Sicily and just their driving license is sufficient).
Final thoughts on renting a car in Sicily
Do you have any experience with renting a car in Sicily or traveling here? I spent two months living in Catania in 2018. I also taught English in Italy for a year (in Naples) and based myself in Puglia for 6 weeks in 2023.
So, I know firsthand how stressful it can be to try and get around the island by bus/train! Regardless, sometimes the chaos is all part of the fun of travelling in the Mediterranean.

Have a wonderful time in Sicily! Andiamo! xo
---