Embarking on a Sicily itinerary is certainly something that should be experienced once in a lifetime. Magnificent Sicily is the largest island in the Mediterranean, as well as one of the most beautiful.
Sicily boasts a diverse array of landscapes that have seduced travellers for centuries. Its appeal is undisputed.
Falling in Love with Sicily
Magical Sicily has been the most invaded and conquered island in the world. The Byzantines, the Arabs, and the Normans, amongst others, have once called Sicily home.
Each civilisation has left its mark on the island´s culture and architecture. Today, wandering around the narrow streets of Palermo leads you past the crumbling sunbleached domes of Arabian mosques, Byzantine mosaics, and Norman palace walls. Indeed, the mishmash of cultures, archeological sites, and bygone civilisations is one of Sicilyś highlights.
A Perfect 10-Day Sicily Itinerary
This 10-day Sicily itinerary starts in Palermo and travels in a circle around the island to end in Catania. You can also do this route in reverse.
Depending on where you are flying from to get to Sicily, it may be more convenient for you to arrive at one end of the island or the other. Both Catania and Palermo boast international airports. Similarly, Palermo ferries connect the island with various cities around Italy and the wider Mediterranean.
Public transport in Sicily leaves a lot to be desired and in some places, it is pretty much non-existent. The best way to get around the island is by car. That being said, suggestions are provided below on how to get from one place to another via bus and train.
If you have more time to dedicate to a Sicily itinerary, you won´t be short of things to do or places to explore. You could easily dedicate a month to travelling in Sicily and still feel as though you have barely scratched beneath the surface.
Suggestions on how to spend an additional four days in Sicily, in order to create a two week Sicily itinerary, are provided below. Additional ideas are provided if you may be lucky enough to base yourself here for even longer.
Sicily Itinerary Days 1 – 3:
Palermo
Palermo is the most captured city in the world. It was previously occupied by the Arabs and the Greeks.
The Sicilian capital's architecture and culture reflect its diverse cultural background and heritage. It has buildings and cultural influences from the Ottoman and Baroque periods.
Corso Vittorio Emanuele is the main Street in old town Palermo which connects all of the notable sites. If you book a hotel close to this main strip, you will be able to access anywhere in the city by a short walk.
Spend the first two days of your Sicily itinerary in Palermo centre. Then, opt to take a bus to Monreale on your third day to admire the beautiful cathedral.
Many beautiful churches are scattered throughout Palermo and admiring their interiors and vivid frescoes is a highlight of any Sicily itinerary. Be sure not to miss the Palermo cathedral ("Duomo"), the Palatine chapel, La Martorana, and the fascinating San Giovanni Degli Eremiti.
The latter church: San Giovanni Degli Eremiti once functioned as an Arabian mosque. One of the best things to do in Palermo is simply take the time to get lost among the city´s winding narrow streets.
Be sure to try Sicilian street food delicacies. For instance, arancini rice balls and crochette di patate.
Many interesting local markets are scattered throughout the city. Here you can see Italian nonnas haggle with street vendors over the price of fruit and veg.
Capo, Ballaro, and Vucciria are particularly interesting markets. When the sun goes down, head to the seafront at La Cala to enjoy an aperitivo with views over the marina.
Palermo Highlights
Where to Stay in Palermo
Sicily Itinerary Days 4 and 5:
Cefalu
Beautiful Cefalu is home to some of the most stunning beaches in all of Sicily. This picturesque medieval town sits right on the seafront, overlooking the sparkling turquoise waters of the Tyrrhenian.
Its long sandy beach is the perfect place to relax and enjoy some much needed relaxation after two days spent exploring Palermo.
Cefalu Highlights
Where to Stay in Cefalu
Getting to Cefalu from Palermo
Trains for Cefalu depart hourly from Palermo central station. They cost 6.50 euros and take just under an hour.
Sicily Itinerary Days 6 and 7:
Agrigento
Agrigento is one of the oldest settlements in Sicily. It was founded in 581 B.C. by Greek settlers.
Today, Agrigento and its fascinating ¨valley of the temples¨ are home to ancient Greek ruins and temples that are even more impressive than the Athens Acropolis.
Agrigento Highlights
Where to Stay in Arigento
Getting to Agrigento from Palermo:
Trains depart from Palermo for Agrigento hourly. They take 2 hours and 15 minutes, and cost 9 euros.
Sicily Itinerary Days 8 to 10:
Syracuse and Ortigia
Syracuse and its quaint island of Ortigia are among the most picturesque places in Sicily. Once upon a time, Syracuse was once owned by the Greeks. It was considered more important and beautiful than Athens.
Here, Greek ruins stand out among the groves of citrus trees. Central syracuse is a labyrinth-like network of narrow passageways.
They zig-zag across the city, opening out to magnificent baroque piazzas and sweeping vistas of the coast. Many historical sites still remain from Syracuse's days as an important Greek settlement.
Elegant Ortigia comes to life at night. In some ways, it feels like the Sicilian answer to Italy's chic Capri.
Sophisticated local trattorias serve a la carte menus and host live musicians and singers that perform covers of Frank Sinatra and the rat pack. The waterfront promenades are filled with locals enjoying glasses of Sicilian wine from the slopes of Etna.
Syracuse Highlights
Where to Stay in Syracuse
Getting to Syracuse from Agrigento
Unfortunately, there is no direct bus or train from Agrigento to Syracuse. Opting to take a bus is perhaps the most convenient of the two options.
From Agrigento, take a bus to Caltanissetta and transfer to Syracuse. You should allocate approximately 5-6 hours for this journey.
Sicily Itinerary
Day 11: Catania
Catania is Sicilyś second city. It is situated on the island´s east coast, at the foot of Mount Etna.
Catania is quite gritty in appearance. Locals often affectionately refer to it as "little Naples".
This is on account of Catania´s narrow alleyways and graffiti-laden plazas that share similarities with the city of Napoli. The cityś main square: Piazza del Duomo, is a great place to start the day.
Treat yourself to a strong ginseng-infused Italian espresson and a sweet cannolo. Then, venture inside the imposing Cattedrale di Sant'Agata. The Duomo is every bit as impressive inside as it is from the exterior.
Arrive early at the local fish market to witness some ferocious haggling between restaurateurs and vendors. For an evening aperitif followed by dinner, head to the quaint passageway of Via Santa Filomena.
This is a hidden passageway lined with eateries that you would only find if you specifically knew it was there. Here, locals line up to get a table at their favourite restaurants.
Many of the bars here are speakeasies or follow particular themes. ¨Mr Hyde¨ is a particularly interesting one. It has been designed like an old English apothecary, following the theme of Jekyll and Hyde.
Getting to Catania from Syracuse
Trains run regularly between Syracuse and Catania. The journey takes just over an hour and tickets cost 7 euros.
Sicily Itinerary Day 12:
Taormina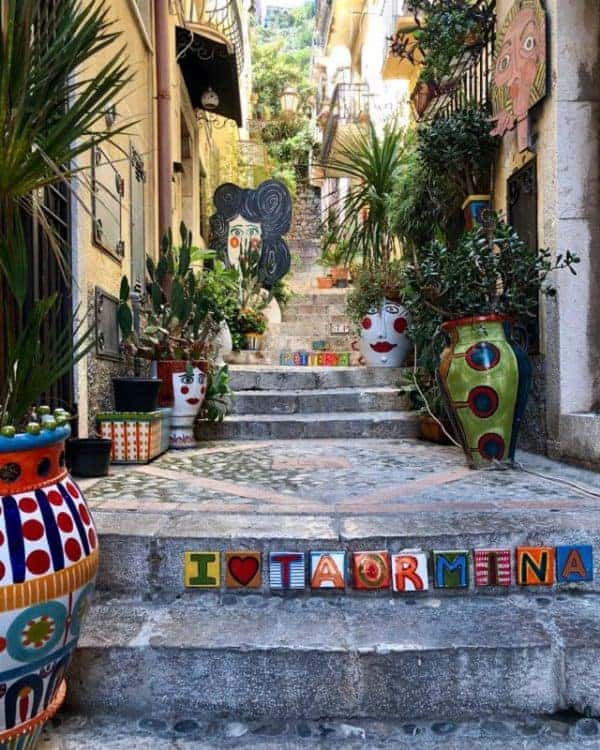 Little Taormina is a highlight of any Sicily itinerary. Ernest Hemingway once referred to it as being ¨so pretty it hurt to look at¨.
The town occupies a rocky bluff on the coast of Eastern Sicily. Here, it overlooks fiery Mount Etna and the ancient bay of Giardini Naxos.
When you arrive in Taormina, it is easy to understand why this spot has been adored by poets, writers, and creatives for so many centuries.
An ancient Greek amphitheater sits in the centre of the town and is still used today for live musical performances. There are several vineyards and wineries on the outskirts of town.
Taormina´s location, at the foot of Mount Etna, means that the soils here are fertile and perfect for grape growing. You can opt to visit a vineyard for the day if your schedule permits or alternatively, organize a tasting at one of the many local establishments that offer wine and charcuterie pairings.
Perhaps the only downside to Taormina is that it can get incredibly packed with tourists, especially since it is a popular stopping point for Mediterranean cruises. If you want to visit the Greek theatre, it's best to arrive first thing in the morning so as to miss the crowds.
Taormina Highlights
Where to Stay in Taormina
Getting to Taormina from Catania
Regular train services run from Catania to Taormina and take just under an hour each way. It should be noted that Taormina train station is situated a little out of the main town centre.
As such, you can either take a short bus to the centre for 3 euros return or walk. The walk only takes around 30 minutes but follows a relatively steep path.
Sicily Itinerary Day 13:
Mount Etna
Mount Etna is Europe's largest and most active volcano. It towers over Catania at an altitude of 3,300m and emits a continuous bellow of ash and smoke.
The landscapes change drastically as you leave the rural Sicilian countryside behind and venture upwards past ashy plains and abandoned houses. The slopes of Etna filled with ash and volcanic rock seem almost ethereal and otherworldy. They make you feel as though you are walking on Mars!
There are a couple of options available for hiking Mount Etna, depending on your personal preference and fitness levels. Many tour companies offer trips to the summit.
If you enjoy hiking, you can trek from the base at Rifugio Sapienza. It is possible to climb up to 2900m independently.
Uunfortunately you are not permitted to go past 3,300m alone without a guide for safety reasons. However, many local tour companies offer guided Etna hikes if you want to go right up to the calderas.
You can also opt to take a cable car to the peak, or travel by a 4×4 tour. This is a good option if you want to experience Etna but don´t want to hike.
Getting to Mount Etna from Catania
Various tour company providers organise excursions to Mount Etna and will collect you from your hotel. If you prefer to go independently, you can also take the AST bus from close to Catania Centrale to Rifugio Sapienza.
There is only one bus per day. It departs at 8.15 am and returns at 4 pm. This allows ample time.
Suggested Mount Etna Tours
Sicily Itinerary Day 14:
Depart Sicily
Day 14 marks the conclusion of this Sicily itinerary. Down your last shot of limoncello, stuff your face with your last cannolo and wave goodbye to beautiful Sicilia.
Catania and Palermo airports both offer a number of budget flight routes to many major cities across the globe. If you intend on continuing your travels in Italy you can also take a train or a bus to the mainland. Ferries depart from the ports of Palermo and Catania to Naples and various other Southern Italian destinations.
Alternative Sicily Itineraries
Sicily is the largest island in the Mediterranean. The above 10 day Sicily itinerary takes you in a circuit around the island. However, it is very much a whistle-stop tour that does not provide you with the time to explore Sicily in depth.
An alternative approach to your first trip to Sicily is to opt to concentrate your time on one section of the island – either the East or the West. Both sides of Sicily are beautiful and very deserving of your attention.
However, opting to concentrate on one side of the island allows you to better get beneath the skin of what Sicily is all about. Not to mention, the benefit of focusing your attention on one part of the island minimises your travel time from one place to another.
Eastern Sicily boasts more medieval towns and historic settlements. Meanwhile, Western Sicily has better beaches.
10 Day Eastern Sicily Itinerary
Catania – 2 days


Syracuse & Ortigia – 2 days


Ragusa – 2 days


Aci Reale – 1 day


Mount Etna – 1 day


Taormina – 1 day


Depart Catania

10 Day Western Sicily Itinerary
Palermo – 2 days


Corleone – 1 day


Cefalu – 2 days


Agrigento – 2 days


Castellammare del Golfo – 1 day


Trapani – 2 days
If you have more time in Sicily, then you won't be short of things to do. I spent eight weeks here and still felt like I didn't see everything that I wanted.
You could opt to do a three or four week Sicily itinerary. You could either see the aforementioned places at a more relaxed pace, spending a few days in each town.
Alternatively, you could add in more stopping points to your trip. The nearby Aeolian islands are also very worthy of your time.
Visit the Aeolian Islands
The UNESCO-protected Aeolian islands are a paradisical island archipelago that rise out of the sea just off the coast of Sicily. Namely, the Aeolian Islands are Lipari, Vulcano, Stromboli, Filicudi, Alicudi, Salina and Panarea.
These islands are popular travel destinations for international celebrities and the jet-set. They, like Sicily, boast a unique landscape. The islands are surrounded by translucent cobalt blue waters and home to fragrant vineyards and volatile volcanoes.
The Aeolian islands are a perfect destination if you are looking to lounge on scenic beaches or relax at luxurious spas. They are also suited to avid hikers and outdoor enthusiasts. brave enough to transcend steep volcanic slopes.
Explore East Coast Baroque Towns
Rural Sicily is filled with charming medieval and baroque settlements that seemingly transport you back in time. Many of these are concentrated on the island´s east coast.
If you have extra time, consider visiting the Baroque city of Ragusa in Southeast Sicily. Alternatively, drive up the coast from Catania to the beach towns of Acireale, Aci Trezza, and Messina.
Messina is at the island´s northeastern tip. From here, you can look across to mainland Italy from the Messina strait. If you wish to do so, it is easy to pass from Messina to Reggio Calabria.
Learn About the Mafia at Corleone
Many people joke about the Sicilian Mafia. However, the Casa Nostra is still prevalent within the society here.
The Sicilian Mafia do not bother tourists so you do not have to be concerned for your safety in Sicily. But many local businesses do suffer at the hands of the Mafia and are forced to pay them a pizzo.
The hilltop town of Corleone sits some 50km south of Palermo. It looks pleasant but it has been a renowned Mafia stronghold for decades.
It was here where many scenes from The Godfather were filmed.
Many actual houses from former Mafia bosses are located here. Many of them have been converted into ¨living museums and are open to tourists. Most notably, one contains a museum and exhibition about the anti-Mafia resistance in Sicily which is based in Corleone.
Sicily Itinerary FAQs and Travel Tips
When to Travel to Sicily
Sicily is a wonderful year-round travel destination. This 10 day Sicily itinerary can be enjoyed at practically any time throughout the year.
However, arguably the best time of year to visit Sicily is in the shoulder seasons. Namely, between April and June, or late September to early November.
Summers in Sicily do get very hot and humid and it is not uncommon to see temperatures soar well above 35 degrees Celsius between June and August. This may be perfect if you want to laze on the beaches of Cefalu and other Sicilian resort towns. However, it can be a little unpleasant for extended outdoor exploration and hiking.
Summer is also the ¨peak¨ season for Sicily travel and all of the touristic areas become much more crowded. It should be noted that "off the beaten path" Sicily pretty much shuts down in August with many small shops and businesses closing while their owners go on vacation.
Autumn and Winter in Sicily are pleasant, particularly if you are travelling more for the food and culture than for the weather. Even in the coldest months of December through to February, daytime temperatures rarely dip below 15 degrees.
Mediterranean Siestas in Sicily.
Many businesses in Sicily are closed for siesta between the hours of 12-5pm. Most stores and businesses open early in the morning, close around midday, and then open up again around 4pm until around 8.30pm.
This is worth remembering if you need to buy something. Sometimes it can feel almost a little creepy walking around some of the smaller Sicilian towns and villages when everything is all boarded up and closed. On Sunday, pretty much everything closes.
How Much Does Travelling in Sicily Cost?
Travelling in Sicily does not have to be expensive. Your Sicily travel itinerary does not have to break the bank.
If you are a budget traveller or a backpacker, you can definitely travel around Sicily for less than £30 a day. If you want a little extra comfort and the opportunity to eat out at nice restaurants during your Sicily itinerary, a budget of £50 a day is more reasonable.
It should also be noted that some areas of Sicily are more expensive than others. In Palermo, Catania, Cefalu and Agrigento, you can easily find street food stalls and budget eateries.
Ortigia and Taormina are much classier and popular with tourists. Consequently, you should expect to find restaurants averaging at around £15-£20 per person for a meal.
Languages in Sicily
Italian is the official language of Italy and Sicily. However, Sicilians tend to speak their own regional dialect.
Very few people here speak English, with the exception of those working in tourism. If you are able to learn a few small phrases in Italian, it will go a long way.
Sicilians may speak their own dialect. However, if you communicate with locals in formal Italian, they will understand. Failing that, it is always useful to download Google Translate App for your phone.
Getting Around Sicily
It is much easier if you rent a car in Italy and Sicily. Doing so gives you a lot more freedom and flexibility – as is the case with travelling basically anywhere.
Public transport links in Sicily leave an awful lot to be desired. Trains and buses run infrequently.
There are often no services on Sundays, and services are often delayed or cancelled. It is not impossible to see Sicily by public transport.
Indeed, this 10 day Sicily itinerary has been created with public transport links in mind. However, you just need a lot of patience if you are depending on trains and buses during your trip.
Bus and Train Travel in Sicily
Opting to do your 10 day Sicily itinerary by bus and train is the cheapest option. It is also the most environmentally friendly choice.
You can check train schedules on the Trenitalia website here. Tickets can be purchased online or in person at the train station ticket offices. A metro system is also in operation in both Palermo and Catania.
Taking Cabs in Sicily
There is no Uber in Sicily. There are a few apps that are essentially Sicilian alternatives, however, they are not reliable.
You may try to find a cab on these apps and note that there are no drivers around. You can flag cabs down pretty easily in Palermo. In Catania, there are street cabs that wait around the Duomo square.
What to Eat in Sicily
Italian cuisine is UNESCO protected. It should go without saying that Italy and Sicily are foodie paradises!
Many people associate Italy with eating copious amounts of pasta, pizza, and gelato. Whilst those foods are delicious, the diversity of dishes available in Italy/Sicily and regional specialties go way beyond just pizza and pasta.
Sicilian Street Food
The Sicilian street food scene is huge. Palermo is often referred to as being home to some of the best street food in the world.
The general theme with food here seems to be to deep fry it, then combine it with other deep-fried things, before frying it again! There is actually an old Italian proverb that says ¨Everything tastes good fried, even the soles of shoes!"
Some delicacies that you shouldn't miss while on your Sicily itinerary are detailed below. You will be able to find them in abundance, particularly in foodie Palermo.
Arancini balls
Arancini balls are balls of saffron-infused rice that are deep-fried and then stuffed with a variety of different fillings. There are countless options for arancini available.
You can find arancini stuffed with everything from ragu sauce, to more elaborate blends of cheese and spinach. You can find arancini everywhere.
Every establishment sells them – from train station kiosks to takeouts and patisseries. One large arancino will cost you between 1.50 – 2.50 euros. Two are generally sufficient.
Panino Con Panelle
Sicily´s Panino con Panelle is a sandwich filled with oily, deep-fried fritters made from chickpeas. It is a dish that reflects the island´s North African routes.
Another popular variation of this is the panino con panelle e crocche. This is a sandwich with the addition of potato croquettes made with a light seasoning of mint.
Pane Con La Miza
Pane con la milza is bread served with the tender spleen of veal. The veal is slow-cooked in lard and served with bread, a squeeze of lemon, and a pinch of salt.
Arguably it's better to try this dish without knowing exactly what it is. The idea of eating spleen may be off-putting for some. But the meat is flavourful, tender, and cooked to perfection!
Sfincione
Sfincione is one of the most popular Sicilian street foods. This popular snack is something between the Sicilian answer to pizza and a piece of bread.
To create sfincione, bread is soaked in tomato sauce and seasoned with onions, olive oil, cheese, and anchovies. Surprisingly, sfincione is not in the least bit stodgy or heavy.
Pezzi de Rosticceria
Many cafes and patisseries around Sicily serve pezzi. Pezzi de Rosticceria is a soft brioche bun that is filled with a diverse range of ingredients.
Common fillings include ham and mozzarella, or Viennese sausage. Pezzi is often enjoyed at breakfast time. Sicilians also sometimes have it as a late-night snack to soak up the alcohol after a few too many limoncellos.
Granita
Granita is to Sicily what gelato is to mainland Italy. This is essentially a healthier alternative to standard ice cream.
Granita is made of crushed ice flavoured with fruit juices. You can find a wide variety of granita options.
The traditional Sicilian choice is to order either almond or lemon granita. This is typically eaten at breakfast time along with fresh brioche.
Parting Words
Have any questions about this Sicily itinerary or travelling through Sicily in general? Feel free to reach out and let me know!
---