Embarking on a Sicily itinerary is definitely something that should be experienced once in a lifetime. This Sicily Travel Guide aims to help you do just that. The Writer Goethe is quoted to have once said "To have seen Italy without having seen Sicily is not to have seen Italy at all, for Sicily is the clue to everything".
Indeed, situated at a crossroads to the Mediterranean where azure waters meet fragrant lemon groves and a diverse array of landscapes have seduced travellers for centuries, Sicily's appeal is undisputed.  
After leaving the Middle East, I decided to spend 6 weeks living in Sicily. I based myself in Catania, rented a car, and took trips to different parts of the island. While it is definitely a luxury to be able to spend six entire weeks in Sicily, this is also because I had to work while travelling. Two weeks is the perfect amount of time to spend in Sicily in order to really immerse yourself in the culture and get somewhat "off the beaten path" away from the main cities. One of the major appeals of travelling in Sicily is the quaint Sicilian beach towns and country villages surrounded by vineyards and lemon groves. If you are on a stricter budget or schedule, however, I have also created a 7-day Sicily itinerary.
When to Travel to Sicily
Summer in Sicily
Owing to its Mediterranean climate, Sicily hosts pleasant temperatures all year around. The "peak" travel season is between June and August when the touristic parts of Sicily become more crowded. With that considered, the prices are still good during this time and travellers will still be able to secure entire Airbnb apartments for less than $30 per night, and hostels for less than $10 in most parts of the island. It should be noted that "off the beaten path" Sicily pretty much shuts down in August with many small shops and businesses closing while their owners go on vacation.
Shoulder Seasons:
April to May,
September to October
Arguably the shoulder seasons are the optimal time to travel to wider Sicily since visitors can enjoy the pleasant climates without the crowds. Since the majority of the island's population are religious Roman Catholics, Easter can be busier (though certainly a unique cultural experience) since many Italians travel to participate in local festivities.
Winter Months
Those travelling to Sicily more for the culture and the food than for the sun and beaches may enjoy the pleasant cooler temperatures of the island through the winter months. Even in the coldest months of December through to February, daytime temperatures rarely dip below 15 degrees Celsius in the day, getting a little chillier at night to warrant taking a coat.  
Additional Tip
Many businesses in Sicily are closed for siesta between the hours of 12-5pm. Most stores and businesses open early in the morning, close around midday, and then open up again around 4pm until around 8.30pm. This is worth remembering if you need to buy something. Sometimes it can feel almost a little creepy walking around some of the smaller Sicilian towns and villages when everything is all boarded up and closed. On Sunday, pretty much everything closes.
For advice on what to pack when travelling in Italy, take a peek at this Italy packing list
How Much Does Travelling in Sicily Cost?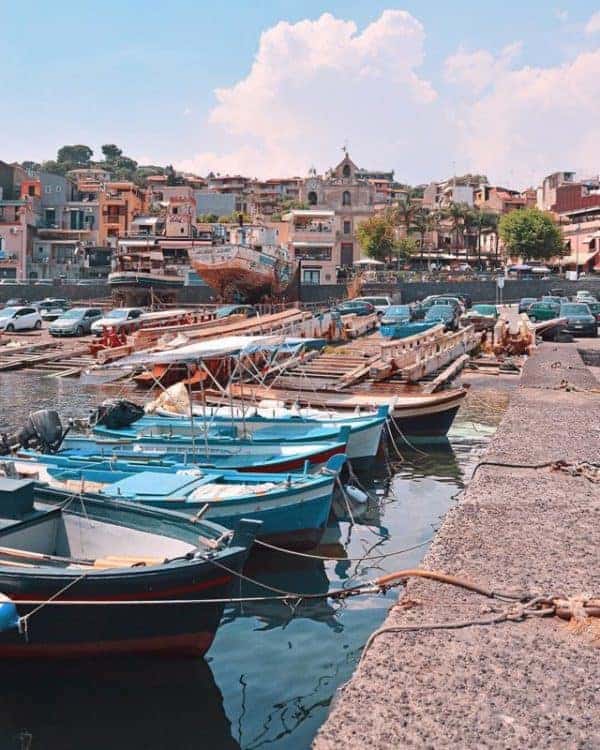 Travelling in Sicily does not have to be expensive. Your Sicily travel itinerary does not have to break the bank. If you are a budget traveller or a backpacker, you can definitely travel around Sicily on less than £30 a day. If you want a little extra comfort and the opportunity to eat out at nice restaurants during your Sicily itinerary, a budget of £50 a day is more reasonable.
It should also be noted that some areas of Sicily are more expensive than others. In Palermo, Catania, Cefalu and Agrigento, you can easily find street food stalls and budget eateries. Ortigia and Taormina are much classier and popular with tourists and as such, you should expect to find restaurants averaging at around £15-£20 per person for a meal. If you are travelling Sicily on a budget, I would recommend staying at an airbnb in Syracuse and cooking for yourself. When you travel to Taormina, it is much cheaper to stay overnight in Catania and take a day trip to Taormina (Only 6 euros and one hour on the train), as opposed to staying at a hotel in Taormina.
Solo Travel in Sicily
I moved to Sicily alone and I travelled around Sicily alone. I had no real problems doing so. Though I admit that the transport situation can occasionally be frustrating, I never felt anxious being alone as a result. Things were always eventually resolved.
I have read other people's Sicily travel guides and noticed that they have cited difficulties such as nobody speaking English or even speaking Italian. While it is true that people in a lot of places do speak Sicilian or regional dialects, I found at least basic English to be spoken even in really off the beaten path towns. I can speak Italian fairly fluently which was arguably an advantage for me, but even if I hadn't had that skill, I think I would have gotten by okay.
To be more comfortable, you could always download a translator app on your phone or dust out your best charades mimes and hope you get understood (works for me when I travel!)  
Getting Around Sicily
Depending on how comfortable you are in doing so, I would strongly recommend renting a car for your Sicily itinerary. Public transport links in Sicily leave an awful lot to be desired. Trains and buses run infrequently, there are often no services on Sundays, and services are often delayed or cancelled. I took a train from Catania to Palermo, the train broke down in the middle of nowhere, a four hour wait ensued, a replacement bus arrived and then… the replacement bus driver got lost and had to ask a man in a tractor for directions! Only in Sicily, eh?
Public Transport in Sicily
Though you should have patience to do so, you can access all of the points on this Sicily itinerary by train and by bus. I personally prefer the comfort of the trains. You can check the schedules on the Trenitalia website here. For Sicilian bus schedules, click here. In Catania and Palermo, a metro system is also in operation.
Taking Cabs in Sicily
There is no Uber in Sicily. There are a few apps that are essentially Sicilian alternatives, but I did not find them reliable. I tried to get a cab in Catania and it kept timing out because no cab drivers were around. You can flag cabs down pretty easily in Palermo, and in Catania there are street cabs that wait around the Duomo square. Cabs running from the airports to the city centres seem relatively expensive.
Safety in Sicily
I never felt unsafe in Sicily, and I actually felt that I got harassed by men a lot less than I did in other parts of Italy. As with travelling anywhere, practice common sense during your Sicily itinerary, don't walk around alone at night, and always watch your personal belongings. The areas close to the train stations in major cities are often a little sketchy and filled with undesirable types selling knock-off designer gear (This seems to be the case in most of Italy).
Always check the prices on menus when eating out in Sicily and always check your change. I noticed that people would try to short change me a lot and then when questioned they would act as though they had just forgotten the price.  
What to Eat in Sicily
Many people associate travelling in Italy with eating copious amounts of pasta, pizza and gelato. Whilst those foods are certainly a big (and delicious!) part of Italy's UNESCO protected cuisine, that is massively underestimating the diversity of dishes available in Italy/Sicily and of course, the regional variances.
Sicilian Street Food
The Sicilian street food scene is huge, and Palermo is often referred to as being home to some of the best street food in the world.  The general theme with food here seems to be to deep fry it, then combine it with other deep-fried things, before frying it again! Some delicacies that you shouldn't miss while on your Sicily itinerary are:
Arancini

– Balls of saffron-infused rice deep fried and filled with a variety of different fillings. From Ragu sauce to more elaborate blends of cheese and spinach, there are countless options for arancini available. You can find arancini everywhere – from late night takeout's, to patisseries and train stations. One large arancino will cost you between 1.50 – 2.50 euro. Two are generally sufficient.
Panino Con Panelle

– A dish reflective of Sicily's North African routes, Panino con Panelle is a sandwich filled with oily fritters made from chickpeas and deep fried. Another popular variation of this sandwich is the

panino con panelle e crocche

– a sandwich with the addition of potato croquettes made with a light seasoning of mint.
Pane Con La Milza

– Arguably it's better to try this dish without knowing exactly what it is. Pane con la milza is bread served with the tender spleen of veal. The veal is slow cooked in lard and served with bread, a squeeze of lemon and a pinch of salt.
Sfincione

– One of the best Sicilian street foods, sfincione is a popular snack that is something between the Sicilian answer to pizza and a piece of bread. To create sfincione, bread is soaked in tomato sauce and seasoned with onions, olive oil, cheese and anchovies. Considering all of that, surprisingly, sfincione is not in the least bit stodgy or heavy.
Pezzi de Rosticceria

– Many cafes and patisseries around Sicily serve pezzi. Pezzi de Rosticceria is a soft brioche bun that is filled with a diverse range of ingredients. Common fillings include ham and mozzarella, or Viennese sausage. Pezzi is often enjoyed at breakfast time, or as a late night snack to soak up the alcohol after a few too many limoncellos.
Granita

– Italy's much-loved dessert is gelato but in Sicily, granita is the traditional sweet delicacy. A healthier alternative to a standard ice cream, granita is made up of crushed ice and generally flavoured with fruit juices. A variety of options are available for granita, but the tradition Sicilian choice is either almond or lemon granita. This is typically eaten at breakfast time along with a fresh brioche.
14 Day Sicily Itinerary: Sicilian Highlights Tour
This Sicily itinerary starts in Palermo and travels in a circle around the island to end in Catania. You can also do this route in reverse. Depending on where you are flying from to get to Sicily, it may be more convenient for you to arrive at one end of the island or the other.
Sicily Itinerary Days 1 – 3:
Palermo
Previously occupied by the Arabs, the Greeks and now the Italians, Palermo is the most captured city in the world. The Sicilian capital's architecture and culture reflects its diverse cultural background and heritage with buildings and cultural influences from the Ottoman and Baroque periods.
Corso Vittorio Emanuele is the main Street in old town Palermo which connects all of the notable sites. Provided that you stay in close proximity to this main strip, you will be able to access anywhere in the city by a short walk. Spend the first two days of your Sicily itinerary in Palermo proper, and opt to take a bus to Monreale on your third day to admire the beautiful cathedral.
Many beautiful churches are scattered throughout Palermo and admiring their interiors and vivid frescoes is a highlight of any Sicily itinerary. Be sure not to miss the Palermo cathedral ("Duomo"), the Palatine chapel, La Martorana and the fascinating San Giovanni degli Eremiti, whose dome-shaped roofs were once an Arabic mosque.
One of the best things to do in Palermo is to witness local life and try Sicilian street food delicacies such as arancini rice balls and crochette di patate at the various local markets. Capo, Ballaro, and Vucciria are interesting marketplaces to watch locals haggling with vendors for their ingredients for Sunday dinner. When the sun goes down, head to the seafront at La Cala to enjoy an aperitivo with views over the marina.
Sicily Itinerary
Days 4 and 5:
Cefalu
Beautiful Cefalu is home to some of the most stunning beaches in all of Sicily. A picturesque medieval town whose pastel coloured houses sit atop a rocky headland, Cefalu is a perfect
Italian holiday destination and a nice place to relax after sightseeing in Palermo. With incredible ornate churches and the atmosphere of a quaint old-fashioned fishing village, Cefalu is the perfect place to spend a day or two on your Sicily itinerary.
Getting to Cefalu from Palermo:
Trains for Cefalu depart hourly from Palermo central station. They cost 6.50 euros and take just under an hour.
Sicily Itinerary
Days 6 and 7:
Agrigento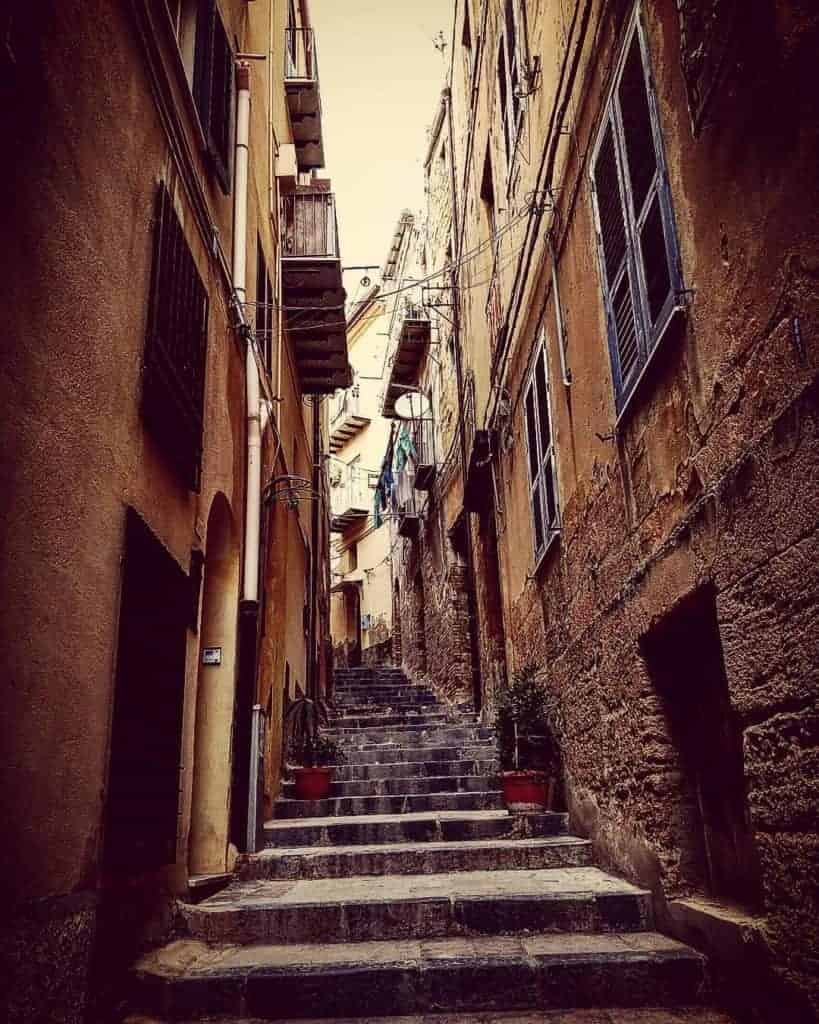 With its fascinating "valley of the temples", ancient Agrigento is home to ancient Greek ruins and temples even more expansive and impressive than the acropolis in Athens. At first impression, modern Agrigento with its busy highways and towering concrete buildings does not look like much, but scratch beneath the surface and you will uncover some of Sicily's most fascinating history.
Getting to Agrigento from Palermo:
Trains depart from Palermo for Agrigento hourly. They take 2 hours and 15 minutes, and cost 9 euros.
Sicily Itinerary
Days 8 to 10:
Syracuse and Ortigia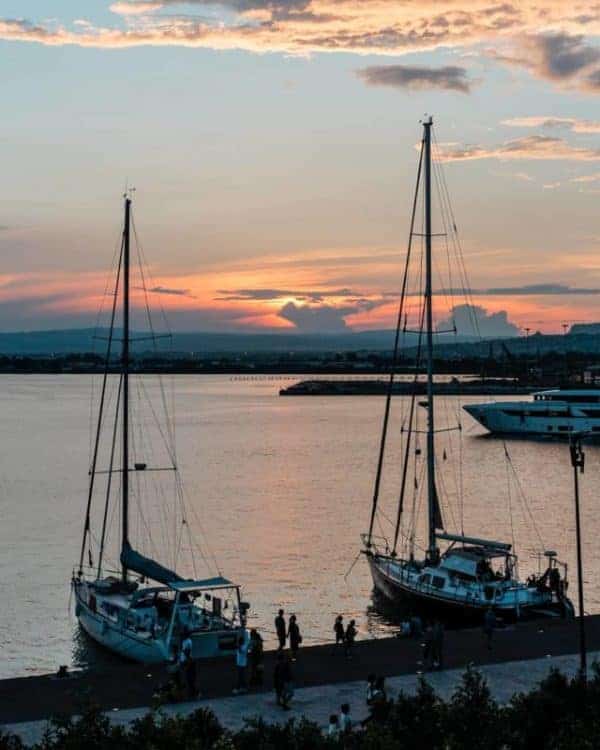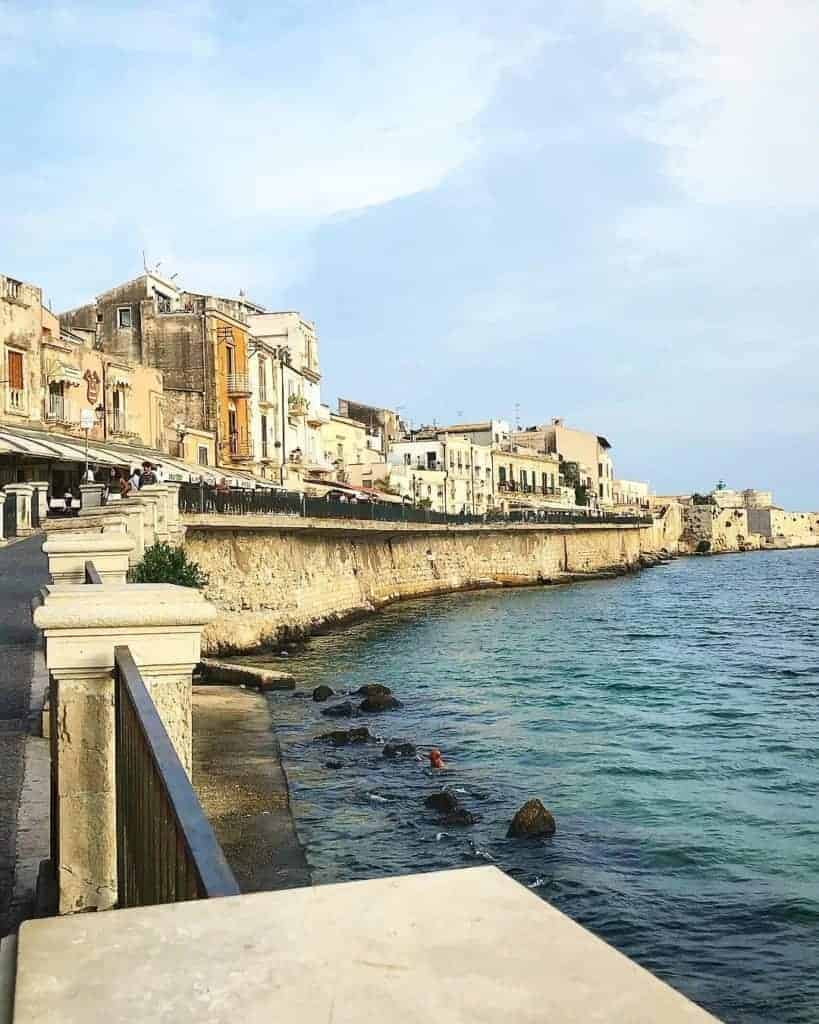 Syracuse and its quaint island of Ortigia are arguably among the most picturesque places in Sicily. Where crumbling Greek ruins stand out among the groves of citrus trees offering a magnificent juxtaposition of scenery; where narrow medieval passageways lead you on a zig-zag path across the city past baroque piazzas and out to the translucent blue waters of the coast, Syracuse is the heart of ancient Sicily and was one of the most important cities of ancient times.
Syracuse was once owned by the Greeks and was considered more important and beautiful than Athens. Many ancient sites remain, including an impressive Greek theatre where you can watch performances during the summer months. One day of your Sicily itinerary here can be spent exploring the archaeological sites and ruins, another enjoying Ortigia island. Elegant Ortigia comes to life at night, with local bars and restaurants hosting live musicians and singers that perform covers of Frank Sinatra and the rat pack. The waterfront promenades are filled with locals enjoying glasses of Sicilian limoncello and the entire ambience seemingly transports you back to a more stylish era.
Getting to Syracuse from Agrigento
Unfortunately, there is no direct bus or train from Agrigento to Syracuse. Opting to take a bus is perhaps the most convenient of the two options. From Agrigento, take a bus to Caltanissetta and transfer to Syracuse. You should allocate approximately 5-6 hours for this journey.
Sicily Itinerary

Day 11: Catania
On the East coast of Sicily, at the foot of Mount Etna, Catania is the island's second city. Though Catania isn't picturesque and romantic in the same way as say, Florence, it certainly has its charm. Combining the gritty with the pretty, Catania is often referred to by locals as being a "little Naples" owing to its narrow twisting alleyways and similarities with the city of Napoli. While tourists sip coffees in the various piazzas of the city, Catania is largely undiscovered, and it is easy to get off the beaten track here.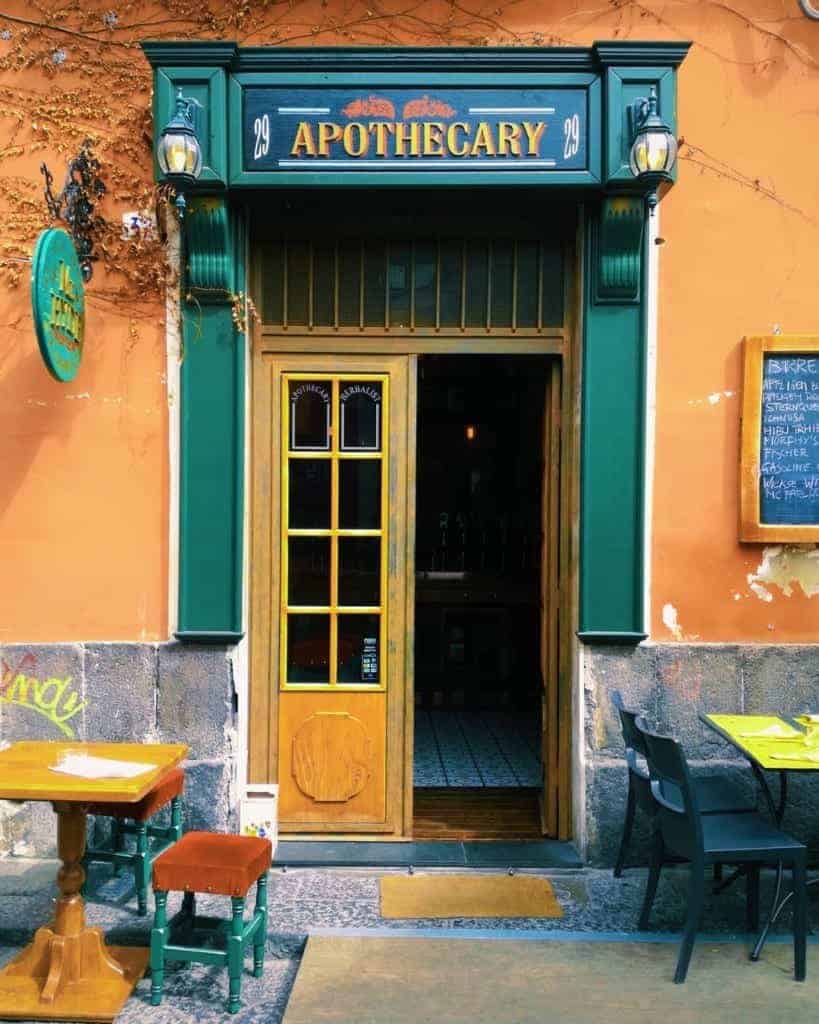 Arrive early at the local fish market to witness some ferocious haggling between restaurateurs and vendors. For apperitivo, dinner and evening drinks, head to the quaint passageway of Via Santa Filomena where locals line up to get a table at their favourite restaurants, and quirky themed speakeasy bars and breweries line the street.
Getting to Catania from Syracuse
Trains run regularly between Syracuse and Catania and the journey takes just over an hour. Tickets cost 7 euros.
Sicily Itinerary
Day 12:
Taormina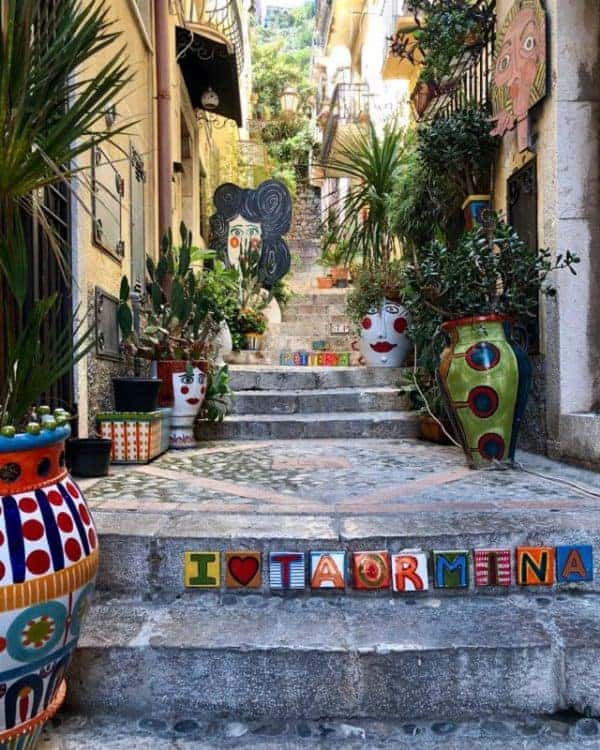 A place adored by poets, writers, and creatives for centuries, Ernest Hemingway referred to Taormina as being "so pretty it hurt to look at it". Occupying a rocky bluff on coast of Eastern Sicily, Taormina overlooks volatile Etna, and the ancient bay of Giardini Naxos. An ancient Greek amphitheatre sits in the centre of the town and is still used today for live musical performances. The town's location at the foot of Mount Etna means it is a great place for sampling Sicilian wine – either by venturing out to a vineyard for the day or enjoying a tipple at one of the many local establishments offering a tasting.
Perhaps the only downside to Taormina is that it can get incredibly packed with tourists, especially since it is a popular stopping point for Mediterranean cruises. If you want to visit the Greek theatre, it's best to arrive first thing in the morning so as to miss the crowds.
Getting to Taormina from Catania:
Regular train services run from Catania to Taormina and take just under an hour each way. It should be noted that Taormina train station is situated a little out of the main town centre. As such, you can either take a short bus to the centre for 3 euros return, or walk (30 minute walk but a relatively steep path).
Sicily Itinerary
Day 13:
Mount Etna
Towering over Catania at 3,300m and emitting a continuous bellow of ash and smoke, Mount Etna is Europe's largest and most active volcano. The landscapes change drastically as you leave the rural Sicilian countryside behind and venture upwards past ashy plains and abandoned houses. The rolling hills comprised of ash and volcanic rock make you feel as though you are walking on Mars!
There are a couple of options available for hiking Mount Etna, depending on your personal preference and fitness levels. Many tour companies offer trips to the summit. Those looking for a more adventurous day can hike from the base at Rifugio Sapienza, up to 2900m (unfortunately you are not permitted to go past 3,300m alone without a guide for safety reasons).  If you don't fancy so much hiking and physical exertion, there are also options to take a cable car and a 4×4 to the peak.
Getting to Mount Etna from Catania:
Various tour company providers organise excursions to Mount Etna and will collect you from your hotel. If you prefer to go independently, you can also take the AST bus from close to Catania Centrale to Rifugio Sapienza. There is only one bus per day departing at 8.15am and returning at 4pm. This allows ample time.
Sicily Itinerary
Day 14:
Depart Sicily
Down your last shot of limoncello, stuff your face with your last cannolo and wave goodbye to beautiful Sicily as your Sicily itinerary draws to a close. Catania and Palermo airports both offer a number of budget flight routes to many major cities across the globe. If you intend on continuing your travels in Italy from Sicily, you can also take a train or a bus to the mainland. Ferries depart from the ports of Palermo and Catania to Naples and various other Southern Italian destinations.
7 Day Sicily Itinerary: Whistle Stop Sicily Tour
If you only have a week to spend in Sicily, then you can "cherry pick" the destinations that interest you from the above two-week Sicily itinerary. With that considered, I would recommend the following route in order to see the best that the island has to offer with a limited amount of time.
Days 1 and 2: Palermo

Days 3 and 4: Agrigento

Day 5: Syracuse

Day 6: Taormina/Catania

Day 7: Departure
Sicily Itinerary: Additional Suggestions
If you have more time in Sicily, then you won't be short of things to do. I spent six weeks here and still felt like I didn't see everything that I wanted. You could continue extending your trip to a three-week Sicily itinerary by taking a more relaxed pace as you travel around the island, and potentially adding on a trip to the Aeolian islands.
Visit the Aeolian Islands
A popular playground for the jet set, the UNESCO protected Aeolian islands are little rocky slices of paradise that rise out of the sea just off the coast of Sicily. Namely, the Aeolian Islands are Lipari, Vulcano, Stromboli, Filicudi, Alicudi, Salina and Panarea. Surrounded by translucent cobalt blue waters and home to fragrant vineyards and volatile volcanoes, the Aeolian islands are a perfect destination for those wanting a little rest and relaxation at the climax of their Sicily itinerary, as well as avid hikers and outdoor enthusiasts brave enough to transcend steep volcanic slopes.
Explore East Coast Baroque Towns
An added benefit of renting a car in Sicily is that it makes it easier for you to make pitstops at beautiful coastal towns and villages as you journey around the island. Much of Sicily is breath-taking, however the sleepy settlements on the east coast almost transport you back in time. If you have extra time, consider visiting the Baroque city of Ragusa in South-east Sicily, or the beach towns of Acireale, Aci Trezza and Messina from where you can rest upon abandoned rocky beaches and look out to mainland Italy across the Messina strait.
Learn About the Mafia at Corleone
Many people joke about the Sicilian Mafia; however, the Casa Nostra are still prevalent within the society here. (They won't bother you!) The hilltop town of Corleone some 50km south of Palermo looks pleasant but it has long been a renowned Mafia stronghold. It was here where many scenes from the Godfather were filmed, and where many actual houses from former Mafia bosses are situated and open to tourists. Corleone is also the centre of the anti-mafia resistance – a museum and various exhibitions in old Mafia houses.
Have any questions about this Sicily itinerary or travelling through Sicily in general? Feel free to reach out and let me know!
Disclaimer: This Sicily itinerary and Sicily Travel Guide may contain affiliate links. This means that if you choose to click on the links and make a purchase, I will make a small amount of commission at no extra cost to you. This helps me to continue running High Heels & a Backpack and providing free content. Thanks for your understanding.
---