There are plenty of things to do in Catania to make the city deserved of a few days of exploration during a Sicilian adventure. That said, the city is frequently bypassed and overlooked.
Falling in Love with Catania
At first glance, Catania may seem gritty and unwelcoming – its labyrinth-like networks of narrow passageways filled with graffiti and dark alleyways look intimidating to first-timers. Tucked away down each passageway though, travellers can find authentic Sicilian eateries, punky bars, and beautiful architecture.
A Little Background of Catania
Sicily is widely known for being the most conquered island in the world. Several civilisations and cultures have inhabited the island over the centuries. This mishmash of influences could not be more evident in Catania. Here, you will find magnificent renaissance architecture sitting side by side with crumbling Roman ruins.
Catania was founded by the Greeks in 729BC. Today there are still a handful of sunbleached Greek ruins scattered throughout the city.
The entire old town of Catania is UNESCO protected. The narrow cobbled streets and passageways that open out into grand piazzas and palazzos capture the hearts of all those who visit.
About This Guide
I spent two months based in Catania in Summer 2018 and was able to discover plenty of wonderful hangout spots and attractions that escape the eyes of most tourists – even during the height of the summer travel season.
For a little Sicilian travel inspiration, I have detailed the best things to do in Catania below. The suggestions range from must-see Catania attractions, to off-the-beaten path local secrets.
Exploring Catania:
Go it Alone or Guided Tour?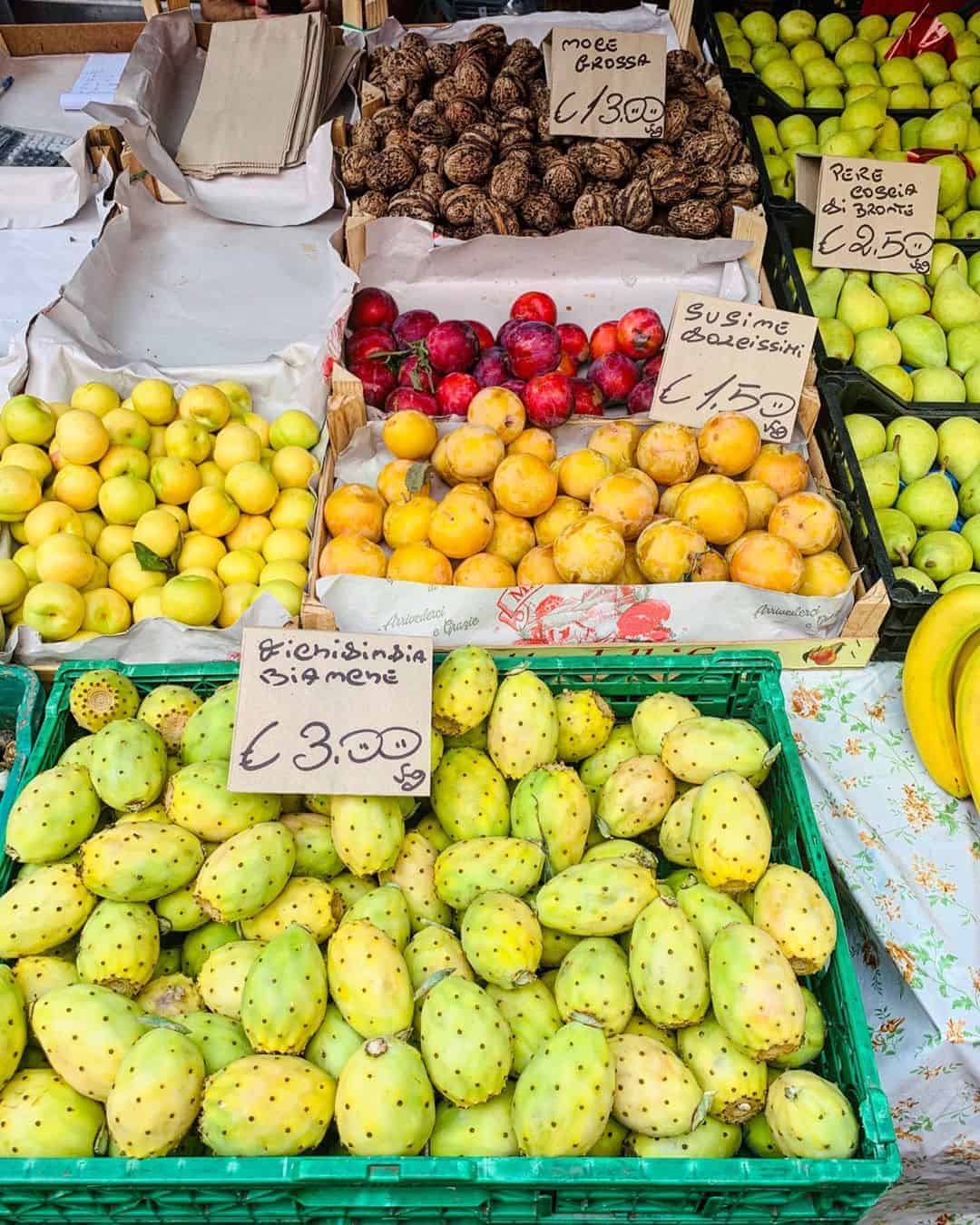 One of the best things to do in Catania is to simply take the time to get lost among the narrow streets, discover offbeat neighbourhoods, and people watch in crowded piazzas. There may be occasions when you prefer the use of a guide to provide you with a little more information and context to the places you visit.
A selection of recommended Catania tours are detailed below.
The Best Things to Do in Catania
Drink and Dine with Locals at Via Santa Filomena
If you want to enjoy authentic Sicilian cuisine during your time in Catania, head to Via Santa Filomena for a spot of lunch, dinner, or an evening tipple. This narrow passageway leads you away from the overpriced tourist traps to some of the best restaurants and eclectic speakeasies in the city. It is not uncommon to see locals lined up outside their favourite spots here.
Caffe Curtigghiu, Blanc a Manger, Polpotteria, and Fud are among those eateries that come highly recommended. For drinks, don't miss the eccentric "Mr Hyde" speakeasy that is styled like an old London apothecary.
Take a Wine Tasting Tour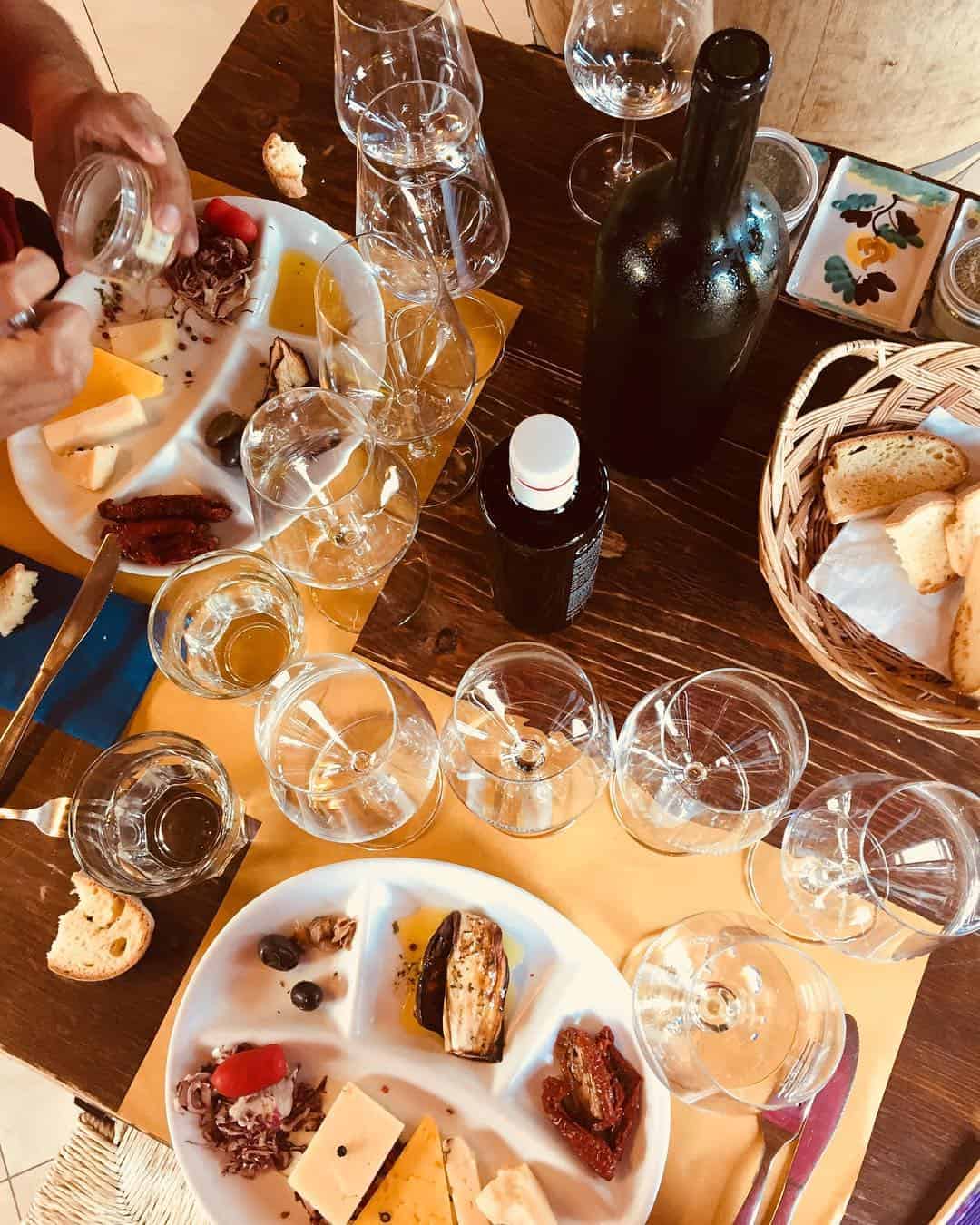 There are many wonderful vineyards perched on the slopes of Mount Etna. The rich volcanic soils here contribute to the perfect conditions for growing grapes and producing flavourful wines.
The nerello cappuccio and nerello mascalese grapes are native to this region. Syrah, merlot, and cabernet sauvignon also grow in abundance to make red wines of astounding quality.
Not all Mount Etna wineries allow tastings and those that do often require an advanced appointment. You can also visit several wineries at once on an organised tour. If your schedule doesn't allow you enough time to visit vineyards, you can also taste the local wines, cheeses, and cold cuts in one of Catania's hip bars.
Suggested Wine Tasting Tours
Visit a Sicilian Cheese Dairy
Sicily and wider Italy are globally renowned for their cuisine. Italian food is in fact, UNESCO protected.
There are several wineries located close to Mount Etna, just a short drive away from Catania. Many of these family-run businesses offer cheese tastings and tours of their production facilities where they explain the cheese-making process.
Here you can sample an array of excellent Sicilian cheeses such as caciocavallo, provolone, pecorino, ricotta, and gorgonzola. Tastings are prepared with local wines and condiments.
Stroll Along the Scenic Coastlines of Aci Trezza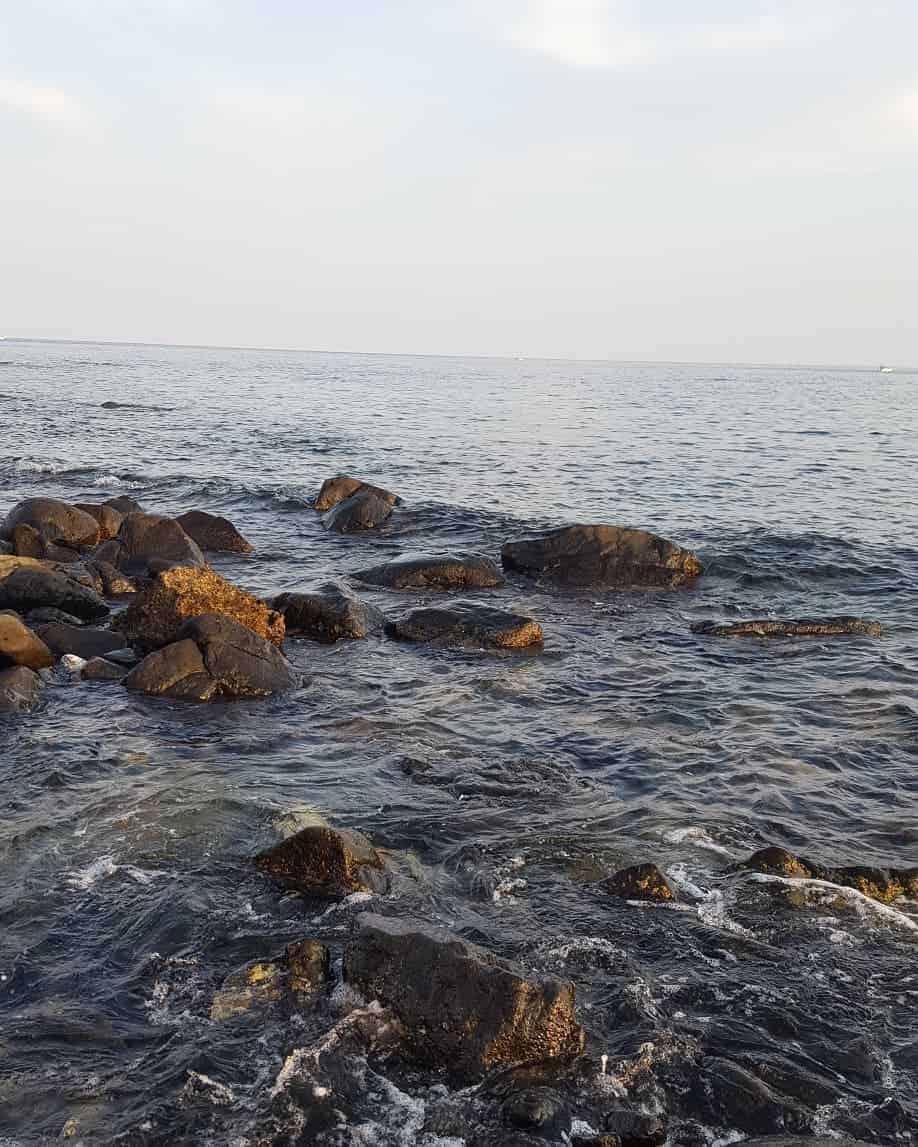 Aci Trezza is a beautiful seaside town situated just 20 minutes away from the centre of Catania. The town is famous for its unique rock formations that jut out of the Mediterranean sea.
According to Greek and Roman mythology, Ulysses was sailing by Aci Trezza when a ferocious man-eating giant attempted to attack him. The giant threw giant boulders at Ulysses which became the rocks that you can see jutting out of the water today.
Visiting Aci Trezza is one of the best things to do in Catania if you are looking for a little rest and relaxation. Wander through the pastel-coloured port, have lunch in one of the beloved local fish restaurants, and sunbathe on the rocky beaches.
Aci Trezza is home to a number of exclusive beach clubs where you can rent a sunbed and an umbrella for 10 euros or so. It is also possible to rent kayaks and stand-up paddle boards here in order to venture out to the little craggy islands that are a few kilometres away from the shore.
Witness Ferocious Haggling at La Pescheria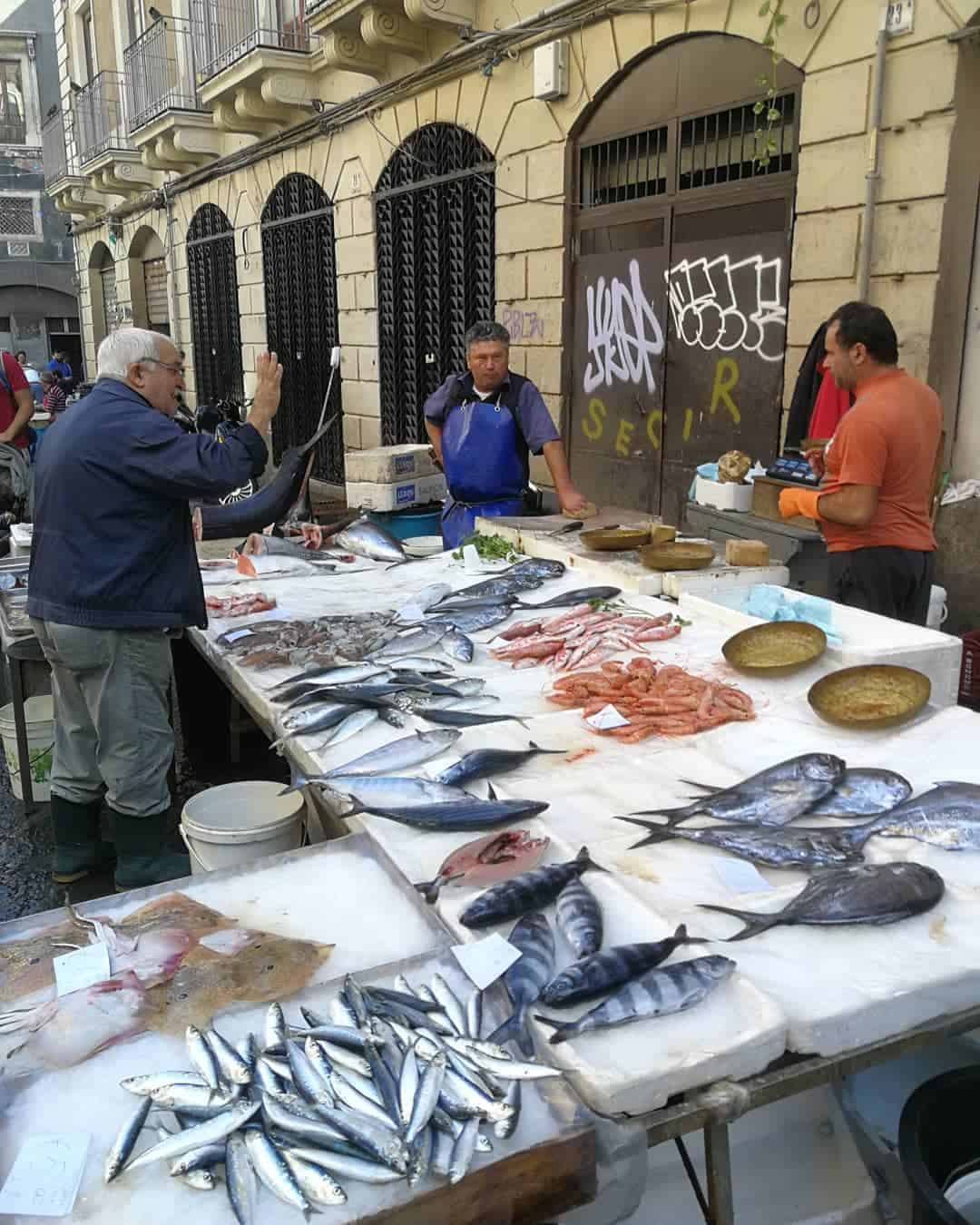 La Pescheria is Catania's resident fish market. The market is an interesting place to stop during any Catania itinerary in order to catch a glimpse of local life. Every Monday through to Saturday, local fisherman head to the Catania fish market to set up stalls displaying their latest catches.
Expect to see ferocious haggling between locals and vendors, both set on receiving the best deal possible. A wide array of weird and wonderful creatures from the deep can be found on display here.
La Pescheria is far from being a touristic market: it is mostly Catania locals that venture here. You can also find stalls selling fresh fruit and vegetables, local cheeses, and handmade cakes and pies close to the fish stalls.
Have a Sicilian-Style Meat Feast at Plebiscito Road
Catania (and Sicily in general) is a street food lover's paradise. Proving that Italian food is far more than just pizza and pasta, there are plenty of places in Catania where you can grab delicious, filling, and cheap street food meals.
Meat lovers should head to Plebiscito road and stop by the numerous butchers that serve "Arrusti e manga" – 'grill and eat' food. This tradition entails choosing a meat dish of your choice (from horse meatballs to pork chops, and veal) and having it grilled to your liking.
I would recommend ordering a "salmoriglio" – meat seasoned and dressed with drizzles of vinegar, olive oil, and lemon juice, then seasoned with rosemary and chili.
Sample Sicilian Street Food Delicacies
Foodies that prefer lighter street food delicacies can feel rest assured that there are plenty of other, less meaty options available for sampling. At Plebiscito road, consider trying a "cipollata" – spring onions that are wrapped in bacon and then grilled.
Around Catania, you will find bars and bakeries that serve warm food (tavola calda) throughout the day. A must-try in Sicily is the arancini balls – deep-fried dough balls that are filled with risotto rice and either meat or vegetables. Sicilian arancini balls can often be found for as little as one euro each, and are a great choice for a cheap snack on the go!
Suggested Catania Food Tours
Take a Day Trip to Beautiful Taormina
A day trip to Taormina is one of the best things to do in Catania and the highlight of any Sicily itinerary. Perched along the side of a mountaintop, Taormina offers incredible views over to Mount Etna, in addition to spectacular panoramas over the sea.
The little town may well be one of the most beautiful places in all of Sicily. As a result, Taormina is also very touristic, however, the crowds do not detract from its appeal and charm.
Visitors to Taormina should not miss the ancient Greek theatre (Teatro Greco), and the lovely beaches of Isola Bella. It is possible to travel to and from Taormina in a day by train from Catania.
Suggested Taormina Tours
Marvel at the Piazza del Duomo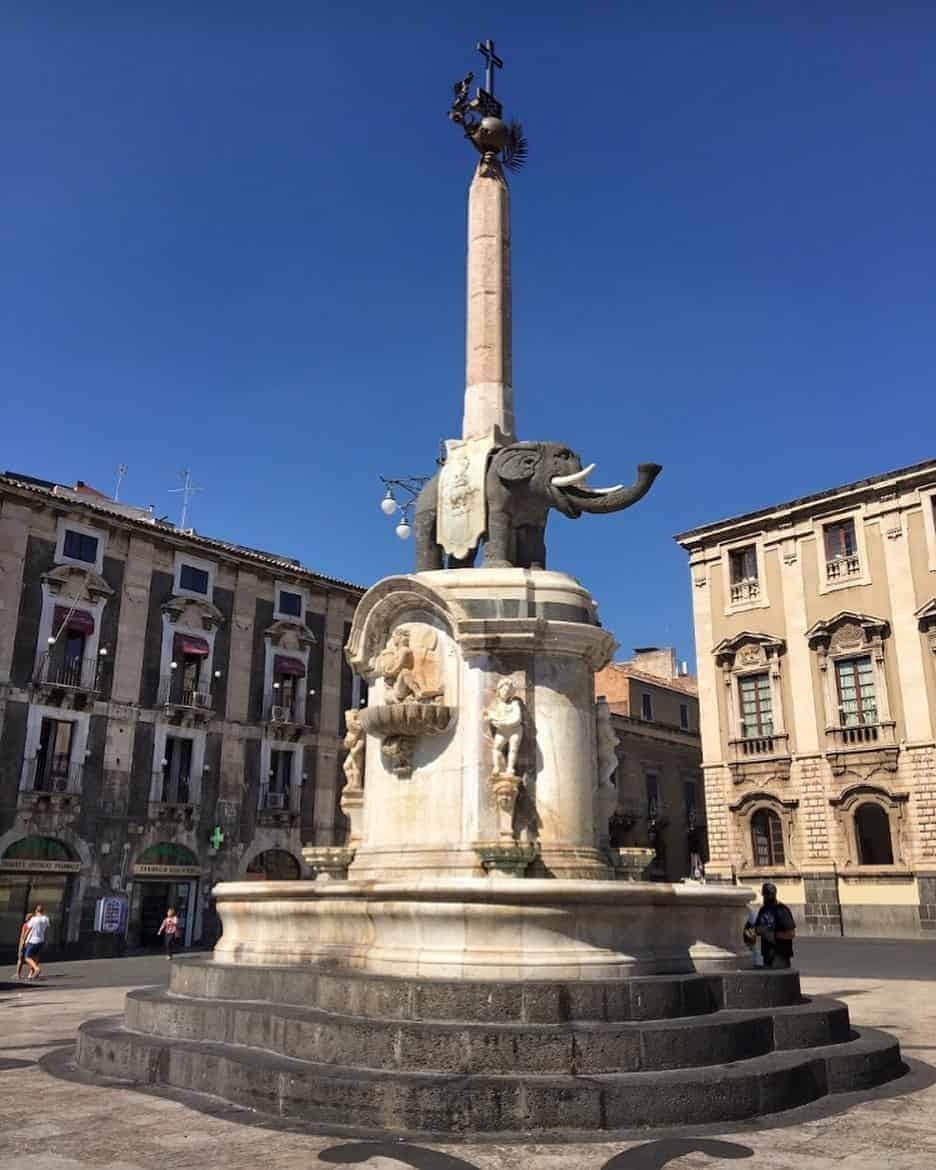 The beating heart of central Catania revolves around the Piazza del Duomo, and the piece de resistance – the Duomo itself. The elegant Cattedrale di Sant'Agata is as spectacular inside as it is outside.
Look out for the fountains located in the centre of the piazza – most notably the Fontana dell' Elefante – a fountain whose centrepiece is an adorable, smiling elephant that was built out of black lava and dates back to the Roman era.
Stand Beneath the Porta Garibaldi
Porta Garibaldi is a grand stone archway in Catania. The archway dates back to 1768 when it was built in honour of King Ferdinand IV, before being renamed in honour of Giuseppe Garibaldi who helped to unify Italy.
The words "Melior de cinere surgo" are carved underneath the arch. This means rising from the ashes and represents Catania's ability to continually rise and rebuild after being destroyed and conquered so many times.
Window Shop Along Via Etnea
Via Etnea is one of the main promenades that runs through the length of Catania. Given its name due to the volcano that looms over the city, Via Etnea's tree-lined streets are filled with upscale designer boutiques, quirky coffee shops, and chic restaurants.
Indulge in "La Dolce Far Niente" at Piazza dell'Università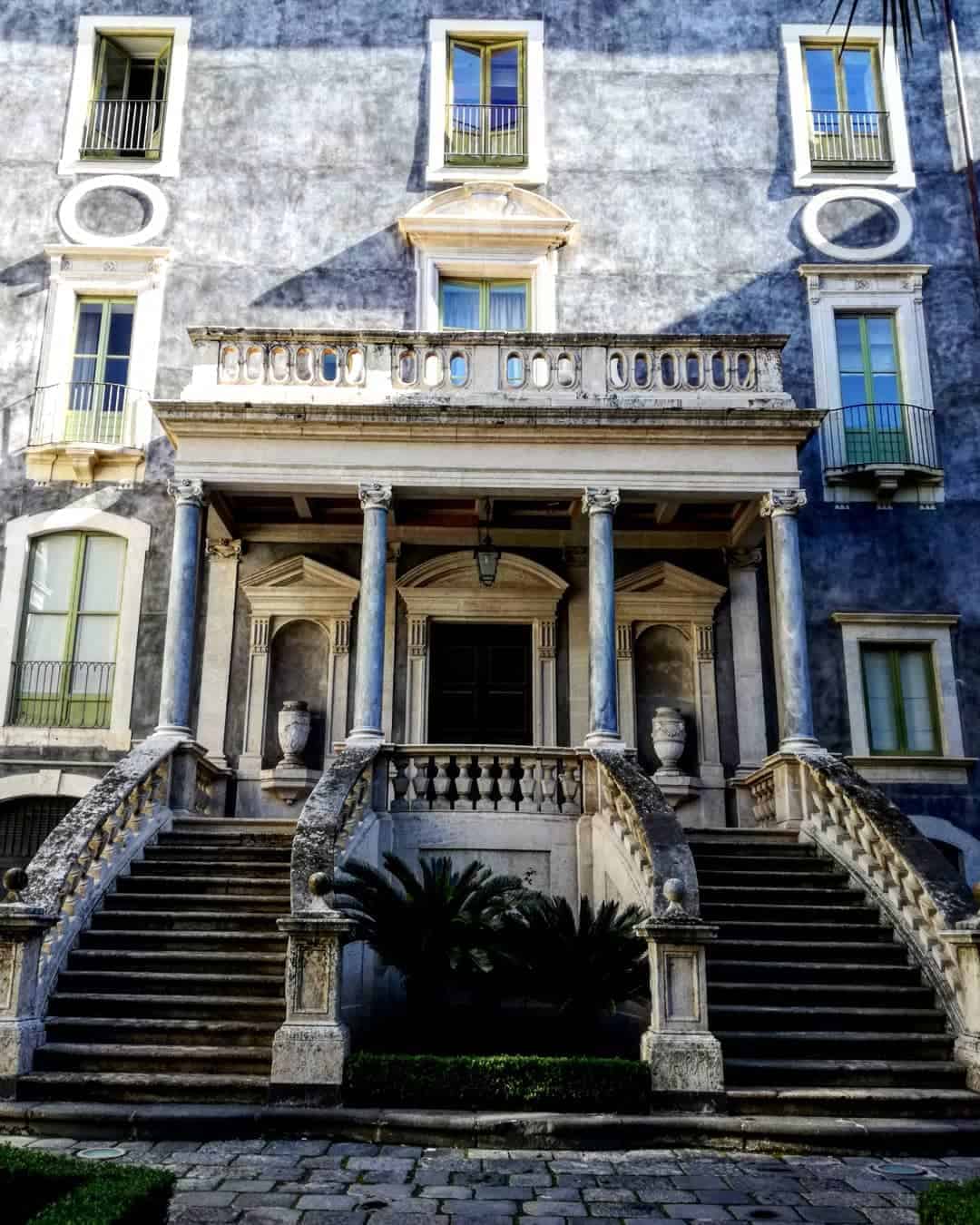 La dolce far niente (the sweetness of doing nothing) is a beloved Italian pastime which is quite simply, doing practically nothing and enjoying a lazy day watching the world go by.
One of my favourite things to do in Catania was to sit beneath the cabanas at one of the coffee shops surrounding the Piazza dell'Universita and people watch while enjoying a breakfast sfogliatelle and a ginseng coffee. On sunny afternoons, street performers and musicians take to the square.
The courtyard of Piazza dell'Universita is surrounded by grand palaces. The Palazzo Degli Elefanti and the Palazzo dei Chierici both boast impressive courtyards that travellers can enter and admire free of charge.
Shop for Local Produce at Piazza Carlo Alberto
The Piazza Carlo Alberto is a sprawling outdoor market – the largest in Catania. The stalls here sell everything from fresh fruit and vegetable produce to street food delicacies, trinkets and antiques.
One of the best things to do in Catania is to browse through Piazza Carlo Alberto and people watch as Italian nonnas buy the ingredients for their Sunday dinners. Various Catania food tours and Sicilian cooking classes stop by here. The market is a great place to buy ingredients if you are staying in self-catered accommodation.
Explore the Grounds of Medieval Castles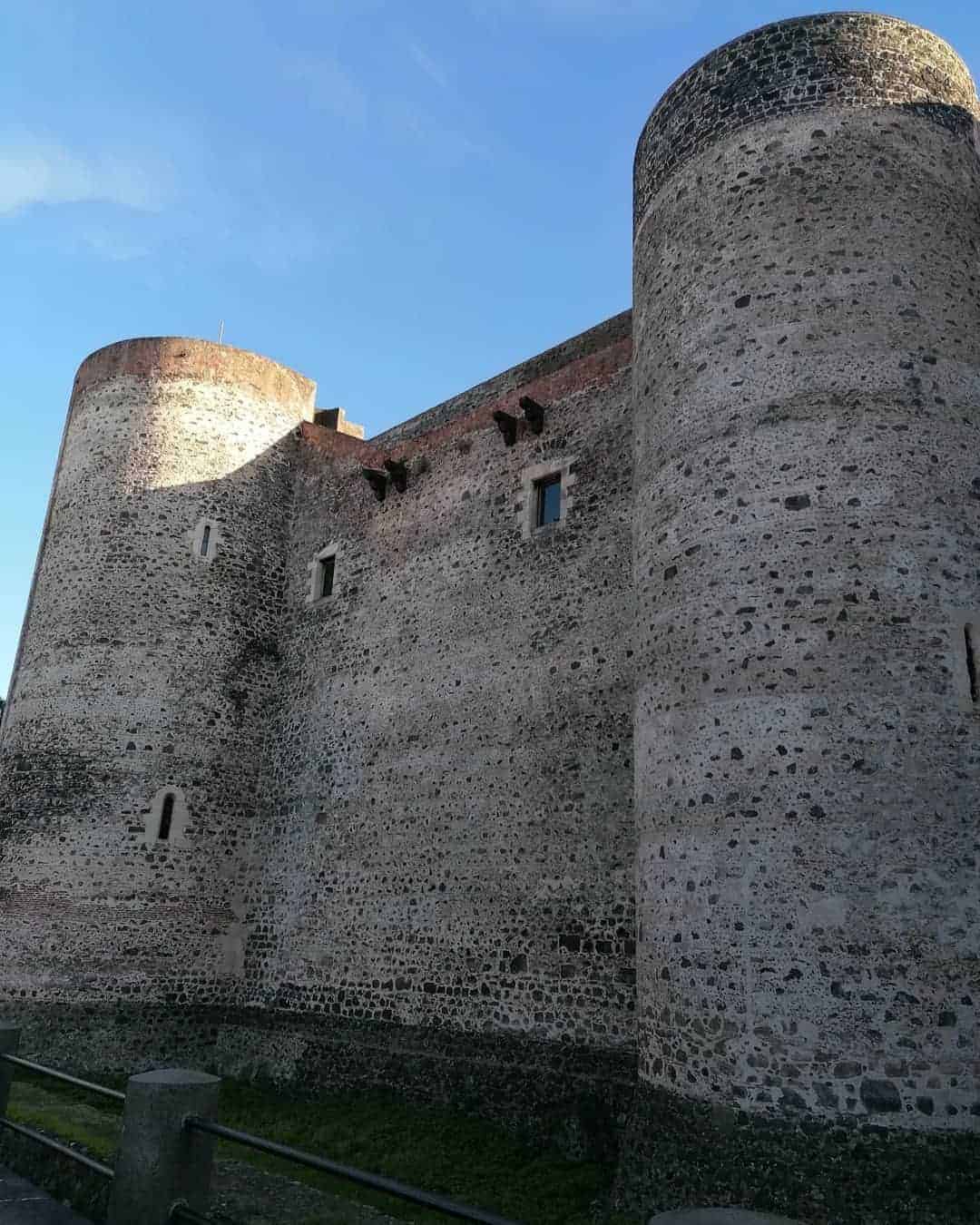 Catania is home to numerous medieval castles dating back to the 11th and 12th centuries. Most notably, Castello Ursino is well worth a visit.
The castle was built by Frederick II in order to defend and protect the east coast of Sicily. Today, it also houses a museum, and many notable historic artefacts that were recovered throughout the region.
Admire the Baroque Churches of Via Dei Crociferi
At first glance, Via dei Crociferi is just another unsuspecting narrow Sicilian street. There are, however, several beautiful churches, and grand examples of baroque architecture that make it very worthwhile to wander down here when exploring Catania.
In total, Via dei Crociferi boasts four churches that you should take the time to visit. Namely, those are the San Francesco church, the San Benedetto church, the San Giuliano church, and the church of San Nicolo all' Arena. All of the churches and buildings can be entered free of charge.
Tour the San Nicolò l'Arena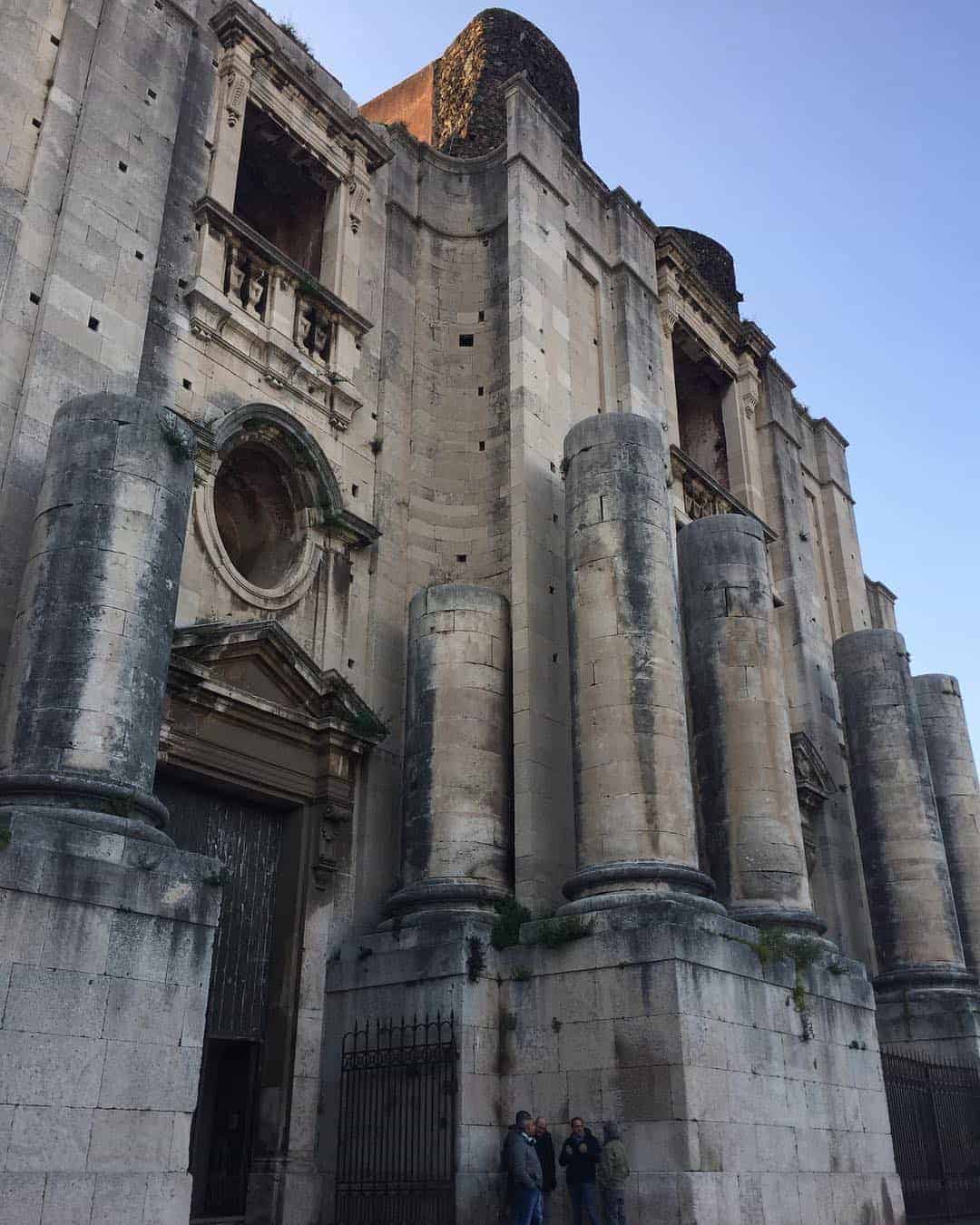 The Benedictine Monastery of San Nicolò l'Arena is one of the four ornate churches situated on Via Dei Crociferi. The construction of the church was never completed – contributing to the church's peculiar appearance today. San Nicolò l'Arena is one of the largest monasteries in Europe, as well as the largest church in Sicily.
It's possible to explore the grounds and interiors of the monastery, including its spectacular cloistered gardens. The monastery was actually built on top of an ancient Greek Acropolis whose marble columns still stand out front today.
Explore the Catania Botanical Gardens
The Catania botanical gardens (Orto Botanico dell'Università di Catania) are a wonderful green oasis in the heart of a crowded city. The gardens are just a short walk away from Giardini Bellini and filled with stunning floral arrangements, cacti gardens, and walking paths.
Sample Sicilian Pistachio Cream
You will find little jars of sweet pistachio cream sold at every other store in Catania. The cream is prepared with excellent quality pistachios from the village of Bronte. The nuts are said to have an especially rich taste on account of the lava soil on the slopes of Etna.
Pistachio cream is found stuffed inside croissants and sweet pastries in Sicily and even used a cooking sauce for savory pasta dishes. It is great as a gift or a souvenir to be slathered on toast.
See the Excavated Ruins of an Ancient Roman Theatre
Located at the crossroads between via Vittorio Emanuele, and via Teatro Greco, don't miss the partially excavated Roman theatre of Catania. Only half of the grand premises have been exposed, but it is believed that the original theatre could host more than 7000 people.
It is possible to visit the site with the company of a local Tour Guide, in order to get more insight into the theatre's history.
Scuba Dive to Mysterious Shipwrecks
Certified divers will be pleased to hear that there are several dive sites off the coast of Catania. Some of these sites, such as San Giovanni li Cuti beach, and Al Caìto are filled with marine life. Others such as La Tarvenetta have sunken ships waiting in the depths.
Suggested Catania Diving Tours
Fall in Love with the Quaint Town of Acireale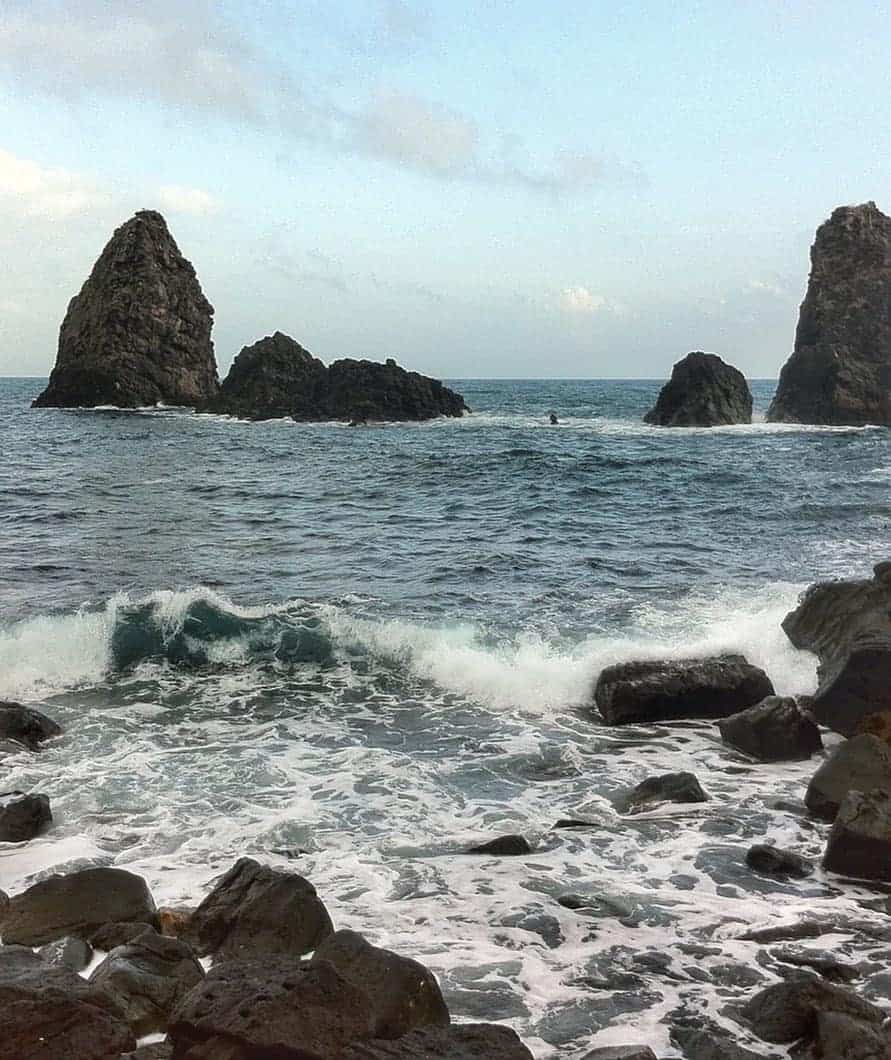 Acireale is a charming baroque style city that is situated just 30 minutes away from Catania. Despite having a small population of less than 60,000, Acireale boasts over 100 churches! Many of these religious structures date back centuries and house breathtaking frescoes and ornate furnishings within their structures.
Acireale's Piazza Duomo is a pleasant place for a spot of coffee and people watching. After spending some time exploring the quaint streets and narrow alleys of the Centro Storico, follow the winding pathways of Via Tocco down to la Timpa.
La Timpa is an area that offers incredible views over the Ionian sea and enables you to see across to Reggio Calabria, and mainland Italy in the distance. Continuing down the stone steps towards the sea, you are met with a charming port and excellent seafood taverns overlooking the waters.
Enjoy a Picnic at the Gardens of Villa Bellini
The picturesque gardens of Villa Bellini are an area of peace and tranquility in an otherwise hectic Sicilian city. Enjoy a stroll beneath the shade of the leafy palms that are scattered throughout the park, and stop by the water fountains to enjoy a picnic.
Opposite the bellini fountains, the pasticceria Savia is a great place to pick up a couple of fried arancini balls, an iced coffee, or a few cannoli.
Hike Mount Etna
Mount Etna, one of the most active volcanoes in Europe looms over the city of Catania. At its feet, the Parco dell'Etna national park offers many hiking trails. Those looking for more of a challenge can opt to trek up Mount Etna.
The ascent up the volcano twists and turns past abandoned villages and otherworldly landscapes that look more reminiscent of Mars than Eastern Sicily! It is possible to hike up to 2000 m independently, but those looking to reach the upper craters must do so with the assistance of a guide.
Suggested Mount Etna Tours
Relax at Catania's Beaches and Beach Clubs
Catania may not offer a lot in the way of pristine sandy white beaches, but it still offers plenty of opportunities for relaxing and topping up your tan beneath the Mediterranean sun. The black sand shores of the San Giovanni Li Cuti beach are perhaps the most picturesque place to unwind on a summer's day.
When night falls, head to Playa beach – a hot spot on the Sicilian nightlife scene where International DJs and all night beach parties entertain crowds of trendy Sicilians.
Board the Train to Syracuse and Ortigia Island
Syracuse and its adjoining Ortigia island are two of the most alluring places that you can visit on a day trip from Catania. Syracuse is characterised by ancient Greek ruins, fragrant lemon groves, and stunning baroque plazas.
Once upon a time, Syracuse was the most powerful city in the Ancient Greek world – more powerful than Athens or Corinth. Syracuse's history is best uncovered at the Parco Archeologico della Neapolis, and the Teatro Greco.
Suggested Syracuse Tours
Spend a Day in Noto
NThe charming baroque old town of Nato is a UNESCO protected spot. Despite its beauty, Noto remains relatively undiscovered and escapes the attention of most international visitors to Sicily. The elegant Corso Vittorio Emanuele is one of the main promenades and is lined with luxurious boutique stores, decadent churches, and grand palaces.
Where to Stay in Catania
Catania boasts a plethora of picturesque guest houses and hotels. Opting to stay close to one of the central landmarks such as Villa Bellini, Castello Ursino, Piazza Duomo, or Piazza Universita places travellers within walking distance of all of Catania's major points of interest.
The area close to the train station is best avoided. A handful of the best hotels in Catania are recommended below.
The Best Hotels in Catania on a Budget
The Best Mid-Range Hotels in Catania
The Best Hotels in Catania for Luxury Travellers
Getting Around Catania
Try to base yourself close to the city centre when you visit Catania. It is easy to navigate around the old town on foot. Catania's public transport network leaves a lot to be desired and it can be difficult to find and flag down taxis.
Buses in Catania
Buses in Catania are operated by AMT. There are numerous routes that run to various areas around the city and surrounding areas. You can check specific schedules here.
Single journey tickets on Catania buses are valid for 90 minutes. Alternatively, you can buy day passes so that you can hop-on and hop-off buses. Catania bus tickets can be purchased at tabbachi news stalls and small convenience shops.
Metro
Catania is home to the smallest subway network in the world. The Catania metro has just 11 stops. Trains operate frequent services around the main attractions in the city centre.
Trains to Surrounding Areas
The easiest way to reach the nearby towns of Acireale, Syracuse and Taormina is by train. Trains run regularly, and services from Catania connect you to Palermo and mainland Italy. You can check the timetables here. Services are usually limited on Sundays.
Renting a Car
Renting a car in Italy and Sicily provides you with a lot more freedom in getting around. This gives you the flexibility of not having to depend on public transport and makes it much easier to access some of Eastern Sicily's smaller towns and villages.
Private Taxis
It can be tricky to find a taxi in Catania. There are ranks at the airport, Piazza Duomo, and the central train station but you seldom see taxis elsewhere in the city. Catania has a number of taxi apps but they are widely used and Uber is not available here.
Travelling to Catania
There are several international flight routes that service Catania. Low cost flights from nearby countries in Europe and the Middle East can often be purchased for as little as $25.
Transfering from Catania Airport
Catania's Fontanarossa Airport is located just 2km south of the city centre. Getting into the city usually takes around just 20 minutes depending on the traffic.
You can opt to take one of the airport taxis waiting outside the arrivals terminal. The journey should cost no more than €20. There is also an AMT Alibus that runs every 20 minutes from the airport and stops at both Catania Centrale station and the Piazza Duomo (in addition to several other stops).
When to Travel to Catania
Catania can be enjoyed as a year-round travel destination depending on what your interests are. Winters in Sicily are much milder than most of Europe and although the temperatures aren't warm enough for visiting beaches, they are perfect for sightseeing and visiting historical sites.
The Spring and Autumn months see temperatures of the mid to high twenties in degrees Celsius while summer can see temperatures soar to as much as 35 – 40 degrees. It is advisable to consider travelling in late May, early June, or September in order to avoid the bulk of the tourist hordes.
Parting Words
Have any further questions about the best things to do in Catania, Sicily, or planning a trip to Italy and Sicily in general? I spent two months living in Catania and have travelled extensively through the Mediterranean. I would be happy to answer any queries you may have. Just drop me an email or a comment below. Safe travels! Melissa xo
Disclaimer: This guide on the best things to do in Catania may contain affiliate links. In other words, I may obtain a small amount of commission at no extra cost to you should you choose to make a purchase through some of the links on this page.
This aids me in keeping up with the costs of managing High Heels and a Backpack, and enables me to keep providing free travel content.

---