Igoumenitsa Greece is a small port city located in the Epirus region of northwestern Greece. Its passenger port is one of the largest in Greece and provides connections to the Ionian islands, Italy, Albania, and the wider Mediterranean.
The most recent census stated that Igoumenitsa had a population of 25,000 people. Igoumenitsa Greece in itself is not a tourist destination.
If you travel here during your time in Greece, chances are that you are doing so while en route to/from a beautiful Greek island. Sightseeing opportunities here are few and far between.
Passing through Igoumenitsa Greece is usually something of a necessary evil in order to get to where you're going. However, if you do find yourself needing to transit through Igoumenitsa, you will not be short of dining and evening entertainment options.
The seafront is lined with tavernas serving up sumptuous marinated meats, fresh fish sourced from local waters, and quality Mediterranean vegetables. In the wider vicinity, there are some interesting villages and beaches, like those at Parga and Sivota.
Visiting Igoumenitsa Greece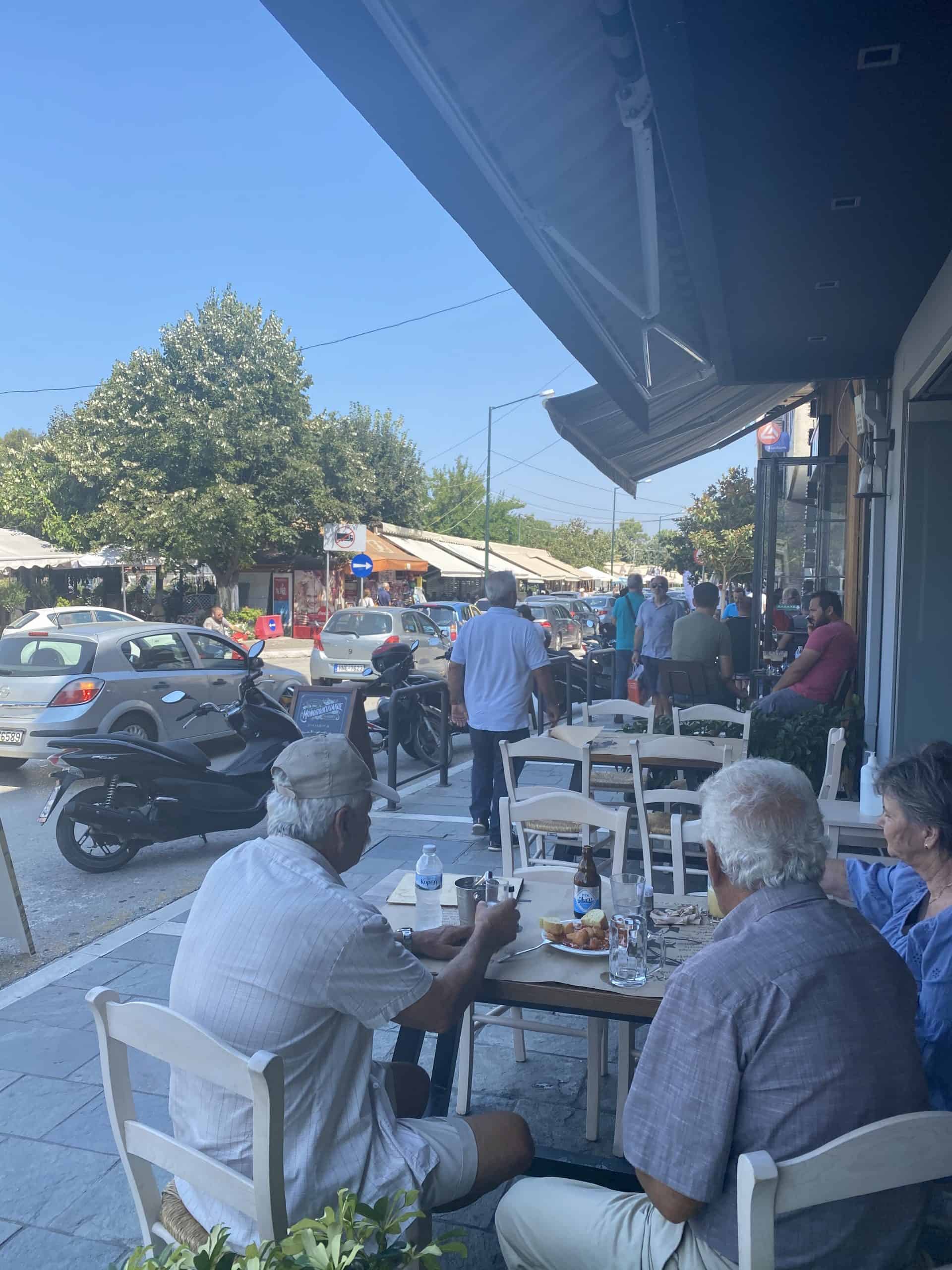 Greece, as a whole, has a fascinating history that dates back thousands of years. Every Greek city and town has links to Greek mythology and Igoumenitsa is no different.
Legend has it that the great Odysseus passed through Igoumenitsa numerous times on his great adventures and sailing voyages around the country. The city was called "Grava" during the medieval and Ottoman eras.
This is a name meaning "cave" in Greek. In 1938, Igoumenitsa became the capital of Thesprotia prefecture.
At this time, it received its current name "Igoumenitsa". Igoumenitsa means "Commander". 
Grimaldi Lines, Minoan Lines, Ventouris Ferries, Anek Superfast & Kerkyra Lines operate the ferries that sail from Igoumenitsa to various locations across the Mediterranean. Many operate on a seasonal schedule, and the port city is a lot busier during the summer months.
Things to do in Igoumenitsa and the vicinity
Whether you have a matter of hours to pass in Igoumenitsa while you are traveling to/from the Greek island groups or you will be staying overnight, you can certainly find ways to pass the time. If you are travelling with luggage, you can opt to store it in one of the lockers at Igoumenitsa port, or, if you will be spending a night in a hotel, have the hotel reception store it for you while you explore.
Visit the Igoumenitsa Archeological Museum
The Archeological Museum of Igoumenitsa (Ethniki Odos Igoumenitsas, Ioannina, Igoumenitsa 461 00) is a worthwhile stopping point while you are in town. While the museum pails in comparison to some of the larger historical museums in Athens, it does contain some interesting artifacts recovered from Igoumenitsa Greece and the wider region of Thesprotia.
The various exhibition halls contain all manner of objects that were excavated locally – from pottery to weapons and garments. The exhibits tell the history of the region in chronological order.
They date all the way back to the Paleolithic period to the years of the Ottoman occupation. The museum is open from 08.30 am until 15.30pm daily except for Tuesdays. 
Admission is €2 per person. Concessionary tickets are available for people over 65, young children, and students.  
Stroll along the seafront promenade
If you have a matter of hours to kill in Igoumenitsa Greece, one of the nicest ways to pass the time is to enjoy a leisurely stroll along the waterfront promenade. You can start from the Igoumenitsa ferry port and then head north along Ag. Apostolon.
There are plenty of places where you can stop for a coffee, an ice cream, or some Greek pastries en route. Walk up to the Archeological Museum of Igoumenitsa and the church of Santa Iglesia de Agios Panteleimon before backtracking. 
Venture down the coast
The appeal of this part of Greece is not in Igoumenitsa itself, but in the gorgeous islands, villages and coastal areas around it. If you are seeking tradition and culture, you can drive out to the village of Paramythia, or idyllic Plataria, overlooking the Ionian sea.
One Greek road trip idea is to start in Igoumenitsa and then head south to the beaches of Sivota before continuing on to Parga. If you have plenty of time to spare, you could also continue onwards from Parga down to the city of Preverza and then Lefkada island, which is connected to the mainland by a series of bridges.
Dine at Igoumenitsa restaurants
There are no specific dishes that hail from Igoumenitsa Greece. However, being perched on the turquoise waters of the Ionian sea means that there are plenty of excellent fish restaurants here.
Many of Igoumenitsa's restaurants serve up fresh seafood that has been caught by local fishermen in the nearby waters earlier that same day. One nice thing to consider ordering here is Barbatus.
This is fried fish that is served with a selection of sauces for trying. You can also find many dishes with squid, shrimp, and calamari.
You will also find a lot of the typical national dishes of Greece at the restaurants here too. For instance, pastissio, moussaka, souvlaki, and sharing platters of grilled meat, etc.
It is a good idea to walk a couple of blocks from the port when searching for a restaurant. The more "local" tavernas can be found a little farther down Eth. Anthistasis while those directly facing the port tend to cater to international tourists.
Alékos
Alékos (Ethnikis Antistasis 84) is a local favourite. The menu offers a plethora of homemade traditional Greek dishes cooked to perfection and paired with friendly service.
One of the major draws of dining here is Alékos' restaurant terrace. From here, you have incredible panoramas over the sea, which are particularly beautiful at sunset.
Μπριζολάδικο του Λούη (To Mprizoladiko Toy Loyh To)
Where: Ethnikis Antistaseos 110, Igoumenitsa 461 00
To Mprizoladiko is a bustling Igoumenitsa taverna that is crowded with local patrons virtually every night of the week. This is mainly a steakhouse and the majority of the menu consists of meat dishes.

For mouthwatering steaks, souvlaki, and kontosouvli cooked on spits, smoked country sausages, and handmade burger patties, this is a great choice. Mprizoladiko's seafront location ensures that you will enjoy a wonderful al fresco dinner with a view. 
Kochyli
Where: Grigoriou Lampraki 3, Igoumenitsa 461 00
Kochyli is a very well-regarded traditional taverna in Igoumenitsa Greece's town centre. The menu here boasts a selection of national and wider Mediterranean plates.

If you wish to enjoy fresh fish, grilled octopus, and seafood dishes, Kochyli is one of the best places to do so. The restaurant ambiance, like the menu, is simple yet tasteful.  
Cucine Ristorante Italiano
Where: Eth. Antistasis 90, Igoumenitsa 461 00
There are a couple of excellent-quality Italian restaurants in Igoumenitsa, Greece. Being so close to Italy has had something of an influence on the local food.

Cucine Ristorante Italiano is well regarded as being one of the best dining spots in town. You can enjoy mouthwatering handmade pizzas here that seemingly transport you to the city of Naples.
The restaurant's pasta sauces are unparalleled. They are prepared with fresh tomatoes and local vegetables.
The Village Igoumenitsa
Where: 4th km Igoumenitsa – Sagiada, Igoumenitsa 461 00
The Village is one of the best restaurants in Igoumenitsa for enjoying good Greek food on a budget. You can easily enjoy a three-course meal here for less than €15.

The restaurant is set within the hotel of the same name. Since it is slightly out of town, it can be a little tricky to reach it unless you are renting a car in Greece.
The Village restaurant boasts a separate lunch and dinner menu. Portions are generous, and all dishes are prepared with love by the local family that runs the restaurant.
Kontogiannis Ice Cream
Where: Grigoriou Lampraki 1, Igoumenitsa 461 00
If you find yourself waiting for your ferry in Igoumenitsa Greece on a hot summer's day, swing by Kontogiannis for ice cream. This quaint ice cream store serves ice creams in a plethora of different flavours.
You can find everything from stracciatella to good old-fashioned vanilla here. All of the owner's homemade ice creams are made with bio milk.
A range of weird and wonderful toppings are available. Browse through the diverse selection that ranges from mini marshmallows to nuts and chocolate sprinkles.
Kontogiannis' old-fashioned ice cream shop design seemingly transports you back in time. This is arguably one of the best dessert spots in Epirus.
The Gyros Factory
Where: El. Venizelou 7, Igoumenitsa 461 00
If you want to grab something quick and convenient, The Gyros Factory is a good shout. As the name suggests, this place specialises in… gyros!
For just a couple of euros, you can purchase a sizable chicken or pork gyro. Opt to have your gyro filled with "everything". If you do so, your pita will be loaded to the brim with potatoes, fresh tzatziki, salad, and mustard.
Where to stay in Igoumenitsa 
There are plenty of hotels and accommodation options in Igoumenitsa that suit a range of budgets and travel styles. If you have to take an early morning ferry, you may wish to consider a hotel close to the port.
A selection of reputable options is detailed below for your consideration. 
Alexander Rooms & Apartments
Where: Eth. Antistasis 8, Igoumenitsa 461 00
Alexander Rooms & Apartments are clean, spacious, and modern apartments and suites close to the port in Igoumenitsa. The rooms are excellent value, and the host offers a very convenient self-check-in service.
This is perfect for early morning and late-night port arrivals. Rooms start from €29 a night.
Selefkos Palace
Where: Nea Selefkia 461 00
Selefkos Palace is a nice place to consider if you are seeking affordable luxury in Igoumenitsa. The rooms are simple yet spacious.
Guests can enjoy a complimentary buffet breakfast. Meanwhile, the rooftop pool and terrace is a nice place to relax.
Rooms start from €65 a night. You can browse the latest rates and availability here. 
FAQs about Visiting Igoumenitsa Greece
Do you have any further questions or concerns about visiting Igoumenitsa Greece or passing through the port town en route to other destinations in the Mediterranean? The answers to some frequently asked questions on the topic are detailed below.
Hopefully, you will find the information you are searching for there. If not, please do not hesitate to reach out!
How to get to Igoumenitsa Greece?
There are various ways to get to Igoumenitsa Greece, depending on where you are traveling from. Public transport in Greece is very good, and a series of intercity buses connect Igoumenitsa to Greek cities such as Patras, Athens, Thessaloniki, and Ioannina. 
If you are driving in Greece, you will be pleased to know that the roads to Igoumenitsa are modern and well-maintained. It takes just over an hour to get from Ioannina to Igoumenitsa, approximately 3.5 hours to get from Thessaloniki to Igoumenitsa, and around 5 hours to get from Athens to Igoumenitsa.
A lot of Greek roads have tolls on them. So make sure that you always have plenty of small change.
Does Igoumenitsa have an airport?
The Greek city of Igoumenitsa does not have an airport. The island of Corfu, nearby, is one of 13 Greek islands that have international airports.
Its Ioannis Kapodistrias international airport (CFU) is the closest to Igoumenitsa and is situated 68km away. On the mainland, the nearest airport is in Ioannina. 
What state is Igoumenitsa in?
Igoumenitsa sits in the state of Epirus, on Greece's west coast.
What is Igoumenitsa Greece known for?
For most people, Igoumenitsa is best known as a transit hub and a gateway from mainland Greece to the Ionian islands, as well as nearby Italy and Albania.
How long is the ferry from Corfu to Igoumenitsa?
The precise travel time from Corfu to Igoumenitsa varies depending on what specific ferry you are traveling on. However, on average, it takes between an hour and ten minutes and an hour and 45 minutes.
How long is the ferry from Brindisi to Igoumenitsa?
It takes around 9-10 hours to get from Brindisi in Apulia, Southern Italy, to Igoumenitsa Greece.
How much is the ferry from Brindisi to Igoumenitsa?
The ferry from Brindisi to Igoumenitsa may cost you anywhere between €40-€80 depending on which specific service you travel on. Prices vary depending on the season and time of day. 
How do you pronounce Igoumenitsa?
Igoumenitsa is pronounced "ee-goo-men-it-sah".
Final thoughts on visiting Igoumenitsa Greece
Passing through Igoumenitsa Greece provides plenty of great people-watching opportunities and valuable insight into local life in Greece. While the port city is not especially beautiful, everywhere has its charm if you are willing to look for it.
Planning a trip to Greece and in need of some advice? Please don't hesitate to reach out to me.
I have been living in Pagrati, Athens since 2017.
I am happy to assist you with any questions. Safe travels!
Geia sou! Melissa xx
---