Driving in Greece is not as daunting as it may sound and in fact, renting a car gives you a lot more freedom and flexibility during your trip. If you tell people that you are considering driving in Greece, chances are that you will be met with concerned looks.
For whatever reason, people have this assumption that Greek roads are like the Wild West. There are a few pointers to keep in mind when driving here for the first time, sure.
But for the most part, driving in Greece is not that much different from driving in other parts of Europe. It is handy to have an idea of what the road and driving conditions are like in the country so that you travel to Greece knowing what to expect.
Generally, as long as you are aware of your surroundings and your own driving, you ought to be fine. This article has been written by someone who has lived in Greece since 2017 (me!) and is well-versed in navigating the country's roads.
Driving in Greece in 2023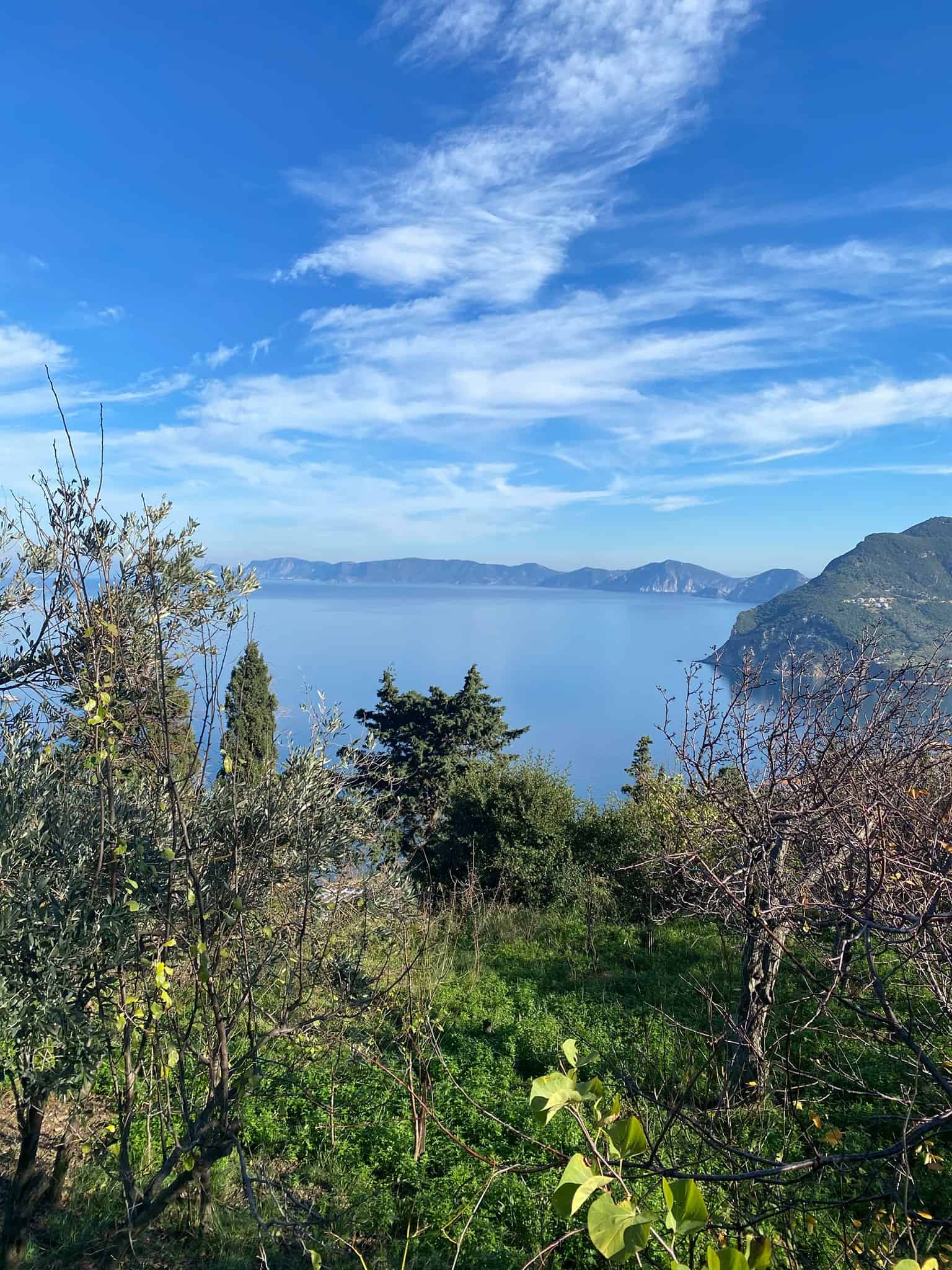 Renting a car in Greece and opting to drive around yourself can really enrich your travel experiences in the country. Greece has an excellent public transport system, with efficient, modern trains running between Athens, Thessaloniki, Meteora, Patras, and Larissa.
KTEL buses run to all corners of the country, including some of the most remote villages and regions. That being said, there are some parts of the country that are tricky to get around without your own vehicle.
For instance, Zagorahoria in Northern Greece, the Mani peninsula in the Peloponnese, and Tzoumerka. Renting a car means that you can venture further off the beaten path to any random, remote areas that pique your interest.
Not to mention, you can organise your Greece itinerary on your schedule and you are not at the mercy of bus and train timetables.
If you are planning on hiring a car, I recommend using Discover Cars which allows you to compare and contrast prices and deals between different local providers like Hertz, Avis, Europcar, etc so that you can secure the best deal.
Age limits for driving in Greece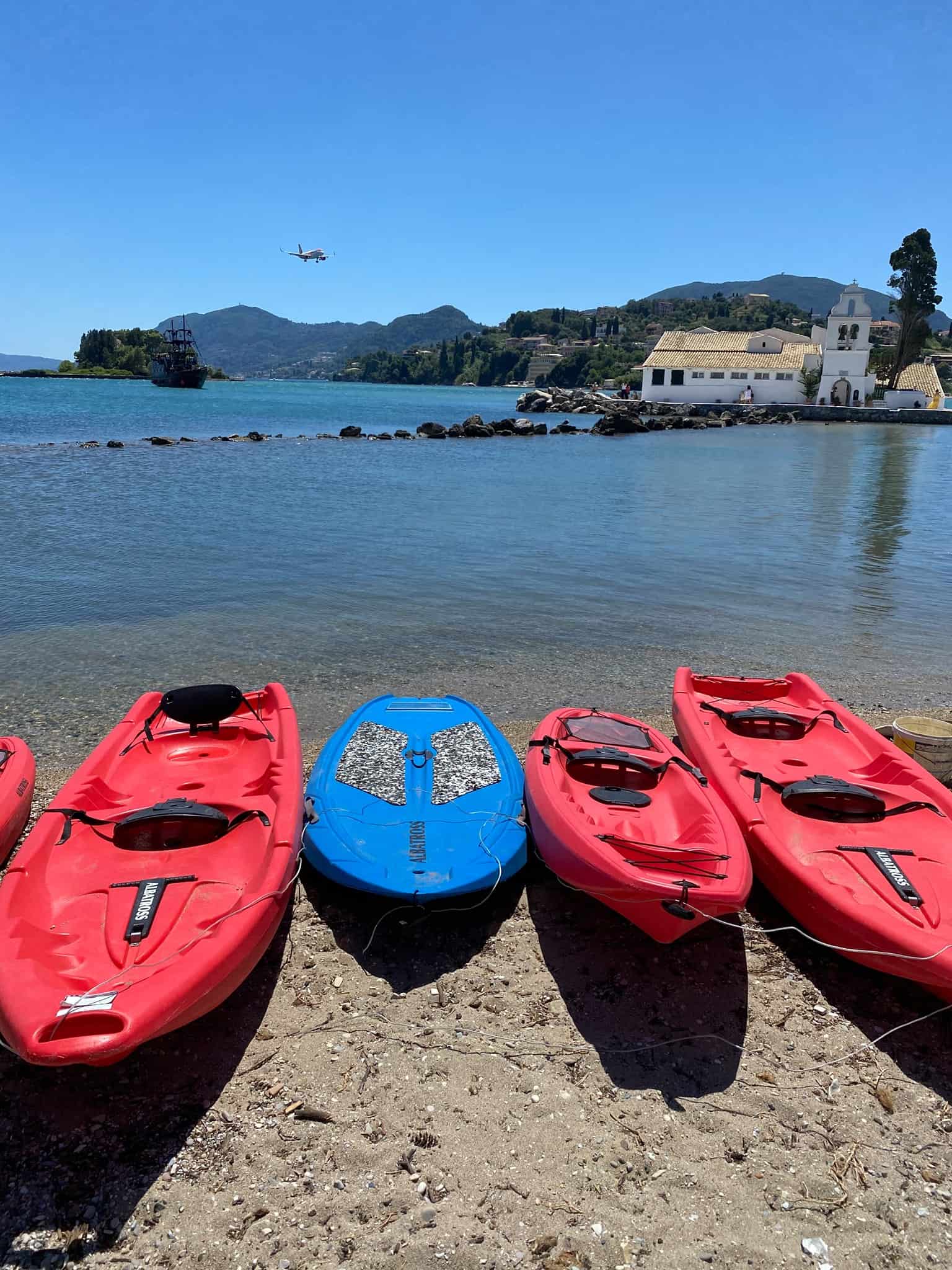 The minimum driving age in Greece is 18. As a foreigner, it is worth noting that if you choose to rent a car here, most rental companies will only offer rentals to people between the ages of 21 and 70.
Some will even set a minimum age of 23, while others will charge premiums to new drivers. Similarly, 70 is usually the upper age limit for renting a car, although some companies may allow older drivers to rent vehicles for a premium.
The basic requirements for driving in Greece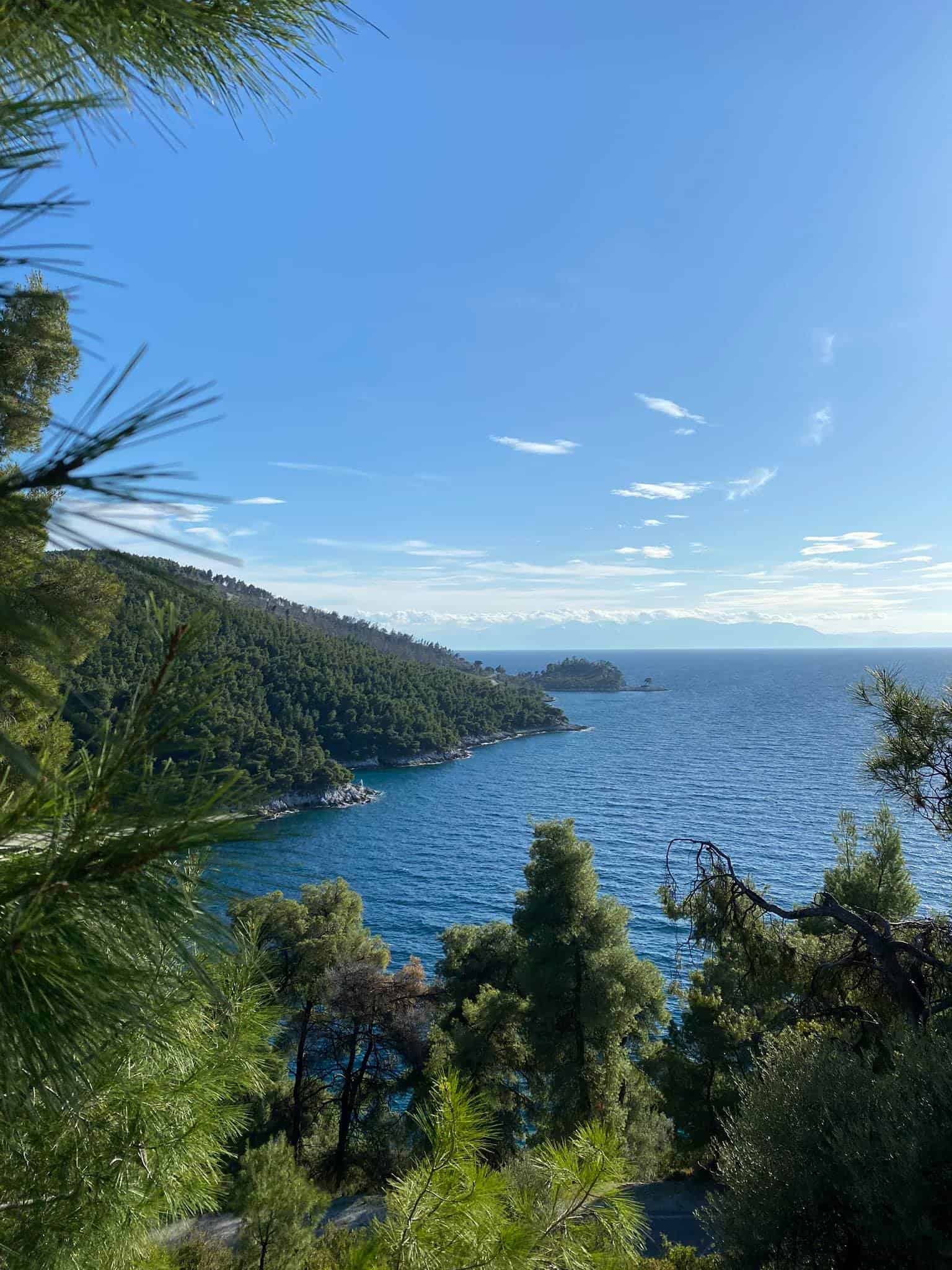 You need to have a full driver's license in order to drive in Greece and you ought to have had that driving license for at least a year. You may need an IDP (International Driving Permit) depending on which country your driving license was issued in.
EU driving license holders and people that hold a full driving license from the UK, US, Canada, Australia, and Gibraltar do not need to obtain an IDP prior to driving in Greece. This may change in the future, so it is worth keeping an eye out for any updates on the matter.
If you are from a country that is not exempt from the IDP requirement, you will need to obtain this prior to your trip. This is particularly important if your license is not in the Latin alphabet (i.e. this one).
The process of applying for your IDP varies depending on where you are applying from. You can find a full list of the various different international processes here.
You should carry your license and identification with you at all times in Greece. It is unlikely that you will be randomly stopped and asked to present these, but it is always better to be safe than sorry.
When you collect a rental vehicle, you will usually be asked to show an additional form of ID such as your passport, and to present a credit/debit card to keep on file.
Practical information for driving in Greece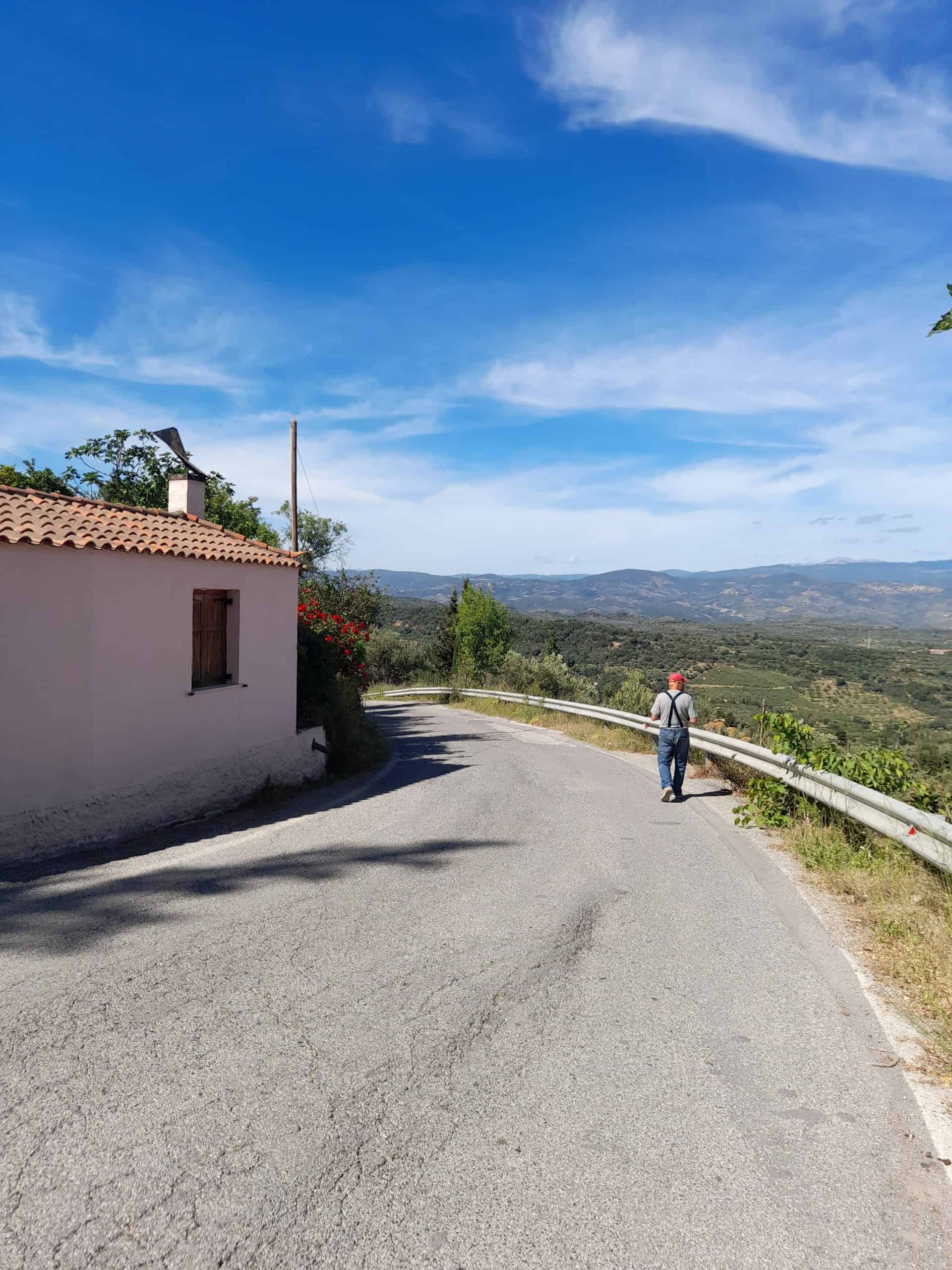 In Greece, you drive on the right-hand side of the road and overtake on the left, just like in much of Europe, the US, and elsewhere in the world. On a three-lane highway, it is the middle lane that should be used for overtaking. 
Some essential tips for driving in Greece are detailed below
Greece driving tips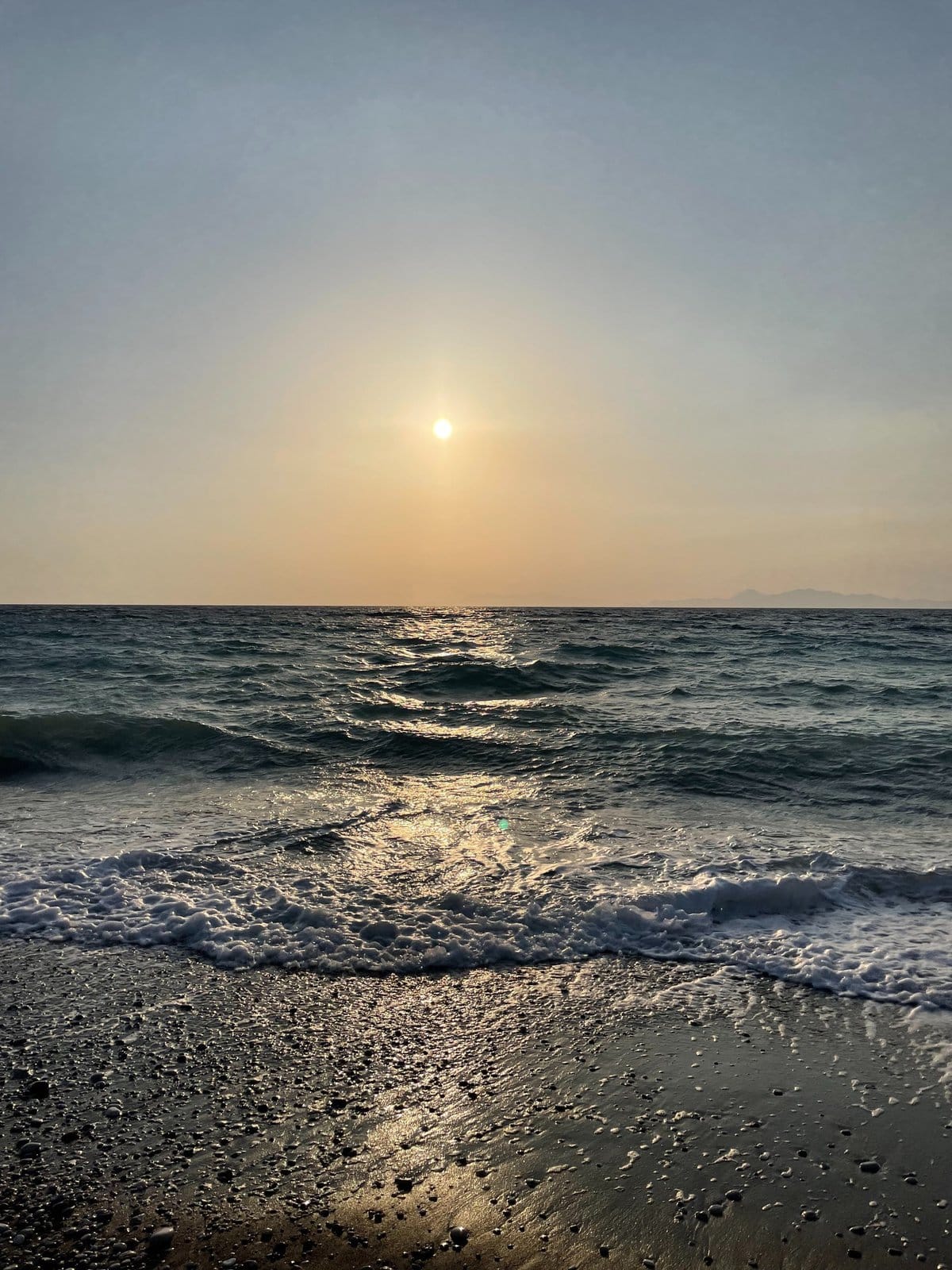 If you approach a roundabout, traffic already on a roundabout has to stop and give way to traffic entering the roundabout.


It is illegal to overtake other drivers at pedestrian crossings, junctions, bottlenecks, speed bumps, on bends, and anywhere where there may be low visibility.


It is also illegal to change lanes at a junction while driving in Greece


To an extent, you need to drive defensively as a lot of Greek drivers speed and take rules/speed limits as mere guidelines. Do not follow suit, and always be mindful of your own driving and your surroundings


Some mountain roads in places like Evritania, Metsovo, and Zagorahoria have sharp bends with drops at one side and no hazard barriers. They can be scary to drive along if you haven't driven in such environments before


Most roads in Greece are well maintained, with asphalt and you don't have to worry about potholes, etc. The exception is a few dirt trails in quieter islands that lead to beaches and coves, but they are still generally fine for driving along with a small, economy car


Look out for farm animals and stray dogs, cats, etc in rural areas


It is prohibited to drive in urban areas in Greece with your full-beam headlights on


Some country roads can be poorly lit so reconsider driving long distances cross-country at night.


It's a good idea to make sure your car is stocked with a first aid kit and plenty of bottles of water in case of an emergency/breakdown
Road rules in Greece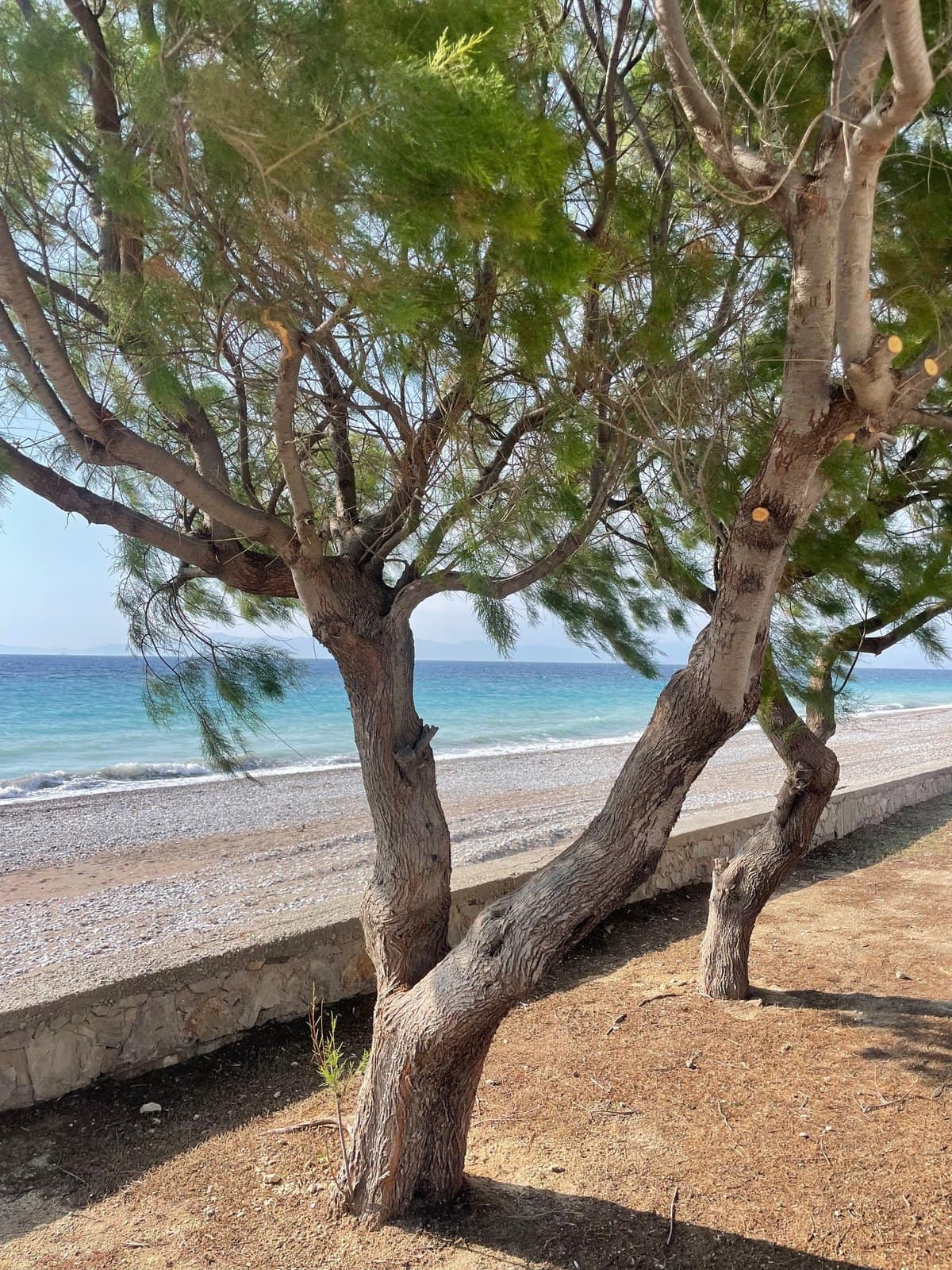 There are also several key road rules and regulations to be aware of in Greece. Here, it is an offense to drive while under the influence, to drive without a seat belt, to drive while texting or on the phone without a hands-free, or to drive a motorcycle without a helmet. 
If you approach a roundabout, traffic already on a roundabout has to stop and give way to traffic entering the roundabout. It is illegal to overtake other drivers at pedestrian crossings, junctions, bottlenecks, speed bumps, on bends, and anywhere where there may be low visibility.
It is also illegal to change lanes at a junction while driving in Greece.
Finding a reputable car rental in Greece
Plenty of reputable international car rental firms operate in Greece, including renowned brands like Avis and Sixt. Similarly, smaller local firms should not be dismissed, as they often offer better deals.
Use a comparison site such as Discover Cars to compare and contrast the prices offered by different companies and secure the best offer. Rental prices are usually reasonable, even in the peak summer months of July and August.
In August, you can often find a small car for around € 287.10 a week including essential insurance. That works out at just €41 per day!
Out of season, (i.e. from October onwards), you can find deals for just €85.29 a week. (Just €12 a day!)
The blood alcohol limit for driving in Greece
The blood alcohol limit for driving in Greece is 0.05 percent. This is the same as in much of Europe, although it is lower than in the UK which has a blood alcohol limit of 0.08.
It is very rare to see random checkpoints at the side of the road where police are conducting breathalyzer tests but they do happen occasionally. You should never drive under the influence and if you are driving too fast or dangerously, a breathalyzer test is going to be the first thing that the police do.
You can get a fine of up to €750 for driving over the limit in Greece, as well as a potential suspension of your license.
Fines for breaking road rules in Greece can be harsh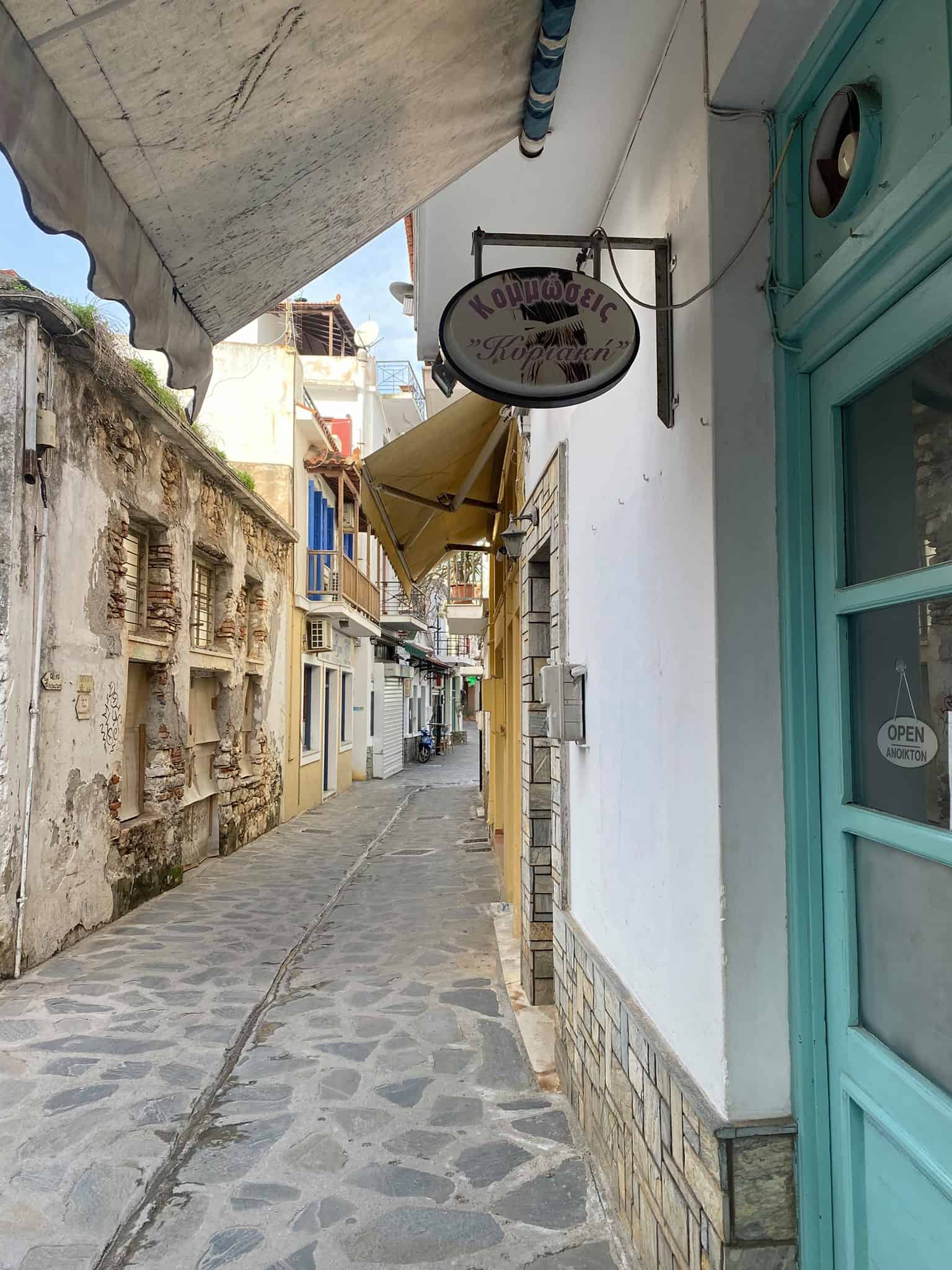 You should always take note of the local driving rules and speed limits when driving in Greece. This is in your own interest too, as fines can be steep, and Greek bureaucracy is always a nightmare.
For reference, the average fines for breaking various rules are detailed below.
Driving while over the alcohol limit – Fine up to €750 and potential suspension of license


Travelling without a seatbelt – €350


Driving or riding on the back of a motorcycle without a helmet – €350


Texting or using a phone (without handsfree) at the wheel – €100
Speed limits in Greece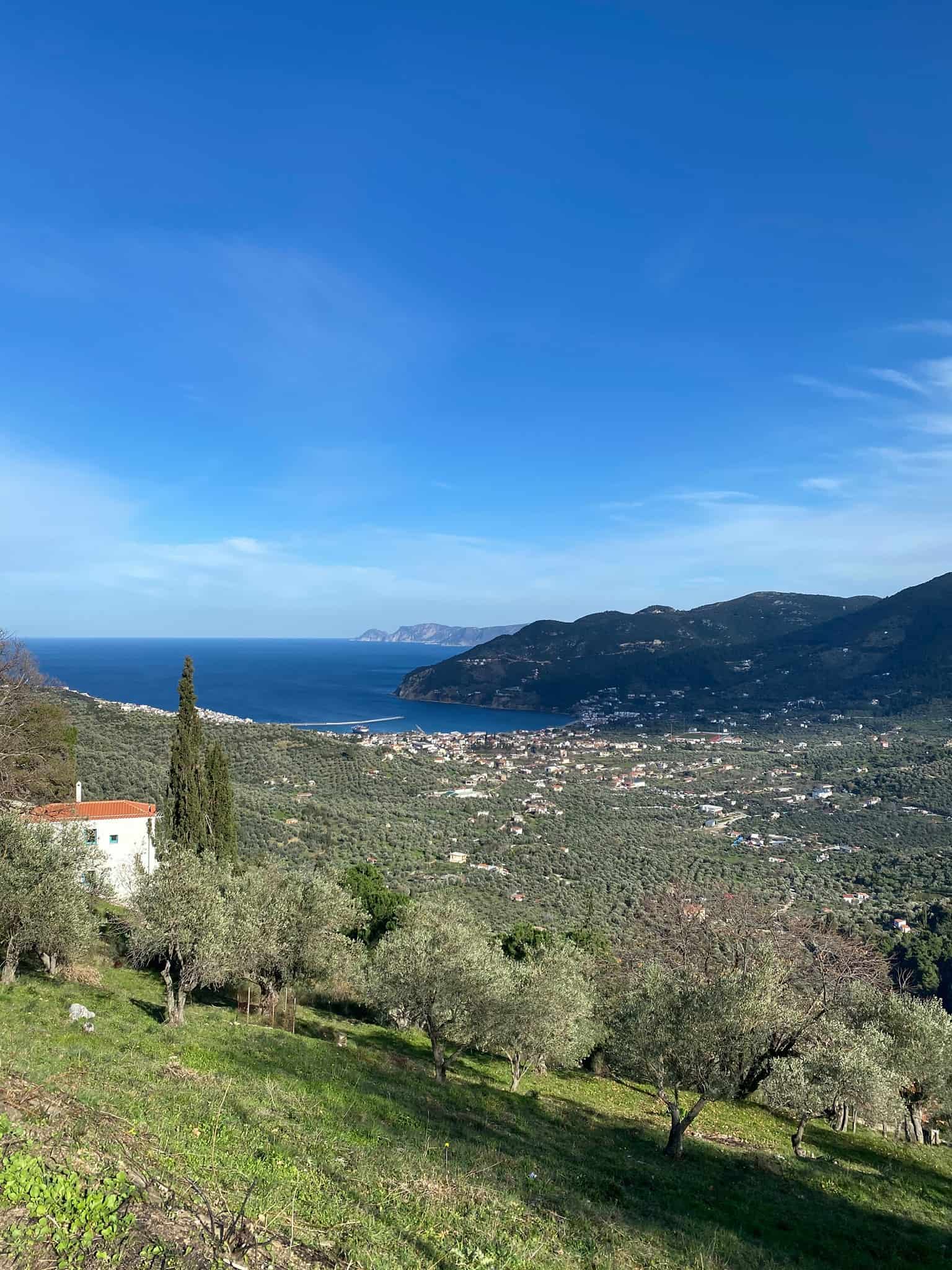 Speed limits in Greece are displayed in kilometers per hour (kph).
They can vary depending on where you are. However, the standard limits are as per below. 
Speed limits within cities: 50 km/h (31 mph)


Speed limits outside cities: 110 km/h (68 mph)


Highway speed limits: 120 km/h (75 mph)
Once again, a local perspective is that rules exist to be broken. Welcome to Greece!
You will often find people driving well above the speed limit. This is even true in residential Athenian neighborhoods like Pagati where boy racer types bomb up and down the street.
Regardless, follow the rules yourself and always adhere to speed limits. Speed cameras are in place in Greece, although more so on the mainland than on the islands where they are scarce.
However, police patrols do take place on various Greek islands.
They generally provide some tolerance (circa 5%). However, you don't want to find yourself on the wrong side of Greek law or have to deal with fines while you're on vacation. So take care to drive within speed limits for everyone's safety.  
Seatbelts are mandatory in Greece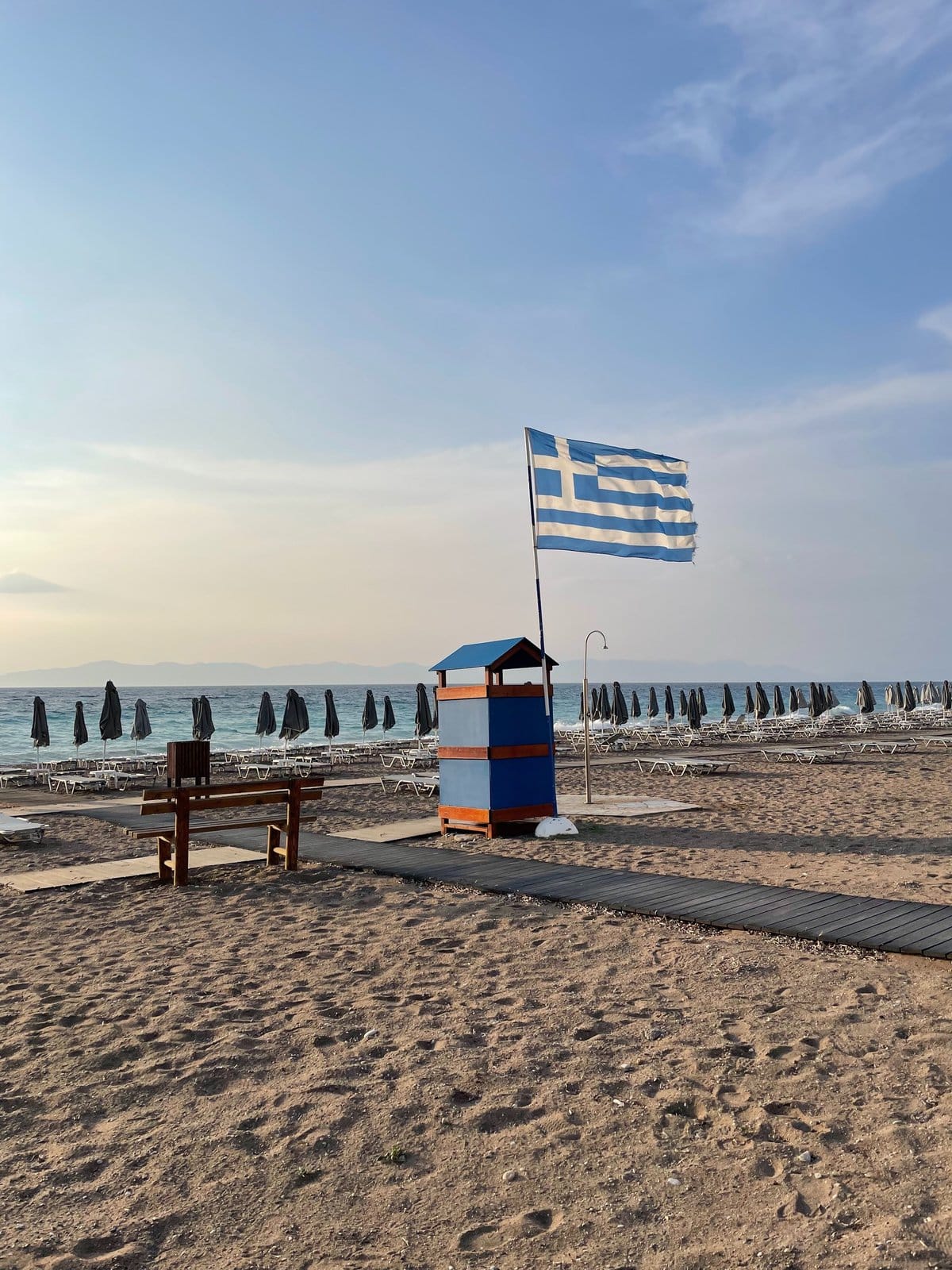 It is mandatory for all passengers inside a vehicle to wear their seatbelts in Greece. Still, you will often find that most Greeks wear seatbelts as the exception, not the rule.
Locals often complain that they find them irritating to wear! You should always wear a seatbelt for your own safety and legal protection.
Driving in Greece with children
If you are travelling as a family, children under 10 years old must always ride in the back seat of the vehicle. Children under 3 must be seated in the approved children's car seats.
Children between 3 and 11 must be in an appropriate child restraint for their size, while children over 12 with a height of 1.35m and above can wear adult seatbelts. If you are planning on hiring a car, you can bring your own car seat if you prefer, or you can rent one.
Most rental companies offer child seats in Greece. You can reserve one at the same time that you reserve your vehicle. 
Things to know about parking your car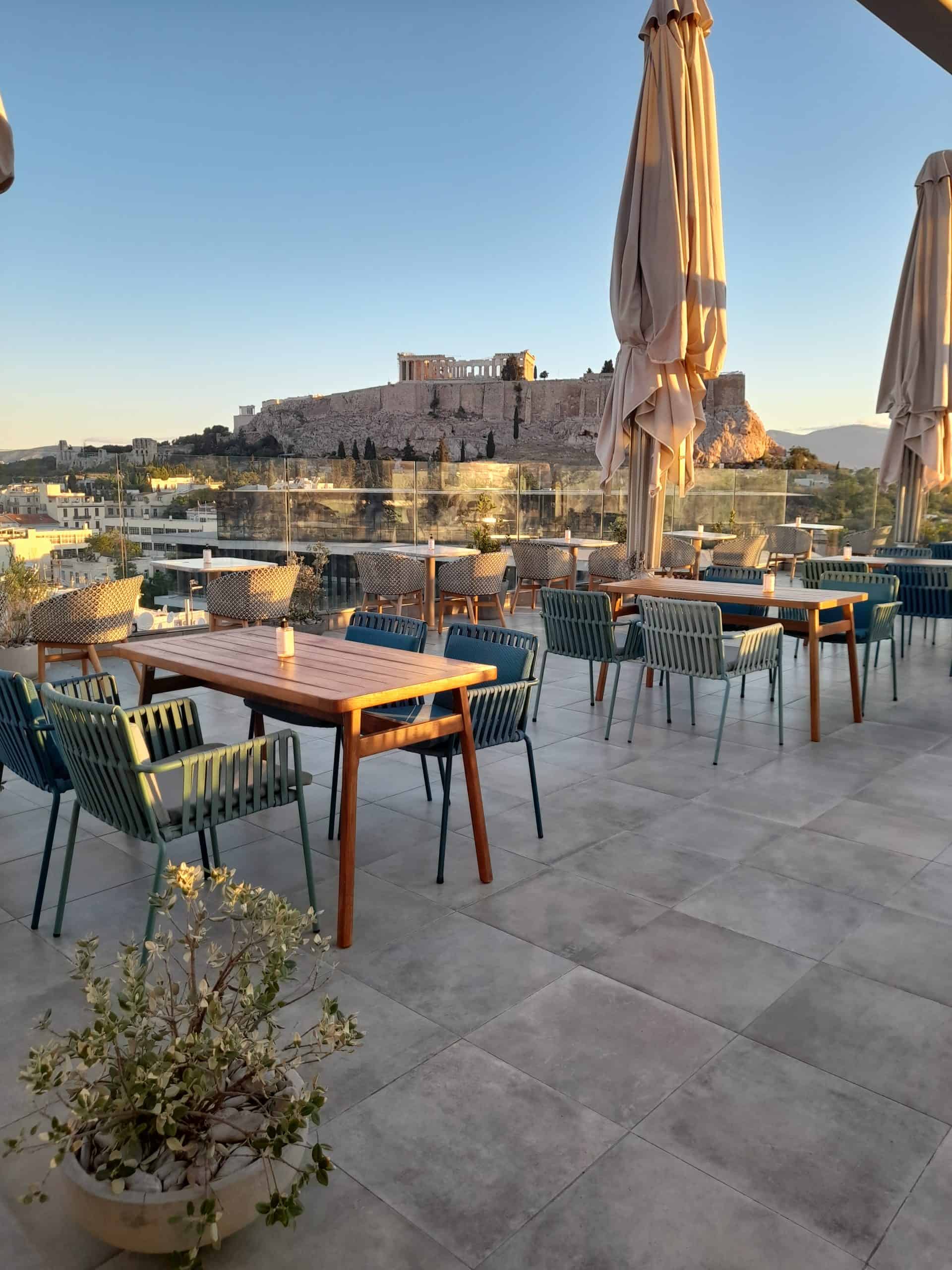 You cannot just park your car anywhere in Greece, especially when it comes to large cities like Athens and Thessaloniki. Many Athenian neighborhoods for instance, like Kolonaki or Koukaki, will only allow you to park there if you hold a specific permit.
Greek city centres can also be very chaotic, so trying to find spaces to park can be a bit of a free-for-all. Parking is not permitted if you are within 3 meters of a fire hydrant, 5 meters of an intersection, or 15 meters of a bus stop.
You may see some crazy parking skills in Greece where people have parked dangerously on street corners or half across the pavement. It is better not to follow suit as you can be towed for illegal parking.
The Greek municipal police (Δημοτική Αστυνομία or the traffic police (τροχαία) may do random checks in problematic areas to make sure that nobody has parked illegally. If you have, you will find a ticket on your window and your vehicle may have been clamped.
In Athens, street parking spaces that are marked blue are for resident permit holders only, while yellow parking spaces are only for commercial use. Anybody can park in a blue parking space between 09:00 am and 21:00pm on weekdays and from 09:00 am and 16:00pm on weekends.
Tolls on Greek roads
There are two major toll roads in Greece that you should note. One goes from Athens to Thessaloniki and the other goes from Igoumenitsa to Alexandroupolis.
Tolls of €3 here and €5 there may not seem like a lot but they can quickly accumulate if you travel long distances. For example, on the drive from Athens to Thessaloniki, you can expect to pay approximately €38 in tolls!
Tolls are cash only and a lot of toll booths are unable to give change for large bills. Always make sure that you have plenty of coins and small denomination notes on you.
Types of cars in Greece
You will see all manner of cars in Greece, from all different brands around the world. Most people here drive manual cars rather than automatic, though if you are renting a car, you will be able to find automatic rentals available.
If you are travelling to Greece from the US or Canada, it may come as a bit of a culture shock to see that everyone drives very small cars in Europe. It isn't common to see SUVs or large trucks on the road here.
This is largely because many European cities are old and do not have wide roads to accommodate larger vehicles. Not to mention, it would be a nightmare trying to maneuver a giant car through multi lanes of traffic and into tight parking spaces in downtown Athens!
You can browse through the different types of car rental options on comparison sites like Discover Cars. Economy-style cars like Suzuki Swifts, Fiat Pandas, Toyota Aygos, and Fiat 500s are both popular and great choices for navigating the narrow, often congested streets.
Driving in Athens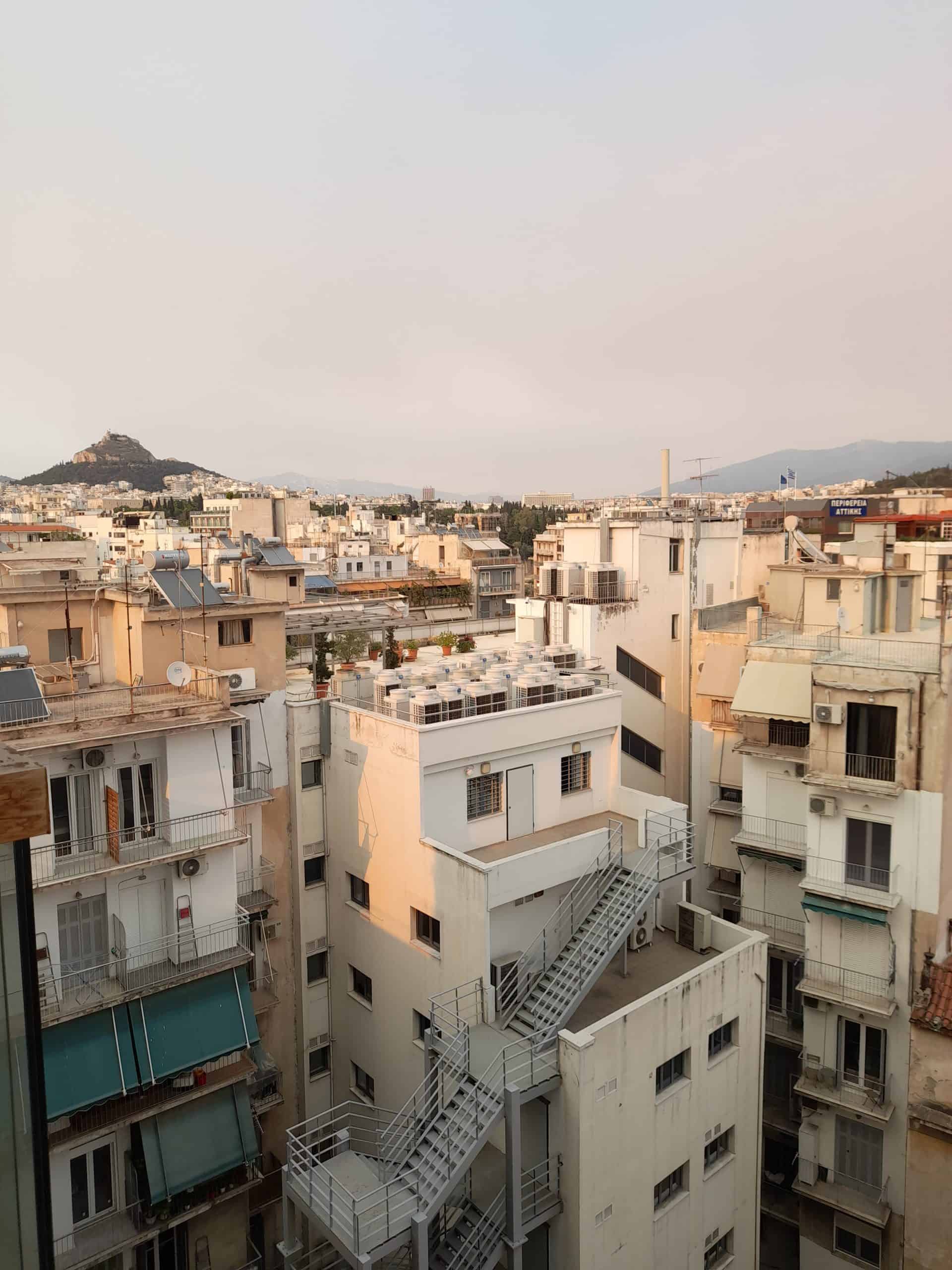 Driving in Athens and driving in Greece are not one and the same. It is generally a good idea to avoid driving in Athens if you can.
The city's bus, metro, and taxi network are good enough to get around if you're here on vacation.
The main problem with driving in Athens is that the roads are heavily congested. You will be navigating your way through busy roads that have four lanes of traffic headed in each direction.
A lot of people don't follow road rules either and will drive through red lights. They speed, drive under the influence after a night out at a bouzoukia, or overtake other drivers in a dangerous fashion.
While driving in Greece when you're exploring the mainland or driving around Greek islands is pleasant, driving in Athens is anxiety-inducing.
Traffic in Athens can be a problem. Particularly if you are moving around Leof. Vasileos Konstantinou and the central neighbourhoods of Monastiraki, Syntagma, etc at rush hour or on Friday/Saturday evenings. 
Driving in Thessaloniki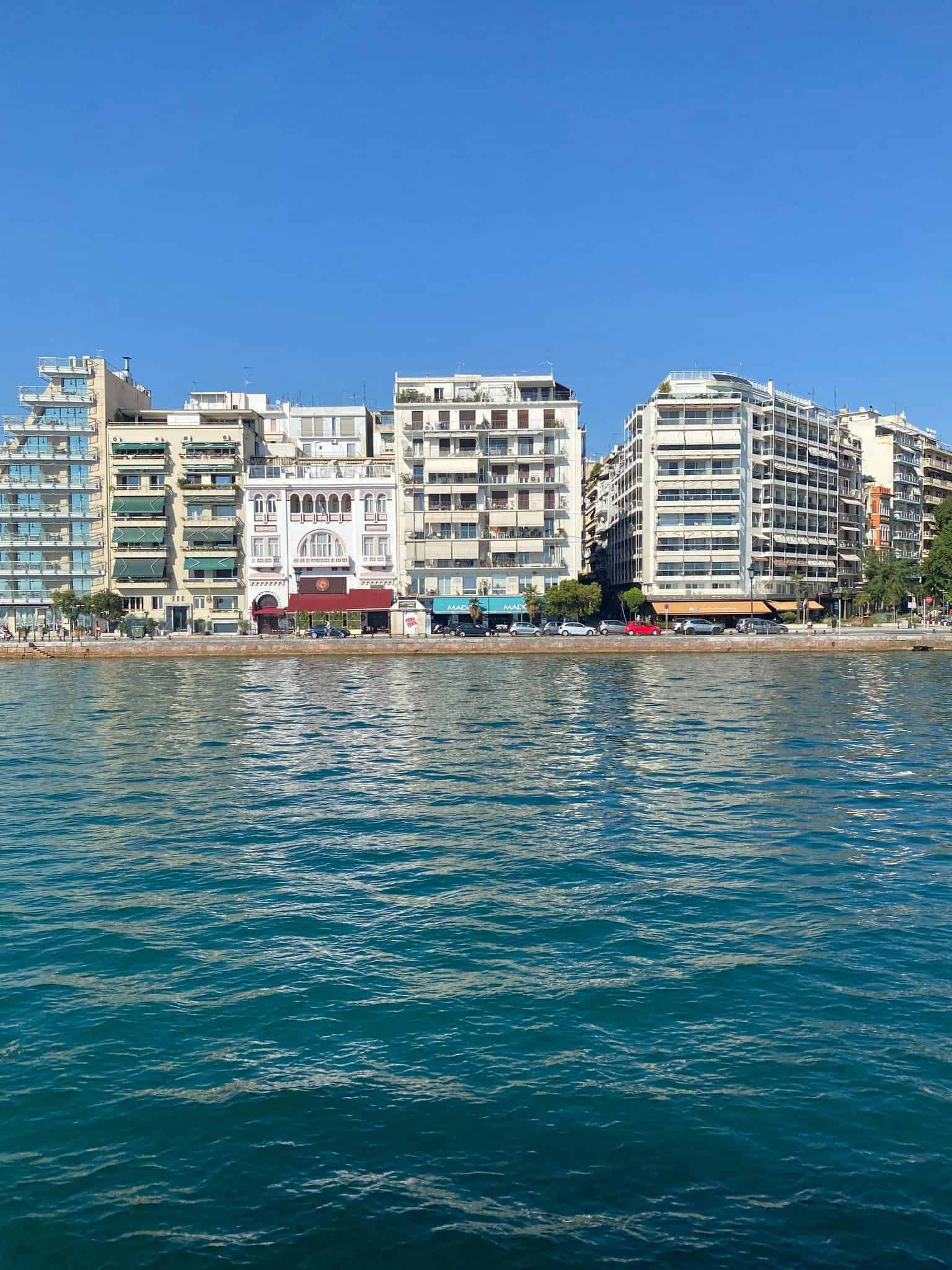 Driving in Thessaloniki is not quite as terrifying as navigating the congested, multi-lane roads of Central Athens, but it still requires patience, calm and situational awareness. Many of the roads in Thessaloniki are one-way, especially in the city centre.
Tsimiski Street is the main boulevard in Thessaloniki that runs through the city's downtown area, past various shops and restaurants. It is a four-lane, one-way avenue that makes it easy to get around most of the city's central districts.
Leof. Nikis is the three-lane, one-way avenue that runs along the waterfront toward the White Tower. Roads in Thessaloniki are clearly marked so you will easily be able to see which streets are one-way, where you cannot turn, etc.
One of the main things to look out for is mopeds as people on bikes often appear out of nowhere and weave in and out of lanes of traffic, even at stop lights.
Navigating Greek roads
Most Greek car rentals do not come with a GPS/satellite navigation system installed. You usually need to pay an additional fee to borrow a device and you can add it at the time of booking.
Alternatively, you should download an offline map on your phone like Google Maps or Maps Me. Greece has good 4G/5G coverage, even in remote areas and on islands so you will rarely find that you are without a signal.
European phone plans should work just fine here but if you don't have one, you can easily pick up a local sim for less than €10.
If you break down in Greece
If you are unfortunate enough to break down while driving in Greece, be sure to turn on your hazard lights and place your warning triangle on the road behind your car. (Warning triangles and reflective jackets are compulsory in every vehicle in Greece and you will usually find them in the trunk of rental cars).
Most rental companies will have a dedicated breakdown assistance number that you can call in case of emergencies.
Using your car horn in Greece
In the West, people don't really use the car horn unless they have to. It's considered almost rude to honk your horn at someone unless you really need to get their attention. 
In Athens and Thessaloniki, the streets are constantly abuzz with a cacophony of car horns. People get incredibly impatient and will honk their car horns at virtually anything.
This is peculiar as the use of the car horn is technically illegal in urban areas. You can "technically" get fined for illegal use of the horn so it's best not to use it liberally yourself. Although you will notice other drivers using it excessively.
Even if you are stuck in traffic due to an accident, or you're waiting at a red light, it is not uncommon for Greek drivers to honk repeatedly. This can feel a little aggressive and intimidating but it's mostly just a cultural thing.
Things are actually much different when you get out to rural areas of Greece. The only time you should really beep your horn is if you're driving around a mountain pass or along a narrow country road and you can't see what is coming in the opposite direction.
Traffic lights in Greece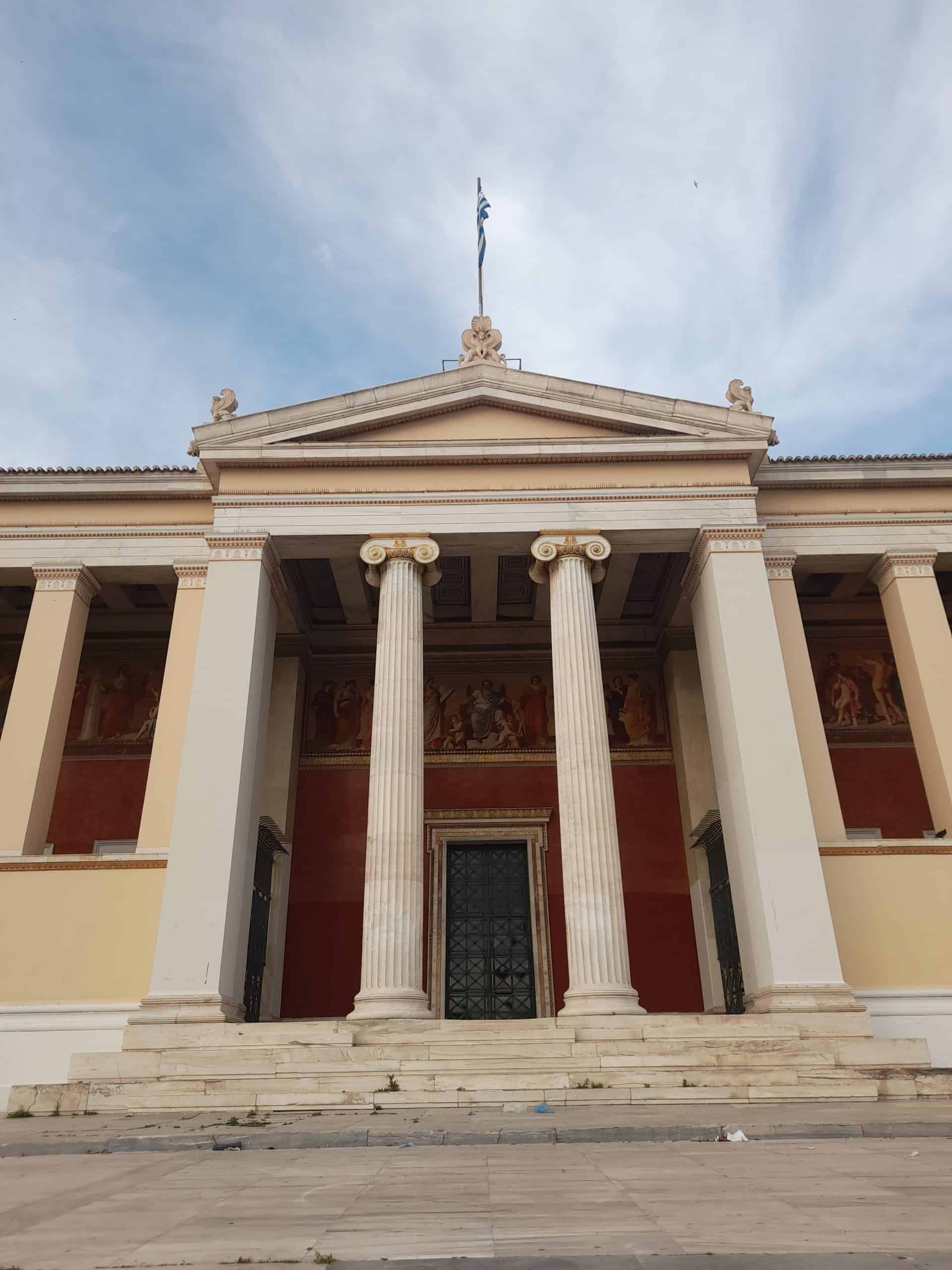 Traffic lights are typically Red, Green, and Amber. However, when driving in Greece, you will note that the amber light is nothing more than a mere flicker.
You do not have time to wait, check around you, and prepare when you're at a stoplight in Greece as you do when you're driving elsewhere. Instead, the light transforms from red, flashes in amber extremely briefly, and turns green.
Take your time in getting ready to drive again. You might be met with impatience and honking from cars behind you but safety is paramount.
The same is true in reverse. Lights turn from red to green extremely quickly. If there are cars behind you, be careful of coming to an abrupt halt at the turn of the traffic lights.
Road signs are displayed in Greek and English
Road signs in Greece are displayed in both Greek and English. This is true of both inner-city signage and highway and motorway signs. 
Although Greek as a language is difficult to learn, after seeing the letters displayed on signs once or twice, it becomes easy to decipher what some of them mean. Example signs for common destinations are displayed below:
Athens – Αθήνα


Thessaloniki –Θεσσαλονίκη


Patras – Πάτρα


Volos – Βόλος


Ioannina –Ιωάννινα


Lamia – Λάμια


Larissa – Λάρισσα


Karpenisi – Καρπενήσι


Kastoria – καστοριά


Kavala – καβάλα


Piraeus –Πειραιάς
Look out for motorbikes
Many people get around Greece on motorbikes and mopeds. They often do not adhere to speed rules and you have to be very mindful to look out for these people when driving in Athens as they can seemingly come out of nowhere as they weave between lanes.
Car insurance in Greece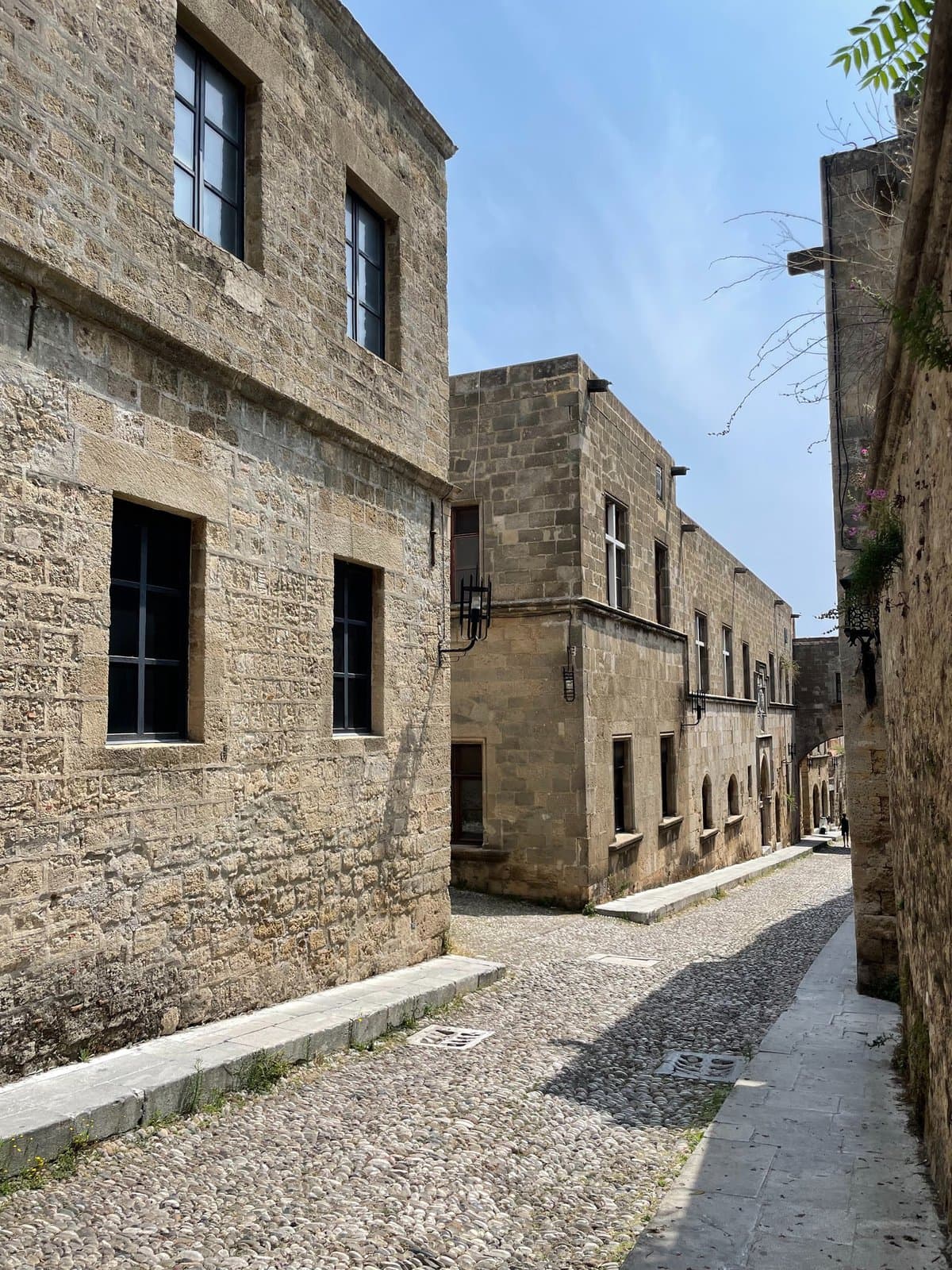 Car insurance is mandatory when driving in Greece. For your own peace of mind, it is a good idea to pay for full-coverage insurance.
That way, you know that you are covered for every eventuality. Confusingly, Greek car insurance is broken down into several different categories.
At a minimum, you should purchase car insurance that covers you for the six key categories. These are as per the below.
Third-party liability insurance


Personal accident insurance


Theft protection coverage


Super Collision damage waiver
If you have a credit card that offers international car insurance coverage, check the small print to ensure that you are covered in Greece. A lot of US and UK credit cards offer European car insurance and Greece is often included in their plans.
Road safety statistics in Greece
Greece recorded 0.8 road fatalities per 10 000 registered vehicles in 2019. This figure decreased by 103 fatalities in 2020, though this was perhaps largely because of the global pandemic and the strict quarantine rules that were in place in the country for much of the year.
While the mention of driving in Greece is almost synonymous with the idea of dangerous driving and traffic accidents, Greece's fatality numbers are actually below the EU average. One of the biggest risks is speeding, as people often drive far above the speed limit.
Police reports estimate that 18% of fatalities were directly related to excessive or inappropriate speeds, although in reality, this percentage could be higher. Speeding is particularly dangerous in mountainous areas with winding roads that hug cliffs, like Karpenisi and wider Evritania.
You will often see little churches at the side of the road while driving in Greece. Sadly, they mark where someone has lost their life, and are generally a good indicator to drive cautiously. 
Visiting petrol stations in Greece
Most petrol stations in Greece are full-service, meaning that someone pumps your gas for you. This is very different from other places in Europe.
Tipping isn't expected or compulsory in Greece but it is often polite to give the gas station attendant 50 cents or so for helping you fill up your vehicle. Some cars take diesel and some take petrol.
What is known as ¨petrol¨ in the UK or ¨gas¨ in the United States is known as "unleaded benzine¨ (βενζίνη) in Greece. Diesel is known as ¨petreleo¨ so be careful when visiting gas stations.
Fortunately, the attendants speak English, are well-versed in dealing with tourists, and typically know what type of fuel your car needs. It's just better not to use the word ¨petrol¨ as the attendants make think you mean ¨petreleo¨ aka diesel (δίζελο).
FAQs about Driving in Greece
Do you have any questions or concerns about driving in Greece or planning a trip to Greece in general? Hopefully, you will find the answers you are looking for below.
Otherwise, feel free to reach out!
Is driving in Greece difficult?
Driving in Greece is not difficult for the most part, though you will want to avoid driving in central Athens if you can. Things can often seem a little more chaotic in Southern Europe, so you need to have a good level of awareness of your surroundings and drive carefully.
Can a tourist drive in Greece?
Yes, a tourist can drive in Greece provided that they have a full driving license, meet the age requirements, purchase the necessary car insurance, and have an IDP, where applicable.
Are road signs in Greece in English?
Yes. Road signs in Greece are displayed in both English and Greek. This is the case both in cities and when travelling between them.
Do I need an international driver's license in Greece?
To clarify, there is no such thing as an international driver's license, but there is an international driver's permit. If you are from the EU, the UK, the US, Canada, Australia, or Gibraltar, you do not need to obtain an IDP prior to your trip.
If you are from other countries, you do. You should allow plenty of time before your trip for the IDP to arrive. Ideally, apply for it several months before you are due to travel.  
Can you drive in Greece with a US license?
Yes. You can drive in Greece with a US license and currently, Americans are not required to obtain an IDP (International driver's permit) for Greece. 
All you need is a full driving license.
Is driving in Greece the same as in the US? 
Driving in Greece can be compared to driving in the US in the sense that in both countries, you drive on the right-hand side of the road and overtake on the left. However, Greek drivers speed more frequently and take rules more as guidelines than most US and western drivers so you have to be more cautious and drive more defensively here. 
What side is the steering wheel in Greece?
The steering wheel in Greece is found on the right-hand side of the vehicle.
Final thoughts on driving in Greece
Do you have any additional questions or concerns about driving in Greece or planning a Greece vacation? Feel free to reach out to me and I'll get back to you ASAP.
You might also find it useful to join my Greece travel Facebook group ¨All Greek to Me¨.
Safe travels and enjoy Greece!
Geia sou! Melissa xo
---