How to get from Athens to Thessaloniki? It's relatively easy, and there are a few options available for you to do so. 
Greece's two largest cities are 502km apart. Thessaloniki sits in the northeastern part of the country, in the region of Central Macedonia. Meanwhile, Athens awaits in the Attica, province, Southern Greece. 
Fortunately, public transport links in Greece are excellent. You can get from Athens to Thessaloniki (and vice versa) by bus, train, and domestic flight.
Similarly, roads in Greece are very modern and well built. Driving here is not as intimidating as you may assume. The only downside is the toll booths.
How to Get from Athens to Thessaloniki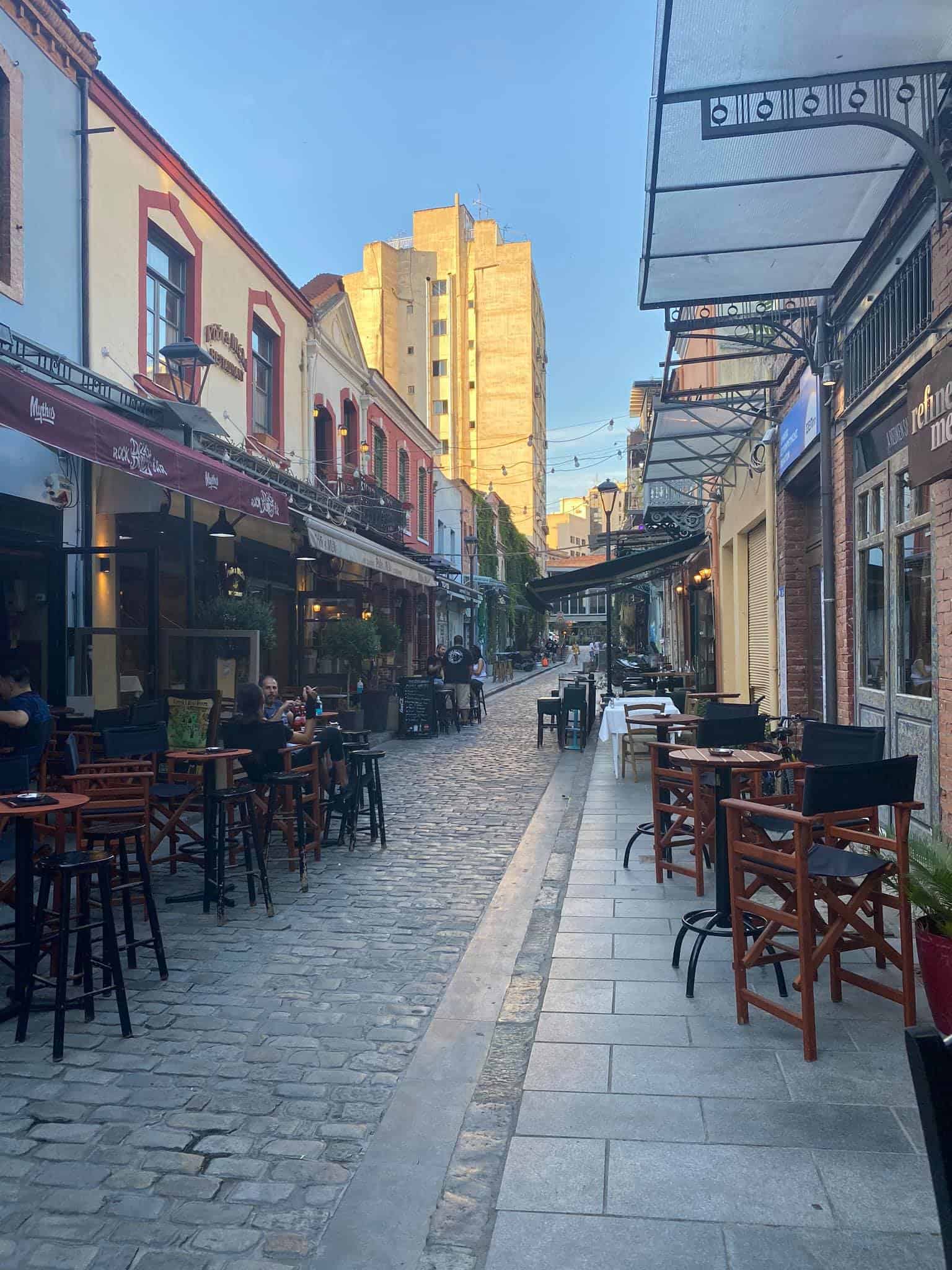 So what is the best way to get from Athens to Thessaloniki? Honestly, it depends a lot on your personal preference and travel style. The various options are discussed below. 
Travel from Athens to Thessaloniki by Train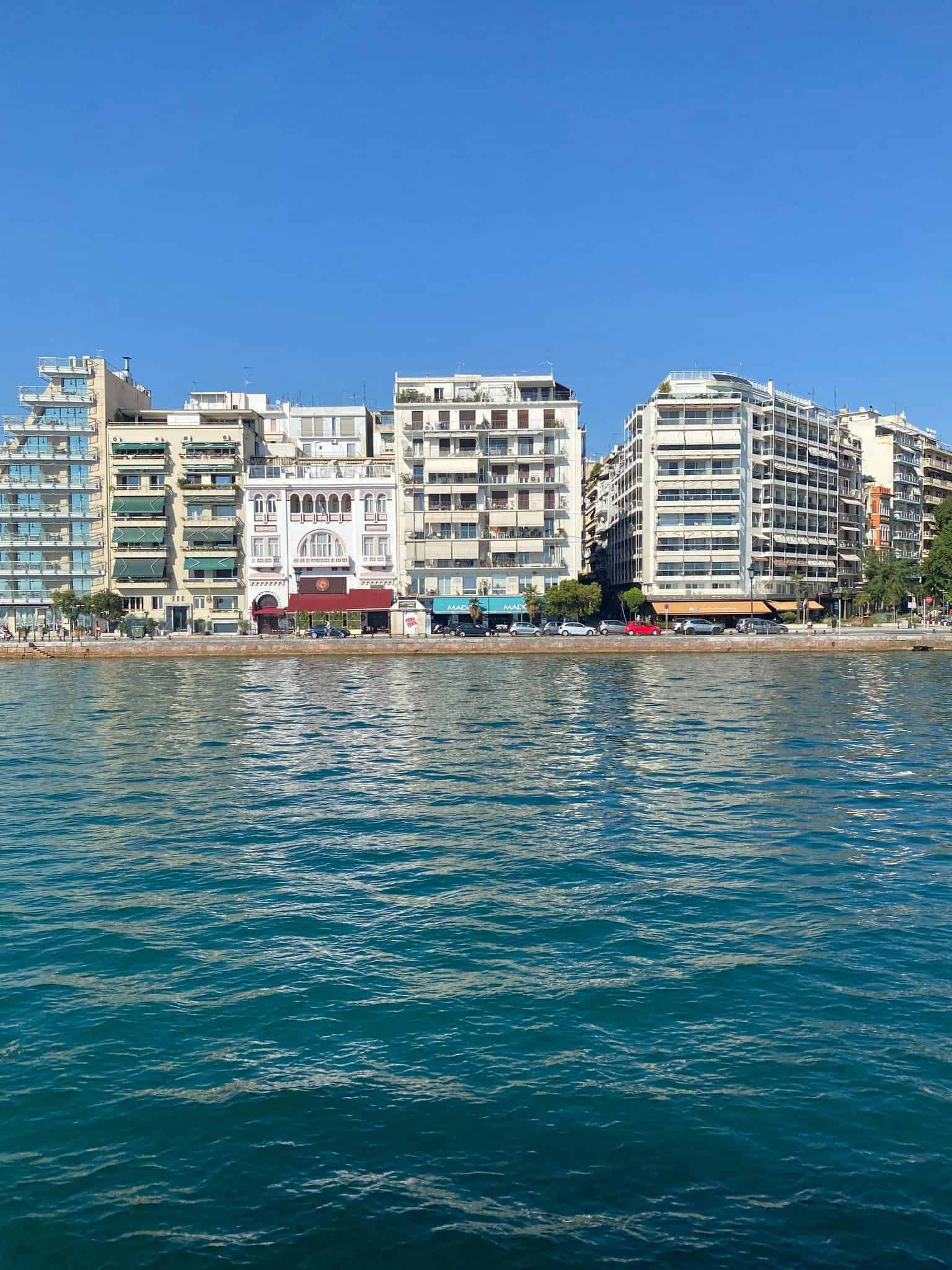 Travelling from Athens to Thessaloniki by train is arguably the most convenient option. Greece's rail network is not comprehensive at this point, and it only runs between a few cities. 
Fortunately, the route between Athens and Thessaloniki is one of them. Despite the distance between the two cities, you can get from Athens to Thessaloniki in just under four hours.
A new ¨fast train¨ service launched in spring 2019. Think of it as the Greek version of the Japanese shinkansen!
Trains are modern and clean with spacious seating, onboard wifi, and toilets. Services currently depart five times a day. They depart from Athens at 06:22, 09:22, 12:22, 15:22 and 18:22 respectively. 
From Thessaloniki to Athens, services depart at 06:27, 09:15, 12:15, 15:15 & 18:15. Additionally, the 600/601 train runs on a slower evening route.
The stops along the way vary depending on which direction you are travelling in. From Athens to Thessaloniki, the train stops at Lianokladi and Larissa. From Thessaloniki to Athens, it stops at Larissa and Paleofarsalos.
Buying Train Tickets from Athens to Thessaloniki
You can purchase train tickets online in advance via the Trainose website. You can also buy tickets in person at Athens station. 
Typically, it is fine to purchase tickets on your intended day of travel. The only exception to this being if you are travelling during holidays.
A one-way ticket from Athens to Thessaloniki costs €45. There is a 20% discount on the return journey if you book both tickets together. There are some concessions available.
Athens Train Station 
Trains depart from Athens to Thessaloniki from Athens Larissa station. This station is a little on the outskirts of town and so, you need to take a metro or a cab to get here.
The area surrounding the station is not dangerous, but it isn't beautiful either so it's not really a place that you want to base yourself. If you have a lot of heavy luggage, you may want to consider taking a cab to Athens station. 
Download ¨BEAT¨ taxi app for taking cabs in Greek cities. Uber is banned here and you can only use licensed yellow cabs.
However, opting to order a cab via the app minimises your chances of getting tricked or ripped off. Better yet, it tells you the price before you get into the car.
If you're relying on the Athens metro, you can take metro line 2 (blue line) from Syntagma Square to Metaxourgeio. From there, it's just a short walk to Athens Larissa. However, it's not really ideal if you have a lot of bags. 
Arriving at Thessaloniki Train Station 
Thessaloniki train station is not the centre of town exactly, but pretty close. From here, you are just 2.5km away from Aristotelous Square.
There are a lot of hotels and Airbnb apartments in the Thessaloniki station area but it isn't the best part of town and you should be careful walking here at night. Regular buses run between Thessaloniki station and the downtown areas of Aristotelous Square, Thessaloniki port, and the White Tower.
Travel from Athens to Thessaloniki by Bus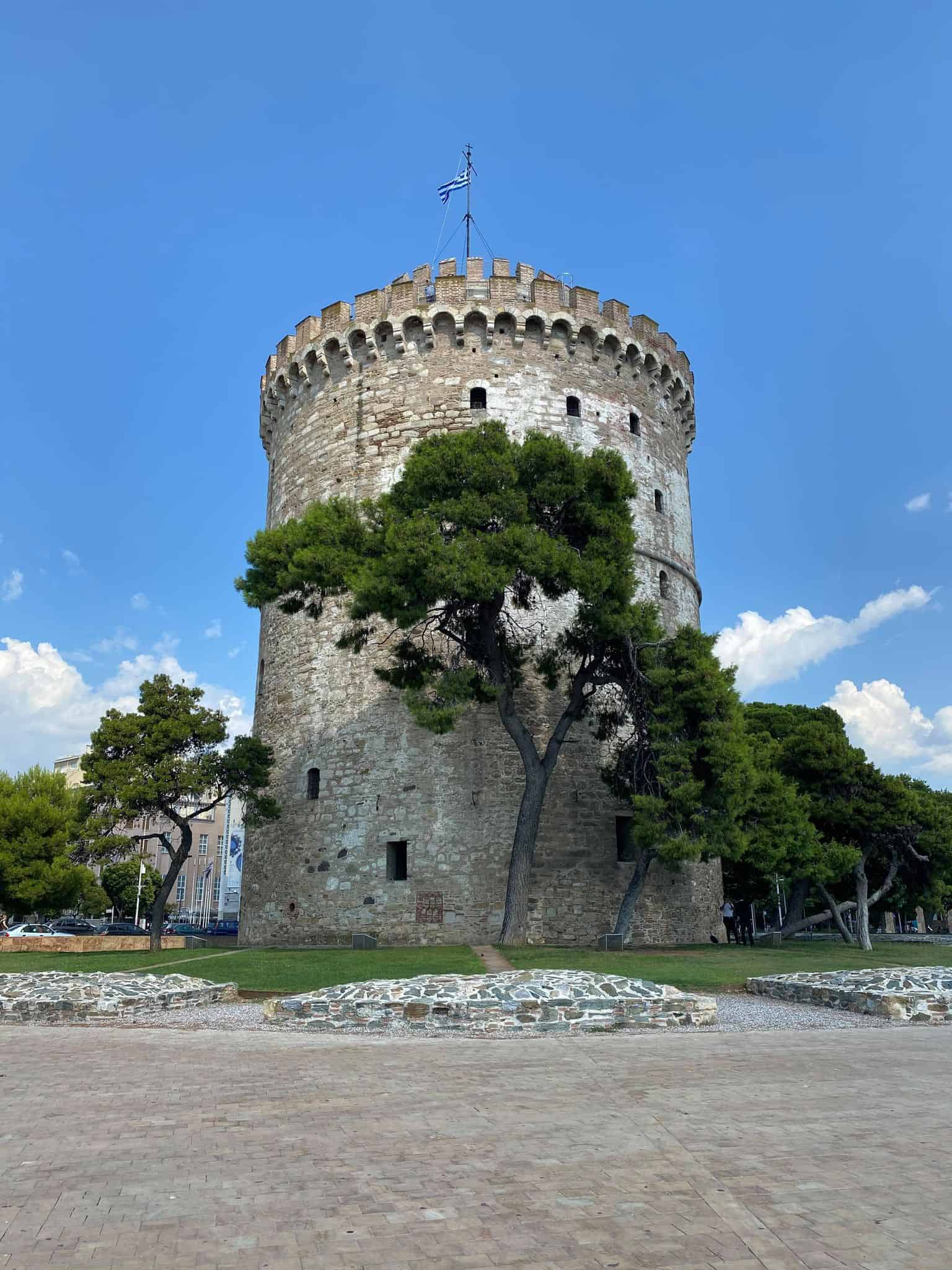 Another cheap and convenient option for travelling from Athens to Thessaloniki is to do so by bus. KTEL buses service all parts of Greece – even the most far-reaching areas. 
Confusingly, it is worth keeping in mind that KTEL does not have one centralised website for all of its bus routes and services. Instead, there are different KTEL bus websites to use for different regions of the country. 
Don't ask. Welcome to Greece!
From Athens to Thessaloniki, the KTEL site that you should use is KTEL Attikis. From Thessaloniki to Athens, its KTEL Thessalonikis.
Buying Bus Tickets from Athens to Thessaloniki
Just like when travelling Greece by rail, you can buy Greek bus tickets and check times and fares online via the KTEL website. Similarly, you can buy the tickets in person at the station.
Buses depart approximately 13 times per day, between the hours of 6:45 and 23:30. Standard tickets cost €32.40 with reduced fares available for students, the elderly, and military personnel.,
Athens Bus Station 
There are a couple of bus stations in Athens so whenever you take an intercity bus in Greece, it's important to check exactly where you are going to be departing from. However, the Kifissos bus station (Station Kifisou)  is the main Athens bus station. This is where you will depart from if you travel to Thessaloniki.  
There is not a metro station directly on the doorstep of Station Kifisou. It is somewhat awkwardly located in the middle of Agios Antonios, Egaleo, Sepolia, and Eleonas stations.

Your best bet is to take the metro to one of these places, from wherever you are in Athens, and then take a short cab ride.
Thessaloniki Bus Station
There are two main bus stations in Thessaloniki. One is conveniently located close to the train station. However, the other is set on the outskirts of town beside the ¨Menemeni¨ district. 
Unfortunately, it is the latter, farther-out station where most buses to Thessaloniki terminate. This is Ktel Makedonia station at Giannitson 244.
From here, you can take a cab or a bus onwards to the centre of town. There are always plenty of yellow taxis waiting outside.
Monastiriou 67 is the other Thessaloniki bus station. This is literally adjacent to the Thessaloniki train station but unfortunately, not all buses stop here. 
Renting a Car in Greece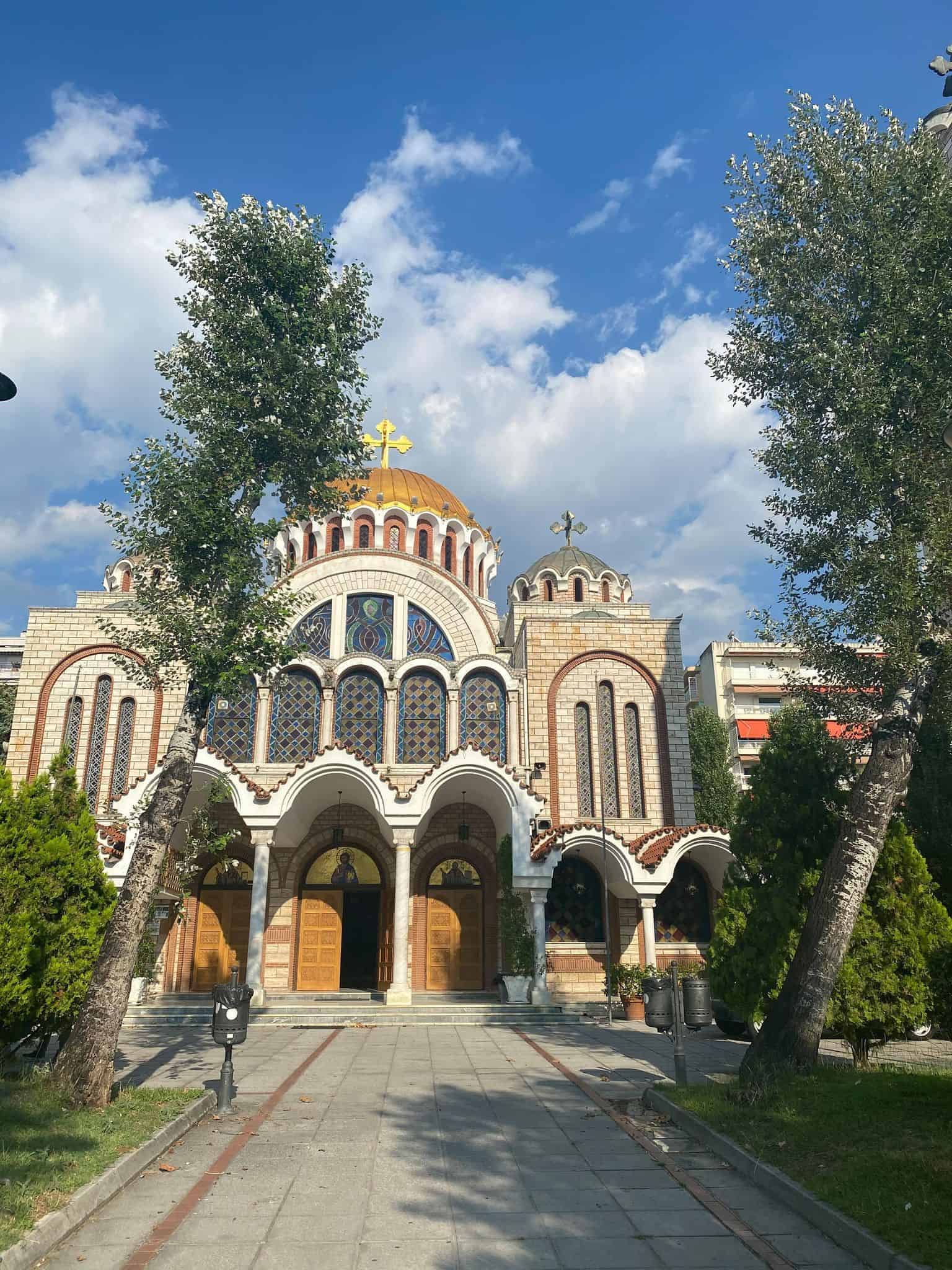 Renting a car in Greece is a great way to get around and doing so offers you a lot more flexibility. This is particularly true if you are embarking on a wider Greece itinerary.
Numerous reputable rental companies operate in Athens and Thessaloniki. This includes Enterprise, Sixt, and Hertz. Many offer pick up from Athens airport.
You are looking at an approximately 5-hour drive between the two cities. You may want to do this all in one go, or stop off at a few towns and villages along the way to break up the journey and grab some traditional Greek food en route. 
For instance, you could stop in Larissa or Katerini on your way and grab a coffee. The mention of driving in the Mediterranean instills fear into the hearts of some! 
Assured, it's not as crazy as you may imagine. Roads here are very well built. 
One thing to keep in mind is that there are a frustrating amount of toll booths. From Athens to Thessaloniki, this is likely to cost you over €30.

Always be sure to keep cash, particularly change, as you cannot pay by card at Greek toll booths. Always carry your license and ID just in case.
Travel from Athens to Thessaloniki by Domestic Flight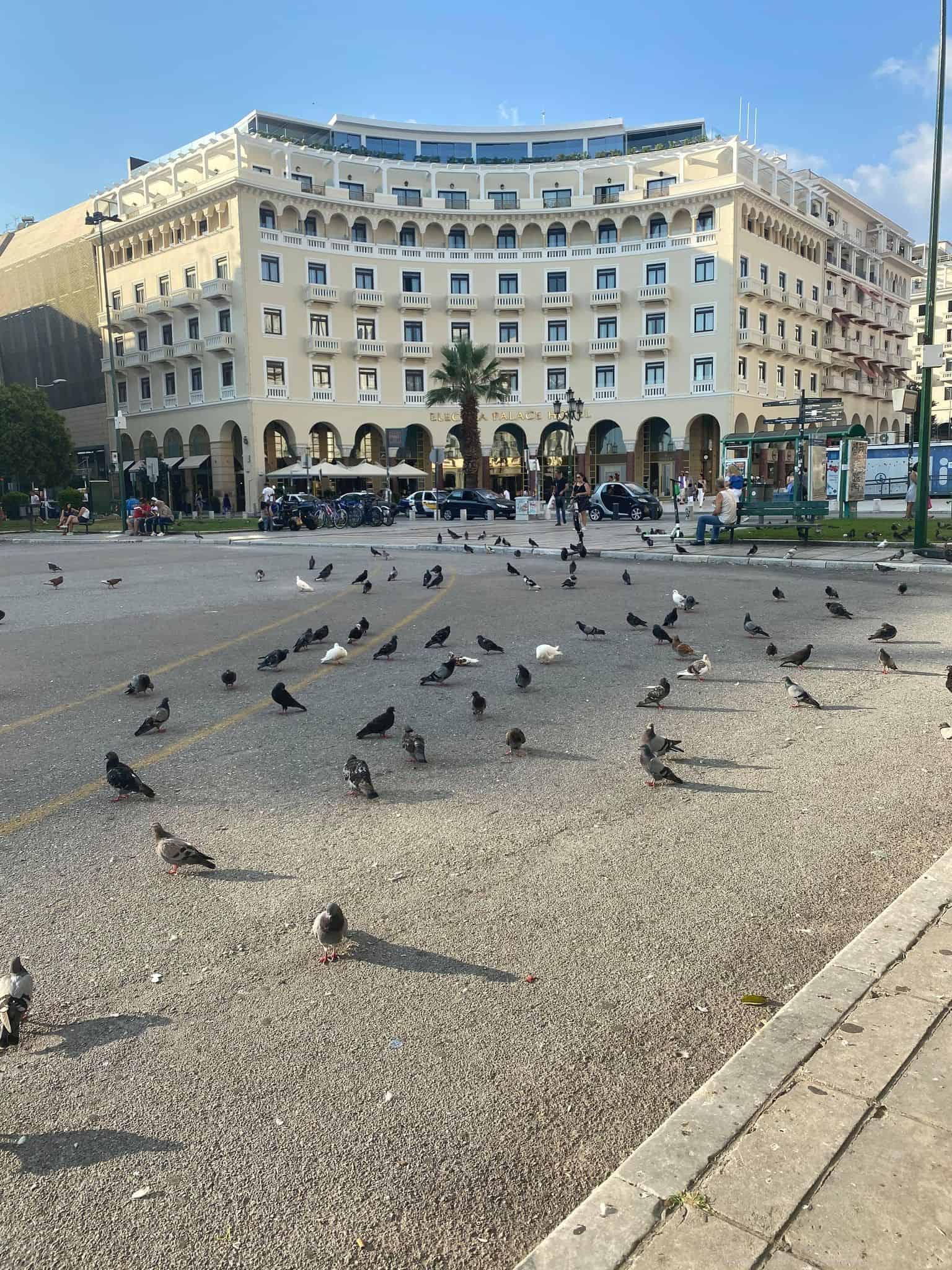 It is possible to fly from Athens to Thessaloniki and vice versa. The journey takes 55 minutes and it is possible to purchase one-way tickets for as little as €20. 
Of course, prices vary substantially depending on the time of year that you decide to travel. This cost almost triples during the Greek summer months of July and August, with many domestic tourists flocking to Halkidiki.
Olympic Air, Aegean Air, and Ellinair all serve this route. Athens' Eleftherios Venizelos and Thessalonikis Airport Makedonia are both approximately an hour out of each city respectively. You should also allow a couple of hours to wait at the airport prior to departure. 
One thing to keep in mind when booking domestic flights in Greece is your carbon emissions. When you take airport transfers and wait times into consideration, this is not really any cheaper or more convenient than when travelling by one of the alternative options. Yet it is the least environmentally-friendly choice of all. 
Get from Thessaloniki Airport to City Centre
It is easy to get from Thessaloniki airport to the city. The airport is just 17km away from the centre, close to the beach suburb of Peraia. 
You can reach central Thessaloniki in just 30 minutes. The X1 bus runs from the airport arrivals terminal every half an hour. Tickets can be purchased on board. 
Alternatively, you may want to organise a private Thessaloniki transfer. This way, a car will be waiting for you on arrival. City transfer by Airport and beat cabs is also possible.
Parting Words 
Do you have any further concerns about getting from Athens to Thessaloniki, or do you need general assistance in organising your Greece trip? Please don't hesitate to drop a comment in the box below.
I've been living in Greece since 2017. Safe travels. Geia sou! Melissa xo
---