Athens Eleftherios Venizelos airport is located just 27km away from the city centre and the journey from the airport to the city usually takes just 40 minutes. This rings true whatever transport method you choose.
You have several different transport options available to you for your journey from Athens airport to the city centre (and vice versa). Public transport wise, you can opt to ride the M3 metro train or you can take the X95 bus.
If you want more comfort and you don't want to have to wait around or share your journey with others, you may want to organise a private airport transfer or take a cab. For this, you are looking at prices of €35 and upwards.
Generally, the easiest and most convenient way to get from Athens airport to the city centre is to take the metro. After all, the metro is located right inside Athens airport.
Still, everyone has different personal preferences when it comes to travel. So, this guide will run you through the various transport options available, how much they cost, and how long they take.
I am a British Travel Writer that has been living in Athens Greece since 2017. Needless to say, I have made this journey countless times over the last few years.
If you are heading further afield (e.g. from Athens airport to Piraeus or Vouliagmeni and the Riviera), there are direct buses to these areas too.
Getting from Athens Airport to the Centre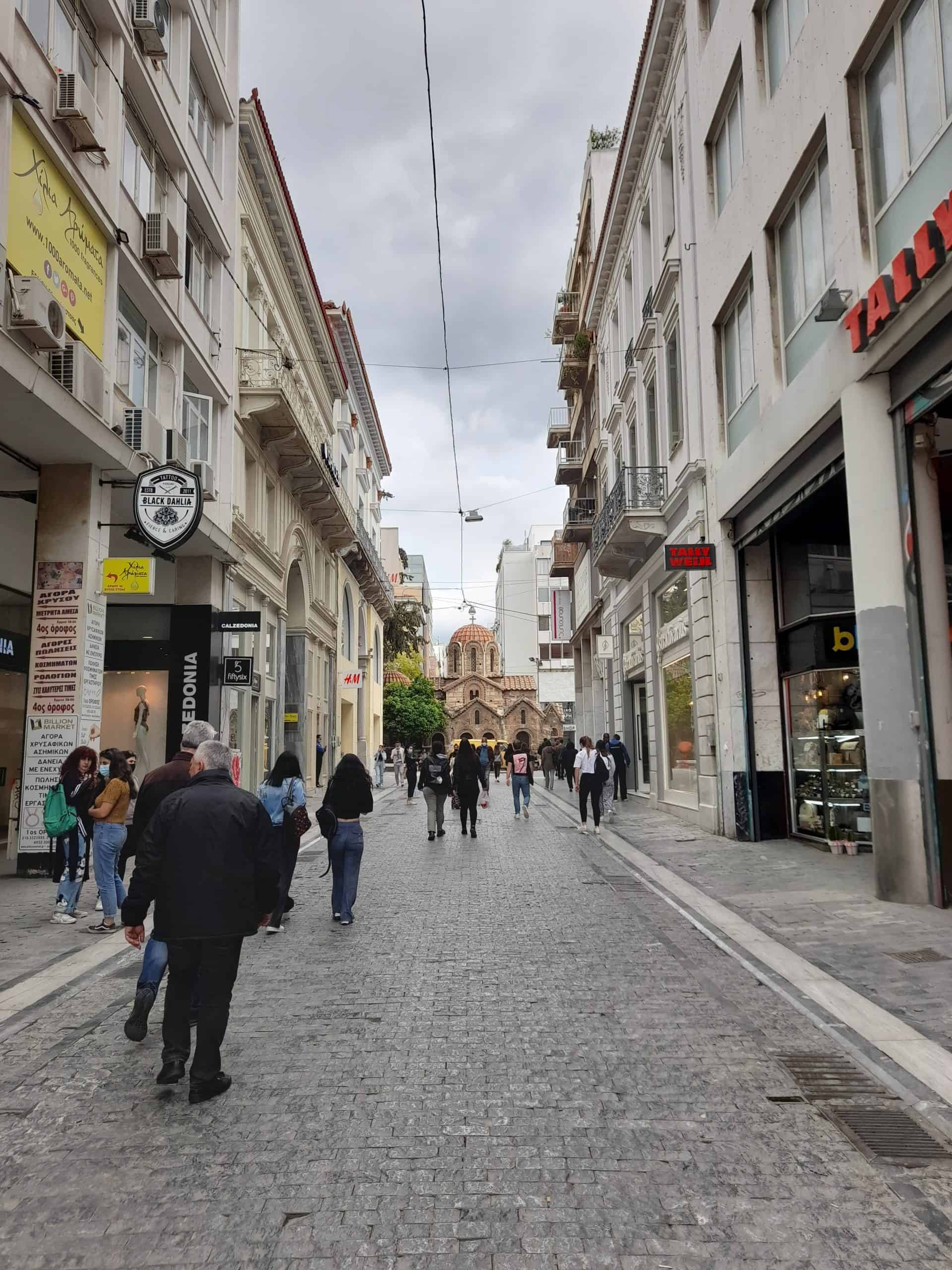 Public transport in Greece is excellent and transport from Athens airport to the centre is no different.
Figuring out how to get from Athens airport to the city is perhaps one of the first things that you want to double-check before starting your Athenian adventure. I have lived in Athens since 2017 and have made this journey dozens of times.
This guide discusses the various travel options, their costs, and the process of using them. Feel free to use the Table of Contents to help you navigate to the most relevant sections.
There are four main options for getting from Athens airport to the city centre. Namely, they are pre-booking an airport transfer, taking a cab on arrival, taking the bus, or taking the metro.
The best option for you depends a lot on your personal preferences. Obviously, the metro or bus works out a lot cheaper for one person. However, if you are travelling as a family, you may want to pay a little more for the comfort of a taxi or private transfer.
Prebook an Athens airport transfer
A private airport transfer is arguably one of the most convenient ways of getting from Athens airport to city center. In light of the ongoing pandemic, this is also one of the safest options.
Prices start from €34. Vehicles are cleaned thoroughly prior to entering and the drivers wear masks.
You can obtain a quote for a private transfer by Get Your Guide here. They offer free cancellation up to three hours before arrival.
Your driver will wait for you in the arrivals lounge and then take you straight to where you are staying in Athens. This gives you some peace of mind in knowing that everything is organised for you in advance.
You will find your driver waiting with a card holding your name. He/she will also provide you with cool bottles of water to drink en route. Athens Airport transfer cars are usually luxury air-conditioned vehicles.
Take the metro from Athens airport to the city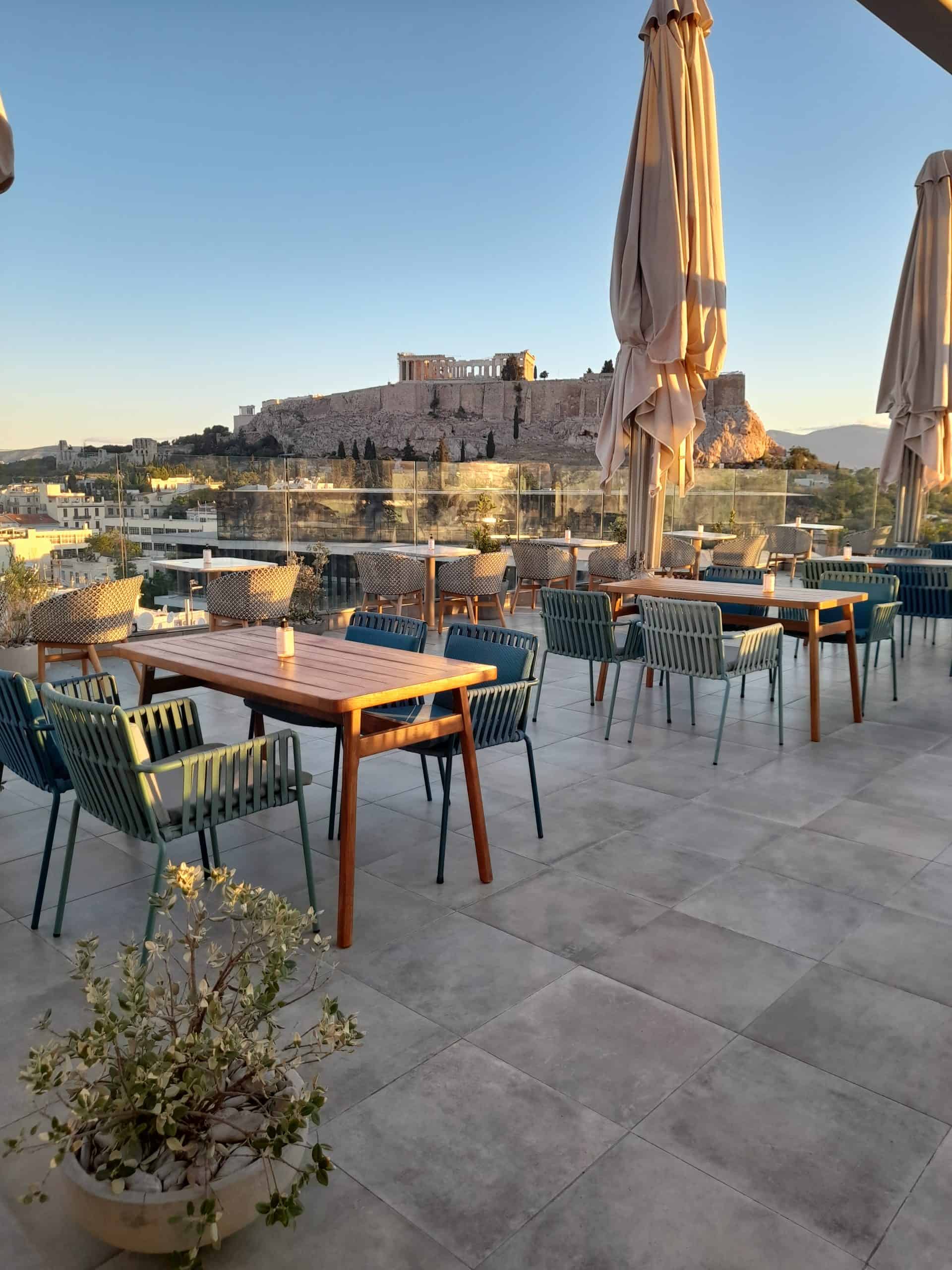 One way to get from Athens airport to the city is to take the metro. This is arguably the most convenient way to get into Athens centre.
The Athens airport metro station is located within the airport. However, it is in a separate building from the Arrivals and Departures building.

Still, it is easy enough to get to, and you can get from baggage claim to the metro station platform in less than five minutes. You will see plenty of English signs that show you where you need to go to reach the train station (as well as plenty of airport staff on hand to help if you need them)
Still, if you are anxious about getting there, a step-by-step process is outlined below. The metro runs every thirty minutes and services are clean, safe and comfortable. However, do keep in mind that it is only operational between the hours of 6.30 am and 23.30 pm.
Taking the metro train from Athens airport to city center
The process for getting the metro to the city centre is outlined below.
Enter the airport Arrivals Hall and follow the signs for "train"


Exit the main airport building, cross the road, and go up the escalator that awaits on the other side


Follow the moving walkway that takes you to the train and metro station


Use the ticket machine and purchase a ticket for "Athens & Airport"


Pass through the ticket barrier and wait at the platform


Take the metro line which departs from the right-hand side of the platform.
Using the Metro Ticket Machines
There are both ticket offices and machines at the train station just outside Athens airport. Opt to use the machines to save time.
The machines can be operated in English. Just click the UK flag on the screen.
This is the faster option. The ticket offices tend to attract large queues of confused tourists that ask 34,538 questions.
Purchasing Your Metro Ticket
General Athens transport tickets and multi-day passes do not include the journey from Athens airport to city center. You need to buy a separate ticket for this.
An "Athens & Airport" ticket costs €10 per person. Meanwhile, a return ticket is €18.
If you want to buy a multi-day Athina pass, you will be able to save some money on getting around the city. For instance, a 90-minute ticket is € 1.40 for each journey, and a 24-hour ticket is €4.50. However, a 5-day ticket is €9 and a 3-day tourist ticket (including return from the airport) is € 22.
Boarding the Athens Airport Metro
Cross past the ticket barriers and down the steps to the platform level. One very important thing to keep in mind is that once you have gone through the barriers, the tickets are valid for 90 minutes. So, you should not try and get back out again.
At the platform level, there are two lines. One line is the suburban rail, the other is the metro.
The metro train will be on the right-hand side. If you are confused, you can ask a friendly local to confirm that you are on the correct train.
Riding the Athens Metro
The metro line speaks in English so it's easy to understand where you are. You can also consider downloading an offline map app such as Maps Me or Google Maps so you can follow your GPS location in real-time in correspondence with the train's journey.
The final stop will be Syntagma. This is the main square of Athens and the place where most people are headed anyway.
From here, it continues to Monastiraki, where many of the best Athens hotels are found. If you are travelling from Athens airport to the Acropolis, you need to transfer to Metro line 2 (the red line) at Syntagma. The Akropoli station stops right by the Acropolis archaeological site.
If you are staying in Kolonaki or Pagrati, you should get off the metro at Evangelismos. This is the stop before Syntagma.
Subsidised Travel
Travellers over 65, students under 25, and teenagers under 18 are eligible for discounted travel. However, subsidised tickets can only be purchased in person at the ticket counter.
You may be asked to present your ID or proof of student status. Children under 7 can travel for free on all means of Athens transportation.
How to get from Athens airport to city on the X95 bus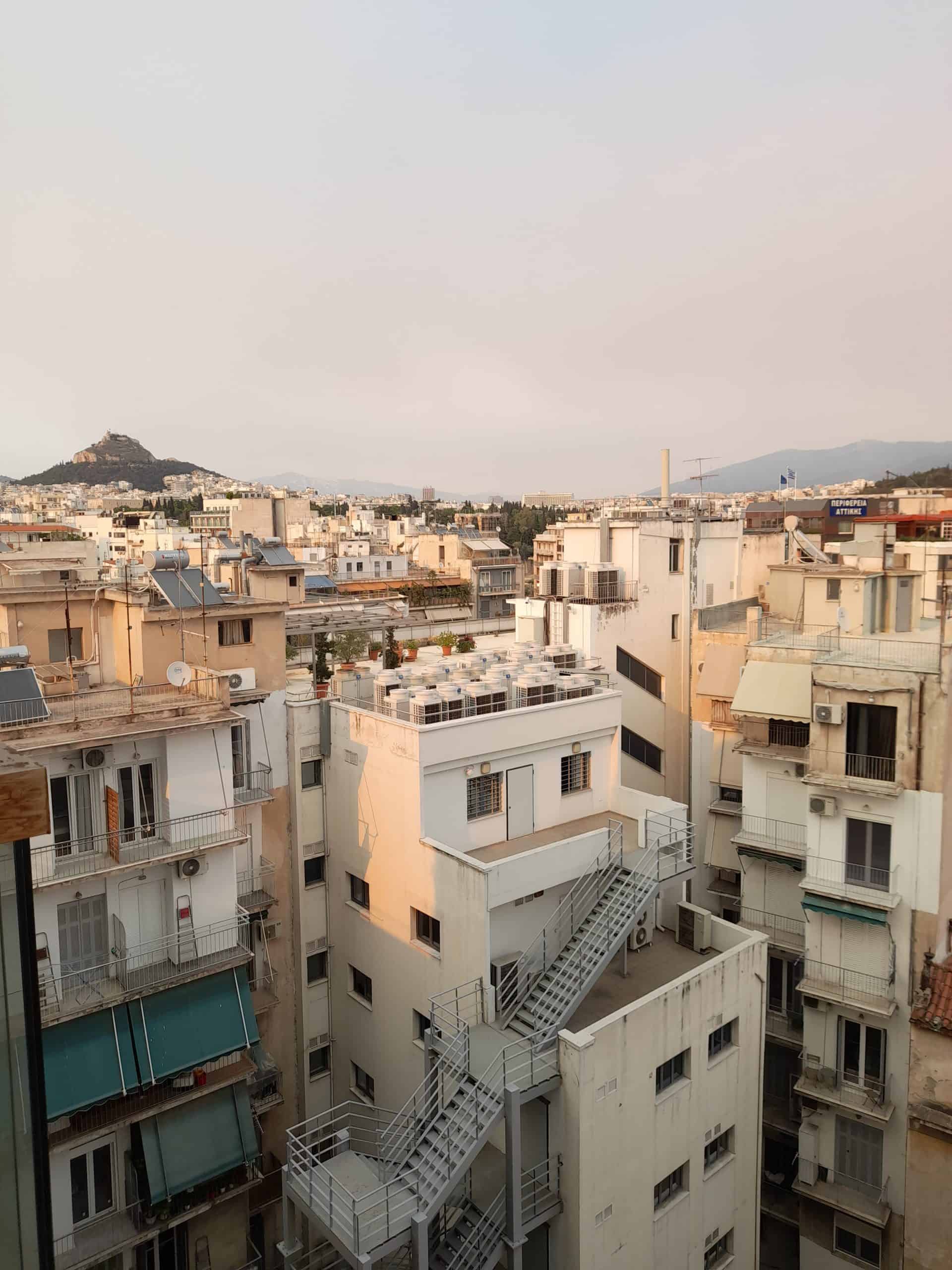 The X95 bus is another convenient way to get from Athens airport to the city. The bus departs every 15 minutes or so from the bus stop outside gates 4 and 5.
To take the X95 bus to Athens city centre, simply exit the arrivals area and follow the signs for the bus. The stop is directly outside the terminal building.
You will see a little ticket kiosk. This is where you need to purchase your ticket from. They cost €6 per person.
Riding the X95 Bus
There are various buses that depart from here but the X95 stop is the one directly adjacent to the ticket office. You can also identify it by the LED display on the front of the bus.
The bus announces the stops in English and ends its journey at Syntagma square. If you are travelling from the airport to Piraeus, you should take the X96 bus.
The other two buses that depart from here are the X93 to Kifisou Avenue and the X97 to Elliniko. The X95 is pretty convenient. However, the traffic on your way into the city can sometimes be pretty bad.
This is especially the case if you are travelling at 5-6 pm rush hour, or on Friday and Saturday evenings. For this reason, the metro is usually the better option to get from Athens airport to the city.
Concession Tickets
Travellers over 65, students, and teenagers are eligible for discounted travel. Show your ID at the ticket kiosk to purchase a discounted ticket. Children under 7 travel for free.
Getting from Athens Airport to the City by Cab
Sometimes you just want to get to where you are going and not have the hassle of dealing with public transport. Cabs from Athens airport to the city are fairly reasonably priced so if there are a few of you, this may well be a more convenient option.
Airport Cabs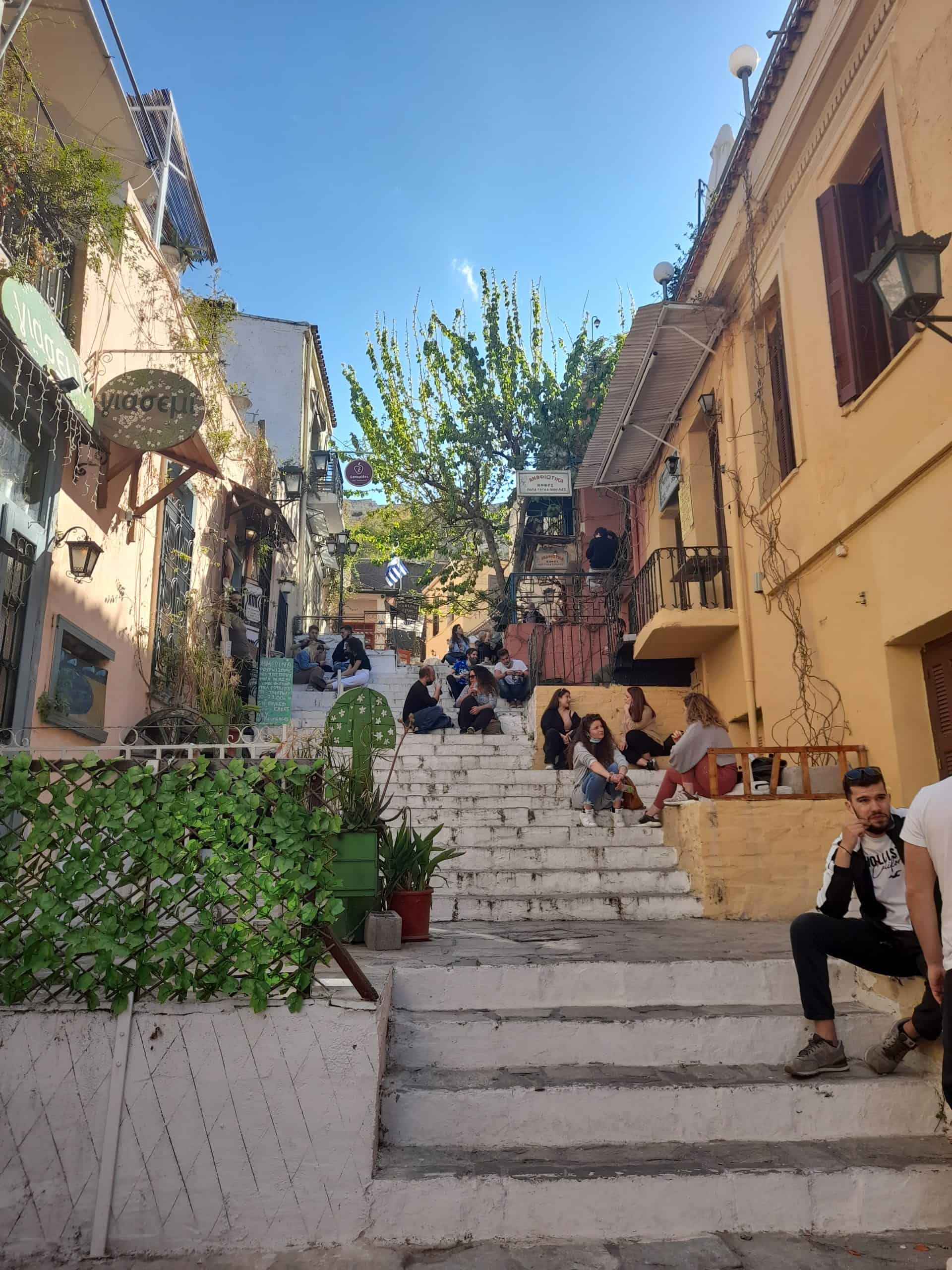 Athens airport cab drivers tend to be trustworthy. However, taxi drivers the world over are sometimes a law unto themselves so it is important to be informed about the correct prices.
Different rates apply depending on whether you are travelling during the day or at night. A cab from Athens airport to the city should typically cost around €38.
At night, the tariff is €54. If you are travelling to Piraeus and its port, prices are higher. In this case, the day rate will be €54 and the night rate is €70.
All of this is based on no more than 4 people sharing a vehicle. Sometimes cab drivers charge an additional extra for luggage but this should not be more than a euro or two.
While you are in Athens, you should also consider downloading the BEAT taxi app on your phone. This is Athens' answer to Uber and it helps you to ensure that you are being charged the correct rate for a cab rather than an inflated tourist price.
The app will connect you to a driver quickly and displays the route and the fare before you enter the vehicle.
Airport cabs can be found outside exit 3 at the airport arrivals area. They are available 24 hours a day, 7 days a week.
Renting a Car at the Airport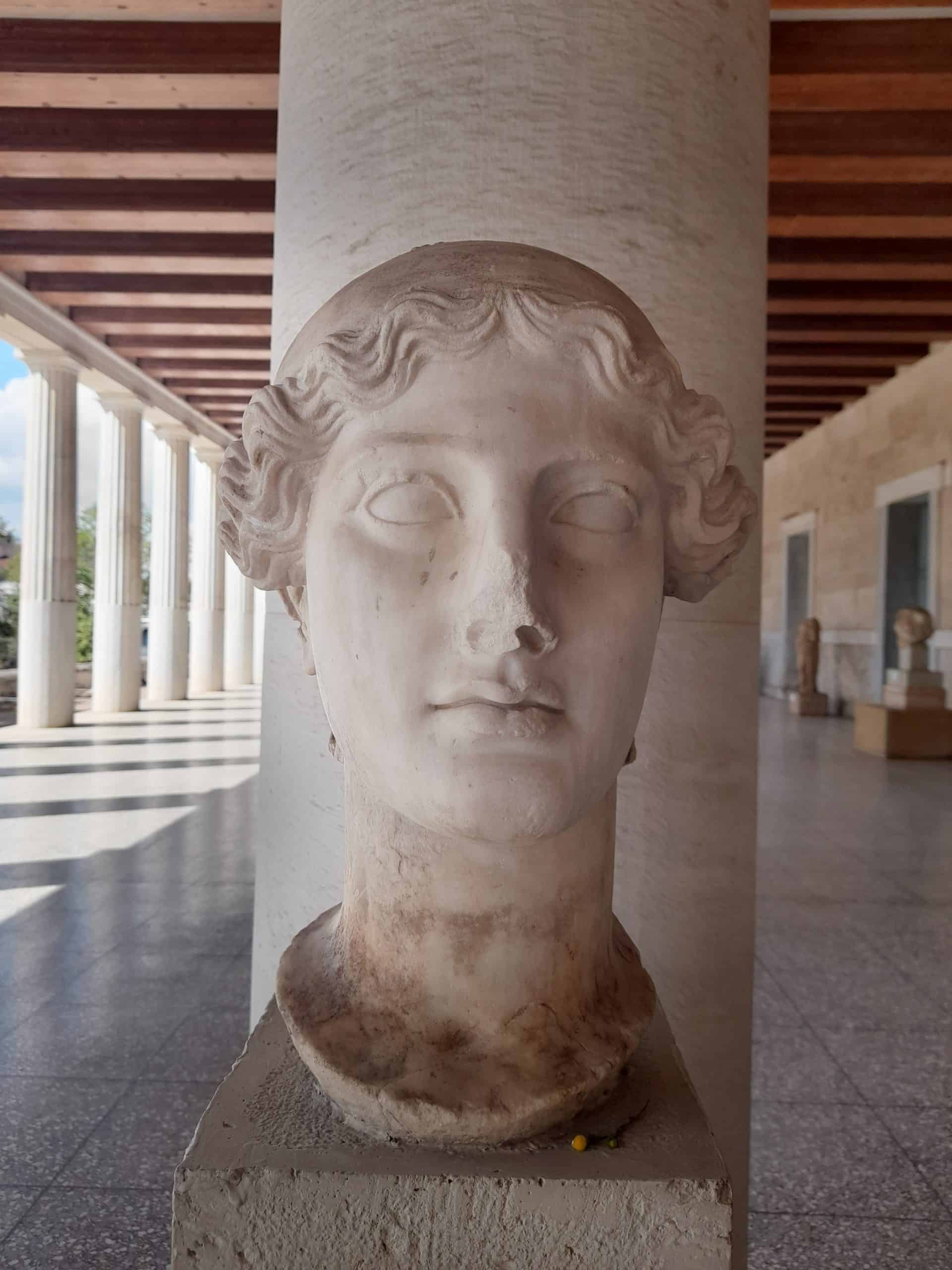 If you have decided to rent a car for your Greece trip, you can collect it at the airport. Various reputable European rental companies operate from Athens airport.
This includes Sixt, Avis, and Budget cars. It is strongly advisable to book your rental car in advance, especially if you are travelling during the busy summer months.
Discover Cars is a great platform for organising your rental car. It allows you to compare and contrast prices between various rental companies.
Expect to pay between €15 and €20 for a car rental depending on the season. In all honesty, it is not worth renting a car if you are only going to base yourself in Athens during your trip.
Driving around the Greek capital is nightmarish and not for the faint of heart. There are many intimidating, multi-lane roads, people pay little attention to road rules, streets are constantly congested and finding parking is difficult. This is only something you want to consider if Athens is just a stopping point on a wider Greece road trip.
Important Note: Greek Transport Strikes
Greek transport strikes are a somewhat frequent occurrence and something of a headache. Every couple of months or so, there will be a strike for some reason or another.
During transport strikes, both the metro and the buses do not operate. In this case, you will have to take a cab.
Athens Airport to City FAQs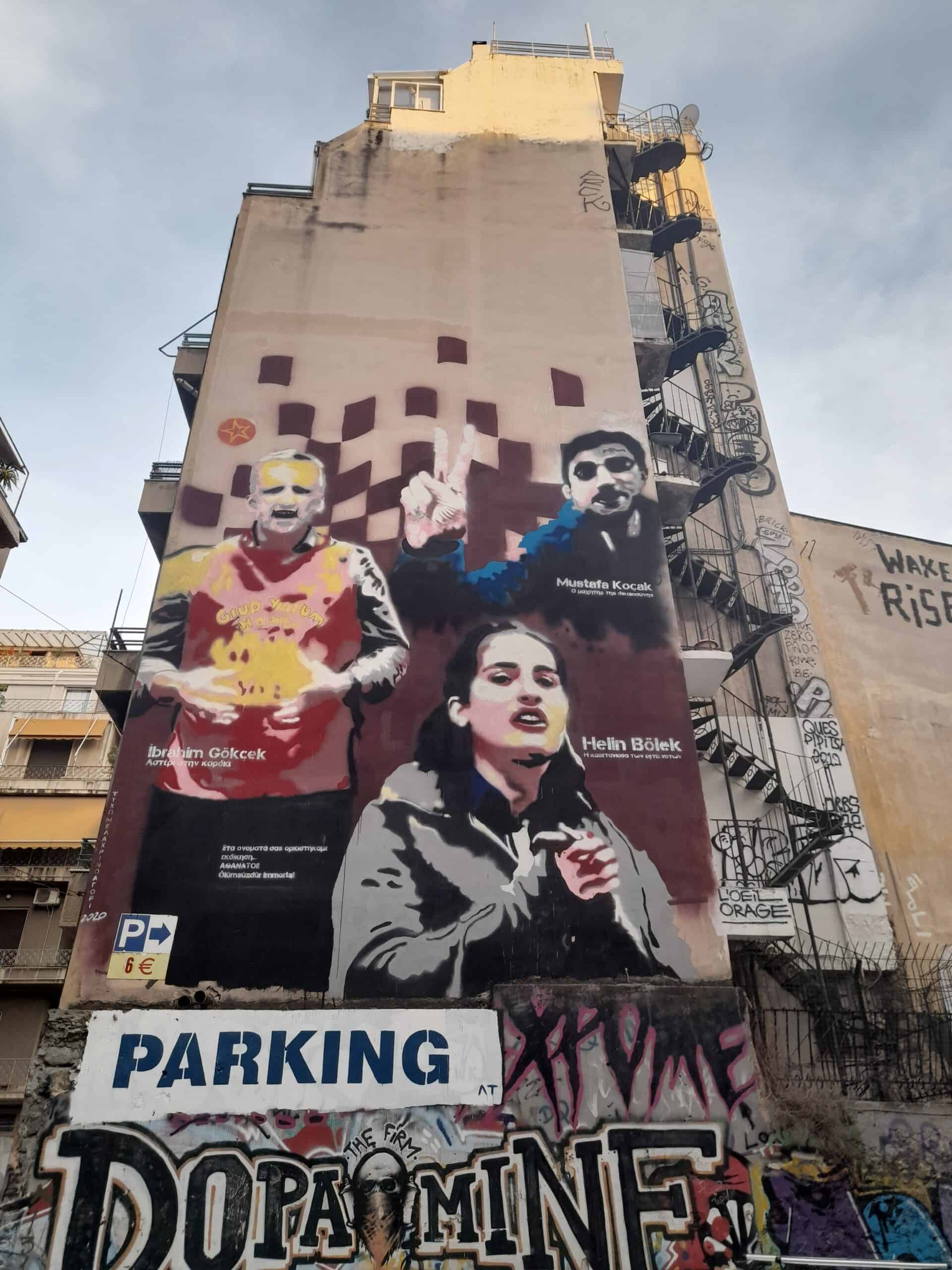 Do you still have any burning questions or concerns about how to get from Athens airport to the city centre? Hopefully, you will find the answers you are searching for below.
How much is Airport Shuttle Athens?
The X95 bus that runs from Athens Airport to Syntagma Square in central Athens is €6 per person. Travellers over 65, students, and teenagers are eligible for discounted travel, and children under 7 years old travel for free.

Some hotels may also offer complimentary shuttle services from the airport to and from their premises. Do check with them in advance of arriving in Greece.
How long does it take from Athens airport to city center?
It takes around 45 minutes to get from Athens airport to the city center. This rings true whether you travel by metro or by road.

However, you should note that Athens is a large, congested city and traffic can be an issue. This is particularly true if you are travelling into the city at rush hour (between 5 and 7 pm) or on Friday and Saturday nights.
How much is a taxi from Athens airport to city center?
A taxi from Athens airport to the city center will cost you €38 during the day and €54 at night. Official Greek taxi drivers at the airport are unlikely to try and trick you but it is a good idea to keep this price in mind and confirm it back to the driver before getting in the vehicle. Never get in an unofficial cab.
How much is train from Athens airport to city?
A one-way ticket from Athens airport to the city centre costs €10. You cannot ride the metro to/from the airport with a regular ticket.
A special one is required. You can also buy a return for €18 if you will be flying out from Athens.
Does Athens airport have metro?
Yes. Athens Eleftherios Venizelos airport is connected to central Athens via the metro. It is the blue line (M3) that connects the airport with Monastiraki and Syntagma. Megaro Mousakkis and Evangelismos stations are also on this line.
How to get from Athens airport to city center: parting words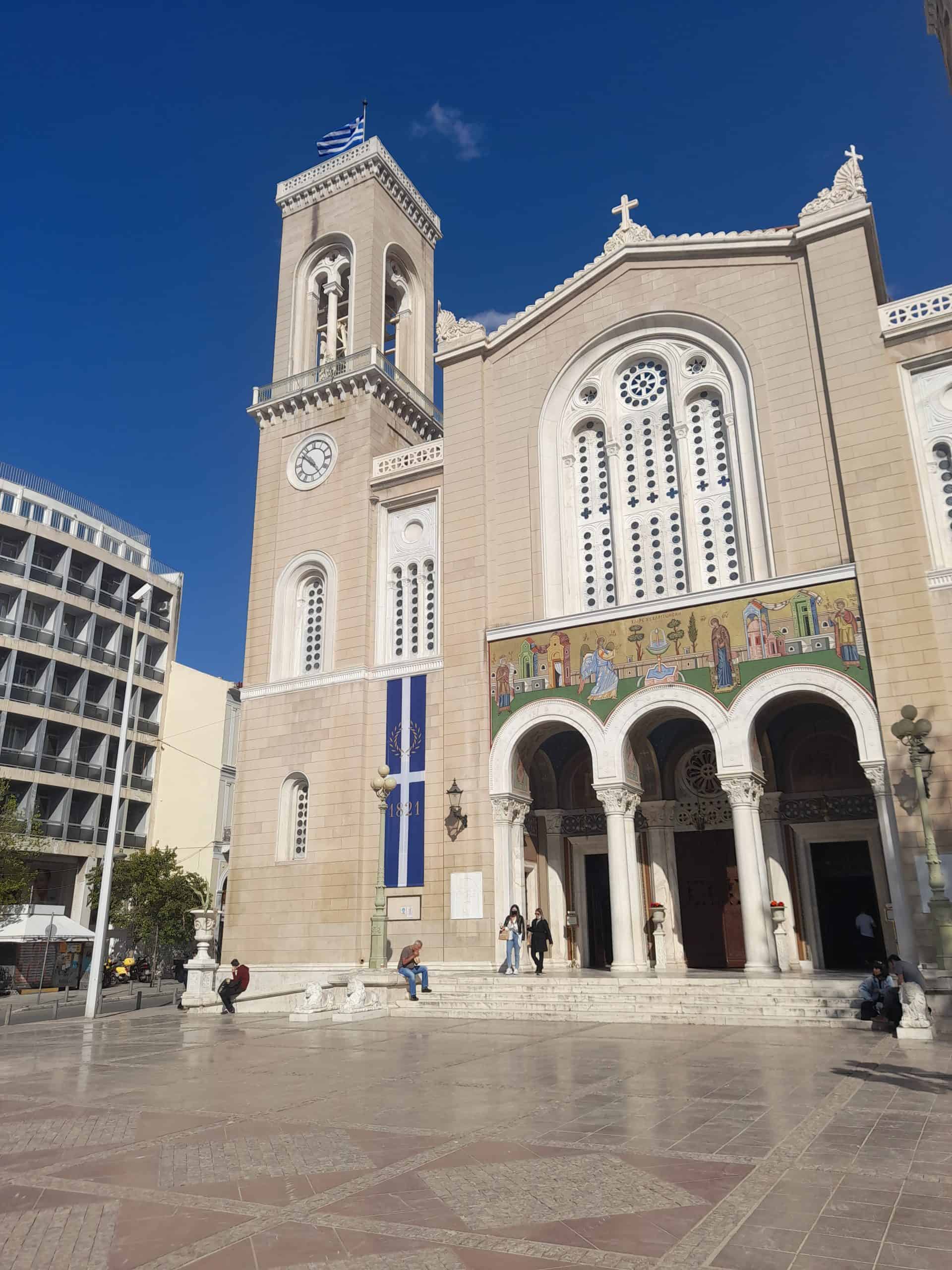 Do you have any further questions about getting from Athens to the airport, or planning a trip to Greece in general? I've been living here since 2017 and I will be happy to assist with any queries that you may have.
Feel free to drop me a comment below and I'll do my best to get back to you ASAP. Safe travels!
Geia sou! Melissa xo
---