Taxis in Greece can be a convenient and comfortable way to get around. This is particularly true if you are organising transfers to and from airports, or you want a fast, private way to return to your hotel after a long day's sightseeing.
Unfortunately, taking taxis in Greece can leave you subject to some of the worst scams in the country. Taxi drivers the world over are often a law unto themselves.
This is no different in Greece. While most Greeks are friendly and hospitable, there are a few things to be mindful of while taking taxis in Greece.
Taking Taxis in Greece in 2023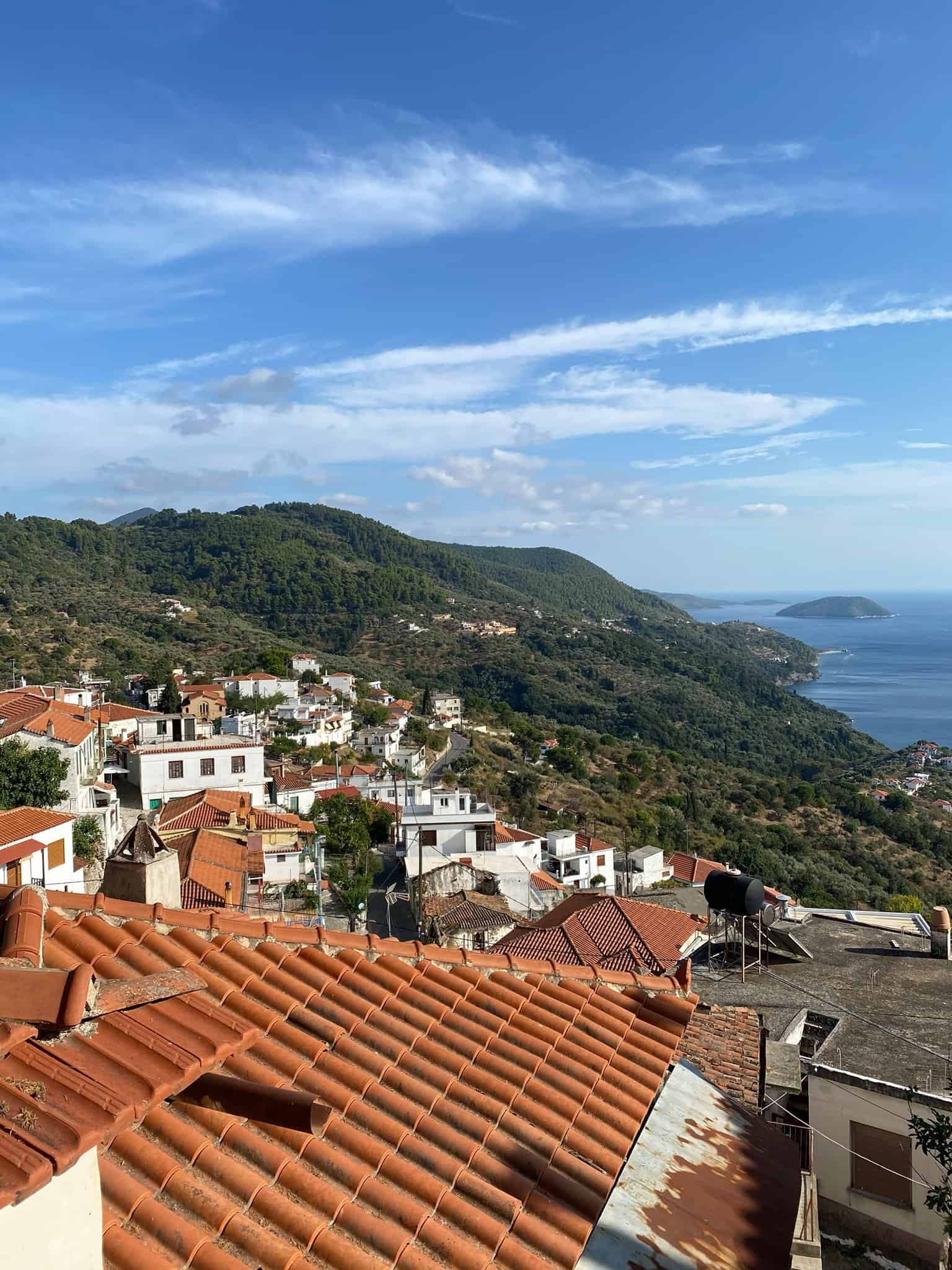 Set pricing rates do apply when taking taxis in Greece. First of all, if you are riding in a city taxi in Athens, Thessaloniki, Volos, etc, always make sure that the driver has turned the meter on.
If you are Greek island hopping, you will note that Greek islands charge a fixed fare for journeys. Agree on the price with the driver before you get in the car.
Unsure about how much you ought to pay? Reach out to your hotel or accommodation host before arriving in Greece to enquire about the standard fares. That way if your taxi driver quotes you a certain price thinking that you are an unknowing tourist, you can negotiate.
Standard Taxi Fares in Greece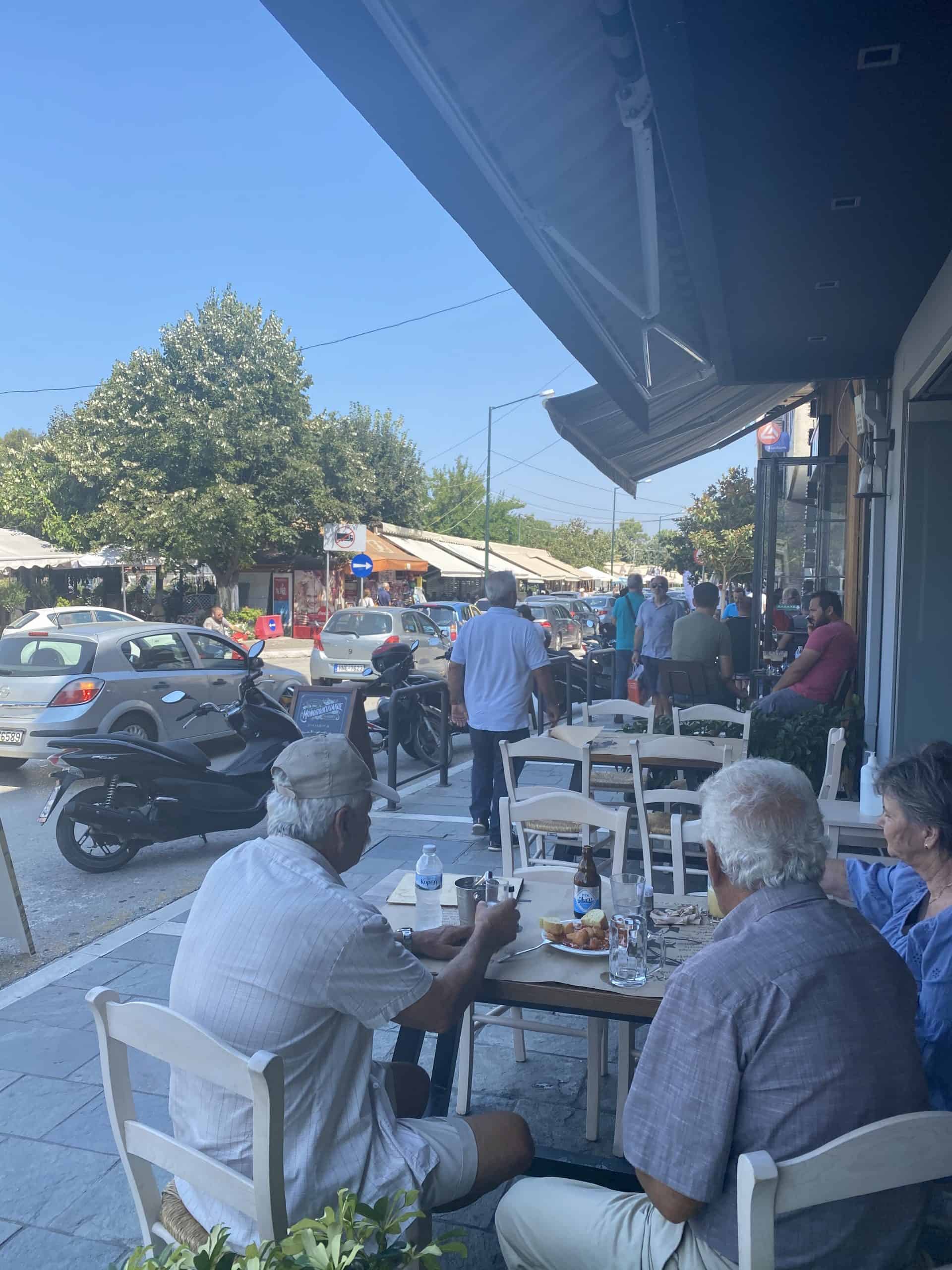 Taxi fares in Greece are subject to change and may do so with no notice. At the time of writing (January 2023), the below rates are accurate. 
Starting fare: €1.20


Minimum fare in Greek cities: €3.16


Minimum Fare (elsewhere) €3.40


Rate Per Km Within City Limits €0.74


Rate Per Km Outside City Limits (Double Rate) €1.19


Luggage €0.40 per bag

Additional fee for collection from rail/bus station: €1.07
Always insist that the cab driver turns the meter on. If you can, have an offline map on your phone so that you can review the route.
If the meter is not on, don't be surprised if the cab driver makes up a price on the spot. Taxi scams in Greece can be abhorrent and drivers may even have the gall to charge as much as say, €25 for a €4 journey.
Taxis in Athens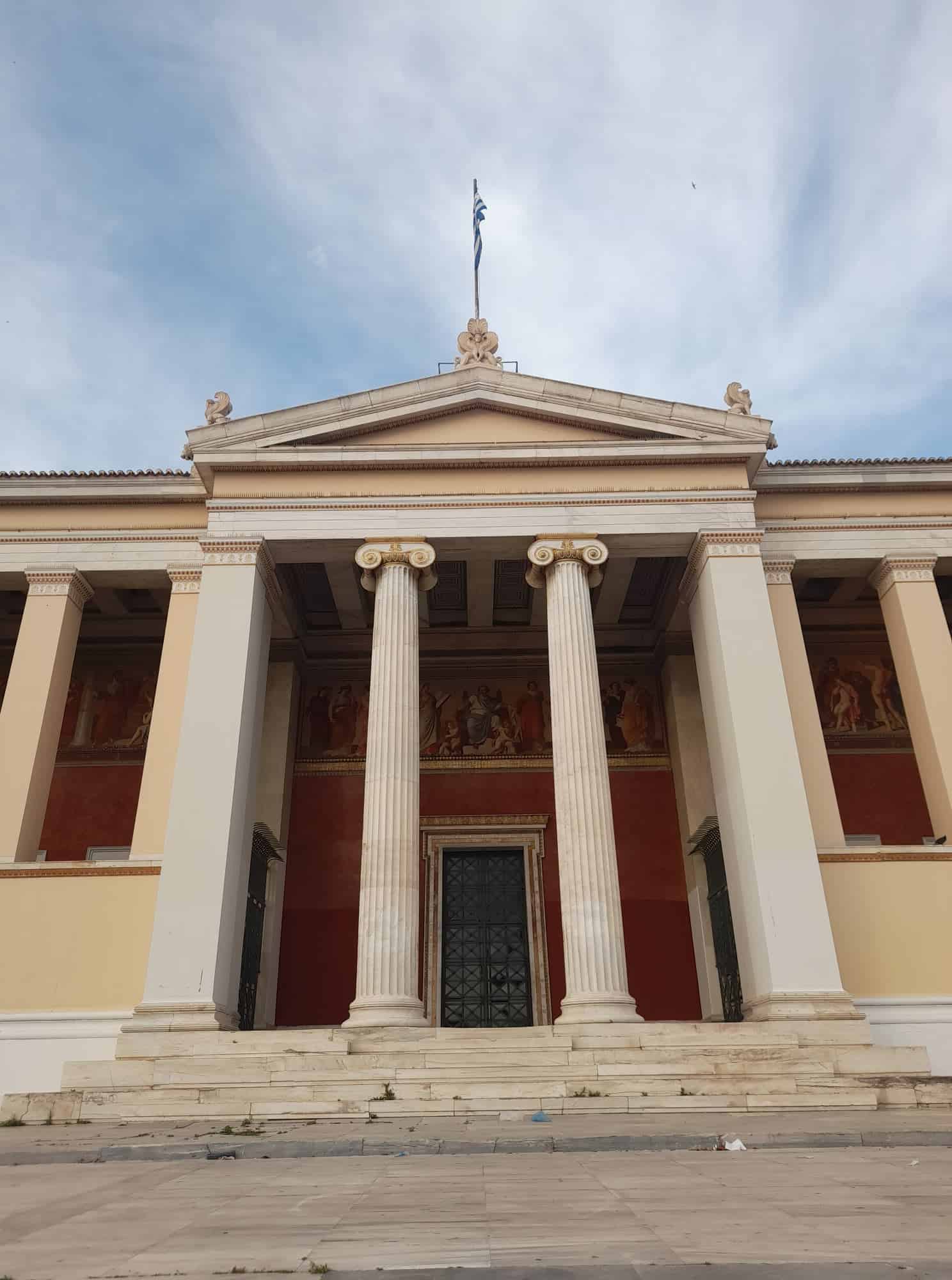 Taxis in Athens are easily distinguished by the "Taxi" light that sits on top of the car. Most Athens taxis are yellow.
However, you will also occasionally notice black taxi cabs for hire – particularly at Athens Eleftherios Venizelos airport. These are private for-hire cars and typically charge significantly more than standard taxis. 
You can hail taxis in the street or find them at designated taxi ranks ("piatsas"). Ranks can be found at Syntagma Central Square, Monastiraki, the airport, and various other areas around the city.
The same rules for hailing cabs apply in most countries around the world. For instance, if the light on top of the car is illuminated, the car is free. 
If it isn't, it's not. Sometimes you will find that Athenian taxi drivers just don't bother with this light so it's worth seeing if there is someone inside the car. If there isn't, you can always try and hail that car.
Unfortunately, Athenian taxi drivers can be among the worst for tricking and ripping off tourists. Generally, it is better to avoid getting a taxi in the street and opt to use taxi apps instead.
Fixed Fares in Greece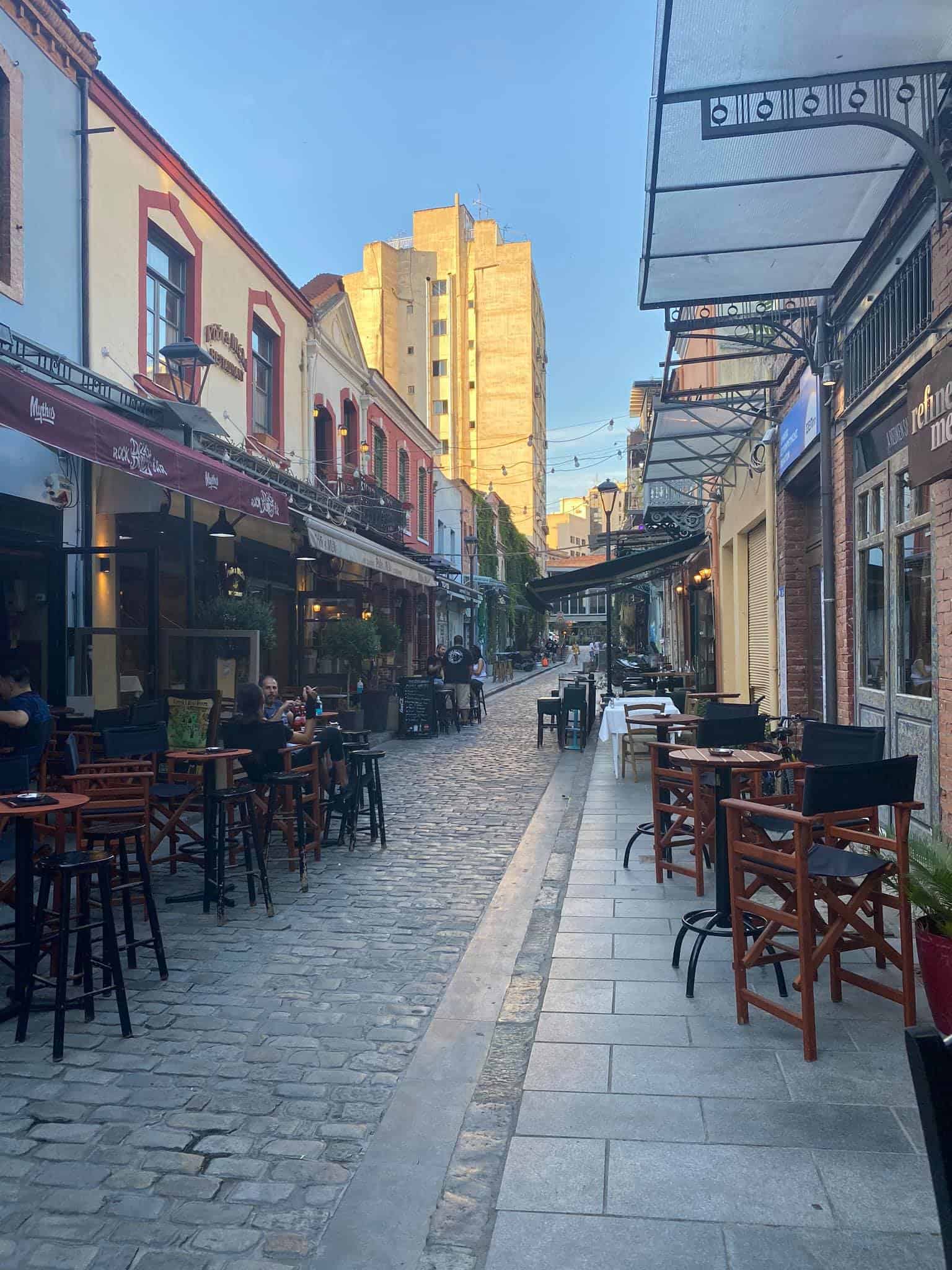 The fares on several routes in Greece are fixed by Greek law. This includes the below. As always, confirm this with the driver prior to entering the vehicle.
Athens airport to city night rate (Midnight – 5 am): €53


Athens airport to Piraeus night rate (Midnight – 5 am): €72


Athens airport to Lavrio port: €47


Athens airport to Lavrio port night rate (Midnight – 5 am): €70


Athens airport to Vouliagmeni and the Athens Riviera: €32


Athens Airport to Vouliagmeni and the Athens Riviera night rate (Midnight – 5 am): €40


Athens Airport to Rafina port: €35


Athens Airport to Rafina port night rate (Midnight – 5 am): €50
Public transport in Greece is also excellent. If you are travelling on a budget, you may also wish to consider the bus/metro alternatives to the above which are all pretty good
Greek Airport Transfers
Taxi drivers can always be found in plentiful supply at taxi ranks close to arrivals at Greek airports. However, if you want to avoid the hassle of dealing with cab drivers, potentially waiting at a rank, etc, you can organise a private transfer.
Private transfers in Greece start from around €50 so they are typically not that much more than a regular cab. If you opt to do this, someone will be waiting for you in Arrivals with a sign displaying your name.
Greek airport transfers generally include complimentary bottles of water and the vehicles are modern and air-conditioned. You can reserve and pay online in advance.
Taxi Apps in Greece
You can download the Uber app in Greece but it only displays licensed cabs. Unlicensed cars were prohibited from providing taxi services in Greece in 2018. 
The main taxi app that is used here is one called BEAT. Like Uber, this only connects passengers with licensed yellow cabs.
However, a large majority of Greek taxi drivers use this app. It works with a review system whereby you can give your driver a star rating and a comment after your journey.
As a result, drivers take it seriously. This is also the best way to take taxis in Greece to minimise the risk of being scammed.
The app displays the estimated price of the journey and the route before you get in the car. It then connects you to a nearby driver and you are typically only waiting a few minutes.
You can pay in cash or by card and there should be little (if any) variance versus the initially quoted price. 
BEAT works in most large Greek towns and cities. For instance, Athens, Thessaloniki, Volos, etc.
However, it is not used on the islands and in rural areas where you need to use local taxi companies. Generally speaking, cab drivers are more trustworthy and quote a true price when you venture into less touristic areas. 
Dealing with Taxi Scams in Greece
Even after living in Greece for years, I have been the unfortunate victim of occasional scams in Greece. That's even the case when I got into the cab and spoke to the driver in Greek!
I recently travelled back from Skiathos island with my three rescue cats in their carriers and a large suitcase. Someone at Athens Larissa station hailed a taxi for me.
I only needed to travel five or six blocks but I couldn't carry all my luggage. The journey should have been around €3-4 euros but the driver tried to charge me €25.
After a lot of arguing and threatening to call the police on him, he agreed to €7, which is still more than it should be even with luggage. He threw my bag out of the car and into the road and sped off swearing under his breath, Charming!
Avoiding Scams
But what should you do in that situation? First of all, always insist that the meter is running.
To reiterate, avoid hailing cabs on the street if you can, and always order your car via an app. If the driver is sneaky and does not turn the meter on, you can check the price on the app. 
There was a really big problem with taxi scams in Greece historically, and accounts of cab drivers behaving in thug-like ways. If someone tries to trick you, threaten to call the police.
That will usually scare them into charging you the true rate. Failing that, insist they drive to the nearest police station. They are forced to oblige and again, this will usually scare them into charging the true rate.
A lot of Greek taxi drivers think that western tourists are travelling with racks of money and have no idea what the going rates are. It arguably wouldn't be the end of the world if it was a few euros here and there but often, the rates they try are as much as 5-6 times the usual!
Record the number plates of aggressive, abusive, or trickster taxi drivers. You can make a complaint by calling 1019.
Taxis on Greek Islands
There are hundreds of Greek islands that you can travel to, scattered across various Greek island groups. Some larger islands, like Kerkyra (Corfu) and Rhodes, do have taxi ranks scattered throughout their old towns.
However many smaller islands, like Paxos in the Ionian for example do not. In fact, some of the smaller islands have just 5-6 taxi drivers that operate across the entire island.
It's helpful to ask your hotel for their recommendations on taxi drivers. If they book taxis for you, there is less risk of being tricked.
You can also find local taxi numbers by doing a simple Google search of "taxis in X". If you get a taxi driver you like, ask them for their card and save their number.
You can then use them for all your taxi needs throughout your itinerary in Greece. Some drivers will offer tours around the area at an agreed price.  
Taxis in Greece and Athens FAQs
Do you have any further questions or concerns about taking taxis in Greece or taxis in Athens? The answers to some frequently asked questions on the topic are detailed below.
Hopefully, you will find the information you are looking for there. If not, feel free to reach out.
Are taxis expensive in Greece?
Taxis in Athens and wider Greece are generally pretty affordable. For instance, to get from central Athens to a neighborhood in the northern or southern part of the city, it shouldn't cost more than €4-6.
A taxi from Athens city centre to the airport should cost no more than €35 and a taxi from Athens to the Athens Riviera will cost around €17. Rates are calculated at €0.74 per km within city limits.
How do taxis work in Greece?
Taxis in Greece work in the same way as they do in most other countries. You can stick your arm out to hail a yellow cab with its lights on in Greek cities like Athens, Thessaloniki, Volos, and Ioannina. 
There are also designated ranks that will be clearly marked. You should always insist that the driver has his meter running.
Rates are calculated at €0.74 per km. You pay for your ride at the end of your journey.
Do you tip taxi drivers in Greece?
It is not customary to tip your Greek taxi drivers. (Tipping in Greece in general, is not expected).
However, if you feel that you have had exemplary service, your driver has waited around for you, or it has been a long journey, tips are always appreciated. You can round up to the nearest euro if you want to give a small tip, or you can give a euro or two extra.
Does Uber work in Greece?
Unfortunately, Uber is no longer permitted in Greece. You can download the app, but it will only connect you with licensed yellow cabs rather than independent drivers.
How do you pay for a taxi in Greece?
Since the global pandemic, more places in Greece have started accepting card payments, including taxi drivers in Athens. A lot of Athenian cab drivers will have POS machines that allow you to pay by credit or debit card, in addition to paying by cash.
If you use the BEAT taxi app to order your cab, you must also pay the fare directly to your driver whether you choose to make a card payment or pay by cash.
How do I ask for a taxi in Greece?
You can say "taxi parakalo" (taxi please) to ask for a taxi in Greece. If you want to ask how much it is in Greek, you can say "Poso tha kostizi?"
It is worth noting, however, that the vast majority of Greeks (including cabbies) speak English.
Do taxis take credit card in Greece?
Most Greek taxis in Athens and other large cities have a POS machine installed in their cars to accept card payments. This means that you can pay by credit/debit card most of the time.
However, when it comes to managing money in Greece, it is a good idea to always have some cash on you just in case. That way, if the POS machine is out of order, you don't have to stress about asking your driver to drive around looking for an ATM if you don't have any cash.
Taxis in the Greek islands are less likely to accept card payments.
Do taxi drivers in Greece speak English?
The vast majority of taxi drivers in Greece (and Greeks in general) speak English. The exceptions are a few old-school, older cabbies in Athens, and drivers on remote islands. 
Still, communicating with them is easy. You can simply tell them the place that you want to go followed by "parakalo" which means "please" in Greek.
If you are trying to get to a hotel, beach, or other location that is tricky to get to and not well known, it is helpful to have the address written down somewhere (on your phone, a hotel business card, etc). That way you can easily show the address to your driver.
In the unlikely event that you are really struggling to communicate with your driver, you can use Google translate. Simply type what you are trying to say in English, and it will automatically translate it to Greek. You can then play the Greek audio clip out to your driver.
Final Thoughts on taking taxis in Greece and the Greek islands
Do you have any additional questions about taking taxis in Greece or taxis in Athens or planning a trip to Greece in general?
Feel free to reach out and I'll get back to you ASAP. I've lived in Greece since 2017. 
Safe travels! Melissa xx
---