This guide covers the best things to do in Ioannina during your Northern Greece adventure. Leafy Ioannina (also locally referred to as "Yanenna") is one of the most underrated travel destinations in all of Greece.
Ioannina is a beautiful Greek city that sits in the North-western corner of mainland Greece. Ioannina is quite unlike most cities and far from a bustling, overcrowded megalopolis. The old streets of Ioannina are surrounded by the beautiful waters of Lake Pamvotida, and encompassed by breathtaking snow-capped mountains,
Falling in Love with Ioannina
Even though Ioannina is the capital of the Epirus region of Greece, the city centre has more of a small-town vibe than a city ambiance. With its quaint stone houses and quirky stores selling all manner of eccentric artisanal products, Ioannina is certain to capture the hearts of even the most well-travelled adventurer. 
For all of its beauty, Ioannina escapes the radars of most visitors to Greece, as do many charming towns and villages on the Greek mainland. "It's near Corfu, kind of – just across the sea" – This is the description that a Greek local told me that he gives international people who have never heard of Ioannina!
That about sums it up. Ioannina is not a tourist destination. However, it is certainly a lovely place for an alternative weekend break in Europe.
Things to do in Ioannina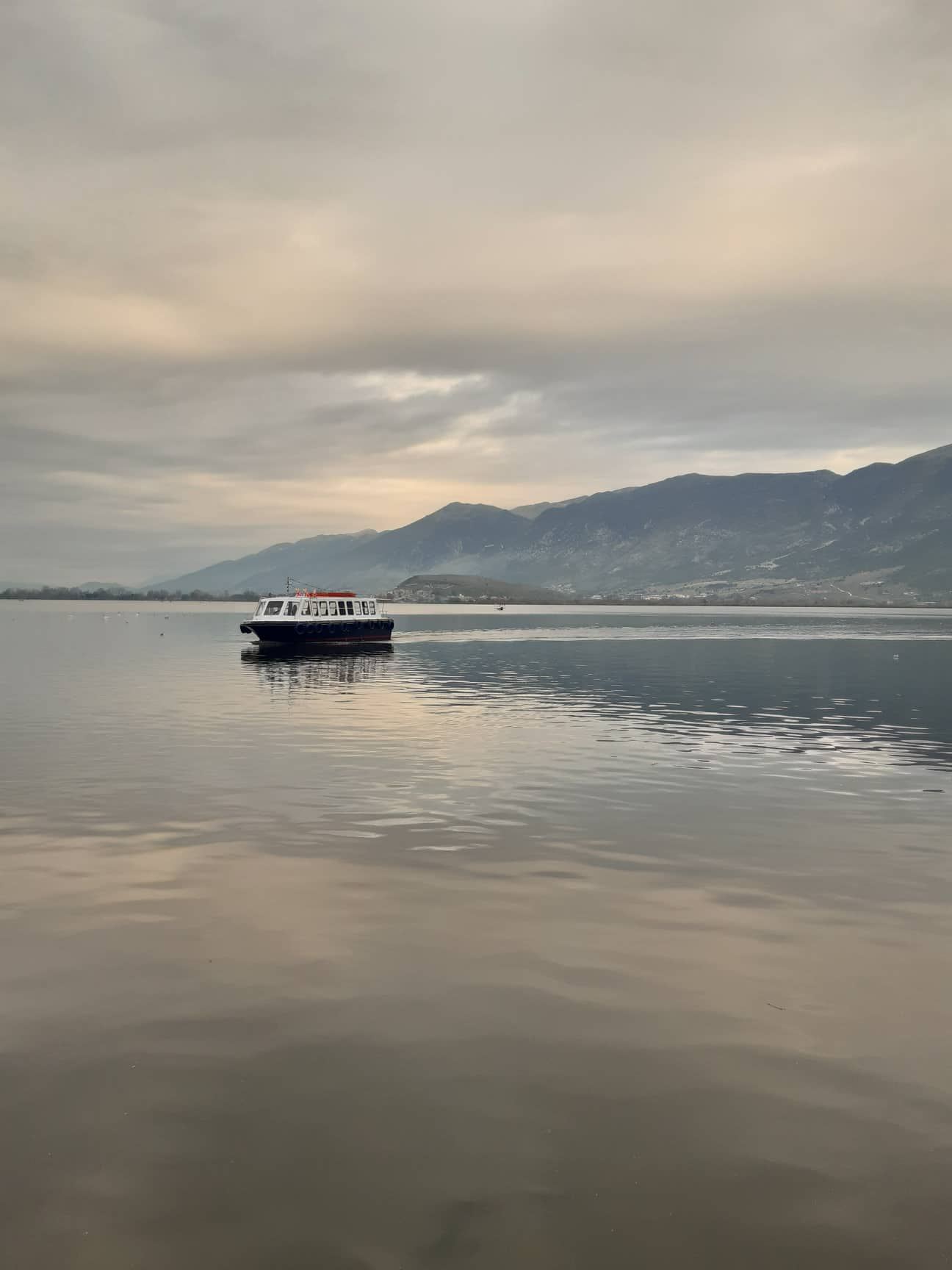 A trip to Ioannina is very much about immersing yourself in the local culture and enjoying a more relaxed pace of life amidst the stunning nature. There are plenty of things to do in Ioannina to keep you occupied for a day or two.
The city also makes a nice base for a wider exploration of the Epirus region – whether you plan on visiting the quaint villages of Zagorohoria, trekking along the majestic Vikos Gorge, or hiking in the lush forests that encircle the city.
Ioannina Highlights
At a glance, the best things to do in Ioannina with limited time are:
Stroll around Pamvotida Lake


Sample the local cuisine of Epirus


Sail out to the nameless island in the centre of the lake


Admire the crumbling remnants of Ioannina's Ottoman past


Pay a visit to the Ioannina silversmithing museum


Explore the abandoned, eerie monasteries on Pamvotida island
Enjoy a Scenic Stroll Along the Lake
Pamvotida Lake is a highlight of any visit to Ioannina. A cobbled pathway leads you around the circumference of the lake.
The path runs all the way from the city's Parko Katsari to Perama and other nearby villages. Come for a mid-morning stroll as local fishermen set up their nets and a mysterious haze of fog hovers over the water.
Lake Ioannina is a favourite place for locals to jog, cycle, and walk their dogs. Beautiful contemporary art pieces by local artists act as waypoints along the route. The path is especially beautiful in the fall when the trees are decorated with shades of orange and burgundy.   
Sail Out to Lake Ioannina Island
There is a little island in the centre of Lake Pamvotida. This island has played an important role in Greek history and is occupied by a little stone village.
The island was never given a name and is known by locals as quite simply "the island". Boats run hourly between the port at Plateia Mavili and Ioannina island. The journey takes approximately 10 minutes and tickets cost €2 each way.

Spend some time exploring the port area, before visiting the Ali Pasha house and learning the history of the island's former Ottoman ruler. You will find several caves dotted around the island which locals used for shelter when the Italians bombed northern Greece during World War II.
Uncover Abandoned Monasteries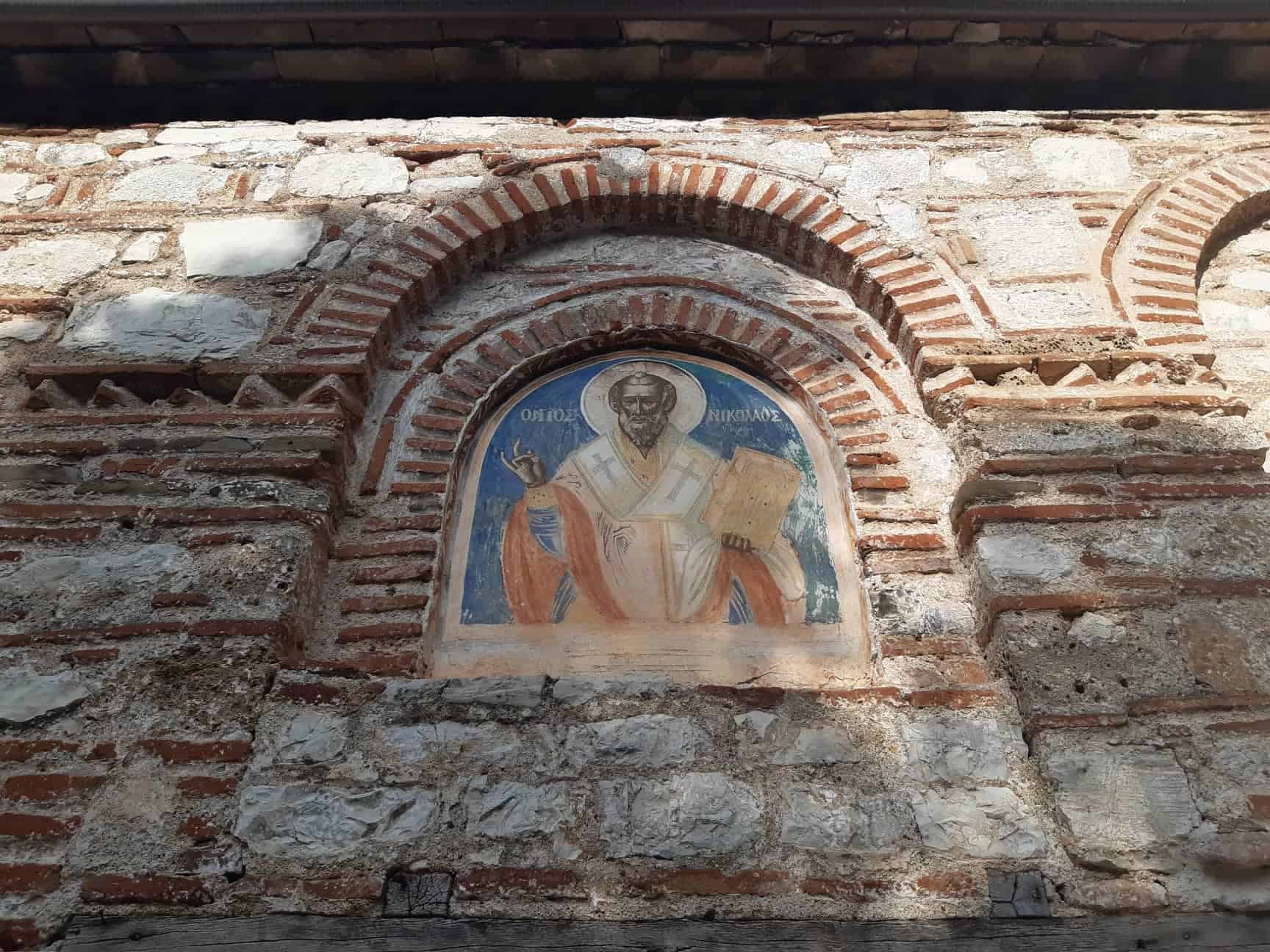 Outside of the port area, the majority of Ioannina island consists of woodland and is fairly remote. There are several crumbling ancient monasteries dotted among the trees. The majority of these are now eerily abandoned.
The origins of a lot of Ioannina island's monasteries are unknown. Many of those that have fallen into abandon were owned by local noble families. Inside their empty courtyards and church halls are impressive Orthodox frescoes, and overgrown courtyards and gardens which maintain an air of eerie beauty.
Particularly impressive monasteries to add to your radar while you're here are the Monastery of Diliou, the Monastery of Holy Mary of Molivdoskepastou, and the Monastery of Nicholas Filanthropinon.
Learn the History of Ali Pasha
Ioannina island was once home to Ali Pasha – an Ottoman Albanian ruler who ruled the city during the days of the Turkish occupation. Ali Pasha is recognised for transforming Ioannina into a cultural and intellectual hub. However, he was also known for being a cruel leader.
The Ali Pasha House
The Ali Pasha house on Ioannina island tells the story of his life and rule. The museum is €3.50 to enter and contains artifacts from the Ottoman era.
One haunting exhibit tells the story of "the drowning". Ali Pasha would tie rocks to the feet of women who committed adultery and throw them into Lake Ioannina – a haunting past to what is today a beautiful lake.  
Marvel at the Remnants of the Ottoman Empire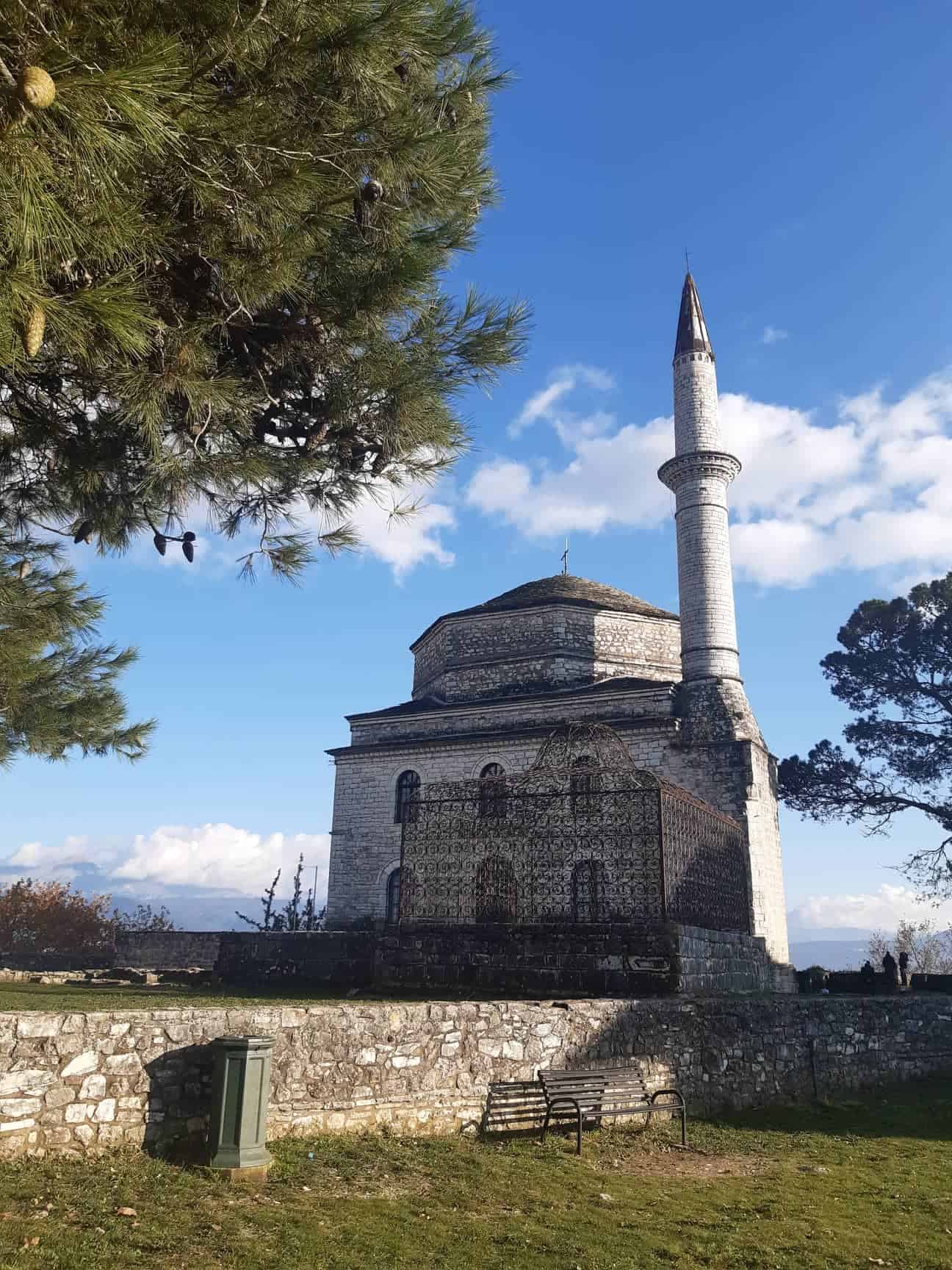 The sun-bleached ruins of several Ottoman sites point to Ioannina's Ottoman Empire past. The former Aslan Pasha Mosque has now been converted into the Ioannina Municipal Museum which provides an interesting glimpse into the various cultures and religions that cohabited in Ioannina.
People of Jewish, Islamic, and Christian faith once all lived alongside each other in Ioannina. The highlight of the Aslan Pasha mosque, however, is the view that can be obtained by ascending to the top of its minaret.

Equally worth visiting and observing is the Fethiye Mosque, the fortifications of the defensive Ioannina castle, and the old Byzantine bathhouses (early hammam). All these buildings can be admired for free on a self-guided walking tour of the city's historic sites. 
Stroll the Quaint Narrow Streets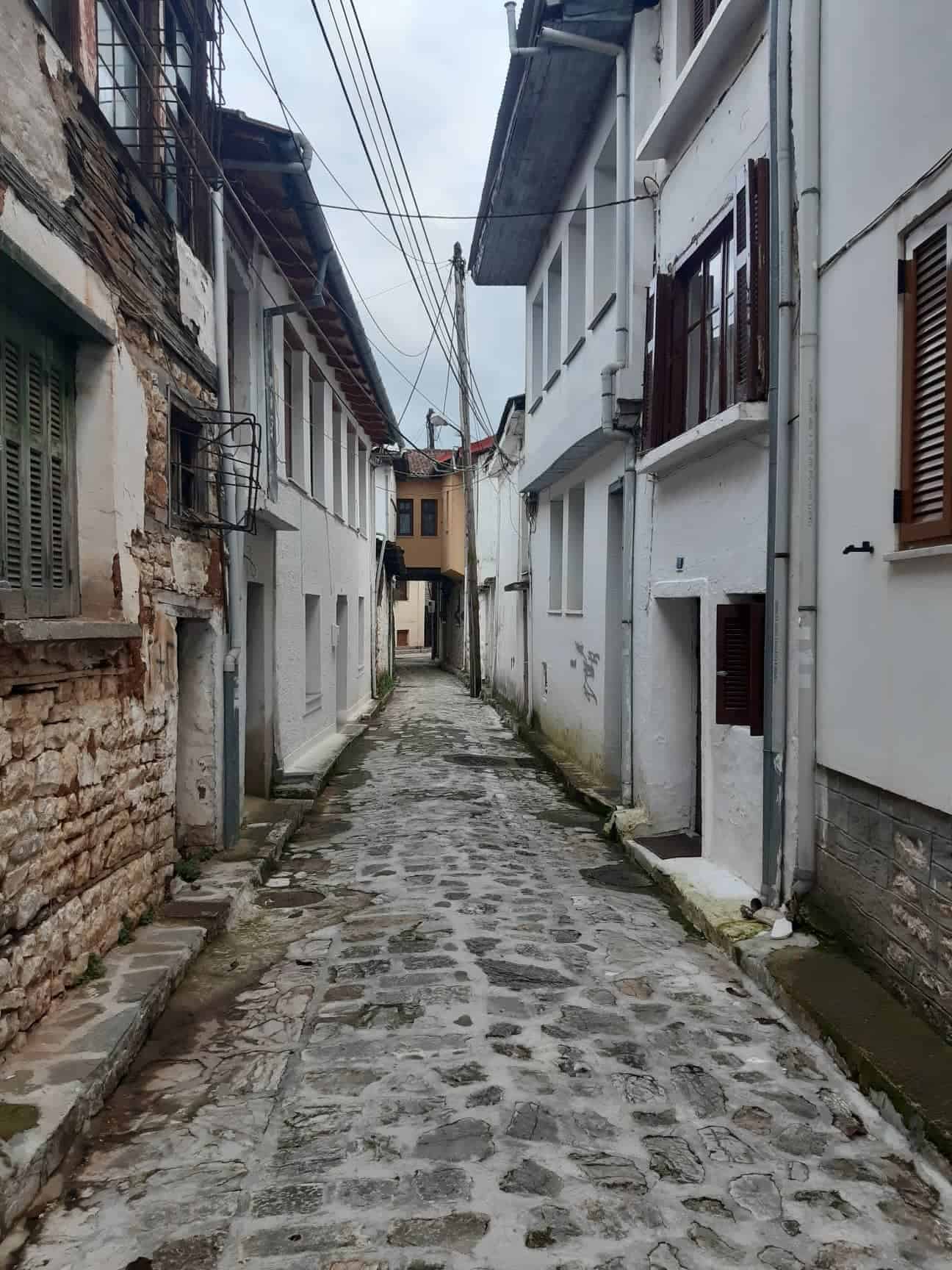 Getting lost among Ioannina's intricate network of labyrinth-like streets is just as enjoyable as sightseeing in the city itself. The city is comprised of narrow cobbled passageways filled with picturesque, pastel-coloured houses.
Ioannina has always been a multicultural city. The architecture here displays a mixture of Jewish, Islamic, and Christian cultural influences.

Among the narrow streets and crowded piazzas, you will find quaint meze restaurants (eateries that specialise in small plates), artisanal stores, and homely coffee shops. For a local dining experience, consider stopping by Stoa Louli, or Mistagoyia (Μυσταγωγία) for a spot of dinner.
Learn the City's History at the Museums of Ioannina
Ioannina is home to several museums which are well worth visiting if you have a little extra time to spend in the area. The Byzantine Museum contains a number of artifacts recovered from the region that date back to the Byzantine era. Meanwhile, the Silversmithing museum provides insight into the handmade jewelry that Ioannina was once famous for.  
Witness the Natural Phenomena of Perama Cave
A trip to Perama Cave is a popular excursion from Ioannina. The pretty town sits just across the water from Ioannina.
You can see Perama from afar when strolling along the lake. For 7 euros, you can have a guided tour of the cave with a local Archaeologist.

Perama Cave is regarded as being one of the most important caves in the world. It dates back over 1.5 million years and is home to 19 different types of stalactites.
Stop by the Castle of Ioannina
The Castle of Ioannina dates back to 528 B.C. This is the oldest Byzantine castle in Greece,
Remnants of the castle's walls and fortifications can be found throughout the centre of Ioannina. Some houses, stores, and plazas sit within the walls of the old fortifications.
Sample the Local Delicacies
Greek classic dishes like gyros and pastitsio can be found across the country. However, Ioannina, just like other regions of Greece, also boasts several local delicacies that are specific to the region.
Greek Deli Products Make Wonderful Souvenirs
The crisp fresh mountain air and fertile soil of the Epirus region mean that treats such as apples, walnuts, and chestnuts are available here in abundance. A local tradition is to pick fresh veggies and preserve them in a pickle.
Pickled delicacies are an Epirus delicacy known as "toursia". You can find jars of toursia on shelves at local delicatessens. The item makes a nice edible souvenir from your time in Yannena.
Sink Your Teeth into Homemade Epirus Pies
The Ioannina region is also well known for its pies and pastries. Stop by a local bakery and order yourself a warm, flaky karidopita (walnut pie), a sweet galatopita (milk pie), or a flavourful savoury hortopita (pie filled with wild greens).
Sip Freddo Espressos in Quaint Stone Coffee Shops
Few pastimes are more quintessentially Greek than immersing yourself in Greek coffee culture. Pull up a seat in a crowded piazza, and order yourself a freddo cappuccino as the locals around you play backgammon
Many of Ioannina's coffee stores are set inside historic stone houses. LUDOST café bar, old post café, and Kofi Micro roastery are particularly loved by locals.
Take a Day Trip to Metsovo
Metsovo is a stunning mountain village that sits within the Pindus Mountains, just 50km north of Ioannina. Buses to Metsovo from Ioannina depart at 6 am daily and return in the evenings.
The culture of Metsovo is different from that in the majority of Greece. This is because Metsovo is a Vlach settlement. Sample the village's namesake "Metsovone" cheese, follow the woodland hiking trails, or enjoy indulging in local delicacies in the village's homely tavernas.
Spend an Afternoon at the Archaeological Site of Dodoni
Dodoni is a small archaeological site that sits 21km just outside of Ioannina. It is one of the oldest oracles in all of Greece and was built in dedication to the God Zeus.
The Ancient Greek theatre that sits at Dodoni is remarkably well-preserved. The pleasant thing about travelling here is that Dodoni is not very well-known.
You seldom have to share the space with many other tourists. Not to mention, the views of the mountains and lush greenery that surrounds Ioannina is wonderful from this point.
Where to Stay in Ioannina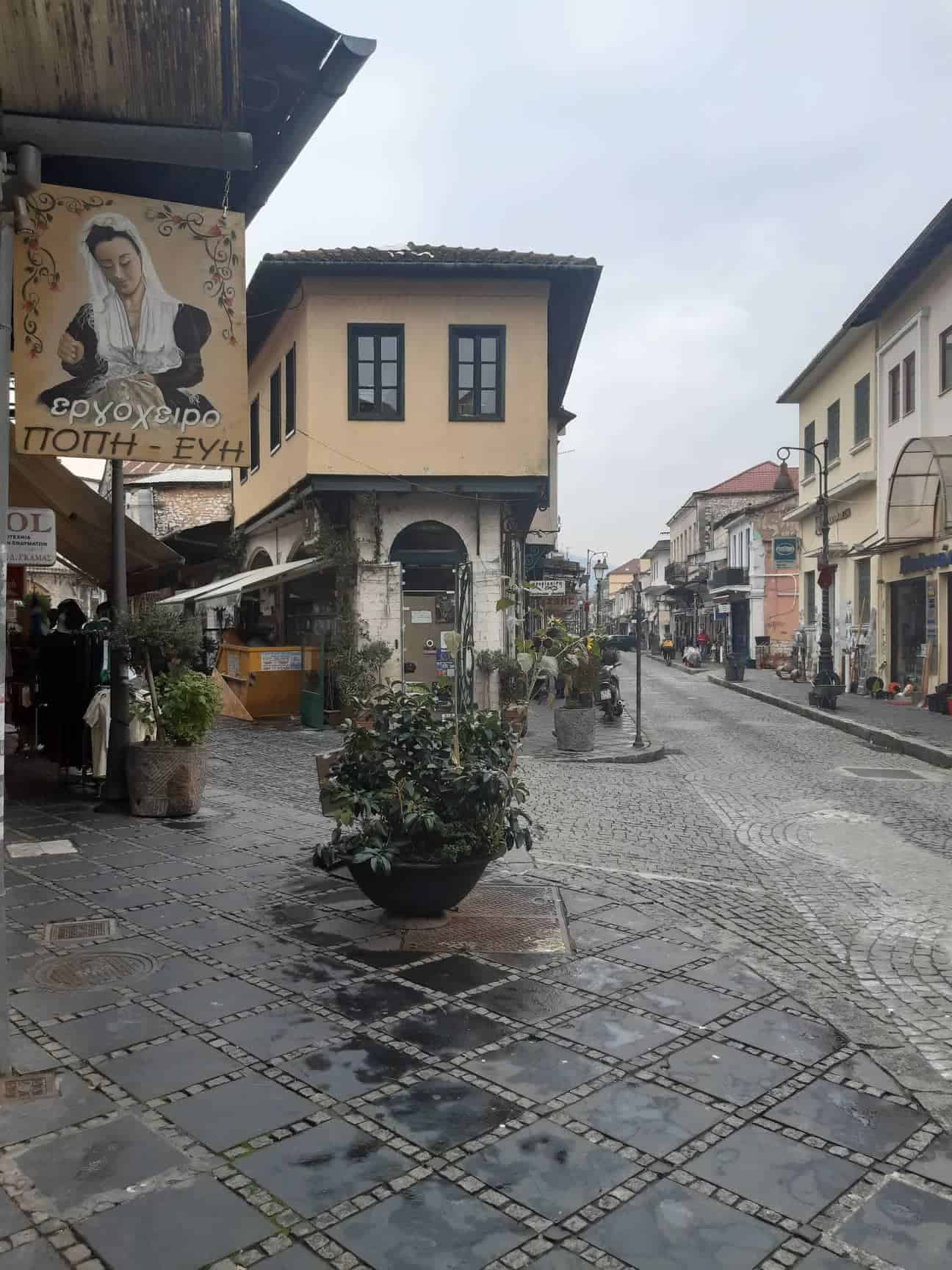 There are several cute and homely hotels in Ioannina and the surrounding area. Many hotels are nestled inside old stone guesthouses with in-room fireplaces.
Ioannina is a charming winter travel destination. A selection of the best hotels to consider in Ioannina are detailed below.
Ali Pasha Hotel
Where: Chatzikosta 9, Ioannina 454 44
Ioannina's Ali Pasha Hotel offers comfort and luxury without the luxury price tag. The property really captures the personality of this region. The hotel's rooms blend exposed stone walls and cozy fireplaces, with contemporary modern furnishings.
Rooms start at €60 per night. You can browse the latest rates and availability here.
Kastro Guesthouse
Where: 57 Andr. Palaiologou, Ioannina, 45221, Ioannina 452 21
The charming Kastro Guesthouse sits in a restored mansion within the walls of the historic Ioannina castle. The rooms are spacious and tastefully decorated.
Guests can enjoy a sumptuous homecooked Greek breakfast each morning – either from the hotel's restaurant, or alfresco style in the private courtyard. The rooms start at €50 per night. You can browse the latest rates and availability here.
Getting to Ioannina
Getting to Ioannina can be a little awkward unless you are already in Greece. The city is situated close to the Albanian border, some 411 km north of Athens.
Fly to Ioannina
Ioannina International Airport is situated just 10 minutes outside of the city centre and offers a limited number of flight routes.
The airport offers routes to and from the following destinations:
Sweden (Stockholm and Gothenburg)


Denmark (Copenhagen)


Cyprus (Larnaca)


Greece (Athens)
Several Greek domestic airlines offer flights between Athens and Ioannina starting from €40. The journey from Athens to Ioannina takes just one hour.
Reach Ioannina by Train
There is no train station in Ioannina. If you want to reach the city via public transport, at least part of the journey needs to be made by bus.
To get from Athens to Ioannina (and vice versa), you need to first take a bus from Ioannina to Kalabaka. Then, you need to take a train from Kalabaka to Athens' Larissa station. The total journey takes approximately 9 hours.
Reach Ioannina by Bus
The easiest way to reach Ioannina by public transport is to take the bus. Buses connect Ioannina to Thessaloniki, Athens, and other major Greek towns and cities.
The bus from Athens to Ioannina takes approximately 5.5 hours. It takes approximately 3.5 hours to reach Thessaloniki from Ioannina.
Parting Words
Do you have any further questions about planning a trip to Ioannina? I've been living in Athens for the last three years and I have visited Ioannina on numerous occasions.
Feel free to reach out to me via the comments if there's any way I can be of assistance. Safe travels! Geia Sou! Melissa xo
Disclaimer: This guide to the best things to do in Ioannina may contain affiliate links. This means that I may obtain a small amount of commission if you choose to make a purchase through links contained on this page. This is charged at no additional cost to you. Thanks for understanding.
---