Winter in Greece is not the usual choice for most people. After all, this beautiful Mediterranean country is mostly renowned for its idyllic islands and paradisical beaches.
In fact, for many people, what happens in Greece after the islands and holiday resorts close for the summer season is something of an unknown. Winter in Greece is a completely different travel experience.
Visiting the country at this time of year means road trips through quaint stone mountain villages, tucking into steaming bowls of giouvetsi in homely tavernas in the countryside, or trying your hand at skiing. Greeks typically have 3-4 weeks of vacation for Christmas.
During this time, many of them head to Arachova or Karpenisi to rent a cabin with their families and friends. Greeks love a winter mountain getaway but up until now, they have been keeping most of these places to themselves.
Winter in Greece
From November onwards, a paradigm shift occurs. The once-crowded historical sites of ancient cities such as Athens become quiet and empty.
Vendors set up shop at the side of the roads selling roasted chestnuts and warm salep. Meanwhile, Athenian bars replace their ouzo and fruity summer cocktails with hot toddies and warm homemade rakomelo.
Greece in Winter Weather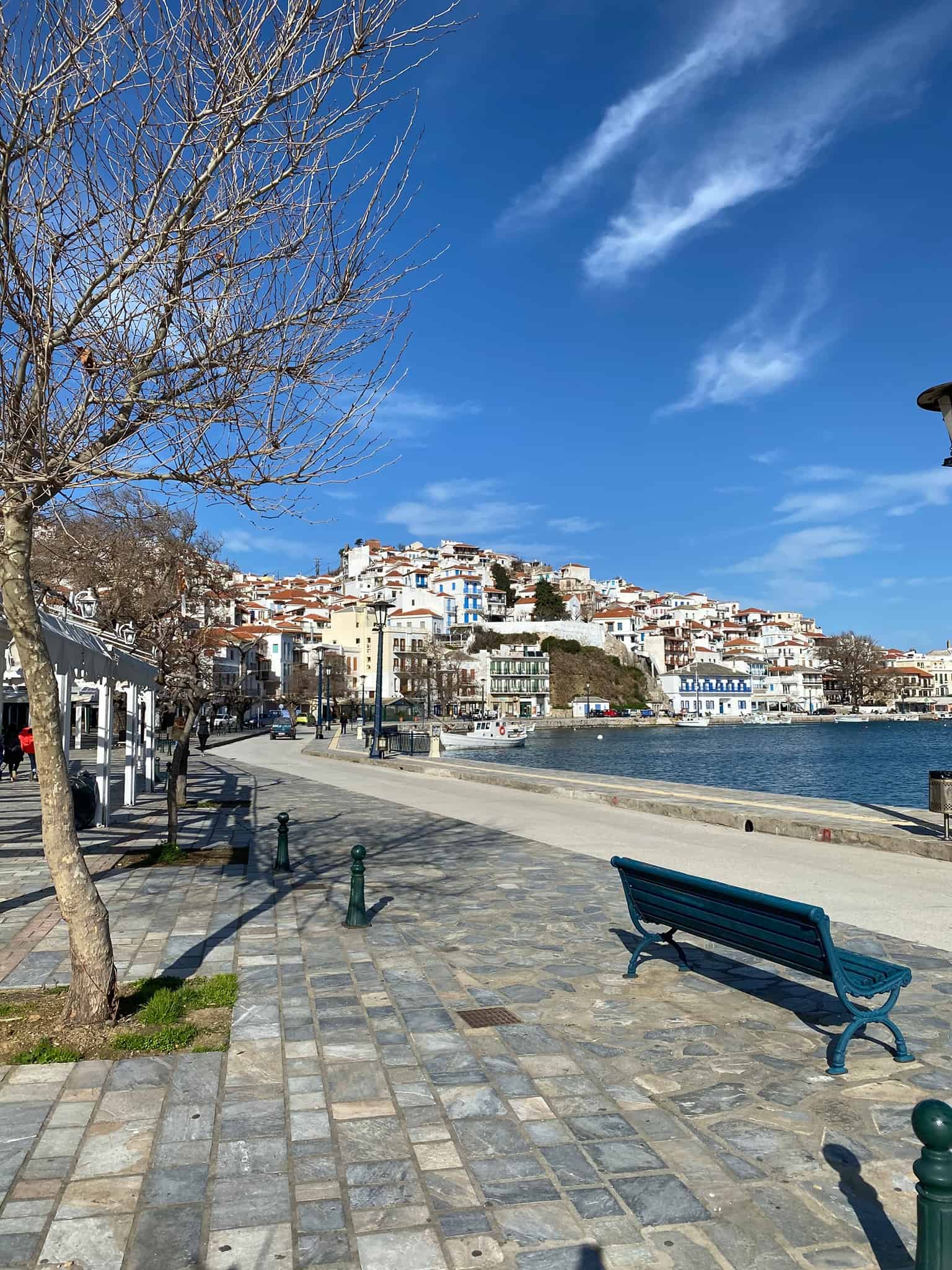 The weather in Greece in winter is likely milder than what you are used to (especially if you are coming from the UK, the US, or other parts of Europe). However, it is by no means hot.

It is a common misconception that Greece boasts warm, Mediterranean conditions all year round. The country sees defined seasons, just like most other European countries.
The nice thing about the weather in Greece in winter is that even though it is cooler, most days are sunny with blue skies. There are occasional rainstorms, and rainfall is heavier and more frequent at this time of year than during the summer months.

But any rain quickly subsides and the sky clears up. Spending winter in Greece doesn't mean enduring dull, dreary weather conditions.

Temperatures vary from one part of the country to another. Generally speaking, the further south you go, the warmer it gets.
Average daytime winter temperatures in Athens tend to be between 6 and 9 °C. Meanwhile, Thessaloniki averages fall between 1 and 8 °C. Snow is not unheard of and the mountainous regions in Central and Northern Greece often see a light dusting of snow.
Where to Travel in Greece in Winter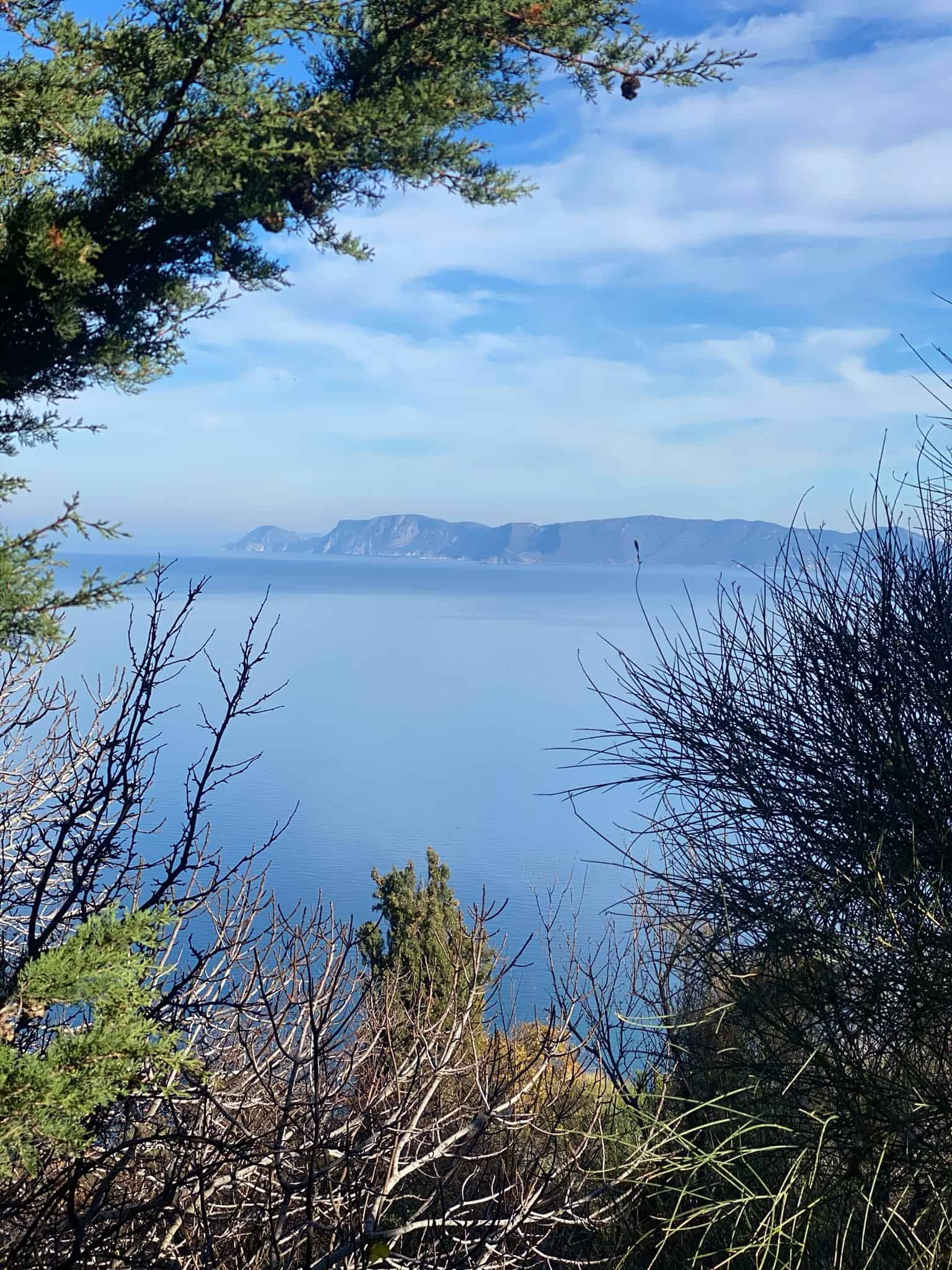 It may be too cold to lounge on the beaches of the Greek islands. However, winter in Greece provides the opportunity for a different travel experience entirely.
Grab the chance to snuggle up in cozy log cabins nestled high in the mountains. Alternatively, you can experience major Greek cities without crowds.
Athens in Winter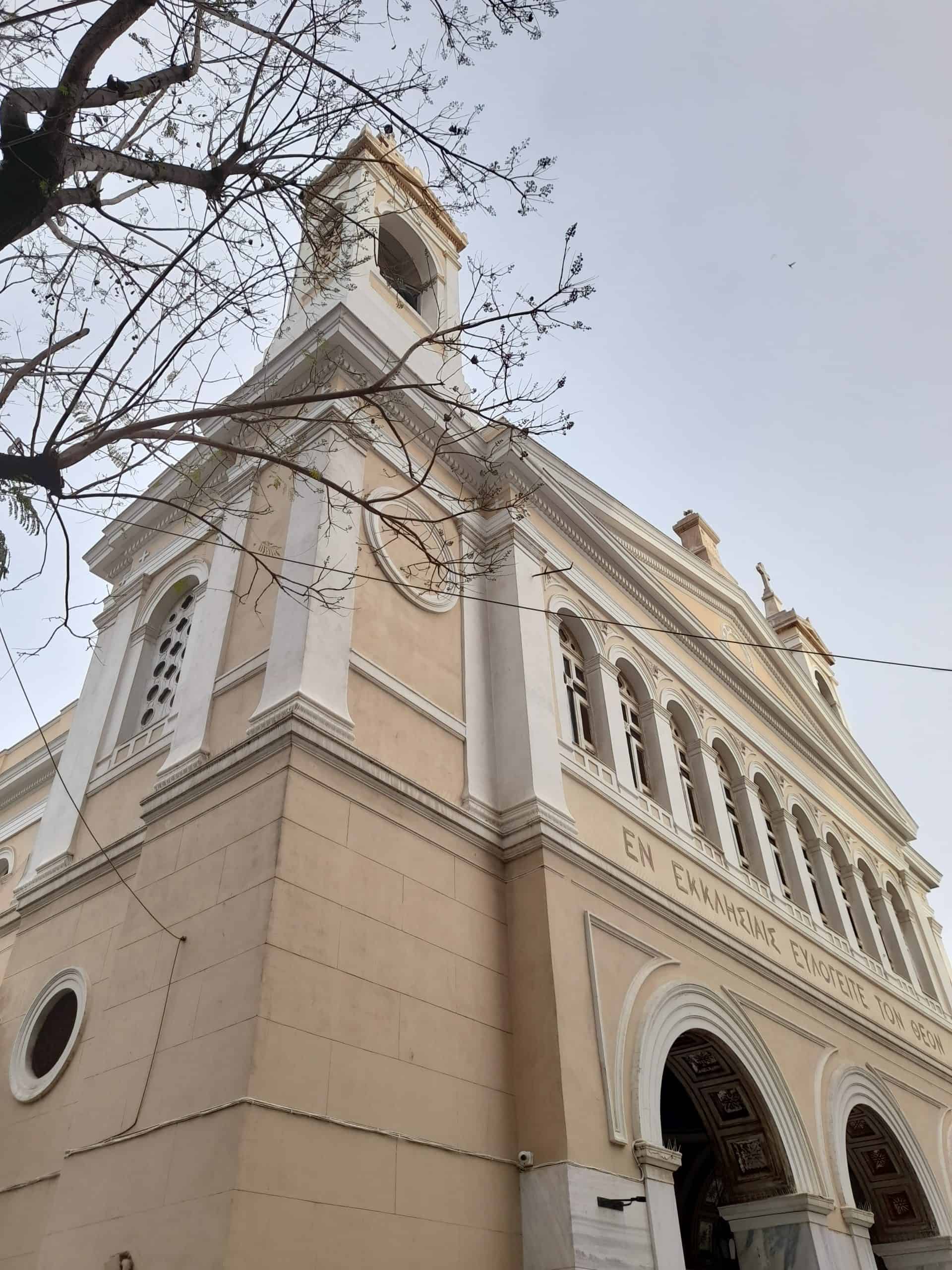 Athens is a perfect place to travel to in Greece during the winter months. The past few winters have actually seen the city and the Acropolis covered in snow.
If you choose to travel at this time, you might be lucky enough to witness this majestic spectacle yourself. During this time, outdoor ice rinks pop up around the city.
So, you can ice skate while gazing across to the Parthenon, the Ancient Agora, and some of the world's oldest and most important historic sites. There are far fewer crowds in Athens during the winter.
This means that you can wander around the likes of the Acropolis, various Athenian museums, and old Plaka at a leisurely pace. You won't have 14,393 other tourists getting in the back of your photos!
Prices are also significantly cheaper during this period too. Hotels, tours, and flights can be booked for as much as 60% less than in the summer.
There is no denying that Christmas in Athens brings a magical ambiance. A huge Christmas tree is set up in the city's central Syntagma Square in late November.
Head for a nightcap at Little Kook or Noel. These are Athens' perpetually winter-themed cocktail bars. For alternative evening entertainment, buy tickets to watch a wintry ballet or opera performance at the National Theatre.
Skopelos (& the Sporades islands)
Spending winter in Greece on a remote Greek island is a bold and unusual move. But it's simultaneously a rewarding and character-building one!
Skopelos island gained international recognition and fame as being the "Mamma Mia" island of Kalokairi in the Hollywood movie. But even so, it maintains its status of being a sleepy Greek island idyll and doesn't see swathes of tourists. This is, perhaps because it's so tricky to get to.
Out of season on Skopelos, there is no one but locals. Skopelos town has a permanent population of 1500.
There are just a few coffee shops and restaurants that are open during the winter months. If you stop by at this time, you truly get a glimpse of what living on a Greek island is like when the tourists leave.
You can get to Skopelos, even in the middle of winter, by taking the ferry from nearby Volos. Because the island is so sparsely populated, it is possible to go out walking here for hours during the winter and never see another soul.
If you enjoy hiking, winter in Skopelos can be paradise. There are many Skopelos trails that lead you to breathtaking panoramas, hidden woodland monasteries, and quaint villages and hamlets.
In particular, don't miss the walk to the pirate graveyard at Sendoukia. Because winter tourism in Skopelos is not common, it is very easy to secure an excellent deal on a local house or villa during this time.
Karpenisi
Karpenisi is a stunning mountain village that sits on the slopes of Mount Timfristos in Evritania, Central Greece. It is often referred to as the "Switzerland of Greece" on account of its dramatic natural scenery.
Greek tourists flock to Karpenisi in late December in order to ski at Mount Velouchi. However, Karpenisi is so much more than "just another" ski destination.
The highlight of the region is the quaint stone villages that encompass the town. Venture 25km out of town to Proussos, a dramatic Orthodox Monastery perched on the edge of a cliff.
Proussos is one of the most important monasteries in all of Greece. It is a popular pilgrimage site today, particularly on Dormition day. During the Greek War for Independence, many renowned Greek soldiers rested here.
Next, stop by the village of Gavros to sample hearty cuisine that is particular to Evritania. Then, visit Palio Mikro Chorio to shop for traditional products and handicrafts.
Kastoria
If you want to travel off the beaten path in Greece, Kastoria is a great choice. The small city is the capital of Western Macedonia in Northern Greece.
It sits on the banks of the beautiful Lake Orestiada, against the dramatic backdrop of the Pindus mountains. A pleasant way to pass the time is to rent bicycles and cycle along the lakefront. Pass by early in the morning to watch the local fishermen try their luck in the lake's waters.
Kastoria is home to more than 60 old Byzantine churches. Many of these structures are very well-preserved and laden with breathtaking frescoes. Better yet, there are no tourists here to share them with.
Santorini in winter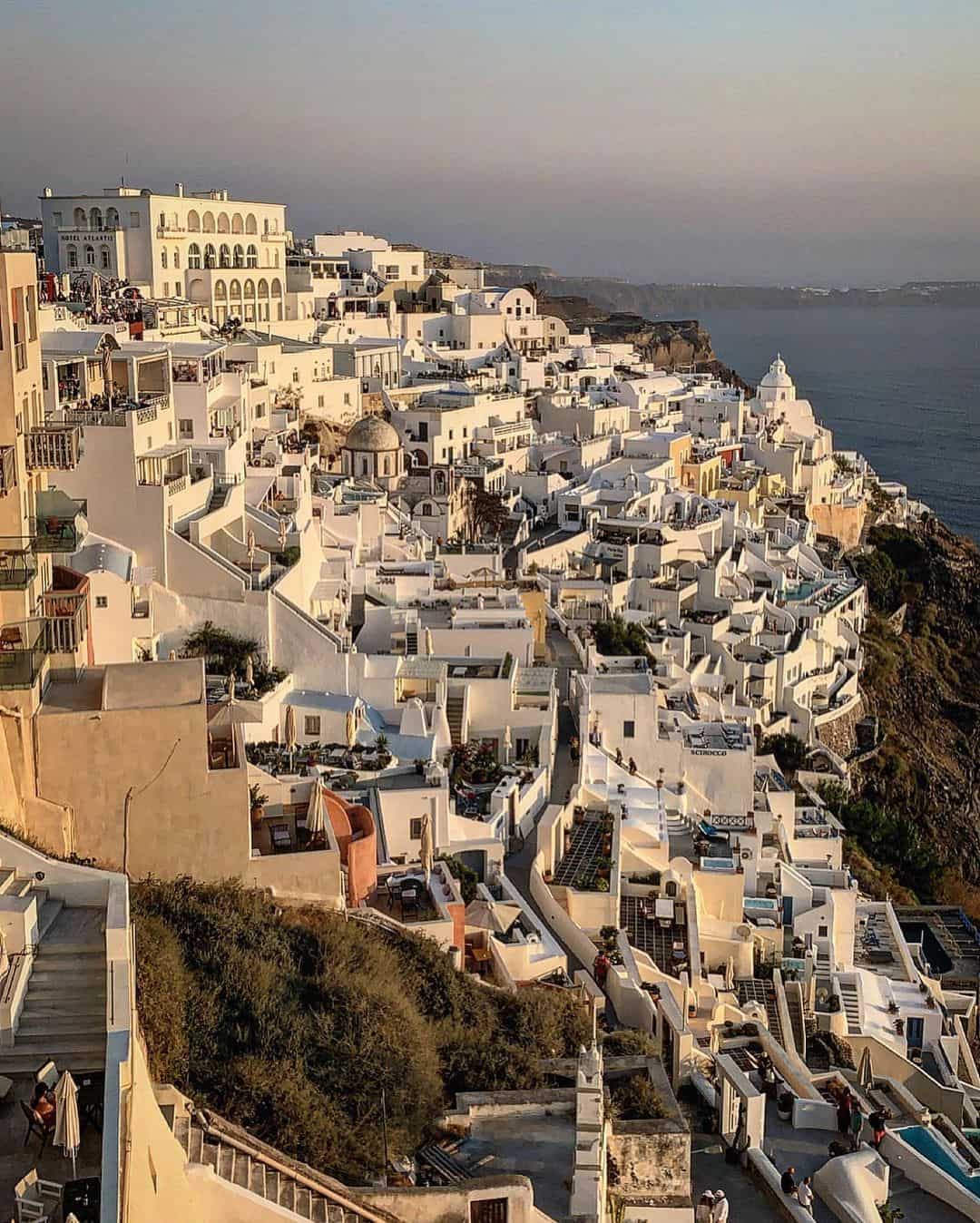 Though it may sound like an unusual suggestion, winter is actually a pretty good time to visit Santorini! Over two million people travel to Santorini every year.
Travelling between November and March allows you to escape the bulk of these tourists as well as grab some pretty neat deals on flights to the island. Some of the touristic businesses across the island may be closed for the season.
However, many of the charming boutiques and restaurants across Fira and Oia remain open all year. Don't forget that Santorini is home to permanent residents too.
Winter in Greece is still a good time to enjoy most of the activities on Santorini. On a clear day, dust off your walking shoes and embark on the scenic 10km hike from Fira to Oia.
Have dinner by the sea in lovely Ammoudi Bay, and get lost in the narrow back streets of Fira. Santorini may well be one of Greece's most popular destinations, but some places are popular for a reason.
Thessaloniki in winter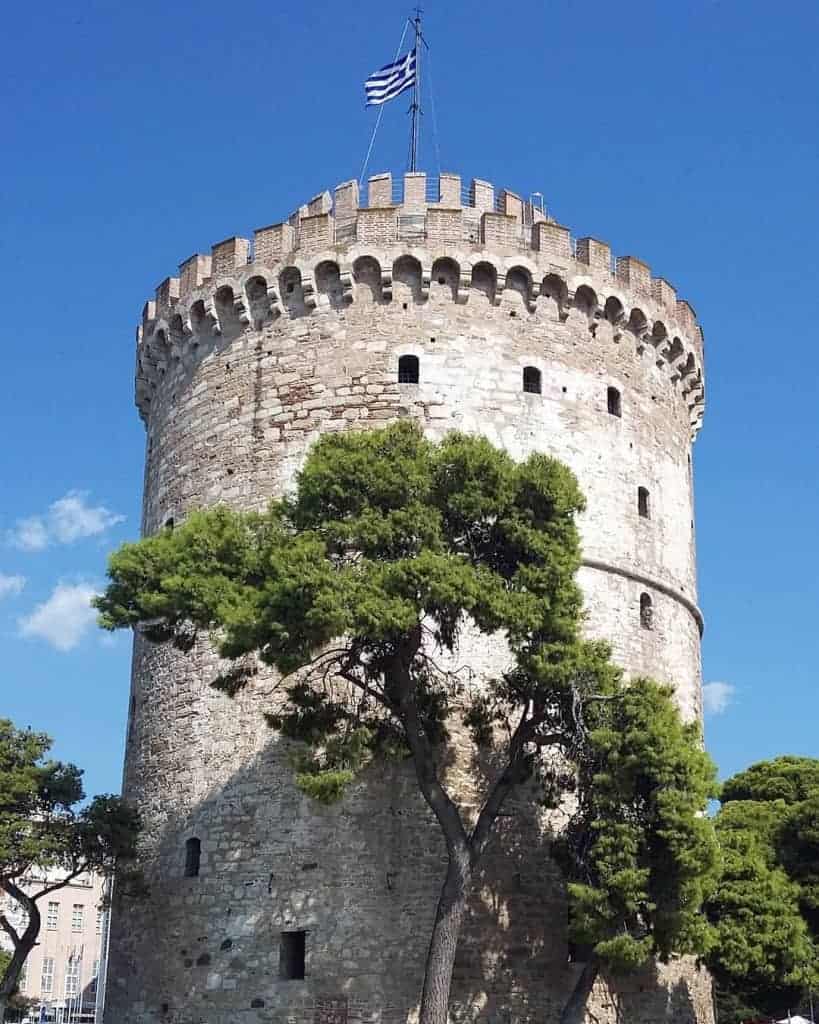 Thessaloniki, like Athens, is a Greek travel destination that can be enjoyed all year round. Greece's second-largest city may not have the same concentration of ruins and tourist sites as the capital. However, it is oozing with enough character and charm to keep you occupied for a long weekend.
The iconic White Tower and the Thessaloniki Archaeological Museum are must-see sights while you're in town. The exhibits on display here provide an insight into the history of this unique region of Central Macedonia.
Enjoy a leisurely stroll along the waterfront promenade and a coffee among trendy boho locals in Navarino square before touring quaint Ano Poli. Ano Poli is one of the city's oldest districts and it is filled with quaint, colourful Ottoman-era houses.
Ladadika is equally worthy of your time. During the Ottoman era, Ladadika was one of the city's main commercial districts and was home to a bustling bazaar.
The majority of the stores in Ladadika sold olive oil. (Ladadika means "with oil"). Today, the cobbled streets are packed full of trendy tavernas and restaurants. Some of the best Thessaloniki eateries can be found here.
Kalavryta
Kalavryta is a pretty little town in the mountains of central Achaea. It sits at the foot of Mount Chelmos and is usually teeming with life during the winter.
Many ski resorts are located in this area, and a lot of Greeks pass through Kalavryta en route. The Agia Lavra monastery here is not to be missed.
The structure, perched on a cliff's edge dates back to 961 AD. It is one of the oldest monasteries in the Peloponnese region of Greece. Despite being destroyed and rebuilt several times over the past few centuries, is well worth the hike to get to.
If scenic train rides are your thing, consider purchasing a ticket on the Odontotos. This is an old railway that takes you on a circuit through pristine woodlands and through the Vouraikos Gorge. This region is widely regarded as being one of the most beautiful in all of Greece.
Arachova
Arachova is often referred to as Greece's "winter Mykonos". This charming little mountain village is a popular weekend getaway for Greeks, particularly during the winter.
Arachova is just three hours north of Athens, and the little settlement has something for everyone. Here you can enjoy hiking and skiing, or simply revel in the chic ambiance of upscale bars set in luxury mountain hotels.
The hiking trails that twist and turn through the alpine landscapes surrounding Arachova vary in difficulty. They range from straightforward walks to challenging routes for experienced mountaineers. The region is arguably one of the best places for hiking in Greece.
Zagori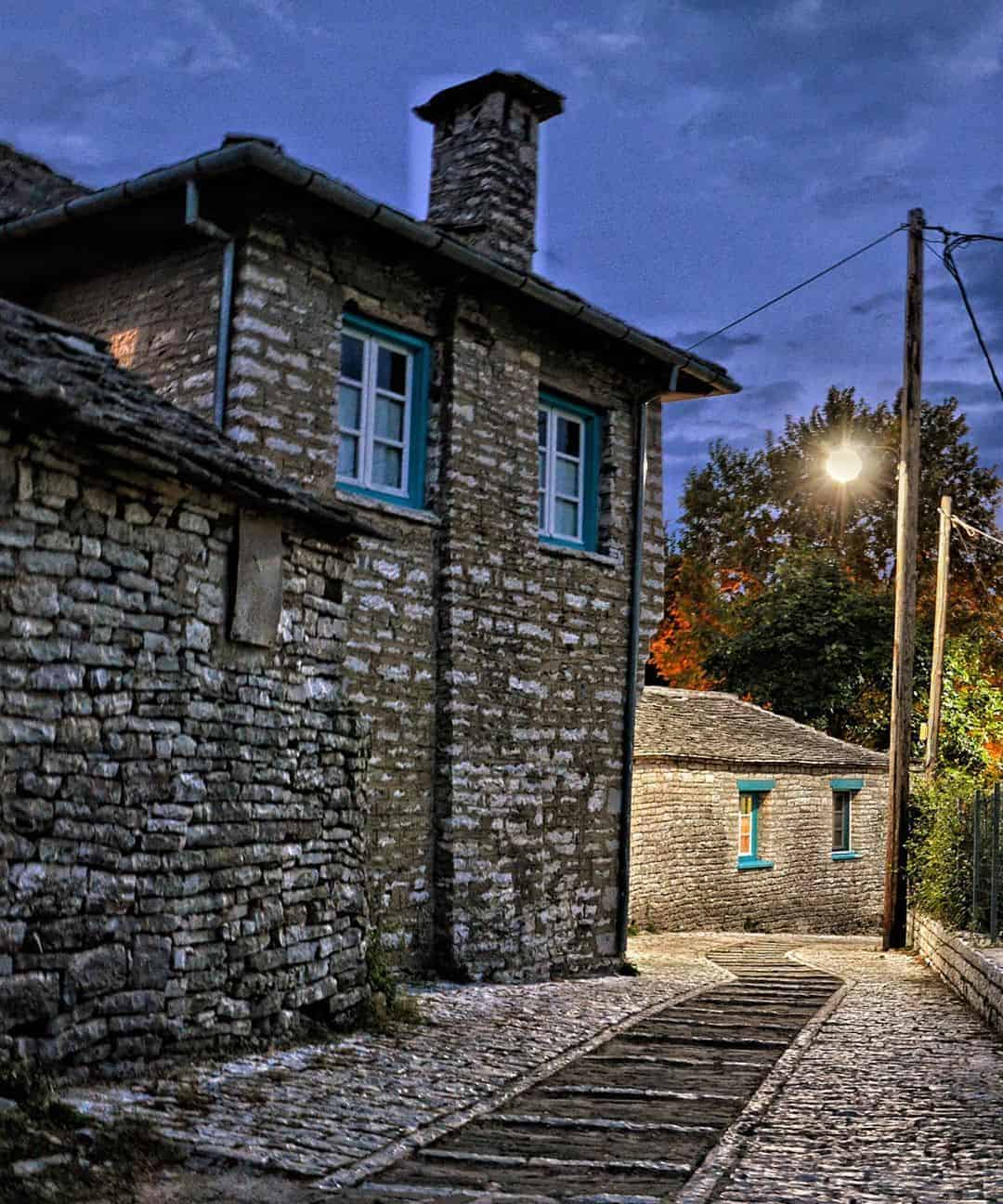 As far as a lot of Greeks are concerned, Zagori is one of the best travel destinations for winter in Greece. Zagori is not just one little mountain village, but a cluster of 46 incredible stone villages.
The villages here are situated in close proximity to each other, with beautiful walking routes connecting them. Hikers can use Zagori as a base to venture out to the nearby Vikos Gorge.
Envisage renting your own log cabin where you can cook marshmallows over the fire. All the while, you have a backdrop of deep gorges, cascading waterfalls, frozen lakes, and adorable stone villages.
If you are interested in history and culture, you can enjoy visiting the countless stunning monasteries and churches in this region. Don't pass up the chance to step inside and admire their intricate interior frescoes.
Ioannina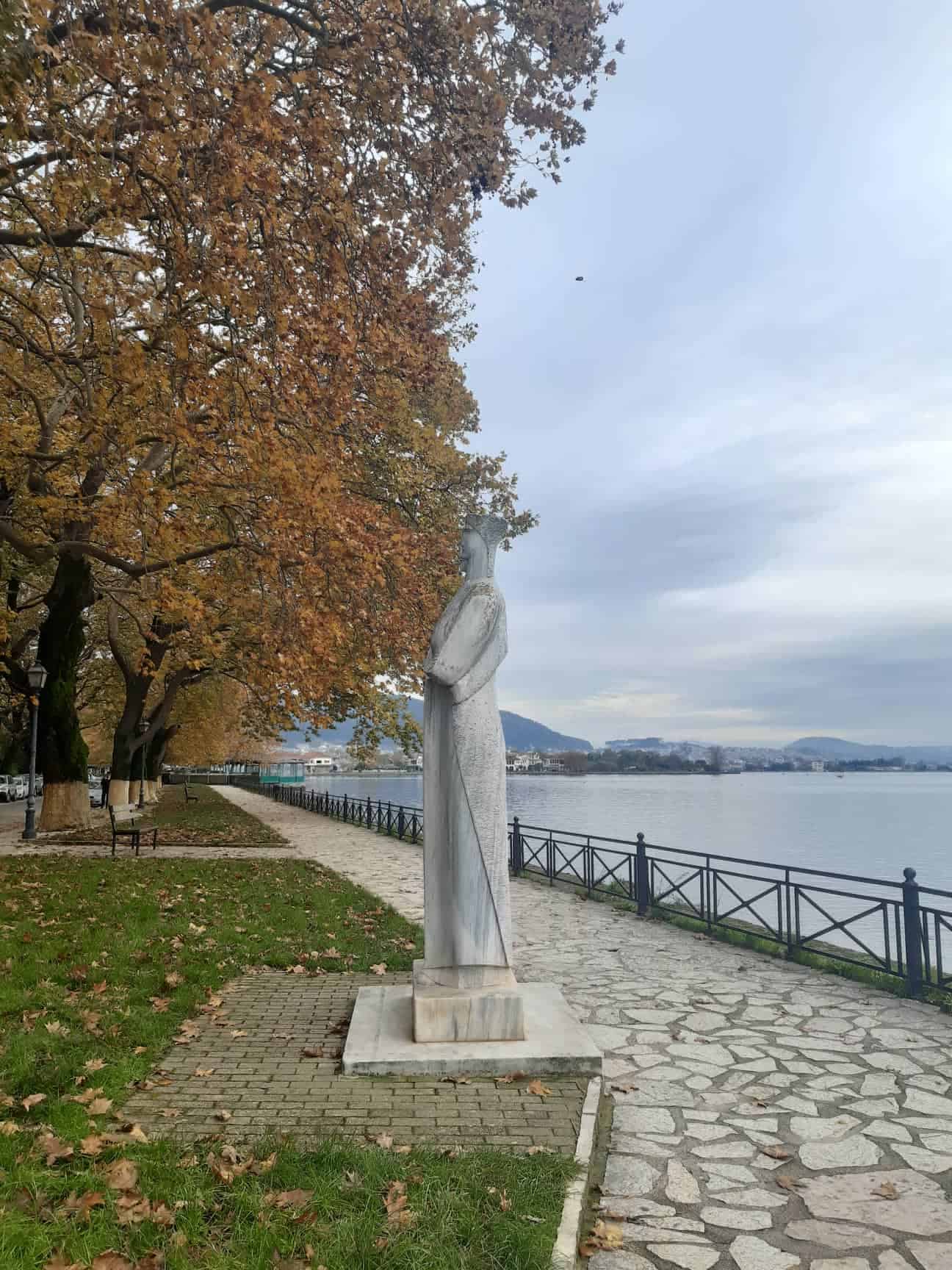 During the winter months, Northern Greece truly does become a winter wonderland. Frozen lakes, fir trees, and cobbled streets covered in fresh blankets of snow make Ioannina look like something straight out of a storybook.
The Northern city sits on the banks of Lake Pamvotida. Strolling around the lake in your hat, gloves, and scarf with a steaming cup of Greek coffee in hand is a wonderful Greek winter experience.
You should also dedicate an afternoon to the mysterious, nameless island situated at the centre of the lake. People do live in the small village on the island. It was also once home to notorious ruler Ali Pasha.
Ioannina, with its cobbled streets and stone houses that are home to traditional tavernas and ouzerias, feels worlds away from modern Athens and Thessaloniki. Waking up in a homely guest house and watching the sunrise above the lake from your balcony is a sight like no other.
Besides taking crisp winter walks along the lake and immersing yourself in the local culture, the city also boasts several attractions that are well worth checking out. Be sure to visit the archaeological museum of Ioannina, and the Cave of Perama while in town.
Tzoumerka
The rugged, wild mountains of Tzoumerka are the ultimate answer to getting off the beaten track in Greece. The mountainous region is comprised of 47 villages. Each one is more charming and unique than the last.
This is real, rural Greece. Tzoumerka is undiscovered by most international travellers. It is home to sheepherders, traditional craftsmen, and some of the friendliest people in the country.
The villages here are all very different, so try to plan a route and decide which areas interest you the most. Kypseli, Matsouki, Agnanta, Vourgareli, Theodoriana, Tsopela, Pramanta are all very charming. However, the list of worthy stopping points in Tzoumerka is extensive.
The villages here are very quiet. Some are home to just a handful of residents.
What makes the area so special is its natural beauty. Arguably the best approach for visiting Tzoumerka is to rent a car in Greece and drive through the small region. Plan a route and take in as much of the unique local culture, and as many of the stone-built villages as you can.
Nafplio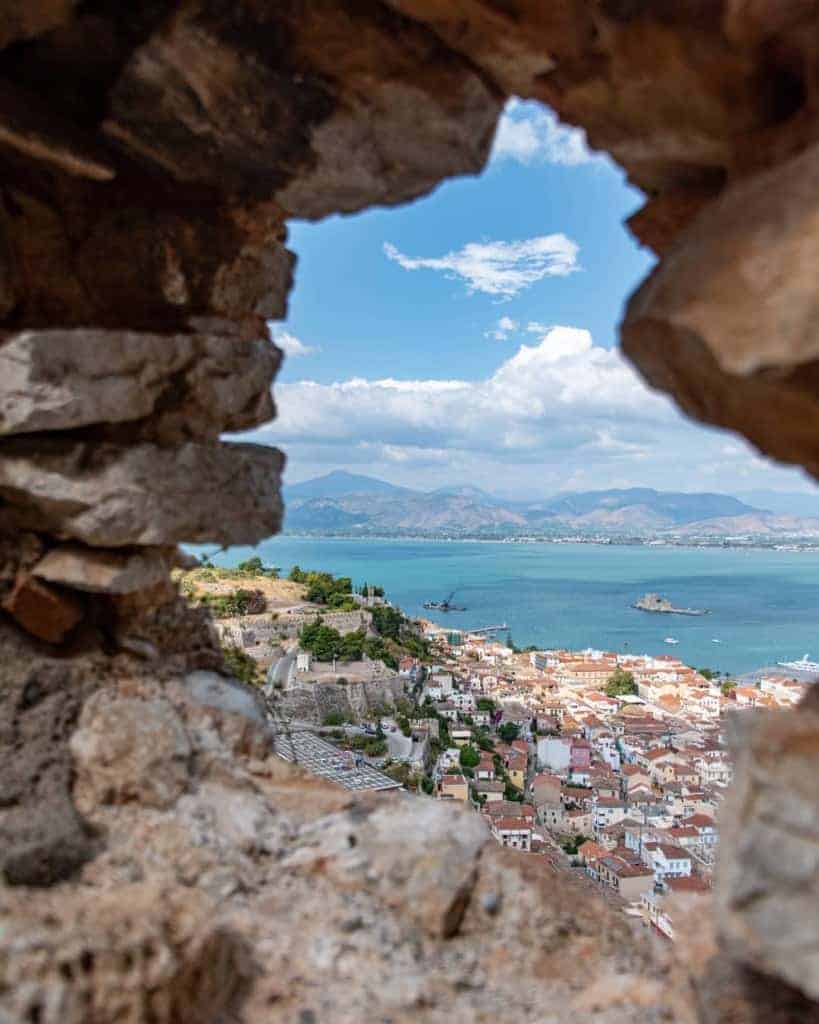 Once upon a time, charming Nafplio was actually the capital of mainland Greece. The crumbling remnants of ancient fortresses and castles that still stand protectively over the hilltops encompassing the town are a reminder of Nafplio's important past.
Mention visiting Nafplio to any Greek and they will tell you that it is Greece's quintessential romantic getaway destination. Regardless of who you travel with though, you are bound to fall in love with Nafplio's narrow alleyways and cobbled piazzas.
Over the centuries, Nafplio has been occupied by people from various countries and civilizations. Today, the Venetian, Turkish, and Frankish influences contribute to unique and spectacular architecture that makes Nafplio a photographer's dream.
Ascend the 900 steps to the Palamidi fortress to enjoy sweeping views of Nafplio and the cerulean waters surrounding it. Similarly, be sure to make time to visit the Venetian Bourtzi fortress.
Dozens of charming coffee shops, bars, and high-end stores are scattered throughout old Nafplio. In the port area, stop by one of the seafood tavernas and enjoy a dish prepared with the day's latest catches.
Metsovo
Metsovo is yet another example of a charming mountain village that enables you to escape the chaos of city life during the winter months. The village awaits in the Pindus mountains and is renowned across Greece for its unique gastronomy.
This makes little Metsovo a perfect destination for foodie adventurers. Be sure to sample the local delicacies of kontosouvli and homemade cheeses.
In particular, metsovone and metsovela cheese are particular to this region and can be purchased at an excellent quality in the local stores. Try to stop by the Averoff Winery Katogi so that you can try the region's local "katogi" wine.
Edible aspects aside, Metsovo is a pleasant place for walking, hiking, and experiencing the unique culture of rural Greece. The 15thcentury church of Agia Paraskevi, with its wood-carved temple, should make an appearance on your Metsovo agenda. So too should the local monasteries of Panagia and Agios Nicholas
Loutraki
The town of Loutraki is situated in Corinth, some 65 miles away from Athens. Loutraki is more commonly known as a seaside destination.
Indeed, the town is frequented by both Greeks and international tourists during the summer months. However, it is also a nice place to spend a weekend in the winter.
In particular, travellers can escape the cold climates by relaxing in the warm, soothing waters of the nearby Pozar thermal baths. Alternatively, treat yourself to a package at one of the many luxurious spas that are situated here.
Trikala
Trikala sits in the northwestern part of Greece, 2.5 hours away from Thessaloniki. It may not be very well known internationally, but many Greeks refer to Trikala as being one of the prettiest towns in the country.
The city may not have the archaeological sites of Thessaloniki or Athens. Still, it more than makes up for that in its character and charm. Wander through the old districts of Manavika and Varousi, and stop by River Lithaios early in the morning to watch the local fishermen cast their nets.
FAQs About Traveling to Greece in Winter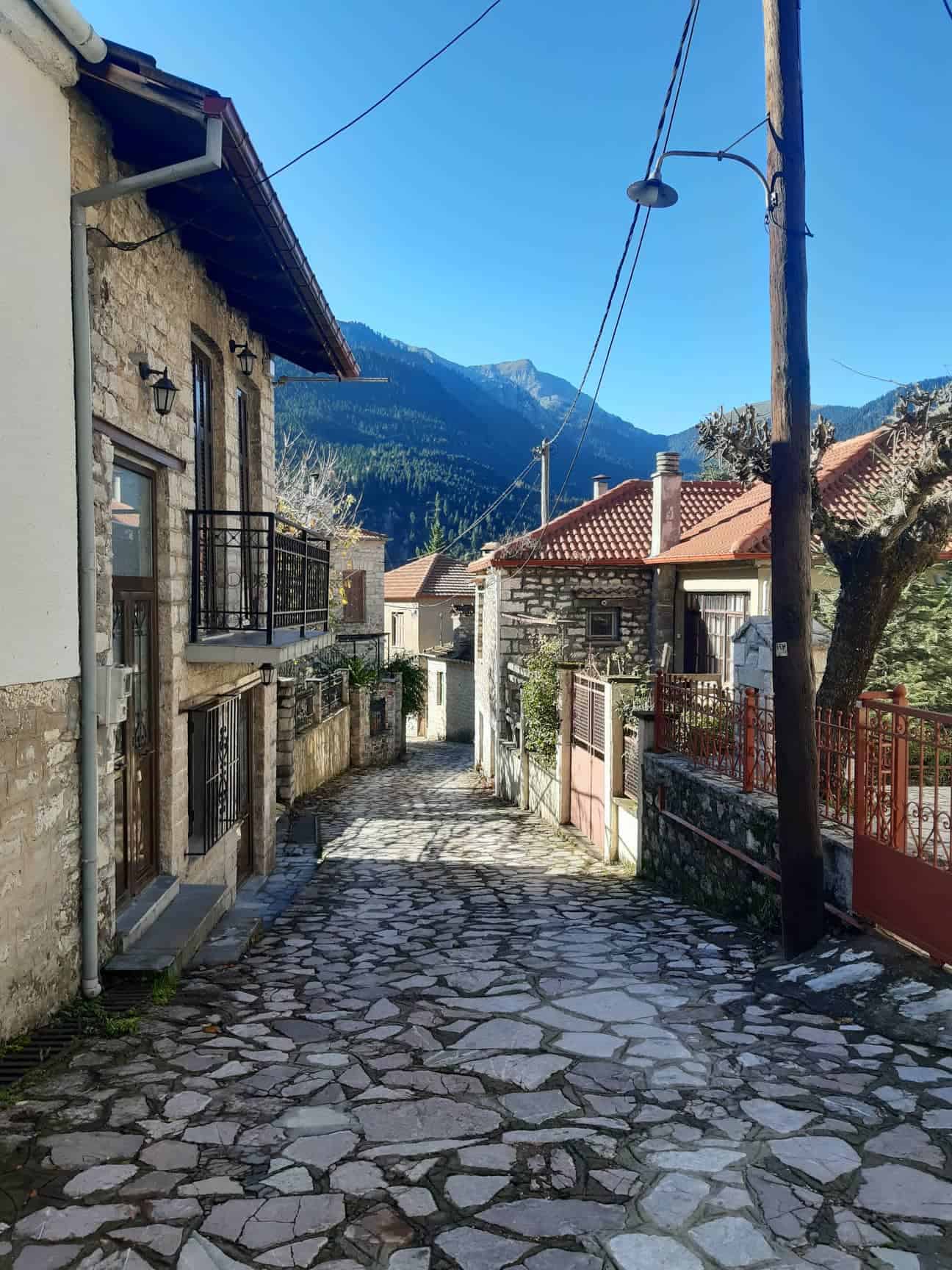 Do you still have any burning questions or concerns about travelling to Greece in winter? Hopefully, you will find the answers you are looking for below.
Is Greece worth visiting in winter?
Greece is absolutely worth visiting in the winter months. However, it is important to note that winter in Greece is a different kind of travelling experience compared to summers spent lounging on Greek islands.
The best places to visit in Greece at this time of year are quaint stone villages in mainland regions like Evritania, Epirus, and Zagorahoria. If you like nature and the great outdoors, this is also a good time to go hiking and skiing.
Are Greek islands warm in winter?
A popular misconception about Greece is that the country sees a warm, sunny Mediterranean climate all year round. That is not true.

While Greece and its islands see milder winters than other parts of Europe, it is by no means warm. Average temperatures on Greek islands in the winter can be between 0 and 7° Celsius during December, and between -1 and 6° in February.

Technically, the further south you go, the warmer it is. So, for instance, Crete will be warmer than islands in the North Aegean.

But Greek islands definitely are not hot in the winter. Although there are people that live on most Greek islands all year round, tourism to the islands is very seasonal and most businesses will be boarded up at this time too.
Which part of Greece is warmest in winter?
Southern Greece, Athens, and Crete are among the warmest places that you can visit in Greece in the winter. They are by no means hot and it definitely isn't beach weather, but the skies are usually blue and clear, and you can enjoy coastal walks by the sea, and alfresco dining at quaint Athens restaurants and coffee shops.
Which Greek island has the best winter weather?
While Greek islands are definitely not hot in the winter months, Crete arguably has the best winter weather. This is in part because Crete is one of the southernmost islands in the country.
Alternatively, some of the larger Dodecanese islands are also among the mildest Greek islands to visit in the winter. Rhodes, for instance, sees average temperatures in November of between 13° and 19° Celsius.
In December, the island's averages are between 11 and 16° Celsius.
What is Greece like in the winter?
Greece is magical during the winter months. Christmas in Greece is a huge deal and festive decorations start to pop up around the country in mid-November.
In December, you can expect to see events virtually every night of the week in large cities like Athens. In 2023, the Athens Christmas lights will be turned on by Mayor Kostas Bakoyannis.

Sound and light shows take place around the Greek capital, with displays projected onto notable Athenian landmarks and buildings. On Christmas Eve, there will be an elaborate light show projected on the Athens City Hall in Kotzia Square.
Can I go to Santorini in winter?
You can absolutely enjoy a trip to Santorini in winter as long as you manage your expectations. This is not a good time to travel if you are hoping to swim or hang out on the beaches.

A lot of hotels, bars, and businesses are closed, so the island doesn't have the same ambiance or all-night beach parties as it does during the summer. However, there are advantages to travelling at this time of the year too.
Fewer crowds
Most people only consider Greece as a summer travel destination. A scattering of people visits the country through October. However, in the winter months, the majority of the tourists disperse.
Spending winter in Greece means that you can enjoy Santorini sunsets or Acropolis views without the masses of people around you that you would have if you travelled in July.
Better yet, venture off the beaten path to places like Karpenisi and Northern Greece. You may find that you have places entirely to yourself!
Free admission days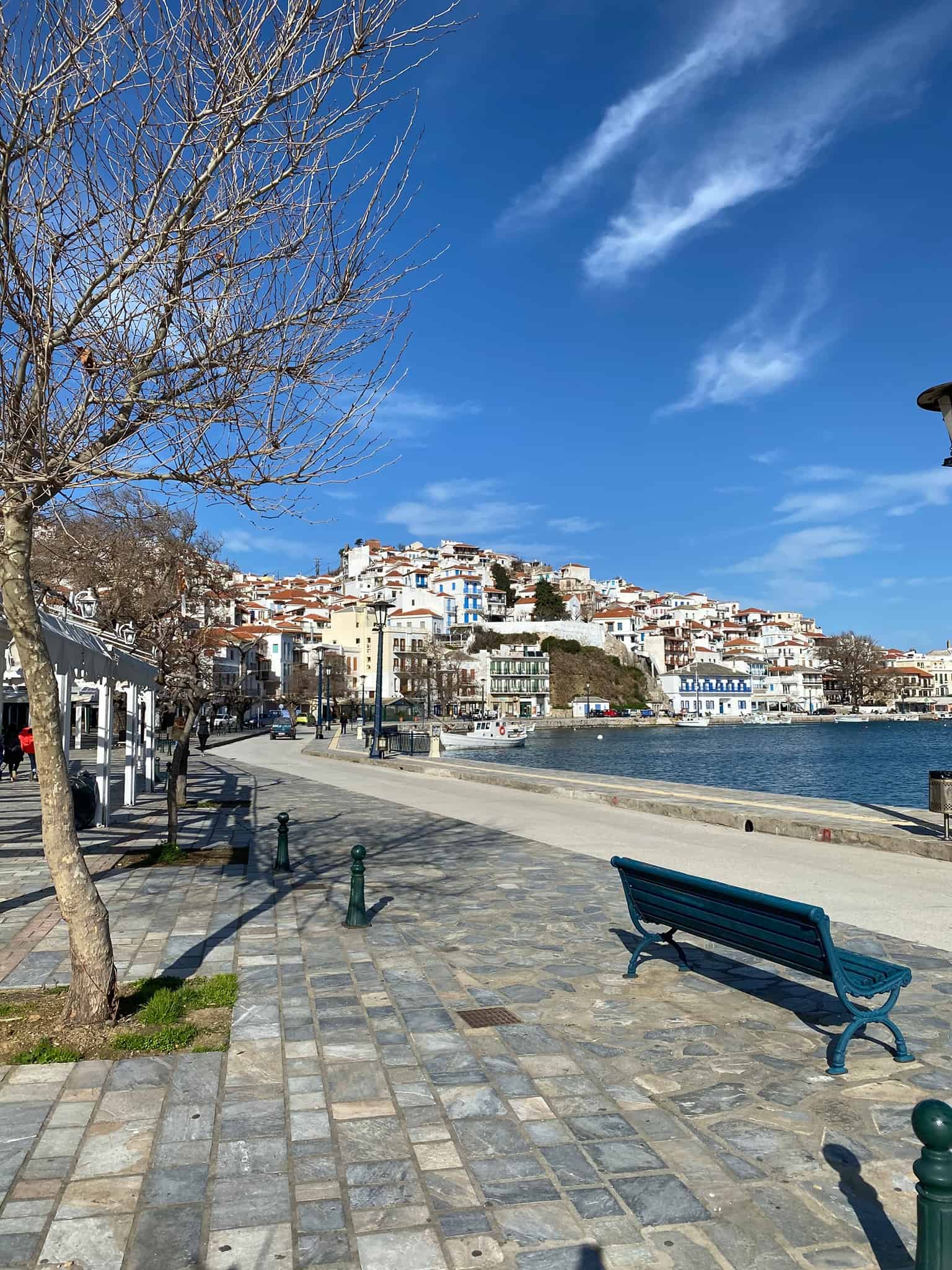 Athens, Thessaloniki, and certain other cities across Greece offer free admission days during the winter months. For instance, the Acropolis and all Athens museums offer free entry on the first Sunday of the month between November and March.
If you can time your trip accordingly, this can save you a fair chunk of your travel costs. Admission is also free on certain Greek public holidays.
Lower Costs
Did you know that the costs of travelling in Greece soar by as much as 50% during the summer months? The winter season is the cheapest time to travel.
Accommodation costs, hotels, tour prices, and flight costs are significantly lower during the winter months. This is perfect if you are on a budget.
Final thoughts on spending winter in Greece
Have any further questions about winter in Greece or planning a Greek vacation in general? I've been living in Greece for the past 4.5 years and would be happy to assist with any queries you may have.
Safe travels! Geia sou! Melissa xo
---