Getting to Skopelos requires a little more effort than travelling to a lot of other Greek islands. There is no airport on little Skopelos.
As such, you typically need to take at least two, or more, methods of transport to get here. Is it worth it? Absolutely!
Getting to Skopelos:
Why Visit?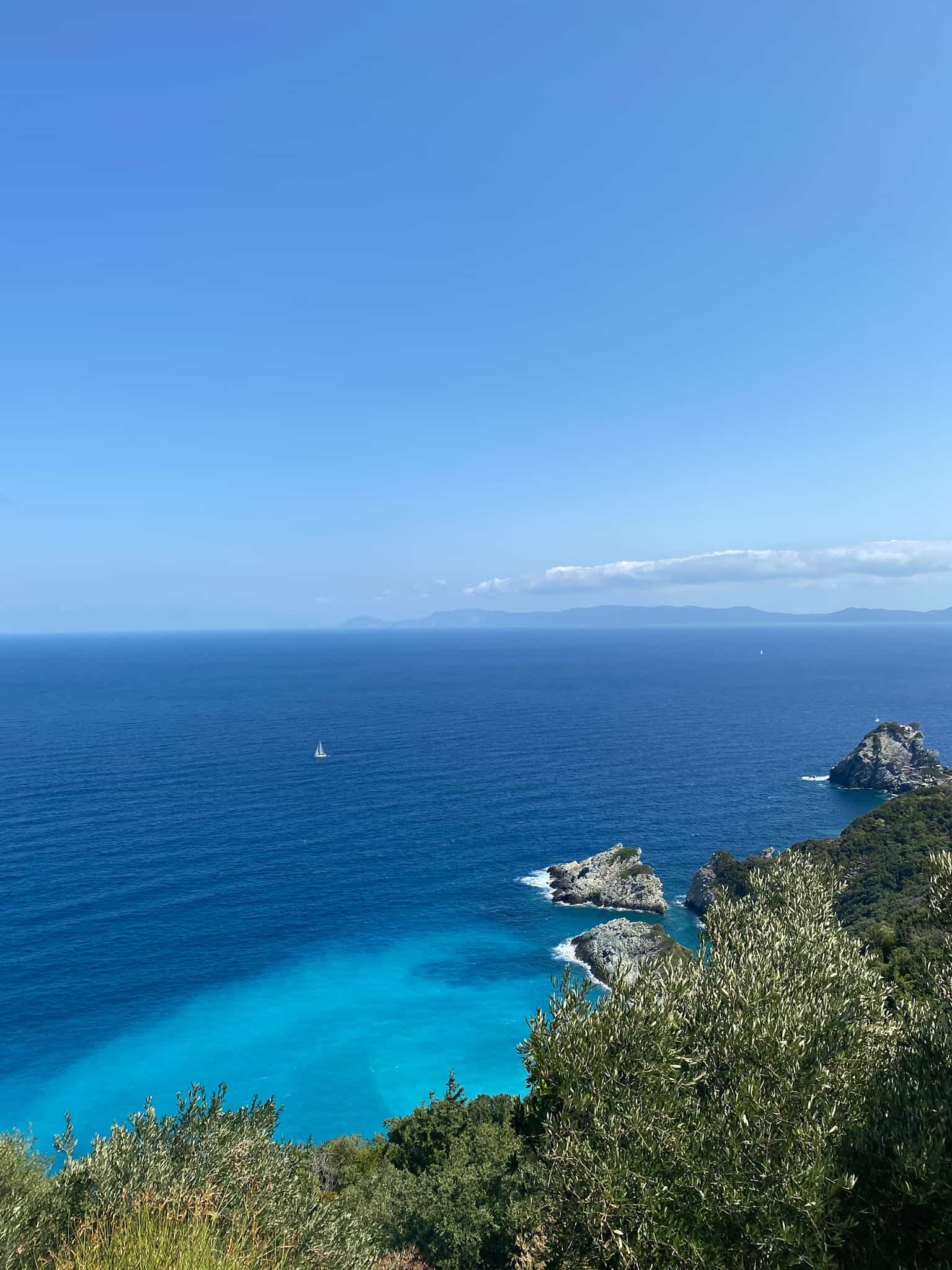 Skopelos island is one of the most stunning, and underrated island getaways in Greece and arguably, the entire Mediterranean. The pine-clad Sporades island boasts pristine beaches and secluded coves paralleled by cerulean waters. It is home to breathtaking hiking trails that lead you through miles and miles of uninhabited paradise.
This is the greenest island in the entirety of the Mediterranean sea. The fact that getting to Skopelos is tricky, paired with the fact that few people are aware of it in the first place, means that there are only a fraction of the tourists here that you will find on other islands.
Skopelos is featured as the fictional island of Kalokairi in the Hollywood movie Mamma Mia. When you arrive, you can explore the various filming locations from the movie – most notably, the clifftop church of Agios Ioannis Kastri.
Opt to stay in the Chora for ease of getting around and in order to have plenty of excellent Skopelos restaurants right on your doorstep. From there you can take day trips out to Stafylos, Neo Klima, Agnontas, etc.
Getting to Skopelos by Air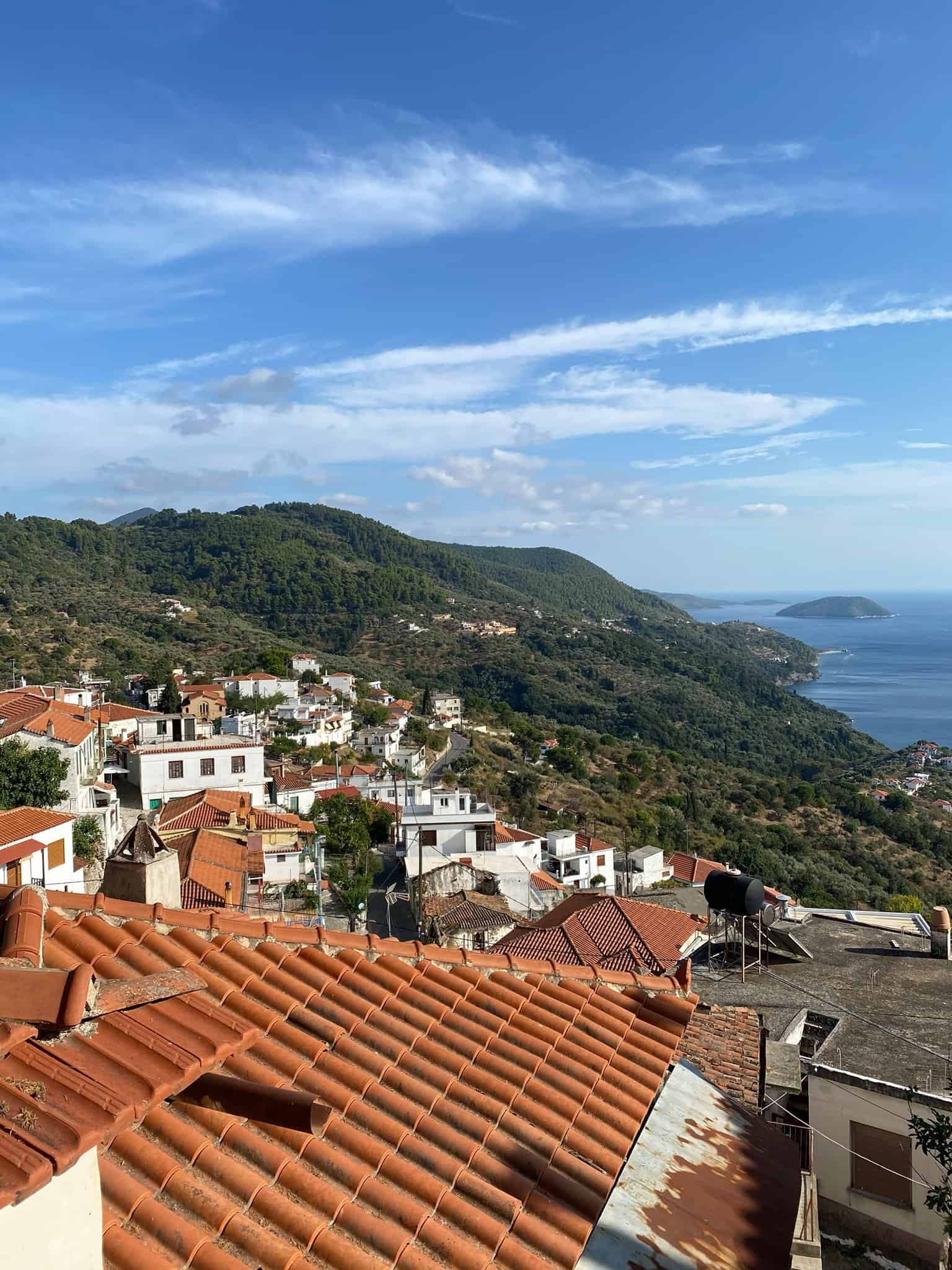 There is no airport on Skopelos. This is because the island is hilly, mountainous, and there is no suitable place for planes to come in to land.
The closest international airport is situated on the adjacent island of Skiathos. Both domestic and international flight routes travel into Skiathos' Alexandros Papadiamantis Airport.
Flying into Skiathos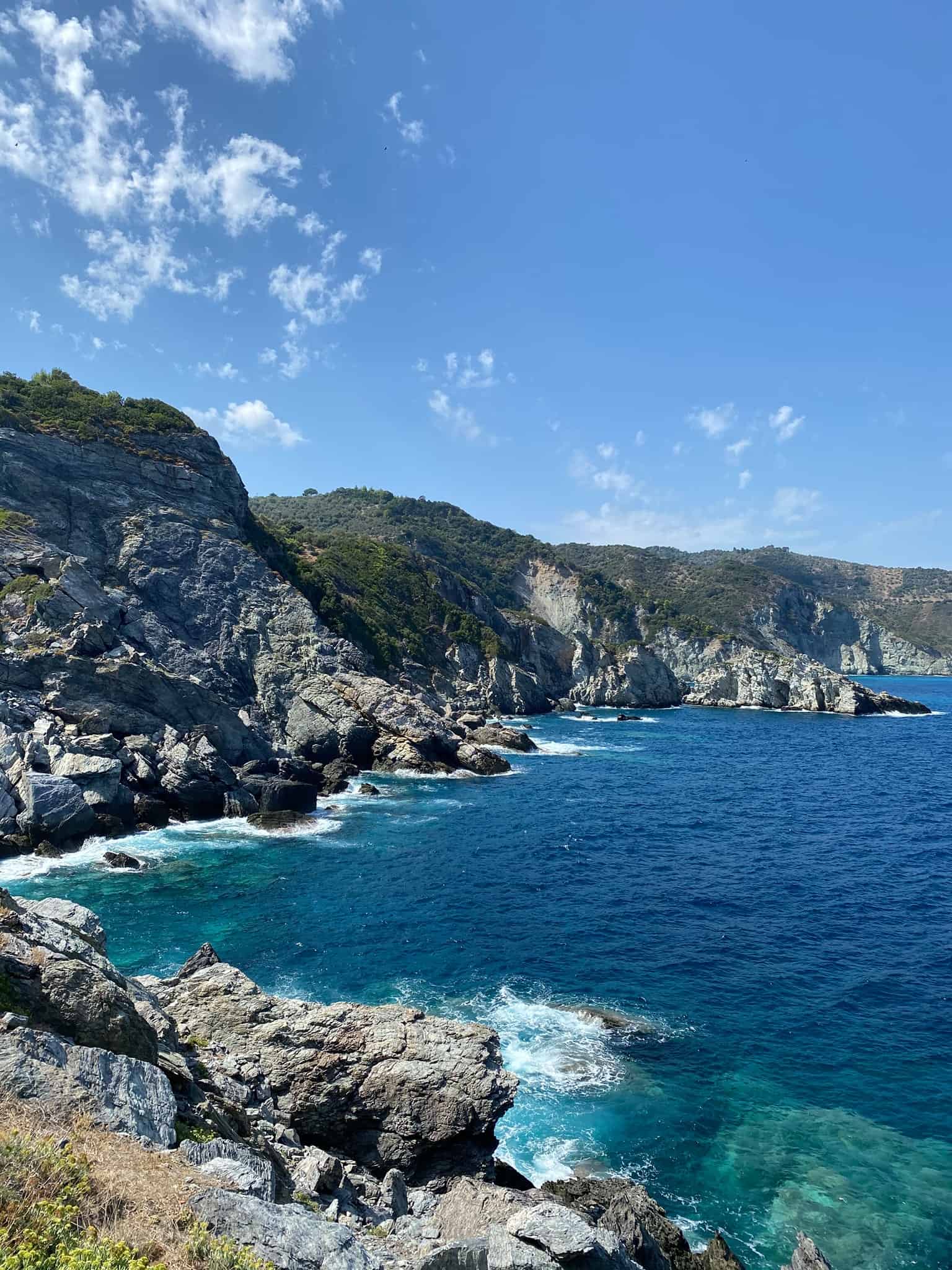 Tourism in the Sporades is seasonal. The summer season runs between June and September. It is easier to find direct flights in this period. 
Direct services from Austria, Finland, Germany, Greece, Italy, and the United Kingdom run to Skiathos during the summer months. If you are not able to get a direct flight to Skiathos, you can also connect in Athens or Thessaloniki.
Connect in Athens or Thessaloniki
If your departure location does not offer direct flights to Skiathos, you can opt to connect in Athens or Thessaloniki. A number of reputable Greek domestic airlines cover this route.
This includes Aegean Air and Olympic Air. Try to reserve your tickets in advance to secure the best deals.
If you travel out of season (from October onwards), you can find tickets for as little as €25 one way. Use an Aggregator flight platform like Skyscanner to search for flights across a specific period.
You may be surprised how much prices vary from one day to another and having some slight flexibility on your travel dates can save you a relative amount of money. These platforms enable you to see a grid of every flight departing from your location to Greece across an entire month.
That way, you can choose the most economic choice for you. Purchase your luggage at the same time as purchasing your flight to avoid any unexpected additional expenses later.
Take the Ferry Across from Skiathos 
Upon arrival at Skiathos airport, you need to make your way to the port ready for the ferry crossing across to Skopelos. Crossings from Skiathos to Glossa/Loutraki in the northern part of the island take approximately 20-30 minutes.
Ferry crossings from Skiathos town to Skopelos town (Chora) take around an hour. Assuming that you are opting to stay in or around Skopelos town, or Stafylos, it makes sense to take the ferry to Skopelos town. 
The port of Agnontas is not a scheduled stop. However, this is sometimes used in the event of stormy/adverse weather that makes it tricky to arrive at Skopelos port.
Getting to Skopelos from Mainland Greece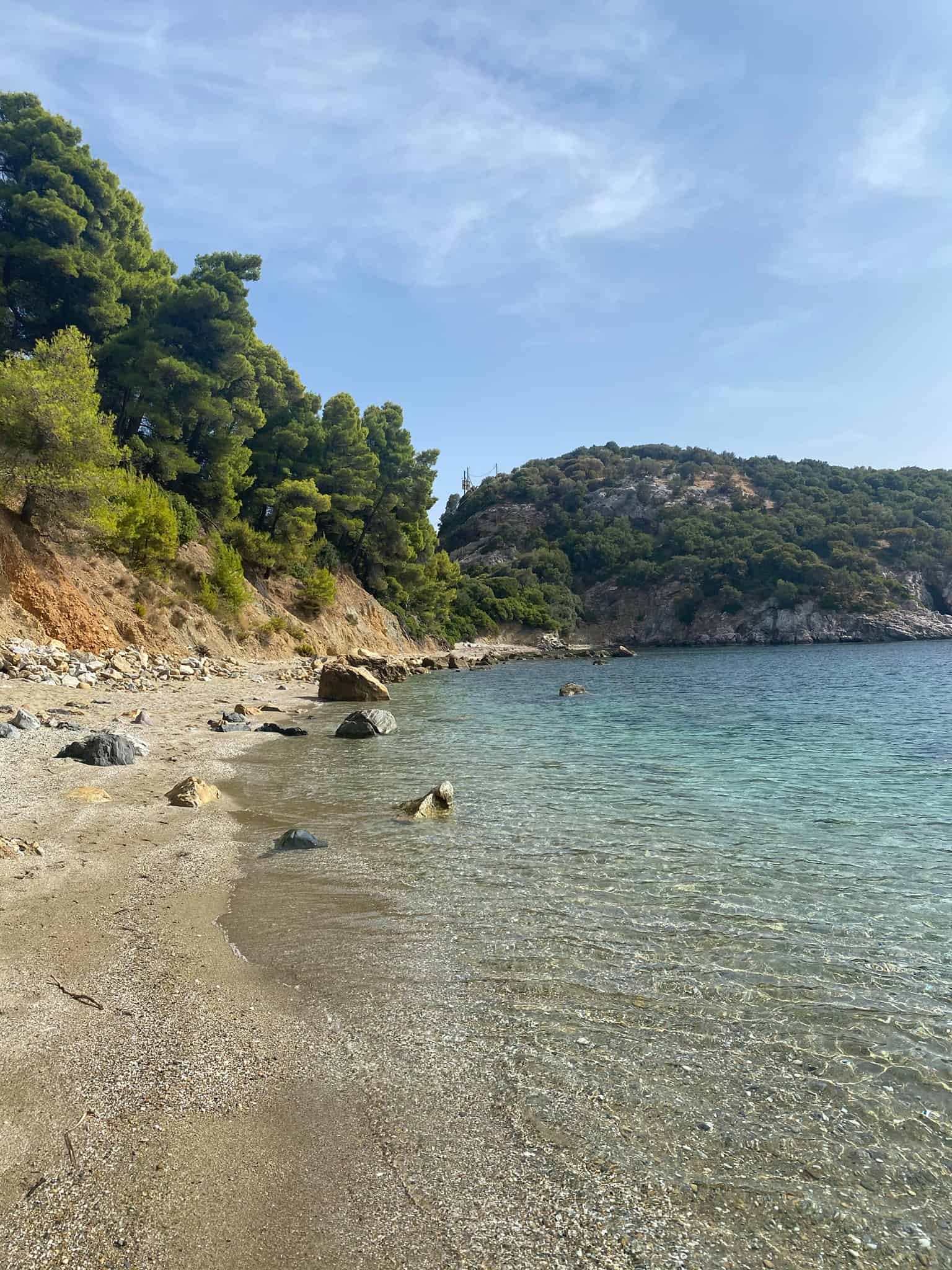 One of the most convenient ways of getting to Skopelos from mainland Greece is to take the ferry from Volos. Ferries and hydrofoils depart four times a day during the peak season.
The journey takes approximately four hours each way by car ferry or two and a half hours by hydrofoil. You can browse the latest schedules here. 
It is advisable to buy your tickets in advance of departure, especially if you are travelling in July or August. Tickets can be purchased online via Ferryscanner.
They can then be collected at the port ticket office on the day of departure. Alternatively, you can get a mobile ticket that will be scanned on your phone when you board the boat.
Getting to Volos
Public transport in Greece is excellent. Buses from Thessaloniki, Athens, and other Greek cities and towns offer convenient services to Volos.
You can check the Athens-Volos timetables and prices via the KTEL Attiki website here. Check the Thessaloniki-Volos timetables and prices via the KTEL Macedonia website here.
Ferry services from Volos call first at Skiathos and then continue onwards to Skopelos and Alonissos. You may wish to consider staying overnight in Volos to break up the journey and experience the charming port front town of Volos. 
Consider Breaking up Your Journey in Volos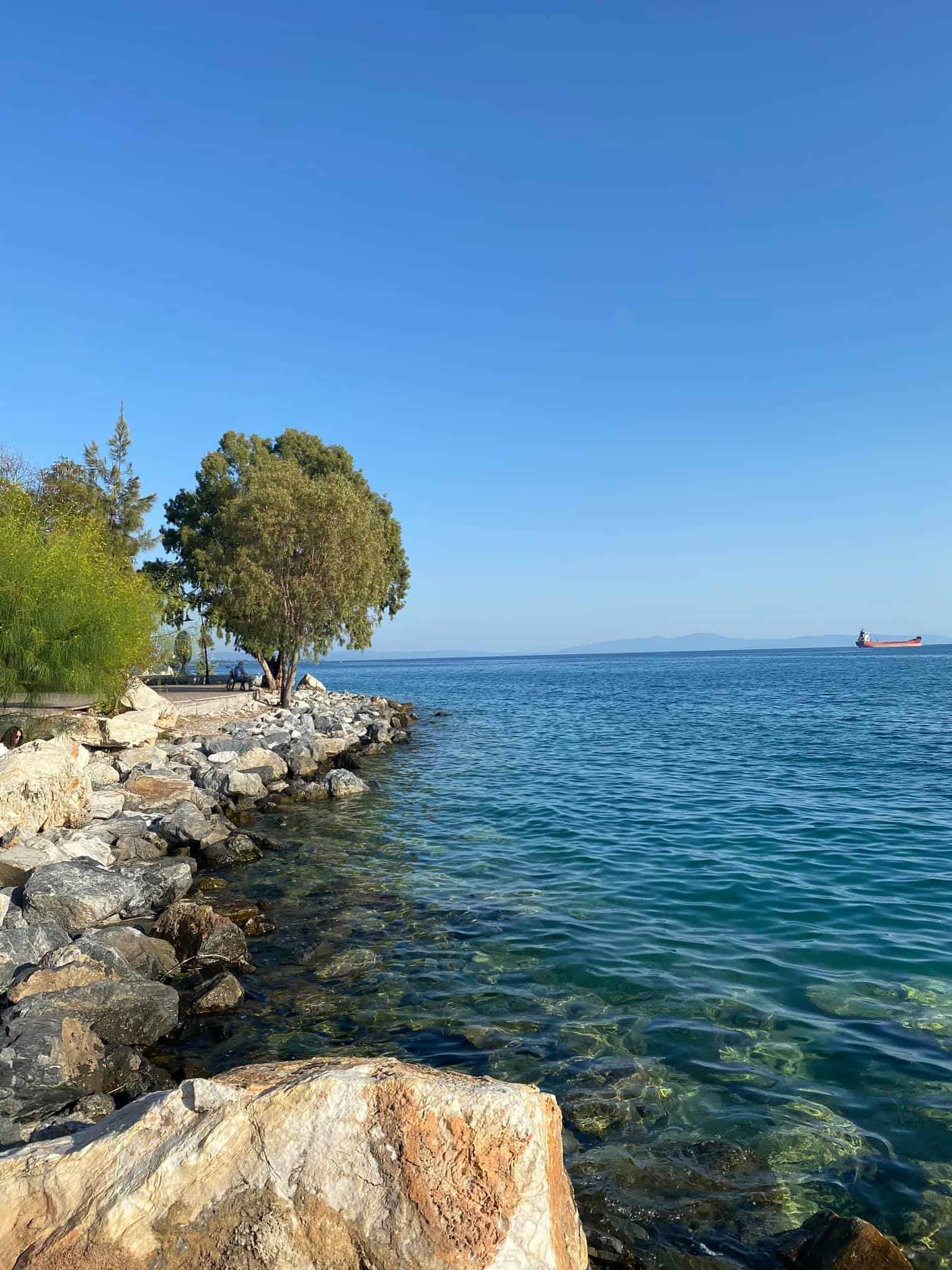 Volos is essentially like a miniature version of Thessaloniki. It is famous for its tsipouradiko hangouts that line the seafront and the bustling square of Agios Nikolaos.
Volos, like many regions of Greece, has its own special local cuisine. While in town, you may wish to consider ordering yourself a "peinirli". This is a soft, flavourful dough stuffed with tomatoes and cheese. 
This is affectionately known as "local pizza". Volos is also a great jump-off point for visiting the Pelion villages of Makrinitsa, Damouchari, and Afissos.
Getting to Skopelos:
Take the Ferry from Agios Konstantinos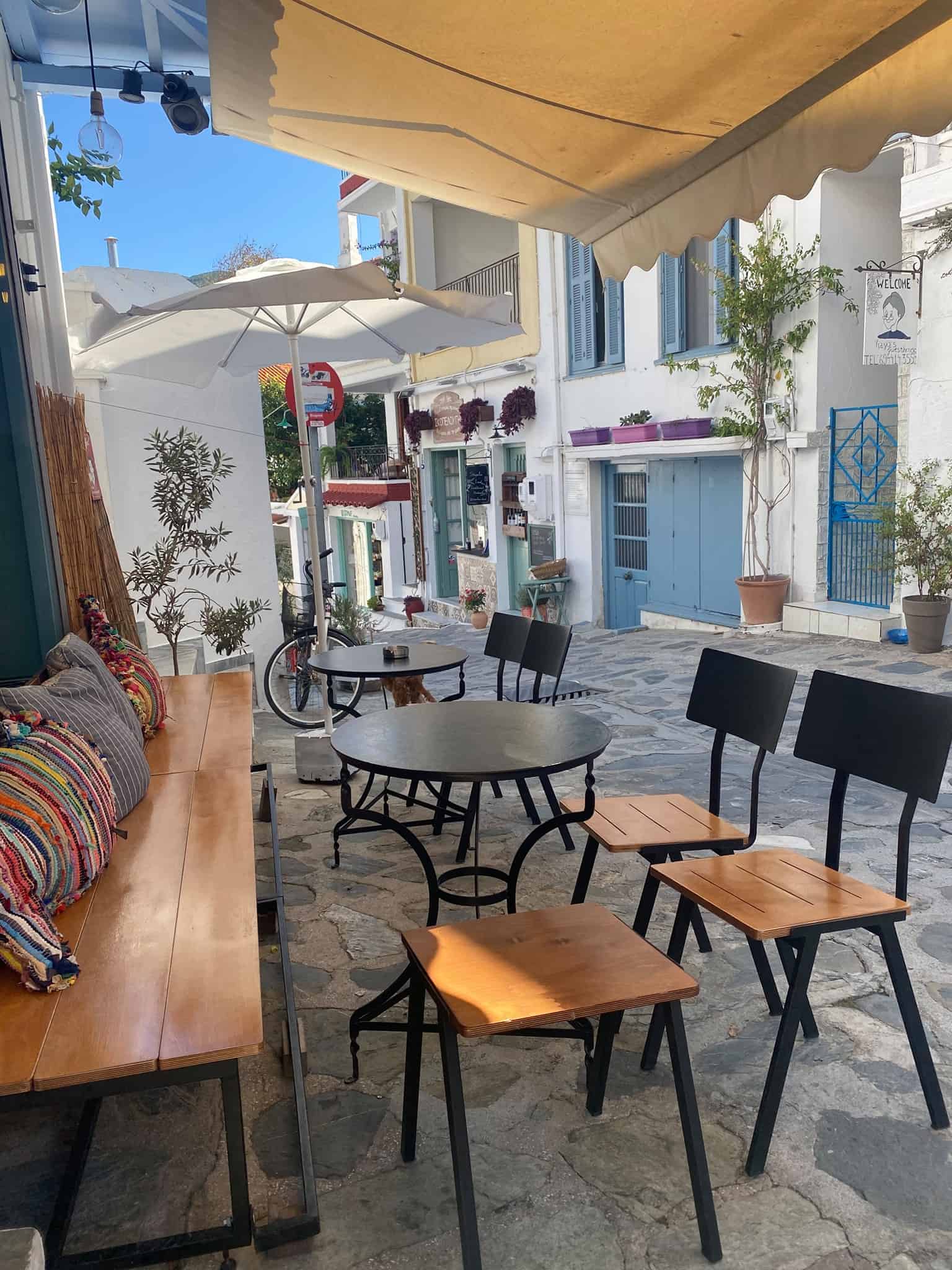 If you are travelling up from Athens to Skopelos, it may be more convenient for you to take the ferry from Agios Konstantinos rather than trek all the way to Volos. Agios Konstantinos is about 2.5 hours away from the Greek capital.
Ferries and hydrofoils depart from Agios Konstantinos at similar frequencies to services from Volos. There are approximately four boats per day in the period between June and September.
There are no rail services that run the entire way to Agios Konstantinos. The most convenient way to get here from Athens is to take the KTEL Fthiotidos bus.

The ferry boat from A.K to Skopelos takes approximately 3 hours and 45 minutes. You can disembark at Loutraki (Glossa) or Skopelos town.
Parting Words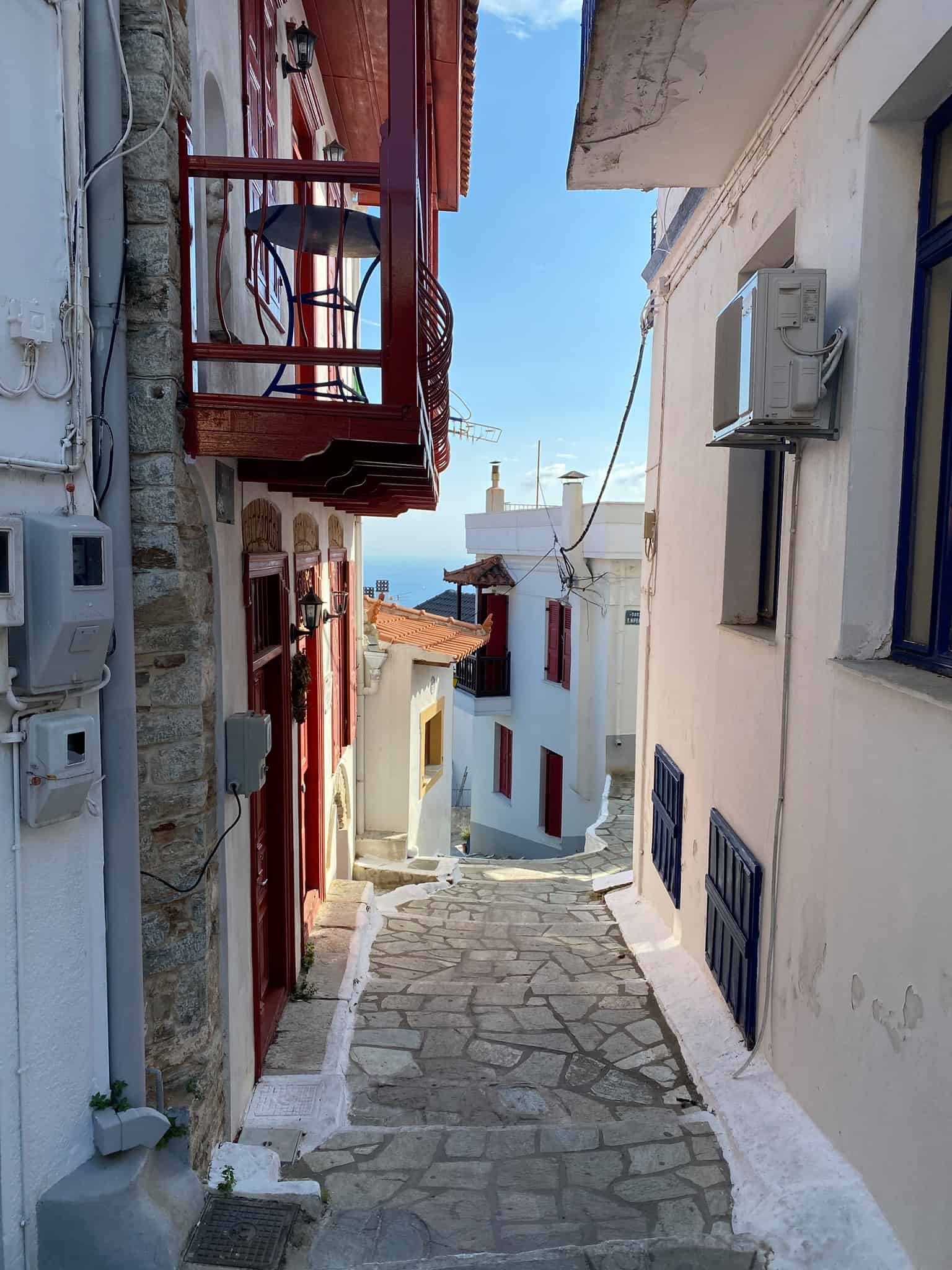 Do you have any additional questions or queries about getting to Skopelos? Please don't hesitate to reach out to me via the comments below.
I have been living in Greece for almost four years now and based myself in Skopelos for eight months in 2020/2021.
I am happy to help as best as I can. Safe travels! Melissa xo
---