Getting from Skiathos to Skopelos is very easy. Ferries depart from Skiathos port daily throughout the year, with an average of 5-6 services per day during the peak summer months.
Even during the winter, you will find that a ferry runs between the two islands every day. So whatever time of year you happen to travel, you will never struggle to find a connection.
There is no airport on Skopelos island. (The closest airport is on Skiathos island or on the mainland in Volos and Thessaloniki). The only way to get here from Skiathos is by sea.
Skiathos to Skopelos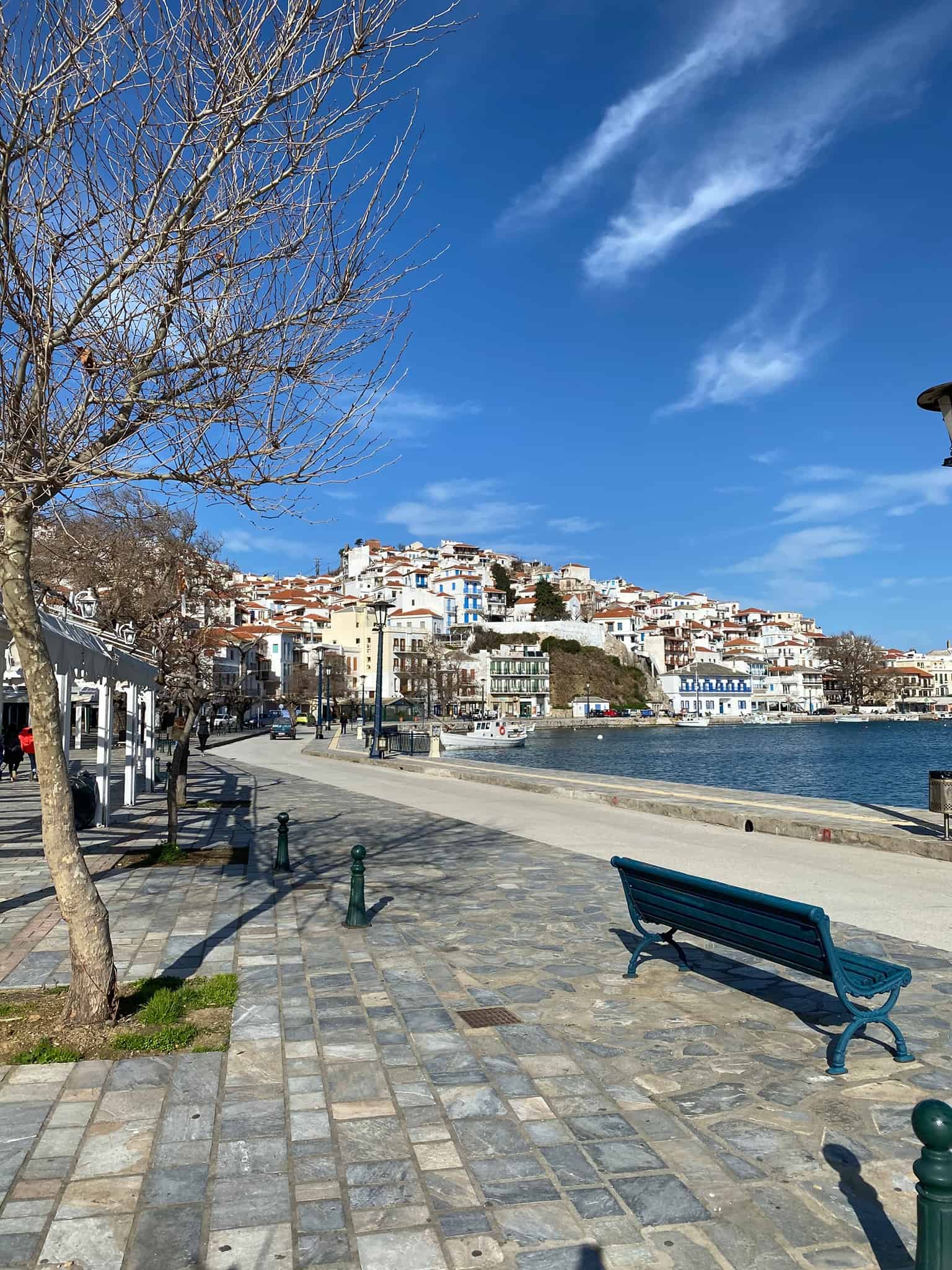 The journey from Skiathos to Skopelos is simple and pleasant. You can get from one island to another in less than 90 minutes.
(The exact journey time varies slightly depending on whether you are taking a "flying dolphin" high-speed hydrofoil boat, or you are taking a slower car ferry.) Hellenic Seaways, Anes Ferries, SeaJets. and Flying Dolphins are the ferry operators that service this route.
The ferry route starts in Volos on the mainland and then continues onwards to Skiathos, Skopelos, and finally, Alonissos. From Skiathos, you can actually choose to take the ferry to Glossa port, in the north of Skopelos, or Skopelos town port, in the south.
If you are travelling from Skiathos to Skopelos just for the day, with the intention of visiting the famous Mamma Mia church (Agios Ioannis Kastri), you should travel to Glossa. If you are spending several days exploring Skopelos island, the main port at Skopelos town is perhaps your best option.
Skopelos town is arguably the best base for a trip to Skopelos. Being here means you are just a short drive or bus ride away from some of the best Skopelos beaches, and you have a plethora of excellent Skopelos restaurants, bars, and cafes right on your doorstep.
Skiathos to Skopelos Ferry Services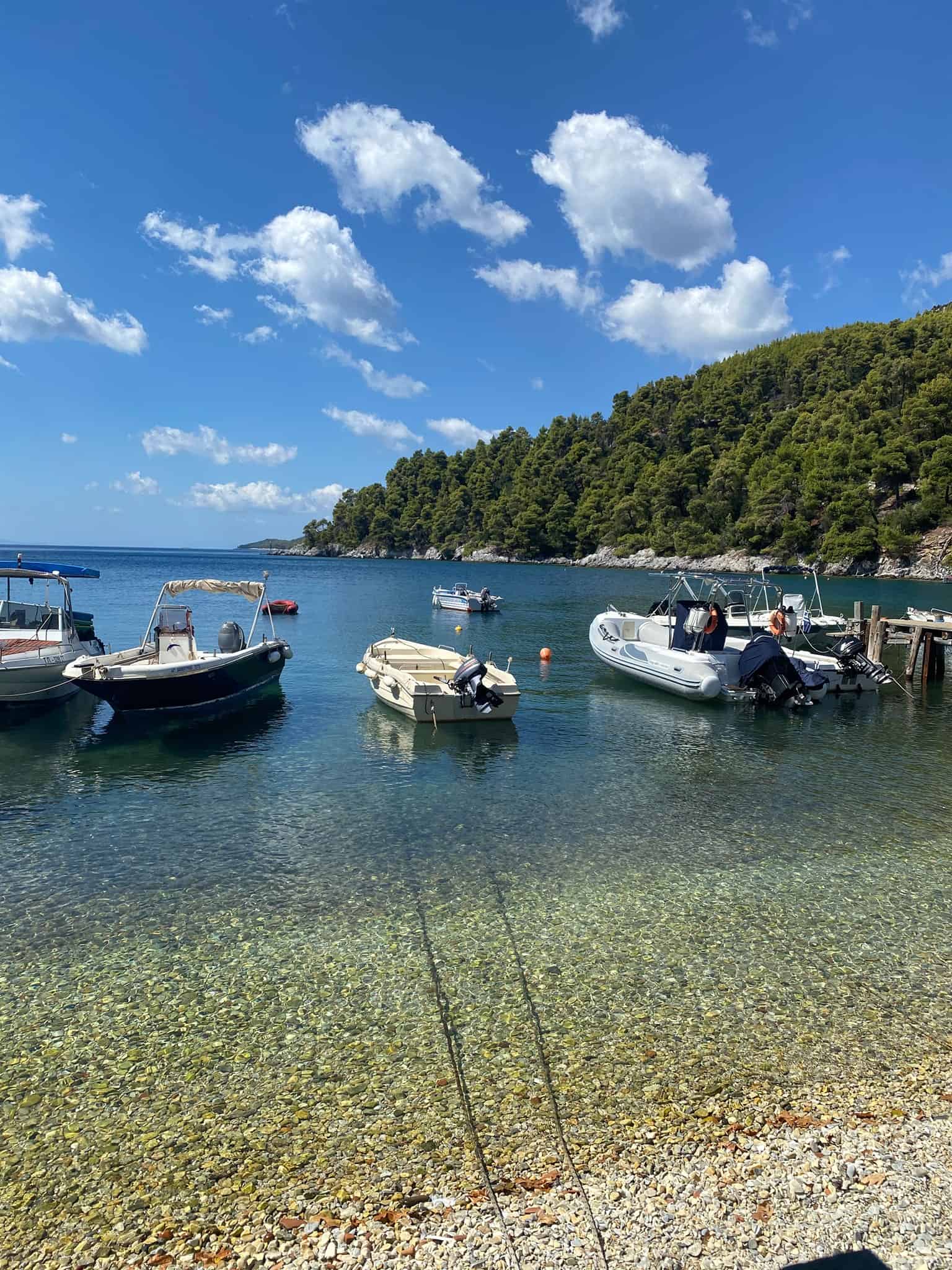 Hellenic Seaways and Anes Ferries are the two main companies that operate the boats from Skiathos to Skopelos. Schedules vary depending on the season. 
However, between May and September, there are as many as 6-7 departures per day. You can check the latest schedules via Ferryscanner.
However, as of yet, the spring/summer 2023 schedule is not published online. The first service departs at 10.40 am and the last one is usually between 18.00 and 19.00 pm.
When you check the ferry schedules online, you can also see information on which ferry provider each journey is with, and how long it takes. It is usually worth booking the higher-speed flying dolphin ferry to cut down on travel time.
Boats that run from Skiathos to Skopelos
The flying dolphin hydrofoil operated by Hellenic Seaways is the faster of the two options. It gets you from Skiathos to Skopelos in just 30 minutes and travels at speeds of up to 33.5 knots.
The boat operated by Anes Ferries is a larger car ferry. This gets you from Skiathos to Skopelos in an hour and fifteen minutes.
If you are particularly prone to seasickness, you may prefer to travel by a slower boat. However, the journey by flying dolphin is not excessively fast/choppy. 
The Anes ferry has two small coffee bars on board serving an array of drinks, snacks, and refreshments. Prices vary from €8 to €18.50 per person depending on the specific route and provider.
Purchasing ferry tickets 
You are usually fine to buy your Skiathos to Skopelos ferry ticket on your intended day of travel. The ferries rarely (if ever) sell out.
Skopelos doesn't see the same amount of crowds as more popular Greek islands such as Santorini, Mykonos, etc, and even in the peak summer months of July and August, it is never chaotic. Still, if you can, you might want to buy your tickets online in advance via Ferryscanner for your own peace of mind.
Tickets purchased online are available in electronic format which you can display on your phone. Alternatively, you can buy them at the Skiathos port ticket office.
You can check the latest routes and prices via Ferryscanner. Since Skiathos port is relatively small and perpetually crowded, it is a good idea to arrive here 30 minutes before your boat is due to depart, or an hour before if you also need to purchase a ferry ticket.
Arriving at Agnontas port in Skopelos
It is worth noting that although most ferries to Skopelos only stop at Glossa and Skopelos ports, they will sometimes stop at Agnontas instead of the town port if the weather is bad. If it is an especially stormy or windy day and your ferry stops at Agnontas, the ferry company will provide a complimentary bus service to get you to your final destination.
Getting to Skiathos Port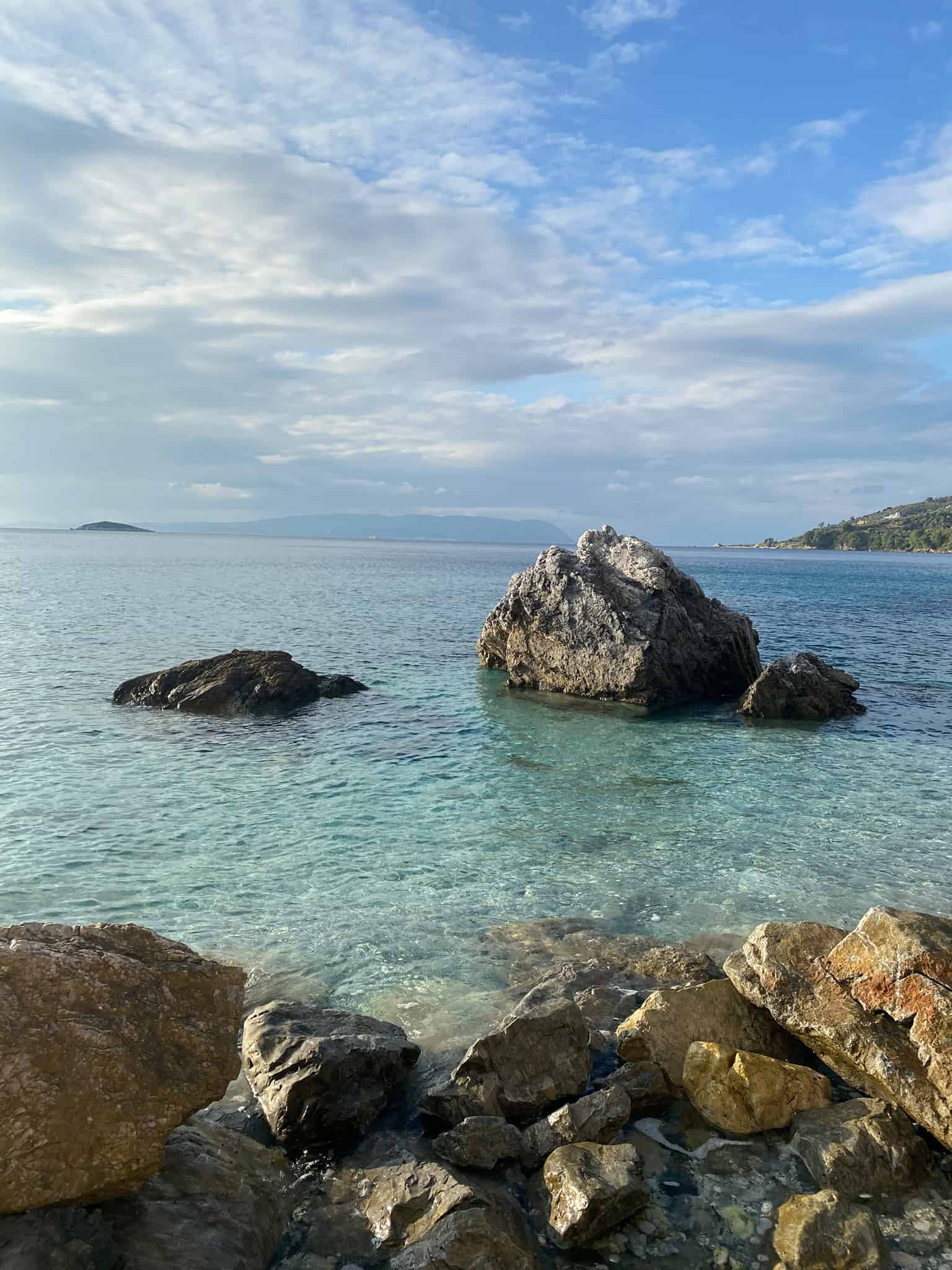 It is easy to get to Skiathos port for your ferry to Skopelos, wherever you are on the island. A cab from one side of Skiathos to another is not likely to cost more than €20.
The Skiathos bus is also an extremely convenient way to get around the island. If you are heading directly from Skiathos airport to the ferry port, your best option is to take a taxi.
Skiathos airport is conveniently located just five minutes away (1.2 miles) from the port area.
Skiathos' "Alexandros Papadiamantis" airport is very small and consists of only one terminal for both domestic and international flights.
There are usually cabs waiting outside the airport. However, you should keep in mind that during July and August, it can be very busy and you may have to wait for a little. To avoid this, you might want to consider pre-booking a cab or an airport transfer.
The number for the Skiathos Taxi Federation is (+30) 2427024461. Most cab drivers/telephone operators speak English so it's easy to organise a cab upon arrival if you don't find one outside.
If you are staying overnight in Skiathos before heading on to Skopelos island, your hotel may offer a shuttle service. Check with them in advance of boarding your flight. There is currently no public bus that operates on the route from Skiathos airport to the port.
Take a Cab or Organise a Transfer
The best way to get from Skiathos airport to the port is to take a taxi.
Skiathos to Skopelos Tours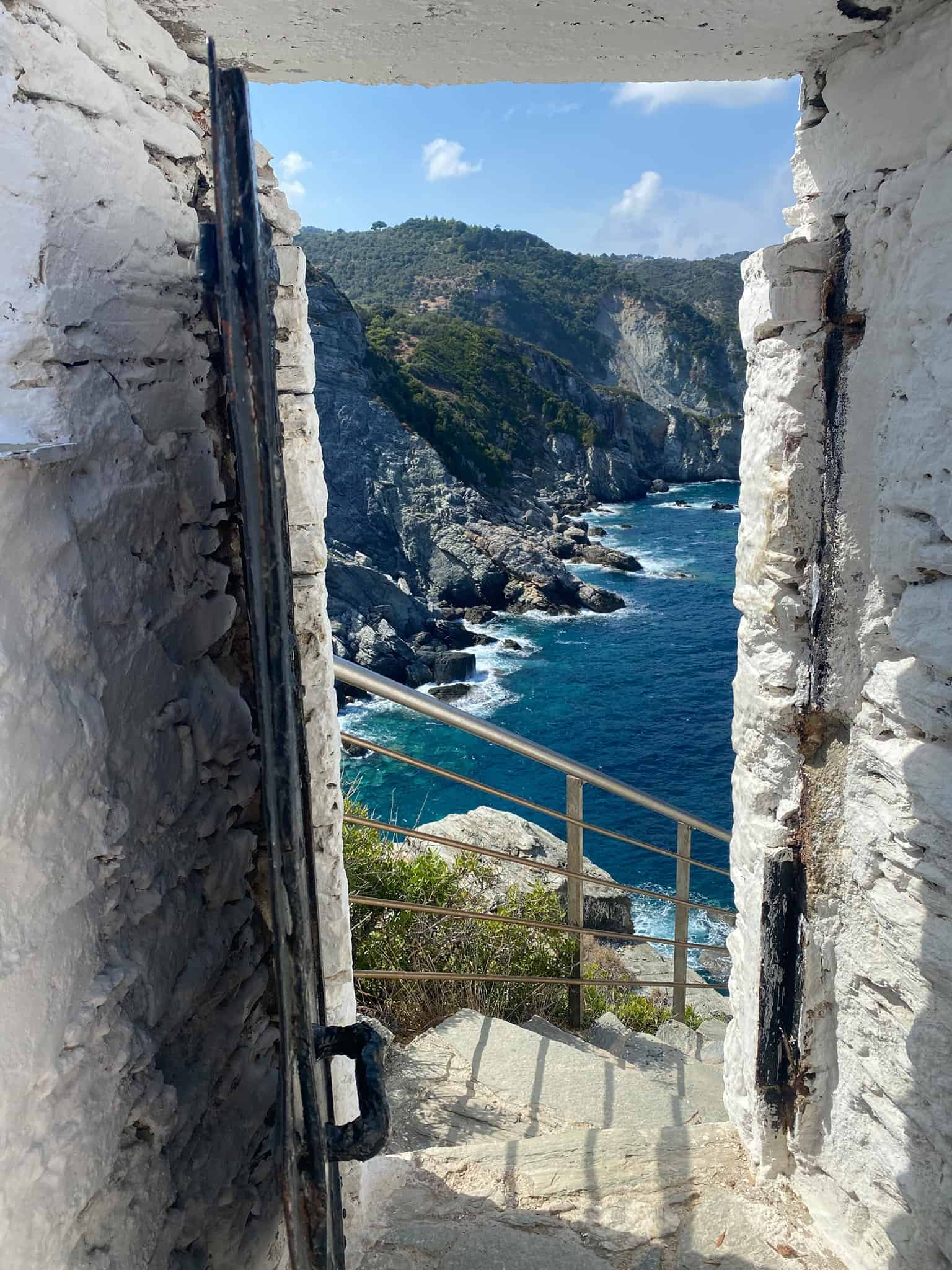 Numerous reputable local tour companies offer excursions to Skopelos. This can be a great way to see the island if your Greece itinerary doesn't give you the time to stay overnight.
It also takes a lot of the hassle out of managing the logistics of your trip and having to worry about how to get from A to B. Many tours include pickup and drop-off from your hotel/accommodation in Skiathos.
Most Skopelos day tours focus on the island's Mamma Mia filming locations. However, even if you haven't seen the movie or you are not a fan, these gorgeous churches, secluded beaches, and little towns are still wonderful stopping points.
Best Skopelos tours
A selection of some of the best Skopelos day tours is detailed below for your consideration. Reserve your place online in advance to avoid disappointment!
Skiathos to Skopelos private water taxis 
It is possible to organise a private water taxi from Skiathos to Skopelos if there are between one and five of you travelling together. However, this is of course the most expensive travel option. 
Skiathos water taxis give you slightly more flexibility (as well as comfort and convenience) as you have the option to sail into any village/port in Skopelos, as opposed to just Glossa and Skopelos town as per the commercial ferry/flying dolphin route.
Prices and travel durations vary depending on the specific port you want to sail into. A breakdown of costs and times is provided below.
Skopelos town – €300 – 45 minutes


Glossa – €150 – 25 minutes


Neo Klima/Elios – €180 – 30 minutes


Panormos – €180 – 30 minutes


Adrina – €150 – 30 minutes


Agnontas – €200 – 40 minutes
There are two different companies that offer water taxi services from Skiathos to Skopelos. They are Skiathos Water Taxi (+306980200200) and Sea Cab Water Taxi (+306934343287). 
FAQs about Skiathos to Skopelos Ferries & Transport
Do you have any additional questions or concerns about making the journey from Skiathos to Skopelos? Hopefully, you will find the answers you are looking for below.
How long is the ferry from Skiathos to Skopelos?
The travel time between Skiathos to Skopelos varies depending on what specific boat you are travelling on and which port you are disembarking at. If you are taking the flying dolphin, you can expect to arrive at Glossa in 15 minutes, and at Skopelos port in 30 minutes.
If you are taking a slower car ferry, it may take 90 minutes to reach Skopelos.
Which is better? Skiathos or Skopelos?
Skiathos and Skopelos are both wonderful travel destinations in their own right, it all depends on what you are looking for. However, Skiathos has always been the most popular of the two islands.
Skiathos boasts a lot of dining and nightlife options, while Skopelos is quieter and more secluded. That being said, some parts of Skiathos can get very crowded during the summer months, which can detract from the experience somewhat.
If you are wanting to travel to a Greek island where you can effortlessly meet other people, have all of your home comforts, and constantly find a party, head to Skiathos. If you prefer walks in nature and secluded coves, head to Skopelos.
Can you do a day trip from Skiathos to Skopelos?
You can easily do a day trip from Skiathos to Skopelos as the two islands are located right next to each other. If you check the ferry times, you can do this independently by getting one of the earlier ferries in the morning and then coming back in the evening.
However, several local tour companies also offer day trips to Skopelos and this may be easier. They will transport you all around the gorgeous blue-green island and help you to make the most of your time.
How do I get from Skiathos airport to Skopelos ferry?
To get from Skiathos airport to the Skopelos ferry, your best option is to take a taxi from the airport to Skiathos ferry port. This journey only takes around 5 minutes. From there, you can board a ferry to Skopelos.
How often does the ferry run from Skiathos to Skopelos?
Tourism in the Sporades is very seasonal and so, the ferry schedules from Skiathos to Skopelos vary significantly throughout the year. Between May and September, there are as many as 6 departures per day. During winter in Greece, there are only 1-2.
Final thoughts on getting from Skiathos to Skopelos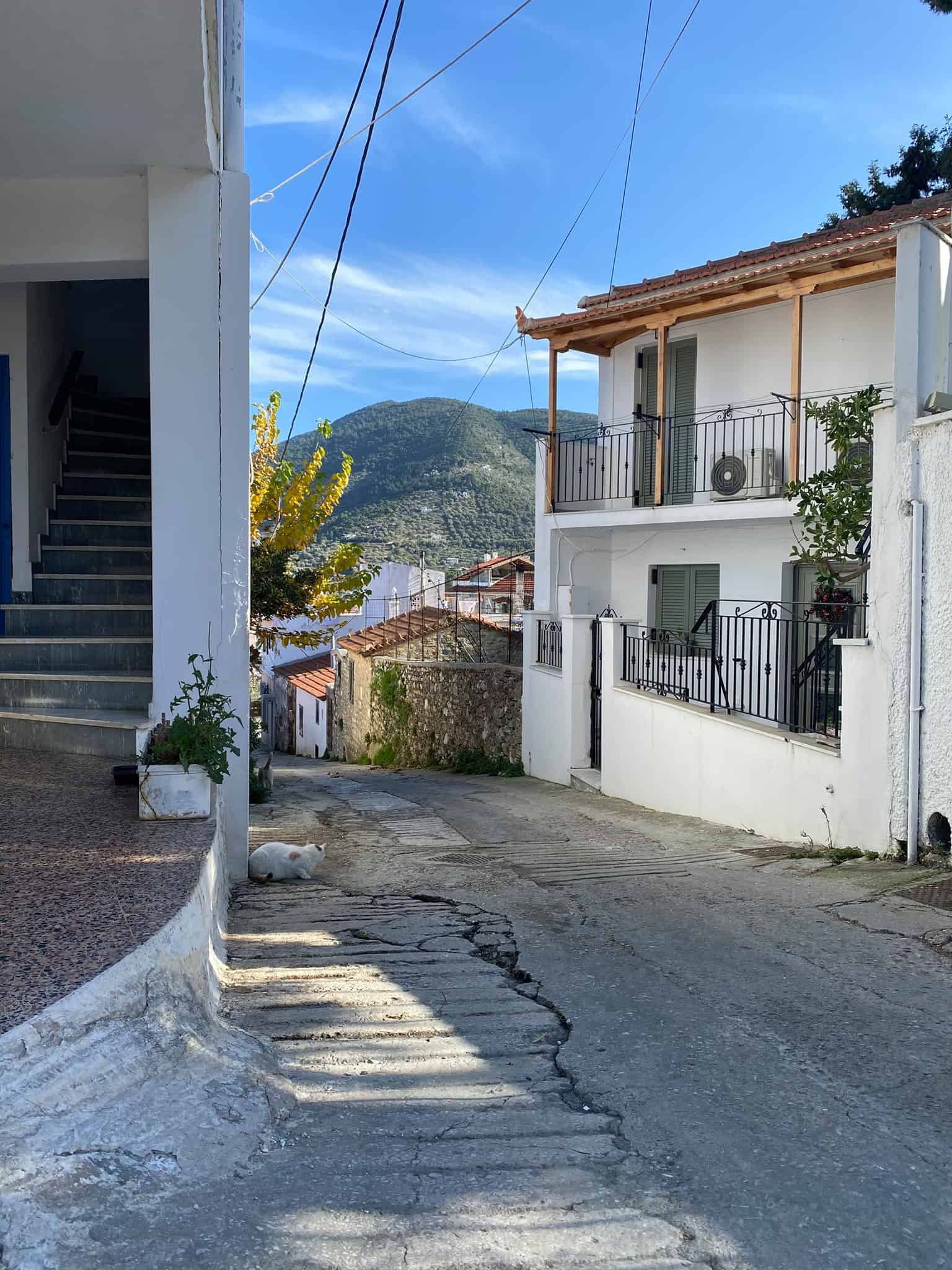 Do you have any additional questions about getting to Skopelos or planning a trip to Greece?
I have lived here since 2017 and I spent eight months living in Skopelos in 2020/21. I have made this journey numerous times and this guide is updated periodically to ensure it contains the most accurate and up-to-date information.
Geia sou! Melissa xo 
---