Neo Klima is a little village situated on the west coast of Skopelos. It is home to a population of approximately 600 people.
Many islanders and frequent visitors of Skopelos may tell you that Neo Klima is nothing to write home about. Indeed, the village itself is not quite a symbol of aesthetic beauty.
However, this region is home to some of the island's best wild, rugged beaches. The coastal areas here are often bypassed by a lot of tourists and seldom get as crowded as the popular Kastani and Milia beaches during the summer months. As such, you should not be so fast to write off Neo Klima.
A Little History of Neo Klima
Neo Klima was founded in 1981. It was constructed by residents of Palio Klima village after a huge earthquake rocked the Sporades and destroyed many of their homes.
The houses had to be built hurriedly and sadly, many of the residents did not have a huge amount of money to spare while building their new homes. This is reflected in the building style of Neo Klima which may be deemed as a lot more 'higgledy piggledy'.
This is particularly the case when you compare Neo Klima to the gorgeous white-washed houses of Skopelos town, or the quaint two-storey houses with burgundy roofs and wooden balconies up north in Glossa. Regardless, Neo Klima has its charm.
If nothing else, the town is a good place to stop for a coffee or a spot of lunch after a day spent swimming and enjoying the nearby beaches. There are many excellent seafood tavernas to be found here. They prepare sumptuous dishes cooked with the latest catches from nearby waters.
Beaches Around Neo Klima
Some of the best beaches in Skopelos can be found around Neo Klima. Most notably, try to carve the time out of your schedule to visit Armenopetra and Hovolo beaches.
Armenopetra Beach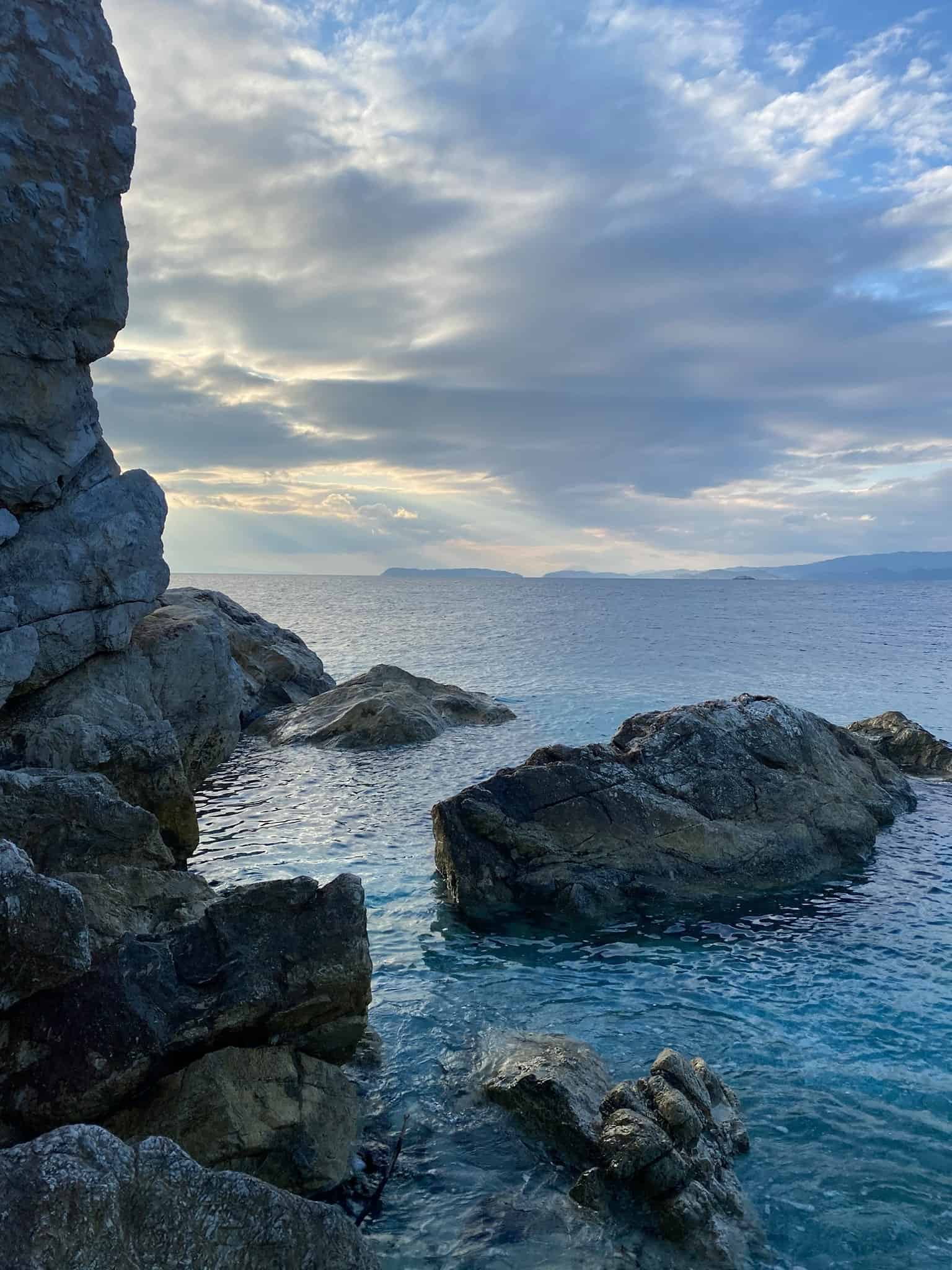 Paralia Armenopetra is a stone's throw away from Neo Klima. This sleepy beach is one of the most rugged coastal areas in the Northern Sporades.
Armenopetra is a sandy beach with white pebbles. It is backed by lush green pine trees and encompassed by unique sandstone rock formations.
The waters here are crystal clear and as you gaze across the sea, you can see Skiathos shimmering in the distance. The beach is unserviced, and so you ought to pack some water, snacks and essentials for your visit here.
Hovolo Beach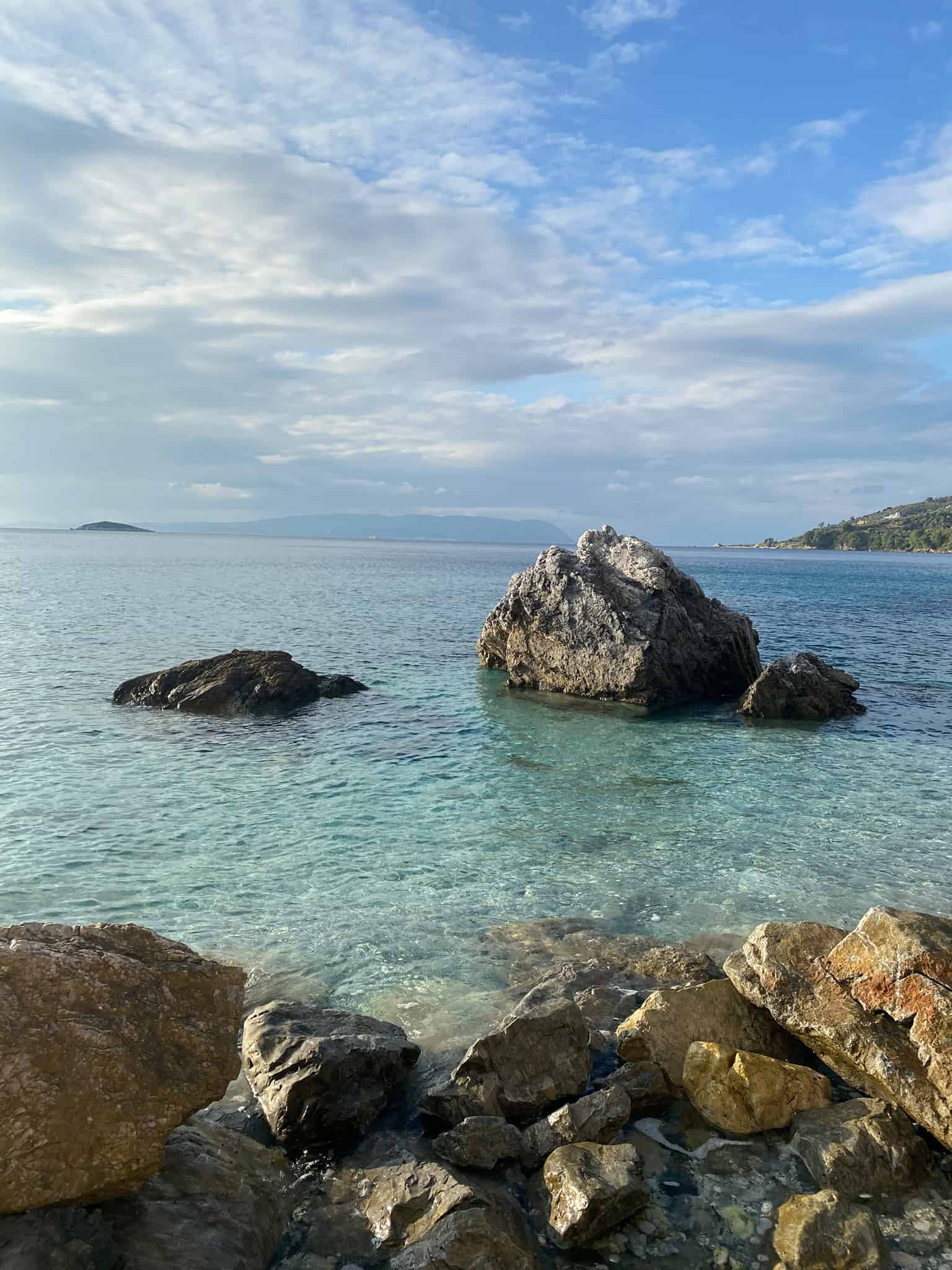 Skopelos' Hovolo beach sits adjacent to Neo Klima. It has been referred to time and time again in various magazines and travel sites as being one of the most beautiful beaches in all of Greece.
To reach it, walk to the sea front in Neo Klima and then turn left. You will see a rocky coastline and you need to follow it around the cliff face to access Hovolo beach.
Getting to Hovolo is a little awkward as an amount of wading through water is involved. Alternatively, you can reach it if you rent a boat. All things considered, it is well worth the effort for this little undisturbed slice of paradise.
Neo Klima/Elios Beach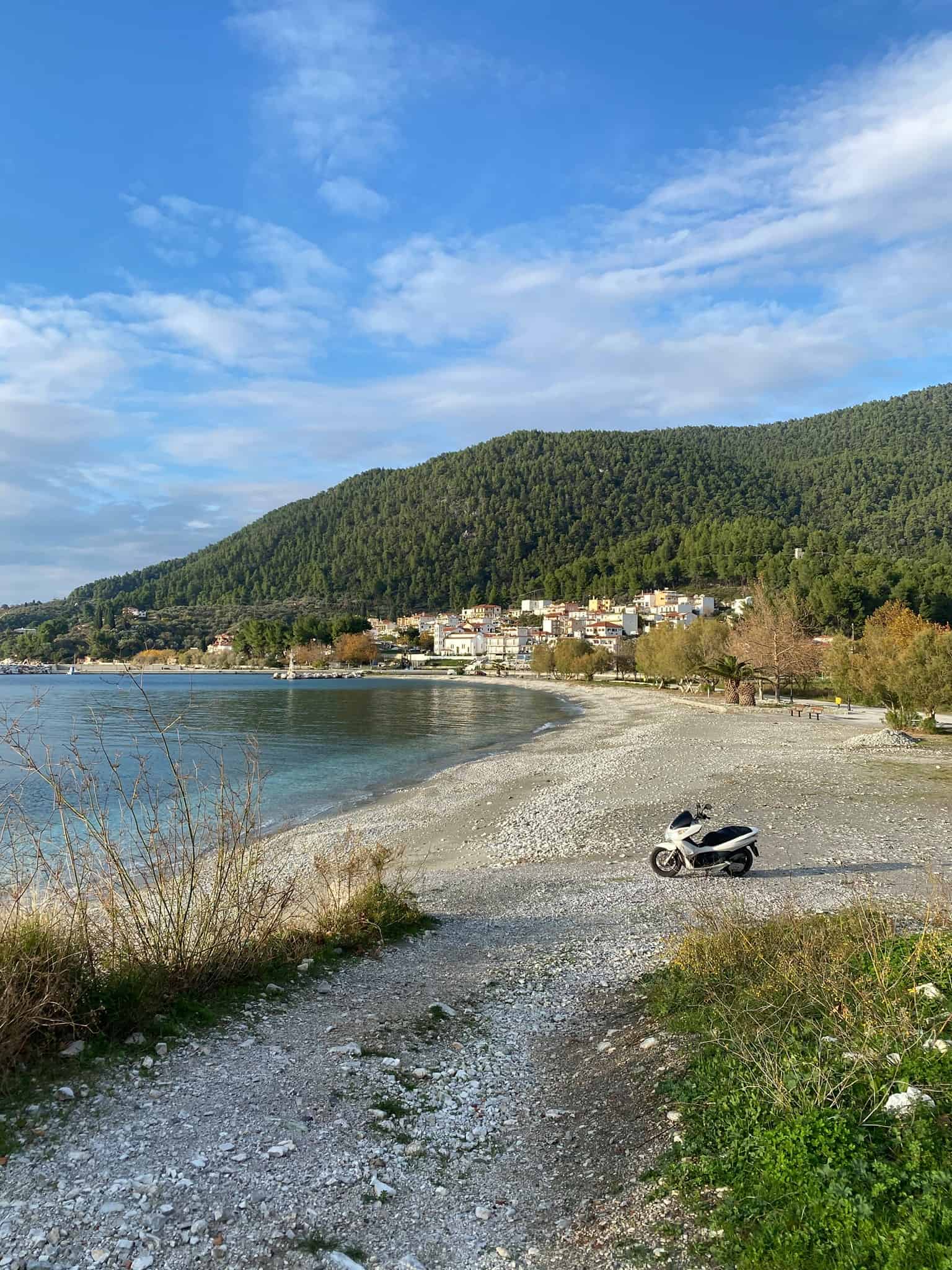 Neo Klima/Elios beach is the stretch of coastline that runs along the seafront of the village. It is not particularly special, and it is better to spend your time seeking out Hovolo, Armenopetra, or other gorgeous island beaches.
That said, the panoramas across the sea from here are still magnificent. There may be better places to go swimming and relaxing on the beach.
However, the ambiance of sitting in a beachfront restaurant here, sipping ouzo and watching the sunset is still magical. Neo Klima beach is characterised by clear blue waters and large white pebbled shores.
Neo Klima Restaurants, Tavernas, and Amenities
You will be spoiled for choice when it comes to dining options in Neo Klima. The entire promenade that leads towards the seafront is lined with tavernas, ouzerias and restaurants.
There is arguably no such thing as a bad place to eat here. However a few notable options are detailed below.
Tsipouradiko Tasos
Tsipouradiko Tasos.is an excellent restaurant overlooking the sea in Neo Klima. Their extensive menu features a variety of beloved traditional Greek dishes – pastitsio, fried zucchini, horiatiki, etc.
For a quintessentially Greek experience, order up a selection of meze dishes to be enjoyed with a serving of tsipouro. The portions here are large and the service is among the best on the island.
Manolis Taverna
Manolis Taverna is a homely, intimate traditional taverna that overlooks the waterfront in Neo Klima. This family-owned eatery has been passed down through the generations of a Skopeliti family for more than thirty years.
Recipes are prepared just like a Greek yiayia would make, and utilise fresh ingredients from around the island. Manolis opens from midday until late.
5 Platania Hovolo Restaurant
5 Platania Hovolo Restaurant is a Mediterranean eatery set in a gorgeous courtyard. Here, you can eat beneath the shade of a plane tree as you enjoy the backing of traditional Greek folk music and look out across the sea.
The extensive menu focuses on seafood specialties. However vegetarian and meat dishes are also available.
The lobster served with spaghetti is a particularly special dish. 5 Platania Hovolo serves up daily specials that are all homemade with fresh local ingredients.
Getting to Neo Klima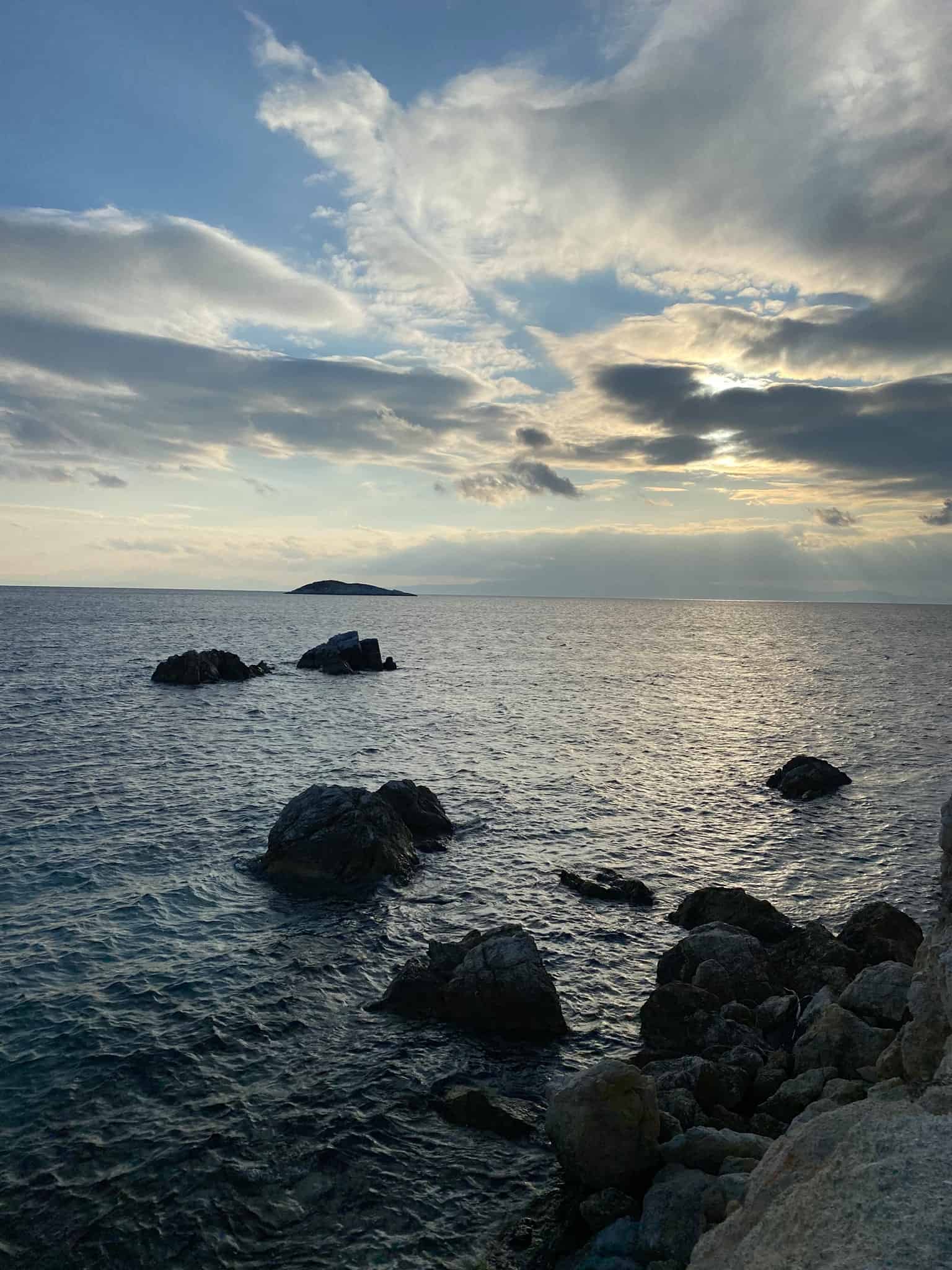 Neo Klima is located 24km away from Skopelos town, and 7km away from Glossa, respectively.
It is easy to reach the town by road or by public transport. If you decide to rent a car in Greece, you will find many rental companies that operate both at Skopelos town port, and in Loutraki.
By Car
The island roads are (mostly) modern, well-built, and asphalt. There are two options for driving to/from Skopelos town from here.
You can either follow the coastal road through Agnontas and past Stafylos, which is the slightly longer (albeit arguably more scenic) route. Alternatively, you can follow the Agios Riginos road that leads you past rolling hills, olive groves, and some of the most gorgeous scenery in central Skopelos.
By Bus
There is a convenient island bus that runs in a circuit between Skopelos town and Glossa. It takes approximately 45 minutes to get to Neo Klima by bus.
Bus services depart frequently from the port entrance in Skopelos town. The precise schedule is subject to change and varies depending on the season. However, you can always find the up to date times pinned to the notice boards of the various bus stops.
Parting Words
Do you have any additional questions about Neo Klima, visiting Skopelos island, or Greek island hopping in general? I've lived here since 2017.
Please don't hesitate to reach out if you need anything. Safe travels! Melissa xo
---