Though the scenery and weather are two major appeals of travelling to Greece, there are a few Greek experiences and cultural activities that you can also try including in your Greece itinerary to have you feeling more like a local. Greece is far more than just beaches and islands (as beautiful as both of those things are!)
If you are planning an escape to the Mediterranean, your mind is perhaps drifting off to the idea of wandering along pristine beaches, wading in cerulean waters, and tucking into succulent Greek salads. All the while, you are probably eying up a hunky waiter named Stavros.
Greek Experiences You Need to Try
Living in this beautiful country for the past three years has given me some unique opportunities and insights into the culture. Some quintessentially Greek experiences that you may want to try in order to scratch beneath the surface of Greek life, are detailed here.
Sing Your Heart Out at a Bouzoukia
As far as Greek nightlife goes, bouzoukias are a local favourite. Pretty much every suburb in major Greek towns and cities boasts a bouzoukia. These live music venues host both famous Greek singers, and local performers.
Envisage people dancing on tables, jugs of ouzo and tsipouro being passed (and spilled) left, right and centre, and animated traditional Greek dancing. You can't really get more Greek than this.
Who cares if you don't have a clue what they are singing about. Make up random Greek sounding words and shout "oppa" every now and then and you will fit in a treat! (I jest).
Live music shows hosted at bouzoukias rarely get going until the early hours of around 1-2am. In other words, the times when us westerners are usually stumbling home from the bars with a questionable kebab, the Greeks are just getting started. Expect to leave at 7-8am just in time for breakfast.
Play Backgammon and Sip Freddo Espressos at Local Coffee Shops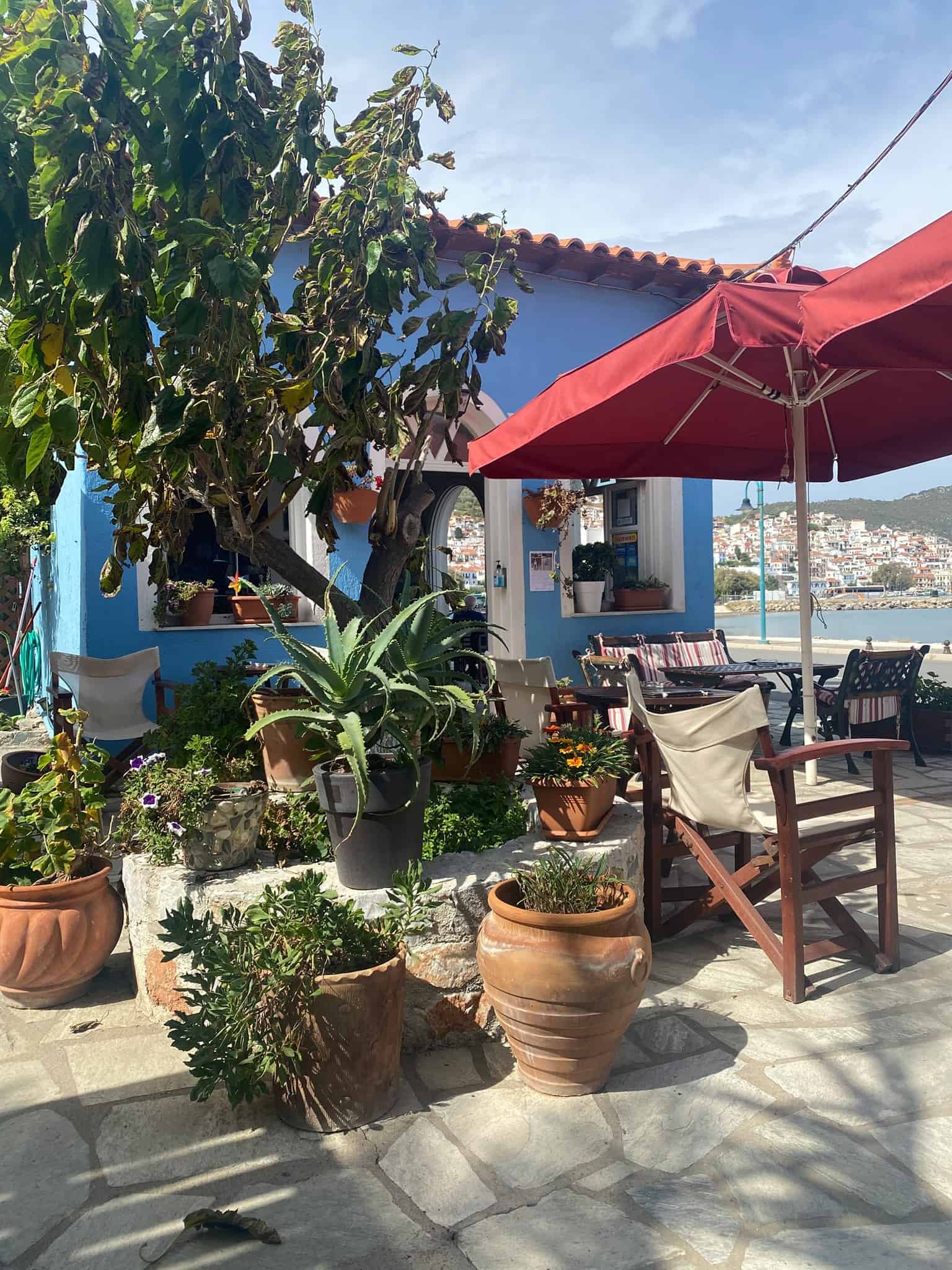 Coffee culture is huge in Greece. In Athens and the major Greek cities, new coffee shops are opening up every few weeks. They occupy virtually every street corner.
Regardless of what time of day it is, you will find that the coffee shops are absolutely packed with groups of young friends drinking freddo espresso. Be it at 9 o'clock in the morning or 11 o'clock at night.
Types of Greek Coffee
Traditional Greek coffee or "Ellinikos Kafes" as it is locally known, is essentially Turkish/Arabic coffee. It is served hot in a short espresso cup and brewed in a copper biriki.
However, most younger Greeks have their coffee iced or "freddo". Backgammon has become something of the "traditional" game to play alongside getting your caffeine fix.
You will see oldtimers playing it everywhere from Skopelos town to Thessaloniki.
Throw Coins to Street Musicians
You may be lucky enough to witness the charming Greek tradition of street performers during your trip. This is especially the case if you opt to rent a place in an area of Greece that is more residential than touristic. For example, the Pagrati neighbourhood in Athens.
Accordion players and singers often wander the streets of residential areas in the daytime singing old Greek love songs. Meanwhile, yiayias (Greek old ladies) watch from their balconies and toss coins. Throw them 50 cents or a euro and you may just get a private serenade.
Celebrate Greek Orthodox Easter
The Greek Orthodox Easter runs on a different schedule to the "typical" Christian/Catholic Easter. This is one of the biggest festivals in Greece.
The Easter period brings with it some unique and beautiful traditions that are interesting to participate in. You should be sure to check what events are going on should you travel to Greece during this time.
Easter Celebrations in Greece
Anyone can go along to an Anastasi liturgy (Saturday midnight church service), provided that they are respectful. One of the most notable places to enjoy this is at the quaint little church that sits atop Mount Lycabettus in Athens.
Join thousands of devotees in their religious ceremonies. Afterward, enjoy the firework display that takes place over the city.
Another beautiful tradition is the candle-lit procession that moves through the streets of the cities after the Anastasi liturgy. In Greek homes, people paint eggs and play "tsourgrisma". This is a game where two people forcefully smash their hard-boiled egg against the other person's to see who will have the best luck.
Learn a Traditional Greek Dance
Greek dancing has to be one of the biggest, most renowned aspects of the culture. The classic "Zorbas the Greek" is probably the first thing that springs to mind.
However, there are in fact thousands of traditional dances. It is believed that there are more than 10,000 in total!
At weddings, family events, and festivals, it is not uncommon to be dragged into joining in. It even happens at local taverns if a particularly beloved song comes on!
Each region of the country has its own dance and music style, and the steps to classic dances vary depending on where you are. In Athens and other large cities, you can take classes to learn Greek dances.
Try Making Moussaka
A great way to get to understand the culture of a country is through its food. With sumptuous marinated meats, delicious fresh salads, and unique homemade dishes like pastitsio and moussaka, Greek cuisine has to be some of the best in the world.
Consider taking a Greek cooking class during your trip. Alternatively, just follow a recipe online while listening to a little Konstantinos Argiros.
Try not to lose it with rage over the stress of preparing the bechamel sauce. Cooking classes are the kind of Greek experiences that will prove incredibly valuable in the future when you wow dinner guests with your international cooking skills!
Attend a Big Fat Greek Wedding
Greeks are still very traditional in comparison to the west and marriages are a huge cause for celebration. If you are lucky enough to have Greek friends or relatives and be invited to such an event, it will likely be something that you never forget.
Greek traditional weddings are every bit as grand and loud as in "My Big Fat Greek Wedding". Unique customs and practices are interesting to witness.
For instance, Greek wedding guests will spit on the bride and groom for good luck (!), throw money on the marital bed, and the bride will write the names of her single male friends on the bottom of her shoe to break the curse of them being single and unlucky in love.
Haggle at the Local Farmer's Markets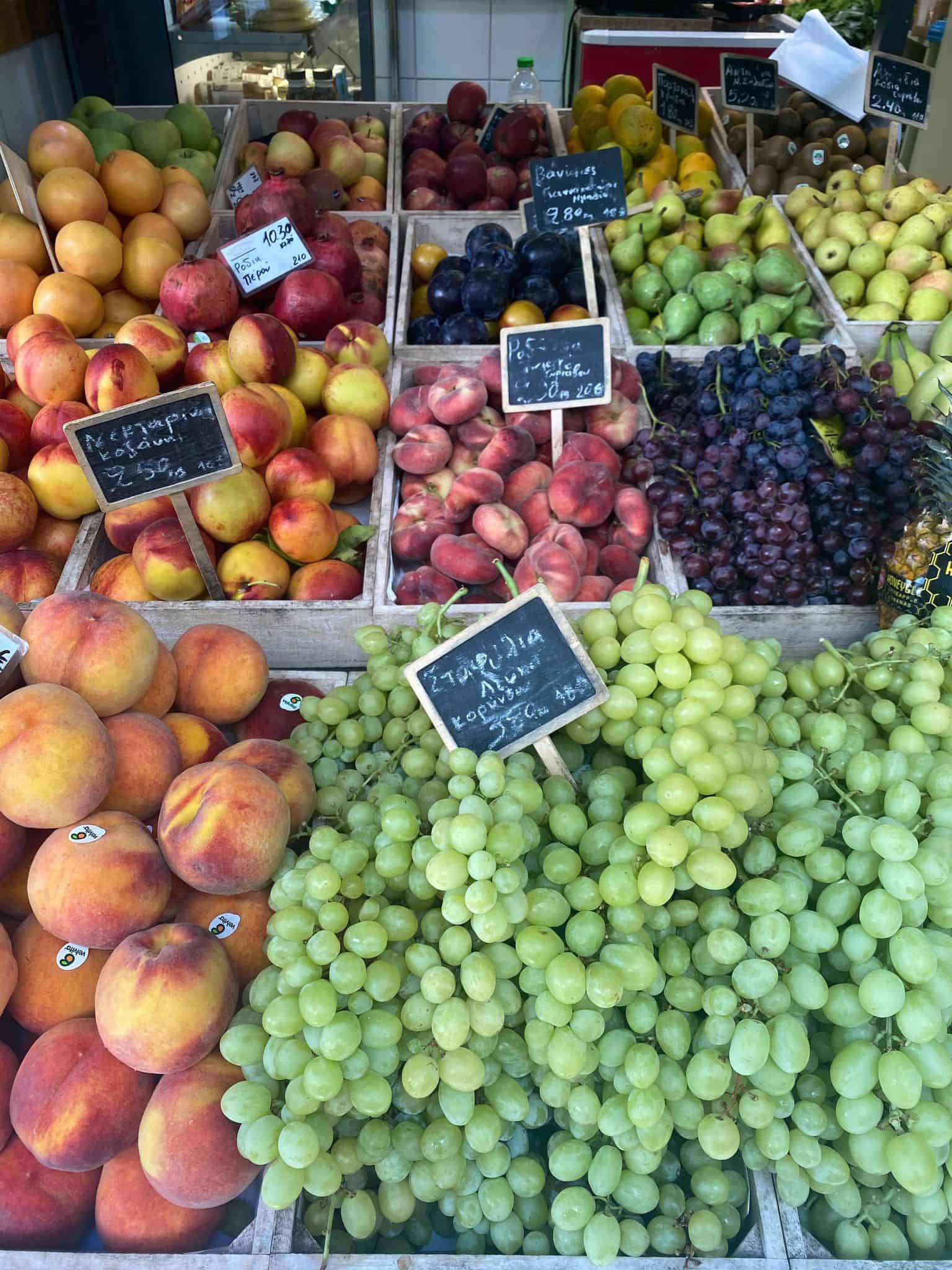 Most neighbourhoods in Greek towns and cities host "laiki" markets. These are small farmers' markets that are held on a certain day of the week, every week. The majority of the locals prefer to shop here for their fruits, vegetables, and dairy products as opposed to at the supermarket.
Shopping at a laiki guarantees fresher products at a better value. Some markets also double as flea markets where people can purchase second hand clothes and other items. If you are staying in self-catered accommodation during your Greece trip, try your hand at haggling at one of these markets.
Drink Tsipouro in a Taverna Until the Early Hours
Greeks are renowned for their fun-loving and laid back approach to living. The economy may not be perfect, but people are not going to let that get in their way of having a good time.
Greece has its clubs and chic bars, sure. However, a popular way to enjoy good times and good conversations with friends is by chatting and drinking in tavernas until the early hours.
Local tavernas are also incredibly cheap, with dishes costing just a few euros each. Order a few jugs of ouzo or tsipouro for the table and enjoy an evening with friends that doesn't break the bank.
Smash Some Plates in Plaka
People often associate plate smashing with Greek celebrations but the reality is, this activity is seldom carried out any more. After all, buying all that china just to throw it violently on the floor ain't exactly cheap!
That said, in certain restaurants in places like Athens' Plaka district, the Cyclades, and Rhodes, plate smashing does take place. This is performed mostly for the benefits of the tourists. However, it is one way to see this tradition up close.
Take a Weekend Break to a Secret Greek Island
All around the globe, people daydream of watching the sunset in Santorini, of partying it up in Mykonos, or of relaxing on the beaches of Zakynthos. Meanwhile, the Greeks keep the best of their islands to themselves.
In total, Greece has approximately 6000 islands. Of these, only 227 are actually inhabited.
Many of these islands are every bit as beautiful as the popular destinations. Yet they have a small fraction of the tourists.
When things get a little balmy and unbearable in Athens over the hot summer months, locals board ships at Piraeus. From there they head to the Saronic Gulf islands of Aegina, Poros, or Hydra for a day or two.
The Sporades islands of Skiathos, Alonissos, and Skopelos are largely underrated. So too, are the Ionian islands of Kerkyra, Paxos, and Antipaxos.
Scoff a Greek Sunday Lunch
Mealtimes in Greece often involve homemade dishes that have been lovingly prepared with fresh ingredients. On Sundays however, families go all out to prepare something a little extra special.
Specific dishes vary. However, commonly, this may be something like perfectly marinated roasted lamb served with lemon potatoes and vegetables. If you don't have Greek friends or relatives to invite you to such an occasion, don't worry – there are plenty of homestyle restaurants that recreate the same dishes to excellent quality.
Final Thoughts
Have you travelled to or lived in Greece? Do you have any Greek experiences you'd add to this list?
If you are planning a trip to Greece and need assistance, please do not hesitate to contact me. I have been living here for the past three years now. I'm more than happy to answer any questions you may have.
---