Karpenisi Greece is one of the most charming places in the country. This little town is the capital of the Evritania region and home to just 13,000 people.
It is characterised by dramatic mountain ranges, winding roads that hug the sides of cliffs, quaint stone villages, and dense forests. There are plenty of things to do in Karpenisi, Greece to justify spending as much as an entire week in this region.
This is particularly the case if you are someone who loves immersing themselves in nature and the "great outdoors". This region is often referred to as being the "Switzerland of Greece" on account of its natural beauty. That name certainly wasn't accidental.
Even if you have travelled Greece extensively, Karpenisi will not fail to take your breath away. This may well be one of Greece's best-kept secrets!
Falling in Love with Karpenisi Greece
Karpenisi sits on the slopes of mount Timfristos in Evritania, Central Greece. It has escaped the eyes and attention of international tourists.
However, the small town is a popular winter getaway destination for Greek couples. In the winter months, many locals flock here to ski at the nearby winter sports centre of Velouchi.
It may be skiing that put Karpenisi on the map. But the region has so much more to offer.
Envisage snuggling up beside the fireplace in your hotel room as you sip warm honey wine (oinomelo), and gaze out of your window across to the snow-capped mountain peaks. True Grecophiles know that winter in Greece can be just as magical as summer on the islands.
Imagine days spent trekking through pine forests along routes that reveal hidden waterfalls. Picture secret caves transformed into Orthodox chapels.
Envisage yourself driving along quiet country roads, uncovering tiny stone villages filled with traditional kafenions and homely tavernas that serve smoked country sausages to be enjoyed by an open fire. All of this provides a glimpse into what you can expect in Karpenisi.
Things to do in Karpenisi
Karpenisi town itself is a stunning place. With ample coffee shops, tavernas, bars, and stores, Karpenisi has everything you need for a short stay. This is the perfect base for a wider exploration of Evritania.
The highlight of a trip to Karpenisi Greece is not the town itself, however. It is the tiny traditional Greek villages nearby.
Drive out to Palio Mikro Chorio with its beautiful churches and stone houses. Then, stop by Proussous, famous for its namesake monastery that is perched on the edge of a cliff – one of the most important monasteries in all of Greece.
The little village of Gavros should not be forgotten either. Its streets are lined with an abundance of quaint shops and tavernas. You could easily dedicate a week to the Evritania region and not cover everything there is to do.
Visit Neo Mikro Chorio
Palio Mikro Chorio and Neo Mikro Chorio are two villages that sit on opposite sides of the road, approximately 20km outside of Karpenisi. Once upon a time, there was only one village here.
Sadly, a landslide that affected the region in the 1960s destroyed many of the houses in Palio Mikro Chorio. The locals had to rebuild their homes on the opposite side of the valley, thus creating Neo Mikro Chorio.

Neo Mikro Chorio is a cute place to drive through. There are plenty of hotels and tavernas here if you are looking for an alternative place to stay or a place to grab a spot of dinner.
Fall in Love with Megalo Chorio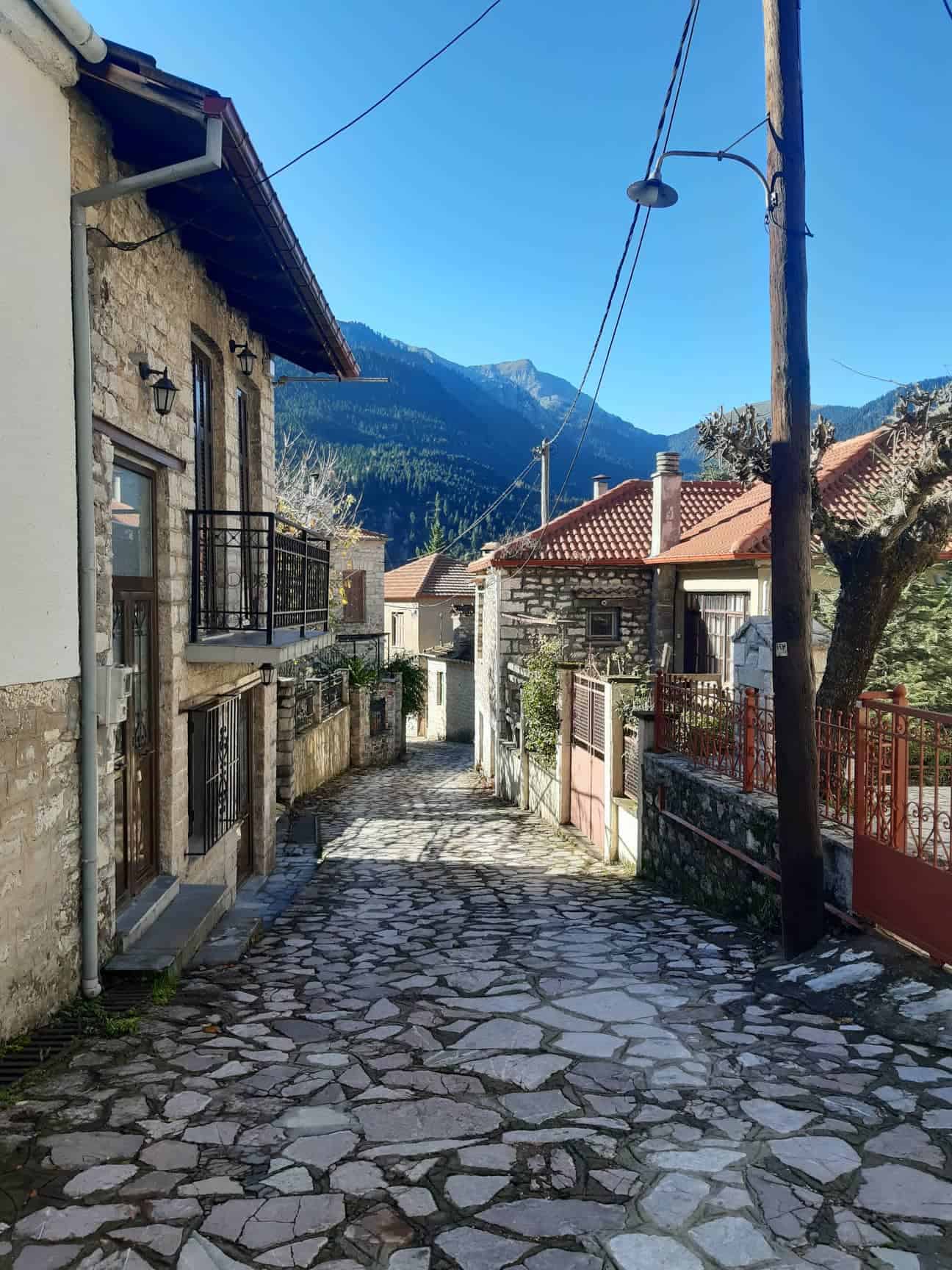 Megalo Chorio ("large village") is a worthy stopping point on your way to Karpenisi. It sits 720 meters above sea level on the slopes of Kaliakouda Mountain.
Travelling here feels like a journey back in time. The village is characterised by bustling cobbled squares filled with maple trees, and old water fountains that act as a popular rendezvous point for locals.
When you first enter the village, you will be met with a small sculpture of Panagiota Stathopoulou. She was a 17-year-old heroine that sacrificed her life for Greece during World War II, and is recognised as a local hero.
Navigate your way through the labyrinth-like network of narrow passageways and cobbled streets to uncover traditional architecture, idyllic Orthodox churches laden with vibrant frescoes and colourful roofs. You will also find many charming stores selling local products.
Megalo Chorio is a great place to sample galaktoboureko. This is a local dessert comprised of semolina custard wrapped in sweet filo pastry that is native to this part of Greece.
To Rakomelo cafe is known for making the best galaktoboureko in town. Here, you can sit beneath the centuries-old plane tree and enjoy the views out across the valley. This is particularly magical in the Autumn and winter months when the trees
Heading into one of the artisanal shops owned by the elderly locals is also a great spot for shopping for edible souvenirs. For instance, chestnut marmalade, candied fruits, homemade fruit liqueur, and jam.
Many of the locals here make their own orzo pasta and traditional produce. They are generally happy to show you where and how these are made.
Embark on a Pilgrimage to the Monastery of Proussos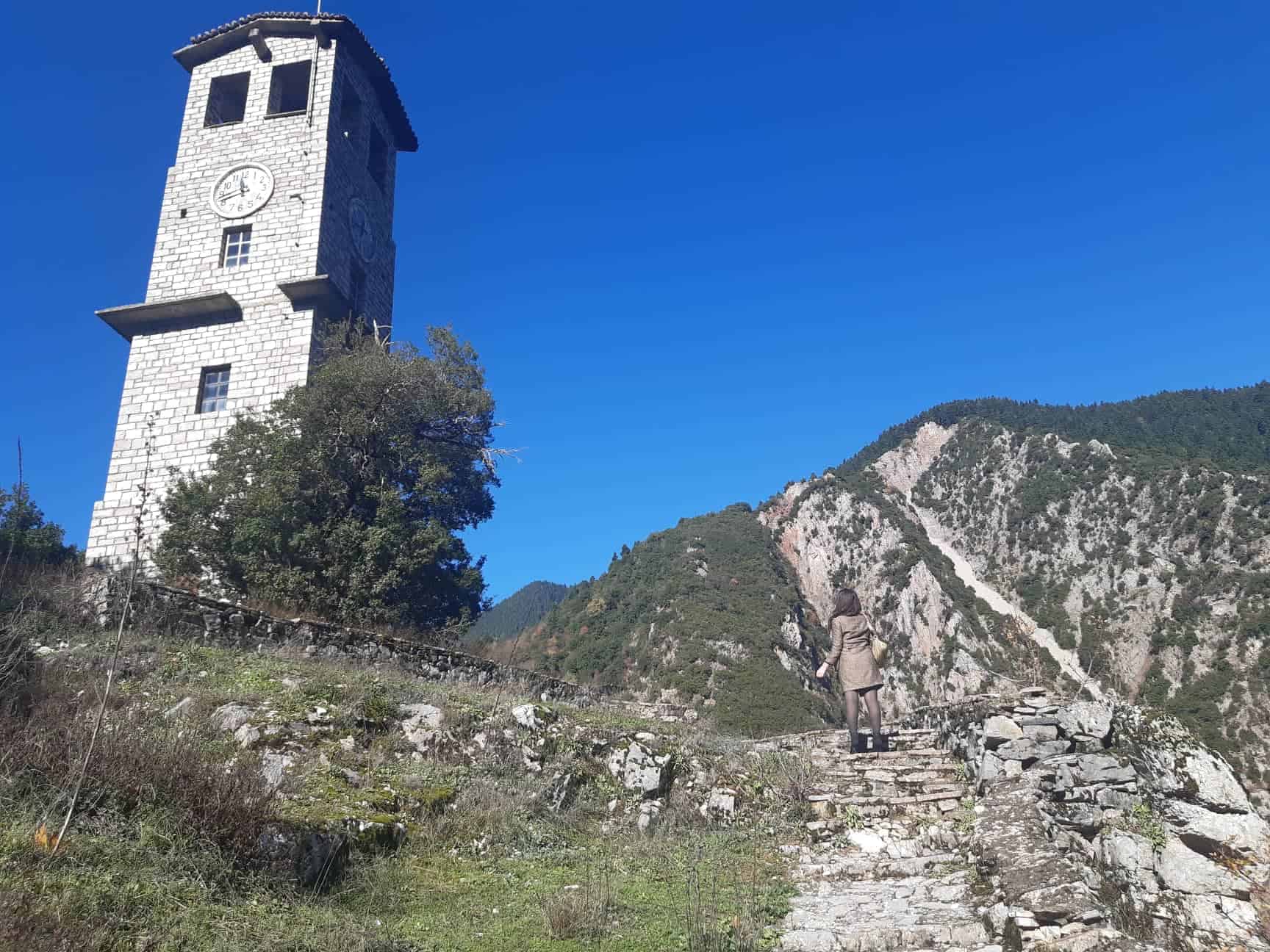 Visiting the Monastery of Proussos is one of the best things to do in Karpenisi. It's a bit of a trek (45-minute drive by car), but it will certainly be a highlight of your trip to Evritania.
The Monastery of Proussos dates back to 829AD and is one of the most important monasteries in central Greece. Once upon a time, dozens of ancient monasteries occupied the mountains of Evritania.
Sadly, the old monastery at Proussos is one of the only few that remain today. Devout Orthodox Christians still venture here in August in honour of the Ascension of the Virgin Mary.
Enjoy Coffee with a View in Proussos Village
The village of Proussos awaits just a few kilometers away from its namesake monastery. Proussos village is perched on the edge of a cliff and inhabited by just 15 elderly residents. There is little to see here, but it's worth a brief stop.
A beautiful plane tree sits at the centre of the village. The coffee shop besides this offers wonderful views across the valley and out to the Monastery at Prossous.
It's a great place to indulge in Greek coffee culture. Order yourself a typical Greek coffee ("Ellinikos Kafes) prepared in a copper birki.
True Greek coffee is short, strong, and bitter, much like Arabic/Turkish coffee. If you tip your cup upside down afterward, you can supposedly read your fortune in the dregs.
If you are feeling hungry while passing through Prossous, stop by Mr. Stremmenos' beloved butcher shop. Upon request, he will prepare you a charcuterie board comprised of various local cheeses and cold cuts.

Alternatively, the nearby "Ellinon Geusis" taverna serves up all of the traditional Greek classics. Proussos gives a wonderful glimpse into life in rural Greece.
Stop For Dinner in Gavros
Gavros is a small village in Evritania that sits halfway along the road between Neo Mikro Chorio and Prossous. It's sometimes referred to as "the one with all the tavernas".
This is because the main road of this small settlement is jam-packed full of traditional restaurants. The places here serve up smoked country sausages and other regional delicacies.
Of course, you can also find well-known Greek dishes here too. Stop by in the evening when the tavernas are full and the streets are illuminated by twinkling fairy lights.
Enjoy Driving Along Scenic Mountain Roads
The experience of simply driving along the country roads that twist and turn through the mountains of Evritania is as much of an experience as setting out and exploring the villages on foot. The road that connects Karpenisi town with Proussos is particularly scenic.
Expect to pass by roaring river rapids, dense pine forests, and dramatic cliffs and rock formations. There are several places where you can pull over and stop to take photos.
Best of all, you will often find that yours is the only car on the road. This gives you a perfect sense of peace and seclusion.
Hike to Religious Shrines and Hidden Waterfalls
Karpenisi is one of the best places for hiking in Greece. Pick up a local map at your hotel and you will see dozens of walking trails that weave through the area.
The trails are well-marked with way-point signs. However, some of the routes are very steep or they lead through wet, sludgy woodland so be sure to dress appropriately and wear your walking boots!
Head to the valley of Pantavrechi (translation: "always rains"). This region boasts hidden waterfalls and spectacular natural scenery. The name "Pantavrechi" was awarded to the area on account of the numerous gentile waterfalls whose water flow is similar to falling rain.
Ride the River Rapids at Dipotamo
Dipotamo in Greek translates to meaning "two rivers". Indeed, this location in Karpenisi marks the point at which two rivers meet.
Here, the Krikellopotamos river and the Karpenisiotis river merge to create the Trikerioti river. This spot is a popular place for river rafting – especially in Autumn and Spring.
You will find several small travel companies in Karpenisi town that will help you arrange a spot of white water rafting if that interests you.
Try Your Hand at Skiing
The Karpenisi Ski Centre at Mount Velouchi is one of the main reasons that people travel to Karpenisi. Whether you are a self-proclaimed snow bunny or a complete beginner, it's possible to try your hand at the slopes here.

Equipment rental and ski lessons are available for complete newbies. Velouchi boasts 15 different slopes, 3 of which are off-piste.
There's also an upscale "ice bar" if you consider yourself more of an apres-ski sort of person. Velouchi is just 12km away from the centre of Karpenisi.
Where to Eat in Karpenisi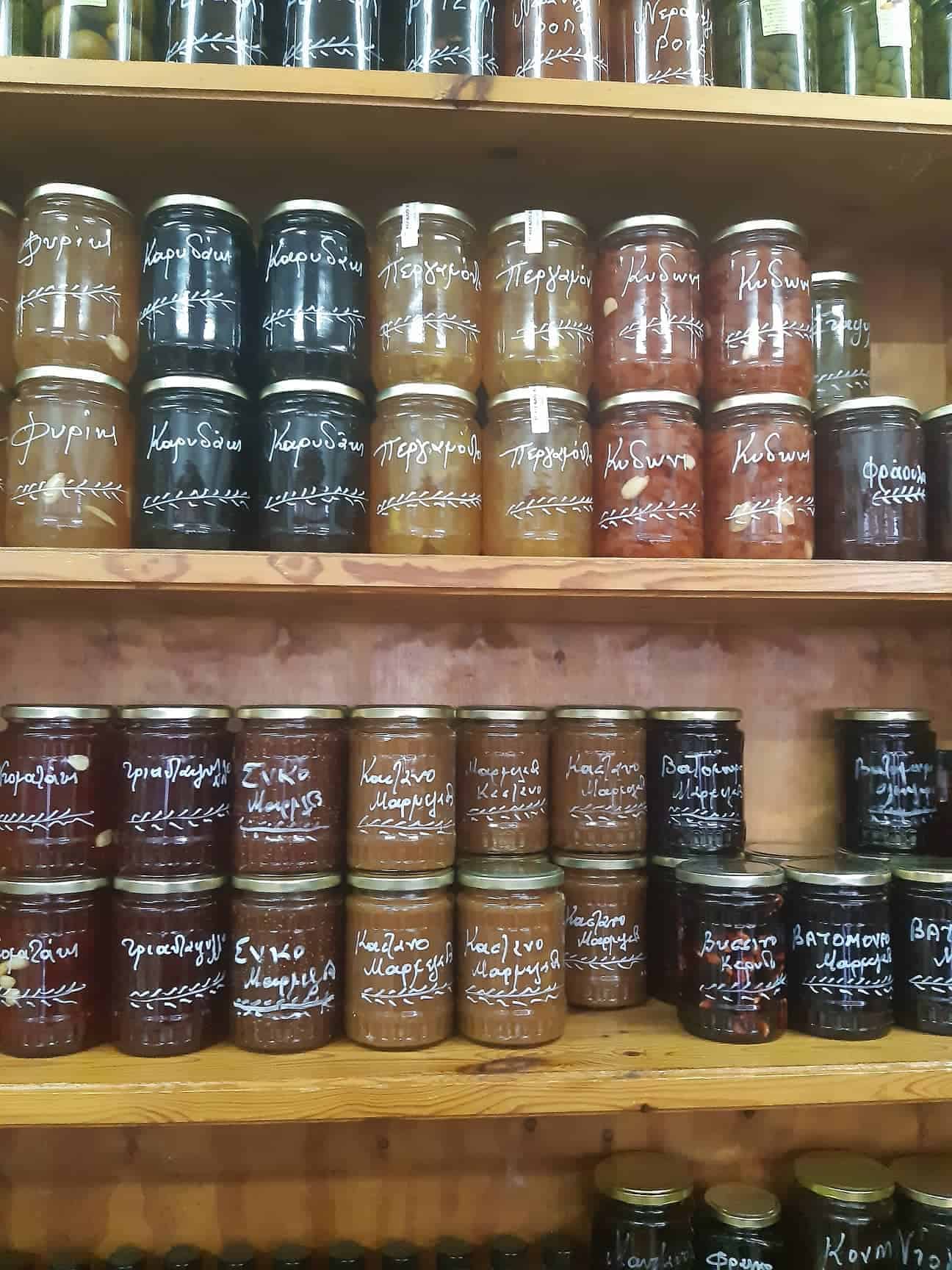 Classic Greek dishes are available all over the country, and Karpenisi is no exception to that rule. There are also several regional delicacies that are particular to Evritania and are well worth sampling while in the area.
You will find that a lot of the restaurants and tavernas that sit along country roads here hunt their own animals. Many grow and gather their own ingredients so the "farm to table" concept is huge in Evritania.
This allows for unique dishes such as wild boar, or rabbit casserole. "Country Sausages" and "Katiki" (soft cheese made with sheep's milk) are two popular local delicacies.
A Selection of notable restaurants and tavernas in Karpenisi is detailed below.
Taverna Mesostrati (Μεσοστράτι)


Kafeneio tis Kyra Paraskevis Megalo Chorio


To Rakomelo


Mylos Cafe Meze


Helidona Guesthouse Restaurant
Taverna Mesostrati (Μεσοστράτι)
Where: 9ο χλμ Καρπενησίου-Προυσσού, Karpenisi 361 00 (
9th km Karpenisi-Proussos, Karpenisi 361 00)
Taverna Mesostratis is a traditional taverna that sits on the country road between Karpenisi and Megalo Chorio. It is popular among locals and serves food typical to Evritania.
During the winter months, you can enjoy your meal beside the log fire, as festive music plays over the loudspeakers. Wild boar stew, rooster cooked in red wine, and handmade pies are among the taverna's specialties.
Kafeneio tis Kyra Paraskevis Megalo Chorio
Where: Megalo Chorio Central Square, Megalo Chorio 361 00
Kafeneio tis Kyra Paraskevis is a popular spot known for its Ottoman-influenced desserts. Sweet ekmek ice cream and galaktoboureko adorn the menu.
Many of these treats are difficult to find elsewhere in Greece. You can also purchase a lot of Greek pastries and desserts here to take home and enjoy.
To Rakomelo
Where: Megalo Chorio Central Square, Megalo Chorio 361 00
To Rakomelo is a cafe bar in Megalo Chorio that is rumored to sell the "best galaktoboureko" in Evritania. Opt to sit outside beneath the Sycamore tree where you have astounding views of Kaliakouda mountain.
Mylos Cafe Meze
Where: Esopou 2, Karpenisi 361 00
A trendy mezedopoleío spot, popular among young people in Karpenisi. Mylos Cafe specialises in serving small plates (mezes).
You will find your favourite meze dishes from across Greece here. Everything from yellow fave bean puree from the Cyclades, to hearty fasolakia graces the menu.
Helidona Guesthouse Restaurant
Where: Old Small Village 361 00
Homely taverna in Neo Mikro Chorio that serves sumptuous marinated meat dishes (stewed beef, goat, etc) and traditional pasta. Orzo pasta is used in a lot of Evritania dishes.
You will also find local spins on giouvetsi here. Giouvetsi is a beef casserole/hotpot style dish prepared with kritharaki pasta, tomato sauce, tender beef, red wine, and herbs.
Where to Stay in Karpenisi
Karpenisi town cascades down the side of the mountain. Try to book one of the hotels that sit near the top of the hill. That way, you can enjoy incredible views from your hotel balcony.

A few notable suggestions on places to stay in Karpenisi are detailed below. 
Semeli Guesthouse
The Semeli Guesthouse can be found in the upper part of Karpenisi town. It boasts unparalleled views over Karpenisi and Koniskos Mountain.
Rooms start at €65 per night. They are simple but cute and homely.
The property is set in a traditional stone house and is owned by a lovely older lady. She prepared us lots of homemade pastries, cakes, and jams for breakfast.

For a slightly higher rate, you can also have a room with a log fireplace. You can browse the latest room rates and availability at Semeli here.
Chalet Likouresi Village
It doesn't get more "winter wonderland" than renting an entire wooden chalet within the forest. Chalets at Likouresi village are spacious and have their own fireplaces.
The properties are located just outside the entrance to Karpenisi town. A continental breakfast is included in the price and served up inside the dinner cabin.
Cabins start from €90 per night. You can browse the latest rates and availability here.
Selestina Boutique Hotel
Selestina Boutique hotel is a luxurious property in the centre of Karpenisi. Sweeping views of Mount Velouchi can be enjoyed from the balconies and terraces.
Meanwhile, the interiors are decorated with elegant, plush furnishings. All rooms have orthopedic mattresses and indulgent spa baths.
Rates start at €120 per night including a hearty breakfast. The latest rates and availability can be explored here.
Getting to Karpenisi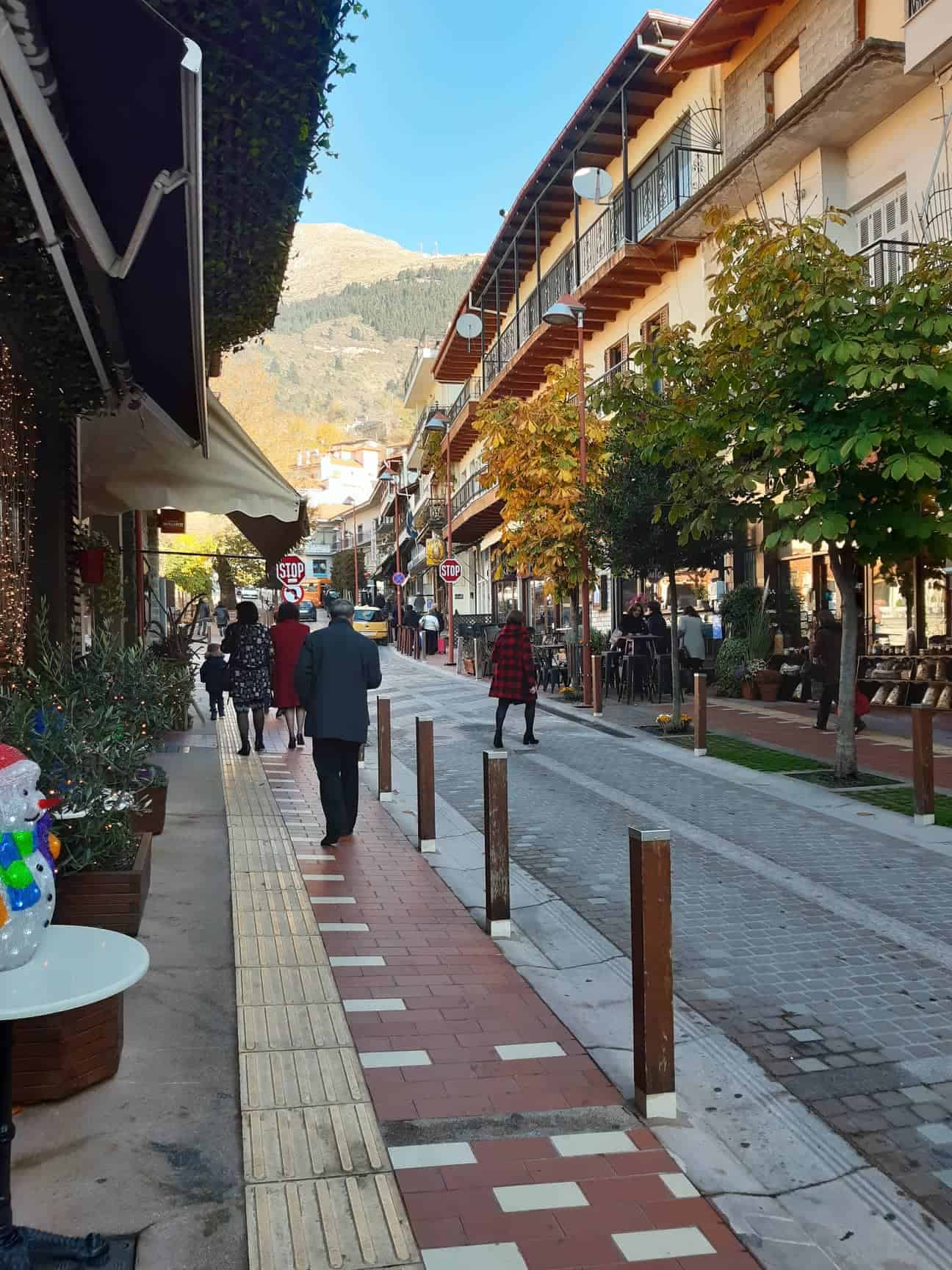 Karpenisi is 286 km and four hour's drive away from Athens. The route is relatively straightforward. However, ideally, you need to have your own car or hire a car in order to get there and to be able to explore the Evritania region once you arrive.
You can travel to Karpenisi by KTEL bus. However, that will restrict you when you arrive as there is little to no transport between Karpenisi and the various villages of the Evritania region.
Karpenisi by Car
The easiest route is to drive from Athens to Lamia, and then follow the signs for Karpenisi. From Lamia, it is approximately one hour to Karpenisi.

There are a lot of toll stations between Athens and Karpenisi. Unfortunately, the journey gets quite pricey.
Expect to spend €45 each way on gas and tolls. Be sure to always have plenty of change for the various toll booths.
Karpenisi by Public Transport
KTEL Evrytanias runs between Athens and Karpenisi via Lamia. The journey takes 4 hours and 45 minutes.
Tickets cost approximately € 21 per person, per way. Public transport in Greece is generally pretty good.
Greek Buses are clean and modern and generally run on time. However, they are also subject to seasonal and schedule changes. Check the specific timetable on the KTEL website before you travel.
Parting Words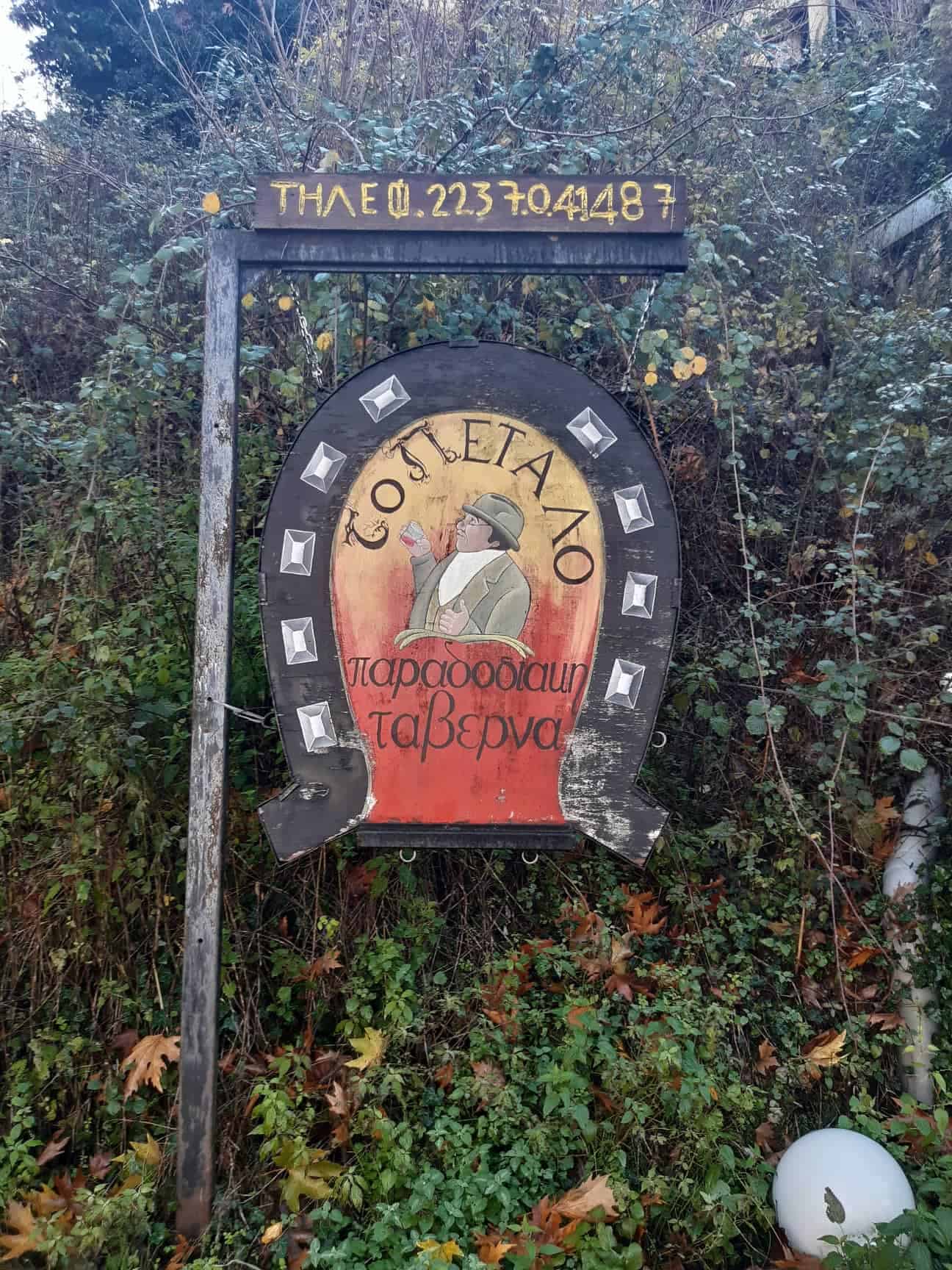 Have any more questions about travelling to Karpenisi Greece and things to do in the area? I've been living in Greece for the last four years. I'm happy to help out with any questions you may have.
Safe travels. Geia sou! Melissa xo 
---