Surrounded by the Cerulean waters of the Saronic Gulf, the quaint little island of Hydra provides travellers with a journey back in time. Here, there are no cars or vehicles and people get around by horses and donkeys.
Stone houses, artist's workshops, ramshackle antique stores, and traditional Greek tavernas line the narrow streets that are so neatly intertwined in a labyrinth-style network of alleys and passageways. Hydra provides a glimpse into life in Greece before modernity.
Hydra is often referred to as being Athens' answer to Italy's Capri. The island certainly has an elegant air to it that feels deserved of the title.
Home to one of the most picturesque ports in Greece, Hydra also played an important role in Greek history. It was here where many of the battles between the Greeks and the Ottoman Turks took place during the 1820 war of independence.
Things to do in Hydra, Greece
Whether stopping by for a few days or simply visiting Hydra on a day trip from Athens, Hydra makes a lovely addition to any Greece itinerary.  A selection of the best things to do during your time on the island is detailed below.
Explore the Port Area
A lot of Hydra's charm is simply found in embracing the laidback Greek island lifestyle. Wandering around the port, occasionally ducking into the eclectic stores of local designers, and exploring the quintessentially Greek blue and white painted streets and plazas is a nice way to while away the day in Hydra.
As the evening approaches, the sun dips behind the clouds and the skies are illuminated in hues of pink and orange, head across to the sunset restaurant for chic cocktails and breathtaking views over the sea.
Visit the Fishing Villages of Kamini and Vlychos
A pleasant walking trail leads beside the sea and runs from Hydra port to the adorable fishing villages of Kamini and Vlychos. The trail is easy enough to find – from the main port of Hydra turn left, past the sunset restaurant and continue walking until you reach the two villages.
Kamini and Vlychos are both incredibly picturesque. It seems that most tourists that visit Hydra are day-trippers from Athens that simply linger around the port. As such, you won't find crowds here.
The ambiance of the villages is altogether more authentic also – there are no stores selling tourist tat and souvenirs. Instead, you will find local fishermen preparing their boats for a day at sea, Greek Yia Yia's doing their grocery shopping and other scenes of authentic Greek island life.
Hike Through Some of the Best Nature in the Saronic Gulf
There are many hiking trails that run through the island of Hydra. The paths are generally clear, well sign-posted and follow flat terrain so they are well-suited to hikers of all abilities.
Two of the easiest routes to find are the walk from Hydra port to Kamini and Vlychos or the ascent up to the Prophet Elias Monastery. The former takes you along the seafront. The latter leads to incredible panoramas over the island landscape.
Both hikes take approximately 3 hours round trip and lead through meadows, farmlands, and fields filled with fragrant flowers. Those who wish for a longer hike can continue onwards from Vlychos towards Palimdas and the church of Agia Marina.
Go Horseback Riding
As horses and donkeys are still the main forms of transportation on Hydra island, there really is no better way to get around like a true Hydra-ite than by opting to do so on horseback.
Several reputable tour companies lead horse treks through the towns, villages, and mountains. It is prudent to check the reputation of the company before booking.
Though I personally did not do a horse tour and decided to hike everywhere, Harriet's Horses is one local company with a good reputation. If you are concerned about ethics and the wellbeing of the animals. Harriet's company is a good shout since the horses have been rescued from neglectful owners.
Relax on Hydra's Beaches
Hydra's beaches may not have the same tropical island paradise feel like those on other Greek islands but they are a nice place to stop and relax in the midst of sightseeing. Hydra's Agios Nikolaos beach is perhaps the most idyllic – nestled within a secluded cove and surrounded by translucent turquoise waters. Agios Nikolaos beach is accessible on foot or via a sea taxi from Hydra port.
A little close to Hydra port, travellers have the option of relaxing at "Spilia" or Kaminia beach during the summer months. The former is actually a rocky plateau that protrudes from the sea. Although "Spilia" is not quite a beach, it is a popular spot for diving into the waters, swimming and sunbathing.
Take a Day Trip to Spetses
Spetses is situated just an hour away from Hydra by boat and the two islands make a nice travel pairing. While Hydra is quaint and picturesque, Spetses is altogether more rugged and wild – boasting vast areas of a national park and numerous hiking trails that lead you to secluded beaches, ancient monasteries, and picturesque churches.
If you don't have time to dedicate a few days to Spetses, you can hop on the boat from Hydra in the morning and return again in the evening. Like Hydra, there are no cars or public transport on Spetses and so your best option is to rent an ATV, a scooter or a bicycle.
Visit One of the World's Most Beautiful Pharmacies
The Rafalias pharmacy in Hydra has the proud title of being considered one of the most beautiful pharmacies in the world. That sounds like a random, not-so-interesting feat but the pharmacy is so cute and particular that it grabbed my attention and made me stop to explore it before I even realised it was well-known.
Rafalias pharmacy dates back over 400 years and its interiors have been excellently preserved in order to preserve their original charm. Here you can find ornate pinewood furnishings and products sold in old-fashioned little bottles. It is easy to spot Rafalias as you are walking around Hydra.
Indulge in Delicious Mediterranean Cuisines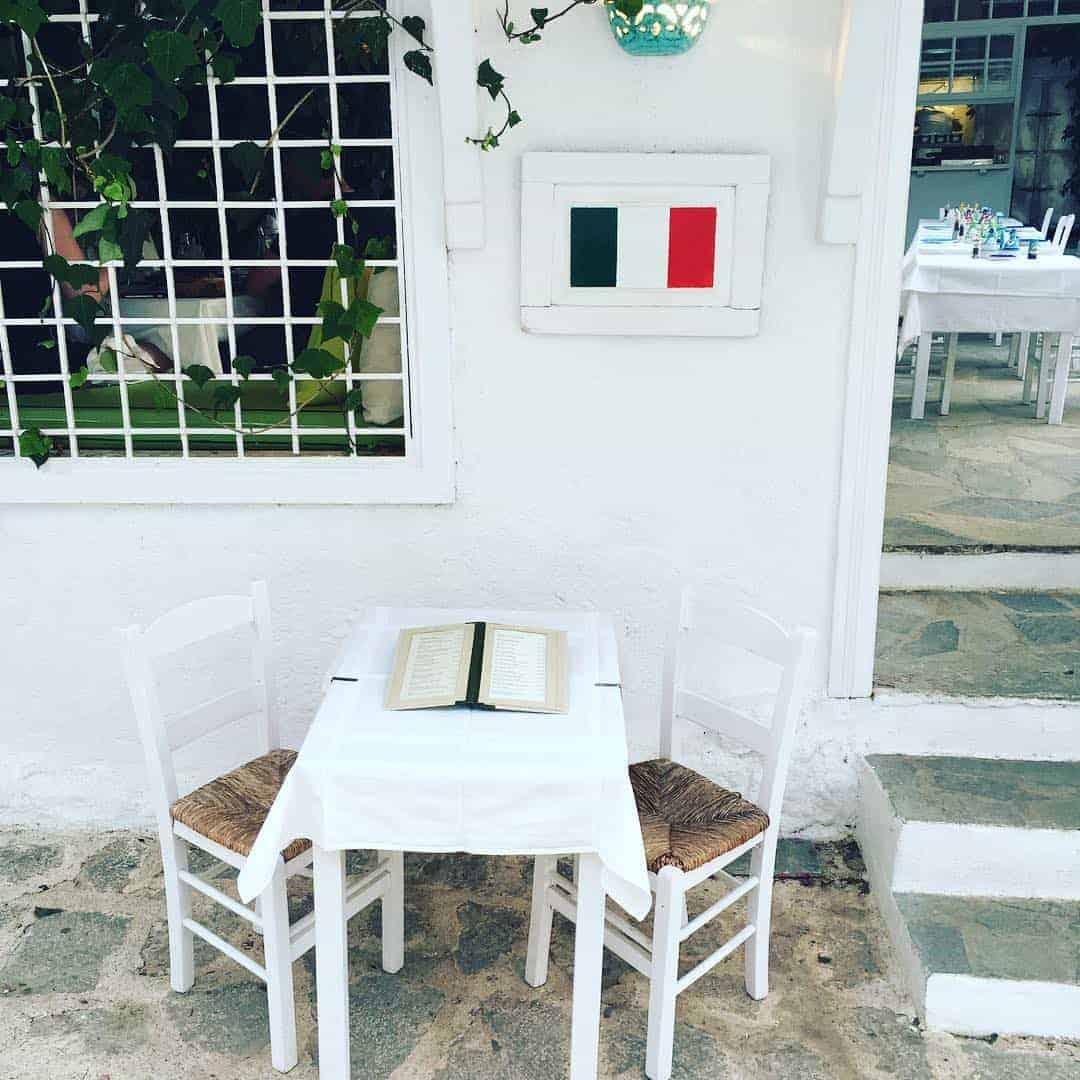 At first glance, Hydra town may seem like a bit of a tourist trap. Truthfully, there are a lot of restaurants here that are overpriced and serve food that is not very good quality. I guess that that is something that happens anywhere where there are a lot of tourists.
Among those places though, there are some wonderful hidden gems to discover. I have detailed a few of the best restaurants on Hydra island below.
Paradosiakó Restaurant
If it is traditional Greek food you are after, Paradosiakó (Tompazi 8, Hydra) is the place to go. The sign is actually in Greek so the above is the translation.
You can't miss Paradosiakó though, it is a charming little place decorated in blue and white. More locals than tourists were dining here which is always a good sign in my book. This place was actually recommended to me by my hotel owners.
Paradosiakó specializes in fresh seafood dishes but if like me you don't eat seafood, you can also order other Greek favourites like Soutzoukakia (deliciously seasoned meatballs in tomato sauce), fresh Greek salads, and fava beans. Paradosiakó offers excellent quality food at a good value.
Il Casta Restaurant
Hydra's Il Casta restaurant boasts authentic Neapolitan Italian cuisine and is a nice palette change if you have been travelling in Greece for a while and are hoping for a change from the usual Greek dishes.
Think rich pasta dishes, warm chewy gnocchi, and flavourful pizzas, all to be washed down with a glass of limoncello and an iced granita.
Taverna Christina
If you do decide to embark on the scenic walk from Hydra town to Kamini and Vlychos, Kamini's Taverna Christina is a nice place to stop for lunch to break up the journey.
Situated in the sleepy fishing village of Kamini, Taverna Christina is a family-run restaurant that has been passed down through the generations (now managed by the children of the namesake owner Christina).
The vegetables prepared in the dishes are grown at the restaurant's own garden, and the fish dishes are served using the day's catches by the local fishermen. As you dine, you have lovely views over the Kamini marina.
Where to Stay in Hydra
There are plenty of charming boutique hotels and B&B style accommodation choices in Hydra. Comfortable rooms in the centre of the town can be found at prices starting from 30 euros per night.
I stayed at the Athina Guesthouse for two nights and definitely recommend it. I had an incredible view of Hydra from my lovely little room and the owners were very friendly and even collected me from the boat port to help me with my luggage which I thought was very kind.
Hydra is popular during the summer months, particularly as a weekend getaway from Athens so if travelling between June and September it is advisable to try and reserve your rooms a week or two in advance of your intended arrival in Hydra.
Getting to Hydra
Hydra is easily accessible via a short boat journey from Athens' Piraeus port. To reach the island, you will board the "flying dolphin" – a compact, speedy little boat that zips along the waves.
Boats from Piraeus to Hydra depart several times per day. You can check the precise schedule here as it is subject to seasonal changes.
How Long to Spend on Hydra Island
I would recommend spending at least one night in Hydra in order to give yourself the opportunity to go a little off the beaten path and away from the main town.
Two nights are great for moving at a more relaxed pace. That said, it is wholly possible to take the first ferry from Athens in the morning and return in the evening.
There are also Saronic Gulf boat tours like this one that departs daily from Athens. These tours offer a "whistle-stop" tour around several Saronic Gulf islands which are great if you are limited for time. That said, you should keep in mind that these tours will only provide you with one or two hours to explore Hydra.
When to Travel to Hydra
It is possible to travel to Hydra between March and September each year. While it is technically possible to travel during the Autumn and Winter months, travellers should keep in mind that the boats tend to run on a more limited schedule and adverse weather conditions can often mean cancellations and disruptions.
If your main interest in visiting Hydra is for hiking or exploring the towns, I would strongly recommend visiting during the spring (March to early June). This enables you to enjoy pleasant temperatures that are not overbearingly hot.
Travelling at this time also means fewer tourists and lower travel costs. For enjoying the beaches and resorts, Summer is a nice time to visit Hydra, though you should keep in mind that this is also the time that a lot of Greek locals take their vacations.
Have any questions about things to do in Hydra or Greece travel in general? I live in Pagrati, Athens and would be happy to help with any questions you have. Feel free to just drop me a comment below. Safe travels, Melissa xo
Disclaimer: This Hydra Greece travel guide may contain affiliate links. This means that I obtain a small amount of commission if you decide to make a purchase through some of the links contained on this page. This is charged at no additional cost to you. Thank you for your understanding.

---