Alonissos Greece is a peaceful, sleepy, quintessentially Greek island in the Sporades archipelago. It is the most remote of the Sporades islands and sits in the North Aegean, off the coast of Volos and the Pelion in Northeastern Greece.
Despite the popularity of the nearby island of Skiathos (which has been a tourist favourite for years), as well as the adjacent island of Skopelos (the "Mamma Mia" island), Alonissos flies largely under the radar. This is perhaps, in part, because Alonissos is a bit of a trek to get to.
Alonissos is arguably one of the most beautiful and least commercial islands in all of Greece. Yet it receives little to no international marketing.
Many people outside of Greece aren't even aware of its existence. It is one of those magical places that the Greeks have been keeping to themselves.
This guide to Alonissos Greece has been written by a British Travel Writer that has been based in Greece for close to 5 years (me!) I have lived on the nearby island of Skopelos and got to know Alonissos pretty well during my various trips there. 
From here we will look at all of the off-the-beaten-path beaches, secluded coves, spectacular hiking trails, and incredible local eateries that Alonissos has to offer.
Nearby Skiathos and Skopelos may capture the hearts of many travellers. However, Alonissos largely flies under the radar.
Alonissos Greece Travel Guide 2023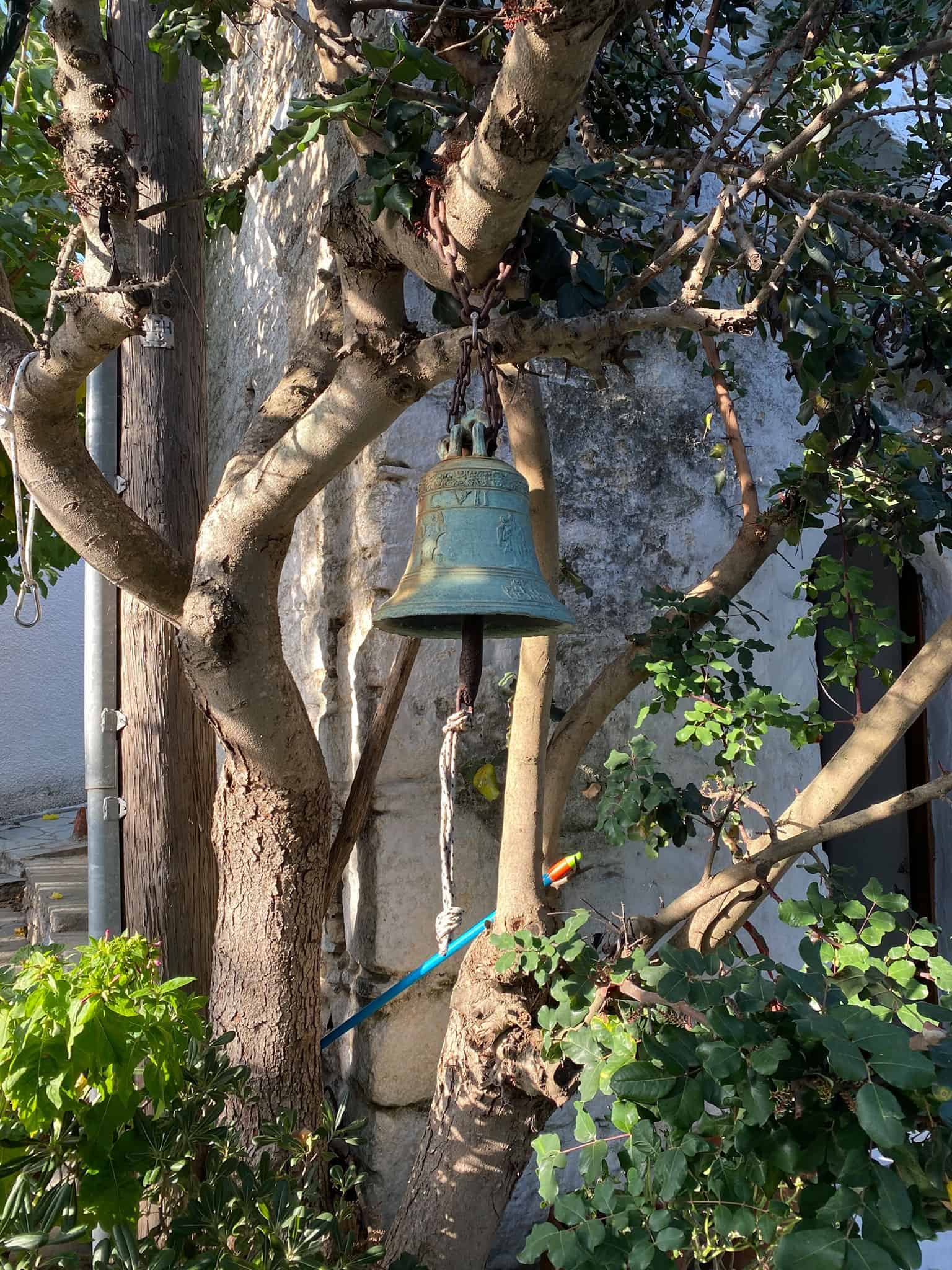 There are 24 islands in the Sporades island group. However, only 4 of those are inhabited. (Namely, Skiathos, Skopelos, Alonissos, and Skyros). 
Alonissos is the furthest from the Greek mainland. Approximately 2,700 people call Alonissos home today, and most of those live in the island capital of Patitiri, where the main port is located.
The island has a history that dates back over 100,000 years! Indeed, Alonissos island is the only island in the Aegean where Neolithic ruins and evidence of very early prehistoric human civilisations have been found. 
Thousands of years ago, the island went by the name of Ikos. For centuries, they worshipped Poseidon, God of the Sea before converting to Christianity in the 3rd century AD.
Alonissos, like many other islands in the Mediterranean, has been ruled by various different civilisations over the centuries. Each of these has left its mark on the local culture and gastronomy. 
At various points, the island fell under Frankish, Venetian, and Turkish rule. After the Greek war of Independence in 1821, when Alonissos was reclaimed as 100% Greek territory, Greeks from across the country started relocating to the island for a better life by the crystal clear waters of the Aegean. 
Alonissos has fascinating links to Greek mythology.
Legend has it that Alonissos was the place where the ship "Argo" sailed to Troy. This same ship was used by Jason & the Argonauts to retrieve the Golden Fleece.
Things to do in Alonissos Greece 2023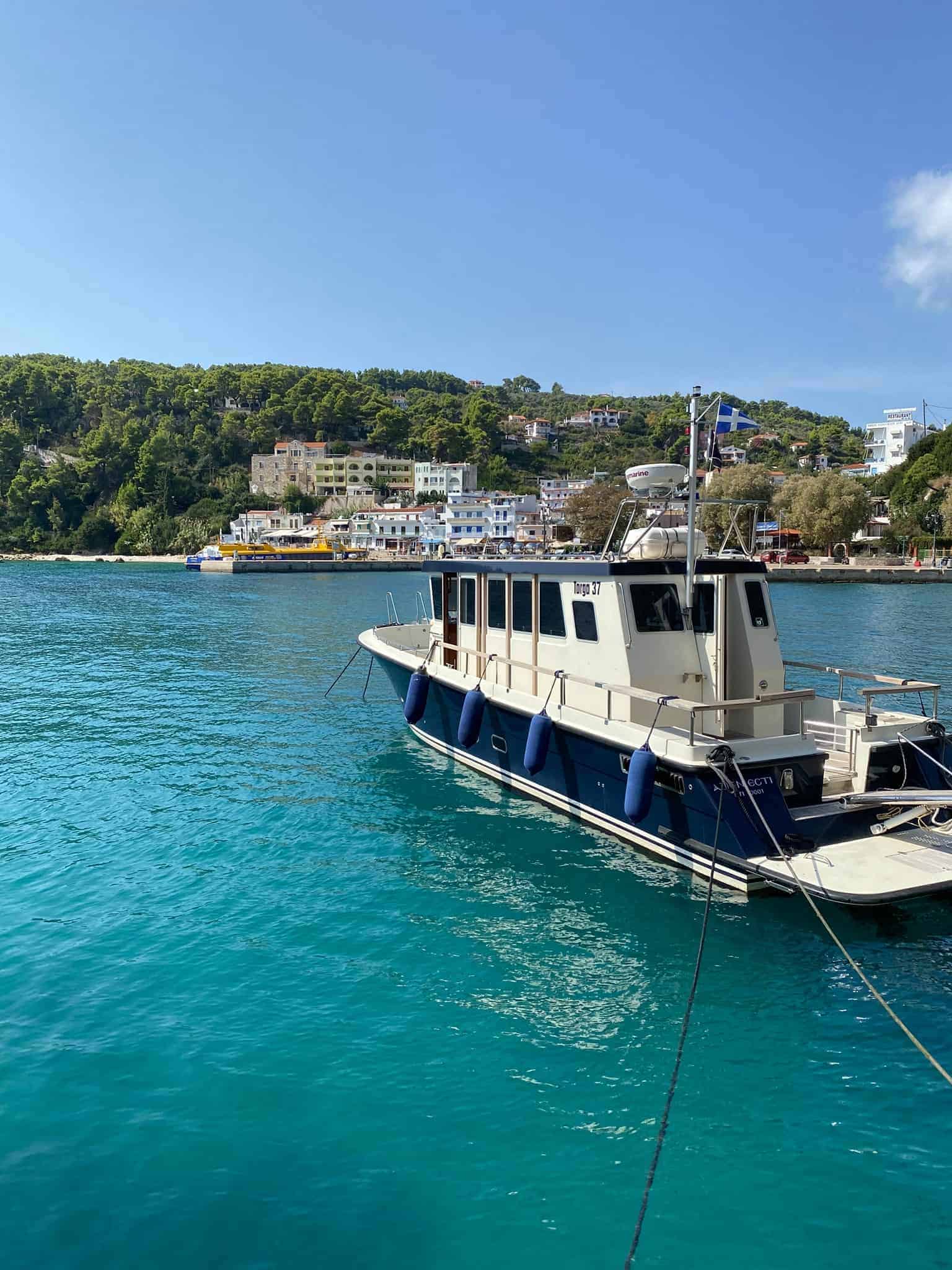 Alonissos is the ideal place for a relaxing summer getaway. A trip here is mostly about days spent lounging on the shores of beautiful beaches, swimming and snorkeling in the warm waters, and enjoying a slower pace of life.
There is also an archaeological site or two to occupy you if you feel restless.
Since Alonissos is a relatively off-the-beaten path as far as Greek islands go, you can easily find that you have entire stretches of coastline and hiking trails all to yourself here – even in the high season. Travel to the island during spring (April/May) or Autumn (late September onwards) and it gets even quieter.  
Some of the best things to do in Alonissos – from wonderful beaches and hiking trails to hidden gems, are discussed here. 
It is possible to see Alonissos on a day trip from nearby Skopelos or Skiathos. However, if your schedule allows, you could easily dedicate as much as a week or two to the quiet island. 
Explore the National Marine Park of Alonissos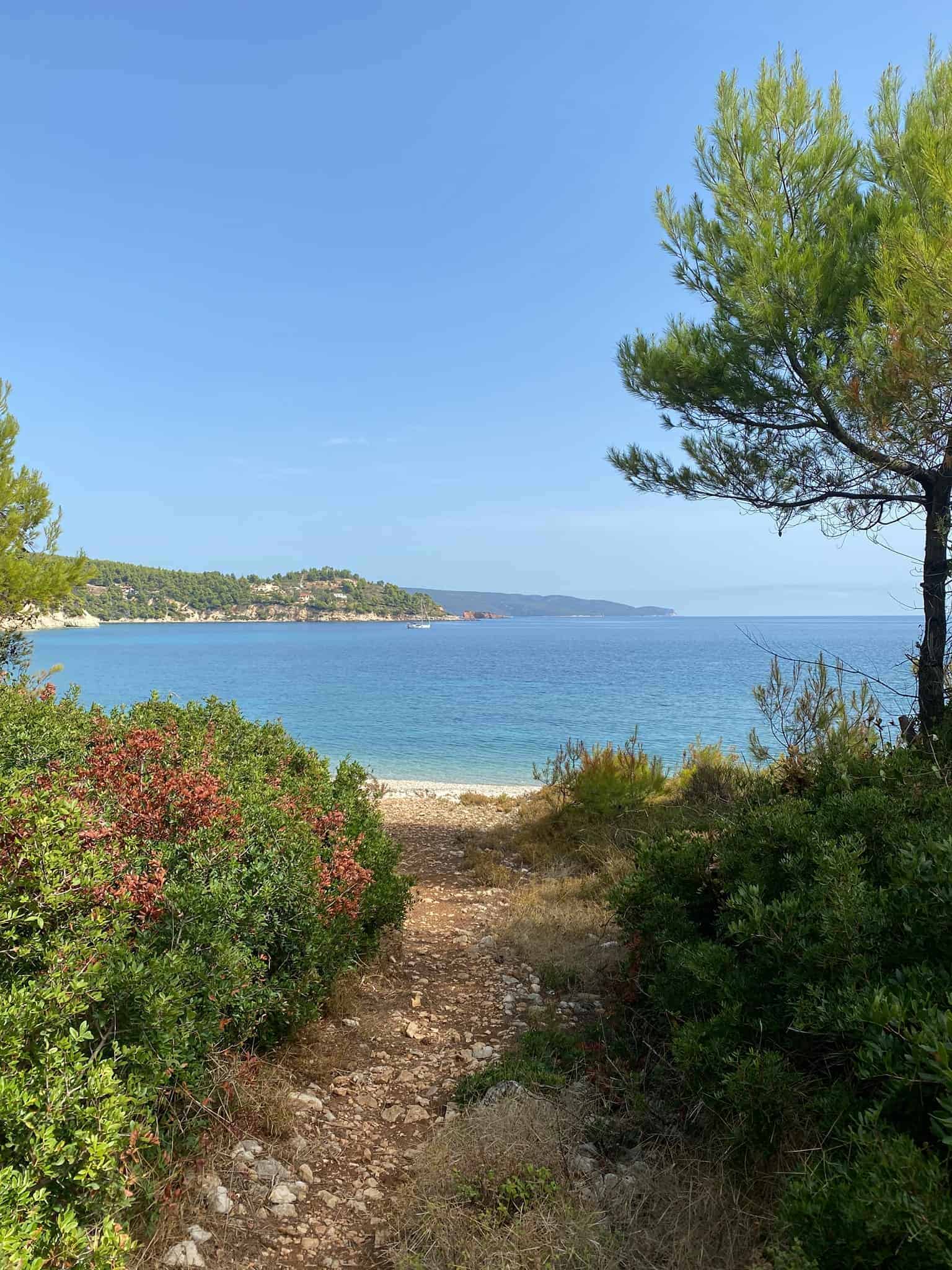 The National Marine Park of Alonissos is a protected nature reserve. Various endangered terrestrial and marine life species can be found here.
Most notably the adorable Mediterranean monk seal (monachus monachus). These little animals have essentially become a mascot of Alonissos Greece in recent years. 
The Alonissos marine park is the largest marine protected area in Europe and was the very first of its kind to be established in Greece. Public access is limited to certain areas.
However, in the areas where it is possible to explore, you can swim, scuba dive, or take a small boat trip. As well as the monk seal, various different types of dolphins live in these warm waters – including striped dolphins, bottlenose dolphins, and common dolphins. 
Moray eels and cuvier's beaked whales (Ziphius cavirostris) also call it home. 
Scuba dive or snorkel off the Alonissos coast 
In the main port town of Patitiri, you will find an abundance of diving shops that run along the waterfront.
If you are already PADI certified, you will find plenty of places where you can rent equipment or find fellow travellers that want to dive with you. If you are a complete beginner, you will be pleased to note that a lot of dive stores offer PADI courses and certifications. 
Alonissos Triton Dive Center and Alonissos Sea Colours Dive Centre are two well-established local dive schools that have been operating on the island for years.
Marine life and colourful reefs are not the only things that loiter beneath the surface of the Aegean sea either. You will also find shipwrecks and vessels and a breathtaking Gorgonian garden. 
Sail out to the Monastery of Kyra Panagia 
If you want to go on a real adventure during your time in Alonissos Greece, the best way to do that is to take a boat trip out to the monastery of Kyra Panagia. Kyra Panagia sits on one of the uninhabited islets just north of Alonissos.
The islet is a natural beauty and is made up of nothing more than lush, green woodlands filled with dense vegetation. You need to hire a private boat (with the aid of the skipper if you prefer).
Once you arrive and pull up to the dock on the islet, a dirt trail leads you through the woods to a worn stone staircase. After ascending the 60 narrow steps, you are rewarded for your efforts when you arrive at the monastery of Kyra Panagia.
From up here, you can enjoy spectacular panoramas over the Sporades, with Alonissos island glittering in the distance. The short walk is a little steep and tough on the legs but should be manageable for most travellers.
A handful of monks still live in the monastery. They are happy to meet and chat with tourists, show them around, and tell them the history of the monastery.
They also operate a little store where you can purchase religious icons and agro products like olive oil and honey.
Go hiking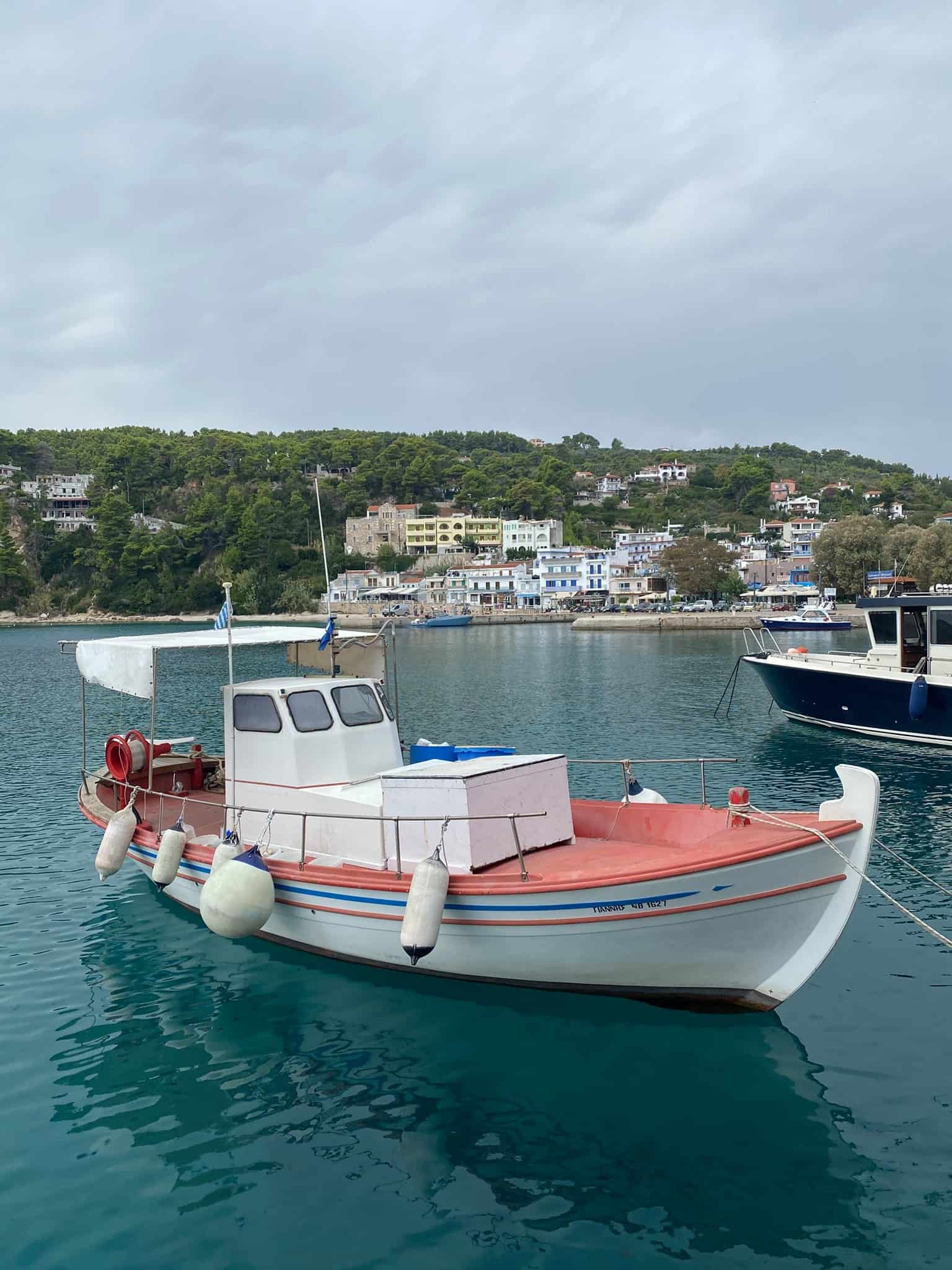 Dozens of incredible trails twist and turn through the countryside of Alonissos, Greece. They take you through areas of rugged nature, dense pine forests, fragrant orchards, and picturesque olive groves.
This is arguably one of the best places to go hiking in Greece. There are a plethora of serviced beaches scattered around the island for a great day out by the sea.
However, there are also breathtaking secret spots that are only accessible via hiking or private boat. 
Have coffee in Patitiri 
When you first sail into Alonissos, Greece, you will arrive at the port town of Patitiri. This adorable little settlement consists of just a handful of streets. You can explore its entirety on foot in less than an hour.
The beautiful stone-paved waterfront is lined with charming coffee shops where you can enjoy an iced Freddo cappuccino, a traditional Greek coffee, or a spot of brunch. By nightfall, this area really comes to life, and there are plenty of live music and dining options available for your evening entertainment.
Visit the old town (Chora)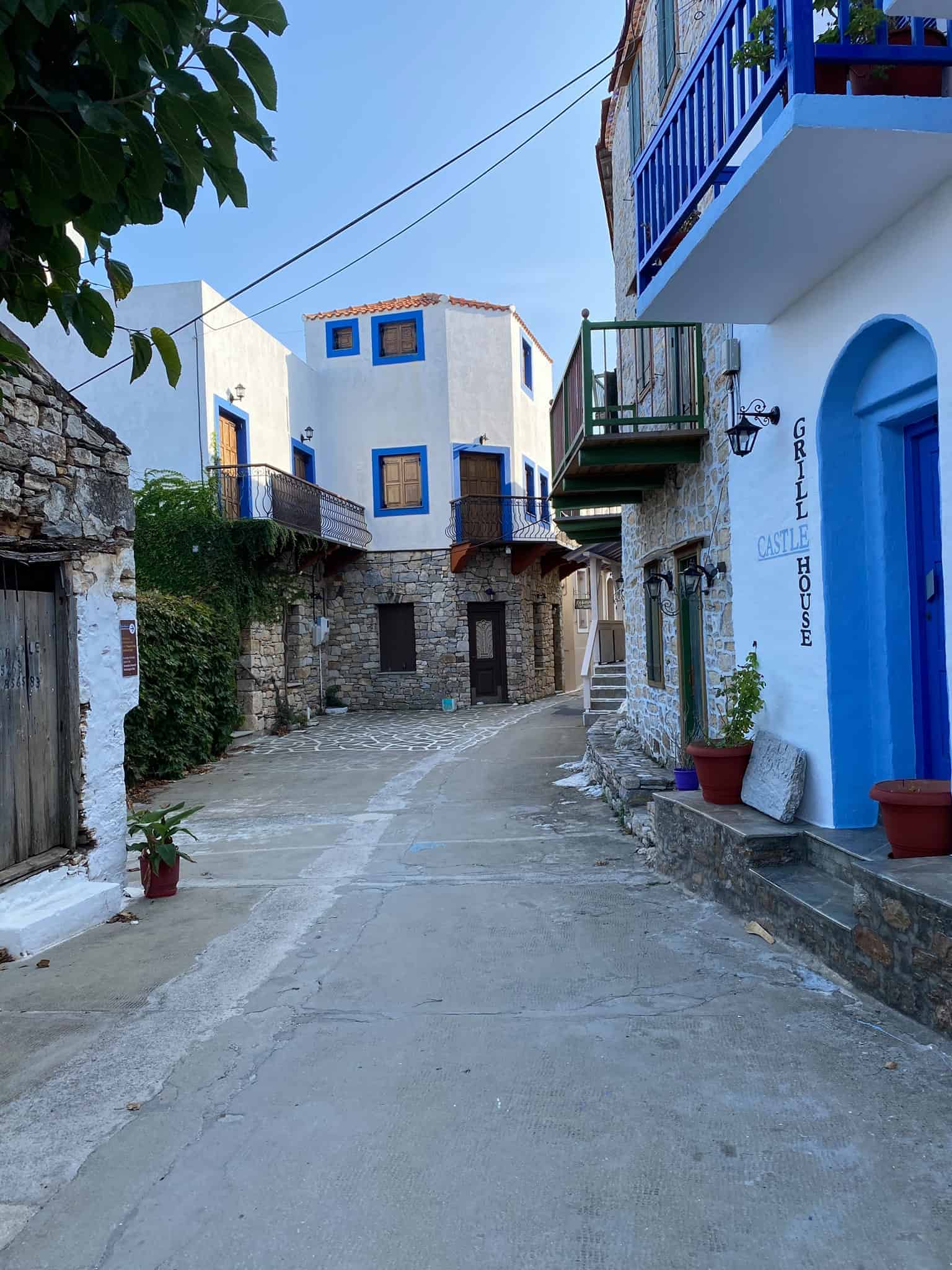 Alonissos Old Town or "Chora" as the locals call it, is the former capital of the island. The houses here sit on a hillside, some 200 meters above sea level. 
They were built inland rather than on the coast because attacks from pirates were a major concern in this part of the Mediterranean a few centuries ago.
Sadly, the old town was largely destroyed in a major earthquake that rocked the Sporades in 1965. The locals were forced to leave their homes and moved toward the coast to the area that is now Patitiri. 
The old village was largely abandoned until the 1980s when foreign residents began to purchase property here and restore some of the Chora buildings to their former glory. Today, exploring the area feels like a journey back in time. 
There are a scattering of charming Byzantine churches, coffee shops, and tavernas here. However, the Old Town is very much a sleepy Greek island village.
This is especially the case if you stop by during siesta hours or out of season. 
During the Greek summer months, a bus runs frequently between Patitiri port and Old Town Alonissos. There is also a pleasant, cobbled walking trail that connects the two settlements. 
The trail takes 45 minutes each way. It is manageable for people of all ages and hiking abilities.
Hike around the Agioi Anargyroi church area 
There are more than a dozen established hiking trails that lead you through the lush green scenery of Alonissos. One great place for walking? The area around Agioi Anargyroi. 
This adorable grey stone church sits on the western coast of Alonissos, just 7km northwest of Patitiri. The church can only be reached on foot, by hiking through the pine forests.
Tuck into local Alonissos delicacies and sweet treats 
Sampling flavourful Greek food is a highlight of any Greece travel itinerary. However, Greek cuisine is far more than just moussaka, gyros, and souvlaki! 
As you travel around Greece, you will encounter regional specialties that you can only find in certain parts of the country. Alonissos too has its delicacies.
Since Alonissos is an island, it should come as no surprise that seafood dishes are very popular here. Be sure to sample the famous Alonissos tuna fish, stuffed local squid, lobster served with spaghetti, seafood pasta dishes, and local fresh fish dishes. 
One famous Alonissos dessert to add to your culinary radar is "soultana". This is a local handmade sweet that is often served as a complementary dish at the end of dinner.
Chocolate pies, cream pies, amygdalota, and fouskakia (doughnuts with chocolate) are other notable local Greek desserts. They are guaranteed to capture the hearts of those with a sweet tooth. 
Rent a boat and sail to uninhabited islands 
It is possible to rent a boat from the port at Patitiri and sail out to one of the uninhabited islands that float beside Alonissos. Alternatively, you can use the boat to access Alonissos beaches that are otherwise impossible to reach.
You can opt to either rent a boat independently or hire a boat with a skipper/guide. Peristera, Piperi, and Papous are small islets that have adorable little churches on them. They are some of the easiest places to reach from Alonissos. 
On Peristera island, you can also see a half-sunken shipwreck. The unusual sight of this rusting old metal boat poking out of the water makes for some awesome photographs.
This boat used to carry supplies to and from the island until it, unfortunately, met its demise. 
Shop for Sporades traditional products 
Handmade sweets, jams, and jars of honey make a wonderful edible souvenir from your time in Alonissos, Greece. You will find numerous delicatessens in Patitiri and across the island that sell Greek agro products.
Jars of "spoon sweets" make a nice gift. These are little, syrupy jars of preserved fruits that are often enjoyed with Greek yoghurt as a light dessert after dinner.
Local honey infused with Alonissos herbs also makes a wonderful purchase. In the Chora, you will find places where you can buy them directly from the beekeepers.
Visit the island's quaint villages 
There are several adorable traditional villages in Alonissos, Greece that are very worthy of your time. They are known for their architecture and their excellent seafood tavernas.
Steni Vala is a picturesque little village that is set against a backdrop of pine trees and sits around a bay. It is just 10km north of Patitiri. It is well worth the drive to come here for dinner.
Votsi is the village that sits directly adjacent to Patitiri. While the area is mostly residential, there are some beautiful local beaches here.
Stop by the international academy of classical homeopathy 
You will find the International Academy of Classical Homeopathy just off the main road near Votsi and Millia beach. The academy dates back to 1995 when it was founded by Giorgos Vithoulkas.
A diverse range of wild herbs grows across the island. They are often used for homeopathic therapies or added to Greek agro products like jams and honey. 
Spend an afternoon at the Mavrikis Folklore Museum 
The Mavrikis Folklore Museum does not need to be at the top of your Alonissos Greece agenda. However, it can be a nice place to pass the time if you find yourself with a couple of hours to kill while waiting for your ferry.
The privately-owned Alonissos museum first opened its doors in 2000. The exhibits on display here include a range of local art pieces, war memorabilia, local costumes, and artifacts excavated in the area. Here you can experience the journey of Alonissos through the ages. 
Alonissos Beaches
There are plenty of Alonissos beaches to choose from. You could easily relax on a different beach each day of your trip.
Alonissos island has something for everyone. Here you will find secluded coves where you can have areas of coastline all to yourself as well as serviced areas where you can rent sun loungers and umbrellas.
Some of the coastal areas have beach bars that are open from May until mid-October. The vibe on the island is quite different out of season.
The best Alonissos beaches at a glance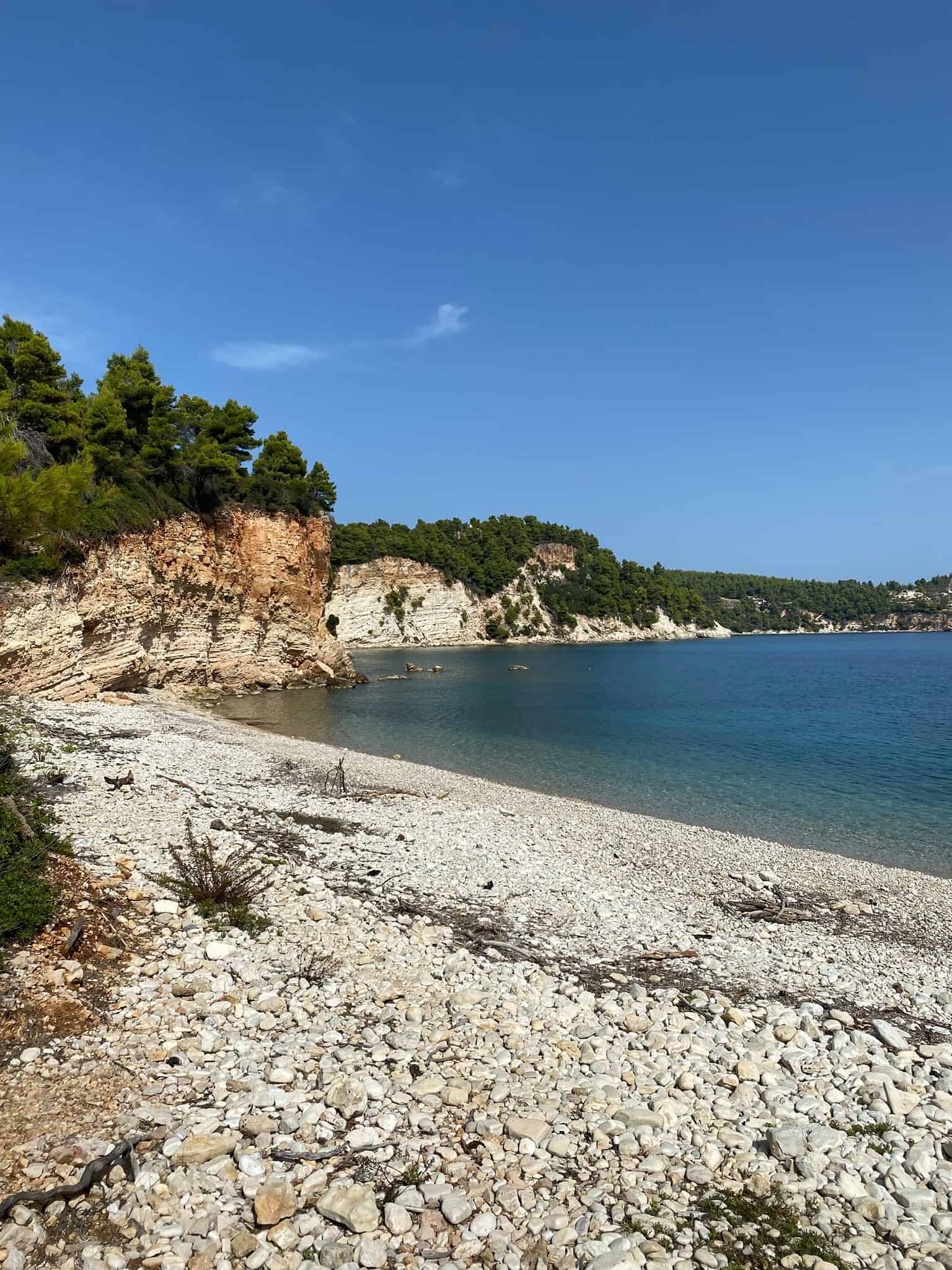 You may not have time to cross every single Alonissos beach off your list. The best spots that you should try to make time for are detailed below.
Spartines Beach


Millia


Chrisi Milia


Kokkino Kastro


Tzortzi Gialos beach


Leftos Gialos beach


Agios Dimitrios


Megalos Mourtias
Spartines beach
Spartines beach is the place to go if you are seeking real desert island vibes. If you visit this stretch of coastline from September onwards, you may well be the only one there.
Despite the fact that Spartines is so close to Votsi village, it is seldom crowded. You can only reach the beach via a hike or a private boat. 
A short walk through the woodlands brings you to this gorgeous spot, with its small pebbles and its cerulean waters. The beach is not serviced so be sure to pack some snacks and plenty of water. 
Millia beach
Millia beach is one of the most beloved beaches on Alonissos island. It sits on the island's east coast, less than 5km away from Patitiri. The stunning sandy beach is set inside a small bay, surrounded by palm trees.
Millia beach has all the amenities that you need. A restaurant and bar both operate here during the summer months.
It is possible to rent a sunbed and umbrella on the beach for the day if you spend just a few euros at the bar. 
Chrisi Milia beach
The breathtaking white-sand shores and crystal-clear turquoise waters of Chrisi Milia beach combine to make it a local favourite. There are many rocky pools here that are perfect for snorkeling and observing underwater life.
The leafy green pines that run alongside the coastline make the perfect spot for a shaded picnic. Beach parties and events are often hosted at Milia and Chrisi Milia beaches between June and August.
Kokkino Kastro Beach
The Alonissos beach of Kokkino Kastro received its name from the reddish-coloured rocks that surround it. "Kokkino" in Greek means red. 
It is said that an ancient city once stood here. If you snorkel a little way out from the shore, you will see some ancient ruins beneath the depths of the water.
Kokkino Kastro beach has a naturist-friendly section. It is not serviced, so be sure to bring a towel, some food, and plenty of water with you.
Tzortzi Gialos
Tzortzi Gialos is a 2km stretch of sandy coastline that sits adjacent to Kokkino Kastro beach. Steep cliffs and pine trees surround the bay of Tzortzi Gialos.
The nature of the area shields the beach from heavy winds and strong waves. The calm, clear waters here are perfect for swimming and snorkeling.
Leftos Gialos
The beach of Leftos Gialos is regarded as being one of the best in Alonissos. There are two tavernas here where you can stop for some traditional Greek delicacies after a day of relaxing at the beach.
Agios Dimitrios
The beaches of the Sporades are said to boast some of the clearest, cleanest waters in the world. Agios Dimitrios beach is perfect for swimming, and many consider it to be the very best beach in Alonissos.
Agios Dimitrios' stony coastline has a horseshoe shape. This gives beach-goers plenty of options for where to sit. 
A taverna operates here during the summer months, offering plenty of dining and refreshment options. The excellent fish tavernas of Steni Vala are also just a short walk away.
Where to Stay in Alonissos
There are plenty of accommodation options on the little island of Alonissos. You will find self-catered apartments, hotels, and villas that cater to every budget and travel style. 
Arguably Patitiri is the best place to base yourself. You have the best transport links on the island here. From the port area, you can take buses to all other parts of the island.
Angelos Design Suites, Patitiri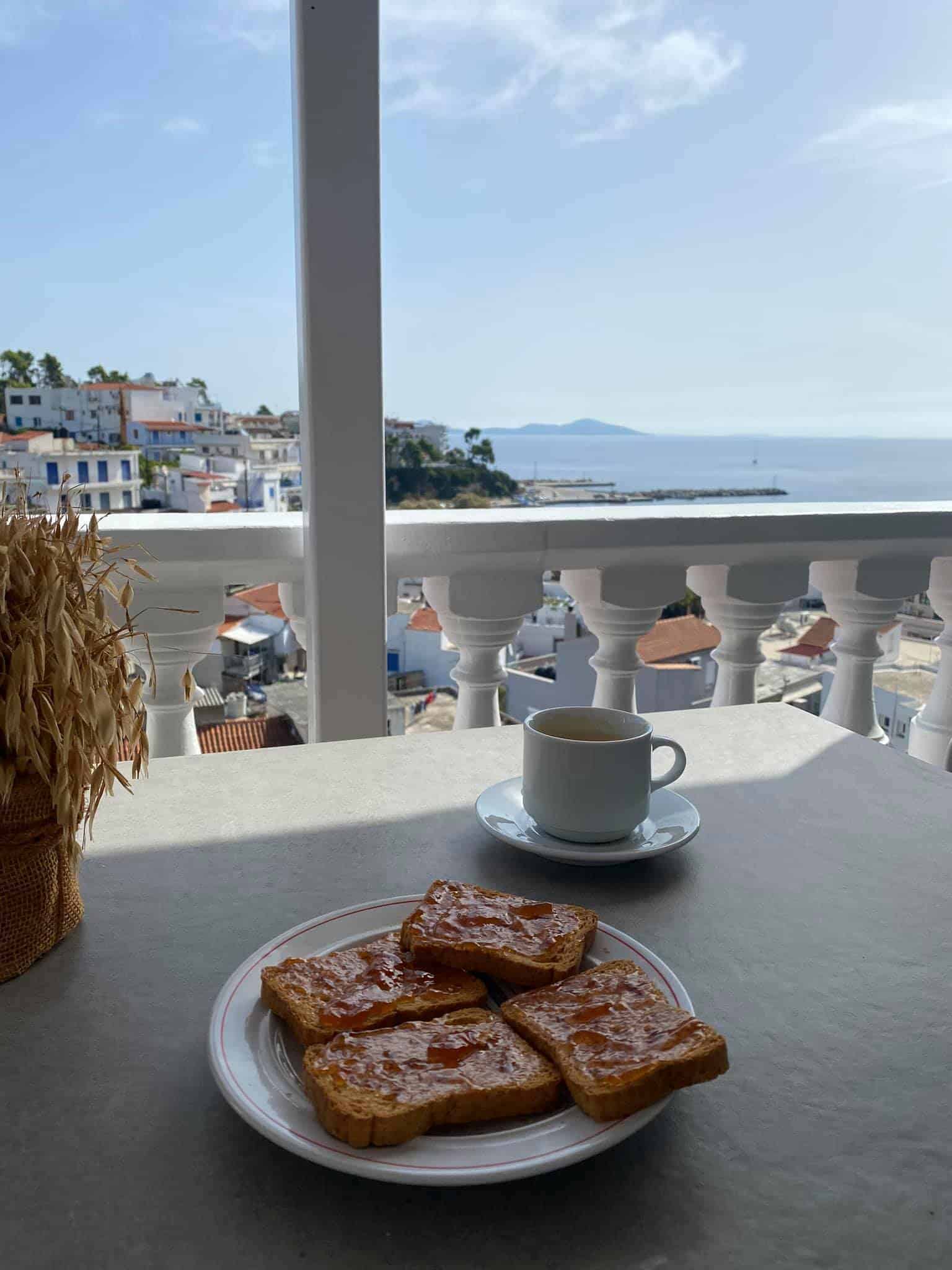 Angelos Design Suites should be your first choice of accommodation in Alonissos. The property offers indulgent luxury and comfort without the luxury price tag.
Suites are spacious and lovingly decorated in bohemian style. The accommodation was renovated in 2020 and it is clear to see that consideration has been put into even the smallest of details.
Best of all, you can enjoy breathtaking views of the Aegean, and the nearby uninhabited islands from your balcony. Suites here start from just 40 euros per night.
Click here for the latest rates and availability.
Recommended Alonissos Restaurants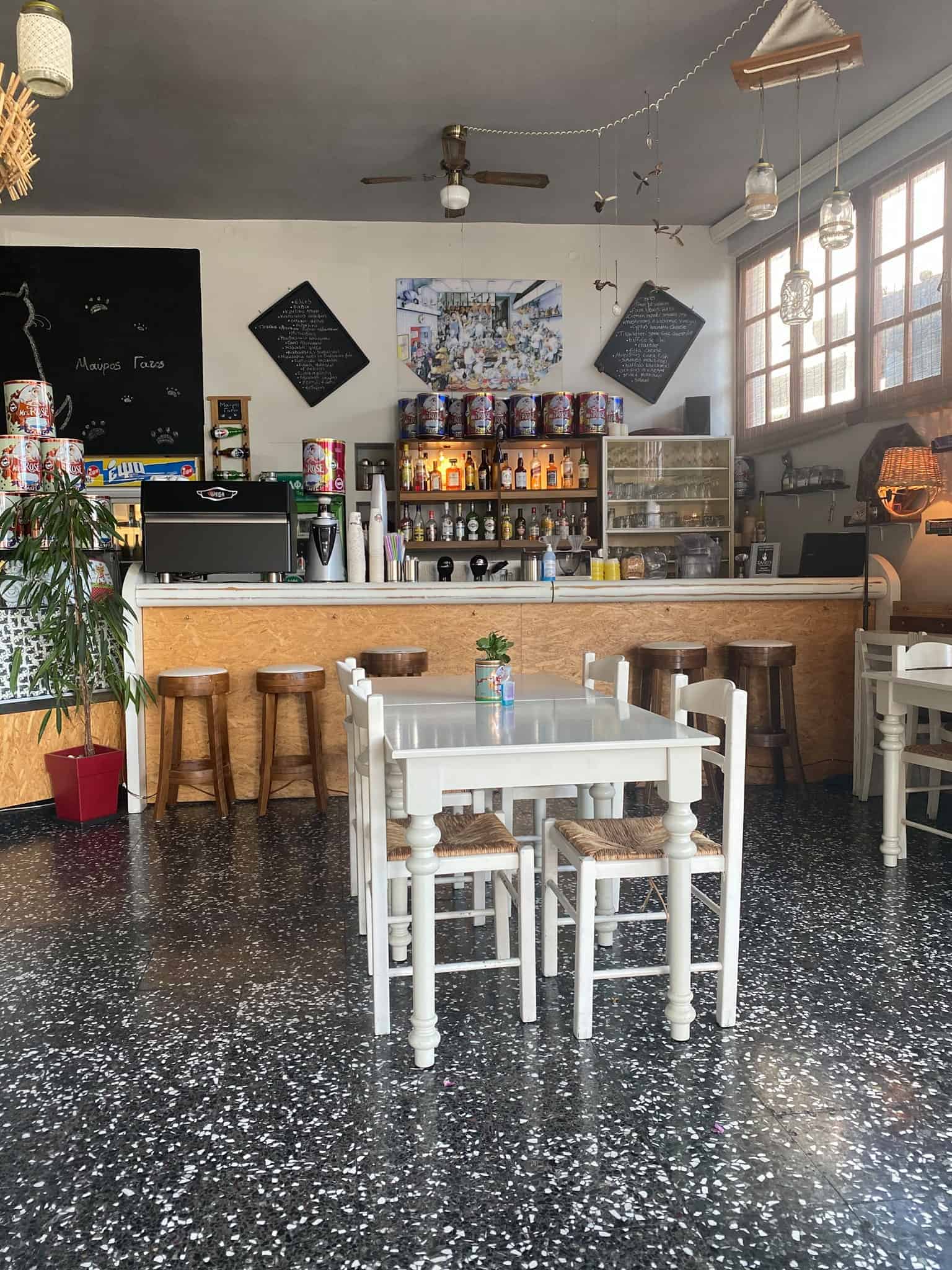 The seafront promenade of Patitiri is packed full of tavernas and restaurants. You will also find several wonderful traditional eateries in the Old Town (Chora) and some of the fishing villages around the island.
If you are looking for a local experience, consider the below places.
The Black Cat (Mavros Gatos), Patitiri
The Black Cat is a quirky coffee bar located close to Patitiri port. The interiors have been designed with shabby chic furnishings, and the walls don paintings and sculptures that pay homage to furry felines.
This is a wonderful place for breakfast and brunch. Pancakes, healthy foods, and home-cooked breakfasts are available until the early afternoon. You will also find a lot of modern, contemporary dishes here.
For instance, vegan burgers, and a selection of delicious sandwiches and baguettes. The prices are reasonable, and the portions are huge.
Ostria, Patitiri
Ostria is one of the more upscale options in Patitiri. Here you can order an array of gourmet plates and meze dishes for your table.
Favela
Favela is an Alonissos eatery beloved by many locals and tourists alike. The terrace offers wonderful views over the port of Patitiri as you dine.
Red Rooster
If you are looking for perfectly marinated souvlaki, head to Red Rooster. This place is takeaway only. However, they serve up all of your Greek street food favourites: gyros, souvlakis, pitas, etc.
Thea Restaurant, Old Town (Chora)
If you're hungry after venturing up to the Old Town, consider stopping for a bite to eat at Thea restaurant.
This place is only open during the summer months. However, it offers incredible views out to sea, and across to the nearby islets.
Diver & Kalymnia, Steni Vala
There are a number of exquisite fish restaurants in the Steni Vala area. However, not all fish tavernas are made equal.
Diver & Kalymnia is one of the best places to eat in this area. The owner is a fisherman who catches his own produce. The fish here is always fresh and cooked to perfection.
Getting to Alonissos Greece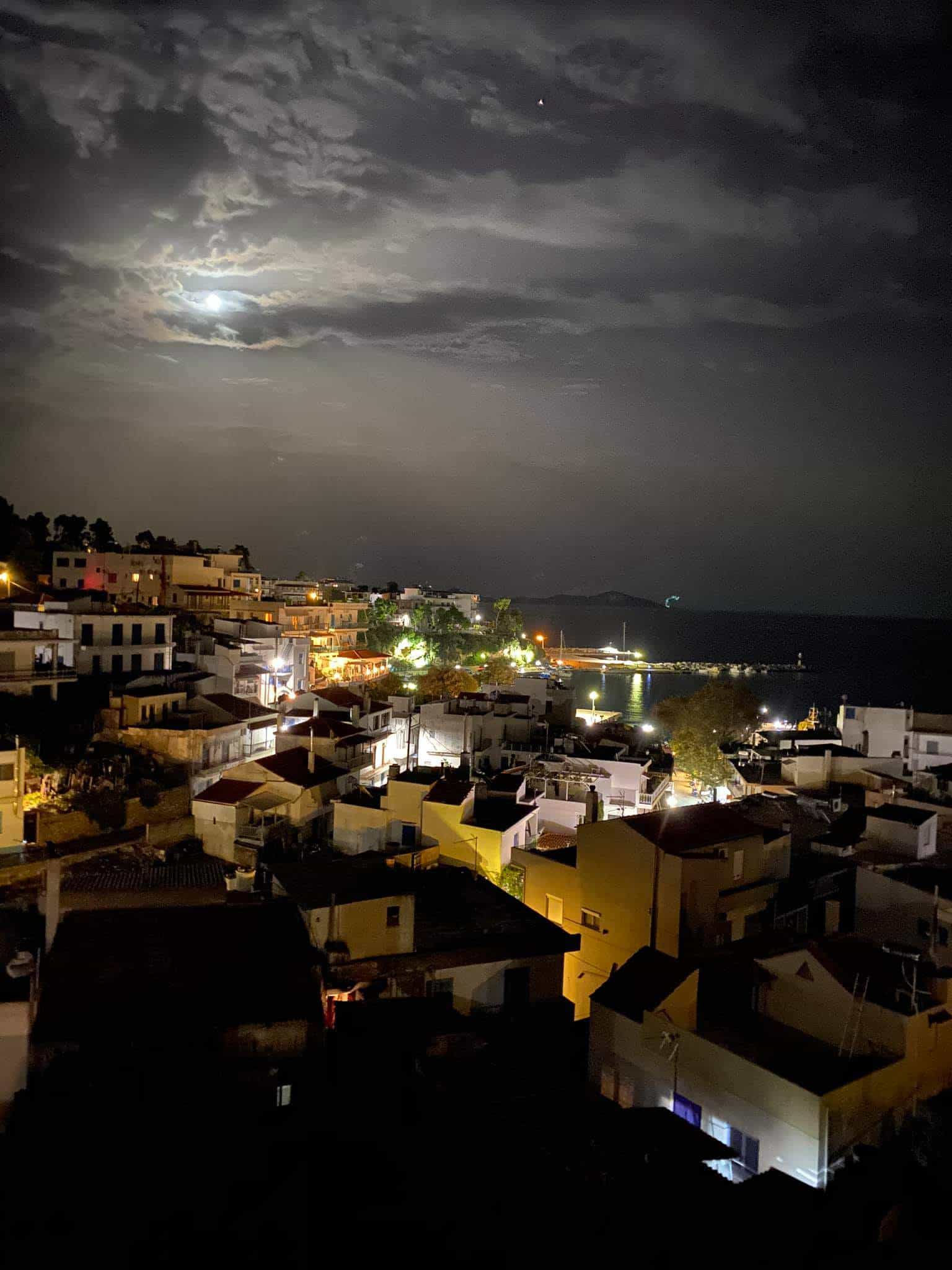 Alonissos may be a little trickier to get to than some other, more renowned Greek islands. However, the journey is certainly worth it.
If you are travelling to Alonissos from elsewhere in Greece, you can get ferry connections to the island from Evia, Agios Konstantinos, Volos, and the nearby Sporades islands.
If you are flying internationally to Alonissos, the fastest way to reach the island is perhaps to fly to Skiathos and then to take a boat.
By ferry
Ferries connect Alonissos with the nearby islands of the Sporades and mainland Greece. If you are travelling from Athens, your best option would be to take the ferry from Agios Konstantinos.
During the summer months, regular buses connect Athens with Agios Konstantinos. You can also take the ferry to Alonissos from Volos, or nearby Skiathos and Skopelos if you are Greek island hopping.
You can purchase ferry tickets online in advance or at the port. However, it is advisable to purchase them online where possible to guarantee a seat on your desired departure.
You can use Ferryscanner to check the latest prices and schedules.
By plane 
There is no airport on the island of Alonissos. The closest international airport is in Skiathos.
Various airlines offer international and Greek domestic flights to Skiathos throughout the year. You can purchase return tickets from Athens to Skiathos for as little as €40 if you purchase your seats in advance. 
Jet2, TUI, BA Cityflyer, and British Airways all offer flights from various European and UK cities direct to Skiathos. Olympic Air and Aegean airlines operate on domestic routes.
Getting Around Alonissos Island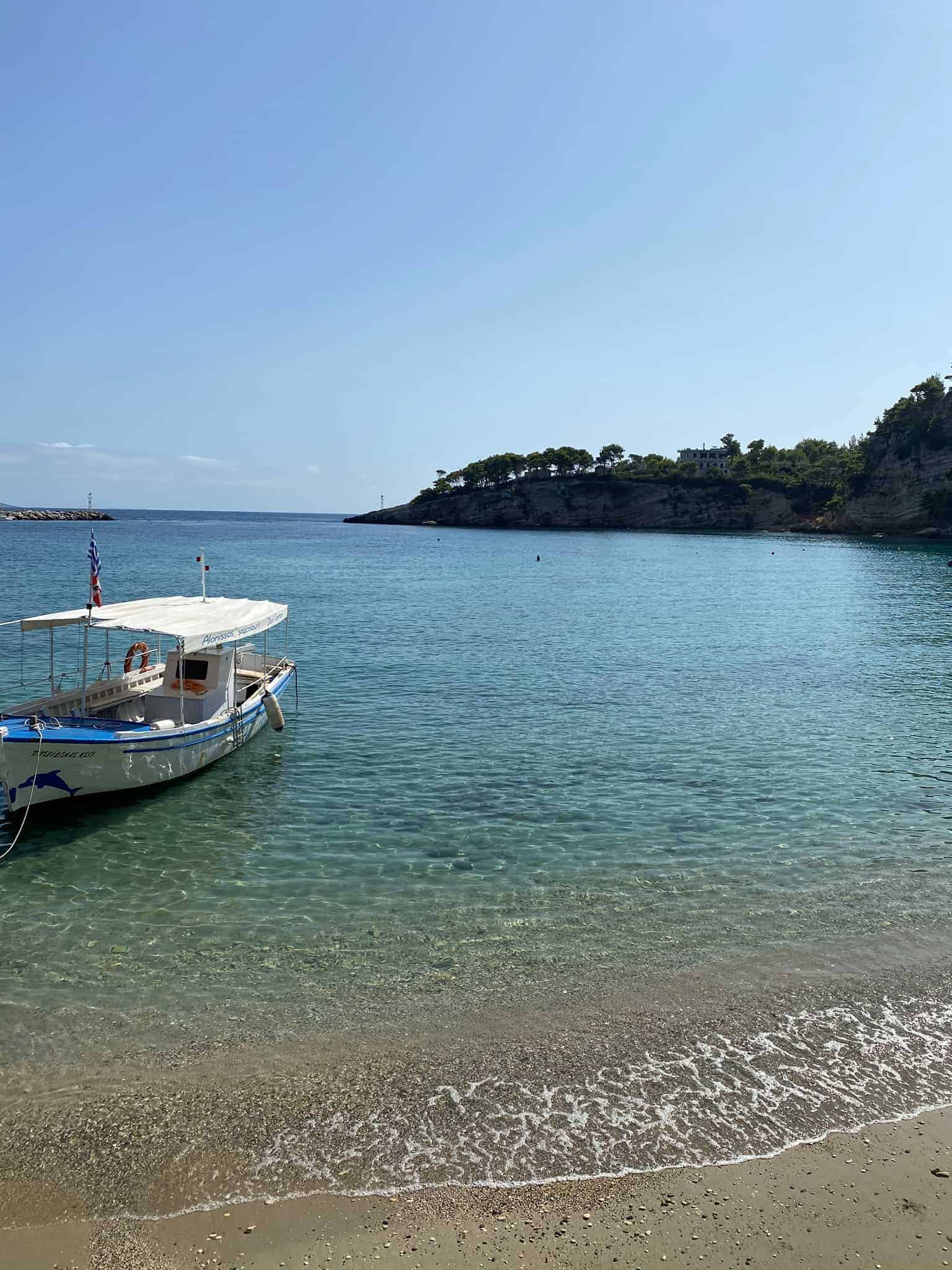 The island of Alonissos is small. Public transport options here are limited.
Ideally, you would rent a car, an ATV, or a scooter from one of the rental places around the port area. However, if you prefer not to drive, or you cannot, there are buses that operate around the island's main attractions during the summer months. 
Alonissos public transport 
Taxi boats operate from Patitiri port during the summer months. They connect the town to many of the stunning beaches across the island. 
The boats run frequently and are very convenient and easy to use. You can spend as little or as much time at the beach as you like. Municipality of Alonissos buses run between Patitiri and the Old Town (Chora) between June and October. 
Cabs on Alonissos Island
Since Alonissos is a small island, there are only a handful of taxi drivers that operate here. You will find a taxi rank close to the port in Patitiri.
If there is no one at the rank, call one of the numbers on the board or have your hotel order you a cab. Ridesharing apps like Uber and Beat do not work on Alonissos.
FAQs about Alonissos Greece
Do you have any further questions or queries about visiting Alonissos Greece? The answers to some frequently asked questions on the topic are detailed below.
Hopefully, you will find the information that you're looking for there. If not, feel free to reach out.
When to visit Alonissos island
Tourism in the Greek islands is very seasonal. The peak season runs between May and late September every year.
Alonissos boasts a pleasant Mediterranean climate. You can expect daily averages between  22°C and 27°C during July and August. 
In September, averages tend to range between 18°C and 22°C. However, warmer days are not unheard of across the board and temperatures often soar above 30°C during the summer.
Usually, July and August are the most popular times to travel to Greece. This rings true across all corners of the country as tourists flock to Greece in droves to enjoy their summer vacation in the sun.
Although Alonissos island sees a fraction of the tourists seen by other more popular Greek Islands like Zante or Corfu, it is still worth traveling outside of the peak summer months if you can.
In late September or early October for instance, the island is extremely peaceful. This is perhaps the best time to travel to Alonissos.
From October onwards, many local businesses close for the winter.
What is Alonissos known for?
Alonissos is a nature lover's paradise. It is known for its pristine beaches, lush vegetation, scenic hiking trails, and of course, the famous Alonissos marine park.
What is the main town of Alonissos?
Patitiri is the main town of Alonissos. Your ferry will dock here when you arrive on the island.
What is the closest airport to Alonissos?
Skiathos Alexandros Papadiamantis Airport (JSI) near Skiathos town on Skiathos island is the closest airport to Alonissos. Only a handful of Greek islands have airports and Skiathos is the only one in the Sporades that boasts an international airport.
How long is the ferry from Athens to Alonissos?
There's no ferry that runs direct from Athens to Alonissos. the easiest way to get to the island by ferry is to travel to Evia island and then take the ferry from the port of Mantoudi.
Alternatively, you can catch a domestic flight from Athens airport to Skiathos and then take a ferry ride from Skiathos to Alonissos. Or thirdly, you could travel overland from Athens to Volos and then take a ferry from Volos ferry port.
Final Thoughts on visiting Alonissos Greece
Do you have any additional questions about visiting Alonissos island, the surrounding Sporades islands, or planning a trip to Greece in general? Please don't hesitate to contact me. 
I have lived in Pagrati, Athens for close to five years now and spent 8 months living on neighbouring Skopelos island beside Alonissos. I am happy to assist with any questions that you may have. 
Safe travels! Geia sou! Melissa xo
---