Street art in Porto goes far beyond just a few simple tags that have been spray-painted onto walls down dank dark alleyways. The graffiti that you will find scattered around Portugal's second city would not look out of place in a contemporary art gallery.
The Porto Street Art Scene
If you are interested in street art, you will be impressed by the scene in Porto. While it is still young and developing, there are lots of beautiful murals throughout the city.
Some of the pieces are simply nice to look at, while others are more thought-provoking. In Porto, huge, multi-story pieces cascade down the sides of train stations, parking lots, and shopfronts.
Street Art in Porto: A Beautification Project
Street art in Porto has an interesting history, too. The previous government went on a rampage removing graffiti all over town in a bid to "clean up" the city. However, when a new Major came into office, the scene changed.
The new Porto city council saw the value of street art in the local community. They understood how vibrant designs, and geometric patterns would help give rundown neighbourhoods a new lease of life.
Starting in 2014, local graffiti artists were commissioned by the government. They created some of the magnificent Porto street art pieces that you see today.
Porto Street Artists
There are a handful of "famous" Porto Street Artists whose works can be found around the city. Hazul Luzah is one example. He paints in bold, abstract designs and his work is often distinguishable by his images of faceless, hooded women.
Mr Dheo and Costah are two other well-regarded Portuguese street artists whose works can be found around the streets of Porto. It is very rewarding to embark on something of an "artistic treasure hunt" around the city in order to find the creations of these various artists.
Some of the pieces are nestled in lesser-known, "off the beaten path" neighbourhoods. Seeking them out enables you to discover hidden streets, charming boutique stores, and bustling local cervejarias that you may not have otherwise found.
Embarking on a Porto Street Art Tour
A lot of the most notable Porto street art pieces are situated in the city's historic centre. An alternative way to explore the city is to map out a route that takes you from one street art piece to another.
Along the way, you will pass some of Porto's most notable sights. You will enjoy scenic views of the River Douro, pass by the Sé Cathedral, cross the Pont Luis I bridge, etc.
A self-guided walking tour of some of the most awe-inspiring street art in Porto is provided below. If you don't want to dedicate an entire day to a graffiti treasure hunt, you could also simply mark the coordinates on your map. This way, you can simply stop by the various pieces when you are in the nearby area.
Finding the Best Street Art in Porto:
A Suggested Walking Tour
A guide to some of the best street art pieces in Porto is provided below. The pieces are discussed in a logical order so that you can easily walk from one to another.
Take in the city sights and sounds as you go. Then, consider stopping for traditional Porto delicacies and drinks to get a feel for each of the Porto districts this tour leads you through.
Ribeira
Street Address: Rua de Camōes, Rua do Paraíso
We start our walking tour of the Porto street art scene at the Ribeira mural. This piece sits a couple of blocks north of Trindade, just out of the city's historic centre. The piece was painted by the collective RUA (Frederico Draw, Oker, Fedor and Rodrigo Alma) and BreakOne for a Porto street art festival held in 2014 (Push Porto).
Trindade
Street Address: Rua do Bonjardim/Rua Alferes Malheiro
The Trindade mural is one of the most iconic street art pieces in Porto. The piece was commissioned by the local government in 2014 and is a collaborative effort between Mr Dheo and Hazul.
It cascades down the wall of a parking garage close to Trindade metro station. The two artists behind Trindade have dramatically different styles, yet somehow this piece just works.
Trindade is a combination of bold, colourful, geometric patterns created by Hazul, paired with an image of a man holding a miniature figure of the Clerigos tower. Mr Dheo supposedly created the man in the image of his father.
Stroll the Promendades of Rua da Cedofeita
A short stroll from Trindade brings you to Rua da Cedofeita. This is one of the best spots in town to see the works of amateur graffiti artists.
The vibrant pieces and tags that decorate this street have been painted on energy boxes on the streets. Some of them have been sprayed onto the metal boxes on storefronts that can only be seen when the stores are closed.
If you happen to be passing by the area early in the morning or in the evenings when the stores are closed, look out for "Okersland". This is an eccentric-looking male face that has been painted on the shutters of Optics, New Vision.
D. Quixote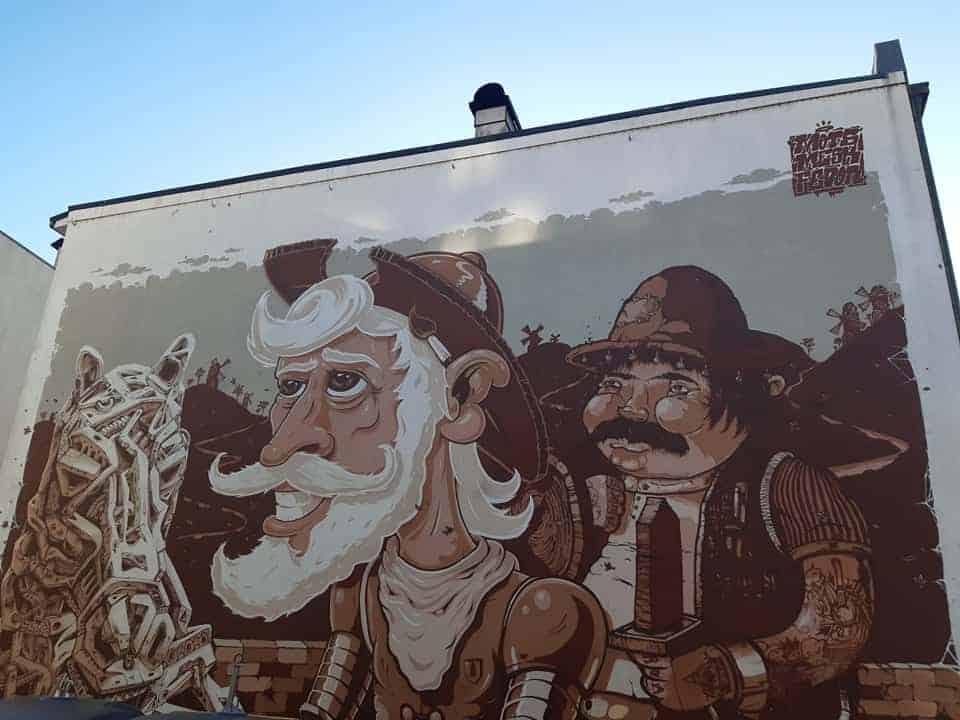 Street Address: Rua de Miguel Bombarda/Rua de Diogo Brandão
Porto's D. Quixote sits on the corner of Rua de Miguel Bombarda, and Rua de Diogo Brandão in the city's historic centre. The piece's location places it in one of Porto's most artistic neighbourhoods.

The sides of Rua de Miguel Bombarda are lined with dozens of independent art galleries that showcase the works of independent artists. Many of the pieces have a contemporary focus. Even if you are not intending to buy, it is free to enter the various galleries and admire the art within.
Location aside, the painting itself is spectacular. The piece was a collaboration by the Porto Artists Fedor, Mots, and Mesk.
The "Wild West" style people that are displayed in the mural are the three main characters of the Spanish novel "D. Quixote de la Mancha". This piece was created in 2014, and it was the very first legal mural to be commissioned in Porto.
Stop for a Tea Break at Rota do Cha
Where: Rua de Miguel Bombarda 457
Be sure to stop by Rota do Cha while you are in the area. The menu in this adorable tea room boasts more than 200 different blends of tea from across the globe.
A variety of handmade cakes and Portuguese sweet treats are prepared daily. The garden at the rear of the premises is filled with leafy green trees, bamboo plants, and Buddhist sculptures. Stopping here seemingly transports you to a tranquil oasis in the Far East.
O Mapa
Where: Rua de Miguel Bombarda, 360
Before moving on from Rua de Miguel Bombarda, walk a couple of blocks down until you reach "O Mapa". This piece is a stunning old-fashioned world map that has been carved into the walls.
It was created by Illustrator Tina Siuda. This is one of the lesser-known, and often bypassed Porto street art pieces.
Jardim das Virtudes
Where: Passeio das Virtudes 53-3
Porto's Jardim das Virtudes is not only a breathtaking viewpoint, but it also contains a beautiful mural created by Hazul. The mural extends along the length of one of the outbuildings in the park in Hazul's signature style.
It consists of contemporary, geometric designs with swirls of colour, faceless madonnas, Taoist symbols, and ancient symbolic imagery. The mural makes a wonderful photo backdrop.
Mira
Where: Largo de Artur Arcos
If you stroll along the riverfront on the Porto side of the Douro, you will eventually stumble across Miragua Square. Here, you will find a famous Porto street art piece created by the stencil artist Daniel Eime.

The mural, like most of Eime's creations in Portugal, depicts an old Portuguese lady. It is a simple expression of local life in Porto.
The mural is close to the Igreja de São Francisco and Alfândega. The catacombs and church interiors of the former are well worth exploring while in Porto.
Look at Porto
Where: Rua. da Atafona 6
A short walk from the Mira mural brings you to OPorto's Miragaia district. Here, on the wall of a movie theatre you will find a creation by Alexandre Farto. This piece, named "Look at Porto" but affectionately referred to as "Vhils" was commissioned by the local council in 2016..
Vhils displays a pair of peering eyes looking out across the city. Alexandre Farto is a Lisbon-based street artist that is one of the most well-regarded in the country.
The method of creating this piece is very unusual. Farto removed the white plaster of the building which he painted on, and used the dull, exposed sections in place of paint.
Sam3 Silhouette
Street Address: Rua Nova da Alfańdega
From Mira, we will start to walk towards Gaia and the Pont Luis 1 bridge. Look out for a creation by Spanish Artist Sam 3 on Rua Nova da Alfańdega. The image depicts an almost eerie, silhouetted figure of a man stretching his mouth open with his fingers.

This is Sam3's signature street art style; he creates paintings in the form of silhouettes and shadows. This piece was created in 2011 when Sam3 was in Oporto for the Manobras No Porto Festival.
Perspentico Blue Cat
Street Address: Rua das Flores/Rua Afonso Martins Alho
In 2018, more than 60 street artists participated in an initiative labeled "Verão é no Porto" (Summer is in Porto). They were tasked with beautifying the city and creating paintings that depicted traditional and modern life in Northern Portugal. Among those 60 artists was the Spanish Artist Liquen.
Liquen's blue cat mural (named "Perspentico") has quickly become one of the city's most famous sights. The mural is hidden away from view on a narrow side street that veers off from Rua das Flores.
The cat towers above the city over several stories in a shade of vibrant blue. It is said to pay homage to the blue azulejo tiles that decorate the structures and interiors of buildings across Portugal.
AN.FI.TRI.ÃO
Street Address: Av. Vimara Peres 23
Draw's AN.FI.TRI.ÃO depicts an old, kind-faced man holding out his hand and welcoming visitors into the city. There is speculation that the man in the picture is said to represent the artist's grandfather.
The image has been painted on the side of a crumbling, derelict building that sides beside the Pont Luis bridge. AN.FI.TRI.ÃO is best seen from the top of the bridge as you walk from Vila Nova de Gaia to old town Porto.
Time and weather have worn down this piece, making the painting slightly faded and peely. If anything, this just adds to its certain je ne sais quoi.
Half Rabbit
Street Address: R. Guilherme Gomes Fernandes 42, Vila Nova de Gaia
Shortly after crossing the Pont Luis bridge that connects Porto with Vila Nova de Gaia, you are met with one of the most thought-provoking street art pieces in town: The Half Rabbit.
This piece was created by Portuguese Artist Bordallo II. It is made up of recycled materials and scrap metal pieces collected from around the city.
Half of the pieces have been painted, whereas half exist in their raw form. The piece is a critique of the wastefulness of modern society.
Take a Guided Porto Street Art Tour with a Local
Several local tour companies do offer Porto street art tours. This could be a good option if you are interested in exploring with a local who can tell you more information about the various artists.
Additionally, opting to tour Porto with a local enables you to gain more information on the city and its various districts. Get Your Guide is a reputable tour company that offers regular street art tours of Porto.
Final Thoughts
Have any further questions about street art in Porto or things to do in Porto, Braga, and Northern Portugal in general? I spent two months based here in 2020 and got to know the city pretty well during that time.
Please don't hesitate to ask me if you need anything. Safe travels! Obrigada! Melissa xo
---