Greek islands with airports? There are more than you may think.
It's important to be aware of which Greek islands do have airports and which islands in Greece you can fly to. This way, you can plan your travels accordingly. This is particularly true if you are embarking on a Greek island-hopping adventure.
Greek Islands with Airports
It is estimated that there are anywhere between 1,200 and 6,000 islands in Greece. Of these, approximately only 220 are inhabited.
The Greek islands are divided into six different Greek island groups. Separately, there is also Evia and Crete which are the two largest Greek islands. The island groups are as follows:
The Dodecanese


Saronic Gulf


Ionian Islands


North Aegean islands
Most Greece itineraries focus on exploring one specific group of islands. Fortunately, each of the above island groups is home to at least one international airport.
The only exception being the Saronic. However, these islands are very close to Athens.
Athens' Eleftherios Venizelos airport is the country's main international airport. It is conveniently located for transfers into the capital, in addition to connecting to domestic flights to Greek islands.
Journeys between Piraeus (Athens) and the Saronic islands take between 90 minutes and 2.5 hours depending on the specific island. It takes approximately 50 minutes to get from Athens airport to Piraeus port.
You need to be strategic when you plan your trip to Greece. For instance, if you want to explore the Cycladic islands, you can fly into Mykonos, Santorini, or Paros.
From there, you should assess the ferry times and domestic flight routes to other places in Greece you want to visit. Ferries don't necessarily connect all islands to each other, even islands within the same group!
A Complete List of Greek Islands with International Airports
The islands in Greece that have international airports are detailed below. It is important to take seasonality into account when planning a trip to these destinations.
For instance, travel to Kefalonia, Karpathos, Skiathos, and the Sporades is very seasonal. As such, most international flight routes only operate during the summer months between late April and October.
You can browse dates and routes via flight comparison websites such as Skyscanner, and directly on airline websites. You should also keep in mind that some of the smaller Greek international airports may only serve more localised routes.
For instance, it may be easy to fly into some of the islands below from destinations in Europe and the Middle East. However, those flying in from farther afield (i.e. the USA?) may have to change in Athens.
Crete – Chania Ioannis Daskalogiannis Airport (CHQ)


Crete – Heraklion Nikos Kazantzakis Airport (HER)


Sitia Vitsentzos Kornaros, Crete (JSH)


Corfu – Ioannis Kapodistrias International Airport (CFU)


Karpathos – Karpathos Island National Airport (AOK)


Kefalonia – Kefalonia International Airport Anna Pollatou (EFL)


Kos – Kos International Airport (KGS)


Lemnos – Lemnos International Airport "Hephaestus" (LXS)


Lesbos – Mytilene International Airport "Odysseas Elytis" (MJT)


Mykonos – Mykonos International Airport (JMK)


Rhodes – Diagoras International Airport (RHO)


Santorini – Santorini (Thira) International Airport (JTR)


Samos – Samos Aristarchos International Airport (SMI)


Skiathos – Skiathos Alexandros Papadiamantis Airport (JSI)


Zakynthos – Zakynthos "Dionysios Solomos" Airport (ZTH)
Crete
There are three international airports to be found on the island of Crete. This is Greece's largest island and so, it makes sense that there are multiple airports here.
The best Cretan airport for you to fly into depends on your schedule. If you plan on exploring the western city of Heraklion and the nearby fort of Knossos, it is logical to fly into Heraklion Nikos Kazantzakis Airport (HER).
Alternatively, if you are heading to Chania and Eastern Crete, it is easier to fly into Chania Ioannis Daskalogiannis Airport (CHQ). Sitia Vitsentzos Kornaros airport (JSH) is the third on the island. However, it is served by a lesser number of flight routes.
Corfu (Kerkyra)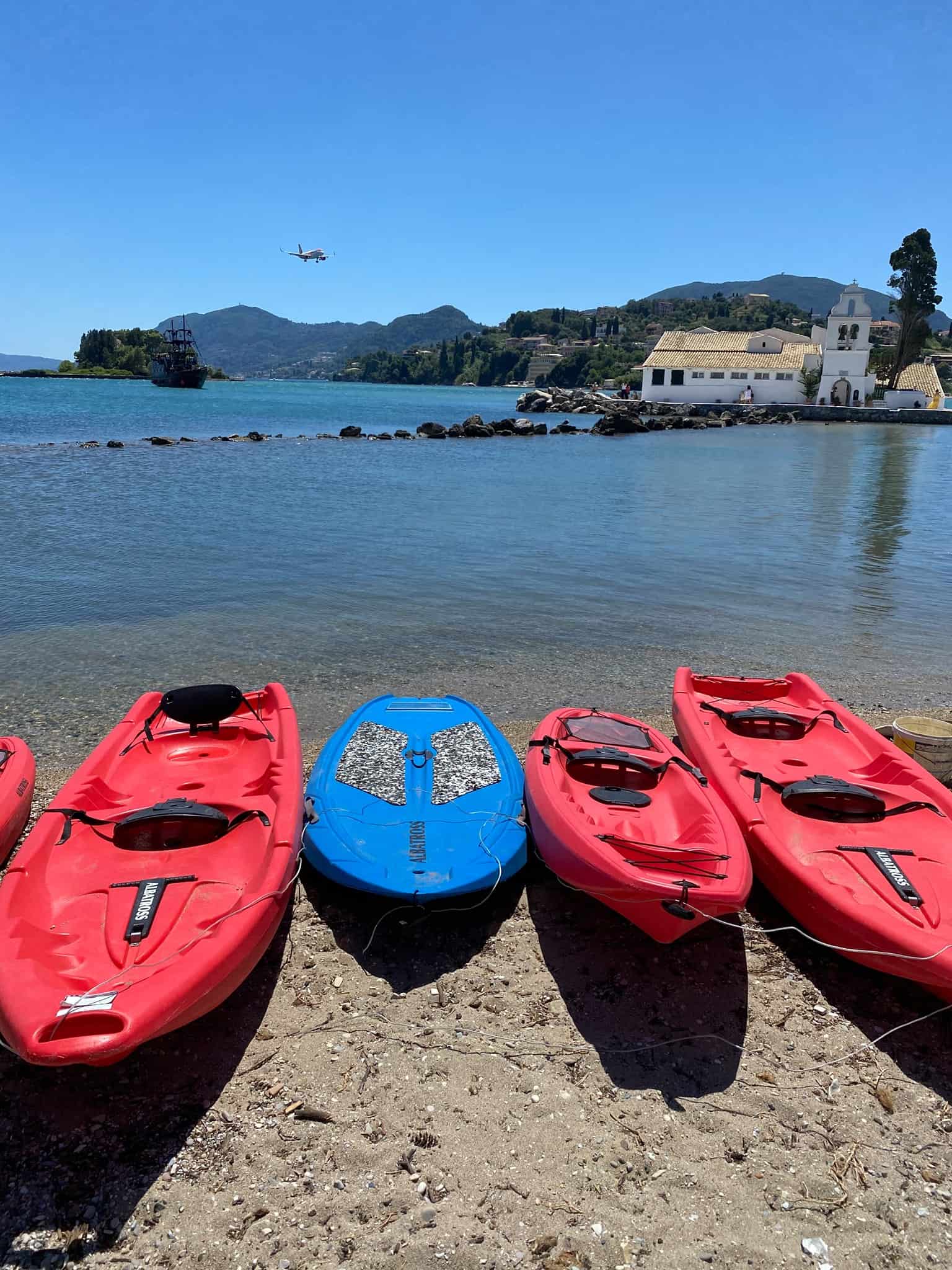 Gorgeous Corfu is a Mediterranean idyll in the heart of the Ionian islands. Its Ioannis Kapodistrias International Airport is a major Greek international airport. This, in part, is on account of the sheer volume of tourists that Corfu sees, particularly in the summer.
Corfu international airport is also a logical entry point to Greece if you are visiting the nearby Ionian islands of Paxos and Anti Paxos. These smaller islands do not have an airport of their own.
It is possible to reach Paxos, Antipaxos, and Igoumenitsa, on the western Greek mainland via a short ferry from Corfu. You can also fly into Corfu if you are heading towards Lefkada or parts of Epirus.
Karpathos
Karpathos is one of the most naturally beautiful islands in the Dodecanese. It is nestled on the southern edge of the Aegean Sea, between Rhodes and Crete.
Despite being close to some of Greece's most touristic places to visit, Karpathos has largely retained its authentic charm as a sleepy Greek island idyll. It is characterised by its pristine beaches and their translucent turquoise waters that have you thinking you're in the Caribbean.
The quaint villages of Olympos, Menetes, and Othos, with their pastel-coloured houses, should not be missed. Karpathos is located a little farther south than most of the islands in the Dodecanese.
If you want to island-hop, it may make more sense to fly into Kos. However, there are ferry links that connect Karpathos with Rhodes, and other islands in the region.
Kefalonia
Kefalonia is home to Anna Pollatou international airport. This beautiful island is the largest in the Ionian and is well deserved of several weeks' worth of exploration in itself.
Kefalonia also makes a good jump-off point for visiting the little island of Ithaca. Ferries depart from Sami to the port of Pisaetos in Ithaca.
The frequency of ferry services varies depending on the season. Similarly, it is possible to take a ferry from Kefalonia to Zakynthos. The journey takes approximately an hour and twenty minutes.
Kos
The island of Kos awaits in the Dodecanese where it actually sits closer to Turkey than to mainland Greece. Kos is a major summer travel destination among both international and domestic tourists.
Its international airport is located close to Andimachia Village. The airport predominantly serves charter flights. However, it is also possible to book independent flights to Kos.
From Kos, you can easily sail around the islands of Pserimos, Kalimnos, and Leros, among others. During the summer months, you can also take a boat to the Turkish Riviera town of Bodrum.
Lemnos
Lemnos is home to "Hephaestus" international airport. The island sits within the North Aegean group, however, it is located a fair distance away from its sister islands.
Lemnos is also, confusingly, known locally as "Limnos". It is known for its white sandy beaches, well-preserved archaeological sites, and local cheese.
Lesbos
Lesbos' "Odysseas Elytis" airport can be found within the island's capital of Mytilene. It is unfortunate that the island of Lesbos has become so well known for the migrant crisis.
Indeed, this is a humanitarian issue affecting the island. If you are interested in volunteering and assisting refugees in Greece, you can work as a volunteer at one of the many camps on the island.
Lesvos still has its charm as an island destination. There are some notable archaeological sites and museums in and around Mytilene. It is also easy to visit Chios from here.
Mykonos
Mykonos International Airport is located just 2km out of the island's main town ("Chora"). The island is a renowned party destination, particularly known for its upscale bars, nightclubs, and luxe hotels.
There are more low-key attractions in Mykonos that appeal to a wider crowd. The Kato Mili windmills sit on a hilltop above the Chora and make a perfect place to watch the sunset.
"Little Venice" is a colourful neighbourhood of old fishing houses built on stilts above the water. Centuries ago, it was the coastal hangout spot of choice for pirates.
Mykonos is a great jump-off point for the islands of Naxos, Tinos, Andros, and others. Travelling out of season provides the opportunity to escape the crowds, even if more businesses are closed.
Rhodes
The Dodecanese island of Rhodes is brimming with history and culture. Its UNESCO-protected old town provides one of the very best examples of medieval architecture in Europe.
Rhodes international airport "Diagoras" can be found on the island's west side. It sits about 14km southwest of the capital, and just north of Paradeisi village.
A number of different civilisations have conquered and occupied the island over the years. This is evidenced in the old town by the fascinating mishmash of architectural styles that you see within the city streets.
Here, Ottoman mosques sit beside Byzantine and Gothic churches. The old town is essentially a labyrinth consisting of more than 200 narrow streets and passageways.
You could easily spend the entirety of your Greece vacation in Rhodes. Similarly, the island boasts excellent ferry links to the remainder of the Dodecanese.
Santorini
Santorini (Thira) International Airport is located on the popular Cyclades island of Santorini. It sits just north of Kamari village.
Santorini is arguably the most popular island destination in Santorini and perhaps the entirety of Greece. Owing to its popularity, the airport serves a diverse range of international flight routes from across Europe and beyond.
While in Santorini, you can marvel at the world-famous Santorini sunsets, conquer the Fira to Oia hike, and have lunch in the gorgeous Ammoudi Bay. From here, you can easily hop to other islands in the vicinity. Naxos, Delos, Paros, and Mykonos are all worth visiting.
Samos
Samos international airport provides a convenient entryway to the North Aegean islands. It takes its name from Aristarchos – an ancient Greek Mathematician and Astronomer.
If you enjoy quiet Greek islands, Samos may well just be the perfect place for you. Outside of the vibrant, lively capital of Vathy, there are plenty of off the beaten path places to explore.
An abundance of hiking trails weave through the scenery here. Samos is also famous for its sweet local wine that can be sampled at the many vineyards on the island.
From here, you can sail out to Ikaria – a tiny, lesser-known island where people have a longer than average life expectancy. You can also visit Fournoi, Patmos, Leros, and Chios.
Skiathos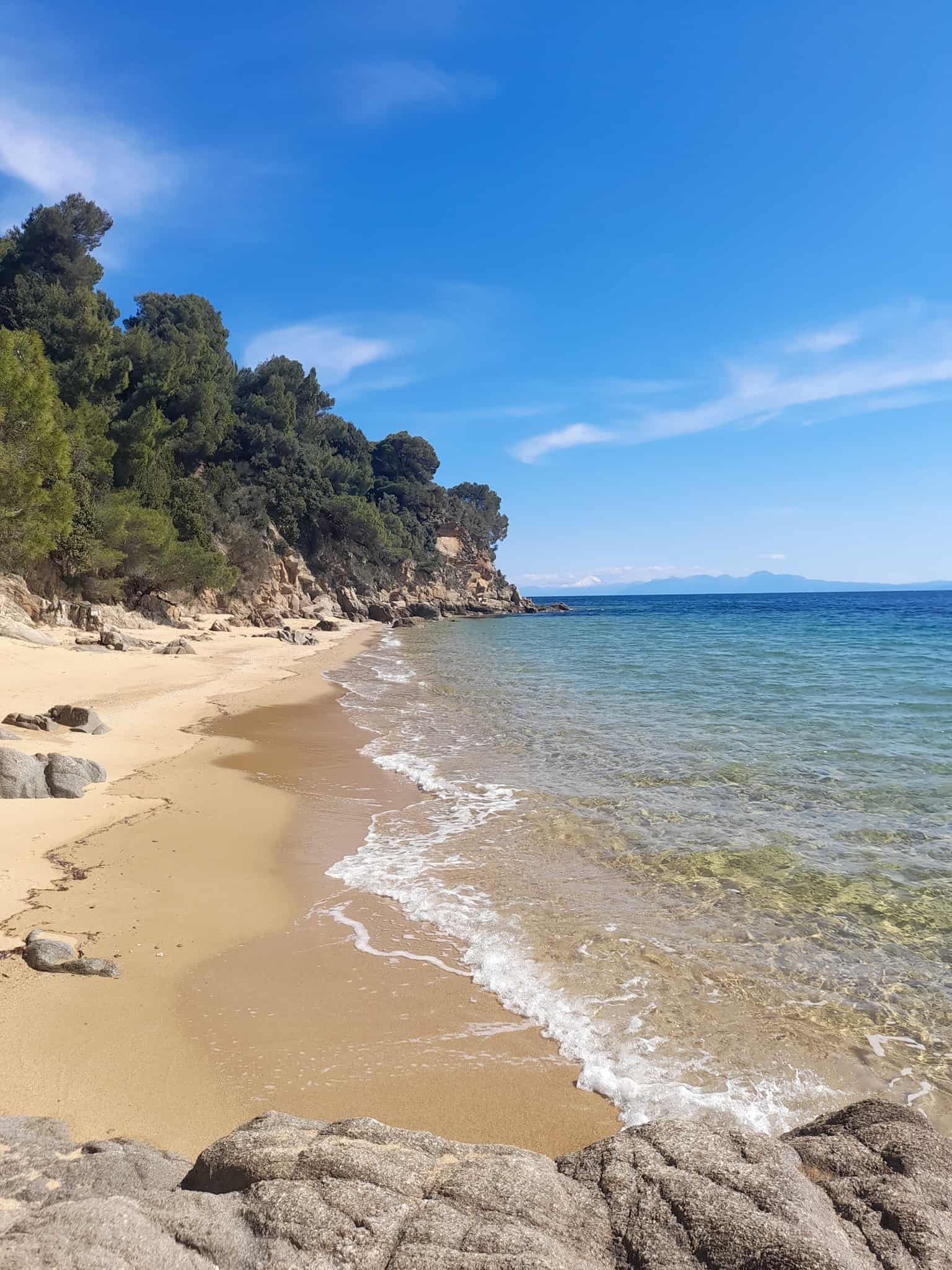 Skiathos' Alexandros Papadiamantis Airport is a gateway to the Sporades. The little airport is tiny, yet is conveniently located right outside of charming Skiathos town. From here, you can be at the port in less than five minutes.
The airport is often affectionately referred to as being the European St Maarten on account of the dramatic plane landings and takeoffs that you can witness from beside the runway. It is mostly charter flights that service this airport.
From Skiathos, you can easily travel onwards to other islands in the Sporades. Skopelos island can be reached in less than an hour.
It takes approximately 30 minutes to get from Skiathos to the town of Glossa. This is the perfect starting point for visiting the "Mamma Mia" church.
Similarly, Skopelos town can be reached in just 55 minutes. Skiathos also boasts great ferry links to Volos, Alonissos, Skyros, and Evia island.
Zakynthos ("Zante")
The Greek island of Zante (Zakynthos) is one of the country's most popular island getaways. Unfortunately, it has become somewhat synonymous with raucous nightlife and drunken tourists but that should not define Zante.
The southern part of the island is occupied by an abundance of resorts, gentrified touristic areas, and nightlife strips. However, the northern part of the island is a different place entirely.
Here, you will still find traditional rural villages and forested wilderness. Looking for one of the best places to visit in Zakynthos?
Don't miss the spectacular Navagio beach. This coastal region often referred to as "Smugglers Cove" is home to the famous 1980s shipwreck.
The waters here are so clear that you can see to the bottom – perfect for swimming and snorkeling. The beach is encompassed by dramatic cliffs and dense pine forests.
A Complete List of Greek Islands with Domestic Airports
The list of Greek islands you can fly to internationally is extensive. However, so too is the list of islands with domestic airports.
On the mainland, Athens' Eleftherios Venizelos and Thessaloniki's Airport "Makedonia" are serviced by routes from across the globe. They offer connections to a wider network of domestic routes throughout Greece.
So too, do the international island airports detailed above. Olympic Air and Aegean Airlines are the main airlines serving domestic Greek routes.
It should be noted that although the airports detailed here are currently domestic, there is a view for Paros to become international. Work has already started on transforming the airport into an international hub. In the meantime, Santorini and Mykonos link international destinations to the Cyclades.
Astypalaia – Astypalaia Island National Airport (JTY)


Chios – Chios Island National Airport (JKH)


Ikaria – Ikaria Island National Airport (JIK)


Kalymnos – Kalymnos Island National Airport (JKL)


Kasos – Kasos Island Public Airport (KSJ)


Kastellorizo: Kastellorizo Island Public Airport (KZS)


Leros – Leros Municipal Airport (LRS)


Kythira – Kithira Island National Airport (KIT)


Milos – Milos Island National Airport (MLO)


Naxos – Naxos Island National Airport (JNX)

Paros – New Paros Airport (PAS)


Skyros – Skyros Island National Airport (SKU)


Syros – Syros Island National Airport (JSY)
Parting Words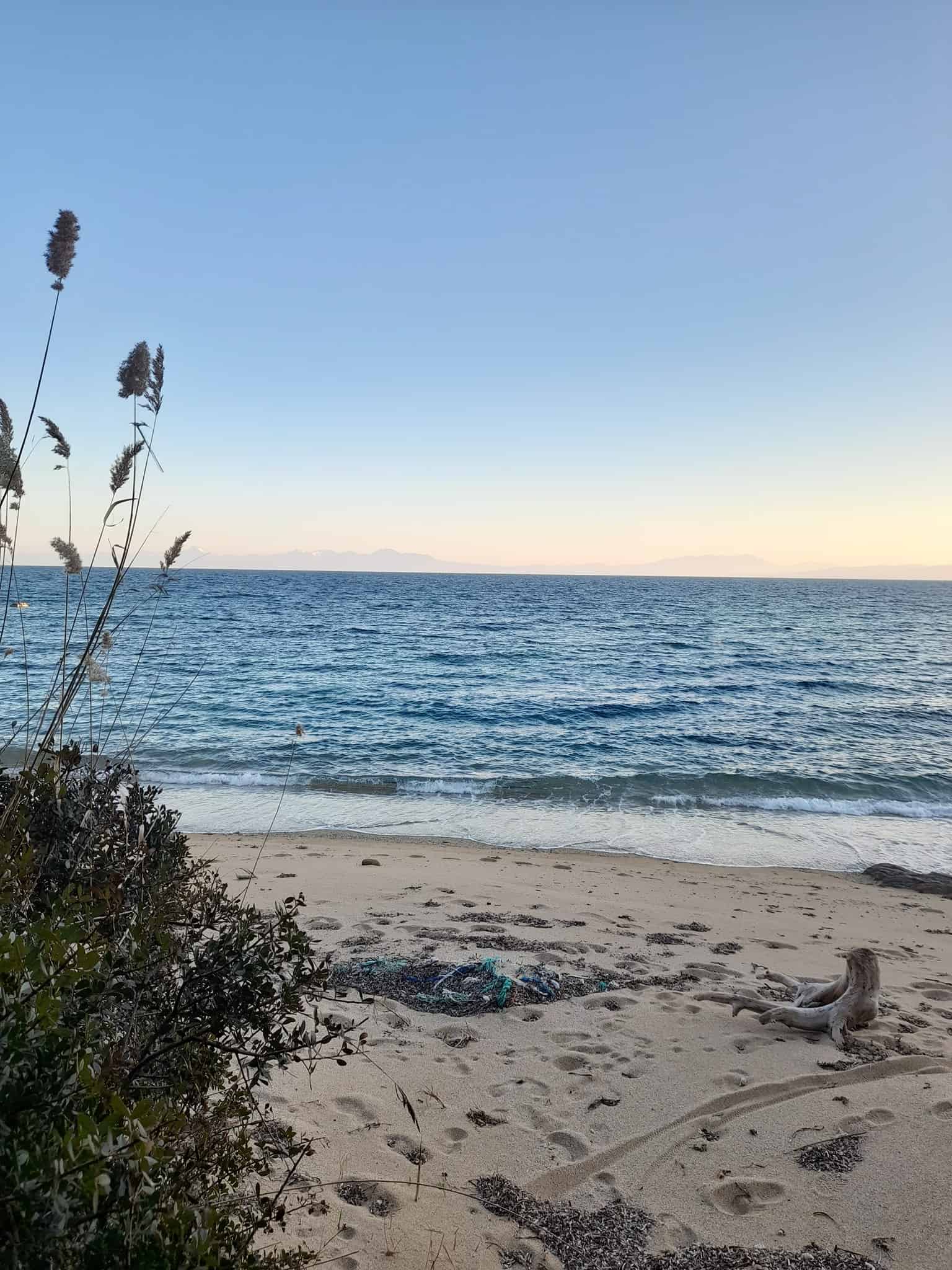 Have any additional questions about Greek islands with airports or planning a trip to Greece in general? Please don't hesitate to reach out to me.
I have been living in Greece since 2017. I am happy to assist with any questions and queries you may have.
Feel free to drop me a comment in the box below and I'll get back to you ASAP. Safe travels! Geia sou! Melissa xo
---