A city that is renowned for its sunbleached ruins, its ancient history, and its punky, gritty atmosphere, beaches are not the first thing that spring to mind when you think about the Greek capital of Athens. As a matter of fact, querying about the best beaches in Athens is something that seems almost absurd.
You may have heard that the most pristine Greek beaches and cerulean waters are to be found in island locations such as Crete, Zakynthos, and Kefalonia. While it is true that these paradisiacal regions may possess some of the best reputations, that is not to say that a day trip to one of the beautiful beaches along the Athenian Riviera is not worthwhile.
The stunning beaches in Athens that are included on this list provide a perfect way to escape from some of the hustle and bustle from the big city during your Athens itinerary.
Best Beaches in Athens:
Something for Every Taste
Of course, your opinion of what constitutes a coastline of being worthy of the title of being among the best beaches in Athens depends somewhat on your personal preferences and opinion. Fortunately, there are so many beach options available on a day trip from Athens that there is certainly something for everyone.
Whether you want a secluded paradise that you have virtually all to yourself, an exclusive beach club with all the amenities, or a simple place to plop down your towel among the locals. The best beaches in Athens in this article are categorised by area and style.
Best Beaches in Athens:
Exclusive Spots on the Athenian Riviera
The Athenian Riviera is the place to see and be seen in Athens. It is often referred to as being the "Hellenic Hamptons" and for good reason, the atmosphere here is as chic, sophisticated and glamorous as the types of people that it attracts.
For the ultimate luxury beach day, venture to one of the private beach clubs in the regions of Glyfada, Voula or Vouliagmeni. Sip cocktails, mocktails or Freddo espressos beneath your own private cabana, while your every whim is catered to. You can even book in a seaside massage!
Astir Beach, Vougliameni
Where: Apollonos 40, Vouliagmeni 166 71, Greece
For the ultimate in exclusive beach club experiences, Astir Beach in Vouliagmeni is the place to see and be seen. A favourite among the Athenian jet set and International go-getters, Astir Beach's reputation precedes it.
Encapsulated by a pine tree forest, the translucent waters and long, pristine coastline of the private Astir beach offers privacy and seclusion. It is possible to purchase a day pass here to enjoy lounging beneath the sun on private sunbeds or cabanas while being treated to complimentary beverages and waiter service.
A day at Astir beach is reminiscent of spending a day at an exclusive beach club in Dubai and is well worth the purchase. Advanced reservations are recommended, especially during the busy summer months.
It is possible to reserve your perfect cabanas/beach chairs online in advance. Astir beach also boasts additional facilities such as beach volleyball courts, beach racquet courts, and a plethora of exquisite dining options at the onsite "Nice n Easy Seaside" restaurant.
Balux Seaside Project
Where: Balux Seaside/House Project, Leof. Poseidonos 58, Glyfada 166 74, Greece
Glyfada's Balux Seaside project is a favourite summer hangout among locals. The Glyfada area may be upscale and exclusive, but Balux has a delightfully laidback, casual atmosphere.
Admission to the private beach costs just 4 euros, and visitors can relax on sunbeds by the pool, by the sea, or close to the tiki themed outdoor bar.
Balux Seaside also boasts the "Balux house project" bar and restaurant – a unique spot that has been designed to look like a Hamptons style beach house. The menu showcases delectable eats from across the globe. Everything from Sicilian arancini balls, to fresh Greek salads, and Chinese entrees can be enjoyed here.
L'Amico Beach Club, Athenian Riviera
Where: Leof. Athinon Souniou 17, Anavissos 190 13, Greece
In the beating heart of the Athenian Riviera, L'Amico Beach Club is a spot that has it all. The exclusive club is situated in the upscale region of Anavyssos and is without a doubt one of the best beaches near Athens.
Despite being a private club, L'Amico has a casual feel with no air of pretension, making it a perfect place to enjoy a relaxed afternoon in a glamorous setting. Sunbeds are available for rent, as are covered gazebos for those who want a little more protection from the sun.
"Push for service" call buttons are in place at each of the gazebos, so that you can easily order up a mocktail, cocktail, or light snack without having to leave the comfort of your plush seating. As the name suggests, L'Amico boasts an Italian menu and the restaurant here offers some of the best Mediterranean cuisines in the area.
The authentic Italian pasta and pizza dishes are made from scratch and lovingly prepared with some of the freshest local ingredients.
Asteras Glyfada
Where: AsterasLeof. Poseidonos 58, Glyfada 166 74, Greece
The beach at Asteras Glyfada is one of the easiest to reach from central Athens. Travellers can easily hop on board the number four tram that runs from Athens to Glyfada.
The private beach runs all along the Glyfada peninsula and sits adjacent to the Balux House Project. When you're done with your beach time, the restaurants, coffee shops and boutique stores of downtown Glyfada are just a few minutes' walk away.
Akti Vouliagmenis
Where: Leof. Posidonos, Alimos 175 44, Greece
With miles upon miles of perfect white sands and clear blue waters, the beach at Akti Vouliagmeni almost makes you forget that you are just a stone's throw away from busy Athens. The sun loungers and umbrellas are decorated in the delightful Greek flag colours of light blue and white. From here, you feel almost transported to an idyllic, isolated Greek island paradise somewhere.
Admission to Akti Vouliagmeni costs just 5 euros in the peak summer season. Plenty of additional facilities are on offer at the beach, including tennis and volleyball courts.
When your stomach starts to rumble, venture into the wonderful Greek taverna on site. The traditional taverna menu serves all of the typical Greek classic dishes – including sumptuous marinated meats, fresh Greek salads, and seafood dishes prepared using the latest catches from the nearby waters.
Grand Beach Lagonissi
Where: 40th km Athens Sounion, Lagonissi Attica Athens 190 10, Greece
If luxury beach clubs are your forte, it doesn't get much grander than the private beach at the Grand Beach Lagonissi resort. The hotel is widely regarded as being one of the most luxurious in the Athens region.
If your Athens itinerary allows it, it's well worth staying here for a little relaxation and indulgence. Alternatively, it's possible for non-hotel guests to purchase day access passes.
The beach at the Grand Beach Lagonissi resort sprawls over the entire Lagonissi peninsula and is an incredible place to watch the sunset. Day passes allow access to the private beach, the Grand Beach Lagonissi pool, and include a light meal and beverages. Frequent visitors can purchase annual passes.
Yabanaki Beach, Vari
Where: Yabanaki beach, Vari 166 72, Greece
Perched on the outskirts of upscale Vari, Yabanaki beach is the largest organised beach in the Athens area. The beach is known to attract a crowd of young, trendy Athenians.
For those who get restless by simply sitting in the sun, Yabanaki beach maybe just their cup of tea. The private beach is surrounded by exclusive bars, restaurants, and tavernas.
A beach massage parlor, and various watersports rental sites are scattered along the coastline. If you want to get active and try something new, Yabanaki beach is the place to go.
It should be noted that Yabanaki is known to get very crowded during the summer months, so while it's a great place for people watching a socializing, those hoping to enjoy the stunning scenery and a peaceful ambiance should look elsewhere.
Best Beaches in Athens:
Sounio Area
Eden Beach Resort
Where: Eden Beach resort Athens, Athens – Sounion Av. 47th km, Anavissos 190 13, Greece
Perfectly situated between Sounio and Vari, the Eden Beach Resort hotel is one of the most breathtaking luxury accommodations on the Athenian Riviera, complete with its own majestic private beach. Fortunately, though, you don't have to be a guest of the hotel to enjoy its sparkling coastline and white sandy beaches since those passing by the area have the option to purchase a day pass.
For those looking to escape the crowds of the public beaches in the area, the Eden beach resort is a nice choice. Sip cocktails as you dip your toes in Cerulean waters, and linger here until sunset when you can watch the sun fall behind the clouds over the islands of Poros and Aegina in the distance.
K.A.P.E. Legraina
Where: KAPE beach, Keratea 195 00, Greece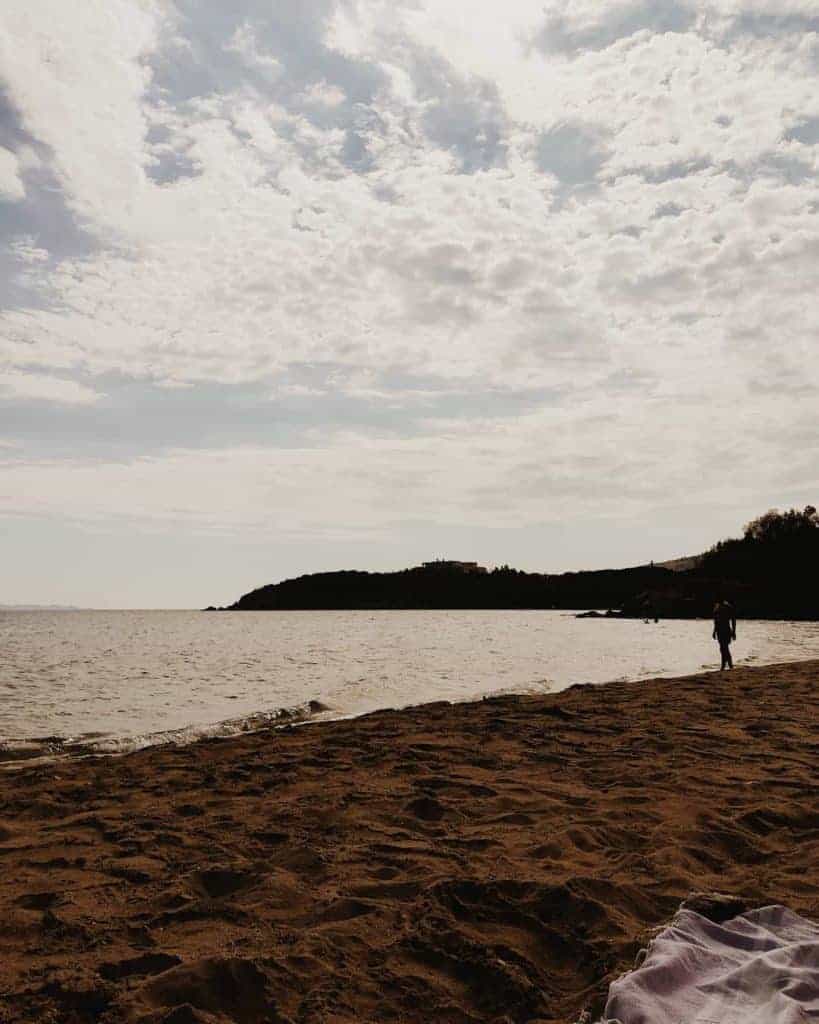 If you keep a watchful eye out on the drive from Athens to Sounio, you may be lucky enough to stumble across the secret beach at Legraina. Just before you reach the town of Legraina, you will see a sign that reads "property of Kape". From here, turn and follow the dirt road.
At the end of the unsuspecting dirt path, the quaint little beach is hidden away among the rocks, tucked into a secluded little cove. Only locals that know about Legraina's existence come here so you can rejoice at having this paradisiacal spot virtually entirely to yourself. Venture down the stairway and enjoy a beautiful spot that makes you feel as though you are on a secluded Greek island.
The Cape of Sounio
Where: Sounion, EO91, Lavreotiki 195 00, Greece
The Cape of Sounion is a picturesque spot that is well worthy of a day trip from Athens. The Temple of Poseidon alone is reason enough to venture here. A lesser-known draw to the area is the stunning coastline that surrounds the temple. Their sandy white beaches are a pleasant place for swimming, tanning, or simply relaxing in the sand.
After spending a few minutes here, you will realise that it's not hard to see why the Ancient Greeks chose this beautiful spot to honor their ocean deity Poseidon. Once you are tired of the beach shenanigans, duck inside one of the charming tavernas that line the seafront and which specialize in serving up fresh local seafood from the region.
Head back to the Temple of Poseidon site for when the sun begins to set and the sky is illuminated in hues of orange, pink, and red. On a clear day, you can see out to Aegina and the Peloponnese in the west, and Kea, Kythnos and Serifos in the Southeast. The spectacular views make a breathtaking backdrop to the gleaming white columns of the temple.
Best Beaches in Athens:
Northern Attica Region
Venturing into the Northern Attica region greets travellers with a completely different beach experience as compared to spending time at the exclusive beach resorts of the Athenian Riviera. Those who enjoy getting back to nature and the peace and seclusion of hidden coves and "secret" beaches surrounded by craggy rock formations and dense woodlands will fall in love with the beaches in this region.
It should be noted that the Northern Attica beaches mentioned below are not serviced and therefore it is necessary to pack all of the snacks, towels, bottles of water and essentials that you will need for a beach day.
Shinias Beach
Where: Marathon 190 07, Greece
Located 45 km North of Athens, Schinias beach is a popular haunt among the locals during the summer months. If you do not plan on renting your own transportation, Schinias beach is a good shout as it is easily reachable via public bus from Athens city centre.
The beach is lined with pine trees, offering a perfect natural shade if the Greek summer sun becomes a little too much. The sprawling coastline that constitutes Schinias beach is divided into sections. One small part of the beach is organised and requires payment of a small admission fee.
Kokkino Limanaki, Rafina
Where: Rafina 190 09, Greece
If you decide to take a trip to some of the beautiful Cycladic islands after spending time in Athens, you may need to depart from Rafina port. Instead of twiddling your thumbs and waiting for your ferry to arrive, this is a perfect opportunity to feel the sand between your toes at one of the beaches that are situated just outside Rafina.
Arguably swimming and visiting the beaches here sounds odd, since you can literally see the ferries entering and exiting the ports from the coastline. You will be surprised by just how clean the waters here are, and how many locals love coming here to swim and cool down.
The Best Beaches in Athens:
Eastern Attica Region
Vraxos Beach Club
Where: Παραλία Κακής Θάλασσας, 19001 Keratéa, Attiki, Greece
Vraxos Beach Club is a popular local spot that awaits on the eastern coast. The club is approximately an hour's drive away from Porto Rafti. Surrounded by the backdrop of craggy mountains, rocky coastlines, and lush green fields, a trip to the beach club places you in the midst of a completely different atmosphere. From here, it's easy to forget that you are just an hour away from Athens!
Vraxos beach club provides visitors with all the amenities that they could possibly need during a day of rest and relaxation. The restaurant menu offers a diverse range of Greek and Western European dishes. During the summer months, beach parties with live DJs are often hosted here in the evenings.
Erotospilia Beach, Porto Rafti
Where: Apollonos 23, Porto Rafti 190 03, Greece
Located just outside the charming seaside resort town of Porto Rafti, the Erotospilia beach is a favourite among locals. The secluded, tree-lined cove is often lovingly referred to as being the "cave of love". Though the beach can get very crowded during the summer months, it offers a beautiful backdrop for a spot of swimming or an outdoor picnic.
When to Visit Athens and its Coastal Regions
The best beaches in Athens can technically be visited all year round. However, an overview of what to expect when travelling during the various seasons is provided below.
Spring (March to May)
Though the Spring season in the Athens area starts off cool, temperatures vastly increase during the months of April and May. During these months, travellers can expect average temperatures of between 22-28 degrees Celsius.
For those whose aim is to simply enjoy the beach atmosphere and not work on their tans like rotisserie chickens, this is a pleasant time to visit southern Greece, and the best beaches in Athens described on this list.
Summer (June to August)
Temperatures in the Athens area are at their highest during the months of June to August. Visitors to Athens can expect temperatures of between 30 and 35 degrees Celsius during this time.
If you are able to travel in June, that is preferable, so as to miss the crowds of tourists that flock to Greece during the peak season of July and August.
Autumn (September to November)
The approach of September sees temperatures in southern Greece begin to drop. September and early October can still be pleasant times to visit the best beaches in Athens.
During September, temperatures in Southern Greece linger around the 25 degrees Celsius mark. Things do not begin to cool down in the area until late October.
Winter (December to February)
While it is possible to enjoy scenic strolls along the coastline in the Athenian Riviera during the winter months, it isn't really a good time to visit the beaches near Athens.
Any mention of Greece conjures up the idea of a perpetually warm Mediterranean paradise, but the truth is that it can get very cold and windy during winter in Greece. Temperatures often drop as low as 7-8 degrees celsius with rainfalls becoming more common.
A Note About Winter Travel
A nice alternative if travelling during this time is to drive along the southern coastline and sip warm oinomelo (honey wine) at the quaint tavernas that run parallel to the seafront close to the towns of Vari, Voula, and Vouliagmeni. Many of these establishments are right next to the sea and often wonderful viewpoints as the waves crash against the rocks.
Things to Know Before You Travel to Athens Beaches
A few additional things to consider when planning an Athens beach day are detailed below.
Public Transport
Athens boasts an excellent public transport network. Tram, bus and metro routes connect the city centre with the coastal regions of Alimos, Rafina, Vouliagmeni, Vari, and Glyfada.
Things to Take
It gets incredibly hot in southern Greece during the summer months. Always be sure to apply plenty of sunscreens and take bottled water with you when you head to the beaches near Athens. If you can, try and avoid being directly in the sun at midday when temperatures are at their highest.
Athens and the beaches that surround it are best enjoyed as part of a wider Greece itinerary.
Have any questions about travelling in Athens or Greece in general? I have lived here for the past two years and would be more than happy to assist with any queries or concerns you may have. Feel free to drop me an email or a comment below!
---