Peraia Thessaloniki is the closest coastal area to Greece's second city. It sits on the southern coast of the Thermaic Gulf, some 25km from Thessaloniki's city centre.
During the summer months, Peraia is popular with Thessalonikians who board the sea taxi from the White Tower and head to the coast in search of some rest and relaxation. The beach town is a convenient place to enjoy some sun, sand, and sea on days where the journey to Halkidiki seems a little too much.
Peraia Thessaloniki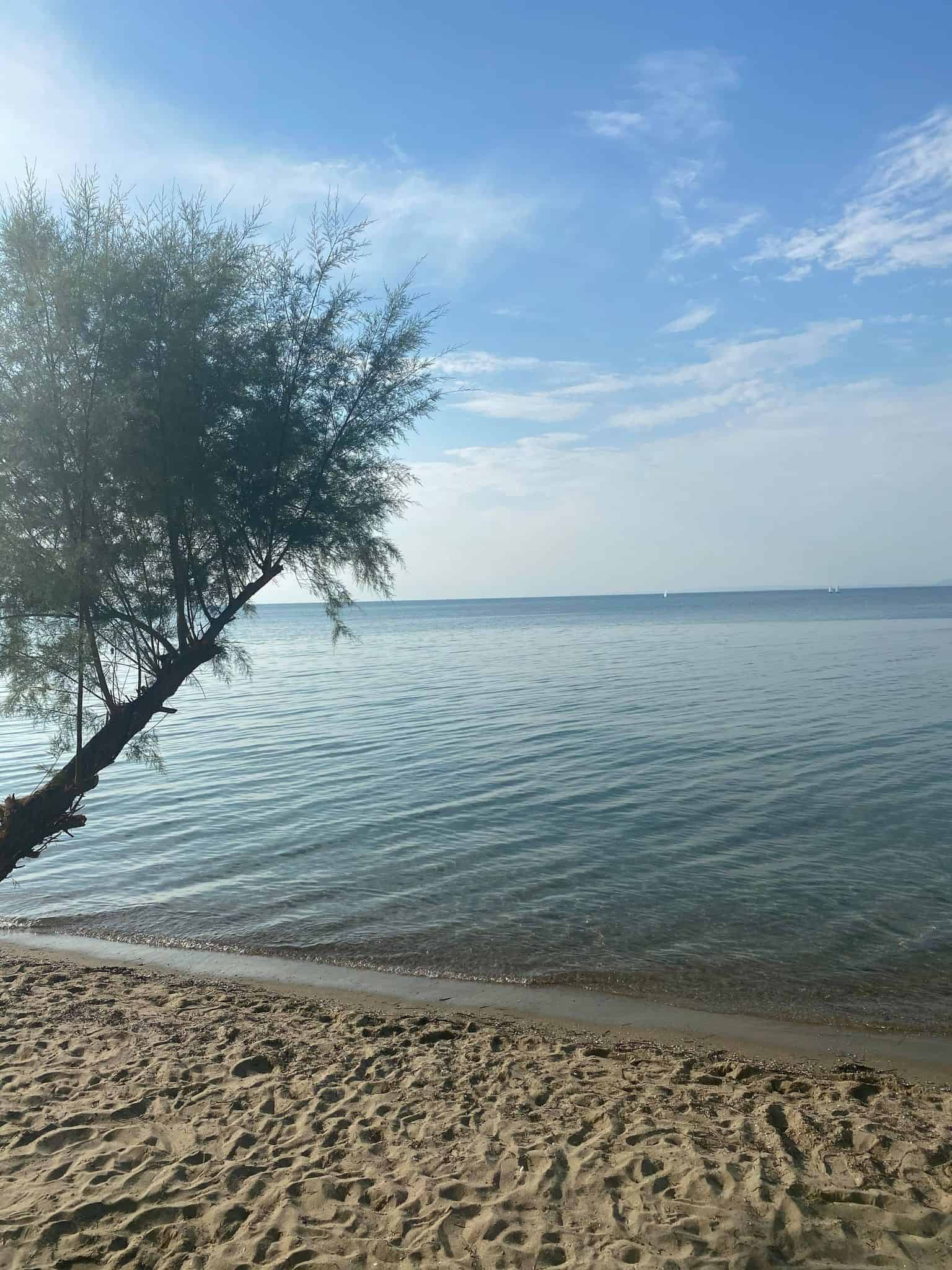 Peraia boasts a white sand beach bordered by cerulean waters that extends over several miles. The coastline blends into the adjacent beach of Agia Triada.
If you are looking for a secluded desert island paradise, Peraia may not be what you are looking for. From an aesthetics perspective, the area is nothing special to write home about. However, it has everything that you could possibly need for a day at the beach.
The Beaches of Peraia Thessaloniki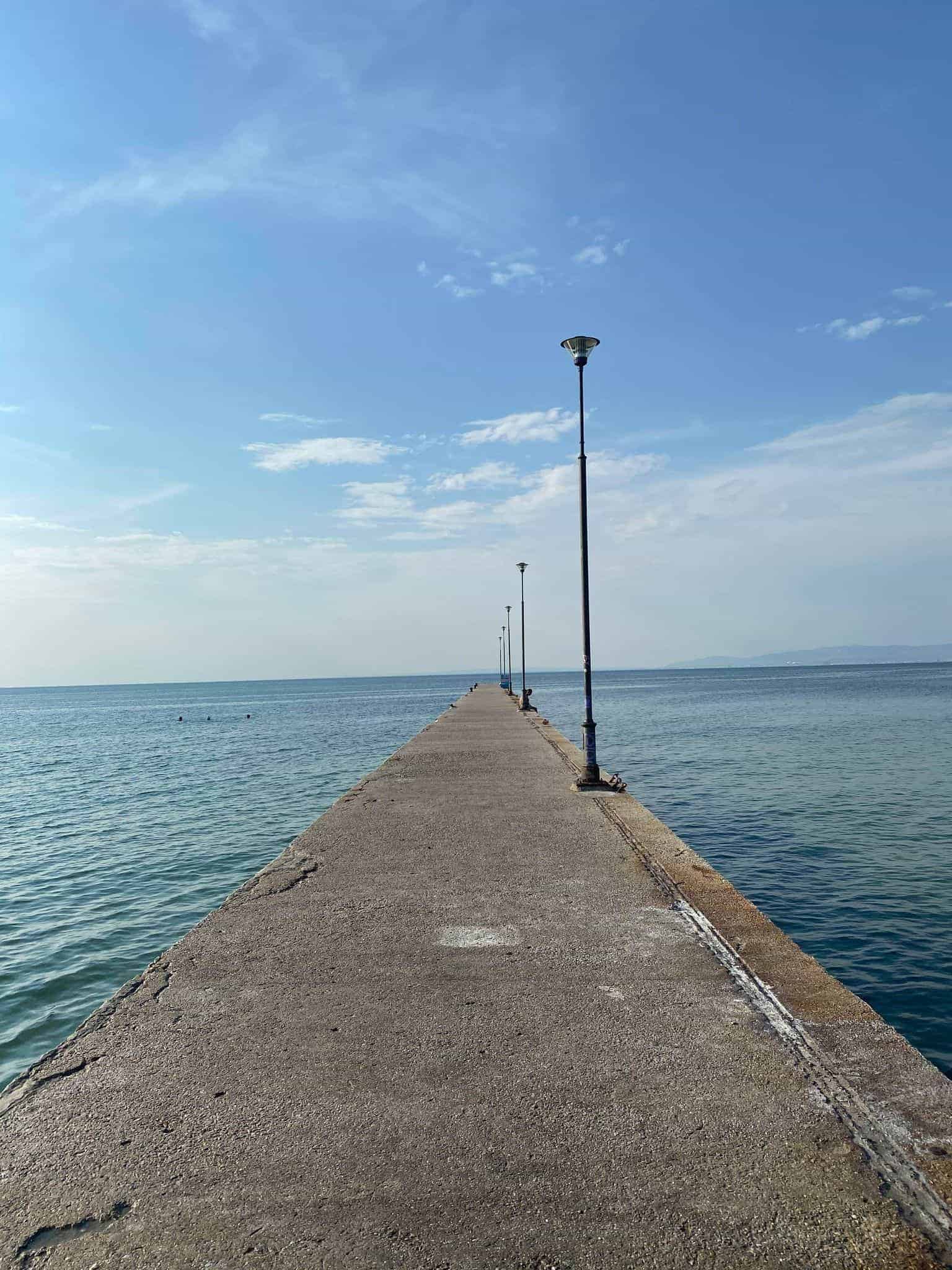 Peraia's namesake beach is a long, unserviced stretch of sand that extends for miles. It runs parallel to the seafront promenade of P. Kountouriotou.
While Peraia beach does not offer sunbed rentals, it is a lovely place to lay down your towel and relax with a good book and a picnic. The main strip of P. Kountouriotou is lined with bars, restaurants, coffee shops, and convenience stores. You will not be short of dining options at the end of your day.
Agia Triada beach is a serviced beach. Many of the local bars and tavernas set out sunbeds and umbrellas on the sand here.
You can rent a sunbed for the day provided that you purchase food and drinks. The minimum expected spend is very reasonable.
You only have to spend €3-4 and then you can stay as long as you like. Most of these places serve light bites and snacks such as hot dogs, fries, and potato chips. You will usually also find a local man wandering up and down the coast selling loukoumades (Greek doughnuts).
Peraia Thessaloniki Restaurants
Virtually every other building in Peraia Thessaloniki is a restaurant or a taverna. The town's seafront location means that it is an excellent place to sample quality seafood.
Many of the restaurants here specialise in fish dishes and prepare their recipes using only the day's freshest catches sourced from nearby waters. Greek, Italian, Mediterranean, and International cuisine options are also abundant here.
Thalassopoulia Taverna
Where: P. Kountouriotou 51, Perea 570 19, Greece
If you are looking to indulge in traditional Greek food in Perea Thessaloniki, then look no further than Thalassopoulia Taverna. This charming little taverna is unapologetically Greek, with pastel coloured wooden tables and chairs set upright on the beach.
You can opt to order beloved Greek main dishes such as moussaka, giouvetsi, stifado, etc, or alternatively, order up an array of meze plates to share among your table. Prices are reasonable, especially considering the large portions. Live music and local bands often perform here in the evenings.
Anestis Xasapotaverna
Where: Leof. Thessalonikis – Michanionas 78, Perea 570 19, Greece
Anestis Xasapotaverna is a Greek-style grill and steakhouse in the centre of Perea. This eatery is a Perea institution and it has been delighting locals and tourists for more than 40 years.
Anestis prides themselves on the quality of their ingredients. Homegrown fruits and vegetables are used in the appetisers and mezes, only the finest cuts of meat are sourced from the local butcher, and all of the wines that adorn the menu are Greek.
Other Peraia Thessaloniki Highlights
Peraia Thessaloniki is a seaside town. A lot of Greek and international people call this area home.
As such, Peraia is a lively place to visit all year round. It does not become a ghost town out of season like some touristic destinations.
There is a local "laiki agora" (farmer's market) hosted in Peraia every Monday. If you are new to exploring Greece, this will provide a charming insight into local life.
The market typically operates between around 8 am and 3 pm. Come by and watch vendors set up their stalls selling fresh fruit and vegetables, homemade pies, jams, and preserves, and Greek street food eats like BBQ meat.
Getting to Peraia Thessaloniki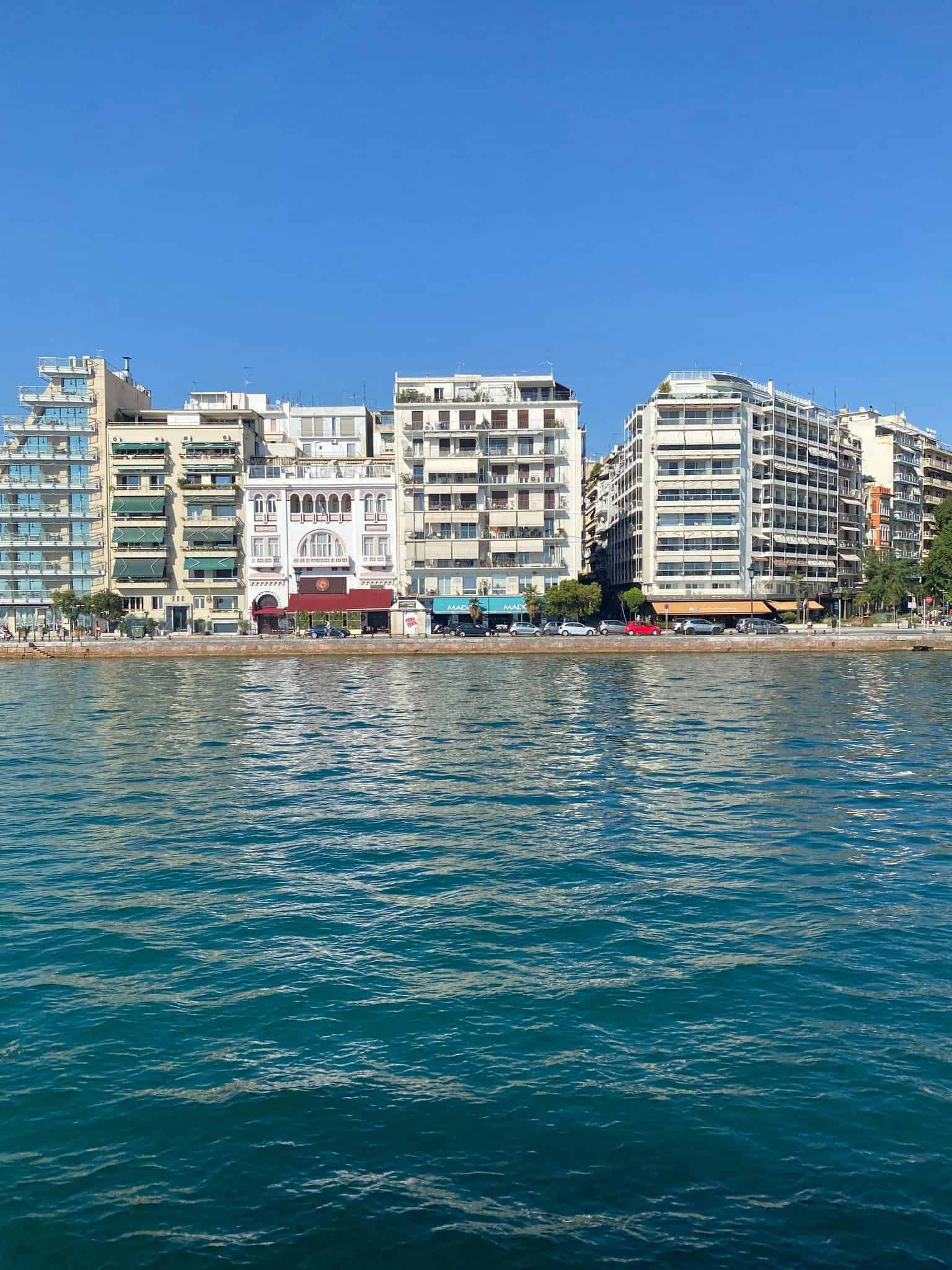 It is very easy to get to Peraia from downtown Thessaloniki. You have a couple of options available for doing so. However, arguably, the taxi boat is the fastest and most convenient choice during the summer.
By Taxi Boat
Between June and late September, a taxi boat runs between Thessaloniki and Peraia. You can board the boat from both Thessaloniki port and from outside the White Tower.
The journey takes 55 minutes each way. However, this is far from unpleasant, and cruising along the Thermaic Gulf, past uninhabited islets and the Thessaly coastline is a delightful extension of your day at the beach.
Tickets cost €5 each way. They can be purchased when boarding, or online in advance. If you choose the latter, you can opt to have an electronic ticket sent to your phone.
Ferry times are subject to change. You can find the latest schedules here.
By Bus
Buses connect downtown Thessaloniki with Peraia. This is not the most convenient option as depending on where you are based in Thessaloniki, you will likely have to take two buses.
First of all, you need to take the Thessaloniki city bus 2, 3, or 8 to IKEA. This takes approximately 45 minutes.
From IKEA, you can take bus #72 to Perea. Services typically depart every thirty minutes in the summer months and the journey takes 25 minutes. Each respective bus ticket is around €1.20.
By Cab
It costs approximately €17-20 to take a cab from Thessaloniki's Makedonia Airport. Cabs are always available outside the Arrivals Terminal.
You may also want to consider downloading the "BEAT" taxi app while in mainland Greece. This is the Greek answer to Uber.
The cabs on BEAT are all licensed, yellow cabs. However, the advantage of booking via this platform is that the price is confirmed to you before you get in. As such, there is no risk of being tricked and overcharged.
Accommodation Options in Peraia
There are plenty of hotels, villas, and Airbnbs in the Peraia area. This can be a nice alternative place to stay during your visit to Thessaloniki if you prefer to escape the hustle and bustle of city life.
Royal Hotel Thessaloniki
Where: 17th km, Thessalonikis – Peraias, Thermaikos 575 00, Greece
If you are looking for the ultimate luxe getaway experience during your time in Peraia Thessaloniki, the Royal Hotel Thessaloniki may be the perfect choice for you. This four star hotel offers luxury and indulgence without the luxury price tag.
The property is just a short walk from the beach. On days where you don't feel like heading to the coast, there is a gorgeous pool on site.
The pool bar serves an array of Greek coffees, drinks, and light snacks. The in-house restaurant offers a fine dining menu that changes seasonally.
Rooms start from €100 a night, including breakfast. Click here to check the latest room rates and availability.
Hotel Aigli
Where: P. Kountouriotou 63, Perea 570 19, Greece
Hotel Aigli offers affordable comfort right on the seafront. If you opt to base yourself here, you are just 10 yards away from the beach, with views of the Thermaic Gulf from your balcony.
Rooms start from just €45 a night and a hearty buffet breakfast is included. Click here to check the latest room rates and availability.
Parting Words
Do you have any additional questions about spending a day at Peraia Thessaloniki? Perhaps you want to ask about taking day trips from Thessaloniki? Please don't hesitate to reach out.
I am happy to assist with any questions and queries that you may have. Simply drop me a comment below and I will get back to you ASAP.
Safe travels! Geia sou! Melissa xo
---