You are probably wanting to know what the best Greek islands to live on are if you are considering relocating to Greece. Millions of people travel to Greece on vacation every year and millions of them fall in love with the country and envisage themselves living there.
With literally thousands of Greek Islands to choose from, deciphering which ones are the best to live on can be overwhelming. Each region of Greece has its own distinct culture and its own appeal.
There are some Greek Islands that are remote, and sleepy, and have still retained their traditional island charm, unchanged by tourism. However, some of these places can become quite isolated out of season. 
Others have large International expert communities and are full of life all year round. If the social aspect of moving abroad is important to you, you may want to consider relocating to an expat hub like Crete, Corfu, Skiathos, or Rhodes. 
However, if you are introverted, like the peace and quiet, and are not concerned about feeling lonely on a remote island, You may prefer somewhere that is quintessentially Greek and doesn't have a large International presence. For example, Skopelos or Kea in the Cyclades islands.
This article has been written by a British travel writer that has been based in Greece for close to 5 years. I have spent several years living in Athens as well as a year based in Skopelos and Skiathos.
I feel that I am well poised to advise you on the best Greek Islands to live on as I have already been through that decision-making process myself. 
Best Greek Islands to Live on in Greece in 2023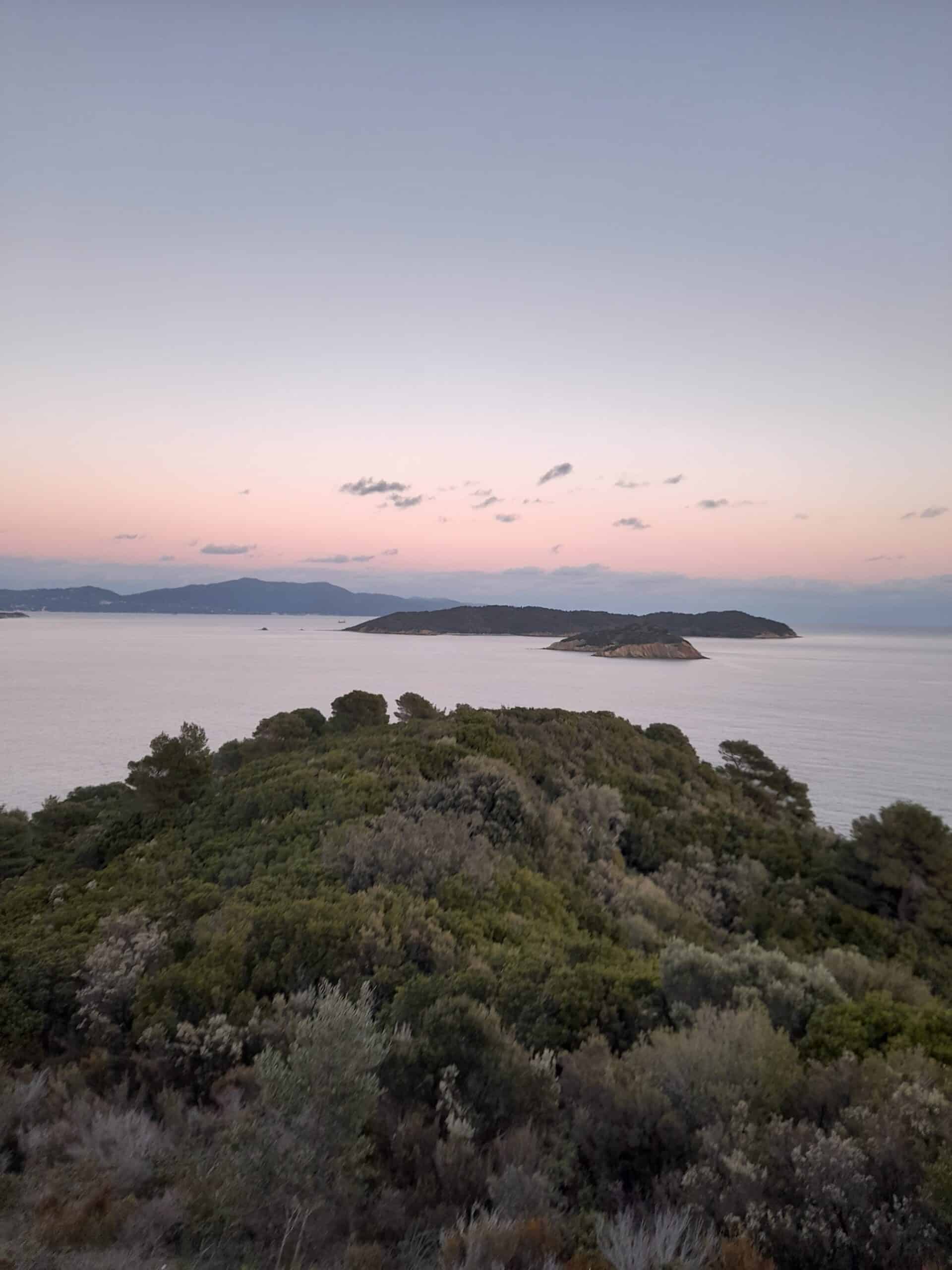 Some of the best Greek islands to live on in Greece are outlined below. There's something for everyone on this list. 
There are lively islands with large expect communities. Then, there are more peaceful, secluded spots. Some of the islands mentioned are suitable for relocating with a modest budget while others like Spetses and Paxos are a little more upscale. 
If you are interested in moving to Greece, it is a good idea to take a trip to the island that you are considering first. If you can, try and base yourself there for a month or two both during the peak summer months and out of season.
Living on a Greek island can sound romantic and idyllic. But the reality is often very different from the fantasy. 
A 2 weeks summer vacation does not give a good insight as to what life somewhere is really like. It is also worth noting that the atmosphere on many Greek islands is extremely different from the summer season to the winter.
Between June and September, the island's picturesque villages, beaches, and plazas are teeming with life. From October onwards, many businesses shutter their doors for the winter season. 
The owners and the workers had back to mainland Greece and the islands become very very quiet. There are fewer opportunities to socialise and you may find that many of the businesses that you love in the summer are not open year-round. 
Skiathos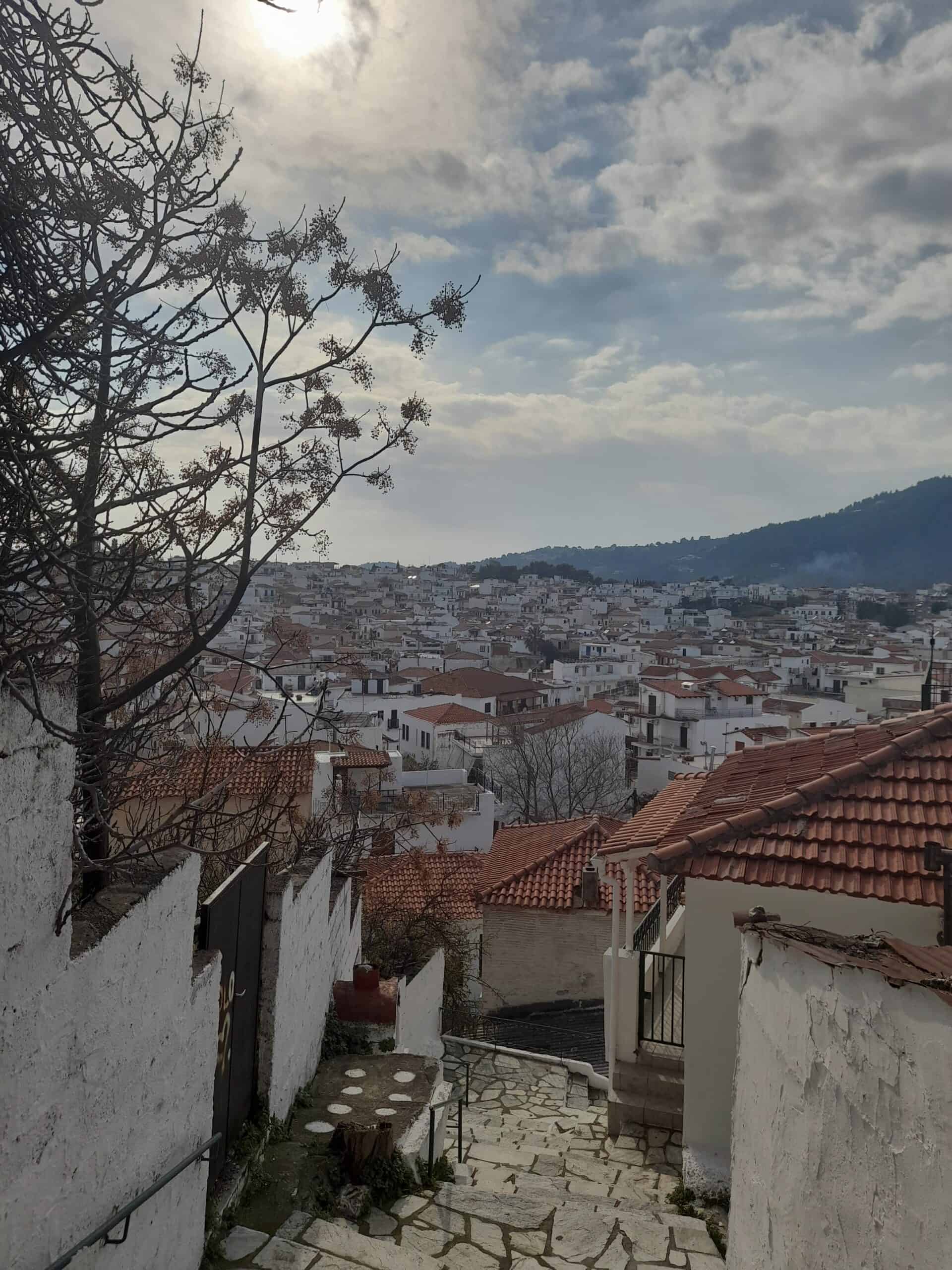 The little island of Skiathos is the most popular island in the Sporades archipelago. It is only small. (Just 12 kilometers long and 6 kilometers wide!)
But in that little area, Skiathos offers more than 60 beaches! And there is something for everyone – from secluded coves and hidden stretches of coastline to gorgeous beaches lined with tavernas and all the amenities.
Skiathos is affectionately referred to as "the boomerang island" on account of all of the people that travel here each year and keep coming back time and again. Skiathos town is the island capital and it is a charming place.
Although many tourist businesses on Skiathos are seasonal, a lot of people live on the island all year round so there is always plenty going on. Even over the Christmas period, the bars are full of people and there is an excellent tree, nativity scene, and light display by the port. 
Skiathos does get very crowded during the summer but that doesn't detract from its charm. Out of season, there are lots of incredible hiking trails (there are more than 26 trails extending over 130 miles!). They lead you to hidden woodland monasteries, rugged northern beaches, and quaint churches.
The only thing to perhaps note is that the popularity and demand for moving to Skiathos mean that property prices here are usually a little more than they are on other nearby islands. You may be able to get more bang for your buck on neighbouring Skopelos or Alonissos. 
Corfu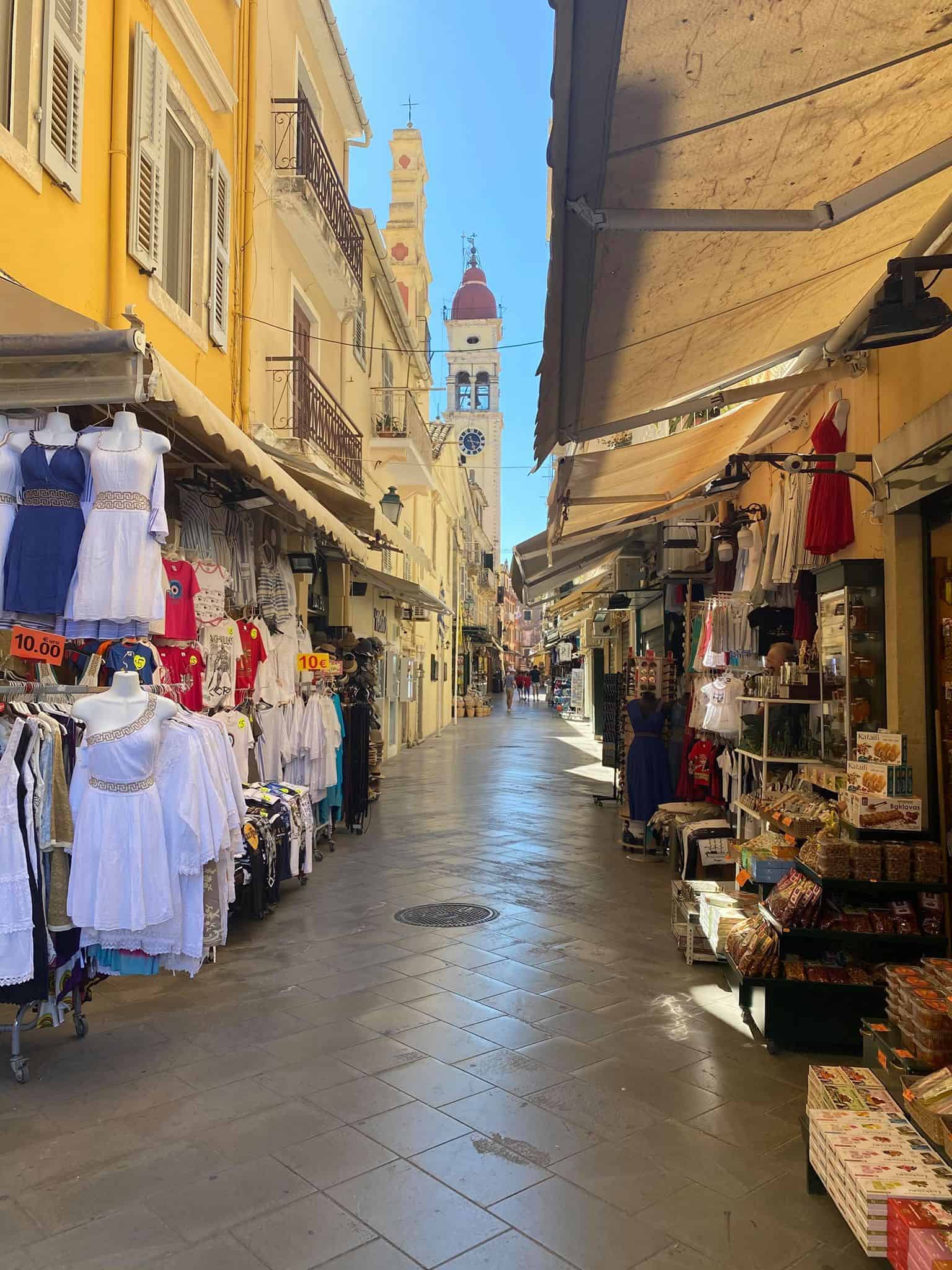 Corfu (Kerkyra) is the most popular island in the Ionian Greek island group. Approximately 120,000 people live on the gorgeous little island and approximately 6,000 of those are international expats from Northern European countries.
If having a sense of community is important to you, as well as the ability to make friends with other English speakers as well as Greek locals, Corfu town can be a good choice. There is a lot of infrastructure in place to help foreign expats settle in Corfu.
You only need to glance at Facebook to see that there are lots of expat Facebook groups for people living on the island. These can be great sources of information when planning your move, or if you should need anything, no matter how small once you arrive.
There are always events going on at various bars and restaurants, particularly in Corfu's old town. You can also simply make a post in these Facebook groups to introduce yourself and say that you would like to go for coffee, for a walk, etc and you are sure to be greeted by people that are also eager to make friends. 
Corfu old town is UNESCO protected and it is a gorgeous place. Many of the buildings here date all the way back to the 8th century. Various civilisations have conquered the island throughout history.
Each has left its mark on the local culture, architecture, and gastronomy. Corfu thrived during the Venetian rule and so, meandering around the old town can often feel more reminiscent of being in Italy than a Greek island!
Kanoni is a great place to watch the planes coming in to land and hang out on beautiful beaches just a stone's throw away from the old town. Meanwhile, Paleokastritsa and Lakones make great day trip destinations.
Skopelos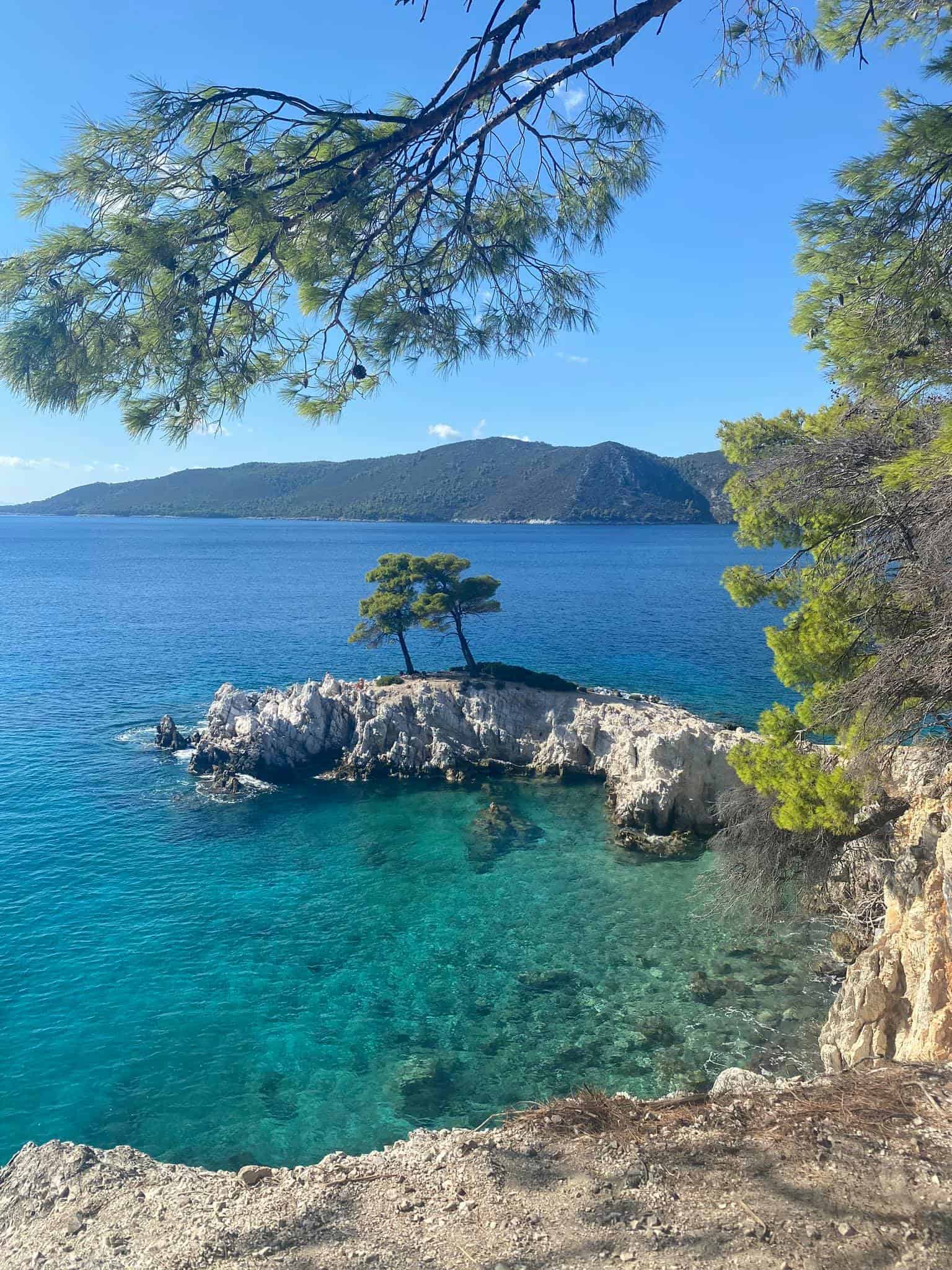 Skopelos is a nice place to consider if you are looking for a Greek island that is a little quieter. the island does not have its own airport, but it is approximately 30 to 50 minutes away from Popular Skiathos by ferry.
Skopelos is perhaps best known for being the filming location for the 2008 Hollywood movie Mamma Mia. However, despite the popularity of the movie, Skopelos still sees a fraction of the visitors of other beloved Greek islands. 
This may be, in part, because it is quite awkward to get to.
Skopelos is the greenest island in the Mediterranean and it is affectionately known as the blue-green island. There is an abundance of Skopelos hiking trails that weave through the scenery of the island. 
In the autumn and winter months, you can often have entire stretches of coastline to yourself and go hiking for hours without passing a single soul. Out of season, only a handful of Skopelos restaurants remain open and you feel almost as though you have your own paradise island.
Skopelos town is the island capital. However, other Skopelos villages like Glossa, Neo Klima, and Palio Klima are worth considering. 
The village of Palio Klima was sadly largely destroyed by an earthquake that rocked the island in the 1980s. If you are looking for a "fixer-upper" and would welcome a renovation project, there are a lot of dilapidated properties here that could be glorious if given some love. 
Aegina
The island of Aegina in the Saronic Gulf is an underrated gem. It is worth including on this list because it is one of the closest islands to Athens.
Many Athenians head here for weekend breaks during the spring and summer months and many affluent Greeks have second homes on the island. Since Aegina has not yet received the same level of international attention as other Greek islands, it is a good place to consider as demand for property is not phenomenally pushing up the prices.
You can get from Athens to Aegina (and vice versa) in just 40 minutes to an hour and 15 minutes depending on the specific boat that you travel on. This means that you can easily enjoy the best of both worlds.
If you want to go shopping, enjoy Athens nightlife, or explore ancient ruins and fascinating museums, you can easily get to Athens and back in the same day. Meanwhile, if you want to relax on quiet, secluded beaches and enjoy days spent amongst nature, you have that in your home base on Aegina.
There are some interesting ruins and ancient sites to note on Aegina too. These include the remnants of the temple of Apollo at the archaeological site of Kolona and the island's ancient capital of Paleahora.
The quaint fishing village of Perdika is a nice place to venture for lunch or dinner, while Aegina town itself, filled with pastel-coloured houses and winding cobbled passageways, has all the stores and amenities you need. Aegina also makes a great base for exploring the rest of the Saronic islands.
From here, you can get to Agistri, Poros, Hydra, etc in less than an hour.
Crete
Crete is the largest Greek island in the country. It sits south of the mainland and it could almost be considered a different country in itself. Crete's culture and gastronomy are very different from what you'll find in other parts of Greece.
An abundance of pristine natural beaches, scenic hiking trails, and quaint villages are packed into its 3,219 square mile surface area.
Heraklion is the Island's capital. However, the cities of Chania and Rethymno are also charming, as are the villages of Kaliviani, Theriso, Chora Sfakion, and Agios Nikolaos. 
A lot of expats live in the villages of Apokoronas, Plakias, Lefkogia, and Myrthios near Rethymno. There is an active community of people here that meet frequently for events and book clubs. 
Despite the island's popularity, it is easy to find very traditional areas that are untouched by foreign influence. Since Crete is such a vast place, the best approach is to spend a few weeks traveling around the island extensively and deciding which places you like the most.
Once you have narrowed it down, try and base yourself out of season other places that you would seriously consider relocating to.
Spetses
The upscale island of Spetses is the southernmost island in the Saronic/Argolic gulf. It takes 2-3 hours to get to Spetses from Athens.
Most of the island's 4,000-strong population live in and around Spetses town. Outside of that, the island is essentially just one big national park. 
Like on nearby Hydra, no cars and vehicles are permitted on Spetses (although you do see the occasional taxi near the port). Most people get around by moped, ATV, or bicycle and the island is relatively flat and so it is perfect for cycling around. 
There is an abundance of gorgeous beaches and hiking trails that can be enjoyed here all year round. Spetses is a relatively upscale island and so, properties are a little more expensive here than they are on other Greek islands. 
Paxos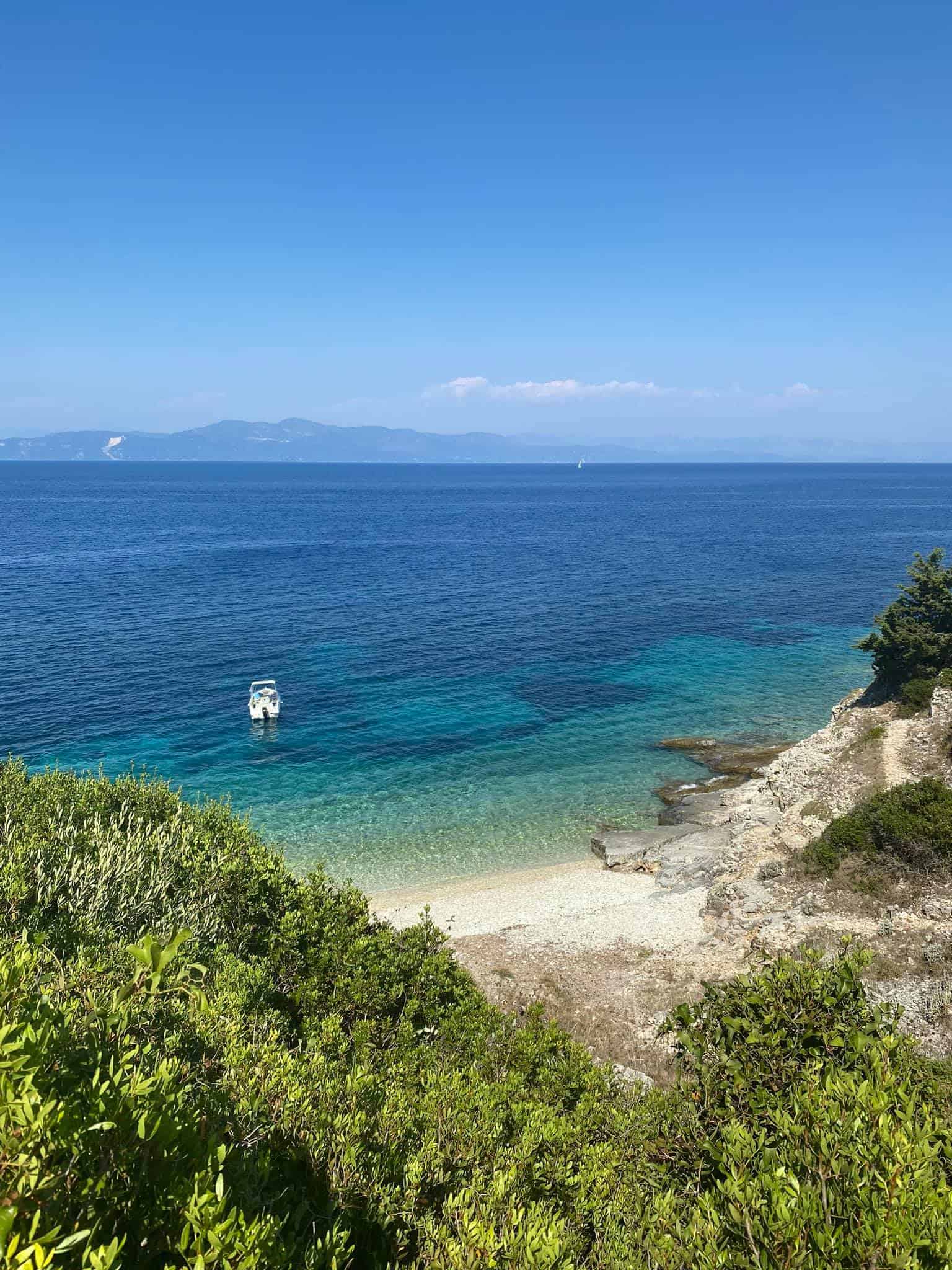 Paxos (sometimes known by its plural Paxoi) is an upscale island in the Ionian sea. Gaios is the island's main town, and it is home to a port that provides links to Corfu, Igoumenitsa, and Parga. 
This beautiful place has as of yet been able to avoid mass tourism and remains one of the least commercial islands in Greece. Many of the beaches on Paxos boast soft, powdery white sand shores and turquoise waters that would rival the beauty of the Caribbean.
Paxos attracts a well-heeled crowd and its traditional villages are filled with bars, restaurants, and chic cocktail lounges that ooze glamour and sophistication. Property and land here are a little more expensive than on other Ionian islands but Paxos is a sought-after address.
Even Hollywood icons like Morgan Freeman vacation in Paxos every year to escape the crowds. The nice thing is that Paxos manages to be upscale and desirable without oozing any air of pretension.
Greek hospitality and "philoxenia" is still very evident here. As you drive along the island's eastern coast from Gaios to Mongonissi, you will encounter many secluded beaches that are virtually untouched by human feet.
Even in the peak season, Paxos doesn't get overbearingly crowded. One nice way to spend summers and weekends is to rent a boat and sail out to virgin beaches around the island.
(You don't need any form of license. Anyone can rent a boat with a little instruction).
Naxos
Naxos is a large island in the Cyclades archipelago. Although it has started to become a more popular tourist destination in recent years, it doesn't see a fraction of the visitors of nearby Santorini or Mykonos.
The Chora is the island's capital and it's a beautiful one. Its narrow streets are made up of medieval architecture and Venetian mansions that cascade down the hilltops. 
Naxos is filled with pristine beaches that border azure waters and calm seas that are perfect for swimming in. The island is a scuba diving paradise.
Colourful coral reefs, as well as the remnants of old torpedo bombers and wartime seaplanes, await beneath the surface of the water here. If you are not a certified diver, you can take lessons locally, or participate in snorkeling tours. 
Naxos is also a perfect place for nature lovers. Mount Zea, the tallest mountain in the Cyclades can be found here. 
Various hiking trails weave through its foothills and up to its peak, passing fragrant olive groves, dense woodlands, and hidden shrines. Along the ascent, you can marvel at breathtaking panoramic views of Greece's southernmost islands. 
One great thing about living on Naxos is the easy access that the island provides to Santorini, Mykonos, Paros, Delos, Kea, Amorgos, and the countless other stunning islands in the area. A short ferry ride takes you wherever you want to go.
So, hot summers in Greece can be spent exploring a different Cycladic island every year.
Rhodes
Rhodes is the largest island in the Dodecanese island group. This archipelago sits off Greece's west coast and some of its islands are actually closer to mainland Turkey than they are to Greece.
Rhodes town is the island's capital. It has all the modern amenities that you would expect in any major Greek city.
The old town is actually a UNESCO world heritage site. It is one of 18 UNESCO sites in Greece and has been recognised as such since 1988.
The Palace of the Grand Master of the Knights of Rhodes, aka the ¨Kastello¨ is arguably the island's most famous landmark. It dates back to the 7th century and is one of only a few examples of Gothic architecture in all of Greece.
Rhodes today boasts a mishmash of architectural sites, reflecting the fact that various civilizations have invaded and conquered the island over the last few hundred years. Here, you will find Ottoman mosques, madrassahs, and hammams that sit beside colourful Venetian houses and neoclassical mansions. 
You could spend years exploring the beautiful island of Rhodes and still feel that you were constantly discovering new places. Rhodes international airport connects the island with the Greek capital and various cities around Europe and the world.
From here, you can also take trips out to the smaller islands in the Dodecanese such as Symi, Kalymnos, Karpathos, etc.
FAQs about the Best Greek Islands to Live on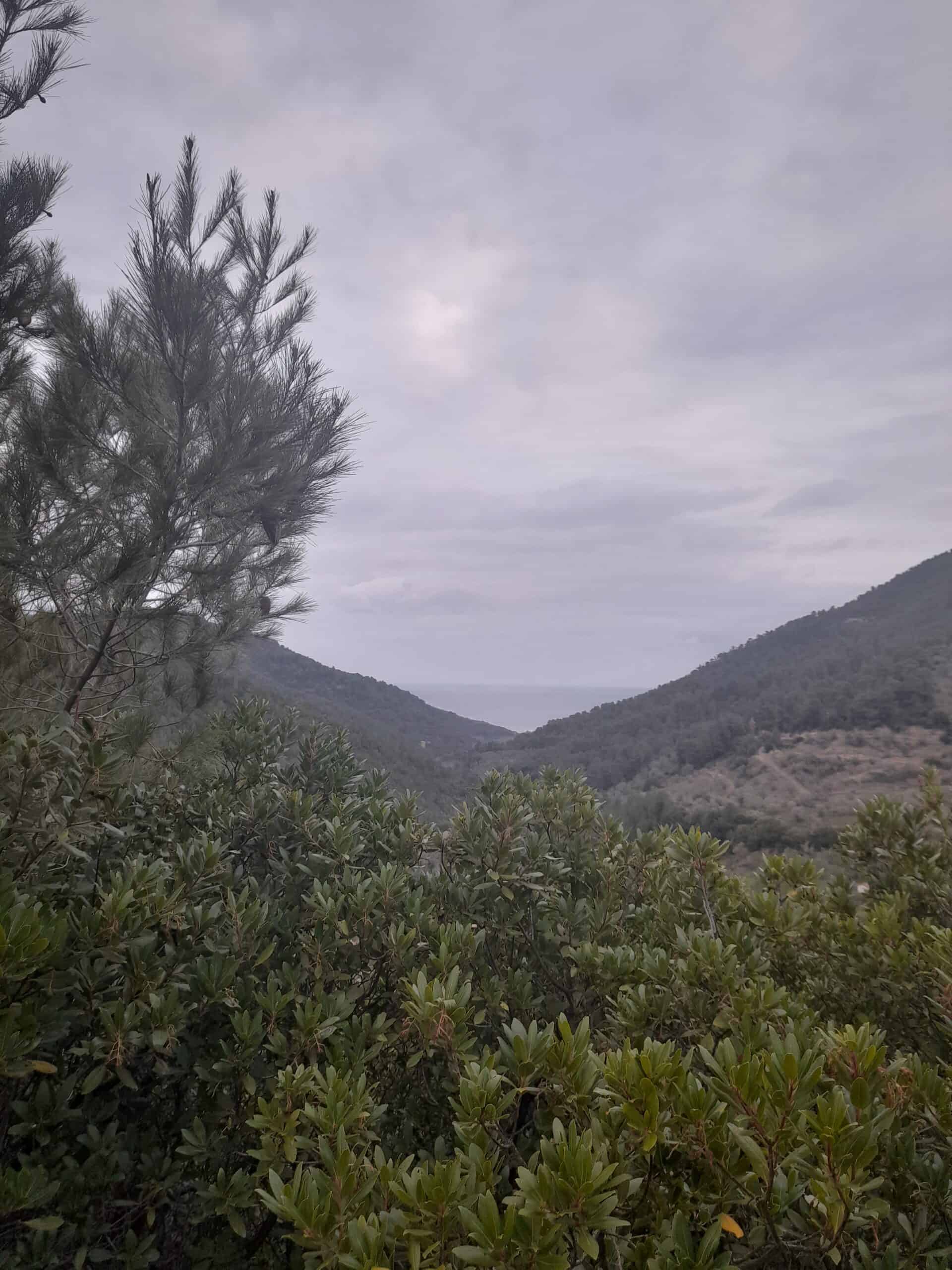 Do you have any further questions about the best Greek islands to live on? The answers to some frequently asked questions on the topic are detailed below.
Hopefully, you'll find the information that you are looking for there. If not, please do not hesitate to reach out to me.
What is the cheapest Greek island to live on?
The cost of living in Greece is generally much cheaper than in the US, the UK, and other parts of western Europe. So, wherever you choose, you are likely to find that the costs of groceries (particularly fresh fruit and veg), dining out, entertainment, etc are more affordable than what you are used to at home.
Still, there are cost differences between the islands. Generally, the most popular greek islands that see a lot of tourists are the more expensive.

If you are willing to travel off the beaten path to islands like Skopelos instead of Skiathos, or Lefkada instead of Corfu, you will see that prices are substantially lower.
What island in Greece pays you to live there?
At one point, the tiny rural Greek island of Antikythera was offering people financial incentives to move there. The beautiful island in the Aegean sea sits close to Kythira and Crete.
Andreas Harhalakis, the island's president, was offering around €500 a month to encourage people to move there and relocate to the island. (Safe to say, that people snatched that opportunity right up!)
Final thoughts on the best Greek islands to live on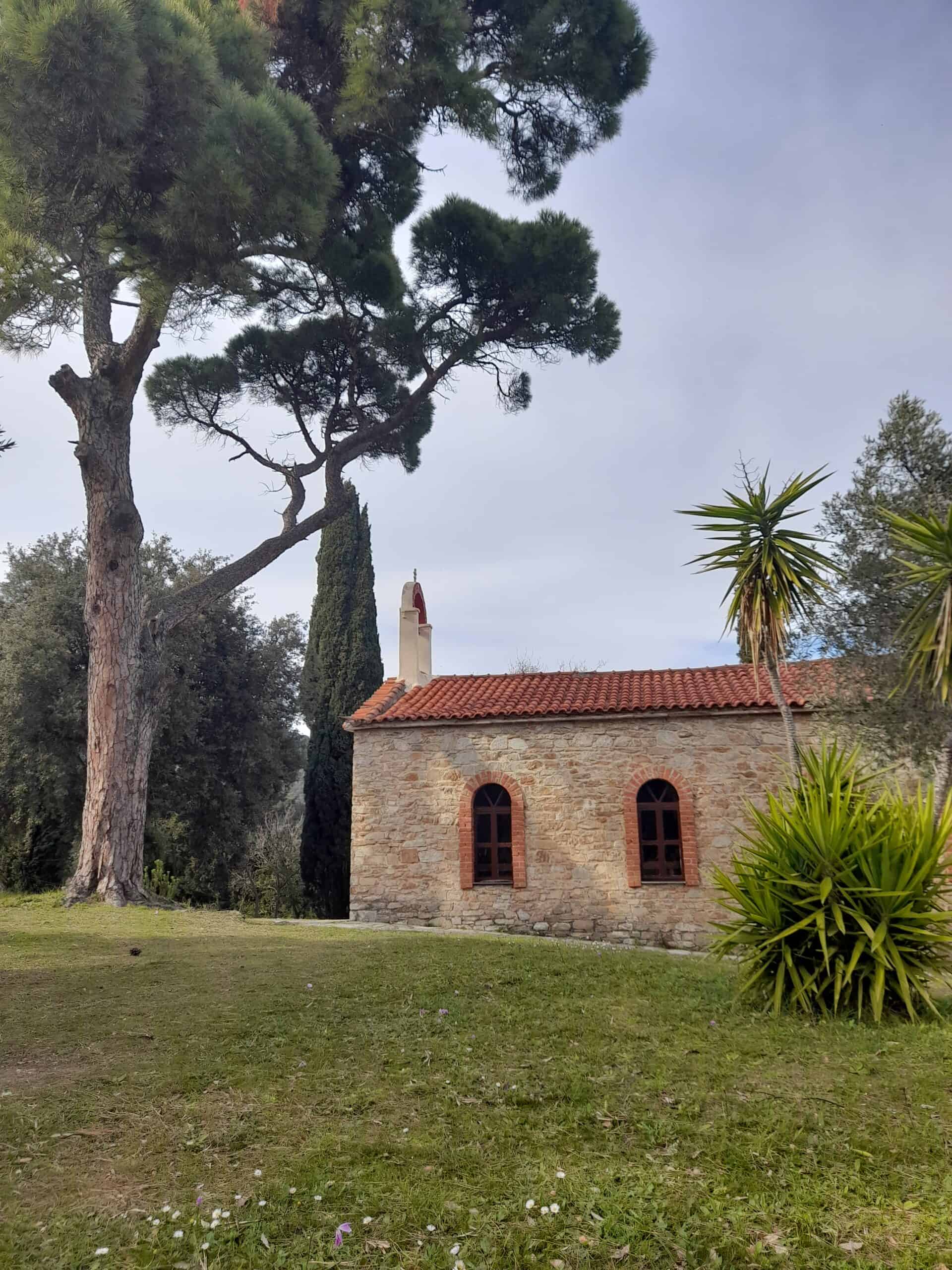 The best Greek islands to live on are of course somewhat subjective and depend on you and your personal interests. Since relocating overseas is a big decision, it is important to travel and spend a fair amount of time in the places that you are considering first.
You also may want to consider renting before buying (and maybe renting out any property you own in your home country first). That way, if you wind up not loving the island you choose, you are not tied into a decision that you regret.
Spitogatos and XE.gr are the two main property booking websites in Greece. However, there are also a lot of smaller, local real estate agencies on each island and region of the country.
These usually have better options. You can find these by simply searching "property for sale in…" and then the name of the specific island.
Greece expat Facebook groups can also be an invaluable source of information. People will occasionally list properties for sale in those too.
However, it is important to sense check any prices quoted with local friends and fellow expats and shop around before you commit to a purchase. (It is not unheard of for people to quote foreigners inflated prices and assume that they do not know the going rate.)
Generally speaking, relocating is an excellent choice. Greek people are friendly, crime rates in Greece are low, and there are plenty of options available for you to become a permanent resident of Greece. That is, whether you do so through the Golden visa program or obtain residency as a remote worker.
You may be interested in joining my Greece Facebook group – All Greek to Me. Please don't hesitate to reach out if you need anything.
Safe travels! Geia sou! Melissa xo
---