Wading through the translucent cerulean waters of Skiathos beaches is a highlight of any trip to the Sporades. Some of the beaches here are widely considered as being among the very best in all of Greece.
Skiathos beaches capture the hearts of Greeks and international travellers alike. There is a reason that so many people come back to the island time and time again, choosing to spend their annual vacation in Skiathos every year.
The island of Skiathos is small; It is only 12 kilometers long and 6 kilometers wide! However, over 60 breathtaking beaches are contained within that small area.
Skiathos Beaches:
The Best Beaches on Skiathos Island
Skiathos beaches have something for everyone. The island has no shortage of resort-type areas where beautiful coastlines are bordered by seafront promenades lined with tavernas, bars, and restaurants. Similarly, if you are looking for something more secluded and remote, there are many ¨hidden¨ beaches and coves that exude real secret island paradise vibes.
Diamandis Beach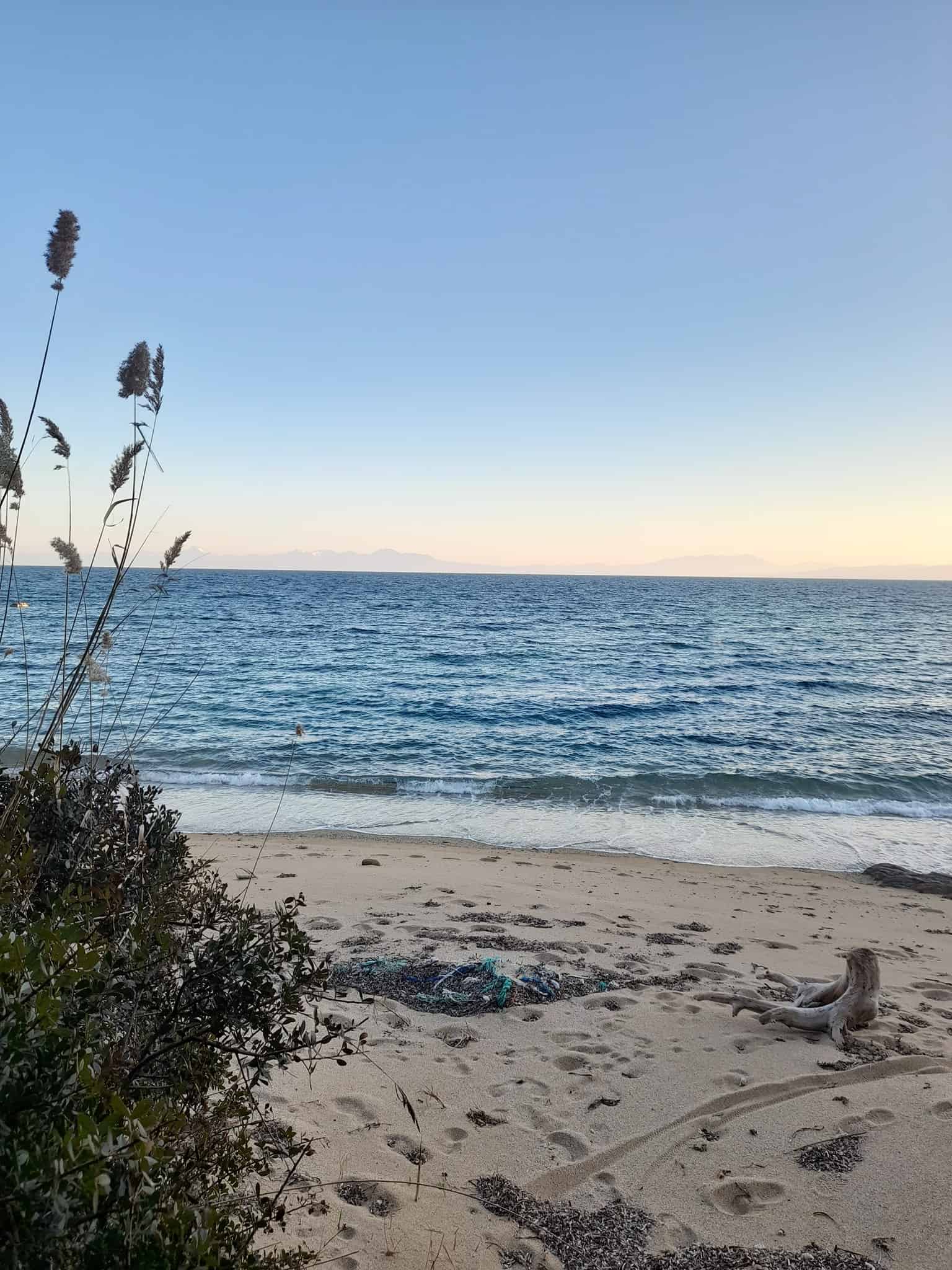 Diamandis beach is a stunning stretch of coastline that is situated in Kanapitsa, on Skiathos islandś west coast. This intimate, secluded beach can only be accessed by following a narrow footpath that leads through the surrounding woodland.
During the summer months, a beach bar operates here. It is possible to rent a sunbed and an umbrella at Diamandis beach for just €10.
Diamandis is not the most easily accessible beach on the island and as such, it is often overlooked by a lot of visitors to Skiathos. Out of season, you can come here and have the entire place to yourself. The beach is encompassed by dense pine forests, and dramatic cliffs.
Vromolimnos Beach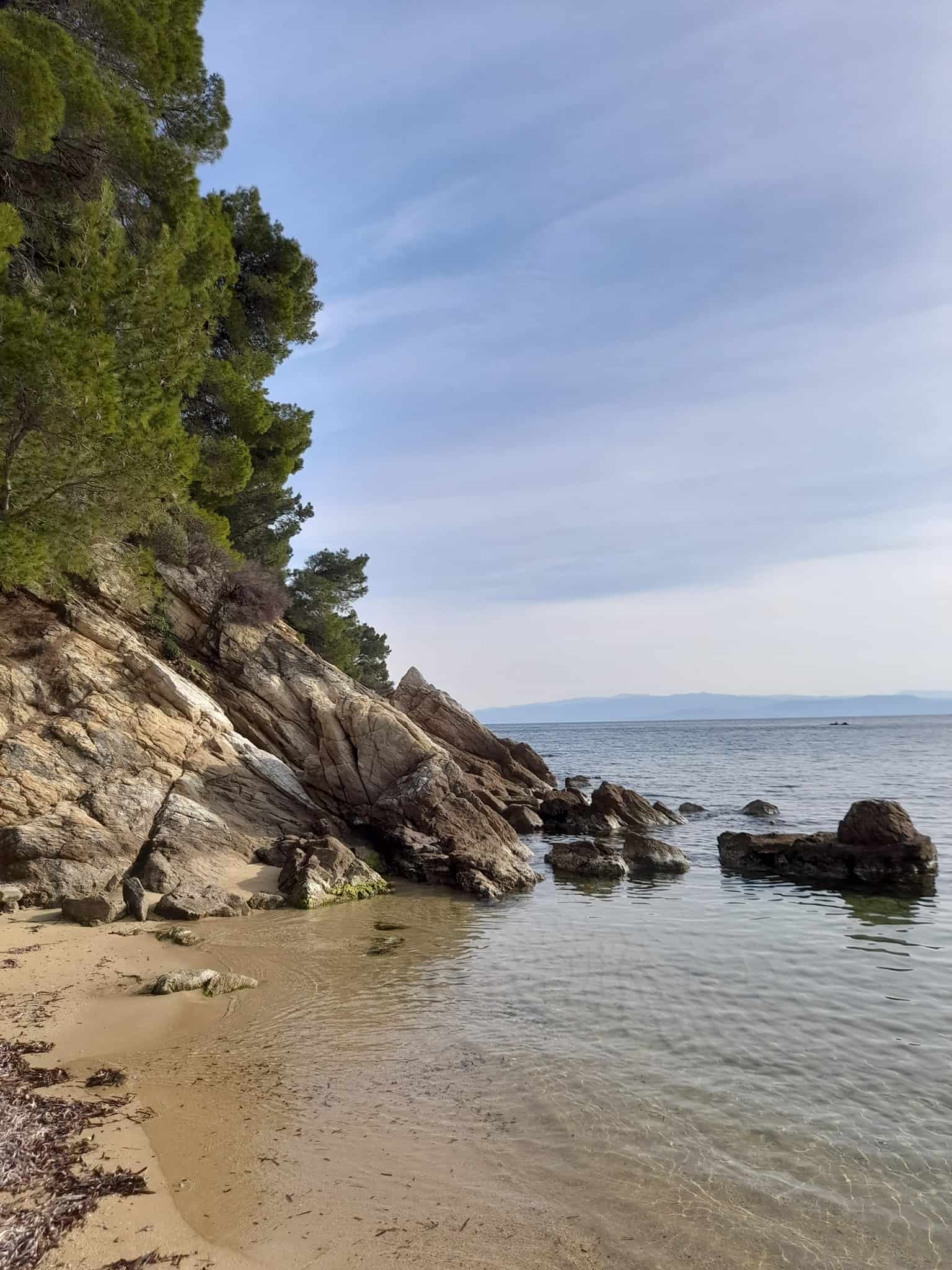 Lovely Vromolimnos beach is situated in the southern part of Skiathos, some 8km away from the town. You can access the beach via a short, pleasant woodland walk from Kanapitsa, or from the nearby resort of Kolios.
This is perhaps one of the most naturally stunning beaches in Skiathos. Vromolimnos sits within a calm bay, backed by pine forests. The clear, tranquil waters are perfect for swimming. The sand is fine and golden.
Vromolimnos is popular among the young and beautiful in Skiathos. During the summer months, the beach bars here serve an array of cocktails, snacks and refreshments, and play out bass-thumping music.
Katharina Beach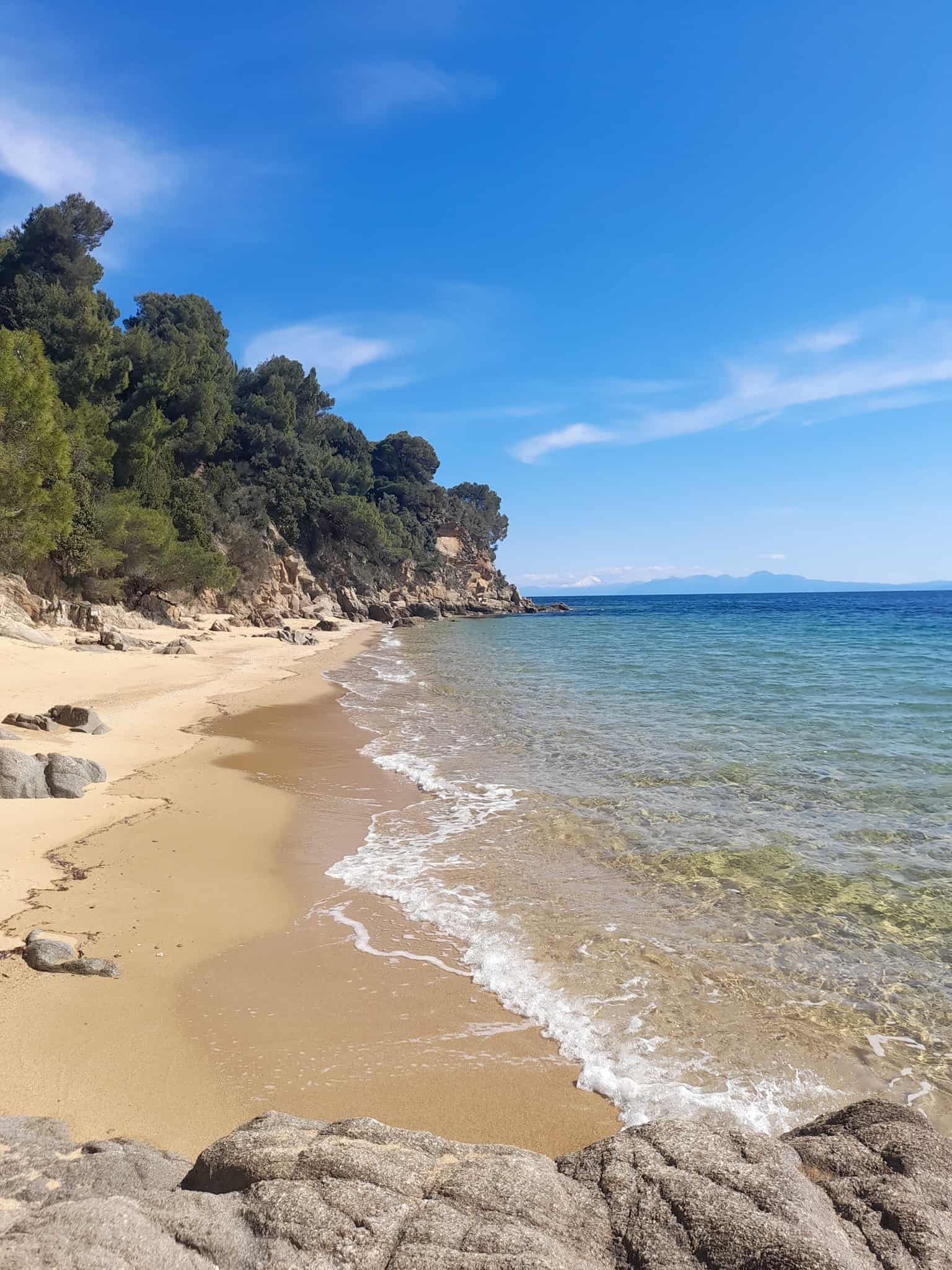 Katharina beach is a lesser-known area that is tucked away from view in the "Maratha" area of Southwestern Skiathos. To reach it, you need to follow an overgrown woodland trail that veers off from the section of Skiathos ring road that connects Troulos and Koukounaries.
This little beach exudes real desert island paradise vibes – particularly if you travel before the peak summer months when it is completely empty. The cove is encompassed by dense woodland and unique rock formations.
The waters here are clear, and shimmer beneath the sun in gorgeous shades of blue and green. Katharina beach is a little tricky to get to as the path is overgrown and not very easy to spot from the road.
There is some amount of clambering involved, and the path that leads down to the coast is quite steep. Fortunately, some helpful person has left a rope here to make getting to the beach easier. However, you should be careful if climbing down alone.
Kanapitsa "Hidden" Beach
The Kanapitsa region has several gorgeous beaches that are never as crowded as some others on the island as they are a little trickier to get to. One to add to your radar is the "hidden" beach that awaits at the end of a private residential street.
First of all, don't let the fact that the beach sits at the end of a private road deter you. The beach is not private property and it is publicly open to all.
Encompassed by craggy rocks and dramatic cliffs, the beach will have you feeling like Tom Hanks in Castaway! The clear turquoise waters here are perfect for swimming and snorkeling. You can swim around the coast here to a small rocky cove at Cape Kanapitsa that is inaccessible by foot.
Ligaries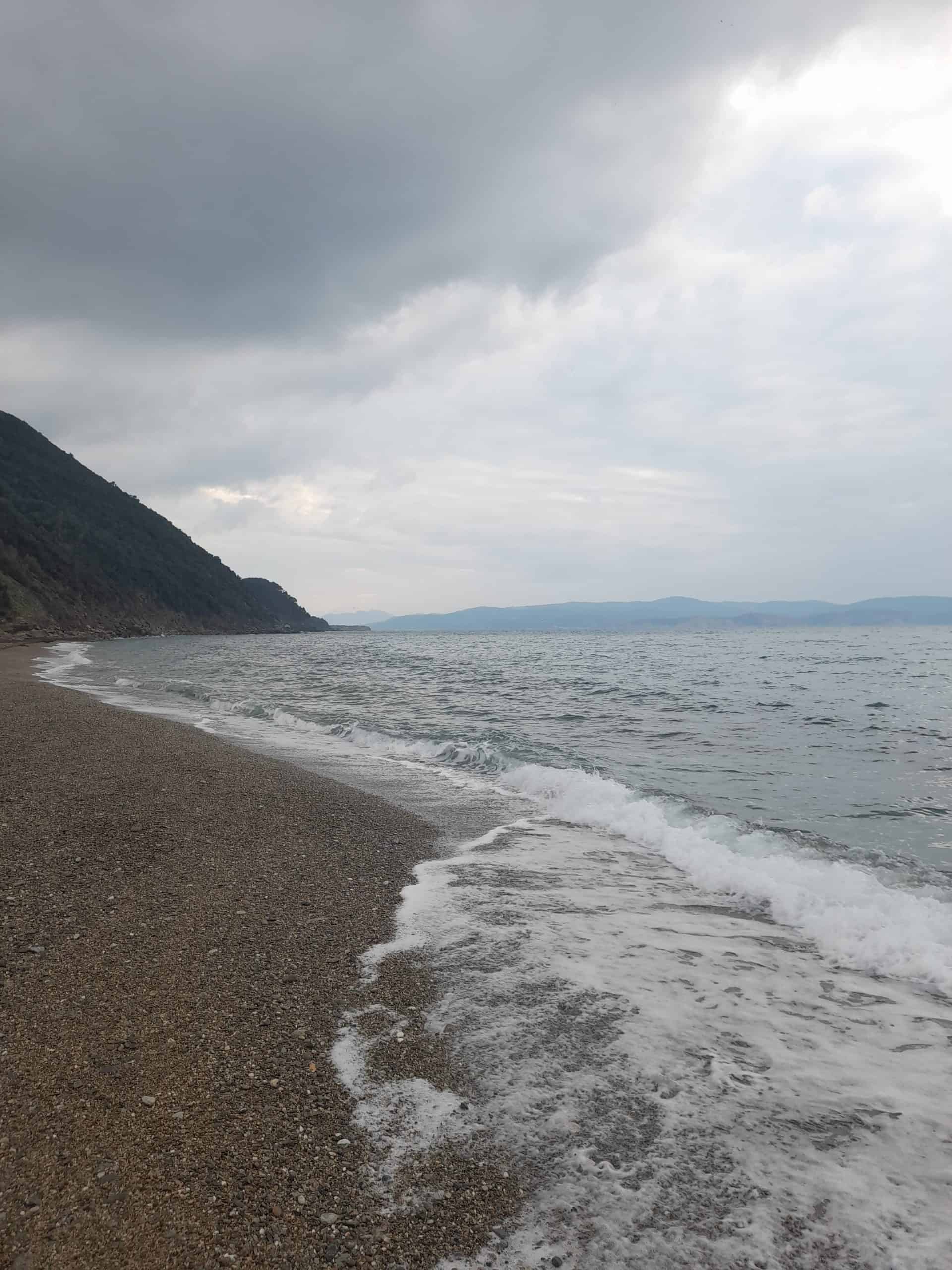 The northern part of Skiathos island is altogether more wild and rugged than the south. This area is less developed and sees fewer visitors due to its distance from the main towns and resort areas.
Ligaries beach is a beautiful, long sandy stretch of coastline. Sunbed rentals are available here, and there is a little taverna situated in the lush green hillside where you can grab a bite to eat after a day's swimming.
Ligaries is a little tricky to reach. An ill-maintained dirt trail brings you to the coast.
However, this is not ideal for driving along if you have a standard rental car. It is preferable to drive to the beach via quad bike or jeep or to hike here by following one of the designated Skiathos trails.
Tsougria Island
Tsougria is not a Skiathos beach. However, it is worth mentioning here as it is one of the most breathtaking places in the Sporades, and a popular excursion from Skiathos town during the summer months.
Tsougria is an uninhabited island that sits off the southern coast of Skiathos, between Skiathos and Skopelos. You can see its lush green landscapes as you look out to see from Megali Ammos, Kanapitsa, and other parts of the island's south coast.
From June onwards, daily catamarans connect Skiathos with Tsougria. It is also possible to get here independently if you opt to rent your own boat.
The waters here are more reminiscent of something that you would expect to see in the Caribbean, rather than in Europe! Boats to Tsougria drop you off in the same place.
However, there is another beach that you can get to by walking through the woods which is well worth the effort. The quaint church of Agios Floros is a great place for photos – it is perched atop a cliff and offers stunning views over the Aegean sea.
Troulos Beach
Troulos beach is the namesake beach of Troulos resort town. This gorgeous blue flag coastal area is a convenient place to enjoy the sun and sea if you are staying close to Troulos during your time in Skiathos.
The name "Troulos" means "dome" in Greek. The beach takes its name from the uninhabited islet that can be seen from the shore which exists in the form of a church dome.
Troulos beach gets very busy between June and September. Yet the crowds do not detract from its charm.
Here you have all the amenities you need for a day at the beach. For instance, sunbed and water equipment rentals, a lifeguard on hand, and a range of excellent tavernas and bars nearby.
Lalaria Beach
Countless guidebooks, magazines, and travel media have referred to Lalaria beach as being one of Greece's very best beaches. It can be found on the northeastern tip of the island and is only accessible via a boat trip from Skiathos port. Boat trips cost upwards of €10 per person.
The unusual landscapes and rock formations here make Lalaria appear otherworldly and almost ethereal. Here, colossal white cliffs extend out from the sea forming unique shapes and a natural bridge arch.
There are no sunbeds or facilities on Lalaria. It can get busy with boat tripping tourists during July and August. However, it is one of the most gorgeous natural paradises on the island.
If you choose to rent your own boat during your time on Skiathos, you can also sail out to the blue and dark caves nearby.
Agia Paraskevi Beach
Agia Paraskevi beach is a stunning, crescent-moon-shaped bay that takes its name from the nearby Agia Paraskevi church. Both are very worthy of your time and attention.
Agia Paraskevi church is a tiny little stone church hidden beneath an abundance of poplar trees. Its interiors are adorned with beautiful, vibrant frescoes.
Churches in Greece that are named after a patron saint host celebrations on that Saint's name day. The day of St Paraskevi takes place every year on the 27th of July.
On this day, a huge feast is held in the churchyard. Locals and churchgoers tuck into an array of sumptuous marinated meats, local wines, and Greek pastries. Do stop by if you find yourself on the island at this time.
The nearby church aside, Agia Paraskevi beach is one of the best beaches in Skiathos. Its waters are warm, inviting, and crystal clear. Its sands are fine, soft, and golden.
Sunbeds and equipment rentals are available here. So too, are watersports equipment items, boats, and jet skis.
This is an extremely popular beach during the Greek summer months and as such, it is often crowded. If you're visiting Greek islands in October and onwards though, you will have gorgeous Agia Paraskevi almost entirely to yourself.
Megali Ammos
Megali Ammos is one of the most well-known "city beaches" in Skiathos. This long, serviced sprawl is situated just over a mile away from the town and as such, it often gets very crowded in the summer.
The views out to sea from Megali Ammos are some of the best on the island. From here you can see Skopelos, Cape Kanapitsa, and the uninhabited island of Tsougria all in the distance.
Koukounaries Beach
Koukounaries beach is one of the best Skiathos beaches. However, with that, it is also one of the busiest.
Koukounaries is characterised by fine powdery white sand, crystal-clear waters, and pine forests. Not only is this stretch of coastline one of the most beloved in the Sporades, it was also recently recognised as being the best natural beach in the entire Mediterranean.
This area is very well organised. The seafront promenade is lined with tavernas and restaurants. There are also many hotels and accommodation options in the area.
Since the beach is often crowded, it may not be what everyone is looking for, particularly if you are looking for a peaceful Greek island retreat. If you prefer a calmer environment, head to Diamandis, or schedule your Skiathos trip for May or September, rather than July and August.
Tzaneria Beach (Sklithri)
Tzaneria beach is the first stretch of coastline you encounter when you enter the Kanapitsa Bay area of eastern Skiathos. A water taxi connects the beach with Skiathos town.
A pleasant way to spend a day is to walk along the entirety of the Kanapitsa region, stopping by each local beach as you go. Namely, starting at Tzaneria beach, walking past Kanapitsa beach to Diamandis beach, and then on to Vromolimnos, spending a little time on each.
Tzaneria beach is set in a sheltered bay surrounded by pine trees. The waters are generally calm, clear and perfect for swimming in.
During the summer months, sunbeds and umbrellas line the beach and are available to rent. Tzaneria often gets crowded.
One major draw of Tzaneria for many is its excellent fish tavernas that are right on the seafront. Their menus serve up an array of sumptuous dishes prepared with the freshest local catches.
Mandraki Beach
Mandraki beach can be found on Skiathos' west coast. If you want to escape the crowds, this is a place to have on your radar.
The sandy beach here extends for miles and miles as far as the eye can see. Even in the height of summer, it is easy to set down your towel here and have areas of coastline all to yourself.
This is perhaps because Mandraki is not all that easy to access; It is connected to Koukounaries by a dirt trail that isn't great for vehicles. The beach is not organised and boasts no tourist facilities. However, there is a small canteen that sells drinks and refreshments.
Banana Beach
Skiathos' Banana beach is separated into two distinct parts: little banana and big banana. The unusual name has been awarded to this stretch of coastline on account of its curved shape.
The main part of the beach is organised, lined with sunbeds and tiki-style umbrellas. During the summer months, beach parties with live DJs are often hosted at big banana beach.
It is the place to see and be seen if you are young, attractive and Mediterranean. Parties and events here often continue all night and well into the next morning.
Little Banana beach offers quite a different experience. At the end of ¨big¨ Banana beach, you can follow a narrow dirt trail leading past a huge rock.
The quiet cove with crystalline waters that awaits at the other side is little banana beach. Little banana beach is one of the most popular naturist-friendly beaches in Skiathos.
Achladies
Achladies beach is a long stretch of sandy coastline just 4km away from Skiathos town. Many resorts, hotels and tavernas can be found on the road that runs parallel to Achladies.
Achladies may not have the same jaw dropping natural beauty as say, Lalaria or Diamandis. However, itś a nice, peaceful stretch of sandy coast.
The ambiance here is particularly beautiful at sunset. You can sit by the sea as you watch the sun dip behind the uninhabited island of Tsougkriaki.
Parting Words
Have any additional questions about visiting Skiathos beaches? Most of the places on this list are serviced by the excellent and convenient Skiathos bus, making them very easy to get to.
I have been living in Greece since 2017. I am happy to answer any queries about planning a trip to Greece that you may have.
Safe travels! Geia sou, Melissa xo
---