Troulos and Troulos beach are among the best-loved highlights of Skiathos island for many visitors. This little resort town is a popular area for people to stay in and for good reason.
Troulos Skiathos
The Troulos region of Skiathos can be found on the island's southern coast just 7km away from Skiathos town. It takes its name from the little uninhabited islet that sits just across the water and can be seen from the beach. 
"Troulos" in Greek means dome. This is a fitting name considering that the islet across the water looks just like an upturned church dome.
Opting to stay in Troulos means that you have everything that you need for a relaxing vacation right on your doorstep. You will find a diverse range of bars, tavernas, coffee shops, and nightlife options. 
Troulos Beach 2023
Troulos beach offers all the amenities that you need for a day in the sun. It is one of the best beaches on Skiathos island and despite the popularity of the area, it seldom sees as many crowds as nearby Koukounaries.
Everything that you could possibly need – from sunbed rentals to watersports equipment, can be found here. In quintessentially Greek holiday style, you will also often see local vendors meandering up and down the coast selling loukoumades (Greek doughnuts) and other Greek pastries as you laze upon the sand. 
Troulos beach is at its busiest between the months of May and September. However, even so, the crowds do not detract from its charm.
Troulos, backed by cliffs and lush Mediterranean greenery, is aesthetically stunning. The turquoise waters here are crystal-clear and perfect for swimming, snorkeling, and stand-up paddleboarding. 
The calm sea means that swimming here is perfectly safe for families with young children and inexperienced swimmers. There is always a lifeguard on duty during the summer too.
So you can feel assured that there is an extra pair of eyes looking out for your little ones. You can rent a sunbed for the day here for €8 or you can opt to simply lay your towel down on the sand, as you prefer.
Head here out of season and you may be lucky enough to have Troulos beach virtually all to yourself. Even visiting Greek islands from October onwards, a walk along the coast is always pleasant.
Other Beaches Close to Troulos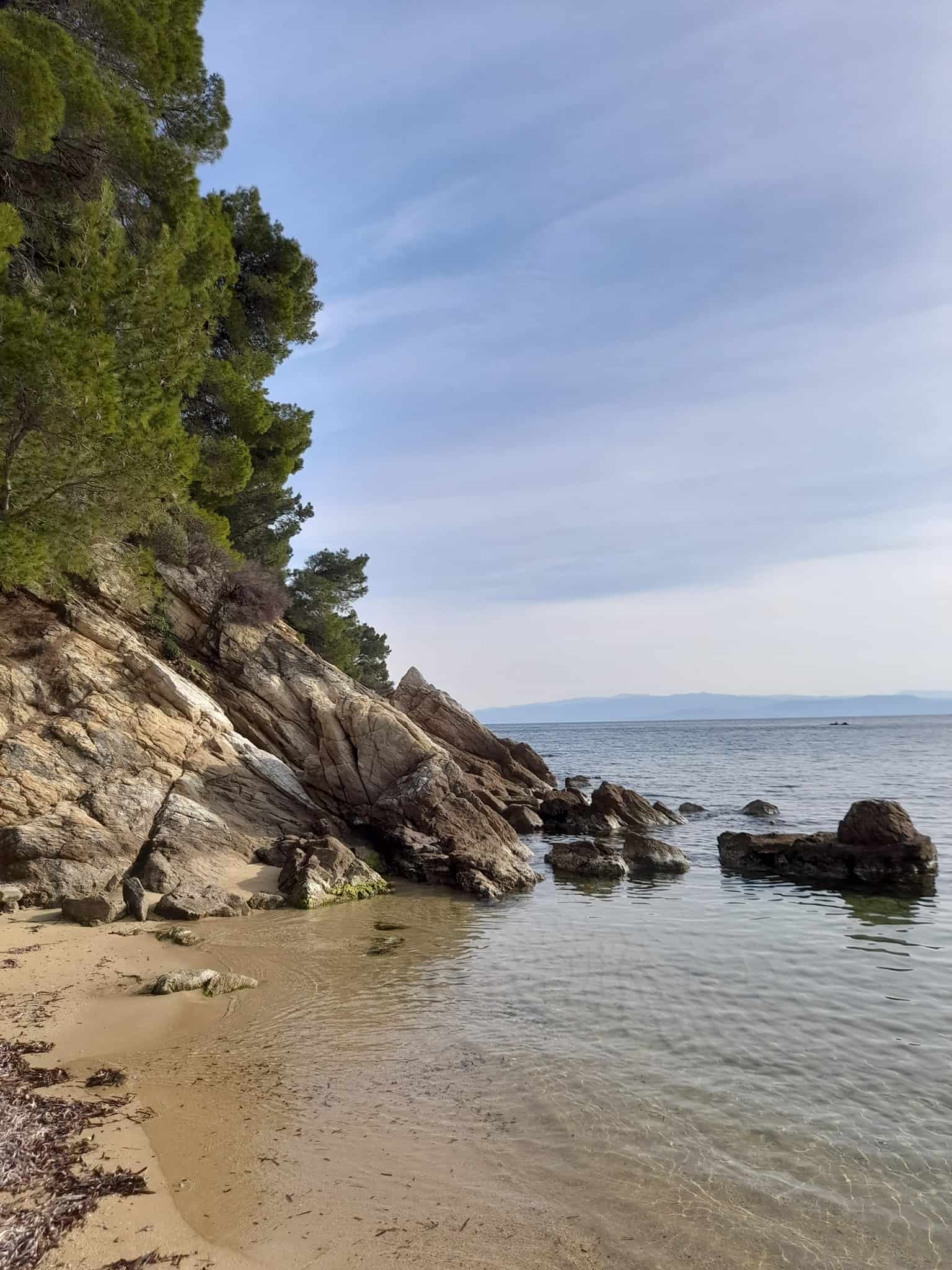 Troulos beach is beautiful. However, when you want a change of scenery, you will not be disappointed by the other beaches that are just a short walk away.
Katharina Beach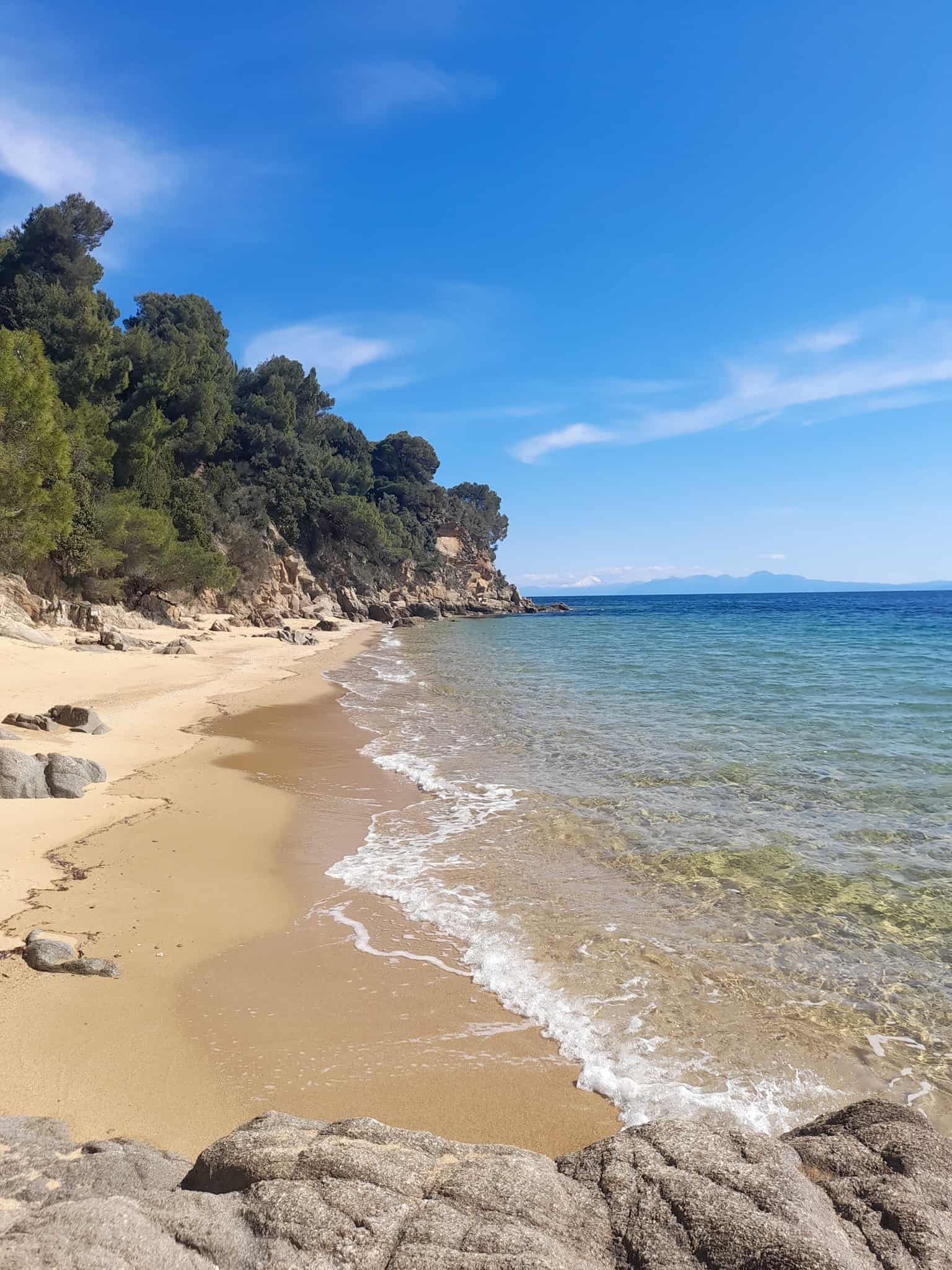 Katharina beach is just a 20-minute walk away from Troulos. It can be reached via a somewhat overgrown path that disappears through the woodlands along the road from Troulos to Koukounaries.
This is a small, unserviced beach. Encompassed by pine trees and unique rock formations, Katharina exudes real desert island getaway vibes – particularly if you pass by out of season when there's no one else here.
Pack a towel, sunscreen, plenty of water, and snacks as there are no stalls or amenities here. Do note that getting to the beach requires a short downhill climb that can be done with the aid of a rope.
Agia Paraskevi Beach
Agia Paraskevi Beach takes its name from the quaint nearby church of the same name. This beautiful crescent-moon-shaped coastline boasts golden sand shores and clear blue waters.
Agia Paraskevi does get busy in the summer months and sits adjacent to various luxury hotels. That being said, it is just a short walk away from Kolios beach so it isn't difficult to find a spot away from the crowds.
You can rent sunbeds and umbrellas here or simply opt to bring your own towel and lay on the sand. Similarly, there are several vendors here that allow you to rent water sports equipment, boats, and jet skis.     
Vromolimnos Beach
Vromolimnos is one of the best-loved party beaches among the young and beautiful in Skiathos. In July and August, beach parties are often hosted here featuring live DJs and performing artists from across Greece and the world.
Throughout the day, bass-thumping music plays out over loudspeakers from the nearby beach bars. Vromolimnos is almost equal in popularity to Koukounaries and Troulos. It offers everything you need – sunbed and equipment rentals, bars and tavernas right by the sea, etc. 
Where to Stay in Troulos
There are a plethora of accommodation options available in Troulos to suit all budgets and travel styles. Many hotels here work with package holiday operators such as TUI and Jet2.
However, it is also possible to book them independently. Similarly, a range of exclusive villas and self-catered options are available through Airbnb.
Getting to Troulos 
It is easy to get to Troulos from Skiathos town. There is just a 10km distance between the two towns and the drive takes approximately 15 minutes.
Getting to Troulos by bus 
Public transport in Greece is excellent and Skiathos is no different. The Skiathos bus is an incredibly convenient way to get around the island.
Buses run in a circuit between Skiathos town and Koukounaries all year round. During the summer months, they run every fifteen minutes.
There are 24 stops around the island. Of these, four (stops 17-20) are in the vicinity of Troulos.
Stop 17 drops you just past Agia Paraskevi beach. Stops 18 and 19 drops you into the heart of Troulos town, and stop 20 leaves you by the path that leads towards the sandy shores of Troulos beach.
You can also take a scenic water taxi. This departs from Skiathos town at frequent intervals throughout the day.
Renting a car in Skiathos 
Renting a car in Greece is not as daunting as you may think. Skiathos is only a small island and it is virtually impossible to get lost – there is just one main road that runs in a loop around the island.
Numerous reputable rental companies operate in Skiathos. This includes Avis and Europcar.
The island bus is great but having your own vehicle gives you a lot more flexibility. This is particularly true if you hope to explore the more rugged northern part of the island, its hiking trails, and offbeat beaches. 
FAQs about Visiting Troulos & Troulos Beach Skiathos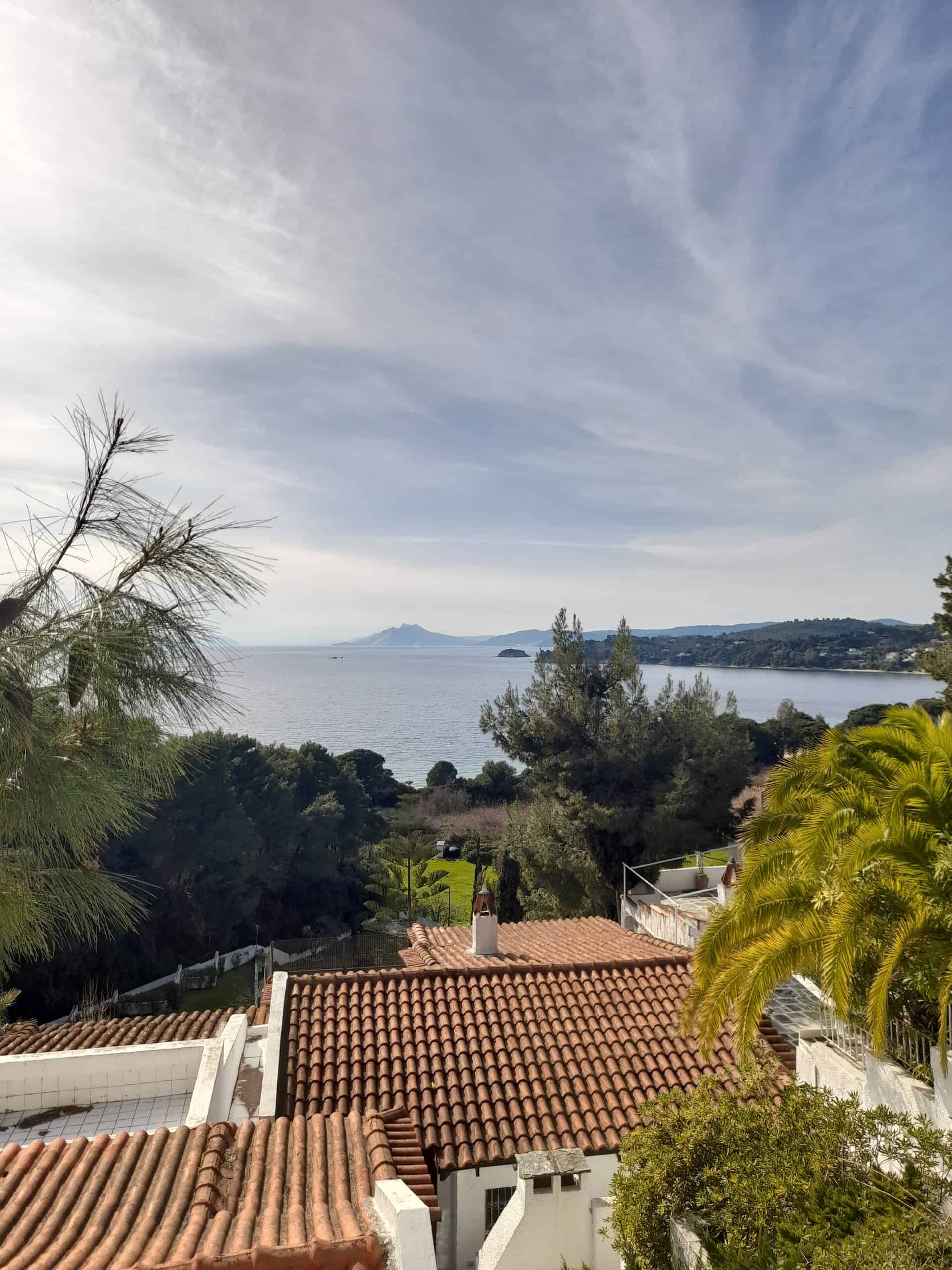 Do you have any further questions or concerns about visiting this part of Skiathos? The answers to some frequently asked questions are detailed below.
Hopefully, you will find the information you are searching for there. If not, feel free to reach out!
Is Troulos beach sandy?
Yes. Troulos beach Skiathos is a lovely beach with golden sands that run parallel to clear, calm turquoise waters.
How much are sunbeds on Troulos beach?
Renting a sunbed for the day on Troulos beach will cost you about €8. Since the beach gets busy, especially in July and August, it is a good idea to come early.
What bus stop is Troulos beach Skiathos?
The bus stop for Troulos beach Skiathos is stop number 20. If you are anxious about when to get off, you can ask the driver to give you a shout when you arrive.
How much is a taxi from Skiathos town to Troulos?
It should cost you between €8 and €10 to get a taxi from Skiathos town to Troulos. There are always plenty of cabs waiting close to the port and at various ranks in the town centre.
Final thoughts
Do you have any additional questions about organising a stay in Troulos, Skiathos, or about planning a trip to the Sporades islands? I lived here throughout the global pandemic.
Feel free to reach out if you need anything. I'll get back to you ASAP.

Safe travels! Melissa xo 
---