The Skiathos bus is a super convenient and affordable option for travelling around the gorgeous Sporades island of Skiathos. The bus runs from Skiathos town to Koukounaries via Kanapitsa, Troulos, and most of the most popular beaches and tourist areas on the island.
There are a total of 27 stops along the route which runs along the island's southern coast. The existence of this bus means that you don't need to rent a car or worry about driving during your trip. (Unless you plan on exploring the island's more rugged northern coast – more on that below). 
Skiathos Bus Routes, Times & Fares in 2023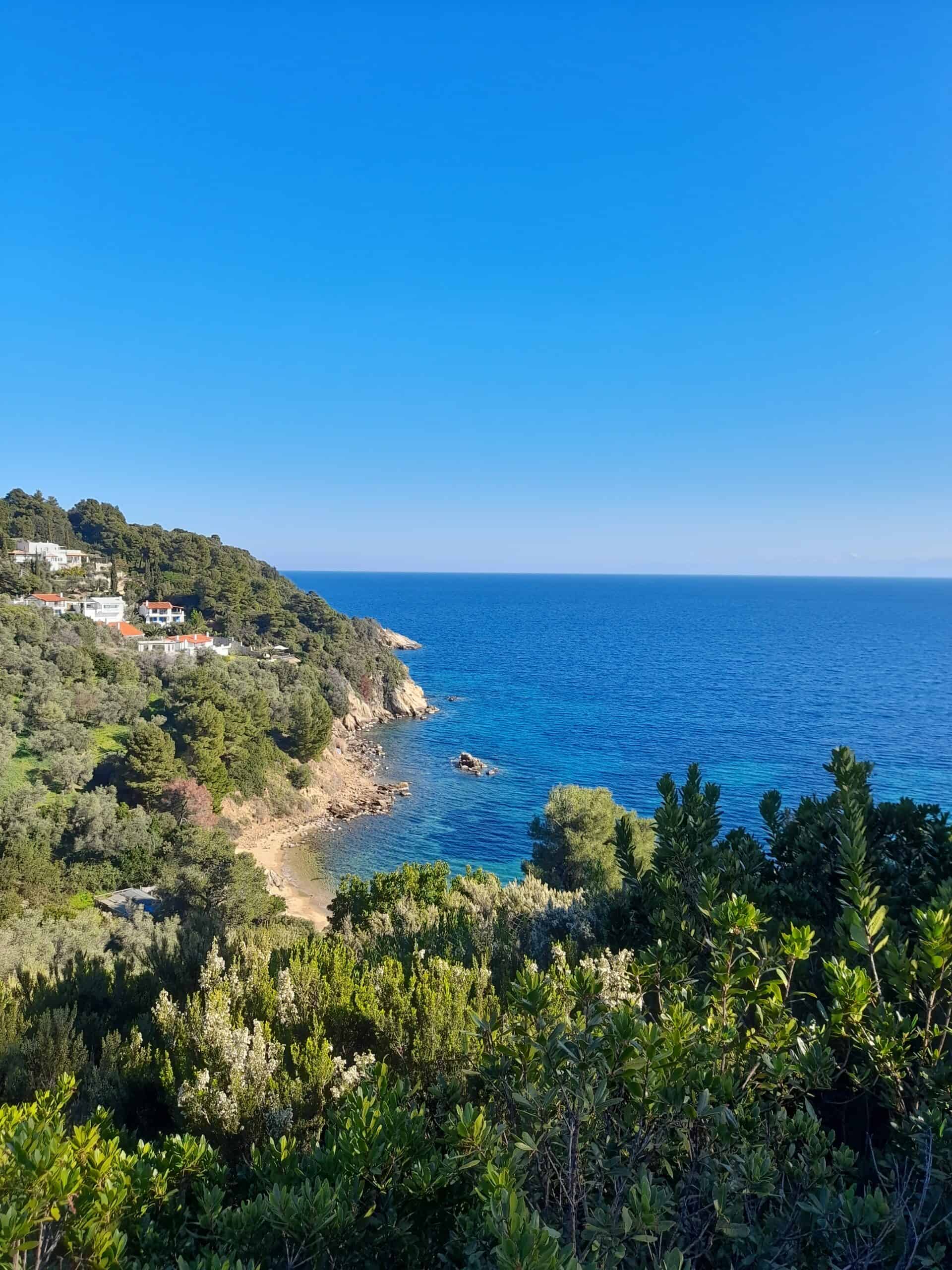 There are 27 stops on the Skiathos bus route, several of which are scattered throughout Skiathos town. Confusingly, the first stop (terminal) is marked as stop 0, so it appears as though there are only 26 bus stops.
The bus starts running from Skiathos town at 07:00 am and in the opposite direction from Koukounaries back towards the town from 07:30 am. 
The final buses leave at midnight from Skiathos town and 00:30 from Koukounaries. In the early morning (7-8 am), buses are hourly. 
Then, they run every 20 minutes until the late evening. The buses are impossible to miss;
They are white and green and usually have ¨Skiathos¨ and ¨Koukounaries¨ written in Greek on the front of them (Σκιάθος and Κουκουναριές). At the time of writing, a single ticket costs €1.60. 
You can buy it directly from the bus driver so make sure that you always have plenty of cash and small change on you. You currently can't buy a return ticket, you need to buy two singles.
The length of the route is around 14km and it takes approximately 30 minutes to travel from one side of the island to the other.
Skiathos bus timetable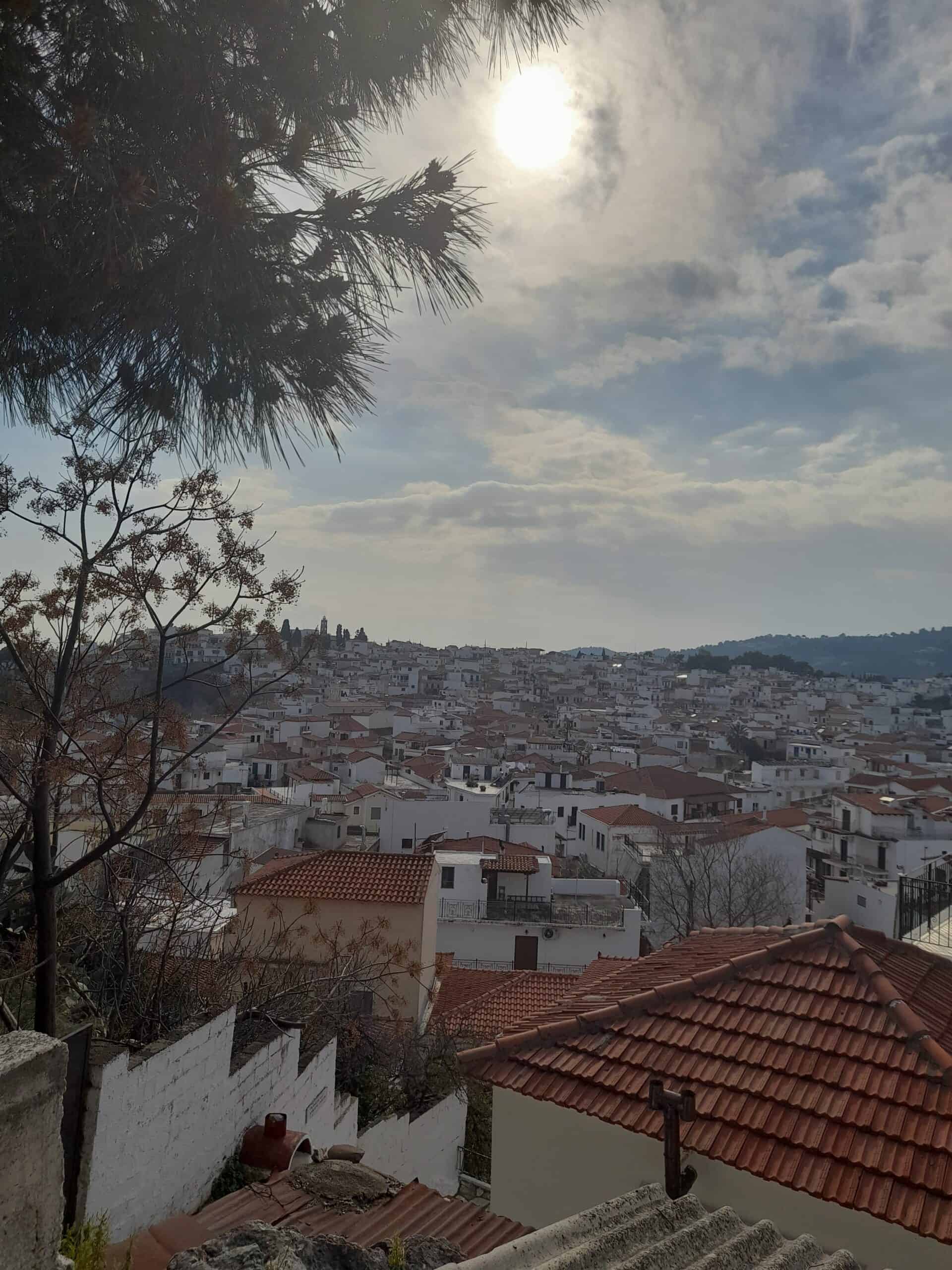 The summer 2023 Skiathos bus timetable is detailed here. During the winter, the buses run approximately four times a day in each direction. 
Since the schedule is subject to change, I will update the winter bus schedule below at the end of this summer.
Stops on the main Skiathos Bus Route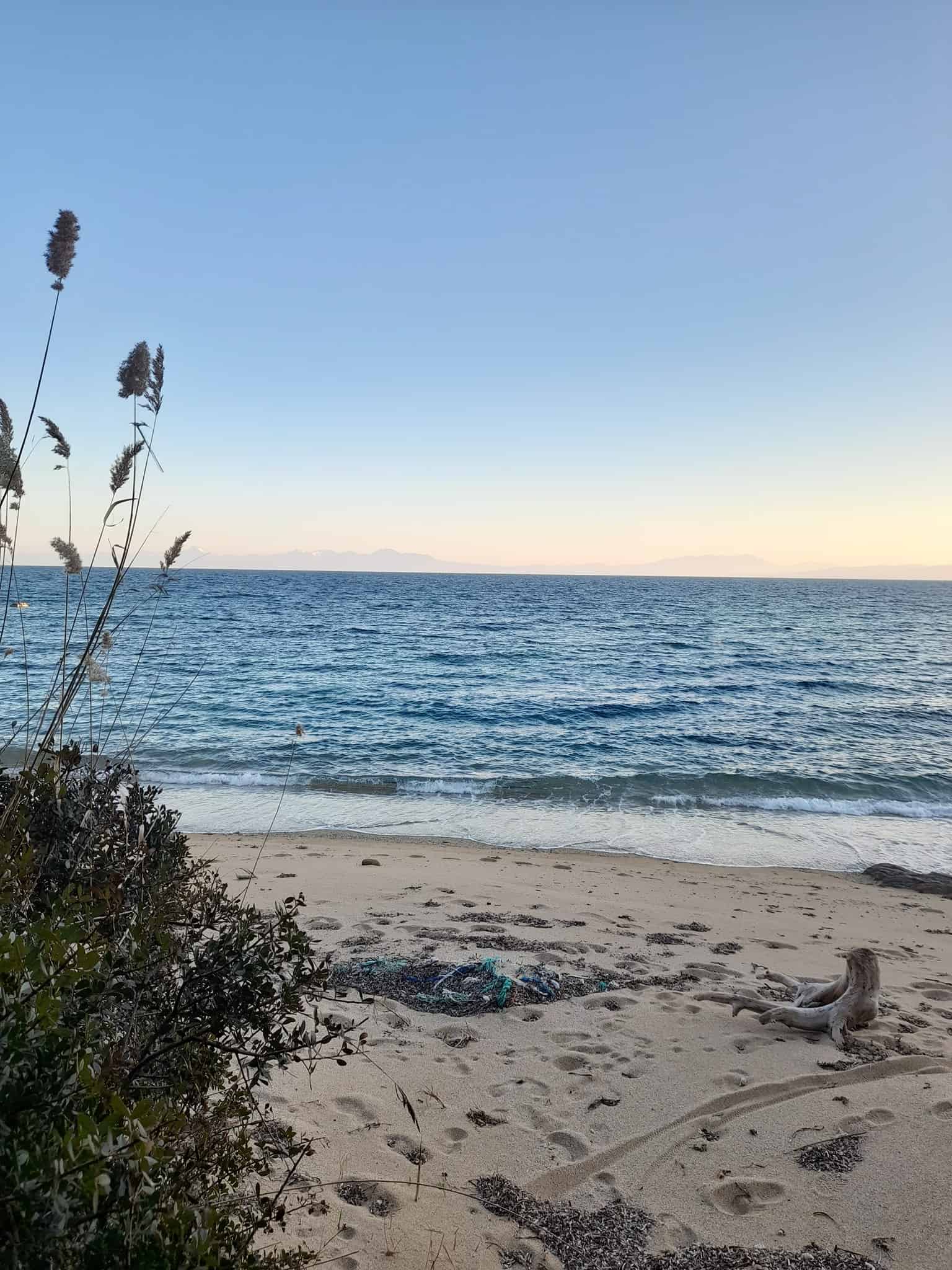 Each of the various stops on the main Skiathos bus route is detailed below. Note that locals usually refer to the bus stops by their numbers rather than the name of the stop.
They will know what you mean when you refer to the bus stop by the name, but you do hear a lot of "get off at stop 16!".
Each of the stops has a large sign with its number displayed clearly. A paper timetable is usually printed out and taped to the stop.
The first and main bus stop can be found to the left of the port area in Skiathos town, just before the seaside road continues towards the airport.  It is just 200m from the Bourtzi and can be easily identified by the little wooden roof bus stop. 
Look out for the white and green Speedex courier sign. The main bus stop is just opposite this. There are three more stops between the town and Megali Ammos Beach.
| | |
| --- | --- |
| Stop Number | Destination |
| 0 | Terminal (Skiathos town) |
| 1 | Delta Airport Road and Ring Road |
| 2 | Sineterismos |
| 3 | Ring Road, Supermarket |
| 4 | Akropolis, Health Centre |
| 5 | Megali Ammos |
| 6 | Poseidon, Megali Ammos |
| 7 | Annis, Beginning of Vasilias Beach |
| 8 | Vasilias main stop |
| 9 | Between Vasilias and Achladies |
| 10 | Achladies |
| 11 | Sklitheri Beach |
| 12 | Tzaneria Beach, Nostos and Kanapitsa |
| 13 | Vromolimnos and Nostos |
| 14 | Kolios |
| 15 | Kolios/Platanias |
| 16 | Agia Paraskevi |
| 17 | Poros |
| 18 | Troulos crossroad |
| 19 | Victoria petrol station |
| 20 | Troulos beach |
| 21 | OTE building, dirt road to Mandraki |
| 22 | Marathia Beach and Palace Hotel |
| 23 | Stamelos Tavern, Sandy Track to Mandraki |
| 24 | Yiouvanakais |
| 25 | Agia Elena |
| 26 | Koukounaries |
Riding the Skiathos Bus
Even though Skiathos is a pretty popular tourist destination, the buses are never too full or crammed with people. If you miss one, or there are a lot of people and you would have to stand up, you don't have long to wait for the next one.
Do note that the bus does not announce when you are arriving at each stop. So it's a good idea to keep an eye on where you are so that you can keep track of when you need to get off.
Most people speak English here so don't hesitate to ask the driver to remind you when you need to get off if needs be. You can also use Google Maps or download an offline map app on your phone like Maps Me so you can track where you are. 
Other Skiathos Buses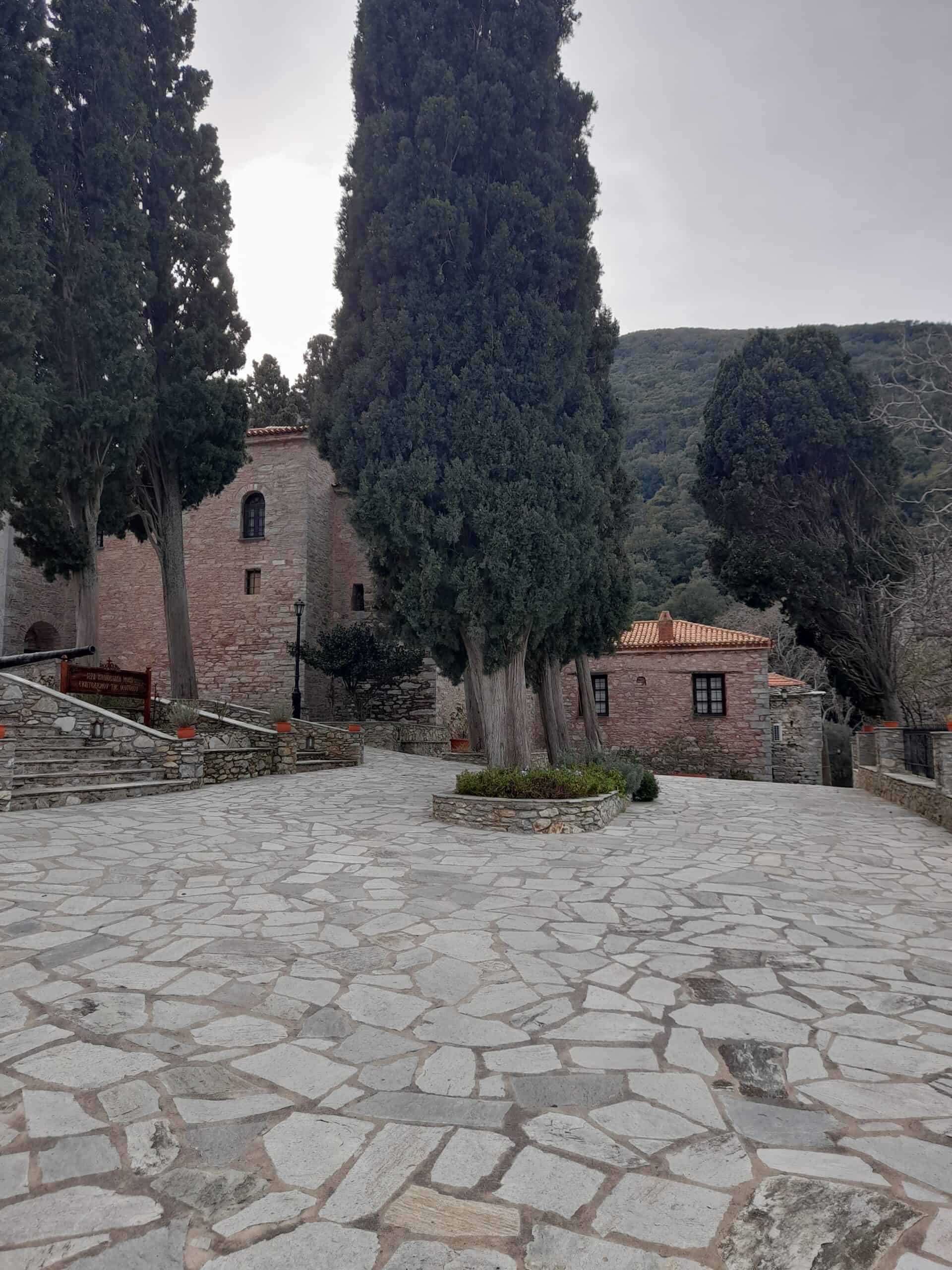 Besides the main Skiathos bus route, there is another bus route on the island that is worth noting. A little red bus departs from Skiathos town daily and takes you to the Evagelistrias Monastery on the northeastern part of the island. 
The monastery is well worth a visit if you have a chance – the first-ever Greek flag was created and hoisted here in 1807. Construction on the monastery began in 1794 and was completed in 1806.
During the Greek Revolution, many soldiers and war heroes rested here. The bus to the monastery runs just a couple of times per day. You can find the timetable here.
In the past, this bus would also continue onwards to Xanemos Beach. The bus to the monastery and Xanemos has never been well advertised but this leg of the route has stopped running in recent years. (Maybe it will be added again in the future?) 
FAQs about Taking the Skiathos Bus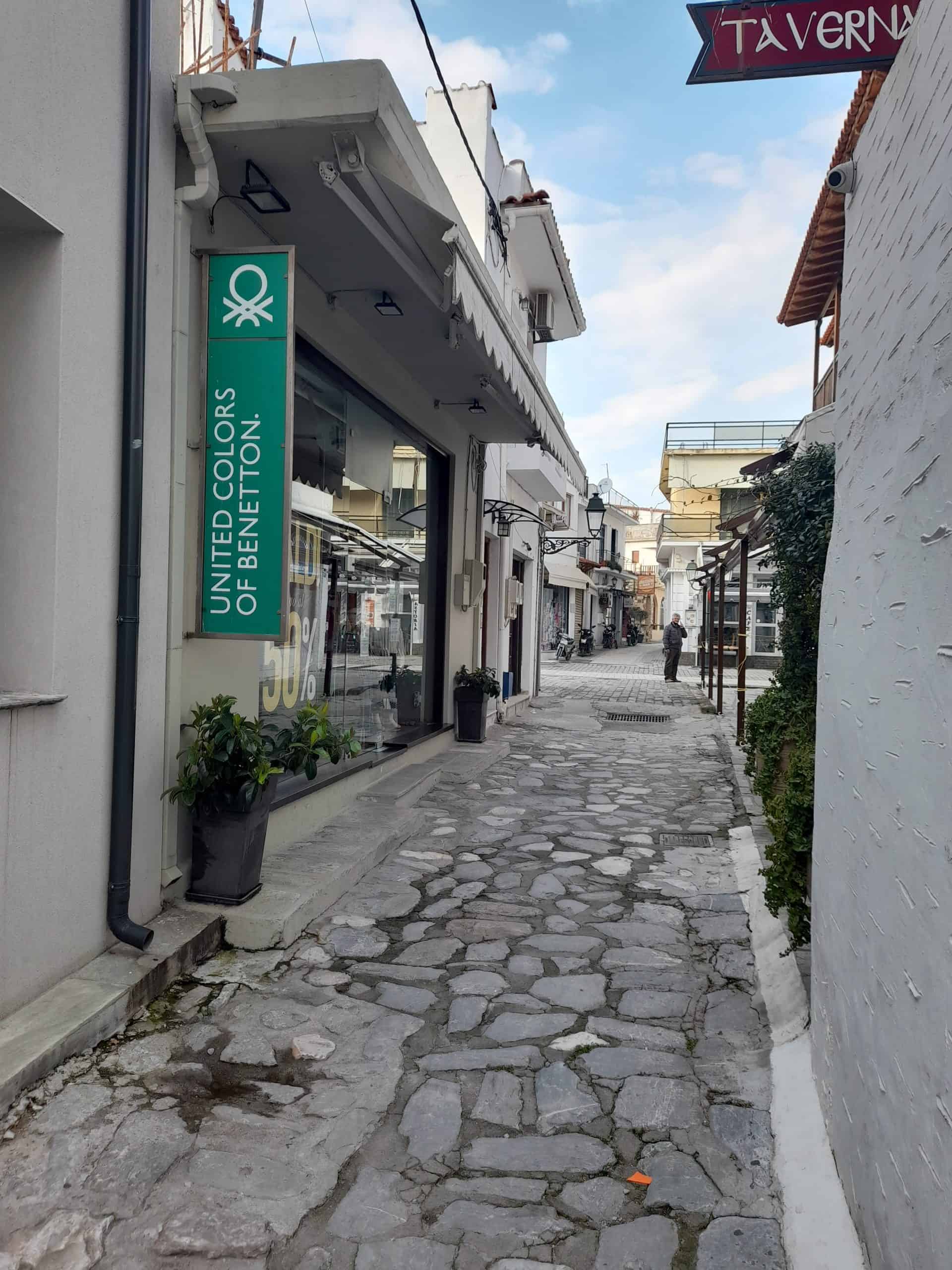 Do you have any further questions or concerns about taking the Skiathos bus, fares, or planning your trip in general? The answers to some frequently asked questions on the topic are detailed below.
How often are the buses in Skiathos?
In summer, the buses in Skiathos run every 15-20 minutes. In winter, they are less frequent and run a couple of times per day in each direction.
What is the best way to get around in Skiathos? 
Skiathos is only a small island so it's very easy to get around by bus. Renting a car can give you a little more freedom and flexibility of schedule but it isn't really necessary here and can add extra expense to your trip. 

The only instance that this might be necessary is if you want to visit some of the more off-the-beaten-path Skiathos beaches on the rugged northern part of the island.
What bus stop is Troulos in Skiathos?
Troulos is bus stop number 18 on the Skiathos bus route.
Final Thoughts on taking the Skiathos bus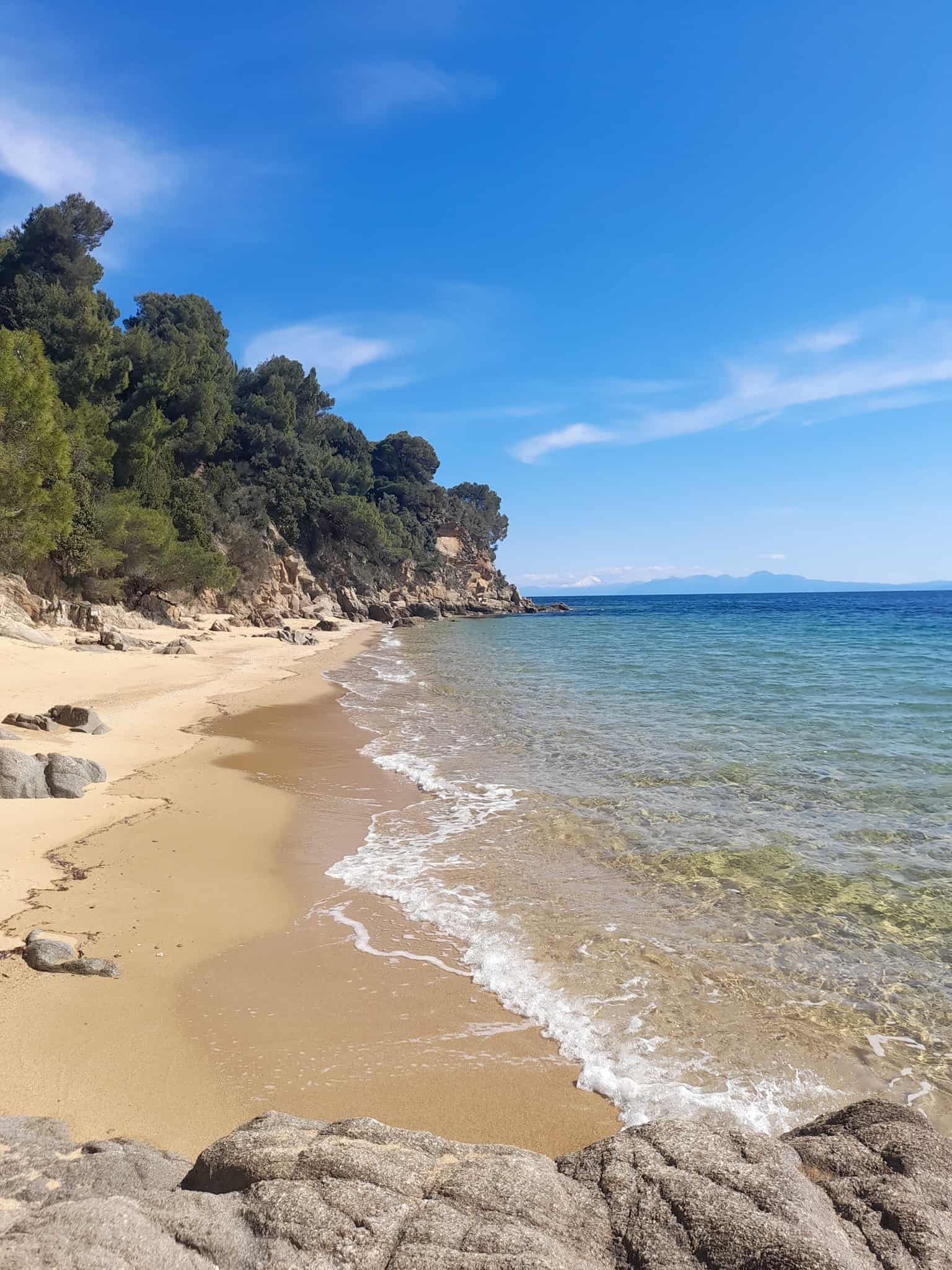 The thought of navigating bus networks in foreign countries can be daunting but this is really easy to manage in Skiathos. The Skiathos bus is operated by KTEL – Greece's main bus network.
Public transport in Greece is generally excellent and the transport links on Skiathos are no different. Do you have any further questions about the Skiathos bus or planning a holiday to Greece
You are welcome to reach out to me if you need something. I have lived in Greece since 2017 and based myself in the Sporades for eight months during the pandemic.
You might also find it useful to join my Facebook group "All Greek to Me" which helps travellers and expats plan their adventures around Greece. 
Skiathos is much easier to get around independently than neighbouring Skopelos island where even the most notable attractions such as the Mamma Mia church cannot be reached without having your own transport.
Safe travels! Geia sou! Melissa xo 
---