Is it safe for a woman to travel alone in Turkey? Certainly!
Solo female travel in Turkey provides for a wonderful adventure. This is one of the most unique, culturally rich travel destinations in the world.
Turkey is vast, and few travellers seem to realise the sheer size of it. Indeed, the country straddles two continents: Asia and Europe, and provides a fascinating mishmash of the two cultures.
Falling in Love with Turkey
From the ethereal landscapes of Cappadocia to the cerulean waters of Antalya and the Turkish Riviera, Turkey boasts a little something for every type of adventurer. The country has passed hands through some of the world's greatest civilisations over the centuries, and each of them has left its mark on the country.
The Romans, the Byzantines, and the Ottomans have all shaped the way that Turkey's culture is today. Most notably, the Ottoman Empire at one point controlled the majority of Europe, Western Asia, and Northern Africa.
Foodie travellers can thank the Ottomans for their contributions to Turkish cuisine. Most of the sumptuous dishes that can be enjoyed in Turkey today were developed during this period.
Turkish food is diverse. You can enjoy everything from marinated meats to stuffed aubergines and innovative desserts during your adventure through this colourful country.
If you have an interest in history, you will not be disappointed by the country's vast concentration of world-famous ruins and monuments. From the sun-bleached ruins of Hierapolis at Pamukkale to the ancient port city of Ephesus.
Turkey exudes stories and history at every turn. Turkey's diverse landscapes are another breathtaking aspect of visiting.
One moment, you will be driving through Eastern Steppe and Anatolian plains. The next? You find yourself surrounded by fragrant olive groves and the vertiginous Mediterranean coastline.
Solo female travel in Turkey will leave a lasting impression, whatever you choose to see and do.
Turkey as a Travel Destination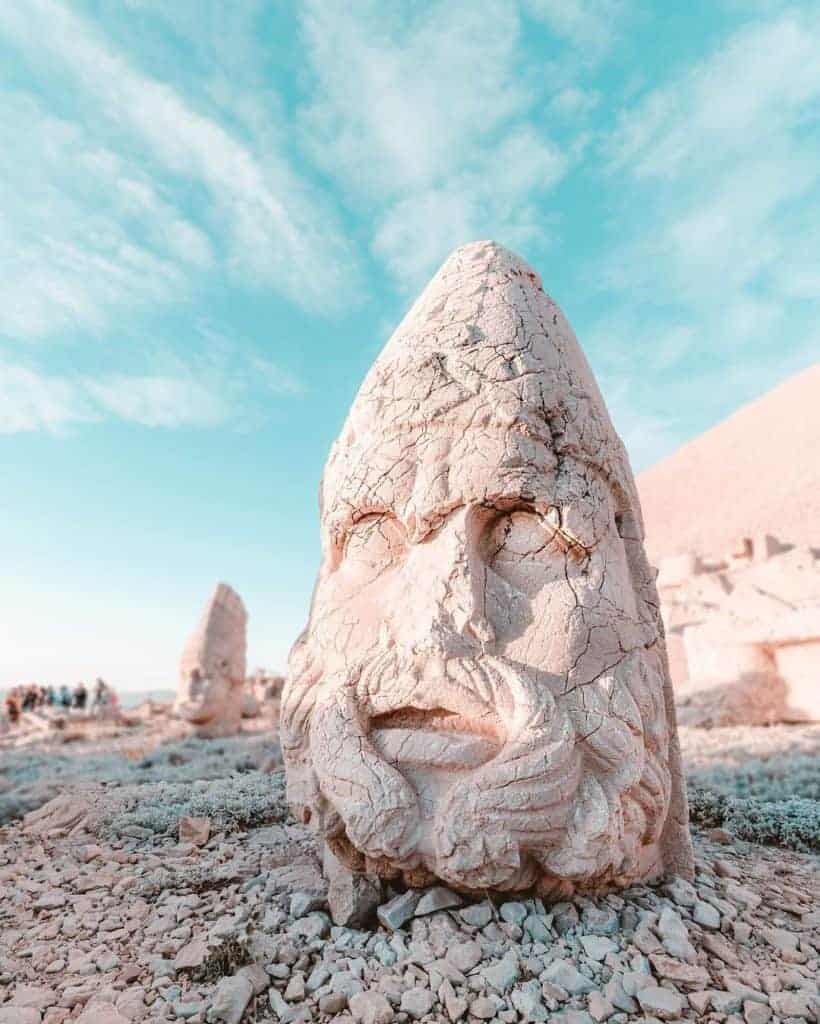 Turkey has a culture that is vastly different from that which we are accustomed to in the west. It has always been a travel destination that has some element of uncertainty around it when it comes to the ease of traveling around the country as a solo woman.
Cultural Differences and Considerations
The vast majority of Turkish people practice Islam. While some regions such as Konya, and Central Anatolia are conservative, others are much more liberal.
This is something to keep in mind depending on your Turkey itinerary schedule. Istanbul is very liberal and during the summer months, you will see local and ex-pat women wearing everything from full abayas to shorts and summer dresses.
However, in Central Anatolia, you should dress more modestly and cover your shoulders and knees. What to wear in Turkey depends a lot on where you are travelling and when.
On the whole, it is better to err on the side of modesty with your wardrobe. That way, you won't attract unwanted attention, especially if you are going to be travelling alone.
Terror Concerns
In recent years, concerns about terrorism have seen the number of international visitors to Turkey drop significantly. Much of this has stemmed from the 2016 military coup, 2017 explosions, and some of the actions of the government in northeastern Syria.
It is important to note that while these events were tragic and unfortunate, they are not representative of life in Turkey on a daily basis. In fact, since 2017, there have been very few terror-related instances.
Sadly, we are living in an age of terror. This is a global issue, not one that is exclusive to Turkey.
Just as there were unfortunate, indiscriminate attacks in Turkey, there have also been attacks in France, the United Kingdom, and other parts of Europe. Often, the 'scaremongering' nature of British/western media does not help the situation.
Remember that "if it bleeds it leads". This means that stories of terror, scandal, death, and destruction are the ones that we encounter more often.
They cause shock, panic, and are more likely to sell papers or gain clicks. Unfortunately, tales of good deeds and 'chicken soup for the soul" style stories are not
Be Prepared for Extra Security
Turkey has worked hard to shake off its reputation as being 'dangerous'. Of course, locals don't want this reputation either!
Tourism is one of Turkey's most dynamic and fastest-growing economic sectors. Security measures across the country have increased in recent years to provide safety assurance and prevent a repeat of previous events.

You will find that airport-style security checks are in place in the bus, rail, and subway stations. Armed police are often on duty at the entrance to popular sites such as Ephesus and Pamukkale.
It can seem intimidating. However, they are there for everyone's safety. Sometimes if you are travelling on buses across Turkey, you may find that Police Officers will come on board to check the IDs of passengers.
It is good practice to check your government's travel advice before travelling anywhere. This includes Turkey.
The UK government's travel advice is useful and is frequently updated. Due to the ongoing global pandemic, entry requirements to all countries are subject to change at a moment's notice. Make sure you keep an eye on the situation prior to your departure.
Is it Safe for a Woman to Travel Alone in Turkey?
I have travelled solo to Turkey five times. It is indeed safe for a woman to travel alone in Turkey.
That is, provided that she takes necessary precautions and plans for her trip. This is true of travelling anywhere.
Do I have to be an experienced solo female traveller to visit Turkey alone?
Turkey is a great place for solo female travel, whether you have never travelled alone before, or you've travelled to 20 different countries by yourself. It should be noted, however, that Turkey does not have an "established" backpacking trail like say, Southeast Asia.
It is not overly difficult to meet fellow travellers during your travels in Turkey. But you are less likely to meet them ambling about on a set tourist 'trail' because there isn't one.
Istanbul is a very cosmopolitan city with a large international population. It is easy to meet friendly locals and travellers there by attending (or hosting) events via platforms such as Meetup, Couchsurfing, and Internations.
Opting to stay in homely guesthouses and hostels is another good way to meet fellow travellers. You may want to start your trip to Istanbul.
This is a popular travel destination and a good place to meet travel buddies to share your adventure with. Facebook groups are another good way to go about meeting people.
Some you may want to consider are detailed below. You can simply write a post in one of the groups, see if anyone is available to grab lunch or a drink and make friends from there.
Expats & Istanbullus – Expats in Turkey – Repats of Turkey


Foreigners in Turkey – Expats in Turkey – Foreign People of Turkey


Expats in Istanbul – Foreigners in Istanbul


Expats in Turkey


Turkey Travel Community
Is Turkey safe for first-time solo female travellers?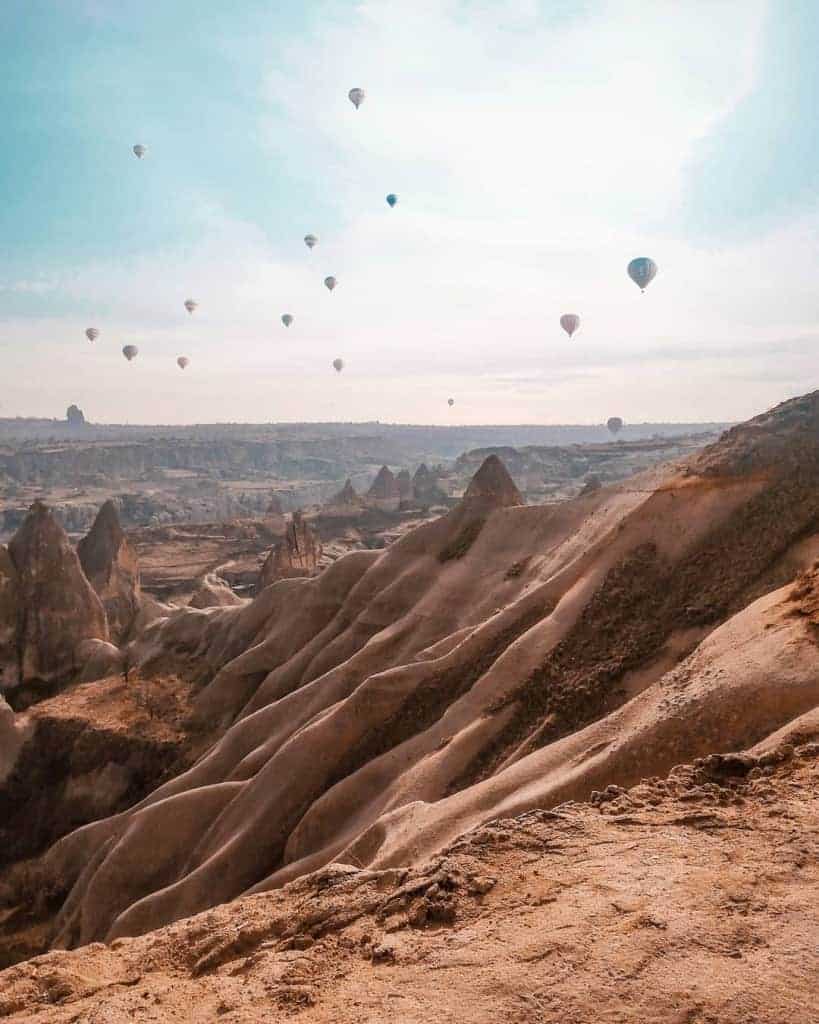 It is not that Turkey is not safe for first-time solo female travellers. It is just that it is not the easiest place to conquer independently.
Outside of Istanbul and touristic parts of Cappadocia and the Turkish Riviera, it can be tricky to find people that speak English. Travelling cross country through remote parts of Turkey can be daunting.
This is particularly true when there is a language barrier and where you may well be the only traveller on a bus/train. That is not to say that people won't be willing to help!
Turkish people are very friendly. Someone is likely to materialise to try and assist you wherever you are, regardless of how good their English is!
Solo Female Travel in Turkey Packing List
What to wear in Turkey largely depends on where you are going to be travelling and when. But the below items will always come in handy, whenever you travel.
Camera and tripod


Doorstopper for additional safety in hotels


Travel medical kit (buy one that comes with the basics then add your medications as needed)


Best Destinations for Solo Female Travel in Turkey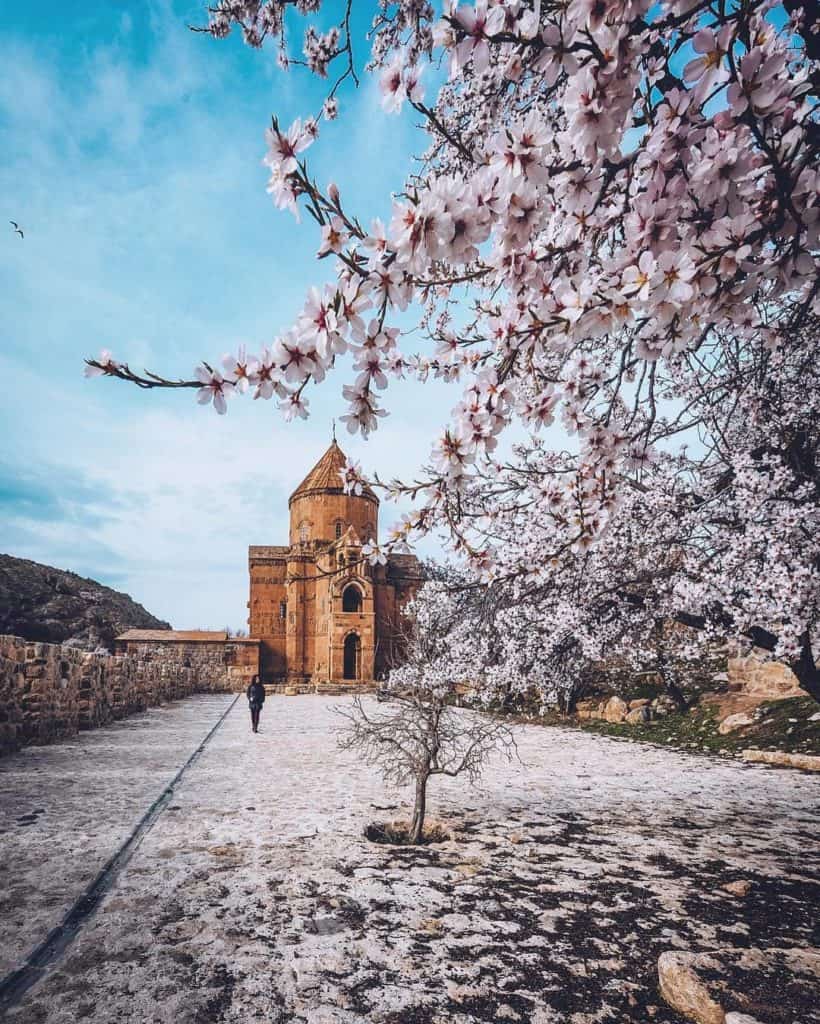 Travelling alone as a woman in Turkey is a wonderful experience. There are so many wonderful places to visit.
It would be difficult to cover them all in one trip. You should be careful in the far Eastern part of the country close to the Syrian border.
However, arguably there is no place in Turkey that you should consider as being out of bounds just because of your gender. Some of the best areas to consider for your solo female trip to Turkey are highlighted below.
Cappadocia
Beautiful Cappadocia is a highlight of any Turkey itinerary. The ethereal landscapes of this region look like something from a different universe entirely.
The hot air balloons are certainly a major draw of Cappadocia. However, the region has so much more to offer.
The balloons are just the tip of the iceberg. Cappadocia also boasts scenic hiking trails, mysterious underground cities, and fascinating silk road architecture.
This region may be touristic. However, that provides women travelling alone in Turkey with the added assurance that the people here are accustomed to catering to tourists.
I asked my hotel owner in Cappadocia if he saw many solo female travellers in Turkey, and? He advised me that 80% of the people that visited were solo females!
It is possible to organise tours around the region or hire private drivers and guides for as little as £30/$35 a day in Cappadocia. I stayed at the Guzide Cave Hotel in Goreme and I cannot recommend it enough.
Recommended Cappadocia Tours
Konya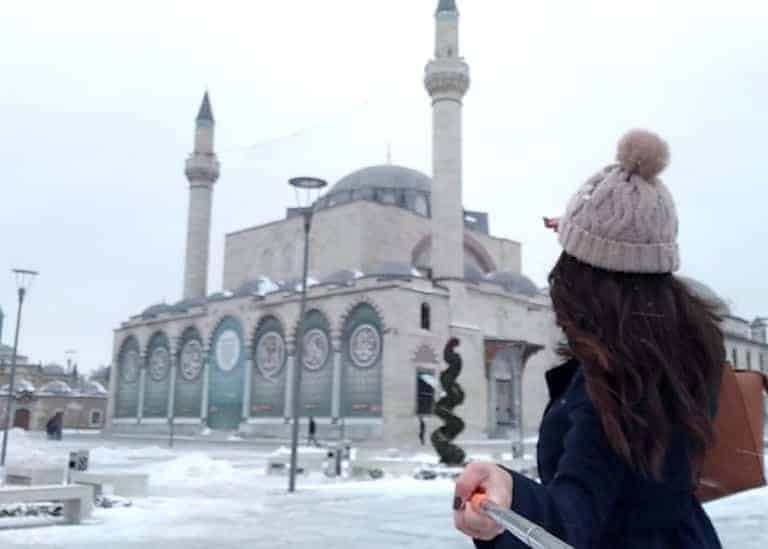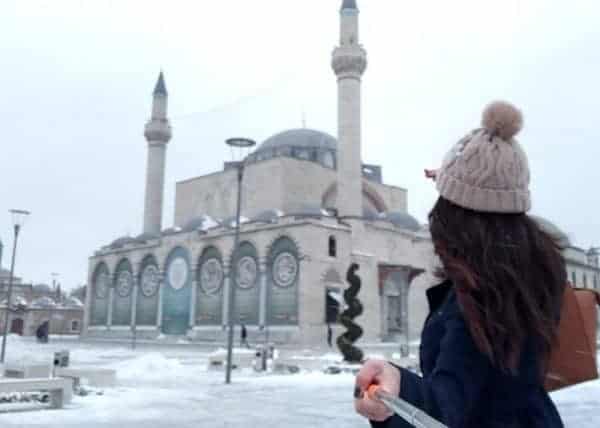 Konya is a conservative city in the central Anatolian region of Turkey. Chances are that you have never even heard of Konya before. However, it is one of the most culturally important places in the country.
This city is the birthplace of Sufism and the whirling dervishes. If you are in town on a Saturday, you can catch one of the free whirling dervish performances that are held around the city.
Konya is one of the most religious places in Turkey. It is far more conservative than Istanbul, Izmir, or Cappadocia. However, the locals here are also some of the friendliest.
The beloved Persian poet Rumi lived in Konya. He is buried here within the mosque. However, in Turkey, he is known as "Mevlana".
Konya is one of the oldest cities in the country. It boasts countless colourful markets, ornate mosques, and historical ruins.
Istanbul
Istanbul is a wonderful city and is a great jump-off point for the rest of your Turkey itinerary. Far from being "just another" big city, Istanbul is comprised of many different unique neighborhoods – each with its own personality and charm.
For hipster vibes, head to Besiktas to hang out with the locals in dive bars and eccentric-themed coffee shops. Venture over to Ortakoy for chic upscale bars by the Bosphorus. The latter also gives you a chance to watch the fishermen who occupy the riverfront both day and night in search of the freshest catch.
Sultanahmet is where the major tourist attractions are in Istanbul. For instance, the Hagia Sophia, the Blue Mosque, etc). There are plenty of things to do in Istanbul. You can easily dedicate four or five days to an Istanbul itinerary alone.
Recommended Istanbul Tours
Izmir
Izmir is a charming and underrated Turkish city. It is the third-largest in the country and has a fascinating and diverse history dating back thousands of years.
The winding narrow passageways of its markets are filled with tea rooms and colourful clothing stores. What could be more charming than sitting in a tiny, hole-in-the-wall style tearoom sipping Turkish tea?
Venturing through the souks and passageways of Izmir makes you feel transported back in time. Izmir is also arguably one of Turkey's prettiest cities.
The coastal views from the seafront are breathtaking, and there are some lovely beaches in the vicinity. Pamukkale and Ephesus are nearby and can be accessed on a day trip from Izmir.
Ephesus
Ephesus (Efes) is the remains of an Ancient Greek city that was built way back in the 10th century BC Many of the ancient temples and structures here are incredibly well-preserved.
Even if you have seen numerous ancient Greek ruins during your travels, Ephesus will not fail to take your breath away. In particular, look out for the theatre, the gate of Mazaeus and Mithridates, and the magnificent Celsus library.
Recommended Ephesus Tours
Pamukkale
Pamukkale is a town close to Denizli in western Turkey. It is famous for its thermal baths that flow down white travertine terraces and look like mounds of clouds or cotton candy.
Indeed, the word "Pamukkale" means cotton candy in Turkish. At the top of Pamukkale is the ancient Greek city of Hierapolis.
Bodrum
If you are hoping to soak up some of the Mediterranean sun during your trip to Turkey, there are plenty of beautiful coastal areas where you can do so. Bodrum is one such place. This is a charming port area on the Southwest Coast of the Aegean.
On the one hand, Bodrum is quite popular with western tourists so if you are looking to go off the beaten path in Turkey, it may not be the place for you. However, Bodrum's bustling town filled with shops, restaurants, and bars is a great place to meet other travellers.
There are a lot of interesting ruins and historical sites in the area. For instance, Bodrum Castle, and the Mausoleum at Halicarnassus. Best of all, Bodrum is very affordable and possible to enjoy on a budget.
Fethiye
If hiking is your thing, you will love Fethiye. The city itself is charming. Its old town of Paspatur is crammed full of shops selling trinkets, antiques, and peculiar souvenirs.
Consider climbing up to the Lycian rock tombs, taking an excursion to the Tlos Ruins, or embarking on a hike one of the various trails of Butterfly Valley. You can pair a trip to Fethiye with nearby Antalya.
The Kaçkar Mountains
The Kaçkar Mountains are home to one of the most beautiful hiking trails in the world. However, they are often overlooked in favour of more well-known treks and mountain climbs.
The mountains, with their snow-capped peaks and dramatic precipices, are located within Turkey's northeast. The culture here is distinctly different from the rest of the country.
There are many farms and charming mountain villages (yaylas) scattered along the trails and foothills of the mountain. The natural scenery here is dramatic and varied.
As you ascend up towards the mountain peaks, you pass by lush rainforests, rolling green hills, and dramatic rock formations. This region boasts some of the best natural scenery in Turkey.
Solo hiking here is manageable. However, if you prefer to hike with others there are many trekking groups that head here from Istanbul during the summer months.
People in Turkey
They say that journeys are best measured in friends rather than in miles. Indeed, one of the highlights of my various solo trips to Turkey was the people that I met along the way.
Turkish People are Warm and Hospitable
Turkish people are incredibly warm, friendly, and hospitable. In some tourist areas, you may feel a little hassled to buy things in the bazaars. However, this is not the case in the majority of towns and cities.
Just remember also: you are never under any obligation to buy anything! Just give a polite but firm "NO" if pestered!
Particularly when you travel to more "off the beaten path" parts of the country, you will find that people are delighted to welcome a visitor to their area.
You will probably experience people stopping you for a chat and inviting you into their cafes and businesses for a tea or a hot cup of salep. Couchsurfing has an active community in Istanbul and is a good way to make friends.
People Won't Hesitate to Help You
It was a mixed bag in Turkey in terms of people's English abilities and it wholly depends on where you are going to be travelling. Some people were fluent in English, whereas others could speak very little.
It is worth carrying a Turkish phrasebook and learning a handful of words and phrases if you plan on travelling off the beaten path. Alternatively, downloading Google Translate and a free language app on your phone can be a lifesaver!
In restaurants where the staff didn't speak English, the waiters took me to the kitchen to show me the food being prepared. When I looked lost in Istanbul, people materialised from nowhere to point me in the right direction.
That's Turkey. You can be assured that people will do what they can to help you.
Understanding the Culture of Turkey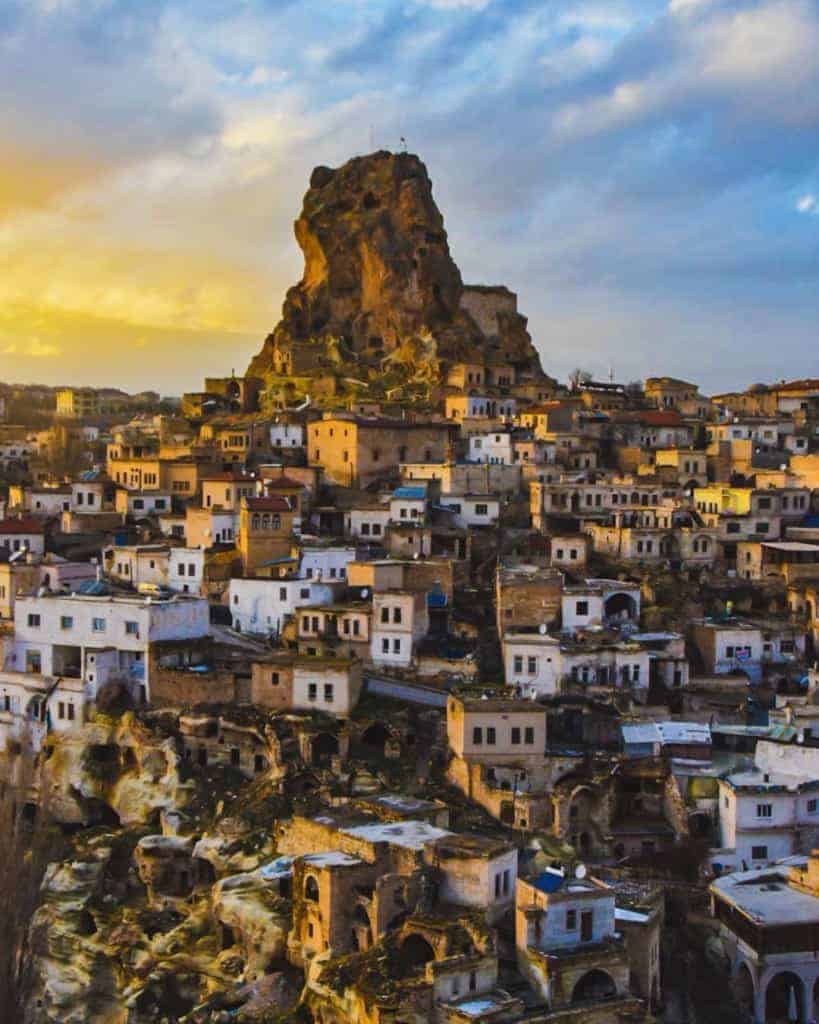 Turkey sits at a juxtaposition of East meets West, and tradition meets modern, contemporary living. While there may be some similarities between Turkey and certain Southern European and Balkan countries, there is truly nowhere quite like Turkey.
Turkish Cuisine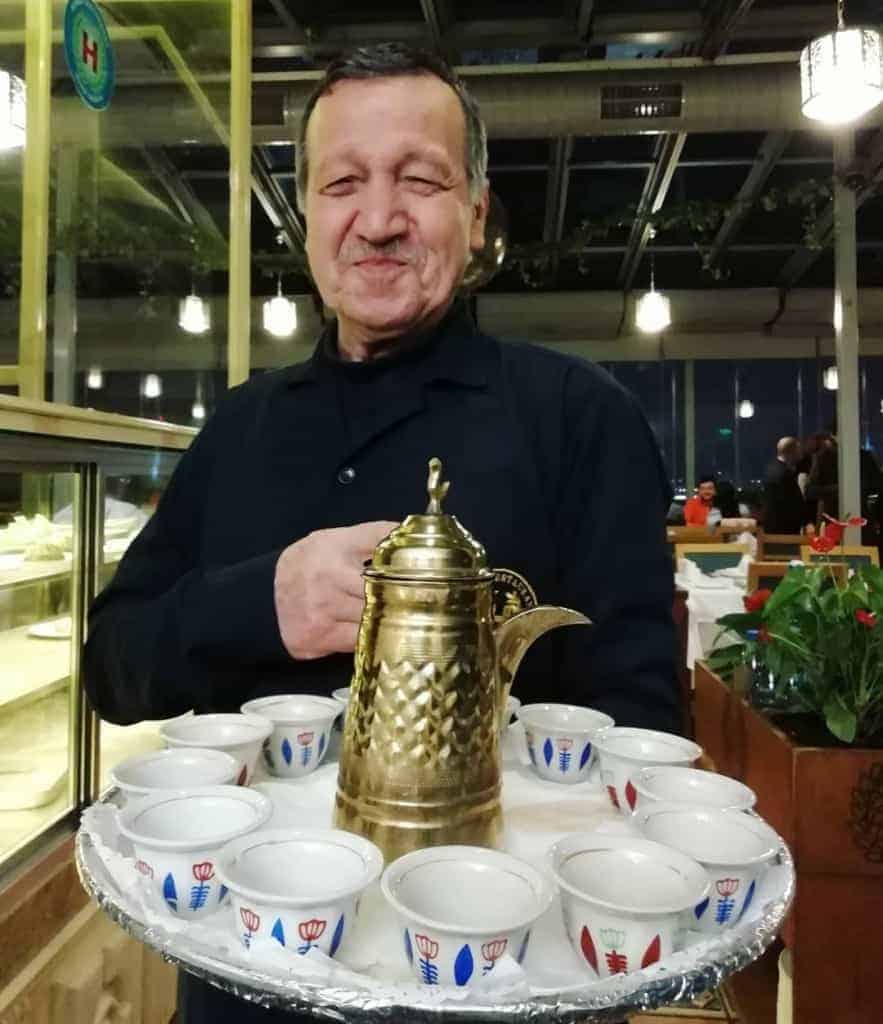 Turkish cuisine is incredible. In fact, it will probably be one of the highlights of your trip.
Turkish food shares a lot of similarities to both Arabic and Greek food. Think wonderfully marinated meats and fresh salads, along with sweet, refreshing teas.
Kebabs are perhaps one of Turkey's most famous delicacies. Kebabs here are not the late-night hangover food types that you will come across elsewhere in the world.
Instead, they are mouthwatering skewers of lamb, beef, and chicken, all cooked to perfection. Be sure to sample the street food while in Turkey.
In Istanbul, head to Taksim Square and order yourself an Islak burger – a "wet" hamburger that is soaked in a flavourful tomato sauce. For breakfast, grab yourself a borek – a savoury pastry filled with spinach and other goodies.
Solo Female Travel in Turkey:
Safety Pointers
I never felt unsafe in Turkey in the sense that I felt that I was in a compromising situation or that I was in any danger. However, advances from men can become irritating.
You should exert basic common sense when travelling alone as a woman in Turkey. For instance, don't go wandering around by yourself late at night or after dark, and be mindful of who you trust.
This is true of travelling anywhere. Some useful safety pointers for travelling Turkey alone as a woman are provided below.
Get Insured Before You Travel
It is prudent to purchase comprehensive travel insurance coverage wherever you travel. Ensure that you have a plan that includes sufficient medical coverage.
Coverage of up to $1million is a good amount to aim for. Try to choose a plan where the excess is relatively low.
World Nomads are great for adventures in Turkey. Not only do they provide extensive medical coverage, but they also have you covered for various other scenarios.
For instance, lost baggage, stolen items, or repatriation. Always check the small print as many outdoor activities like skiing and even hiking, are often not covered.
Istanbul Tourist Police
Istanbul has a dedicated Tourist Police team. Their kiosk is located at (Binbirdirek, Divan Yolu Cd. No:1).
This is between the Hagia Sophia and the Basilica Cistern. This is the place to go if you feel that you have been scammed, are concerned about your safety, etc.
Be Cautious in the Sultanahmet Area
Istanbul is generally very safe and petty crime is low. However, you should be mindful of your belongings around the Sultanahmet area.
Pick-pocketing and bag snatching can happen. You might want to consider purchasing theft-proof backpacks and money belts like those offered by Pacsafe.
Take Metered Cabs and Ubers
Taxi drivers have been known to trick tourists and so you should always ensure that the meter is used during your journey. Do not accept any fixed fee.
Be Mindful of "Fake" Tour Guides
In several cities around Turkey, including Izmir and Istanbul, you will find tricksters operating around the markets and souks offering you a tour guide. Many of these are not licensed at all.
Give them a polite but firm "No" if they approach you. Only hire guides from hotels or other professional travel companies.
Turkish Men May be More Forward
The main problem that I had during my time in Turkey – particularly in Istanbul, was with constant unwanted advances from Turkish men. It's not really a common sight to see a woman wandering around unaccompanied so a lone foreign woman is a perplexing concept for them.
Unfortunately, Turkish men seem to correlate western women with what they have seen in the movies, in other words, that we are easy. Traditional gender roles still apply in Turkey.
People are mostly liberal. However, in some rural parts of the country and on some services (certain forms of public transport and places of worship for example), the genders are still segregated.
My Personal Experiences with Turkish Men
I know the rules. I always dressed modestly and was respectful but the attention I was getting on occasions was like flies around poop.
Especially in Istanbul, men would come and sit at my table in coffee shops and restaurants sans invitation and try it on. Alternatively, they would just latch onto me while I was walking and refuse to take no for an answer when I told them that I wasn't interested.
I am usually relatively polite when people approach me and respectfully decline. However, that doesn't work in Turkey so you have to be more abrupt.
On a few occasions, the men suddenly became aggressive at the surprise that I may possibly not be interested in their advances. Politely decline their advances but be firm.
If someone is bothering you, don't hesitate to tell someone. For instance, if you're already in a cafe or restaurant and someone materialises at your table then tell the waiter.
If you get hassled when you're out exploring then head into a local business and tell the people inside that you're being followed. In some locations, you will find that the tourist police are on hand.
Purchase a Turkish SIM Card
Buying a Turkish SIM card is a good way to stay connected during your trip. This means that you will have plenty of data to use Google Maps, check websites, and keep in touch with friends and family back at home during your trip.
Not to mention, it is good to have the option to be able to make local calls, just in case. Depending on your phone plan/country of origin, roaming costs may be expensive in Turkey.
There are only three mobile phone networks in Turkey. Namely, those are Turkcell, Turk Telecom, and Vodafone.
You can pick a SIM card up on arrival at the airport. The prices at the airport are only marginally higher than those found at the shops in the city centres.
Is it Safe to Drink the Water in Turkey?
The tap water in Istanbul is drinkable. Controversially, the tap water here is actually better quality than bottled water, and the Turkish government recently launched a campaign to encourage people that it was fine to drink it!
Outside of Istanbul though, tap water in Turkey is generally not safe. Even locals prefer to buy bottled water. Consider buying a Steripen purifier to clean the water and minimise plastic waste.
Getting Around Turkey
It is very easy to get around Turkey as a solo female traveller. The country's public transport network is not only incredibly comprehensive, but it is also affordable and reliable.
The distances between various points of interest in Turkey are vast and so journeys by road and rail can be quite long. Internal flights are also a good option and don't break the bank.
Travel Turkey by Bus
Travelling through Turkey by bus is one of the cheapest ways to get around. You may be surprised by how great the buses and facilities are. Even if you are someone that detests long-distance bus travel, this is actually a great way to see the country.
Buses in Turkey have inbuilt entertainment, movies, and music. This is just like being on a plane and you can watch TV and listen to music during your journey.
Turkish buses also serve complimentary refreshments and snacks at several points throughout your trip. What could be better than having a steaming hot cup of kukuk cay bought to you whizz through the dramatic scenery of the Kaçkar Mountains?
There are no bathrooms. However, the buses stop every 3 hours.
Some of the journey times are incredibly long. As an example, it takes 8 to get hours from Istanbul to Cappadocia, 5 hours to get from Cappadocia to Konya, etc). However, the pleasantness of the bus services makes this seemingly fly by.
Buying Bus Tickets in Turkey
The process of buying a ticket can be a little confusing. At the central bus stations ('otogars') of each city, you can purchase a ticket.
However, you will notice that there are several bus companies operating to the same destinations, each with different timetables. As such, it's worth checking the specific timetables of each one and choosing the departure time you prefer. For some reason, there is not usually a centralised ticket office!
The price differences between each Turkish bus company are marginal. All of them are pretty good.
You should try to book your ticket at least a day in advance of your intended departure, especially if you are travelling during the peak summer season. Buses run in both daytime and overnight form.
Whether you feel comfortable travelling on an overnight bus is a personal preference. On the one hand, you save money on a night's accommodation. On the other, you may be squished up next to a random and you need to be mindful of your possessions when you fall asleep.
Travel Turkey by Rail
Traveling Turkey by rail is generally cheaper than buses. The only exception is the high-speed trains.
It should also be noted that the train network is nowhere near as comprehensive as the buses. So, for some long-distance journeys that are not along major routes, you may have to opt to travel via a combination of buses and trains.
You can review the train timetables here. Tickets can be purchased online, yet the Turkish booking site can be a little temperamental and difficult to use and so it may be easier to simply buy your tickets in person at the station.
Night trains are safe and pleasant and you can reserve your own private carriage that comes complete with a sink, a bed, and even a fridge. As such, they are perfect for solo female travel in Turkey!
Domestic Flights
There is also the option to travel internally within Turkey by domestic flights. This is a convenient option and it can save a lot of time if you are travelling a long distance from say, Istanbul to Cappadocia.
A number of budget airlines offer affordable domestic flights within Turkey. Pegasus Air is one such example. If you book your flight at least a couple of weeks in advance, you can often find fares from Istanbul to Cappadocia for as little as $20!
Renting a Car in Turkey
Renting a car in Turkey is not as daunting as it may sound. The roads here are mostly well-built and maintained.
Opting to hire a car means that you are not at the mercy of public transport schedules, and you have more flexibility over your trip. It also makes it easier to reach certain off-the-beaten-path parts of the country.
Most large cities, airports, and resort areas have car rental places. Europcar, Avis, and other well-known providers operate in Turkey.
Visa Considerations for Visiting Turkey
In 2020, the need for British Citizens to obtain a visa prior to travelling to Turkey was abolished. British travellers, along with residents of several other European countries can enjoy 90 days of visa-free travel in any 180 day period.
American and Canadian travellers require a visa for entering Turkey. This can be organised online, in advance.
Solo Female Travel in Turkey:
Accommodation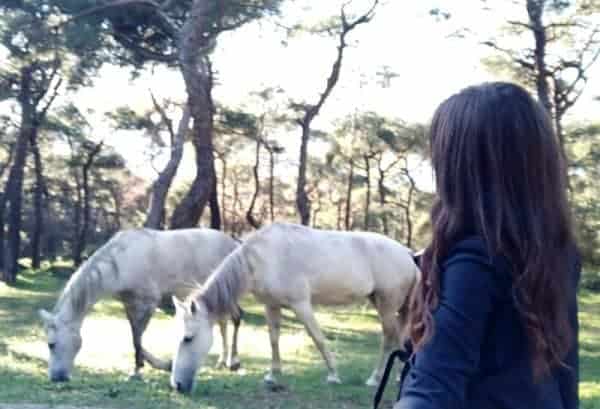 Turkey is a very affordable travel destination. As a solo female, you might want additional security and assurance that hotels and accommodations are safe. However, a cheap price here does not automatically equal sketchy.
You can find decent accommodation without breaking the bank. If you opt to stay in comfy, budget hotels, you are typically able to find a room for a maximum of around $20 per night.
If you are looking to stay in hostels, you can find a bed in a dorm for around $6-$8. Consider opting for female-only dorms if you do decide to stay in hostels.
Check the reviews of accommodation you are considering before your stay. That way you can get a feel for what the place is like and ought to avoid any sketchy experiences.
Parting Words
Traveling solo in Turkey as a woman is completely possible. Provided that you take the right precautions, it can be a safe and enjoyable experience.
Do you have any further questions about travelling to Turkey as a woman? I've travelled to Turkey a bunch of times, and most recently spent a month exploring this beautiful country.
I would be happy to help out with any concerns that you may have. Feel free to drop me a comment below.
Safe travels! Melissa xo
Pin it For Later!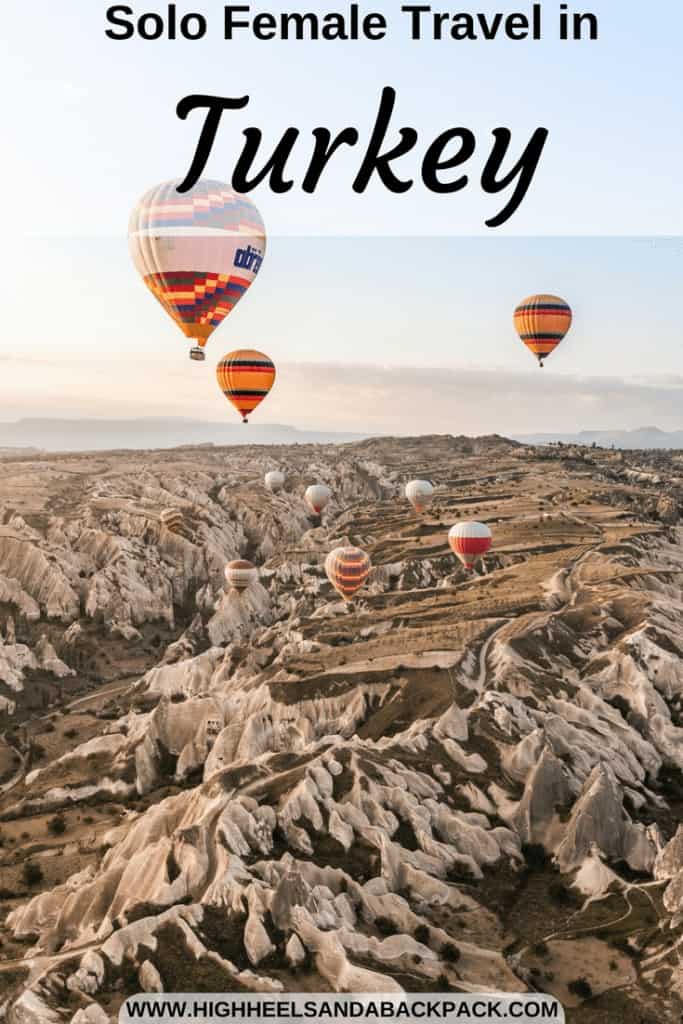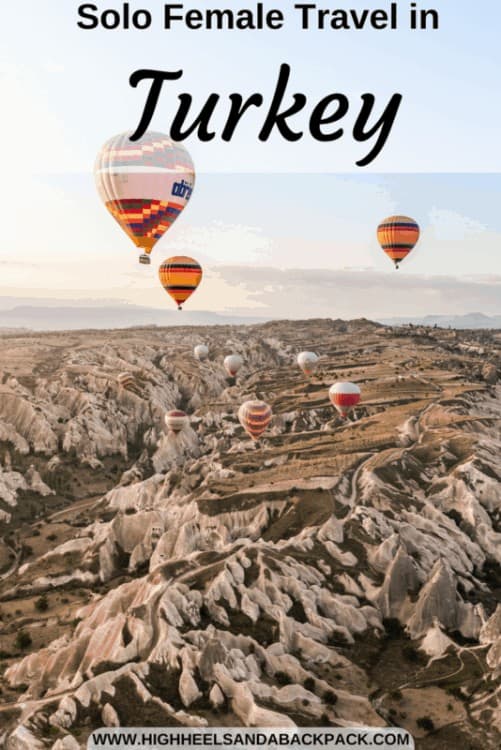 ---