Couchsurfing is always one of my go-to travel apps for meeting people when I travel. Since I always travel solo, and I prefer not to stay in hostels, I have to put myself out there if I want to socialize and meet locals and fellow travelers otherwise I will find myself quite isolated. I have been using couchsurfing religiously since 2012 and though I owe couchsurfing for introducing me to some of my closest friends around the globe, I never use it to stay at people's houses.
Why Not Use Couchsurfing For Accommodation?
To be honest, this is completely personal preference. I know many people that use couchsurfing exclusively for their accommodation but for me, I prefer my own space and comfort so I always tend to rent my own airbnb apartment when I travel. Of course, couchsurfing enables you to check a host's references and reputation before you choose whether or not to stay with them but for me personally, it's still a lot of trust to place in a complete stranger -to go and sleep in their homes as a solo female traveler. So, this article is geared towards my fellow travellers who love to have the opportunity to meet locals and befriend other travellers when they travel, but who prefer to organise their own accommodation separately.
Why You Should Try Couchsurfing
When you arrive in a new city or country, you may find yourself completely disoriented. You don't know the local language, you are unfamiliar with the various neighbourhoods and you definitely don't know where you can find the hottest spots in town. Couchsurfing is great because it gives you the opportunity to connect with local people who have spent their entire lives living in this particular location and who can show you all of its best kept secrets that you may not otherwise get to discover. Engaging with locals provides you with a deeper insight and appreciation of a place's culture, and takes you to places that no guide book ever could.
So how can you use couchsurfing to meet people without actually couchsurfing? You have a couple of options..
#1 Couchsurfing Hangouts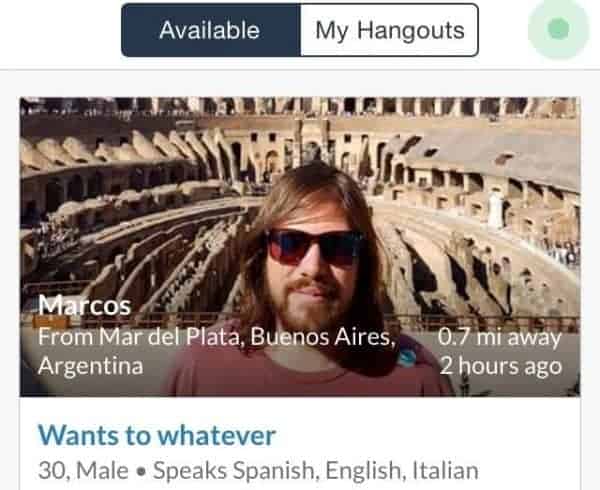 This is a relatively new function on Couchsurfing but it's quickly becoming my favourite. To use couchsurfing hangouts, you need to have the couchsurfing app installed on your phone. The app uses your GPS to display locals and travellers that are looking for something to do in your area. People will post things such as "Looking for someone to visit the Acropolis with" or "Looking for someone to share a meal with". You can either scroll through these existing hangouts to find people that are already planning on heading somewhere that you want to visit, or you can create your own.
If you choose to create your own hangout, you will get a notification when someone wants to join you and you can choose whether to accept or decline their request. At the end of the day, you're still meeting up with a stranger so I still go ahead and click on the people's profiles to check that they don't look like the type that are going to skin me alive and wear me like a coat. Couchsurfing hangouts is great because it's pretty active, especially in major cities and Digital Nomad hotspots. Since I've been in Greece I've found that if I post a hangout request or respond to someone else's then I usually get a response in a matter of minutes. As a result, the app is great if for example, you get back to your airbnb after a day of sightseeing and want some company over dinner. You could have plans with a new travel buddy within 30 minutes!
#2 Couchsurfing Events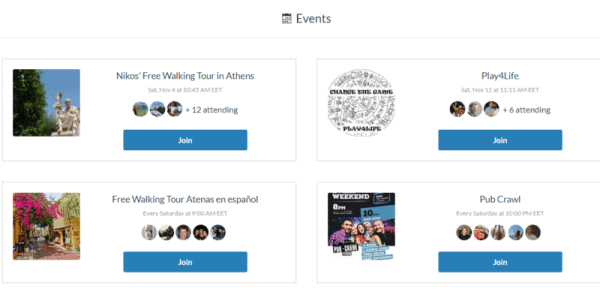 Using Couchsurfing's search function, you can find events that are taking place in a particular city over the course of the next few weeks. Most major cities around the world tend to have a very active couchsurfing community comprised of international expats and culture loving locals. (When I lived in Seoul, the couchsurfing community became my close knit group of friends!) Even if you are travelling alone like me, don't be intimidated to go along to a bar crawl or a night out. Couchsurfing events are usually full of solo travellers and are a great way to meet companions for the rest of your travels through a country. Couchsurfing very much has a "community" feel and you will find that people go out of their way to make you feel welcome, since they have been in the same boat as you too!
#3 Couchsurfing Forum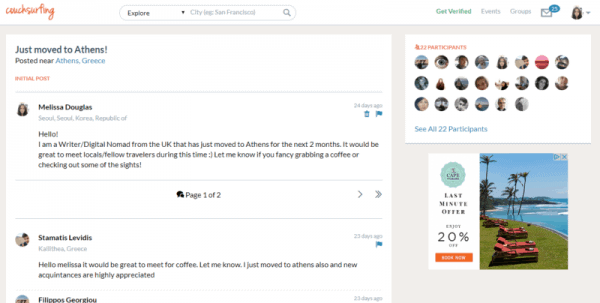 The "Explore" function of Couchsurfing is useful because it brings up everything that is going on in a particular city – hangouts, upcoming events, and so on. Scrolling down to the bottom of this page enables you to start a discussion. So, perhaps you are looking for more general advice about an area such as a list of restaurant recommendations or you're moving to town and want to introduce yourself to the community. Posting in this section essentially works like a travel forum whereby people respond to your queries.  
#4 Message Fellow Couchsurfers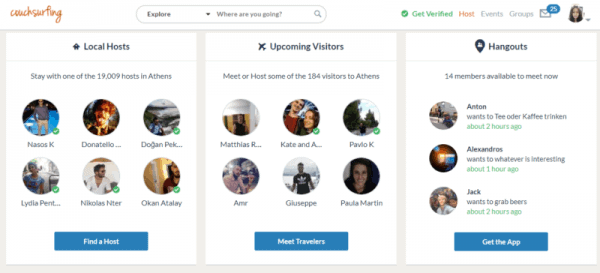 Back on that trusty "Explore" function once again, you will see dozens of links to profiles of travelers that are currently visiting a city, or hosts and couchsurfers based in the city in question. Using this feature, you can browse through people's profiles and when you discover people that seem interesting and who have common interests with you then you can send them a message inviting them for tea, coffee, whatever. You are able to filter the people displayed here by Couchsurfing reputation, interests, etc.
When I first started using couchsurfing, I did this quite a lot, since the other features hadn't been developed already, however now I feel that the hangouts and events are better alternatives. Sending a message to a host is like sending an email and they may not reply for a couple of days. I would only really recommend using this  function if you were somewhere quite remote with few events and hangouts sprouting up, yet you wanted to socialize while you were travelling. For example, if you were in a random town in Japan and you found a few local couchsurfers this way.
As always, check the references of the people you are meeting. They can give you a good indication about the person's character.
#5 Post a Public Trip!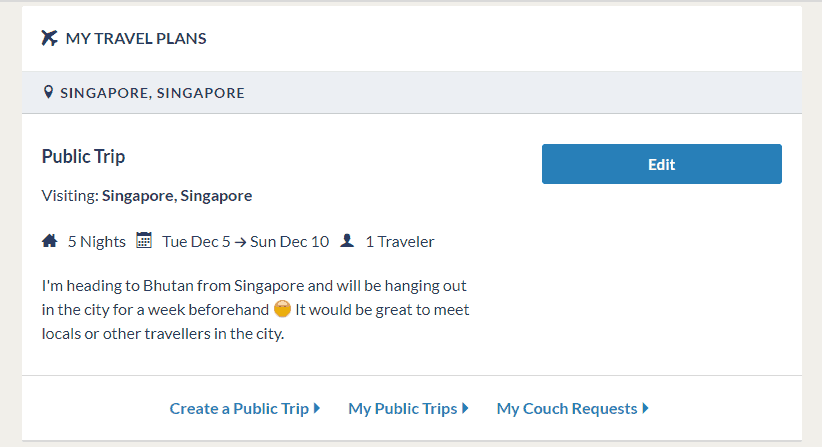 Couchsurfing enables you to share your travel itinerary so that people know where in the world you are and when. So for example, if you are spending three weeks travelling through Vietnam, you can post which town or city you will be in on each specific date. Doing this notifies other travellers and hosts that will be in each destination on those dates and so perhaps they will message you requesting to meet up when you are in town. Similarly, public trips are useful because you might discover other travellers that are venturing along the same route and so you can potentially ride share or organise to travel with them.
Safety Tips
Couchsurfing is, for the most part, a wonderful community of open minded, well travelled people across the globe who want to learn more about the world and help others learn about their country and culture. With that said, you should still use common sense and remember that ultimately you are still meeting a stranger. To ensure that your Couchsurfing experience is memorable in all the right ways, I've outlined some useful safety tips below.
Meet in a public place – Always organise to meet up with fellow Couchsurfers at a public place, not at their house or somewhere secluded. I hope that this should be common sense but I'm mentioning it here in case.

Check references

– Always, always check references, even if you are just meeting up with someone for a coffee. Would you want to have coffee with a Norman Bates? From time to time, you may find some weirdness in a person's references which is a red flag to steer clear.

If you're feeling uncomfortable, leave – Sometimes you just have a gut feeling or you feel uncomfortable in a situation and that is completely fine. You don't owe anybody anything and you are well within your right to excuse yourself from the situation. Politely tell your fellow couchsurfers that you need to go and Skype family, or you're too tired from the day's events and say your goodbyes.
Define boundaries

– Accompanying all the people on couchsurfing who want to engage in a cultural exchange, there are also plenty who are either actively seeking, or open to, hookups. I have noticed this a lot as a solo female traveler. I am sure that the 73 men that responded to my forum post about moving to Athens may not have gone to the same efforts if I was a balding middle aged male. Don't be afraid to politely express that you are only interested in the culture and as above, don't hesitate to leave if you feel uncomfortable.

Know your way home

– Sometimes you can be having so much fun at an event that you lose track of time. Make sure that you always know your way home and you are informed about the local public transport. In some countries, public transport stops running relatively early so don't leave yourself stranded.
Additional Considerations
Verified status – Couchsurfing has now provided its users with the option of becoming "verified". Being verified means that the individual has paid an annual registration fee to couchsurfing and has submitted all of the identification documents to prove that they are actually who they say they are. As far as I am concerned, this is not really a huge safety reassurance. Sure, some guy may be who he says he is but just because he isn't a catfish doesn't mean he isn't an oddball. See what I'm trying to say? Verified or not, ensure that you always check references before organising to meet anyone. Users who are not verified on couchsurfing are restricted in terms of how many users they can message directly before being requested to pay the fee. This doesn't apply to hangouts and events though so it isn't necessary to pay for verification (I'm a cheapskate and I don't!)
What do you think? Have you used Couchsurfing as part of your travels? Still have any concerns about using Couchsurfing? Let me know in the comments below!
Disclaimer: High Heels & a Backpack is in no way sponsored or affiliated with Couchsurfing. I just think it's awesome and that you should try it out for your travels too! 
---