Looking for Couchsurfing tips and insight on how to use and stay safe on one of the world's oldest and most established social travel apps? Look no further.

This article has been written by a seasoned Couchsurfer that has been using the platform since 2012 and has watched the platform grow, develop and change over the last decade. When Couchsurfing was founded in 2004, it was a game-changer for travellers and backpackers and there was nothing else quite like it.

It initially started as a passion project by travel lovers Casey Fenton, Daniel Hoffer, Sebastian Le Tuan and Leonardo Bassani da Silveira. Fenton had returned from a trip to Iceland where he had no place to stay and depended on the goodhearted nature of university students to allow him to stay for free. 
The platform grew and grew and today, it is used by a global community of 14 million people across the world. As independent travel and Digital Nomad lifestyles become more mainstream, there are now a lot more social travel platforms and alternatives to Couchsurfing. But Couchsurfing remains popular, especially if you are searching for accommodation.
Couchsurfing Tips
So what are the best Couchsurfing tips for someone who has just started using the platform? Is Couchsurfing safe and is it worth the recently introduced annual fee?
Safety is a big concern for a lot of people when it comes to using Couchsurfing for the first time, particularly solo female travellers. Provided that you take precautions and use your common sense, it can offer safe and wonderful experiences.
Couchsurfing is best known for being a platform that connects travellers seeking free accommodation with hosts around the world. The idea is that the interaction provides both people with cultural exchange and the opportunity to learn about other countries and cultures.
There is a huge sense of community among a lot of Couchsurfers. You will often find that people who "surf" and stay at people's houses also host other travellers. This is their way of "giving back" to the community.

You can also use the app to meet fellow locals and travellers without having to sleep over at someone's house. This can be done via the events meetup and hangout functions.
Make sure you have the right mindset if you want to Couchsurf
If you are hoping to Couchsurf and stay at someone's home while you are travelling, you need to have the right mindset. Yes, Couchsurfing is a way to essentially travel for free.

However, the idea behind the platform has always been that there are "no strangers only friends we haven't met yet". Couchsurfing focuses on people rather than simply a means to get freebies.

As a host, it can be unfortunate when you receive hosting requests from people that have very little interest in meeting or getting to know you as a person. Sometimes it is evident that someone just wants a free place to stay and that's it.

Honestly, if you come across this way, you are very unlikely to get responses to your Couchsurfing requests. Look at the app as an opportunity to make new friends in different parts of the globe.

Even if your time in a city is limited, you should set some time aside to hang out with and get to know your host. When reaching out to people that you would like to host you, look for people with similar hobbies and interests.

Send them a thoughtful couch request message introducing yourself. Make a conversation based on something you have read in their profile.
For instance, if the person's profile says that they love Korean culture, strike up a conversation about your past travels in Korea, your thoughts on Korean street food, etc, etc.
Know how to search for good hosts
When you are searching for a Couchsurfing host, there are a few things that you can look out for. Look for someone who has filled out their profile in detail, so that you can get an idea about the type of person they are.

For safety reasons, you should always opt for somebody that has several recent photos so that you know that you are not being catfished. You should also only reach out to people that have multiple positive reviews. This becomes even more important if you are a woman travelling alone.

Reviews are a good character reference. After all, if you are potentially going to be staying at a stranger's home, you need to know that they are sane(!)

It is helpful to search for reviews that have been written by people who are similar to you. For instance, if you are a woman travelling alone that is considering staying with a male host and all of the reviews have been written by men, it can be hard to gauge how the person is likely to behave with a woman alone in their home.

(Obviously not every person without an abundance of reviews is a weirdo but it is always better to be safe than sorry). You should also check to see when the person last logged into the platform.

When you search for hosts in any given city, it comes up with all the hosts who are active in the area. Some may log in infrequently or may have not been online for several weeks. It makes sense that someone who isn't very active on the app isn't likely to see your message or respond, so keep this in mind when you reach out to people.
Fill out your profile as much as possible
One of your main concerns when using Couchsurfing is likely to be that you want to make sure that you are meeting up with people that are fun, friendly and sane. This is what other people are looking for too.

So, while you are browsing through other people's profiles and trying to gauge whether the person is someone you would want to meet, they are judging your profile in the same way. So, you need to fill out your profile in as much detail as possible.

Write an engaging introduction that gives a bit of lighthearted background info about yourself. For instance, what you do for a living, what your main hobbies and interests are, what you hope to gain from the platform, and what you like about travelling.

There are a few different sections that you will be prompted to complete. For instance, questions about your first Couchsurfing experience, questions about your past travels, etc. Try to complete everything as fully as you can.
Be sure to upload several recent photos so that people know that you are a real person. Try to use photos that show you having fun with other travellers (and fellow Couchsurfers)!
Photos with interesting travel backgrounds (e.g. you in front of the Acropolis of Athens) provide a talking point for people who message you. Do be aware that although obviously you are entitled to express yourself however you like, selfie-style photos and swimsuit photos are more likely to attract the attention of people who are on the app for the wrong reasons.
Send multiple requests
When you are reaching out to Couchsurfing hosts in the hope of finding someone to accommodate you, it is a good idea to reach out to a couple of people. Some people may be excellent hosts but they may be travelling or have other commitments during the days you are in town.
Others may not see your message until it is too late. It is a good idea to reach out to potential hosts anywhere between 2 and 4 weeks before you are due to travel. Send each host a personal, thoughtful message rather than copying and pasting the same one.
Request reviews while you are building up your profile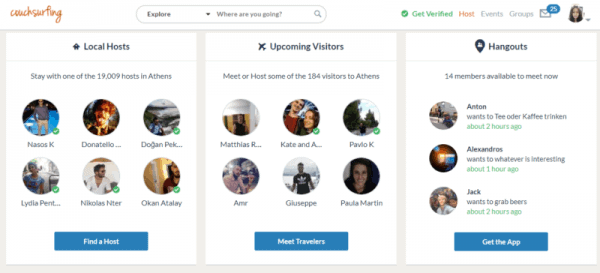 Just like you will be searching for hosts and people that have reviews when you use the Couchsurfing platform, so too will other people. Whenever you go to a hangout, an event, host someone or surf on their couch, ask them to leave a review for you and tell them that you are still building up your profile.
Leave a thoughtful review for them too, so future surfers know what to expect when they meet them.
Take common-sense safety precautions when meeting strangers
No matter how friendly someone might seem, remember that the people that you meet on Couchsurfing are still strangers. So, there are a couple of Couchsurfing tips that you should keep in mind to ensure that your travel experience is a memorable one.
First of all, always make sure that you carefully choose a host with photos, past references, and a well-completed profile if you are going to be staying at someone's house. Secondly, even if you are going to be staying at someone's place, it is a good idea to meet them in a public location first.
Grab a drink or a coffee together first of all and see how you get along. If you start feeling uncomfortable, leave.
Sometimes you just have a gut feeling or you feel uncomfortable in a situation and that is completely fine. You don't owe anybody anything and you are well within your right to excuse yourself from the situation.
It is also important to define boundaries and not be naive as to what people are seeking, especially as a female Couchsurfer. Among all of those people that use the app to meet travellers, there are those looking to hook up with people.
Female Couchsurfers often get a lot more couch offers than males and this is not always innocent. If you sense any red flags, it is better not to go along and meet the person at all. There are always plenty of options.
Use Couchsurfing Hangouts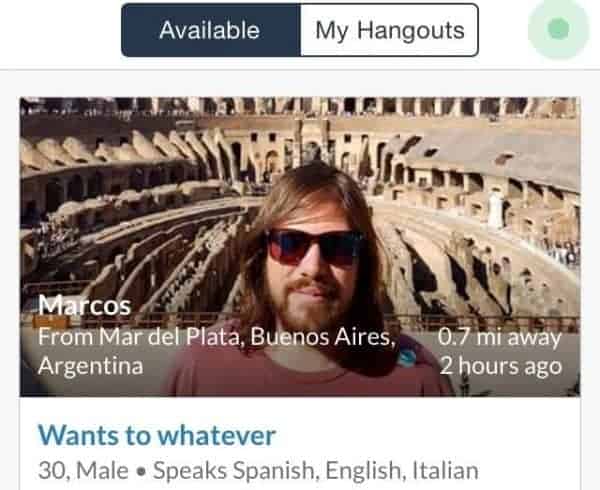 The Couchsurfing hangouts function is one of the best things about the app. It shows you travellers that are in your area and are looking to hang out. The app uses your GPS to display locals and travellers that are looking for something to do in your area.
People will post things such as "Looking for someone to visit the Ancient Agora with" or "Looking for someone to share a meal with". You can either scroll through these existing hangouts to find people that are already planning on heading somewhere that you want to visit, or you can create your own.
It is a great way to find someone to grab dinner or drinks with after a long day of sightseeing.
If you choose to create your own hangout, you will get a notification when someone wants to join you and you can choose whether to accept or decline their request. At the end of the day, you're still meeting up with a stranger so go ahead and click on the person's profile to sense-check them and read their reviews.
If they don't look like the type of person that is going to skin you alive and wear you like a coat, sure, go ahead and meet them! Couchsurfing hangouts are great because there always seem to be a lot of users, especially in major cities.
If you post a hangout request or respond to someone else's, you usually get a response in a matter of minutes. Multiple people can join a hangout so there could be just two of you, or you can organize for a whole group of travellers and locals to go somewhere as more and more people join.
Attend Couchsurfing events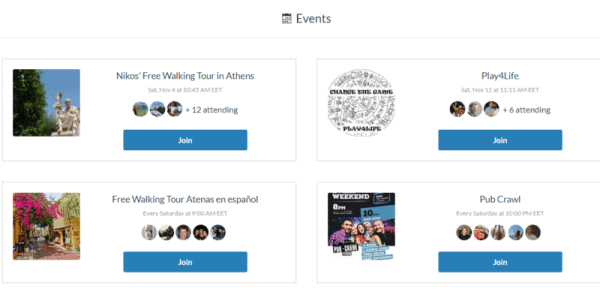 Using Couchsurfing's search function, you can find events that are taking place in a particular city over the course of the next few weeks. Most major cities around the world tend to have a very active Couchsurfing community.
These are usually made up of international ex-pats, culture-loving locals and travellers that are just passing through. You should never be intimidated about rocking up to one of these events, even if you are going alone.
(Plenty of people go it alone!) There is always a sense of community with Couchsurfing so even if a lot of the other people already know each other, they will go out of their way to introduce themselves and make you feel welcome.
After all, they are travellers too and they have been in the same boat themselves! Couchsurfing events usually attract a great crowd of people from all ages and backgrounds.
There are often more men than women, though. As always, use your common sense when meeting strangers for the first time.
In an event setting, always watch how much alcohol you drink. Never leave your drinks unattended.
Don't hesitate to organise your own events
If you have arrived in a new city and it seems like there is nothing going on during your travel dates, don't worry. You can easily host your own!
It is free and straightforward for anyone to set up and organise their own Couchsurfing event. You can do this even if you are arriving in a city for the first time and you don't know the area.
Simply do a little bit of research to see what bars or cafes seem spacious and have a good reputation locally. Choose a time and a meeting point and post it on the event.
You can also write a small paragraph on the event page introducing yourself. For instance:
"Hey everyone I'm Melissa! I'm a British Travel Writer that will be hanging out in Thessaloniki this week and I'm hoping to meet other travellers and locals to explore this fun city with! Let's meet at Ladadika at 9 pm on Friday, find a place to get some good Greek food and see where the night takes us!"
You can also provide your contact details/Whatsapp so that people can reach out to you with any questions if necessary. It is a good idea to post the event at least a week before you plan on hosting it.
That way, people have plenty of time to respond and you should get a good turnout. (Obviously, there are more active Couchsurfers in cities rather than in rural areas).
Don't be disheartened if it looks like only a handful of people are attending. Most people start RSVPing at the very last minute.
Many don't RSVP via the app. However, they still show up in person on the day of the event.
Use the Couchsurfing forum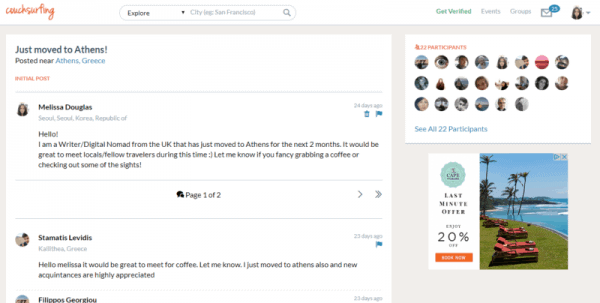 The "Explore" function of Couchsurfing is useful because it brings up everything that is going on in a particular city. For instance, hangouts, upcoming events, and so on.
Scrolling down to the bottom of this page enables you to start a discussion. So, perhaps you are looking for more general advice about an area such as a list of restaurant recommendations in Thessaloniki, or advice on day trips you can take.
Posting in this section essentially works like a travel forum whereby people respond to your queries.
Message fellow travellers and locals via the app
On the Couchsurfing Explore page, you will see dozens of links to profiles of travellers that are currently visiting a city. You will also see the details of hosts and Couchsurfers based in that city.
Here, you can browse through people's profiles. When you discover people that seem interesting and who have common interests with you, then you can send them a message inviting them for tea, coffee, etc.
This is nice because there are often a lot of interesting people on Couchsurfing who are open to hanging out with travellers, but for whatever reason, they are unable to host them in their homes. (Perhaps they live with parents, have a small place, etc).
Sending a message to a Couchsurfer this way is like sending an email and they may not respond for a couple of days. (Unless they are super active on the app).
Nowadays, the Couchsurfing Hangouts option is often a lot easier. That way, you can see who is in the area and looking to hang out at that specific point in time.
Still, messaging other Couchsurfers should not be overlooked. This is especially true if you are in a rural area and there are very few people around.
As always, check the references of the people you are meeting. They can give you a good indication about the person's character.
Post a public trip!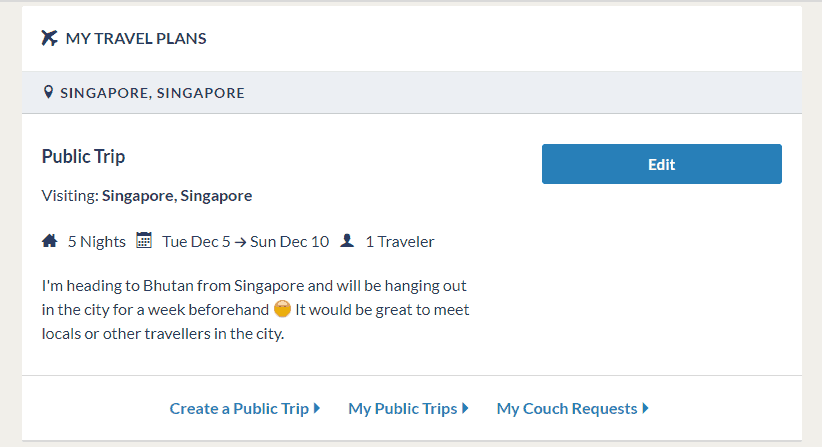 Couchsurfing enables you to share your travel itinerary so that people know where in the world you are and when. So for example, if you are embarking on a Greece itinerary for two weeks, you can share where you will be on each date.
Then, other Couchsurfers can see your trip details and local hosts can message you offering to host you or hang out with you. Posting public trips can also be useful in helping you find other travellers that are following a similar itinerary.
Is Couchsurfing worth it now there is a paywall?
For years and years, Couchsurfing was completely free to use. It did not become a for-profit business until 2011 and in the early days, it was managed completely differently from how it is managed today.
After years of being free to use, Couchsurfing introduced membership fees in 2020 following the struggles of the global pandemic. Now, using the app costs $2.39/month or $14.29/year.
Still, this is absolutely worth it. A ton of people are still active on the app.
Often our travel experiences are not about the things that we see, but the people that we meet. And it would be a shame to miss out on potentially meeting a lot of great people via events, hangouts and hosting just because you don't want to spend $14.
If you use the app to Couchsurf (or intend to), you are seeing greater savings overall from the free accommodation you find on the app. If you are unsure, you can always sign up for a month initially, see how you find it, and then either continue using Couchsurfing or cancel your membership.
Consider becoming verified
Couchsurfing has now provided its users with the option of becoming "verified". Being verified means that the individual has paid an annual registration fee to Couchsurfing and has submitted all of the identification documents to prove that they are actually who they say they are.
However still, this is not really a huge safety reassurance. Sure, some guy may be who he says he is but just because he isn't a catfish doesn't mean he isn't an oddball.
Verified or not, ensure that you always check references before organising to meet anyone. Users who are not verified on Couchsurfing are restricted in terms of how many users they can message directly before being requested to pay the fee.
This doesn't apply to hangouts and events though. However being verified can help you when you are trying to find people to host you, particularly when you first create a profile on the platform.
Alternative social travel apps and platforms
Couchsurfing paved the way for travellers to meet like-minded people back when travelling the world was less common. Today, more and more people are choosing to travel and more and more people are working remotely.

As such, there are more social platforms available where you can meet people. Meetup.com is a good platform for finding different social clubs in various different cities.

Similarly, Internations is a social network for international ex-pats that hosts events and gives you the opportunity to join interest groups and message other ex-pats in your area. However, it tends to attract an older, professional ex-pat crowd (40+).
Most Internations events and groups are free to join, though some premium events require a paid Albatross membership. Bumble BFF is another great app for meeting friends around the globe, particularly if you have just moved to a new city.

This is the plutonic friendship arm of the Bumble dating app. You swipe left or right on people that are seeking friends in your area and then you can chat and organise to meet them for a coffee, dinner, or a friend date.
Finally, Facebook travel groups are an underrated place to meet travel friends. You can join groups that target a particular demographic of traveller (e.g. Girls Love Travel) to communicate with solo female travellers, or "Foreigners in Greece" to communicate with people embarking on a Greece itinerary.
When you join, create a post in the group introducing yourself and briefly discussing your travel plans. Write that you are searching for fellow travellers to hang out or grab coffee with. You may be surprised by how many respond.
Couchsurfing Tips and FAQs
Do you still have any burning questions or concerns about using the Couchsurfing platform? Hopefully, you will find the answers you are looking for below.
How long is two long Couchsurfing?
Most people who surf and host on Couchsurfing will tell you that 2-3 days is the typical amount of time to stay at someone's place. Of course, there are always exceptions to this.
Some people have spare bedrooms where they let Couchsurfers sleep and they host people regularly. They may be open to letting people stay for longer.
If you are travelling somewhere for an extended period of time (e.g. a week or more), you may need to stay with multiple hosts. If you stay with someone for a couple of days and decide you want to stay longer, you can have that discussion with your host.
What are the disadvantages of Couchsurfing?
When you Couchsurf, you are staying at a stranger's place and relying on goodwill/the sharing economy. This is substantially different to staying at a hotel.
Of course, even if you do your due diligence, you could have issues. The space could be unclean, and uncomfortable, or you could feel that you have little privacy.
You may find that you and your host clash, or that they give you a weird vibe where you feel uncomfortable. Most experiences are great, but you should always have an emergency fund set aside so that you can bow out and go to a hostel/cheap hotel if you need to leave quickly.
How long can you Couchsurf?
You could essentially live out of Couchsurfing accommodation, bouncing around from couch to couch. The important thing is to not overstay your welcome.
Send requests for between 2-4 days maximum for a host.
Is Couchsurfing a hookup site?
No. Couchsurfing is a social travel platform that connects locals with cities around the world.
Of course, there are always some unsavoury types that are attracted to these kinds of platforms, as well as people hoping for a hookup. If this is someone's intention, it is usually pretty obvious from the get-go.
If things happen consensually between two people, fair enough. However, if someone makes you feel uncomfortable or unsafe, Couchsurfing support is usually pretty good at getting back to you and providing assistance.
Can you Couchsurf as a couple?
Plenty of Couchsurfing hosts will host couples. When you send a couch request, you will be able to see on their profile what their hosting preferences are (e.g. solo male traveller, solo female traveller, couples, anyone).
You will also be able to read information about the type of space that they have. (I.e. whether they have a spare bedroom you can use or whether you will be sleeping on a couch). It is often easier for solo travellers to find hosts but that doesn't mean it's impossible for couples.
What is the difference between Airbnb and Couchsurfing?
Airbnb and Couchsurfing both allow you to stay in local residential homes when you travel rather than in hotel rooms. The difference is that Couchsurfing is free, whereas you pay for rooms on Airbnb.
On Airbnb, you can rent a room in someone's place or you can rent an entire property. The emphasis of this app is more on you staying in a local neighbourhood away from the touristic center of a city, rather than being an opportunity to meet and interact with your host.
Final thoughts on these Couchsurfing tips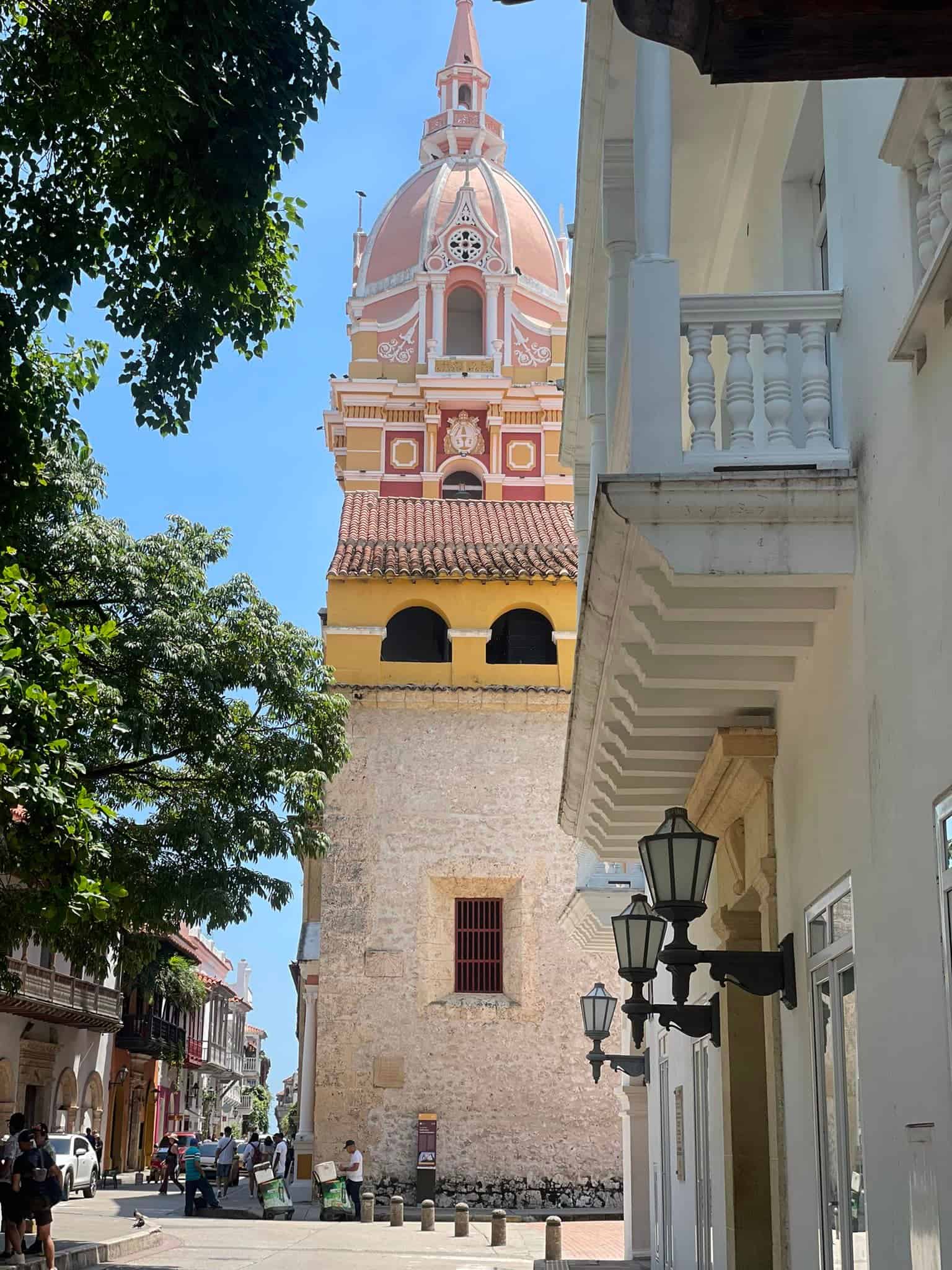 Couchsurfing is a great app that will hopefully continue to exist for years to come. The underlying message of the app has always been to provide travellers with a more authentic local experience.
Meeting locals via Couchsurfing is very different to hanging out alone or with other travellers. Your new local friends can introduce you to their friends and show you what life in a certain part of the world is really like.
They can take you to their favourite bars, restaurants, and hole-in-the-walls that you may not have found independently. After all, these are people that know the local language and have spent their entire lives living in this particular place.
Couchsurfing provides experiences no guidebook ever could.
What do you think about these Couchsurfing tips? Have you ever used Couchsurfing as part of your travels? Do you still have any concerns about the app?
Disclaimer: High Heels & a Backpack is in no way sponsored or affiliated with Couchsurfing. I just think it's awesome and that you should try it out for your travels too!
---