Ladadika Thessaloniki is one of the most vibrant and eclectic places to dine out or have drinks in Thessaloniki today. More than that though, this is also one of the city's oldest and most historic districts.
A Little History of Ladadika, Thessaloniki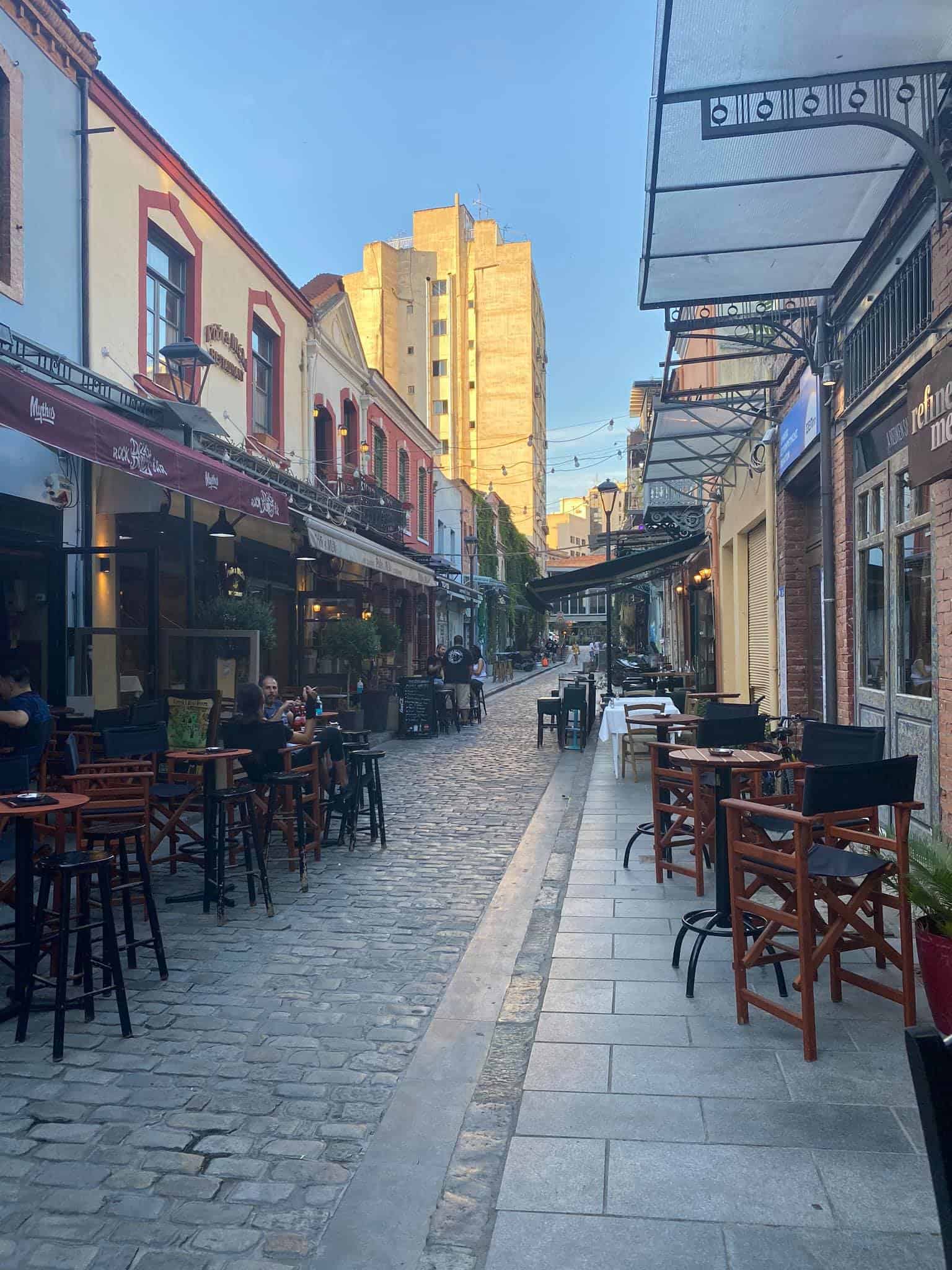 During the days of the Ottoman rule in Greece, Ladadika was a marketplace. The name "Ladadika" literally means "with oil". Indeed, the shops and stalls of this central market sold olive oil and related products.
Since Ladadika was close to the port, it made the region a perfect place for merchants and traders. It is believed that a marketplace in some form or another existed here, even centuries before the Ottomans ruled over Greece.
Sadly, a fire tore through Thessaloniki in 1917, leaving the Ladadika district in partial ruin. The area declined, and shops in the area slowly closed one by one. By the seventies, Ladadika was completely abandoned.
It wasn't until the eighties and nineties that restaurants, tavernas and bars started gradually opening up again in Ladadika. With them, they injected a new lease of life into what was becoming a rundown part of town.
Ladadika, Thessaloniki Today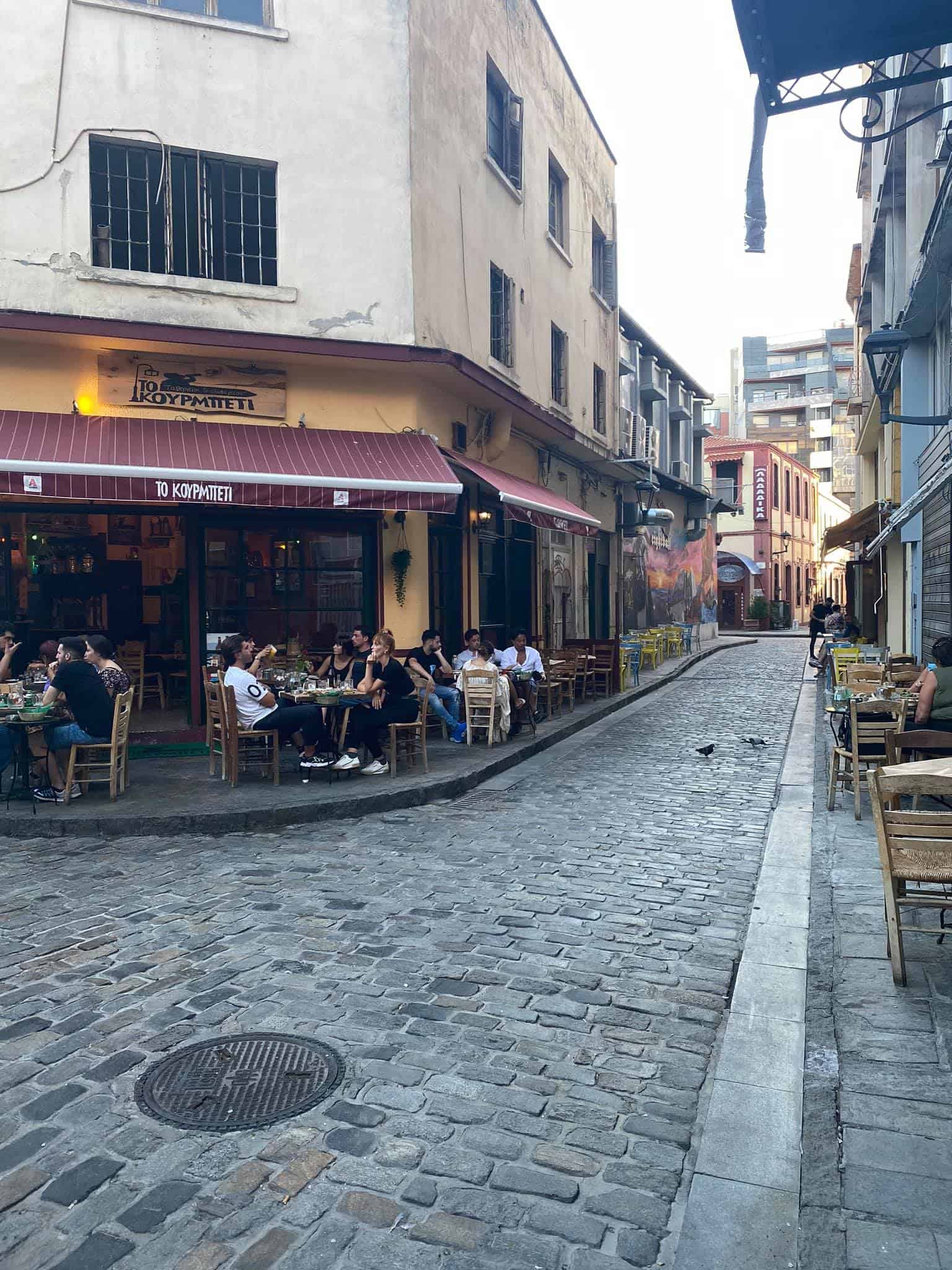 Modern Ladadika retains a lot of its original grit and charm. This area consists of narrow cobbled streets and alleyways lined with pastelcoloured two-story buildings.
The entirety of Ladadika is pedestrianised. Several excellent tavernas and mezedopoleio spots encircle the main square.
However, you should not bypass the unsuspecting passageways. At the foot of many of these little alleys await quaint local haunts serving up some of the best Greek coffee in town.
Where to Eat in Ladadika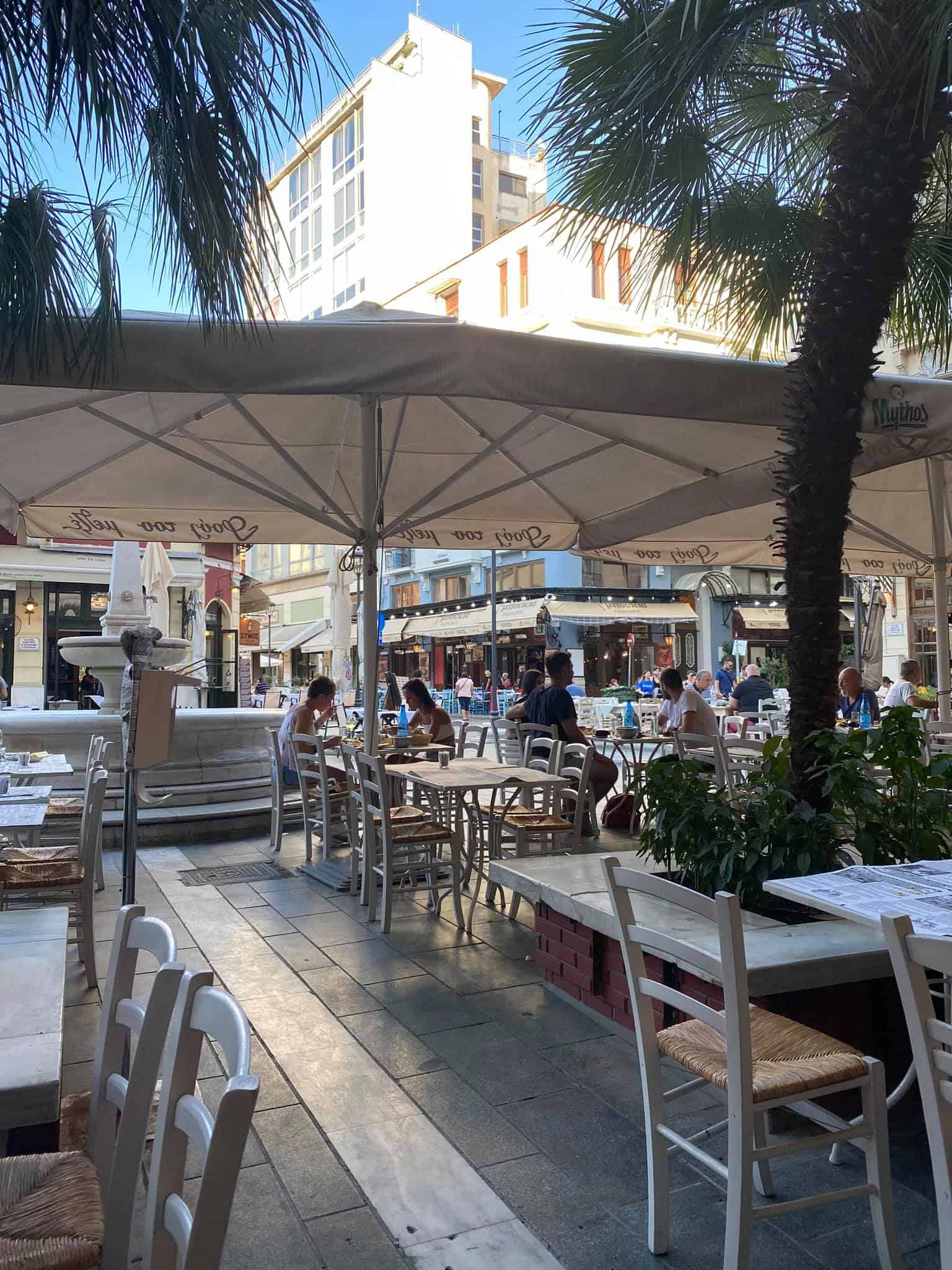 Some of the very best restaurants in Thessaloniki can be found in Ladadika. If it's homely, traditional Greek food that you're looking for, this is the area to venture to.
There is arguably no such thing as a bad meal out in Thessaloniki. That being said, if you want to be sure to tuck into the best of the best, consider the below Ladadika restaurants during your trip.
Full Tou Meze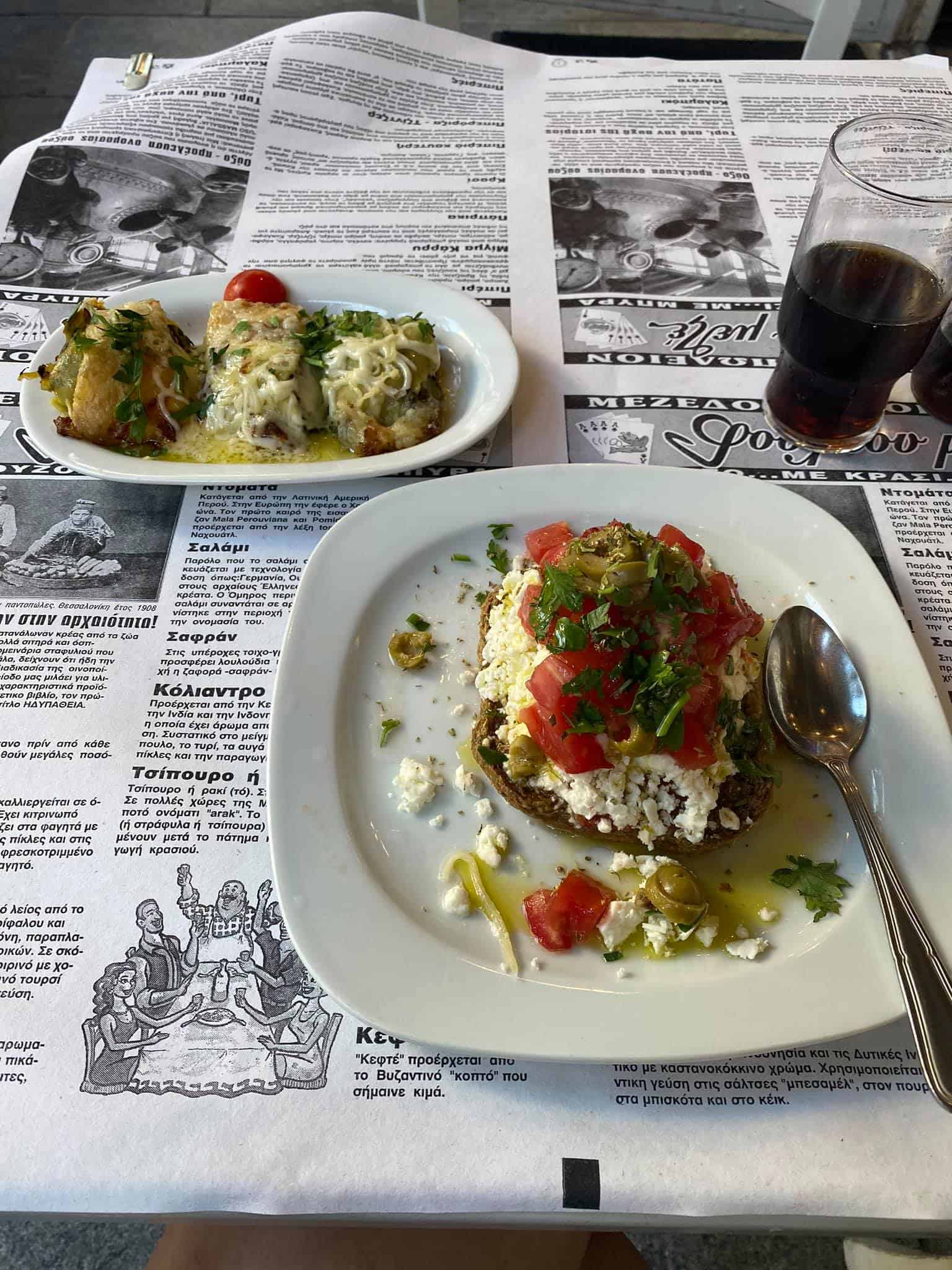 Where: Katouni 3, Thessaloniki 546 25
Full Tou Meze is one of the best meze spots in town. The extensive menu boasts a vast array of appetisers, salads and mains that will leave you spoiled for choice.
Start with some stuffed zucchini flowers, warm, homemade pita bread and spicy tirokafteri. Then, order a fresh, flavourful horiatiki salad for the table and share small plates among your dining companions.
The menu at Full Tou Meze would rival a bible. The cured meats and cheeses section alone is lengthy. If you are unsure what to order, ask the server for their recommendation.
Full Tou Meze also doubles as an ouzeria and serves a wide range of ouzos from across Greece. Best of all, the prices here are very reasonable.
Rembetika
Where: Pindou, Thessaloniki 546 25
Rembetika is a local favourite. This quaint taverna sits on the corner of Lykourgou & Pindou and is always filled with Thessalonians who spill out onto the nearby pavements as they enjoy al fresco dining.
The ambiance here is just as wonderful as the food. Rembetika's small size makes it more reminiscent of stopping by for dinner at a relative's cosy home. Live bands are hosted here on certain nights and weekends.
Charoupi
Where: Doxis 4, Thessaloniki 546 25
When it comes to fine dining restaurants in Thessaloniki, Charoupi is one of the best. This restaurant specialises in Cretan cuisine which can be interesting if you are looking to sample something a little different.
Charoupi's innovative menu serves Cretan classic dishes with a contemporary twist. The curated wine list features red, white, and rose wines sourced from across the country. Ask your server for a recommendation for a tipple that perfectly brings out the flavours of your meal.
Loupino Restaurant
Where: Katouni 4, Thessaloniki 546 25
Loupino is an award-winning mezedopoleio in the beating heart of Ladadika. The menu has something for everyone. However, Loupino pride themselves on their fresh fish and locally sourced meat.
Ask your waiter for information on the "fish of the day" to tuck into something flavourful that has been caught and prepared that same morning. The stuffed squid (calamari) served with Greek salad and arugula is always a great choice. So too, is the mussels saganaki.
The Blue Cup
Where: Salaminos 8, Thessaloniki 546 25
The Blue Cup is not a Ladadika restaurant per se, but a high-rated local coffee joint and cafe. This cozy coffee place is more than "just another" Greek coffee store. Here, coffee is an art.
Coffee blends at the Blue Cup are prepared using a variety of exquisite beans from across the globe. Beans from Brazil, Colombia, Costa Rica, El Salvador, Ethiopia, Honduras, and Kenya all feature on the menu.
Order a strong El Salvador espresso to enjoy beside a hearty slab of cake. In the evenings, The Blue Cup transforms into a chic cocktail bar.
Attractions in and Around Ladadika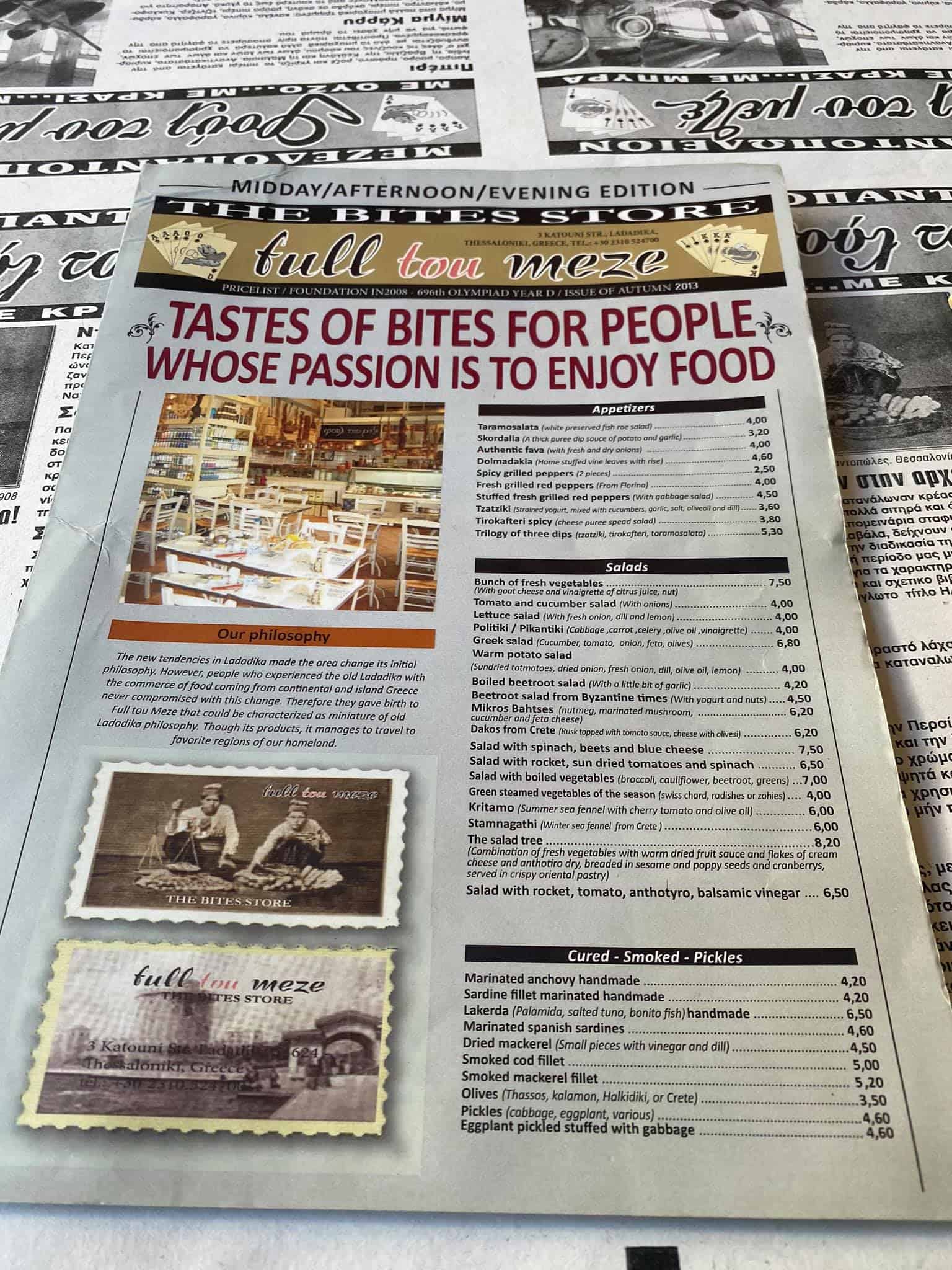 Ladadika is a perfect stopping point on a wider walking tour around Thessaloniki. While the neighbourhood may be little more than cobbled streets and restaurants, there are plenty of points of interest nearby.
Thessaloniki's Former Jewish Ghetto
Most notably, Ladadika is right on the doorstep of Thessaloniki's former Jewish district. Sadly, the vast majority of this area was destroyed during the Holocaust. However, some interesting buildings remain.
On the outskirts of Ladadika, you will find grand, neoclassical mansions that once belonged to prominent Jewish families, old synagogues, and various former Jewish commercial stores. The Monasteriotes Synagogue and the Jewish Museum of Thessaloniki are particularly worth adding to your radar.
The Port of Thessaloniki
Ladadika is just a short walk away from the Port of Thessaloniki, and Aristotelous Square. From here, you can walk down to the pier on the seafront and have drinks at Kitchen Bar – one of the main places to see and be seen in Thessaloniki on a Friday or Saturday night.
Parting Words
Do you have any additional questions about Ladadika, or about things to do in Thessaloniki generally? Please don't hesitate to reach out!
I have lived in Greece for almost four years now. I've spent several months based in Thessaloniki during that time.
Wishing you wonderful and safe travels in Greece! Geia sou! Melissa xo
---