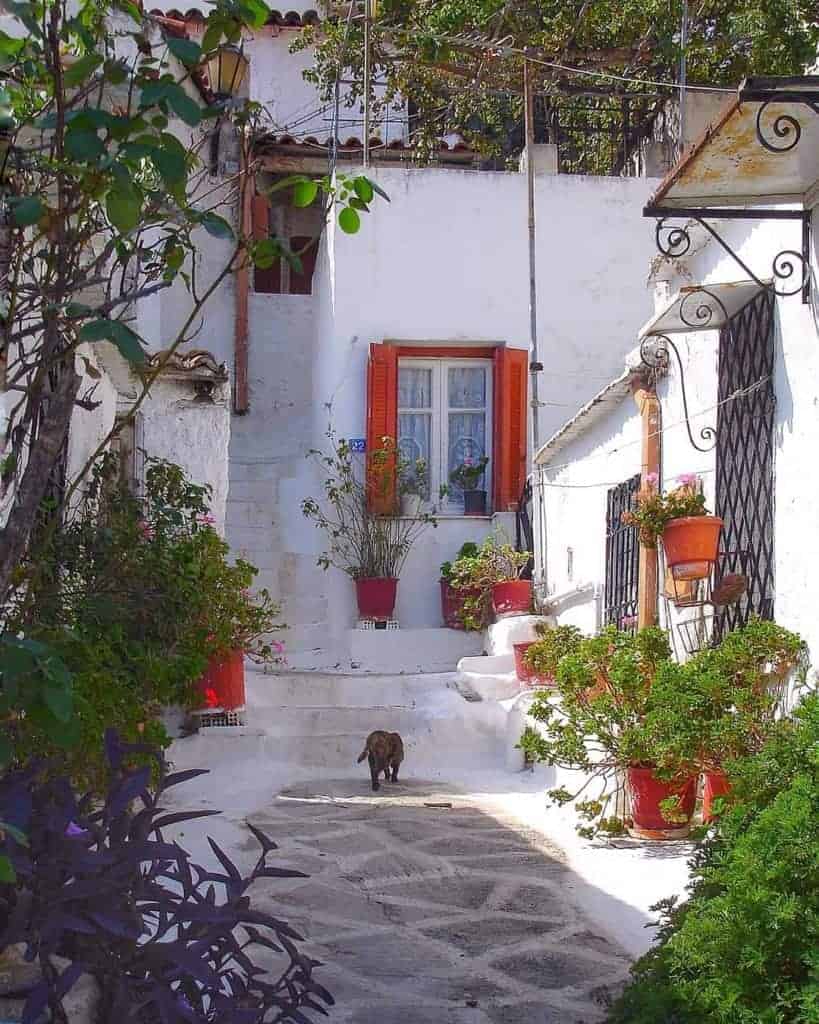 There are plenty of free things to do in Athens. This makes the Greek capital a perfect travel destination if you are on a budget!
In general, Athens is a very affordable city when you compare it to the majority of European capitals. Admission prices to museums and historic attractions are not unreasonable, you can eat for less than €5 per person, and you can easily find accommodation for less than €30 a night. That said, I can completely relate if you are trying to see the city as affordably as you possibly can.
Free Things to Do in Athens
I have lived in Athens for three years now and I have loved exploring every nook and cranny of this city. Without further ado, let's look at the best things to do in Athens that are completely free! The sites listed here ought to offer something for every interest.
Visit Anafiotika
Anafiotika is one of Athens' best kept secrets. This little neighbourhood is the complete opposite of something that you would expect to find in the bustling centre of Greece's congested, chaotic capital. Anafiotika is a little out of the way but that works in your favour. Aside from the occasional guidebook wielding tourist, you won't see a ton of people here.
This little residential district resembles a Cycladic village. That is because Anafiotika was created in the 18th century when residents from the island of Anafi moved to the capital for work. They built their new homes with whitewashed walls, and blue roofs, doors and window shutters – just like they would have done in Anafi.
See the Evzones at Syntagma Square
The Evzones are an elite ranking of Greek soldiers. You can find them in central Athens standing guard outside the Parliament Building and in front of the Tomb of the Unknown Soldier.
Greek Evzones are easily distinguished by their outfits. These soldiers wear an intricate, handmade costume that features a bold red hat (Farion), a blue and white kilt-like garment (Foustanella), and fluffy pom pom shoes (Tsarouchia). If you find yourself in front of the Syntagma Parliament building on a Sunday at 11am, you can watch the Changing of the Guards Ceremony.
Go On a Hunt For Street Art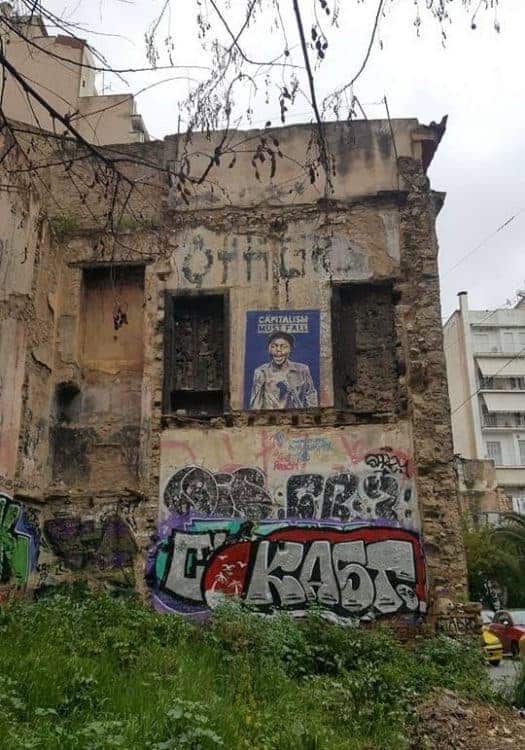 Athens is essentially one big canvas. Here, street art covers practically every surface. You will find a lot of graffiti in the city centre. This gives Athens something of a gritty, edgy vibe.
Some of Athens' graffiti is simply vibrant and nice to look at, while a lot of it is thought-provoking and politically charged. Psyrii is one of Athens' main nightlife districts. As you navigate your way through the neighbourhood's twisting narrow streets and passageways, you are greeted with countless colourful and eclectic murals.
If you are interested in the more political Athenian street art, head to Exarchia. Exarchia doesn't have the best reputation, but it's a pretty unique place to explore. The district has a long history of political protests and has now become synonymous with anarchist groups and an anti-establishment mindset.
Most of the time, police won't even set foot inside Exarchia. While that may sound sketchy, Exarchia has thrived to become an alternative zone filled with old vinyl record stores, rock bars, and cheap tavernas. You can find a lot of graffiti here – some of which is pretty extreme. Famous European graffiti artists Borondo and Ino also have thoughtful street art in Exarchia.
Hike to Kaisariani Monastery
Kaisariani monastery sits in the woodlands just south of Athens city centre. This is a nice place to visit if you enjoy hiking, culture, or both! The route starts at Leof. Eth. Antistaseos in Kaisariani.
After you follow the woodland footpath for twenty minutes or so, you will find yourself at the monastery. The beautiful building is filled with vibrantly coloured frescoes and paintings that depict scenes from the Orthodox faith.
Close to the monastery, there is a charming little cafe where you can enjoy a coffee or a pastry amid the peaceful ambiance of the Vyronas forest. If you wish to enjoy a longer hike, you can continue wandering through the woodlands and exploring other hidden monasteries and churches (there are several!), or follow the path to the peak of Mount Hymettus.
Wander Along Dionysiou Areopagitou
Dionysiou Areopagitou is essentially the heart of touristy Athens. This long cobbled boulevard runs from the Temple of Olympian Zeus, past Filopappou Hill and the Acropolis, and winds up in Thissio.
It's crowded with tourists and street vendors, sure. However there is something about this street that is just magical. Perhaps it's the old folk music that plays out from the tavernas here, or the street performers that attract crowds with their singing and magic tricks, I'm not sure.
As you walk the length of Dionysiou Areopagitou,take note of your surroundings – you will pass dozens of grand neoclassical mansions, ancient archaeological sites, and museums.
Make Use of Free Museum Entrances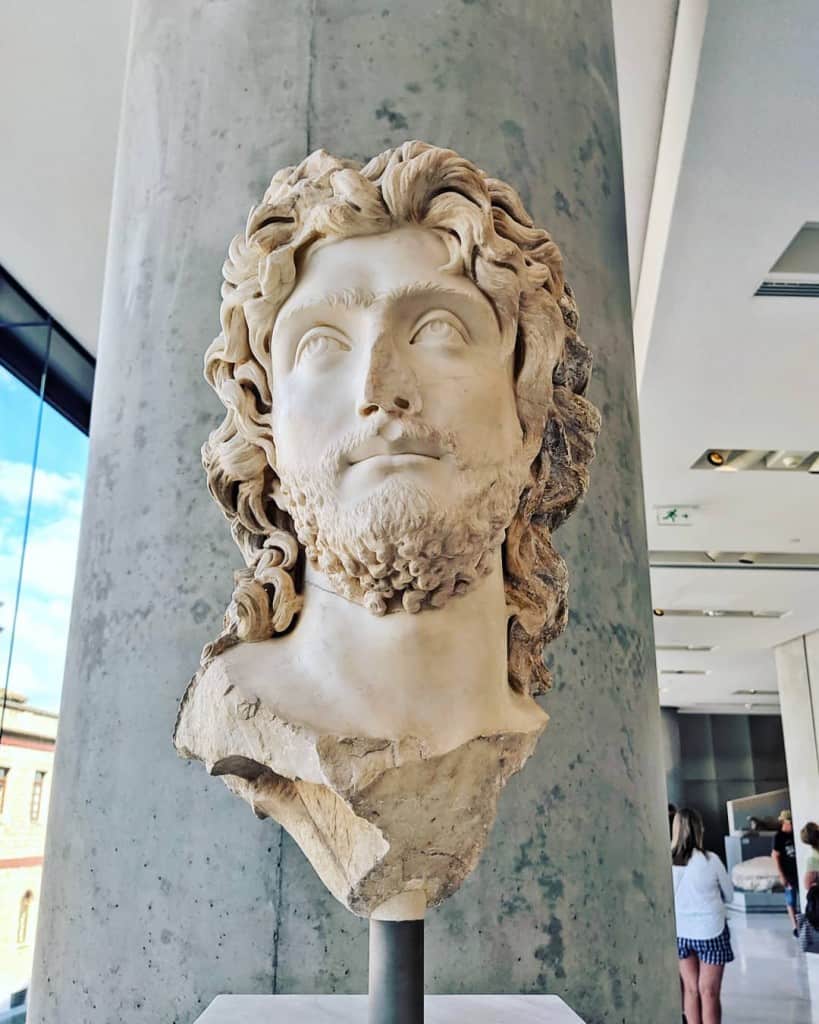 A lot of Athens' best museums offer free entrances on certain days of the year. If you happen to be travelling across Greece on any of the below dates, make a note because you will be able to enter the likes of the Acropolis museum, the Archaeological Museum, and the museum of the Ancient Agora without spending a penny!
New Year's Day (January 1st)
Greek Independence Day (March 25th)
May Day (May 1st)
Feast of the Virgin Mary (August 15th)
Oxi Day/Day of No (October 28th)
Boxing Day (December 26th)
In addition to the above, most museums offer free entry on the first Sunday of every month during the winter season that runs from 1st November up until the 31st of March.
Check Out Seasonal Events and Festivals
The Athens annual calendar is bursting at the seams with festivals and events that are free to attend. This ranges from traditional Greek festivals and celebrations, to live music performances such as the free Jazz festival that is hosted in Gazi district every May. When you arrive in Greece, check to see if anything is going on during the dates of your trip.
Admire the Quirky Displays in Evripidou Street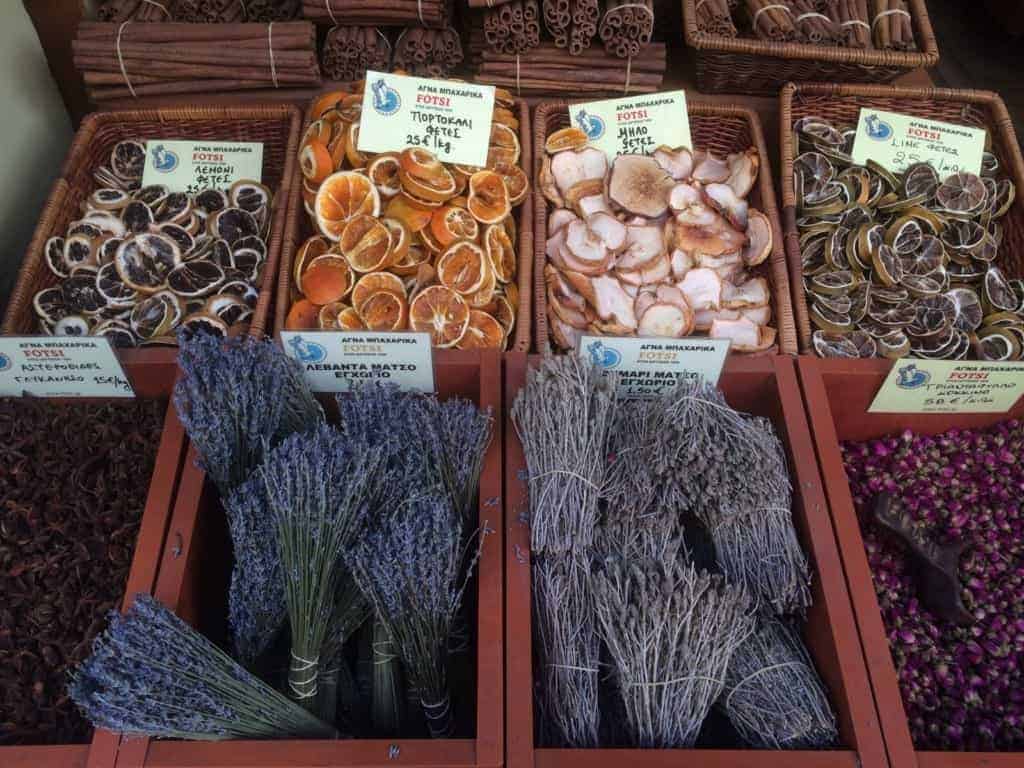 Evripidou Street is one of my favourite streets in Athens. Whenever friends and family come to visit, I always bring them here because it's just so interesting to look at the displays!
When you arrive at Evripidou Street, make a beeline towards the intersection of Athinas and Menadrou. Here, you will find lots of weird and wonderful stores.
A lot of the shops here look like something from another era entirely. They have flowers, and dried food produce, and preserved meats dangling from the ceilings, and sweets stored in old fashioned jars. In particular, look out for Miran and Karamanlidika – two quintessentially Greek delicatessens that sell an array of edible Greek agro products.
Enjoy Scenic Panoramas From Mount Lycabettus
The ascent to the top of Lycabettus is one of the most pleasant hikes in Athens. You can enter the park area of Lycabettus from elegant Kolonaki. The pathways twist and turn through woodlands and cacti forests.
At the top, you are met with an adorable little white-washed church – the church of Agios Georgios which is free to enter. The peak of Lycabettus provides incredible panoramas across the city. On a clear day, you can see out to the waters of Piraeus.
Spend an Afternoon in Piraeus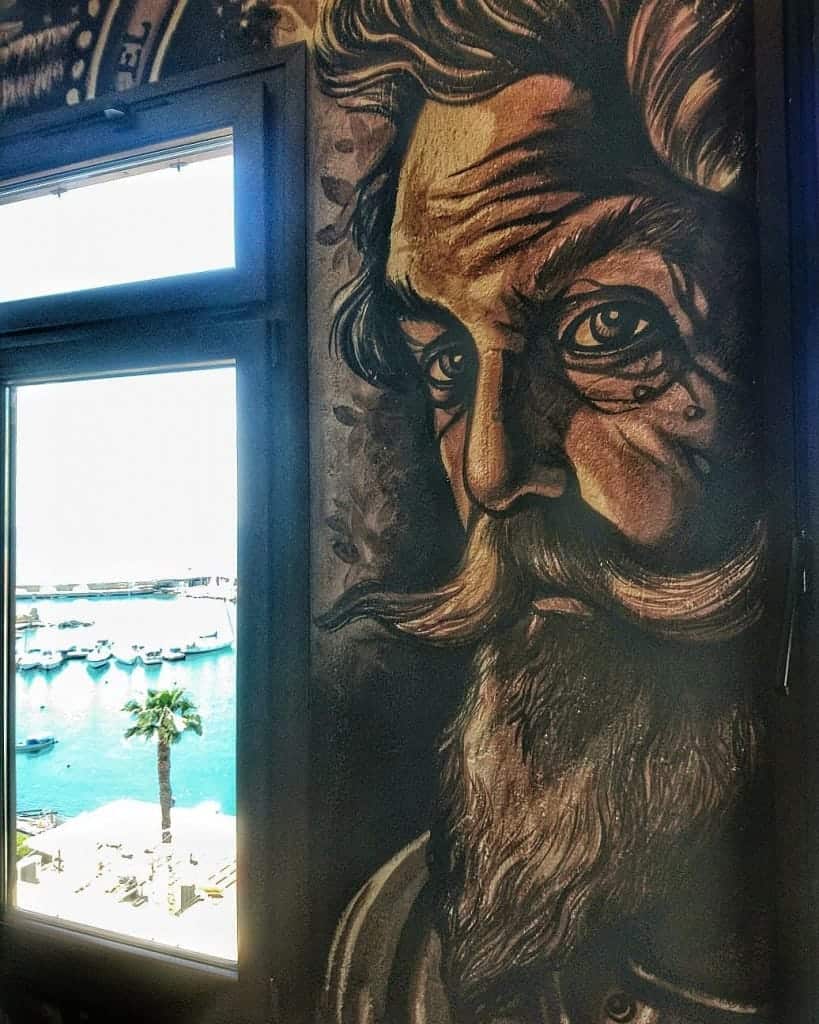 If you have more than a couple of days to spend in Athens, consider heading out to Piraeus for the day. Piraeus is often overlooked, and people generally only find themselves here when they want to take a ferry to the nearby islands. However, there are actually some pretty interesting things to see here!
Wander around Marina Zea (Pasalmani) and observe the well-heeled crowd that occupy the bars here, as well as the impressive yachts moored in the marina. From there, stroll along the coast to Mikrolimano port and Piraeus' colourful Kastella neighbourhood.
Hang Out in the Piazzas of Pagrati
Pagrati is a quirky little neighbourhood that is tucked away behind the ancient Panathenaic Stadium. This area has been beloved by Artists, Writers, and Creatives for centuries.
Here you can find eccentric themed coffee shops, independent art galleries, vintage clothing stores, and crowded piazzas. Of course, it's free to walk around an get a "feel" for Pagrati – one of Athens' most personable neighbourhoods. You can also hang out with locals in the trendy Varnava Square.
Browse the Stalls of Athens Central Market
The Athens Central Market (Varvakios Agora) is the largest traditional market in the city. A lot of Athenians still prefer to shop at local markets (agoras) and you can find smaller scale versions of markets like this across the city.
The various halls of the market sell everything from fresh fruit and vegetables, to meat and fish. Some of the things that you will see in the latter halls are not for the faint of heart! Be sure to wear closed shoes if you visit here, lest you want to step a sandalled toe into the fishy water!
Walk From Alimos to Glyfada and Beyond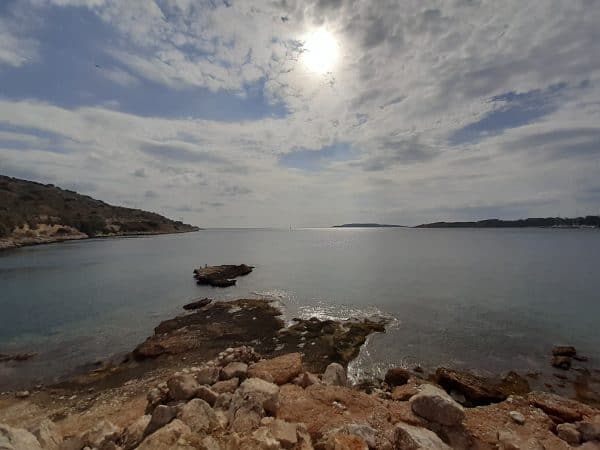 Many people that visit Athens don't realise that the city has a stunning coastal region that awaits just 30 minutes from the downtown district. The "Athenian Riviera" extends from Alimos in Southern Athens, down to the sophisticated beach towns of Glyfada, Voula, and Vouliagmeni.
This pine-covered peninsula is a popular getaway destination for the Athenian elite. However luxury aside, one of the best free things to do in Athens is to follow the seafront trail that leads from Alimos on to Glyfada.
The trail is flat and takes you past isolated clifftop churches, secluded beaches, and scenic coves. If you want to continue walking, you can follow the route all the way down to Voula and Vouliagmeni. The beaches and grassy expanses by the sea provide the perfect spot for enjoying your own picnic.
Visit an Independent Art Gallery in Koukaki
Koukaki is one of the most charming yet underrated neighbourhoods in all of Athens. Sharing some similarities with Pagrati, Koukaki has a very ofbeat and quirky personality.
Those interested in art will not only enjoy observing the street art pieces that decorate the facades of old stores and buildings in Koukaki, but will also be delighted to hear that there are many independent art galleries here which are free to enter.
"State of Concept" and the National Gallery of Contemporary Art are located in Koukaki. The former is a "not for profit" organisation. Both display the works of up-and-coming Greek and International Artists.
Admire the Acropolis From Filopappou Hill
If you want to visit the Acropolis, standard admission tickets start from €20. I think that the Acropolis makes a great inclusion on any Athens travel itinerary, and I would definitely recommend it. At the same time, I get that that price can be high if you're on a budget, so here's a free alternative!
Filopappou hill is a leafy green space that sits directly across from the Acropolis Hill. It isn't so well known, but it's a great place to get photos in front of the Acropolis – especially if you come here early in the morning.
From up here, the Parthenon looks so close that it's like you can reach out and touch it! Besides the views, there are several other interesting attractions on Filopappou hill too. As you ascend to the top of the hill, stop to admire the picturesque 16th Century AD chapel of Agios Dimitrios, the ruins of an old Greek theatre (Filopappou Theatre), and a prison that once held Socrates!
Parting Words
If you are looking for more suggestions on free things to do in Athens, feel free to drop me a comment below and I'll try and get back to you as soon as I can. Safe travels! Yiassou! Melissa xo
---