Joining one of the best Thessaloniki walking tours can be a great way to see and experience Greece's second city. Thessaloniki, although often overlooked and underrated, is quickly emerging as a great city break destination in the Mediterranean.
Like Athens, Thessaloniki is one of the oldest cities in Europe and a settlement has existed here for thousands of years. The city was originally founded by King Cassander of Macedonia in 315 BC.
The King named it after his wife Thessalonike, a half-sister of Alexander the Great. Back then, Thessaloniki was an important trade city by sea and overland throughout Europe as it sat on the Via Egnatia, the Roman road that connected Byzantium with the Adriatic.
Various civilisations have conquered and ruled over Thessaloniki throughout the centuries. Each one has left its mark on the area's long history, architecture, culture, and gastronomy.
The Ottoman Turks arrived here in 1430 and ruled the city until it was liberated by the Greek army in the early 20th century. The Turks built many hammams (Turkish bathhouses), madrassahs, mosques, and colorful Ottoman houses which still stand today.
Thessaloniki is rich in history and culture and is known as Greece's "foodie capital" on account of all of the excellent restaurants and regional cuisine that can be found here. Its coastal location also makes it a great jump-off point for exploring Halkidiki and the beach town of Peraia, and many of the charming villages and towns of Northern Greece.
It can be overwhelming to know where to begin, especially if you only have a limited amount of time to explore Thessaloniki. This guide will run through the best Thessaloniki walking tours, their itineraries and prices, how to book them, etc.
Best Thessaloniki Walking Tours to Do in 2023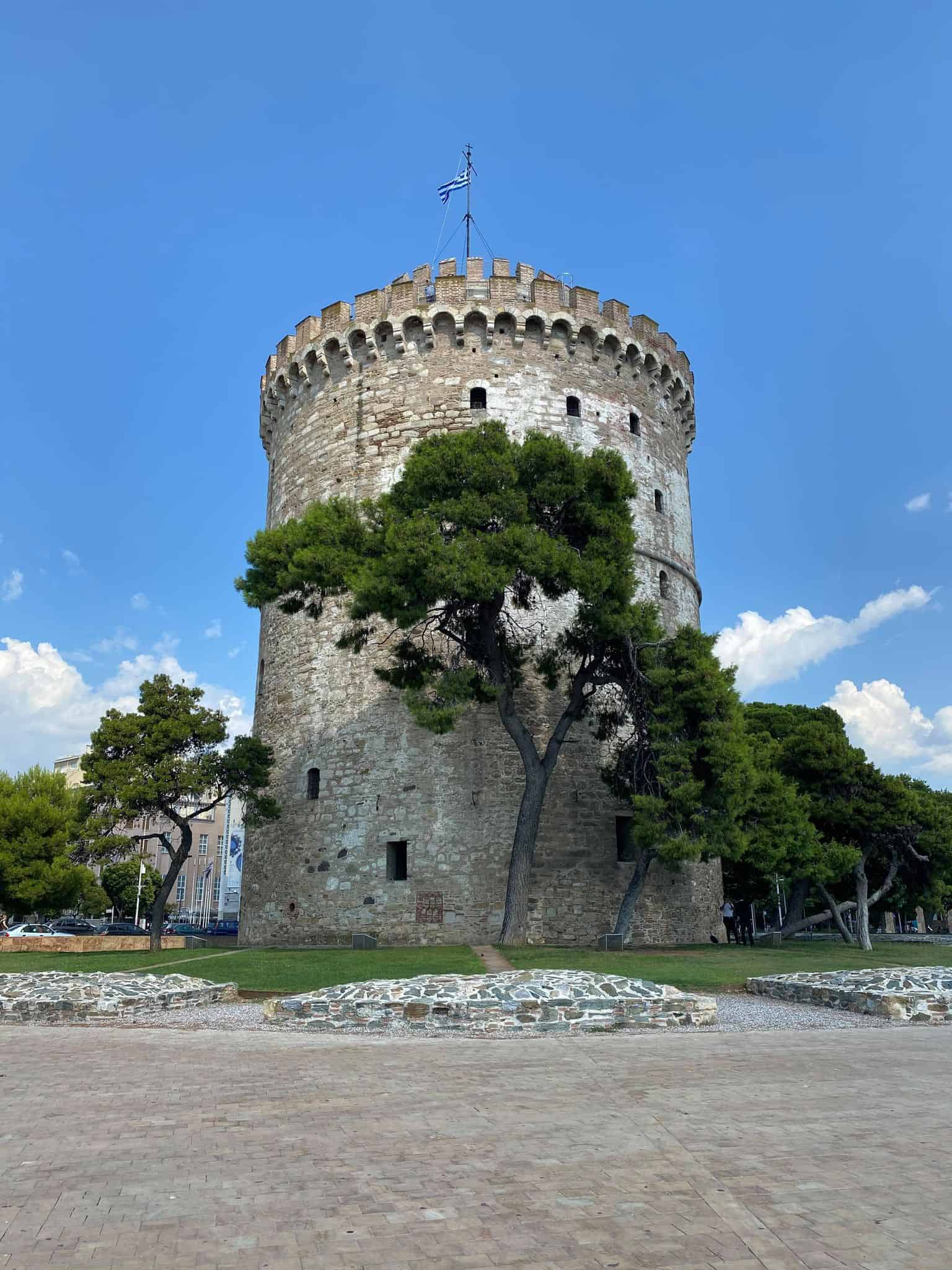 A ton of reputable local tour companies operate in Thessaloniki and many of them offer excellent Thessaloniki walking tours. These allow you to get your bearings in the city when you first arrive, discover places that you would never have stumbled across independently, and gain a deeper understanding of the various historical sites.
Taking a walking tour in Thessaloniki also gives you the opportunity to learn from local guides who are passionate about their city. You have an expert on hand to ask questions, and they can show you the best places to eat, drink, and shop in the city.
If you're overwhelmed by which tour to choose from, the overall best option is perhaps the customized private Thessaloniki walking tour with a local. It is excellent value at just €45 and the entire day is crafted around you.
On the other hand if you love food, and you want a tour that pairs sightseeing with eating, and a more social environment, you may love the culinary walking tour of Thessaloniki for food lovers.
Customized private Thessaloniki walking tour with a local
This customized private Thessaloniki walking tour with a local is one of the best choices for first-time visitors to Thessaloniki. On this tour, you will explore with someone who was born and raised in the city and who knows it like the back of their hand. 
Your local tour guide will pick you up and drop you off at your hotel/Airbnb and create an itinerary that is specifically tailored to your interests. So, whether you want to get an in-depth look at a certain part of town (like the old Ottoman neighbourhood of Ano Poli (upper town) or the former Ottoman marketplace turned nightlife district of Ladadika), you can do that.
If you want to focus your day around historical highlights (the White Tower, the Rotonda, the Roman Forum, the Arch of Galerius etc), you can do that too. If you consider yourself a foodie traveller and want to spend the day eating and drinking ouzo and other Greek alcohol, your guide can craft an itinerary based on the best-hidden spots to eat in that the tourists don't see.
Once you reserve a date/time slot for your tour, you can converse with your guide to figure out a route around town that best works for you. This is much better than a tour where you amble around after a large group of tourists as everything is catered to you specifically.
This private tour costs €45. Book your place online in advance to secure your spot and avoid disappointment. 
Thessaloniki open markets food tasting tour 
This Thessaloniki open markets food tasting tour is a 2-hour tour that focuses on the foodie highlights of the city. Meet your guide and start your day with a strong cup of Greek coffee (Ellinikos kafes) and a rose-flavoured lokoumi (Greek Turkish delight). 
When you've polished off your caffeinated treat, you'll head to Modiano market – one of the oldest food markets in the city, which has been a Thessaloniki institution for more than 80 years. People watch as old Greek yiayias haggle ferociously about the prices of cuts of lamb for their all-important Sunday dinner and sample olives, cheeses, and halva from the various vendors. 
Continue onwards to Kapani market, Louloudadika area, and lively Athonos Square, before indulging in some organic food tastings at a local delicatessen. Your guides and the local vendors you meet will tell you the history and production process for the various edible treats that you sample. This is also a great opportunity to pick up some edible Greek souvenirs either for yourself or for the Grecophiles in your life back at home.
A spot on this tour costs €45 per person. Come hungry!
Thessaloniki culinary walking tour for food lovers 
This Thessaloniki culinary walking tour for food lovers is a three-hour tour that includes a traditional Greek food lunch, as well as a variety of street food and meze tastings. Learn why Thessaloniki is often referred to as being Greece's foodie capital and sample favourite dishes from various parts of the country 
You will start by exploring the Modiano and Kapani markets before heading for lunch with your guide and your new friends on the tour. Lunch is served meze style at a traditional Greek tavern.
"Meze" is essentially the Greek answer to tapas. It means that you try lots of different small plates of various dishes, which is great as you get to try lots of different things at once!
A spot on this tour costs €65 per person. Get it while it's hot! 
Thessaloniki private traditional villages tour 
Thessaloniki, at least for now, remains relatively off the beaten path as far as most European city break destinations go. But if you want to explore even more hidden gems, you can do so on this Thessaloniki private traditional villages tour.
Your local guide will pick you up from wherever you're staying and take you to the charming little village of Livadi. From there, you will drive through scenic wild oak and chestnut forests, stopping here and there to try traditional gourmet/deli products or take photos and admire the view.
In this hilly region, you can enjoy incredible views over Lake Volvi and the Aegean Sea. Stop for a Greek coffee in Petrokerasa before grabbing a spot of lunch in Agios Prodromos and admiring the little streets and churches of Galatista before finally heading back to Thessaloniki centre.
This is one of the best Thessaloniki walking tours for anyone interested in seeing Greek culture and what everyday life is like in Greece. Most tourists haven't even heard of these little villages!
A spot on this tour costs € 220 for a group of up to four people. Check availability here. 
Thessaloniki ride and bite tour 
The Thessaloniki ride and bite tour is not a walking tour per se, but a bicycle and food tour. But it's worth mentioning here as it can be a fun way to cover a lot of ground in the city in a short space of time. 
A bike and helmet are provided, and you will whizz around Thessaloniki's various traditional markets and neighbourhoods on two wheels, sampling local delicacies as you go. Cycle along the waterfront from the bustling Aristotelous Square and up to the White Tower of Thessaloniki, before passing through narrow city streets to see some of the oldest churches in the country.
Admire the ornate details on the Church of Saint Demetrius, the Church of Saint Nicholas Orphanos and the Paleochristian and Byzantine monuments UNESCO world heritage site.
 Spots on this tour start from €65 per person, with free cancellation up to 24 hours before. 
Final thoughts on the best Thessaloniki walking tours for 2023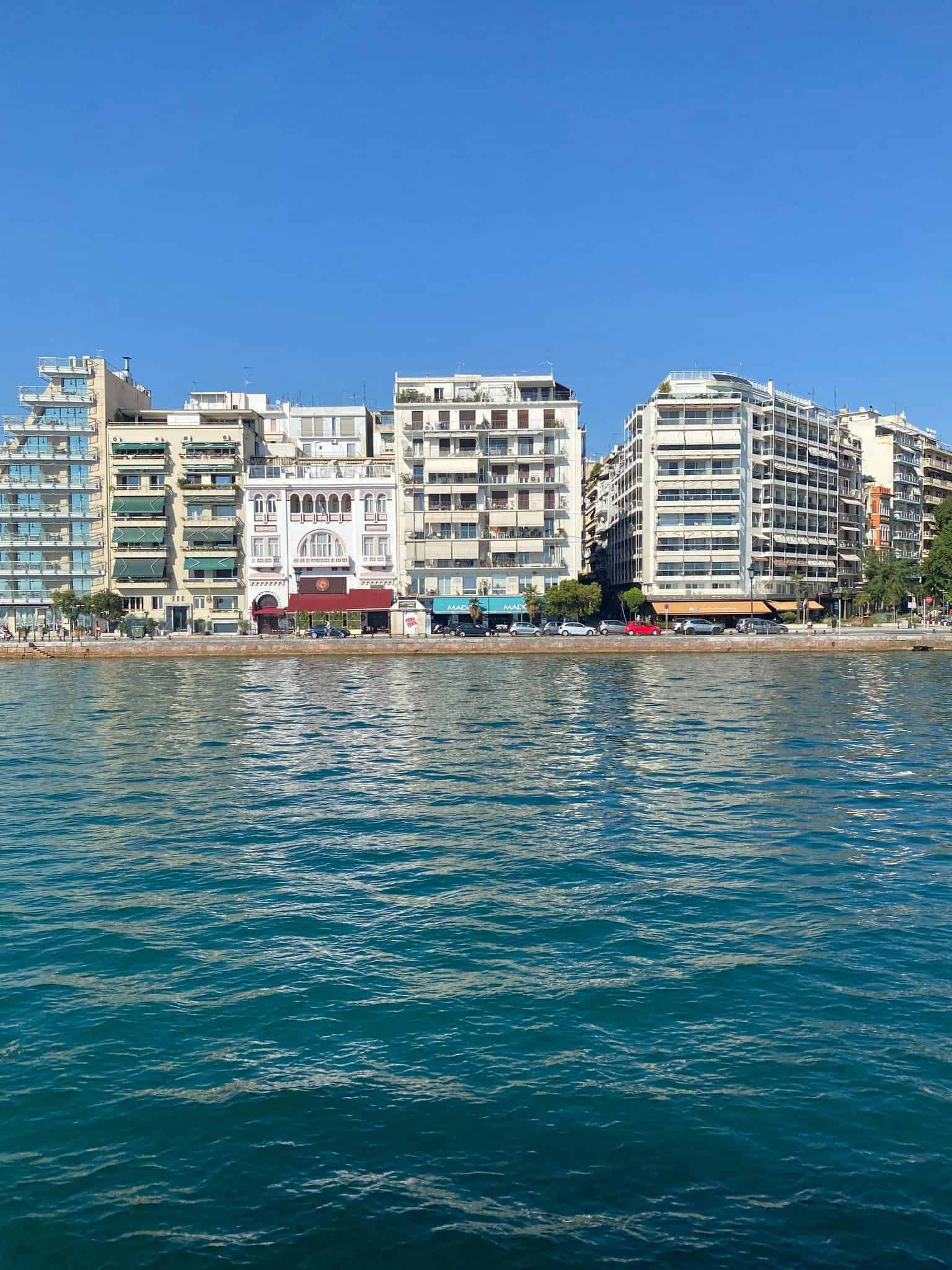 Opting to participate in a Thessaloniki walking tour can really enrich your experience in the city. If you are travelling to Greece on a budget, and want to participate in a Thessaloniki walking tour but don't have much to spend, you might prefer to search for free walking tours. 
Freetour.com and Free Tour Community both list free (tip-based) walking tours but unfortunately, they are currently on hold. Perhaps more dates will be added to their schedules as we approach the summer season.
Either way, the paid tours are worth the extra money for the local insight that they provide. Most of them feel like you are exploring with a new Greek friend rather than a paid tour experience.
Many local tour companies also run excursions to Lake Kerkini, Mount Athos, and other destinations that can be done on day trips from Thessaloniki.
Do you have any further questions about visiting Thessaloniki? I have been living in Greece since 2017 and I am happy to assist with any queries or concerns.
There are plenty of things to do here to keep you occupied for a long weekend or even a week, and the city makes a great base for exploring the wider region of Central Macedonia and Northern Greece.
Feel free to reach out to me if you need. You might also find it useful to join my Facebook community "All Greek to Me" which helps expats and travellers in Greece plan their trips. 
Safe travels! Geia sou! Melissa xo
---