There are plenty of day trips from Antalya that you incorporate into your trip to the Turkish Riviera. The beautiful coastal city is just a stone's throw away from fascinating sunbleached ruins, archaeological sites, and quaint beach towns. There is a day trip from Antalya for everyone, whatever your interests.
Gorgeous Antalya sits in the southwestern part of Turkey on the Gulf of Antalya (Antalya Körfezi). Along with the likes of Marmaris, Bodrum, and Side, it is one of the most popular summer tourist destinations in Turkey.
Antalya itself is charming and the city offers enough things to see and do that you could easily spend a week here and still feel as though you need more time. Still, if you are looking for a change of scenery, taking day trips from Antalya to places like Fethiye and Side, makes for a nice change of pace and scenery.
Day Trips from Antalya:
Go it Alone or Guided Tour?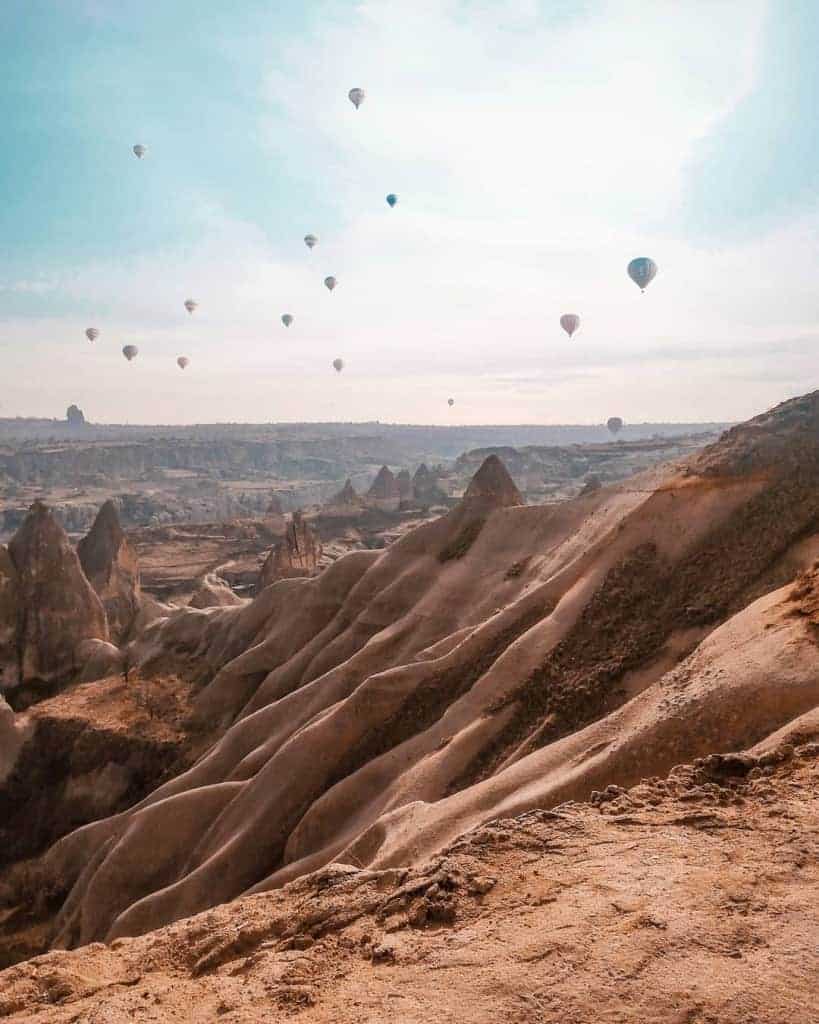 It is possible to reach all of the places in this article independently during your Antalya itinerary. You can opt to use the local public transport or enjoy more independence by renting a car and driving around Turkey independently.
Visiting ruins and beach towns by yourself tends to be the more affordable option. However, sometimes there may be occasions where you prefer to be accompanied by a Tour Guide.
A local guide can take some of the stress out of planning your trip and provide more information about the places you visit. Information on recommended tours is provided for each day trip destination.
Day Trips from Antalya:
15 Wonderful Adventures to Consider
A selection of some of the best day trips to take from Antalya in 2023 is summarised below for your consideration. These range from UNESCO-protected historical sites to gorgeous beaches and secluded stretches of coastline.
Ephesus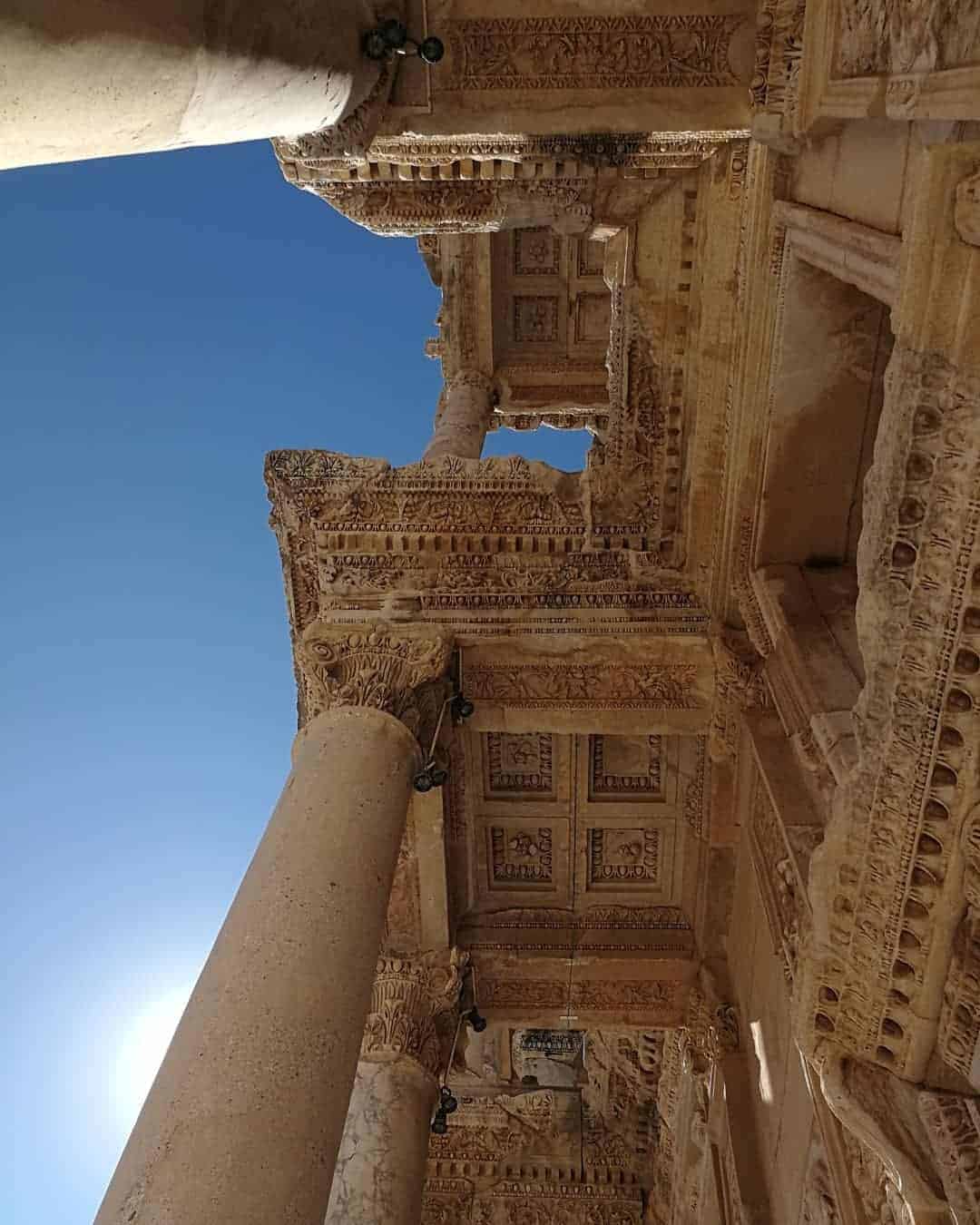 Today, Ancient Ephesus is the best preserved Greek-Roman ruin. Excavations have been going on here for centuries and still, only a fraction of the city has been discovered. 
The UNESCO-protected site was once a very important trading city. You could easily spend a full day exploring the ruins at Ephesus. You could also find a day tour that incorporates Ephesus and Pamukkale into one trip. 
Getting to Ephesus
Ephesus is quite far from Antalya. I would only really recommend this trip if you have more than ten days in Antalya.
The easiest option is to visit Pamukkale and stay overnight nearby then travel onwards to Ephesus. Alternatively, you could travel from Antalya to Izmir and then take a day trip to Ephesus from Izmir.
Notable Ephesus Tours
The Taurus Mountains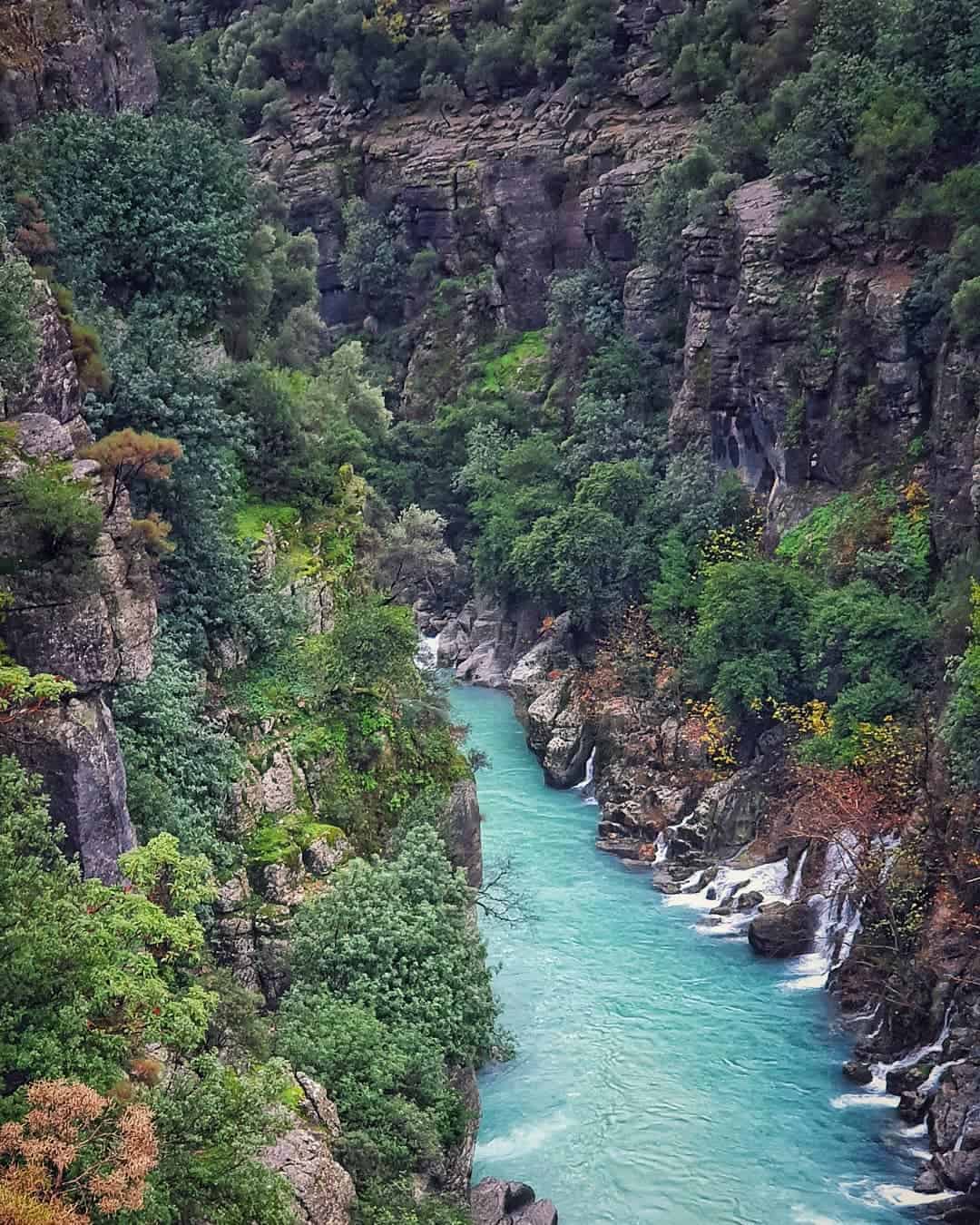 The Taurus Mountains are one of the best destinations in Turkey for hiking and mountain climbing. This huge mountain range sprawls across a 350-mile range filled with tranquil lakes and rocky peaks. 
You can choose a trail in the Taurus Mountains to hike independently or you can whizz through the region on a jeep or an ATV using a local tour company.
Tours in the Taurus Mountains
Marmaris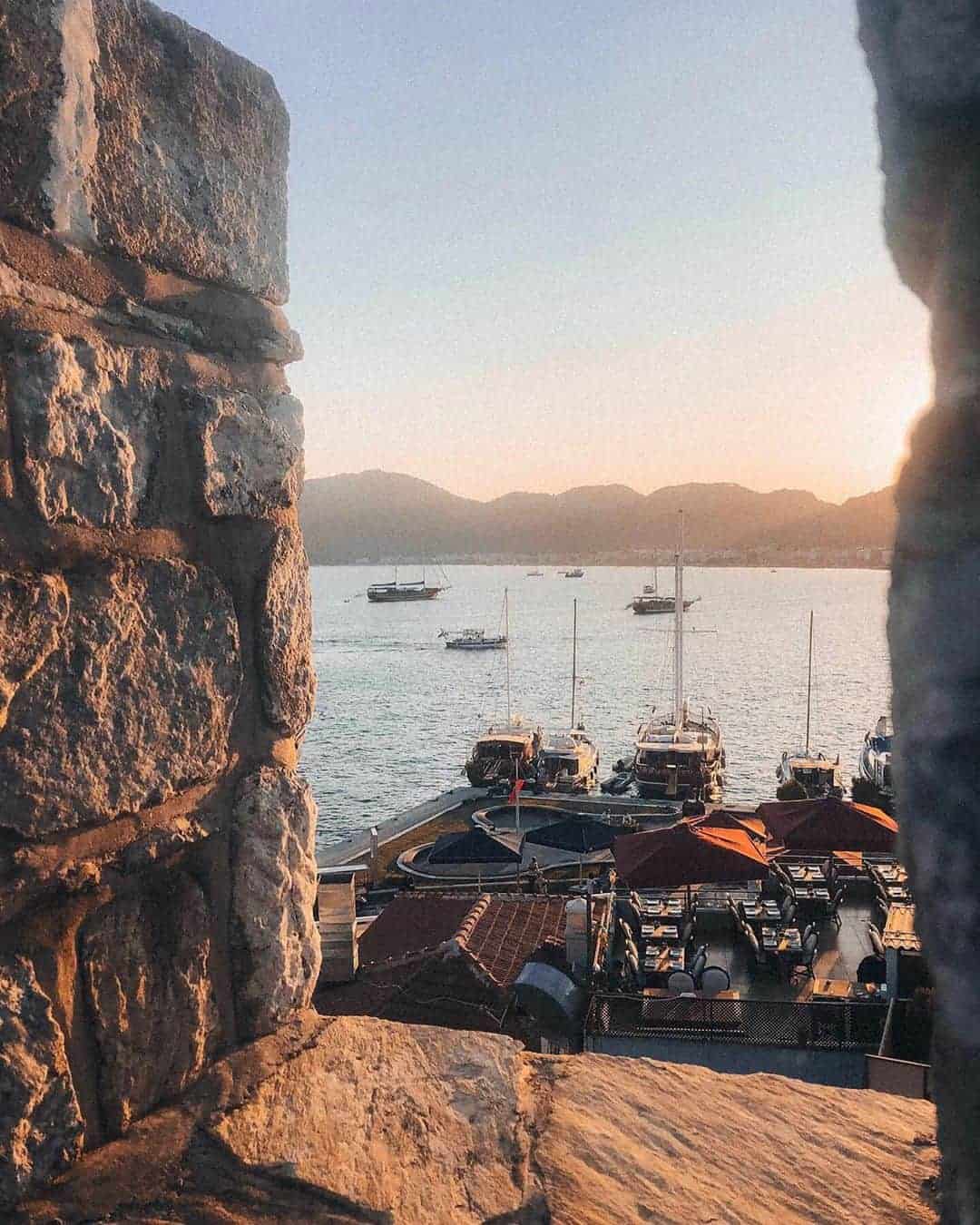 Marmaris is a popular resort town located four hours away from Antalya. If you are looking for lively nightlife and a vibrant party scene, you may be interested in spending some time here during your Turkey trip.
Raucous bars aside, Marmaris is a scenic place. The town boasts a picturesque harbour crowned by a crumbling, ancient castle.
Many cruises and boat trips depart daily from Marmaris harbour – including excursions to Dalyan, Turtle Beach, and some nearby mud baths. It is advisable to stay overnight in Marmaris due to the town's distance from Antalya.
Getting to Marmaris
It takes around four and a half hours to get to Marmaris from Antalya. Buses depart from Antalya several times every day. Tickets start from $10.
Fethiye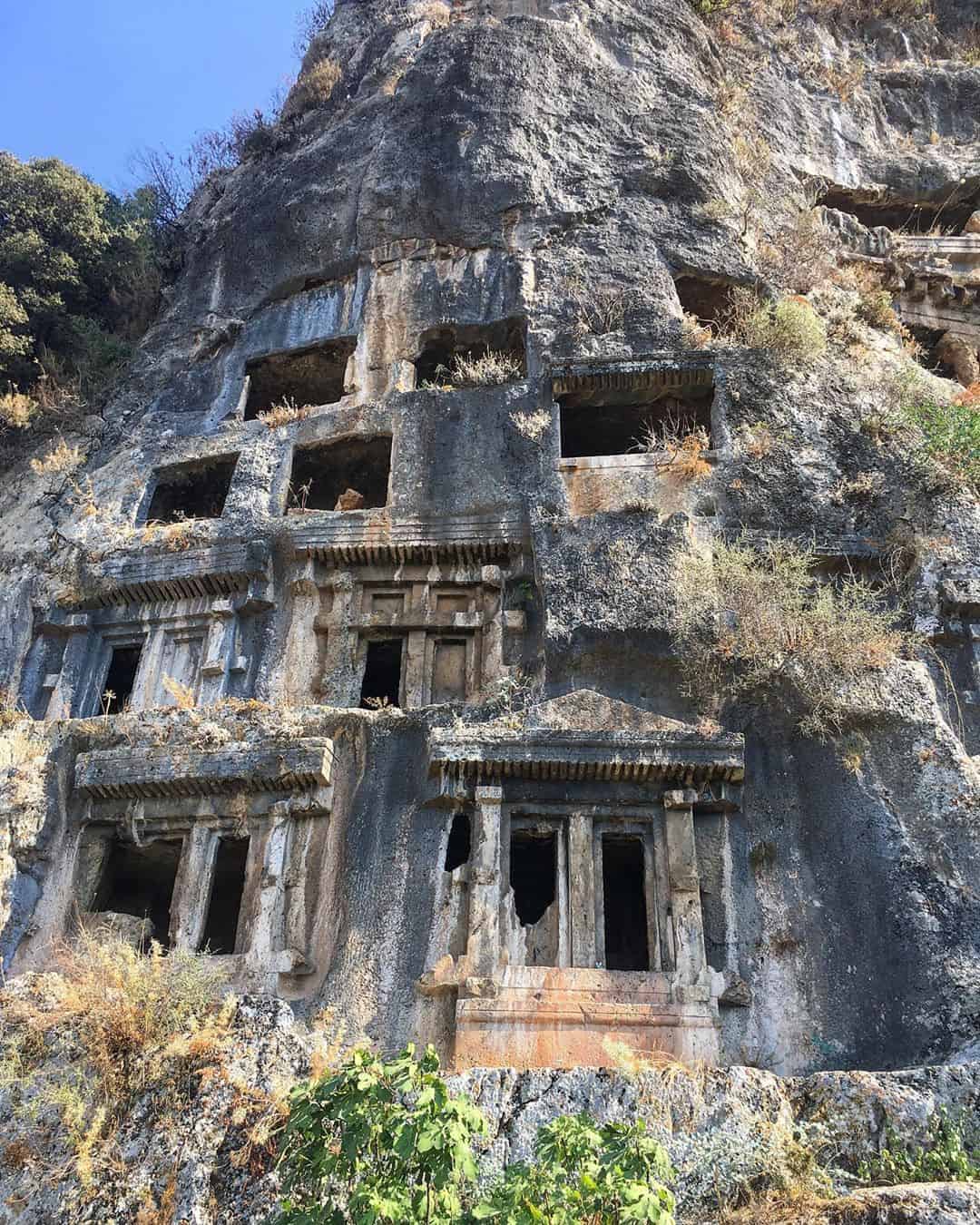 Fethiye makes a great jumping-off point for hikes and outdoor exploration in the nearby countryside. Butterfly Valley boasts excellent trails and sandy white beaches, while the Tlos Ruins make an interesting excursion for those interested in history. 
The city itself is also well worth exploring on one of your day trips from Antalya. Paspatur is the old town of Fethiye. It is crammed full of eccentric stores, antique shops, and tea rooms.
Wear your comfiest footwear and climb up to the Lycian rock tombs. The tombs are carved into the cliffs way up above the city. From up here, you can enjoy breathtaking panoramas over Fethiye and out to sea.
Getting to Fethiye
It takes two and a half hours to reach Fethiye from Antalya. Buses depart several times per day. The route is serviced by several different bus companies. Tickets start from $10.
Suggested Fethiye Tours
Pamukkale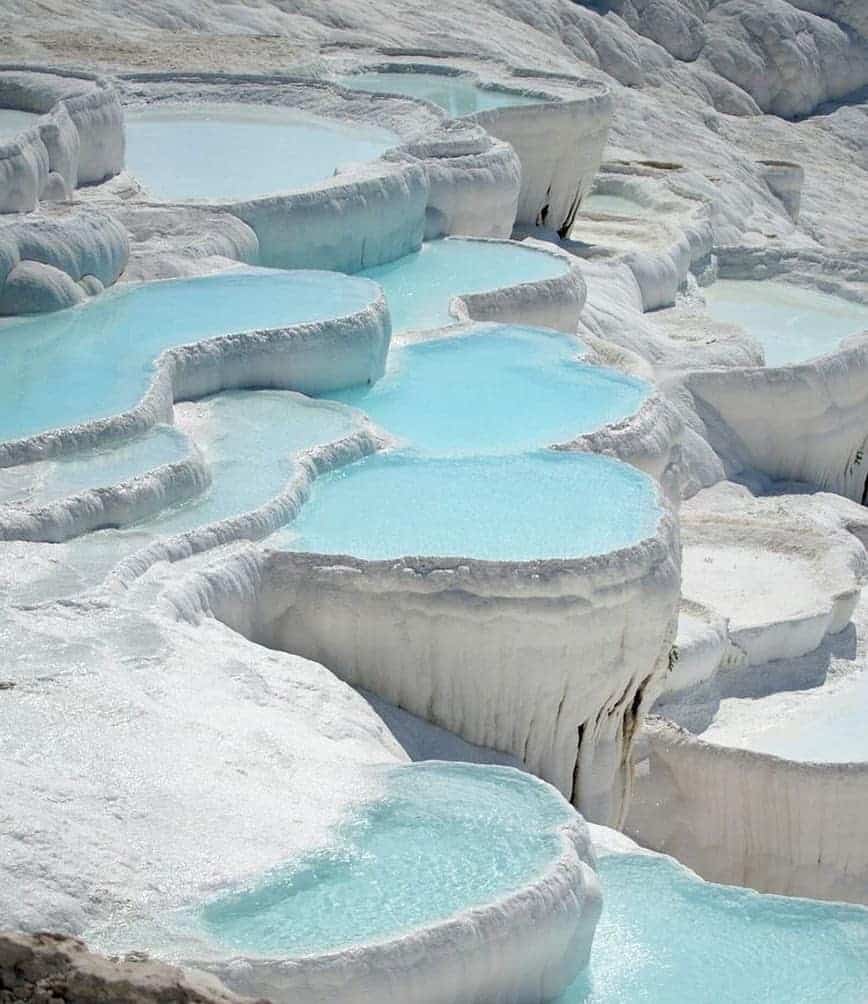 The white travertines of Pamukkale areone of the most unique places in Turkey. The name Pamukkale means "cotton candy" in Turkish.
The travertines look they are made of snow, but the white is actually sediment from the nearby thermal baths.
Getting to Pamukkale from Antalya
It takes three and a half hours to get to Pamukkale by bus from Antalya. This is one of the most popular day trips from Antalya and many tour companies are able to offer pick up from your hotel.
If you prefer to travel independently, buses leave daily. Tickets start from $15. You may need to transfer in Denizli.
Suggested Pamukkale Tours
Cappadocia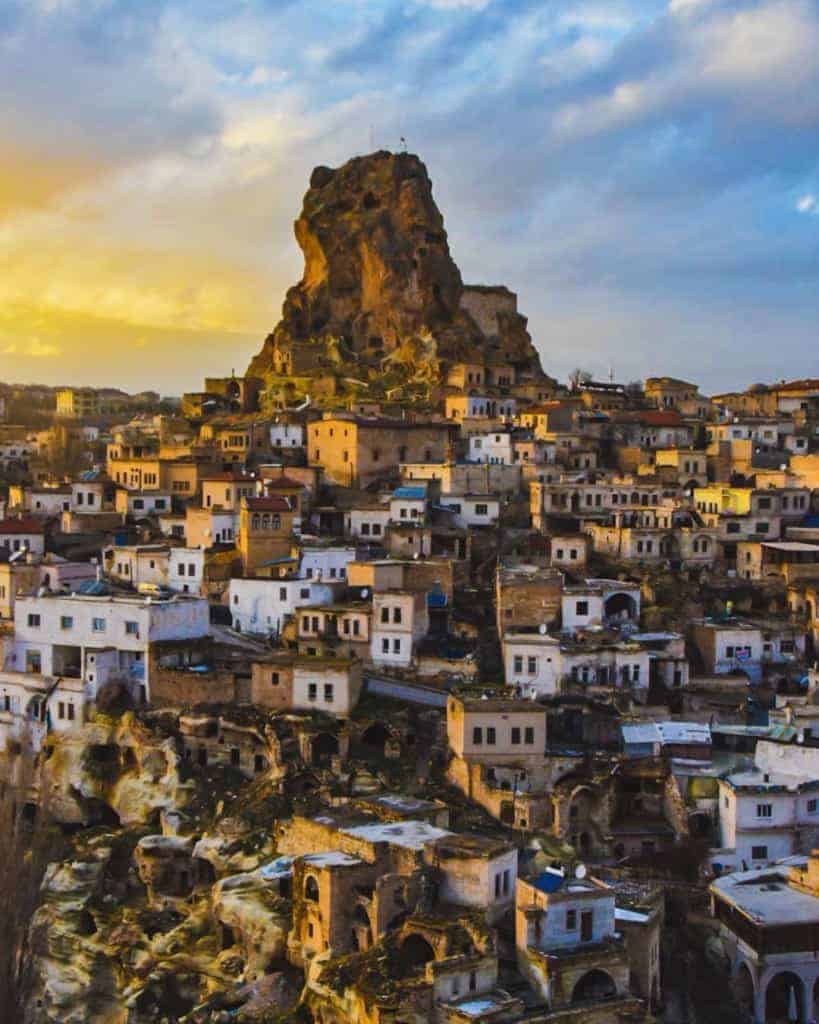 Cappadocia is a highlight of any visit to Turkey. This stunning region is famed for its hot air balloons and fairytale landscapes that are almost ethereal.
Goreme is the main town in Cappadocia. Upon arrival, you will quickly discover that Cappadocia is far more than just a place to ride hot air balloons.
There are many excellent hiking trails that twist and turn through the mountains and plains of Cappadocia. They lead you to hidden ancient monasteries carved into cliff faces, and eerie underground cities.
Getting to Cappadocia
It is possible to take a night bus from Antalya to Cappadocia. The journey takes approximately 8 hours.
There are also frequent domestic flights that run from Antalya to Cappadocia. The flight takes just over an hour. You can purchase tickets for approximately $40 each way depending on the season.
Notable Cappadocia Tours
Hierapolis Ancient City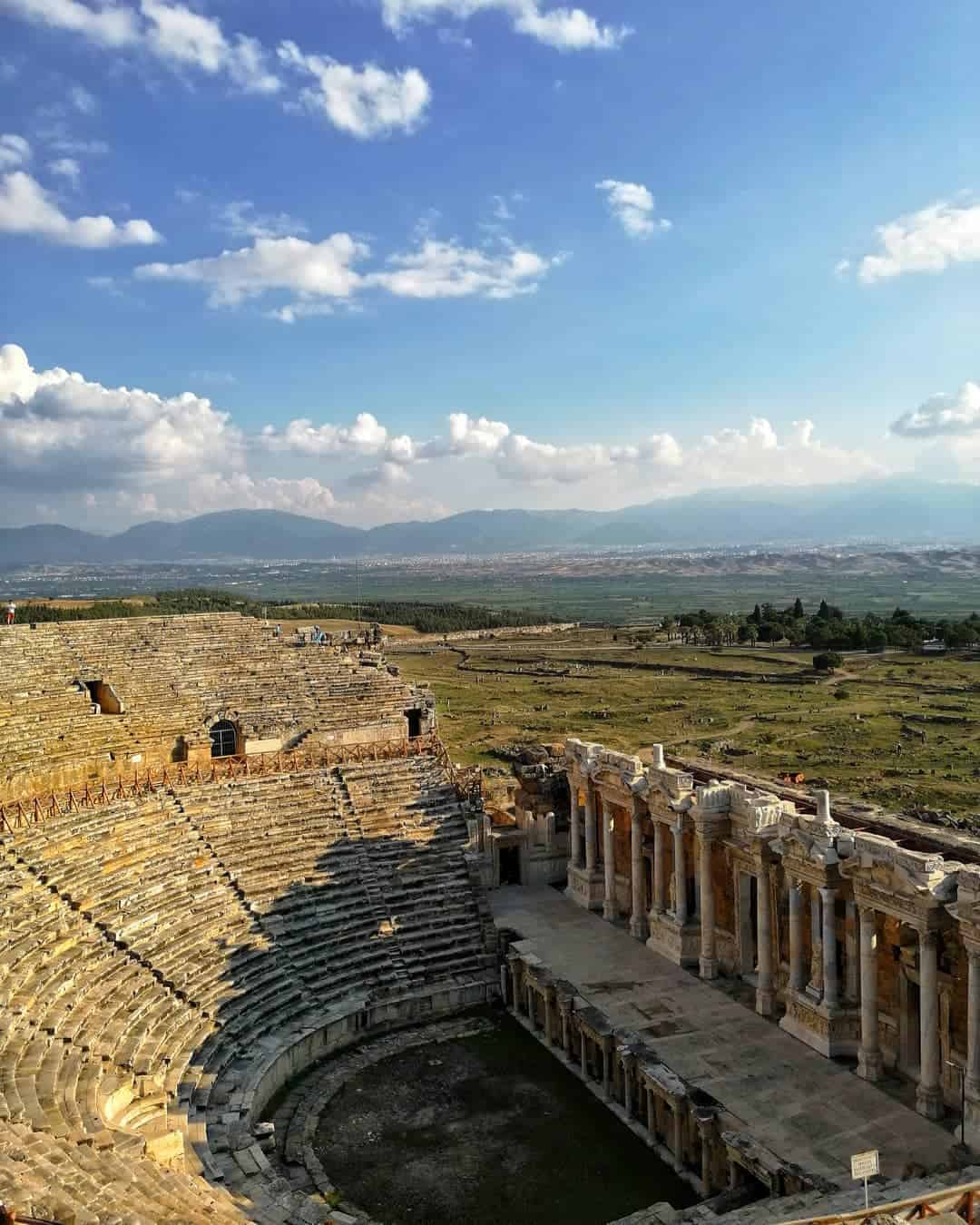 Hierapolis, known as the "Sacred City" is a very well-preserved Roman ruin. The city sits adjacent to Pamukkale. It is often referred to as a holy land due to the numerous religious sites and monuments that are contained within it.
Little is known about this city which makes it all the more mysterious and fascinating to explore. The 1KM main street leads you through the historic city. Particular sites of interest include the Necropolis, the magnificent baths, and the Temple of Apollo.
Getting to Hierapolis from Antalya
Hierapolis is right next to Pamukkale. The two sites can be explored together.
Konya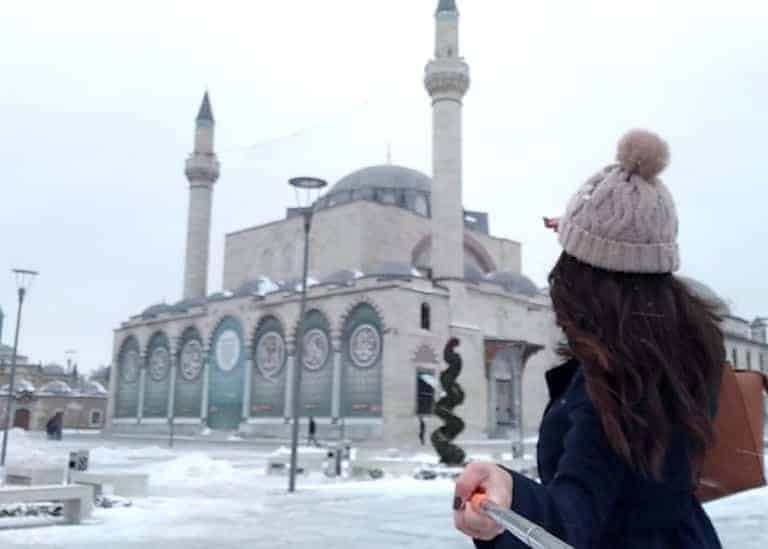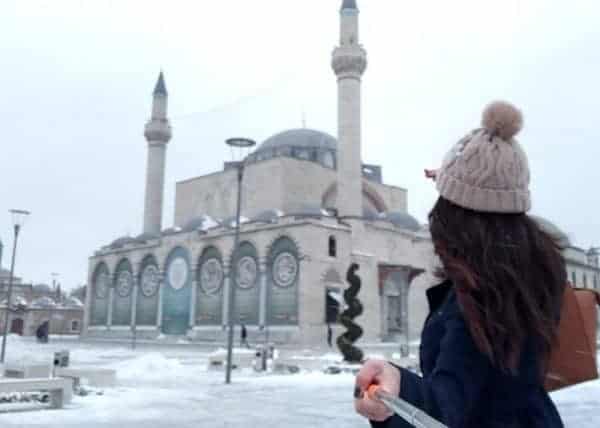 Konya is a conservative Muslim city in the central Anatolia region of Turkey. This is an off the beaten path choice, but visiting Konya provides a wonderful glimpse of traditional life in Turkey.
The city is famous for being the final resting place of the Poet Rumi. Around here he is known as "Mevlana".
Konya was also the birthplace of Sufism. You can catch a free whirling dervishes performance every Saturday in the main square.
There are many charming stores in the bazaars of Konya. They sell everything from Turkish carpets to colourful lamps and trinkets. The Konya bazaars are much more authentic than the Grand Bazaar you may have visited in Istanbul.
Getting to Konya
It takes four hours to drive from Antalya to Konya. It is better if you are able to stay overnight in Konya.
Buses depart daily from Antalya Otogari bus station to Konya. The precise schedule may vary depending on the season. Tickets start from $15.
Suggested Konya Tours
The Sunken City of Kekova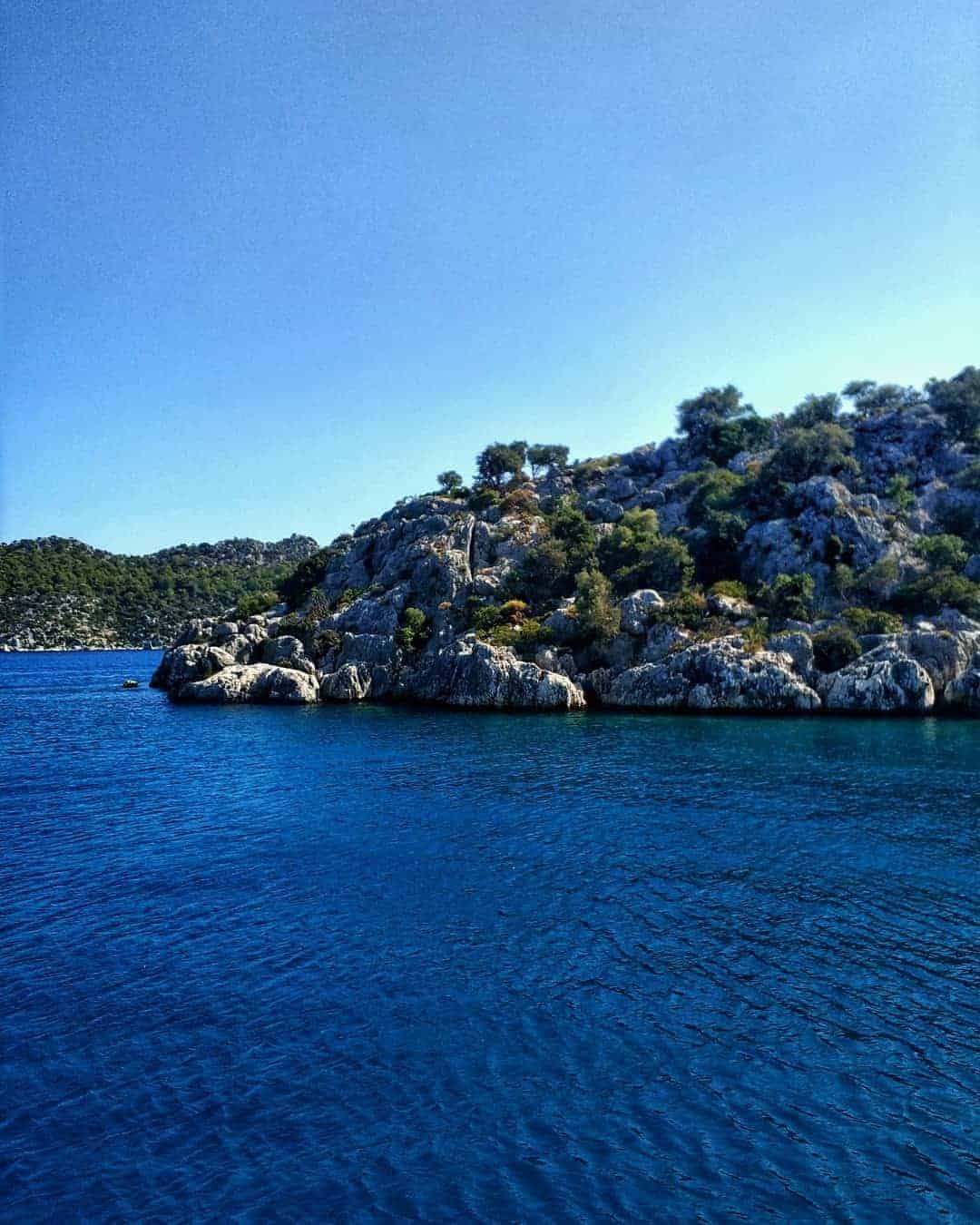 Kekova is a little island north of Antalya. The town that was situated here was once an enviable place to live, however, it was destroyed by an earthquake in the second century.
Today, you can explore the area by boat. An intricate network of houses is carved into rock faces, while staircases to nowhere peep out above the surface of the water.
Getting to Kekova from Antalya
It is awkward to reach Kekova from Antalya unless you rent a car. You need to drive to Üçağız Village early in the morning. From there, take a boat from Üçağız ro Kekova.
The Ancient City of Perge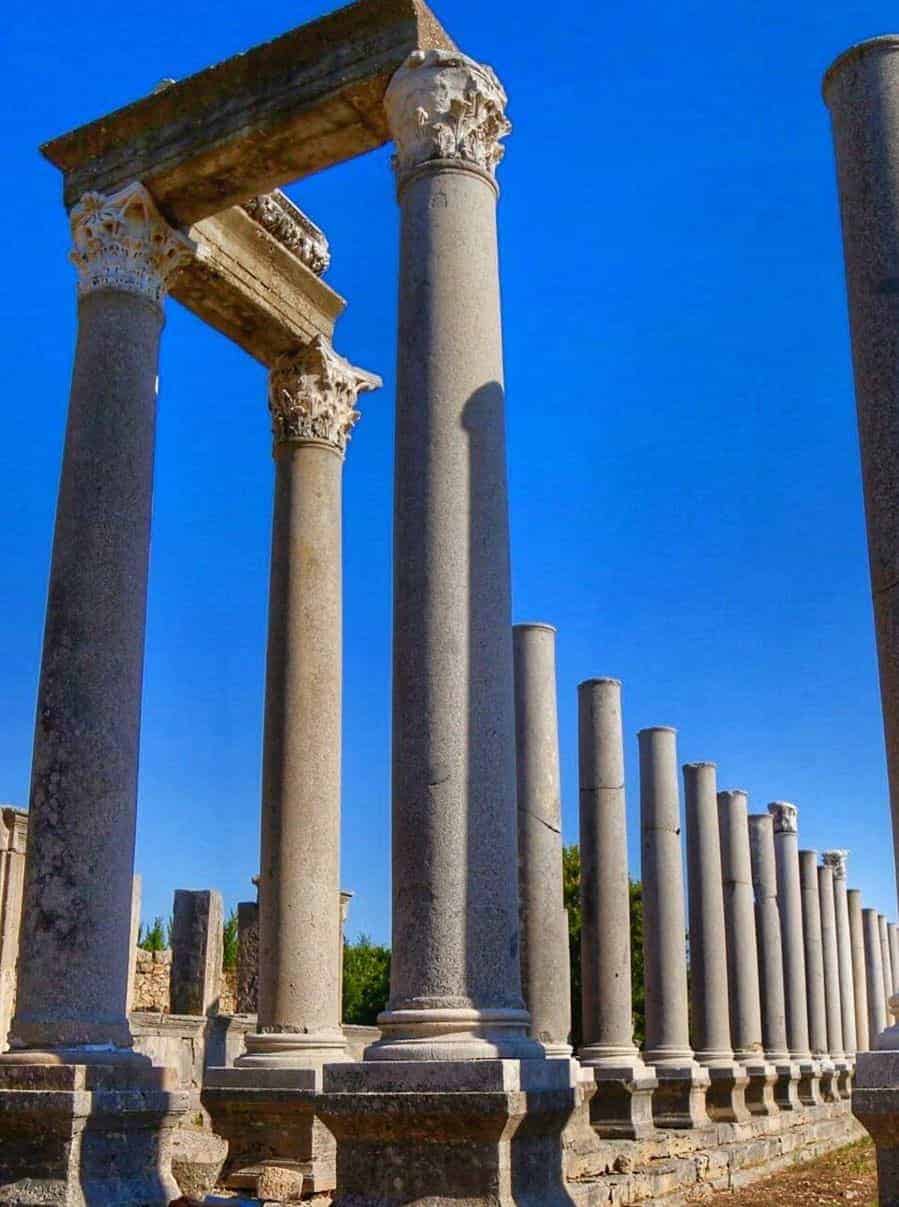 The Perge ruins are the remnants of an ancient city dating all the way back to the year 1000BC. Much of what remains of the city is from the Roman period. However, from the 12th century, Perge was inhabited by Greeks.
In Perge, you can explore magnificent amphitheatres and wander the cobbled streets in the footsteps of Roman Conquerors. The best thing about this place? Unlike many Roman ruins around Europe, it is seldom ever busy so you can arrive here and find that you have its beauty all to yourself.
Getting to Perge from Antalya
Driving or taking a tour is the best way to get to Perge from Antalya. Getting to Perge by public transport is possible, if a little awkward.
You can take a minibus from Antalya's Otogar to Aksu town. From Aksu, you need to take a cab or walk the rest of the way. Aksu is 2km away from Perge so the hike takes just 20 minutes.
Suggested Perge Tours
Tahtali Mountain
Tahtali Mountain awaits just 70km away from Antalya. A scenic cable car ride from the bottom up to the mountain peak allows you to experience incomparable panoramas as you look out to the sea and the lush rolling green hills beneath you.
The view from the top of Tahtali Mountain is arguably one of the best in Southern Turkey. You can opt to have your photographs taken professionally up here, making for a perfectly unique and personal souvenir.
Suggested Tahtali Mountain Tickets
The Uppder Duden Waterfalls
Antalya is a city of beautiful nature and it is surrounded by several waterfalls that will be certain to take your breath away. The Upper Duden waterfalls, located 20km away from the city centre are contained within a beautiful park filled with pine trees, small lakes, and lush greenery.
Alternatively, the Kursunlu waterfalls, 20km away from the centre are also housed within a beautiful public pine forest. The lakes here are filled with sea turtles and interesting marine life which will certainly interest those with a fondness for nature.

If you prefer to stay fairly central during your time in Antalya, stick to Lower Duden waterfalls. These falls are located within the city centre and are often referred to by locals and those that visit the area as the "best" waterfalls in Antalya. Lower Duden falls offers great views of the Mediterranean coast and Antalya bay.
Getting to the Upper Duden Waterfalls from Antalya
The gorgeous Upper Duden waterfalls are only 20 minutes away from Antalya centre. Many local tour companies run daily excursions to the falls.
Buses run regularly from several stops around Antalya to both the upper and lower Duden waterfalls. Check with your hotel/accommodation host which bus stop is the closest to you.
Suggested Duden Waterfalls Tours
Izmir
Izmir is a charming city. Travelling here feels almost like being transported back in time.
Part of the fun of travelling to Izmir is found in simply getting lost in the narrow passageways and labyrinth-like streets of the bazaars and souks. There are many quaint, ramshackle tearooms tucked away within the Kemeralti bazaar where you could sit people watching for hours with a strong Turkish coffee and a piece of sweet lokum.
Stop by the Konak tower and watch one of the many free musical performances that are hosted outside. Enjoy a leisurely stroll along the coast, and uncover Izmir's Roman history at the Roman Agora.
Getting to Izmir
Izmir is 221km away from Antalya. Driving or taking the bus takes around six hours.
Domestic flights run from Antalya to Izmir. The journey takes just over an hour. Tickets start from around $30 each way.
Notable Izmir Tours
Visit the Resort Town of Side
Antalya has world-class beaches, but if you are staying in the area for a week or so, perhaps you will wish for a change of scenery after a while.
The pretty little resort town of Side is well worth the journey to get to. With miles of gorgeous, sandy beaches and a quaint old town that is home to traditional markets, and a large selection of stores, bars and restaurants, Side is a great place to spend a day.
Getting to Side from Antalya
It takes an hour to drive to Side from Antalya. Public transport takes a little longer due to transfers.
Buses depart several times a day for Manavgat from Antalya bus station. Tickets are approximately $8.
Manavgat is 5km away from Side. From there, take a shared taxi to Side for 50 cents. Private taxis will also be available at Manavgat but be prepared to haggle on the price.
Suggested Side Tours
Alanya
The Turkish city of Alanya is a gorgeous destination in the Turkish Riviera just 133.4 km away from Antalya. While it is much smaller than Antalya, it still offers plenty of things to see and do by way of cultural and historical attractions, and nature.
Various civilisations have controlled Alanya over the centuries and each has left its mark on the local architecture and gastronomy. At various points, Alanya was a stronghold for the Ptolemaic, Seleucid, Roman, Byzantine, and Ottoman Empires.
In particular, the city thrived under the control of Sultan Alaeddin Kayqubad I who led the construction of the Kızıl Kule (Red Tower), the Tersane (Shipyard), and Alanya Castle.
Today, exploring the sunbleached remnants of these sites are a highlight of visiting Alanya, as is simply relaxing on Kleopatra or Halk beaches, and enjoying the Mediterranean climes.
Hike Kuzdere Passage
Kuzdere Passage is a hiking trail that leads you through valleys, woodland, mountain passes and natural springs is an adventurer's paradise. The area is somewhat isolated so it is possible to join daily organised excursions to the area if you would prefer.
Final thoughts on these day trips from Antalya
Have you travelled to this beautiful part of Turkey? What are your favourite day trips from Antalya?
---