Straddling the continents of both Asia and Europe, Istanbul is an exotic city like no other. Here, extraordinary cultural experiences await around every corner and this Istanbul itinerary will help you to discover the best that the city has to offer within a short space of time.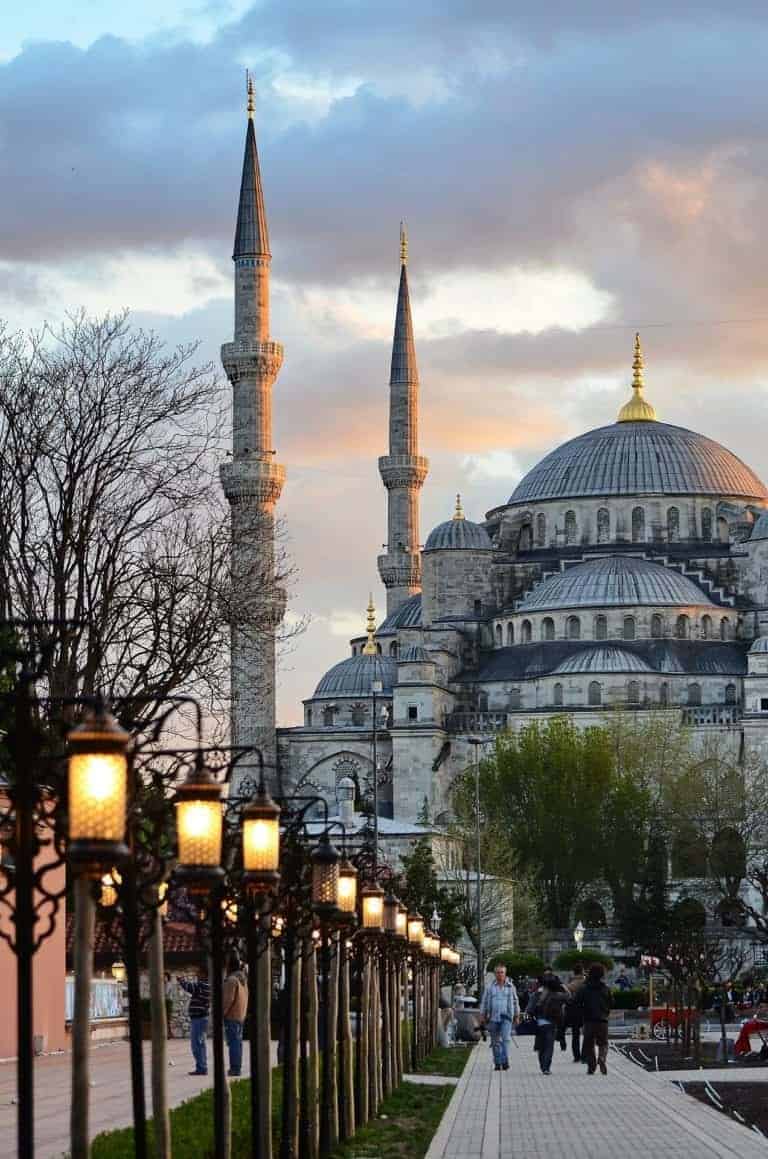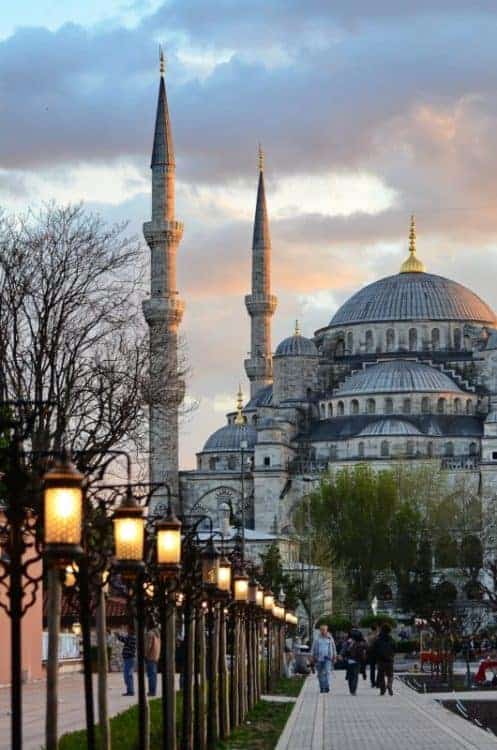 Formerly known as Constantinople and Byzantium, Istanbul is the largest city in Turkey. It has a history dating back over 8000 years and has hosted some of the greatest civilisations of the human race.
Falling in Love with Istanbul
The Byzantines constructed intricate palaces and churches in Istanbul and adorned them with vividly coloured mosaics and frescoes, while the Ottomans crafted beautiful imperial mosques with stunning minarets that reached out to the skies. The combination of the two influences have created one of the world's most unique and beautiful skylines.
Travelling through Istanbul means wandering through the narrow passageways of labyrinth style souks, past fragrant spice stalls, colourful markets and quaint tea rooms selling kucuk cay. Whether you are a history buff, a culture vulture, or you just want to roam around a new city, Istanbul has a little something for everyone.
Truth be told, four days is not enough to even scratch the surface of this huge megalopolis, but for a first-time introduction, it's a nice starting point. I have travelled solo to Turkey and Istanbul four times in the last five years and have drawn up this Istanbul itinerary following my various trips. Istanbul makes a nice alternative city break but is best enjoyed as part of a wider Turkey itinerary.
Istanbul Itinerary Highlights
Exploring the various neighborhoods of Istanbul and discovering their unique, quirky personalities.

#
Sampling traditional Turkish street food delicacies – from

islak burgers

to

salep

.



Wandering the passageways of the infamous Grand Bazaar and haggling with local vendors.



Revelling in the peacefulness and serenity of Buyukada and the Princes Islands



Sipping apple tea in the narrow passageways of the marketplaces



Getting scrubbed to an inch of your life at a Turkish hammam



Witnessing majestic architectural wonders such as the Hagia Sophia and the Blue Mosque up close and personal.




Visiting fascinating historical sites and museums with the Istanbul museum pass.

Seeing the city from the water on a Bosphorus Cruise as the sun dips behind the horizon.




Getting off the beaten path in Istanbul and visiting traditional islands and beach towns.

Istanbul Itinerary Day One:
The Historic Sultanahmet District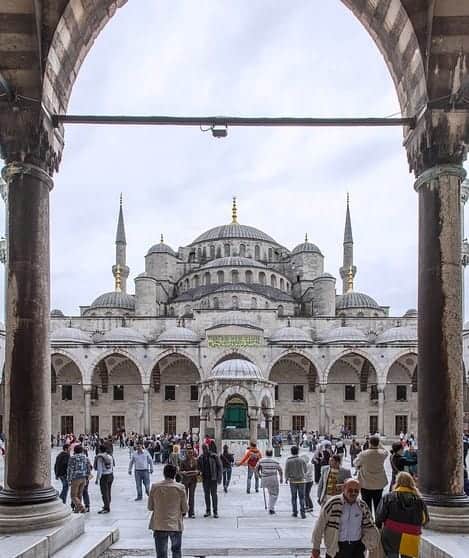 Istanbul's main tourist district is the central Sultanahmet neighborhood. Day one of this Istanbul itinerary entails a lot of walking, but this neighborhood can easily be covered in a day. Strap on your comfiest walking shoes and let's get to it!
Start the Day with a Turkish Breakfast
Exploring the local food culture should be as much a part of your Istanbul itinerary as roaming the various streets and neighbourhoods. Turkish breakfast, or "kahvalti" is the standard way in which breakfast is served across the country.
Kahvalti is served tapas style and consists of dozens of little plates and dishes serving an array of fresh cheeses, green and black olives, fruit preserves and sweet jars of honey. The centerpiece of the dish is usually eggs with sucuk sausages, and a cucumber and tomato salad seasoned with salt.   
It is likely that your hotel will serve up some form of kahvalti each day during your Istanbul itinerary, but if not, locally adored places to check out include the chic Mangerie restaurant in Bebek, trendy Çakmak in Beşiktaş, or scenic Aşşk Kahve right by the waterfront of the Bosphorus.
Visit the Blue Mosque
The breathtaking blue mosque is one of Istanbul's main tourist attractions. It is important to get here as early as you can if you want to avoid the crowds and have less than approximately 496,458 people in the background of your photos.
Anything before 9 am is preferable. The mosque, named Sultanahmet Camii in Turkish was awarded its title on account of the beautiful delicate blue tiles that decorate its interior.
Tips for Visiting the Blue Mosque
It's important to dress modestly when visiting Istanbul mosques. This means covering your shoulders and knees, and women should cover their hair. Free scarves can be borrowed at the entrance to the mosque grounds. Shoes must be taken off to go into the mosque interiors.
When approaching the blue mosque, ignore all of the toots that tell you that they will help you to skip the line. They will only try and take you to their bazaar or sell you something. Follow the standard entrance. The blue mosque is free to enter.
Admire the Beauty of the Hagia Sophia
The marvelous Hagia Sophia is located directly across the courtyard from the entrance to the Blue Mosque. Once a Byzantine church and then an Ottoman mosque, the site has now been renovated into a museum containing various artifacts that depict Istanbul's rich and diverse history. The original building was built all the way back in the year 337 and started operating as a place of religious worship in 537.
At one point, the Hagia Sophia was the largest building in the world. Many remnants from the building's former religious functions still remain – including elaborate, colourful stained glass windows from its time as a church, and ornate, inscribed minarets and domes from its time as a mosque. If there was a "must visit" during your Istanbul itinerary, visiting the Hagia Sophia would be it. Admission to the complex costs £9/$11.
Check Out the Sultanahmet Square
Istanbul's Sultanahmet square is abuzz with touristic restaurants, tea rooms, and coffee shops -, particularly around lunch and dinner times. It is generally recommended to avoid dining and drinking here (lest you want to pay triple the price of something for half the quality). However, the square is certainly worth a short exploration.
During the times when Istanbul was Constantinople, the Sultanahmet square was the main place for events and gatherings. Chariot races were even conducted here and crumbling walls outline what remains of the 2000-year-old hippodrome.
Don't miss the serpent's column, the obelisk of Thutmose III and the German fountain. The Obelisk was originally constructed in Luxor but looted and moved to Istanbul (then Constantinople) in 390. It is said that the towering obelisk that remains today is actually only ⅓ of its original height!
Submerge into the Eerie Atmosphere of the Basilica Cistern
Istanbul's eerie Basilica Cistern leads travellers deep underground, to what feels like another city entirely. The cistern was constructed by the Byzantines in 532 and gained its name as a result of its location – originally beneath the Stoa Basilica.
The Basilica Cistern was used to service the great palaces and religious buildings throughout the city but after the Byzantine Emperors relocated, it was abandoned and forgotten. That is, until the 15th century when the Ottomans rediscovered it and used it as a dumping ground for bodies and other gruesome garbage.
Today, the Basilica Cistern is one of Istanbul's main tourist attractions and provides a fascinating glimpse into the city's history. During your descent down there, be sure to check out the creepy stone Medusa heads that support some of the cistern pillars. Nobody is quite sure how they got there.
Browse Eccentric Exhibits at Topkapi Palace
For hundreds of years, Topkapi Palace was the place of residence for Ottoman Sultans and royalty. Exuding grandeur and elegance, the castle today is incredibly well preserved and operates like a "living museum". The various rooms and annexes at the palace still display the rich tapestries, elaborate artwork and decadent furnishings that were enjoyed and used by Ottoman rulers.
Every time a new Sultan inhabited the palace, he added a new section. Over hundreds of years, this has paved the way to an unusual, labyrinth style outlay.
Tour the Topkapi Palace Harem
A fascinating section of Topkapi Palace that should not be missed is the harem – the quarters where the wives of the Sultans lived, along with their mothers and concubines. In the treasury, the exhibition halls contain holy relics such as the footprint of Prophet Mohammed and the Staff of Moses. Whether these relics are genuine or not is debatable, but since they were awarded as gifts to the Sultans, they are worth a visit nonetheless.
You can easily spend an entire day exploring the palace. Consider discovering more about the history of the building and its royal occupants on a Topkapi Palace tour. The harem is separated from the main site and generally requires separate admission and tour. However, this tour is comprehensive, interesting and includes admission to both sites. 
Wander Through the Bustling Souks of Istanbul
The Grand Bazaar may be a little touristic and inauthentic as far as Turkish markets go, but it is well worth a visit during your Istanbul itinerary. Virtually every item imaginable can be purchased here – from intricately woven Turkish carpets, scarves, and tapestries, to colourful Arabian lanterns and sticky sweet trays of baklava. What makes Istanbul's Grand Bazaar special is its layout.
Dating back to the 1400s, the Grand Bazaar remains to this day, the largest covered market in the world. It contains thousands of stores and tea rooms tucked away across over 60 passageways.
Be expected to haggle while shopping here. To be honest, if you are looking to buy clothing and souvenirs, I would generally recommend waiting until you are in a less touristic area but that is up to you.
It is customary for Turkish store owners to invite you in for a cup of apple tea as you shop. You are not obligated to buy anything if you accept, however it sometimes causes more pressure to buy.
Taste Test at the Istanbul Spice Market
Close to the Grand Bazaar, follow the pathways towards the Istanbul Spice Market. The colourful stalls here with their mounds of spices, dates, and nuts presenting every colour of the rainbow are incredibly photogenic, but also create an excellent opportunity for edible window shopping.
Sample dried and candied dates, and a diverse range of flavours of Turkish delight (Rose and Pistachio are "classic" flavours and will capture the hearts of even those who purport to hate Turkish delight – I was one of them!)
Check out the Istanbul Archeology Museum (Optional)
If your schedule permits, you should also make time to visit the Istanbul Archeology museum which sits adjacent to Topkapi Palace. This is overlooked on many people's Istanbul itineraries, however, it contains a collection of some of the most important classical artifacts of European history, including the sarcophagus of Alexander the Great himself!
Istanbul Itinerary Day Two:
Cosmopolitan Istanbul
Catch the Morning Fishermen at Karakoy
When you are sufficiently stuffed with your morning kahvalti, head to the waterfront at Karakoy to catch dozens of fishermen who set up their equipment along the various bridges and piers of the harbor. On certain days of the week, Karakoy plays host to a fish market that sees vendors and restaurateurs haggle to obtain the best prices on the freshest catches.
Ascend Galata Tower for a Birds Eye View of Istanbul
Situated across the river from the Sultanahmet district of Istanbul, Galata Tower is the place to go to enjoy breathtaking views of Istanbul. The 13th century stone tower looks like a princess turret straight out of a fairytale.
Standing at 54 feet high, Galata Tower is visible from most parts of the city. Ascend the tower for a magnificent viewing point from which you can glance across to the Blue Mosque, the Topkapi Palace, and the Hagia Sophia.  
The Galata tower almost always has a long queue outside it regardless of when you go. The viewing platform inside is small but to be honest, the queue tends to move relatively quickly.
The cobbled streets of the quaint neighbourhood surrounding Galata tower are well worth exploring and are filled with cute coffee shops, vintage clothing stores, and antique sellers. Some of the places here are adorable and it's like you are just sitting sipping tea in someone's living room.
Traverse the Boulevards to Taksim Square
From Galata tower, follow Istiklal street down to Taksim square. Istiklal street is essentially Istanbul's answer to the high street and is filled with everything from boutique stores to branches of international brands. At the end of the street awaits Taksim square – essentially the heart of modern Istanbul.
Grab an islak burger from one of the many street food vendors while you are in the area. Islak burgers are a Turkish street food delicacy that are found only in Istanbul.
Take a Bosphorus Cruise
One of the most magnificent ways to see Istanbul as the sun sets is from the waterfront on a Bosphorus cruise. There are an array of options available for booking this pleasant boating experience but your best bet is to book a ticket in advance, in order not to be ripped off and overpay as a result of purchasing from one of the overpriced vendors in the Sultanahmet district.
Sure this is a relatively touristy thing to do, but it gets you close to sites like the maiden's tower which you would not otherwise be able to make it to and makes for an incredible photo opportunity as the sun begins to set and the sky is illuminated in hues of red and orange.
Bosphorus cruises vary wildly in price depending on the package that you go for so consider your budget accordingly. Wooden boats lead along the Bosphorus strait and sell tickets for as little as 10 lire (£2/$2.50) whereas more luxurious cruises cost much more but feature traditional Turkish meals and entertainment.
Istanbul Itinerary Day Three:
A Slice of Peace and Tranquility at the Princes Islands
A pleasant contrast to the constant hubbub and traffic-jammed streets of Istanbul is the peace, tranquility, and luscious greenery that awaits in the nearby Princes Islands. The Princes Islands are an archipelago of islands in the Sea of Marmara. They can be reached within an hour's boat ride from Istanbul's Kadikoy port.
Head to Kadikoy early in the morning to take one of the early ferries that depart Istanbul for Buyukada – the largest of the Princes Islands. As your boat pulls off from the jetty, you can enjoy wonderful views and photo opportunities of Istanbul's skyline from the water, as well as views of the golden horn.
Buyukada Island
Arriving in Buyukada feels almost like stepping back in time. There are no cars or motorised vehicles allowed on the island and so everyone gets around on horseback or by bicycle. Upon arrival at the port, there are many places from which you can rent a bicycle for the day. This is a pleasant way to get around the well-paved trails that lead you through beautiful woodland, past quaint historic Greek Orthodox churches and incredible nature.
Don't miss the Hagios Giorgios Monastery that is situated at the highest point of the island and offers incredible panoramas over the island and the turquoise waters of the sea. There is also a creepy abandoned Greek orphanage in the centre of the forest. If visiting during the summer months you can enjoy the pristine beaches that are situated on the island. Princess Bay Beach, Hagia Nikola Beach, and Halik Bay Beach are among the most popular.
Istanbul Itinerary Day Four:
Anadolu Kavağı Village
Located at the narrowest point of the Bosphorus, the village of Anadolu Kavağı is a charming place to spend a day. Here, you can get an alternative view of life in Turkey away from the hectic streets of central Istanbul. In fact, the village's location means that from here you still haven't officially left Istanbul. Anadolu Kavağı is easily reachable via ferry from Kadıköy port.
The wooden houses that line the waterfront of Anadolu Kavağı are painted in delicate pastel shades. Nestled among them are charming restaurants and coffee shops that offer picture-perfect views over the water as you dine.
Follow the pathways through the narrow streets and alleys towards the castles of Yoros and Genoa. Situated atop a hill, they border a "secret" garden which offers incredible views across to the black sea. This is the perfect spot to take a day trip from Istanbul and enjoy a more relaxed pace of life before your trip draws to a close.
Istanbul Itinerary:
When to Travel to Istanbul
The Spring and Autumn months are the best time to visit Istanbul and plan your Istanbul itinerary. During these seasons, the temperatures are warm and pleasant without becoming overbearingly hot and humid.
Expect comfortable temperatures of between 15 and 20 degrees Celsius during the Spring and Autumn period. There will also be fewer tourists than during the peak summer months.
Spring and Autumn are officially the "shoulder" seasons for travelling to Istanbul, however they carry the added benefit of lower prices for flights and accommodation and fewer crowds at popular sites. Istanbul can get very cold in the winter and snowfall is not unheard of.  
Istanbul Itinerary:
Where to Stay in Istanbul
Sultanahmet and the Grand Bazaar
Sultanahmet is the historic centre of Istanbul. This is the oldest part of the city and it is still encapsulated by the crumbling remnants of its ancient protective walls in some parts. Opting to stay here during your Istanbul itinerary places you in close proximity to the city's main tourist sites – the Blue Mosque, the Hagia Sophia, and Topkapi Palace to name but a few.
Though Sultanahmet is a touristic district, it retains its charm with its winding streets and eclectic bazaars. You can find hotel rooms here for $10-15 per night.

Many of Istanbul's best backpacker hostels are also found here. The only downside to staying in Sultanahmet is that most of the restaurants and cafes here are tourist traps. If you're a foodie looking to sample high quality traditional Turkish food during your trip, you should venture out of this neighborhood for mealtimes.  
Karakoy
Karakoy makes a great base for any Istanbul itinerary. Located right on the waterfront, many of the hotels and apartments in this neighborhood offer incredible views over the Bosphorus. This area has also emerged as one of Istanbul's trendiest and chicest districts in recent years.
The streets of Karakoy are filled with independent boutiques, quirky coffee shops, bars, and restaurants. Karakoy is close enough to Istanbul's main attractions that it is easy to get around, but far enough away that it provides a glimpse into more authentic "local" life in Istanbul.
Galata
Situated north of Sultanahmet, Istanbul's Galata district is a great place to base yourself during your Istanbul itinerary in order to be in close proximity to the main tourist sites. The winding cobblestone pathways are home to plenty of excellent shopping and dining choices.
Galata is actually part of Istanbul's Beyoglu district, however, it is preferable to choose this part of town than Taksim Square and Istiklal Street which can get a little rowdy at night.
Istanbul Itinerary:
How Safe is Istanbul?
Unfortunately, Istanbul is currently working hard to beat away a reputation it obtained as being a "dangerous" travel destination. The 2016 Sultanahmet bombing and a recent military coup have both not helped the city's global image.
All things considered, the local authorities have done their best to try and reassure international travellers in recent years by upping security procedures at airports and various tourist sites.
I travelled solo through Turkey in January 2018, and visited Istanbul again in July 2019 and always felt safe. This article addresses a lot of major concerns. As with travelling anywhere, it is advisable to check your government travel advice for Turkey before embarking on your Istanbul itinerary.
Have any questions about this Istanbul itinerary, seeing Turkey as a solo female traveller or Turkey travel in general? Feel free to reach out to me below or drop me an email!
Disclaimer: This Istanbul itinerary may contain affiliate links. This means that if you choose to make a purchase through some of the links contained on this page, I will obtain a small amount of commission at no extra cost to you. This aids me in keeping up with the costs of running this site. Thanks for your understanding.
---