Visiting Athens in November is not the most common time of year to travel to the Greek capital. However, it can be a rewarding and magical time to visit.
This is particularly true if you decide to venture to the Greek capital towards the end of the month when outdoor ice rinks start popping up around the city and everyone starts getting in a festive mood for Christmas in Athens. Better still?
There are far fewer crowds at this time of year. Prices of flights, accommodation, and local excursions can be as much as 50%-60% lower than during the peak summer months of July and August.
Athens in November weather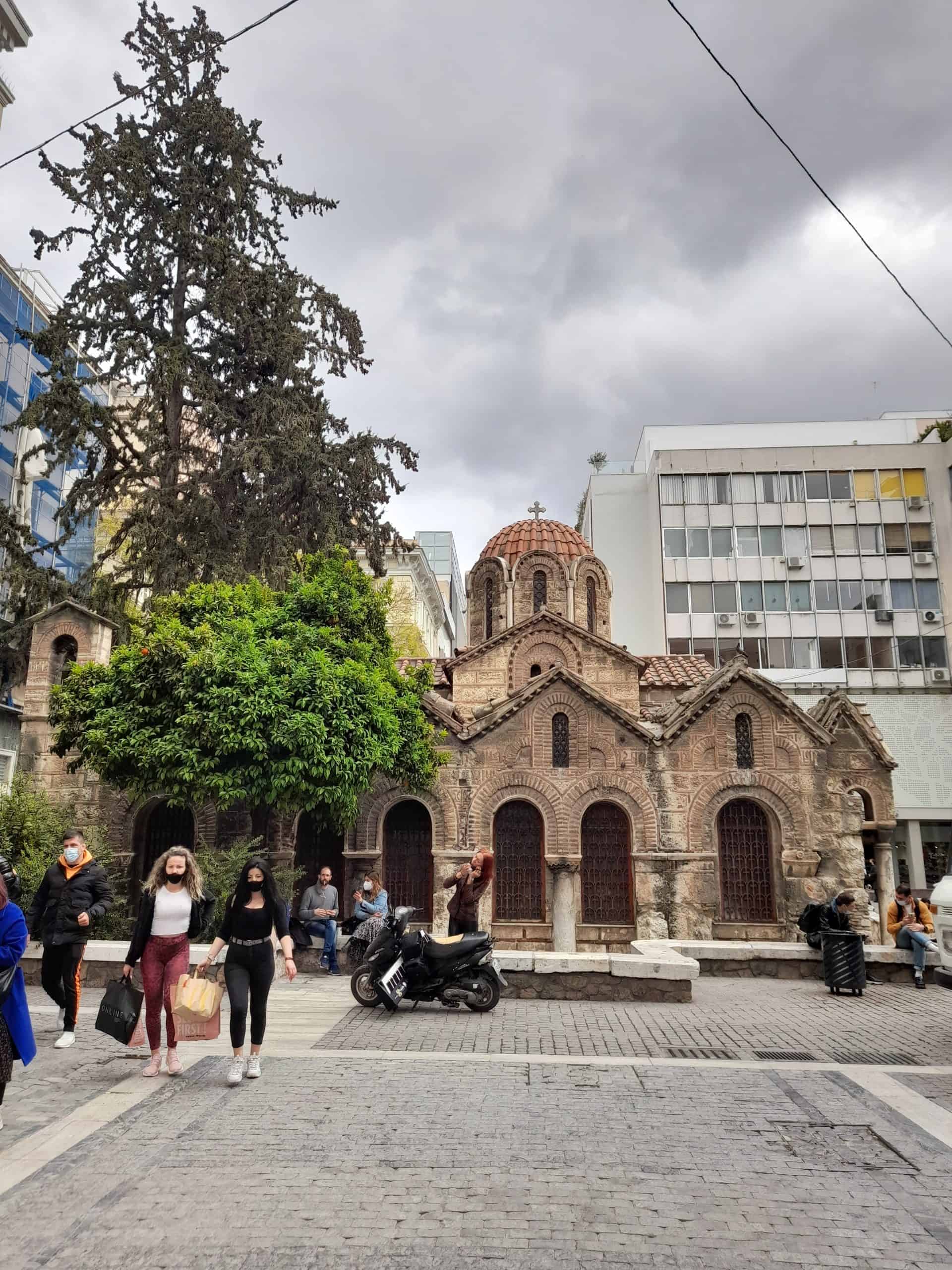 It is important to note that while Athens in November is much milder than other European cities, it is by no means hot. A lot of people make the assumption that Greece is hot all year round but that is simply not the case.
You can expect daily averages between 12° and 18° degrees celsius in Athens in November. Although conditions are cooler, the wonderful thing about Greece is that the country seldom sees rain, even during the winter months!
Greece has 250 days of sunshine a year. So, you can rest in the assurance that you won't be dealing with dreary grey skies, perpetual rain, and wind. 
Any showers that you encounter will usually be brief and then the sky will clear up. Pack an umbrella to be safe, but rest assured, Athens is not like London!
Pack a winter coat and plenty of cardigans for evenings and cooler days. The key thing here is layers.
If you are traveling to Athens primarily to explore the historical and archeological sites, indulge in some Greek food, and immerse yourself in the local culture, this is a great time of year to travel. Summers in Greece see daily temperatures that soar well above 35°.
This can be unbearable for spending long periods of time outside, especially if you are coming from a colder country. Traveling to Athens in November sees more manageable climes. This is one of the best cities in Europe to visit in November weather-wise.
Things to do in Athens in November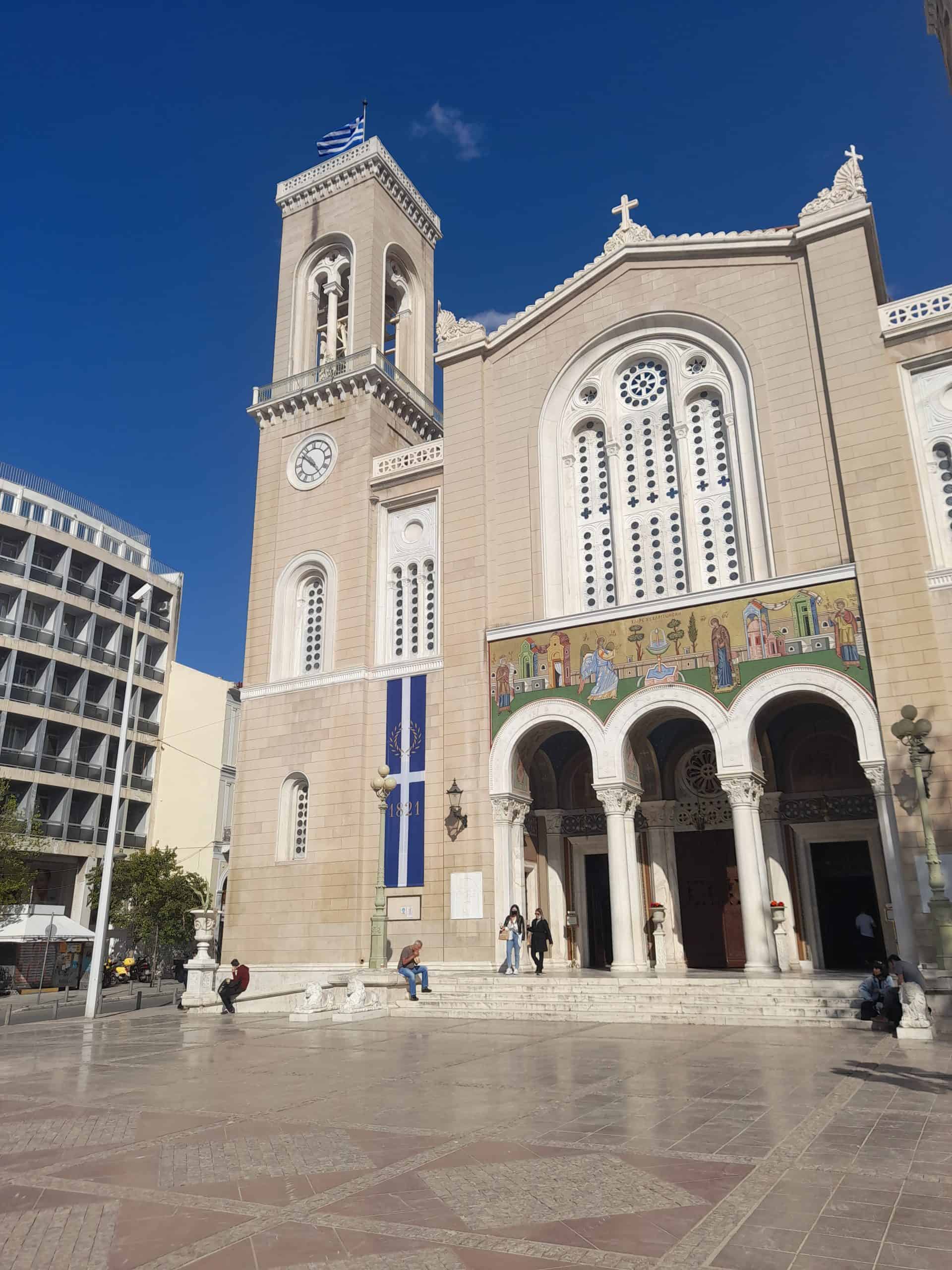 Planning your Athens itinerary in November rather than in spring, summer or autumn does not mean that you have to make any modifications to your schedule. Most of the best things to do in Athens can be done any time of year, regardless of the weather. Still, as the city prepares for Christmas, there is a little extra magic in the air. 
Take an Athens walking tour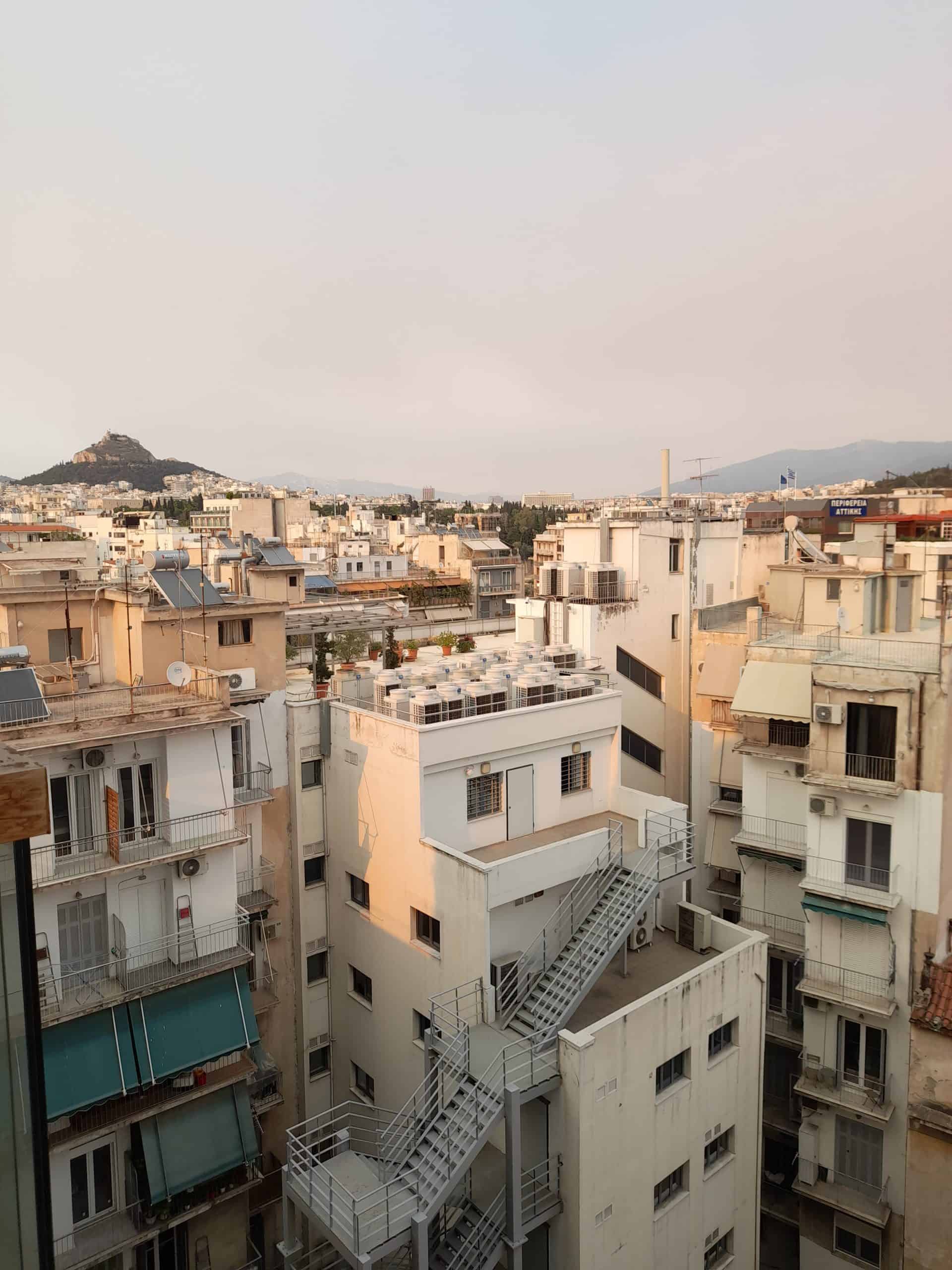 A walking tour can be a great way to get your bearings when arriving in a new city for the first time and the same can be said of visiting Athens. At first glimpse, Athens can appear as a sprawling, intimidating metropolis.

Exploring the city with a local helps you to get your bearings, get more context to the various structures and sites around the city, and to discover places that you may not have found independently. Better yet?
You have an Athens expert on hand to ask for recommendations on where to stay, the best places to eat, drink, experience Athens nightlife, etc. You can also opt to take a tour that follows a particular theme.

For instance, an Athens food tour or a Greek mythology-themed tour. A selection of reputable local tour companies is detailed below for your consideration.
Reserve your place online in advance to avoid disappointment!
Visit the Acropolis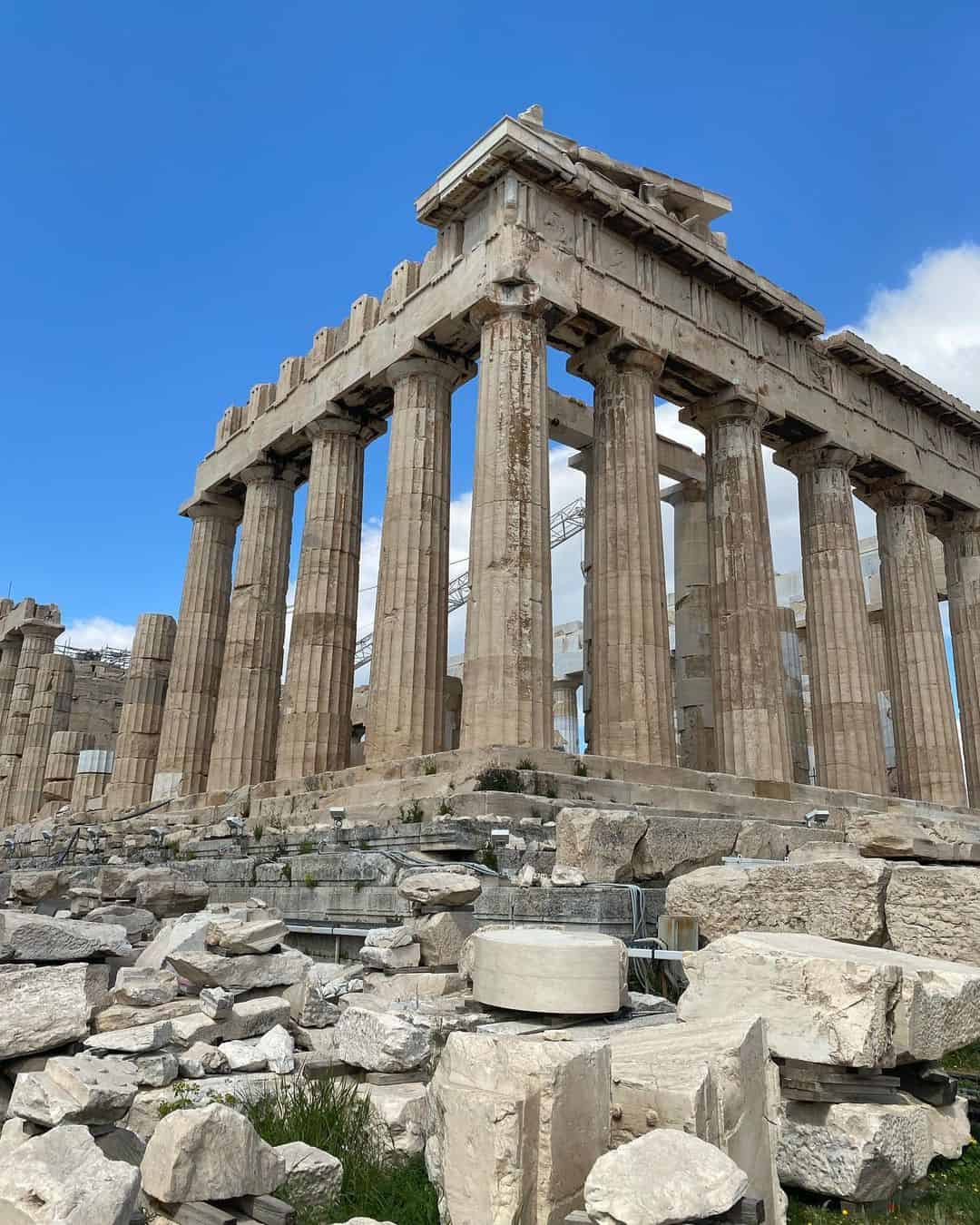 Visiting the Acropolis with its magnificent Parthenon is a highlight of any day spent in Athens. Regardless of how many times you may have seen the site photographed on social media or featured in documentaries, nothing compares to arriving here and seeing it up close in person.
The incredible Acropolis hill can be seen from virtually all corners of downtown Athens. It is especially beautiful at night when it is illuminated by hundreds of twinkling lights.
In the summer months, you usually have to arrive at the Acropolis first thing in the morning to avoid the tourist hordes. However, fortunately in Athens in November, the site is seldom packed full, even if you arrive here in the middle of the day.

The Acropolis site is actually much larger than you may imagine. (It isn't just the Parthenon, there are a number of temples, shrines, and theaters within the complex).

You should dedicate at least 2-3 hours to exploring. An audio tour can help you gain more detail about the history of the site. Your admission ticket also includes entrance to the "New" Acropolis museum which should not be missed.
Browse the exhibits at Athenian museums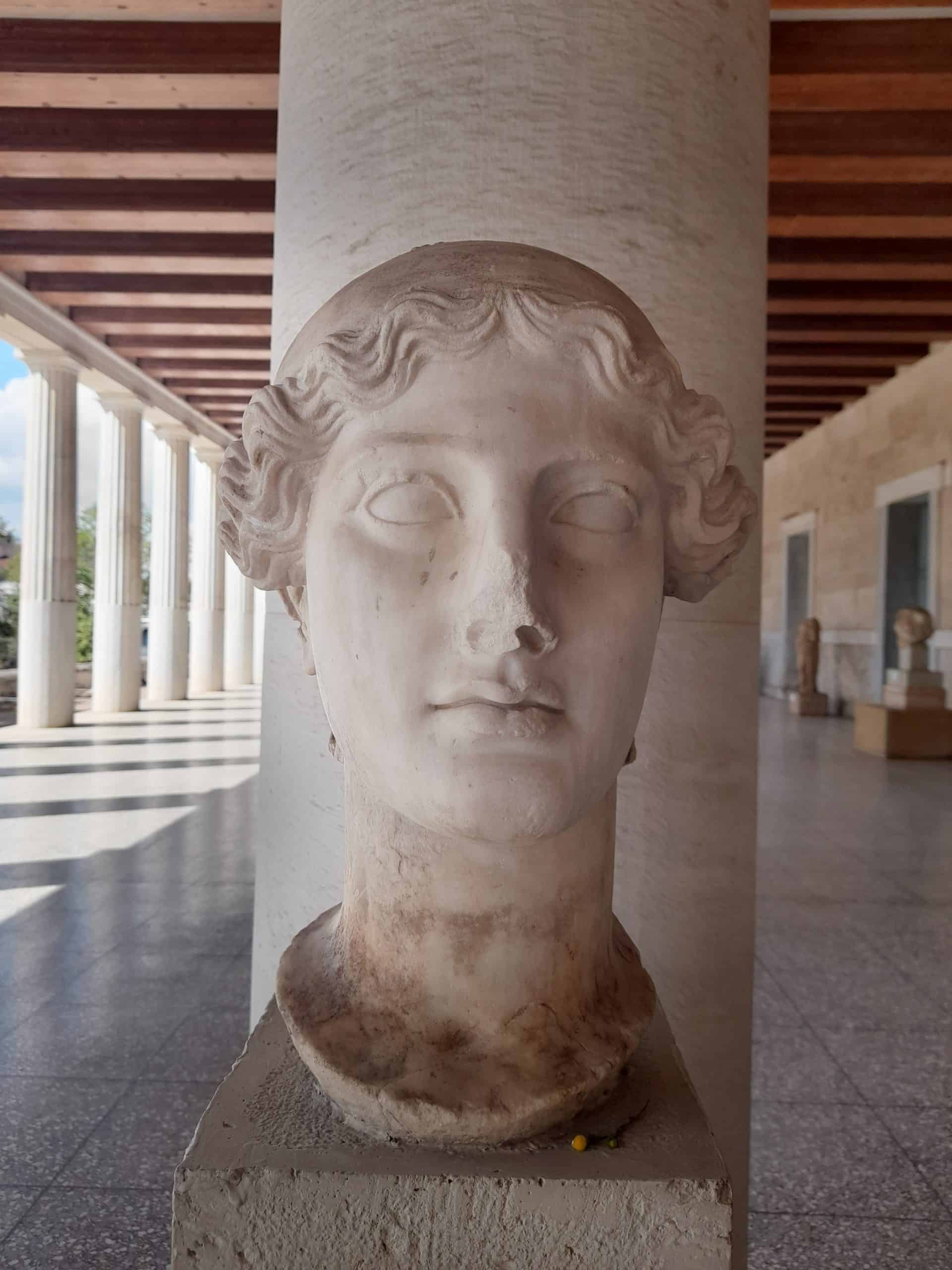 There are over 100 incredible museums in Athens. They are a great place to escape the elements on a rare rainy day in Southern Greece.
Even if you do not consider yourself a museum person, there are one or two museums that you should try and incorporate into your trip where possible. The main one to have on your radar is The National Historical Museum of Greece.
This museum is set inside Athens' former parliament building in Syntagma Square. It first opened its doors in 1882, making it the oldest museum of its kind in the country.
The exhibitions tell the story of Greek history, culture, and heritage through the centuries. The museum is unique because many personal items donated by notable Greek celebrities, politicians, etc, are on display here.

Equally worthy of your attention is the National Archeological Museum of Greece. The museum is housed inside a gorgeous, neoclassical pastel yellow mansion within the Athens National Gardens.
It houses more than 11,000 artifacts, Greek sculptures, and art pieces excavated and retrieved from across the country. One of the most important items on display is perhaps the death mask of Agamemnon. 
Do keep in mind that admission times vary slightly during the winter season and some museums may close early. Check the specific entrance times of the museums that interest you online, in advance before you stop by.
Explore the Ancient Agora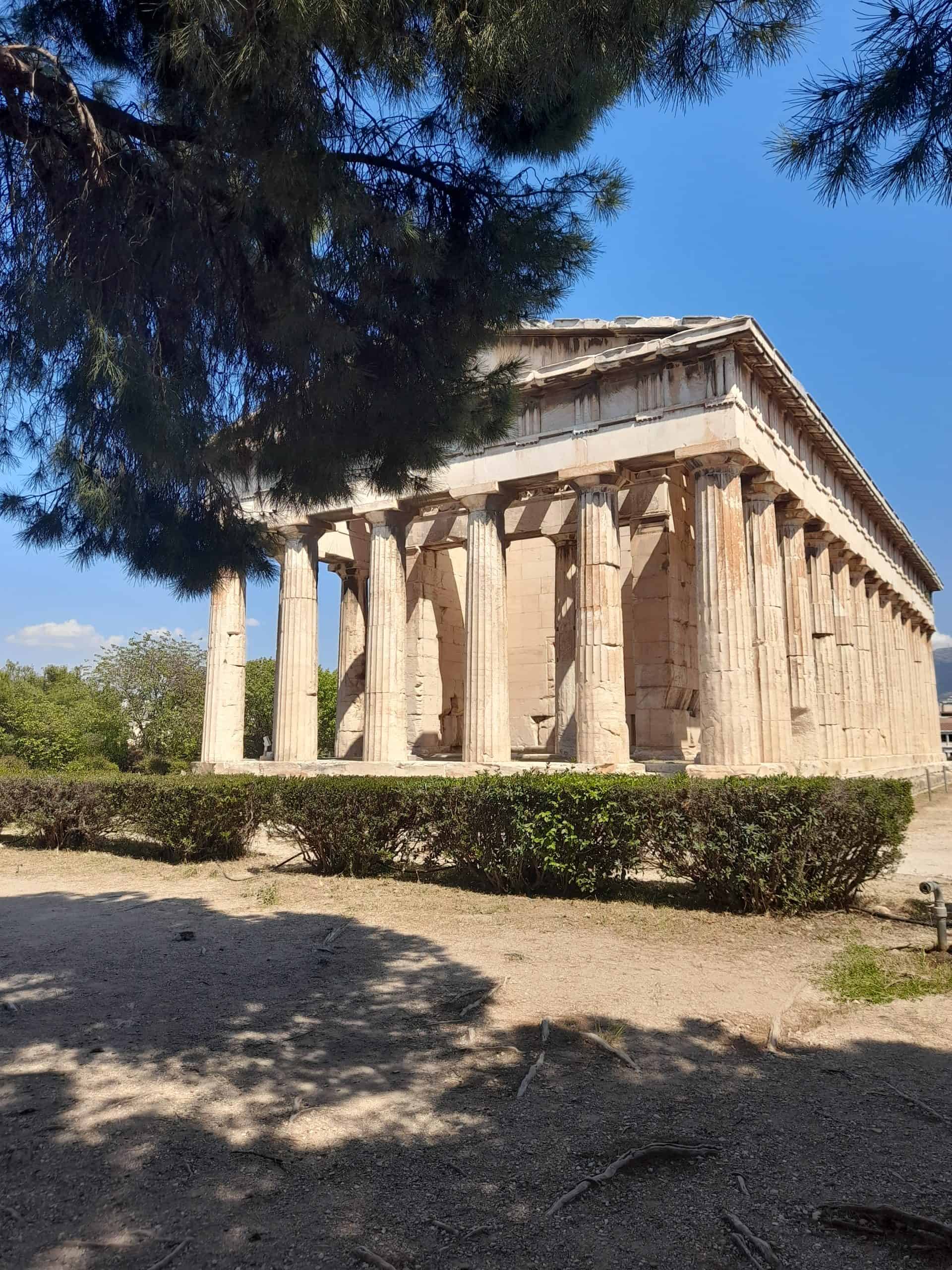 The Ancient Agora, with its incredibly well-preserved Temple of Hephaestus, is one of the most important historical sites in Athens.  It sits in the historic Thissio district and centuries ago, this was the city's civic center.

Once upon a time, great Greek Philosophers such as Socrates would walk barefoot through the Agora, imparting their wisdom to anyone who would listen. The colonnaded Stoa of Attalos is the first building on your left after you enter the complex.

This was once the city's main marketplace and housed over 40 different stores that sold everything from groceries to apparel. The Temple of Hephaestus is the best-preserved Doric temple in the country and although it is often overshadowed by the Parthenon, it was built around the same time.

Many Athenian landmarks and historic sites (including the Ancient Agora and the Acropolis) are free to enter on the first Sunday in November. You may also want to consider purchasing an Athens combination ticket. 
This ticket includes access to several main Athenian attractions. Since the entrance to the Acropolis is already €20 per person and the combination ticket is €30, you only have to visit one other site (i.e. the Agora) to get your money's worth. The Roman Agora and the Temple of Olympian Zeus are also worth stopping by. 
Do your Christmas shopping, Greek-style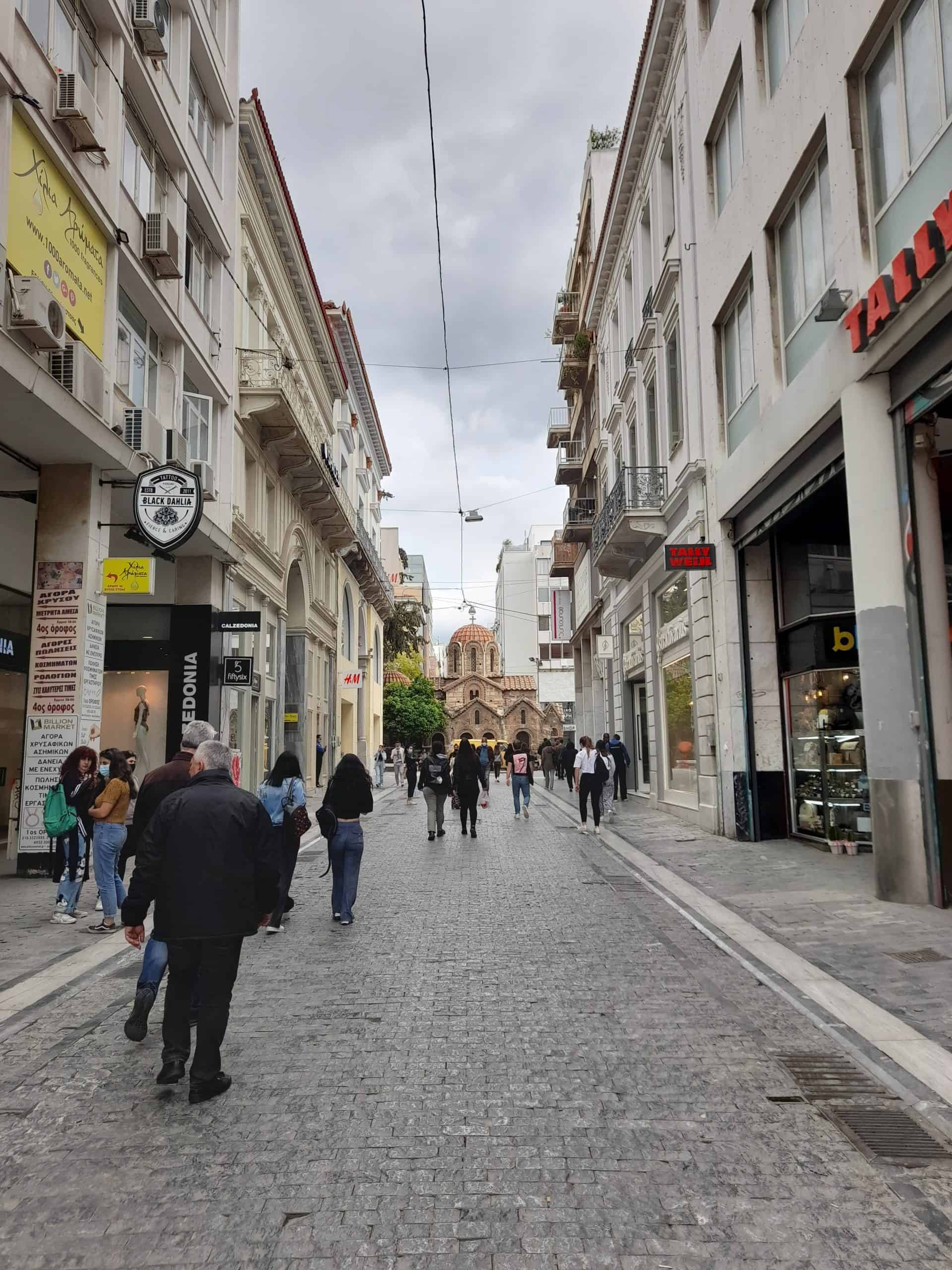 Christmas lights and festive decorations start popping up around Athens from mid-November. Shopping in Athens provides you with a great opportunity to buy Christmas gifts and souvenirs for the Grecophiles in your life.

Ermou street is essentially Athens' main high street. It runs from Syntagma all the way up to Gazi.

You will find all manner of international high street stores here. For instance, H&M, Zara, Mango, etc, along with a plethora of stores owned by independent Greek designers.

Upscale Kolonaki or elegant Kifissia are the places to venture if you are looking for high-end apparel, while the Monastiraki flea market or old Plaka is where you can go to pick up unapologetically Greek gifts such as Karaziogis puppets, backgammon sets, and komboloi beads. For something quirky and out of the ordinary, head to Evripidou street near Psyri. 
This street is filled with lilliputian stores selling homemade cosmetics, skincare and homeopathy products, delicatessens, and artisanal shops. Close to Varvakios Agora (Athens Central Market), you will find spice stores whose shelves are filled with colorful, fragrant bottles of spices that are more reminiscent of Marrakech than Athens. 
Enjoy coastal walks in the beach towns of the Athenian Riviera
November in Athens may be a little too cold to go swimming at the beaches near the Greek capital. However, that doesn't mean that you have to write off the coastal area around Athens entirely.

Glyfada, Voula, Vouliagmeni, and Vari are charming beach towns that make up the Athens Riviera. Chic Vouliagmeni is one of the best places in Athens to grab brunch by the sea.
Stop by Del Posto (Leof. Posidonos 4) and treat yourself to a strong Greek coffee and a pastry or a light bite as you watch the waves lap against the shore. Even at this time of year, you will catch the odd Athenian going for a swim and you can always join in if you're feeling brave!
The Athenian Riviera is also a wonderful place for an urban hike. Wrap up warm (the sea air can be breezy!) and follow the route along the coast from Lake Vouliagmeni to Vouliagmeni bay.

Here, you will find the little stone church of Agios Nikolaos overlooking the sea, where you can stop and take wonderful photos. Continue onwards and stop in a nearby taverna for traditional Greek food if you like.
Hike to Kaisariani Monastery and follow other urban trails
If you are more of a nature lover than a big city person, you will be delighted to hear that there are several urban hikes in Athens, as well as numerous parks and areas of greenery within the city center. Athens in November is actually a great time to head out on these hikes as the temperature is still mild, but not overbearingly hot like in the summer.

One of the most simple walking paths that you can follow is the winding trail that leads you to the top of Mount Lycabettus. This is the highest peak in Athens and you can enjoy incredible panoramas from up here, especially as the sun starts to set.

Another worthy trail that few tourists are aware of is the hike to Kaisariani Monastery. The monastery is nestled in the woodland just south of Athens' Zografou and Kaisariani districts. It dates back to the 11th century and has been amended and extended various times throughout the centuries.   
Cosy up with a hot chocolate in Little Kook
In Athens in November, it is not so cold that you need to duck inside cosy coffee shops and warm up with a hot drink. But at the same time, it is not excruciatingly hot like in the summer, where drinking a hot drink sounds like torture!
If you want to get in a festive Christmas mood and ready for December, there are two main places that you need to stop by. Namely, Little Kook and Noel. Noel is a Christmas-themed bar where larger-than-life Santa statues and lifesized plastic elves decorate the interior all year round.

Love Christmas so much that you want to listen to Christmas songs and drink hot chocolate with marshmallows in July? Noel (Kolokotroni 59B) is your place. 
By day, this is somewhere you can stop by and grab a coffee or a hot chocolate with a cake. By night, it transforms into a festive bar where the in-house Mixologists prepare all manner of weird and wonderful cocktails.

Little Kook (Karaiskaki 17) is a fairytale-inspired cafe whose decor changes multiple times throughout the year. The themes are often around popular storybooks or movies (e.g. Alice in Wonderland or Mary Poppins). During November and December though, it is usually decorated to look like a magical Christmas grotto.
Warm up with an oinomelo in old Plaka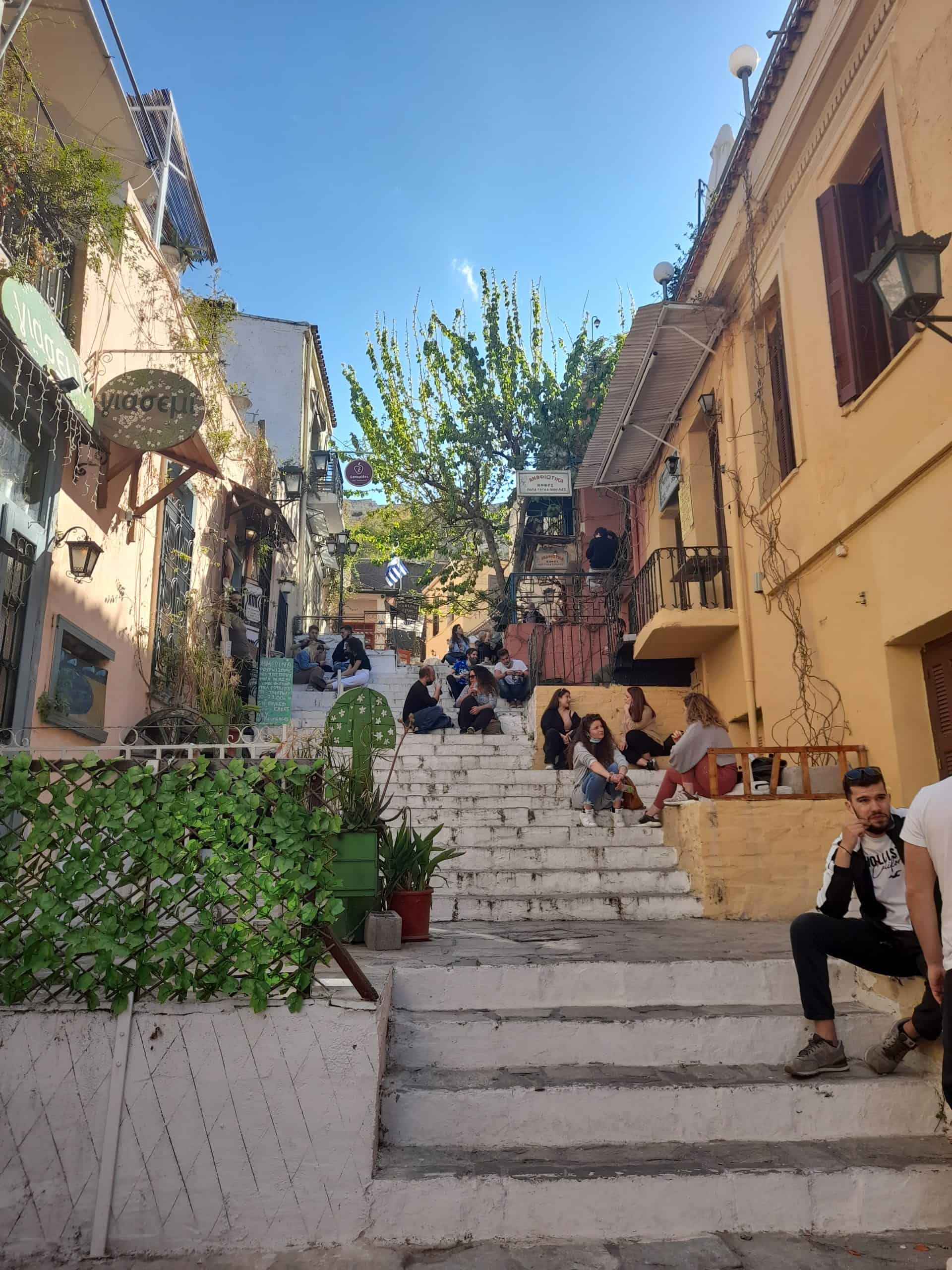 If you want to experience the nightlife that is quintessentially Greek and perfect for visiting Greece in winter, head to Plaka by night. Hanging out in a bouzouki bar can be a fun experience.

These venues are somewhere in between a restaurant and a live music hall. You can indulge in traditional Greek taverna fare while musicians perform Greek folk and bouzouki music and instruments are often handed out to the crowd so that they can join in.

Rakomelo is a great Greek alcoholic drink to try in the winter. This is a strong shot of Cretan raki paired with honey. Alternatively, order an oinomelo – Greece's version of mulled wine, made by mixing hot wine with honey. 
Athens in November FAQs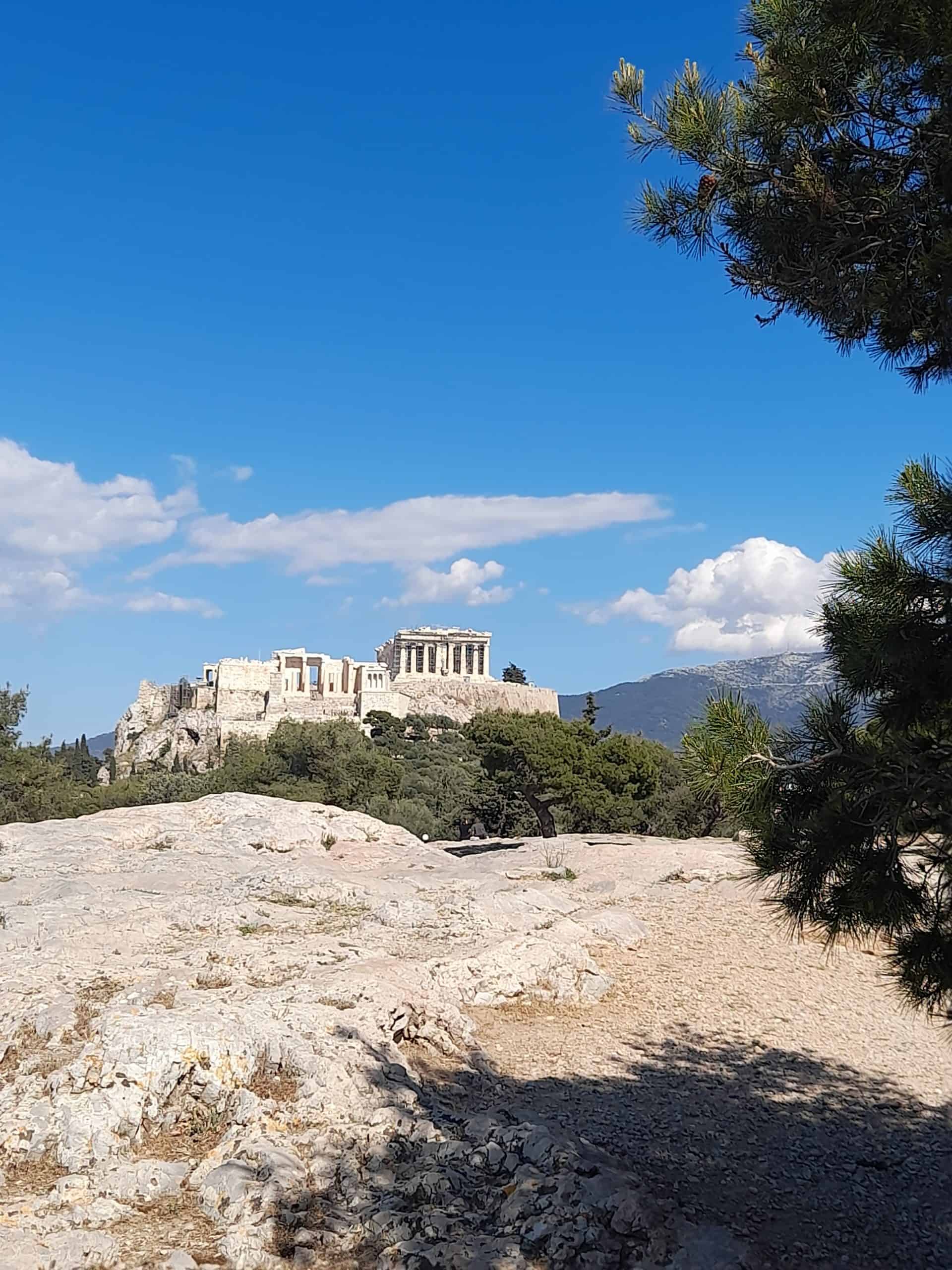 Do you have any further questions or concerns about visiting Athens in November? Hopefully, you will find the answers you are looking for below.
How do people dress in Athens in November?
While it is cooler in Athens in November, the city is still milder than much of Europe. You don't need to don hats, scarves, gloves, and other winter layers.
Athenians will usually wear jeans/trousers and long-sleeved t-shirts. They will take a light jacket or a coat out with them, especially at night.

Greek women take a lot of pride in their appearances. They will often either wear trousers with tops, or dresses/skirts paired with stockings and ankle boots.

There is no dress code for visiting Greece. This is a liberal country and you can feel comfortable wearing whatever you like.
Is November a good time to visit Greece?
November is a great time to visit Greece. Prices are at their lowest (making this a perfect time of year if you are hoping to explore Greece on a budget).

Fewer tourists and crowds let you see the more authentic side of the country and get a feel for what living in Greece is really like. You can also experience Greek winter tourism which is extremely popular among locals and yet is massively overlooked by international travelers.

This is a good time to treat yourself to a cozy winter break in a traditional village in the country. Metsovo, Karpenisi, and Zagorahoria are all popular winter getaways for Greeks.
What is the best time to go to Athens?
The Autumn months are arguably the best time of year to travel to Athens. The weather is still warm and pleasant but not overbearingly hot, and travel costs are much cheaper. Still, November is also a very good time to travel.
Parting Words
Have you travelled to Athens in November? What did you think?
If you are planning a trip to Greece for the first time, you may also find this guide on things to know before traveling to Greece useful. Have a wonderful trip!
Geia sou! Melissa xo
---