An Athens food tour is a great way to gain an introduction to Greek food culture. The benefits of doing this type of tour are abundant.
Firstly, an Athens food tour gives you the opportunity to get your bearings in Athens. You have an expert local on hand to answer all of your questions and tell you the best spots in town.
Secondly, you have the chance to sample a diverse range of sumptuous Greek cuisines. Athens food tours take you to the quaint Athenian backstreets, away from the tourist hordes. Consequently, you know that you are dining at places frequented by locals as opposed to tourist traps.
Why Take an Athens Food Tour?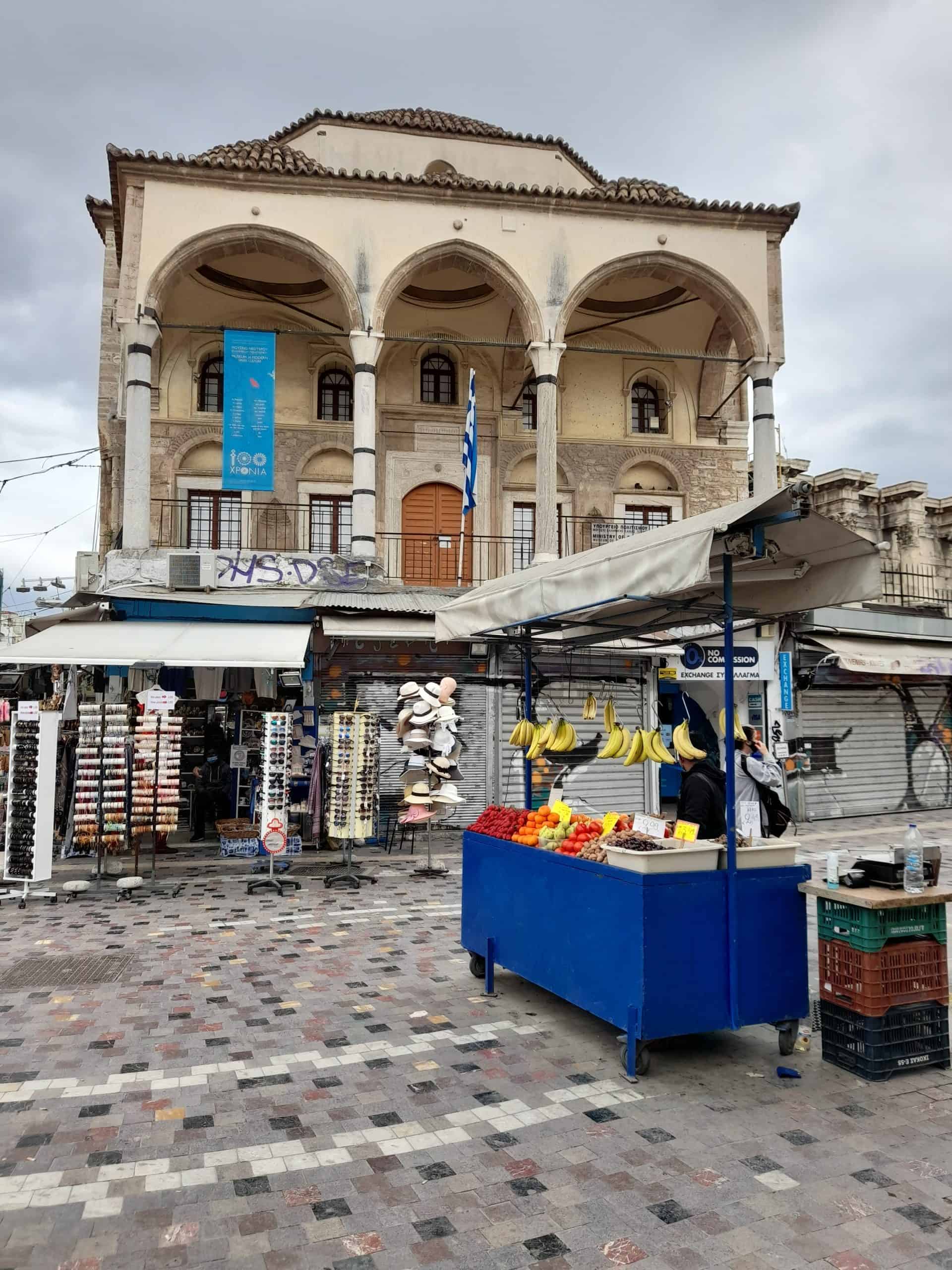 Are you on the fence about booking an Athens food tour? A few reasons as to why you may want to consider this type of foodie travel experience are detailed below.
I have lived in Athens for the last four years now. I did a food tour when I first arrived in the city and to this day, it remains one of my fondest memories in Greece.
Greek Cuisine is More than Just Souvlaki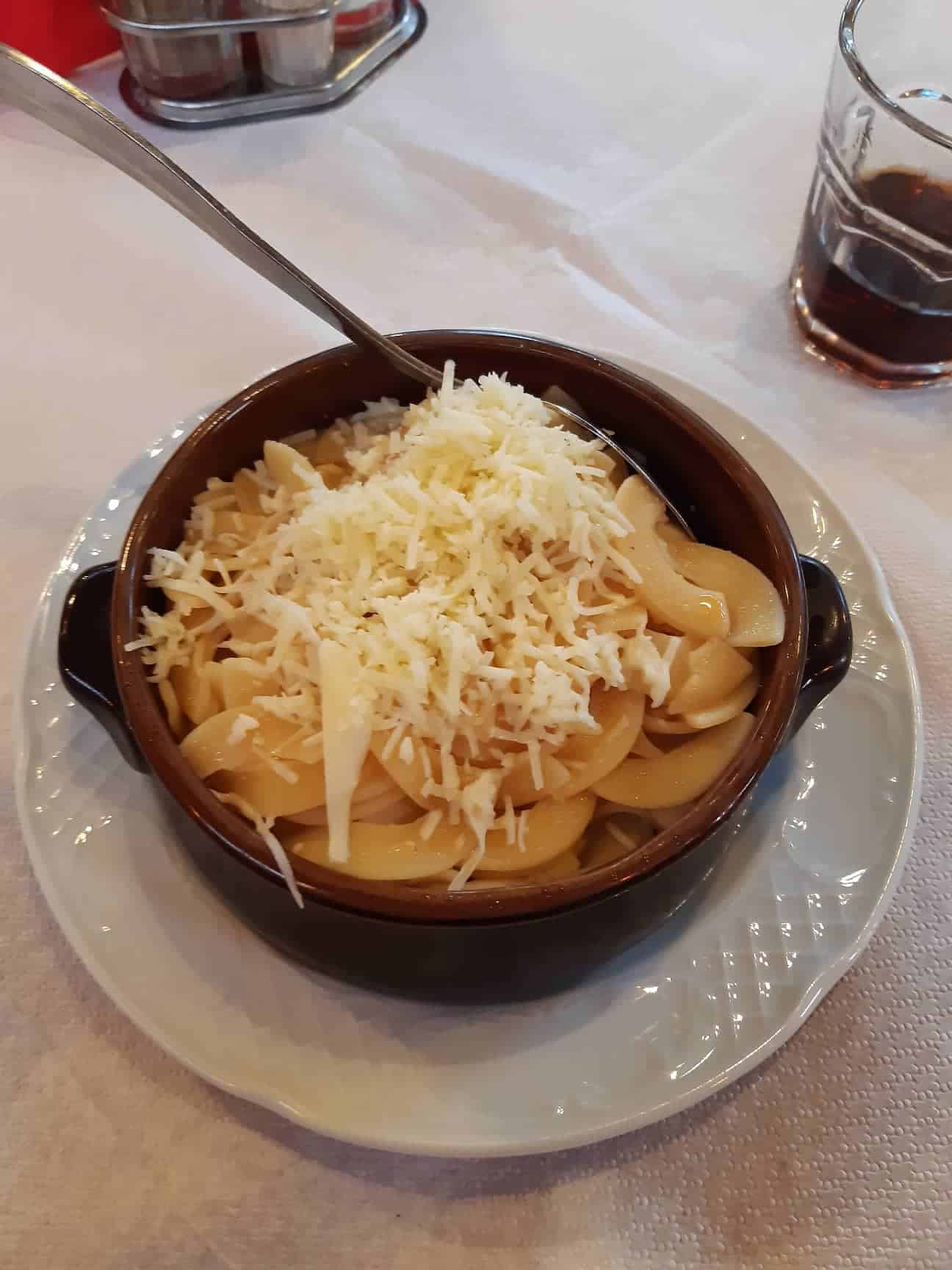 Fasolakia. Gemista. Kolokithokeftedes. Loukoumades. Greek cuisine is far more than just souvlaki and gyros.
However, you will often find that touristic tavernas in Plaka, Thissio, and Monastiraki mostly serve famous Greek dishes that tourists are aware of.
Dishes such as moussaka, souvlaki, and pastitsio are hearty and delicious. Moussaka is essentially considered as being the ¨national dish of Greece¨. However, nobody wants to eat the same thing every day.
Touristic restaurants will give you the impression that Greek food options are limited and this couldn't be farther from the truth. Greek food is incredibly varied.
I have lived here for years and I am still frequently discovering new favourite delicacies. Additionally, it is worth noting that Greek cuisine boasts plenty of vegetarian and vegan options.
Different regions of Greece each have their own specialties. For example, country sausages and smoked metsovone cheese are famous delicacies in the Metsovo region of Northern Greece. However, they are seldom eaten elsewhere.
Similarly, Ioannina and the Epirus region of Greece are known for their various pies and pastries. Cretan cuisine is a different kettle of fish entirely.
An Athens food tour is your opportunity to really uncover the secrets of Greek food besides just the popular classics.
Get to Know Athens' Various Districts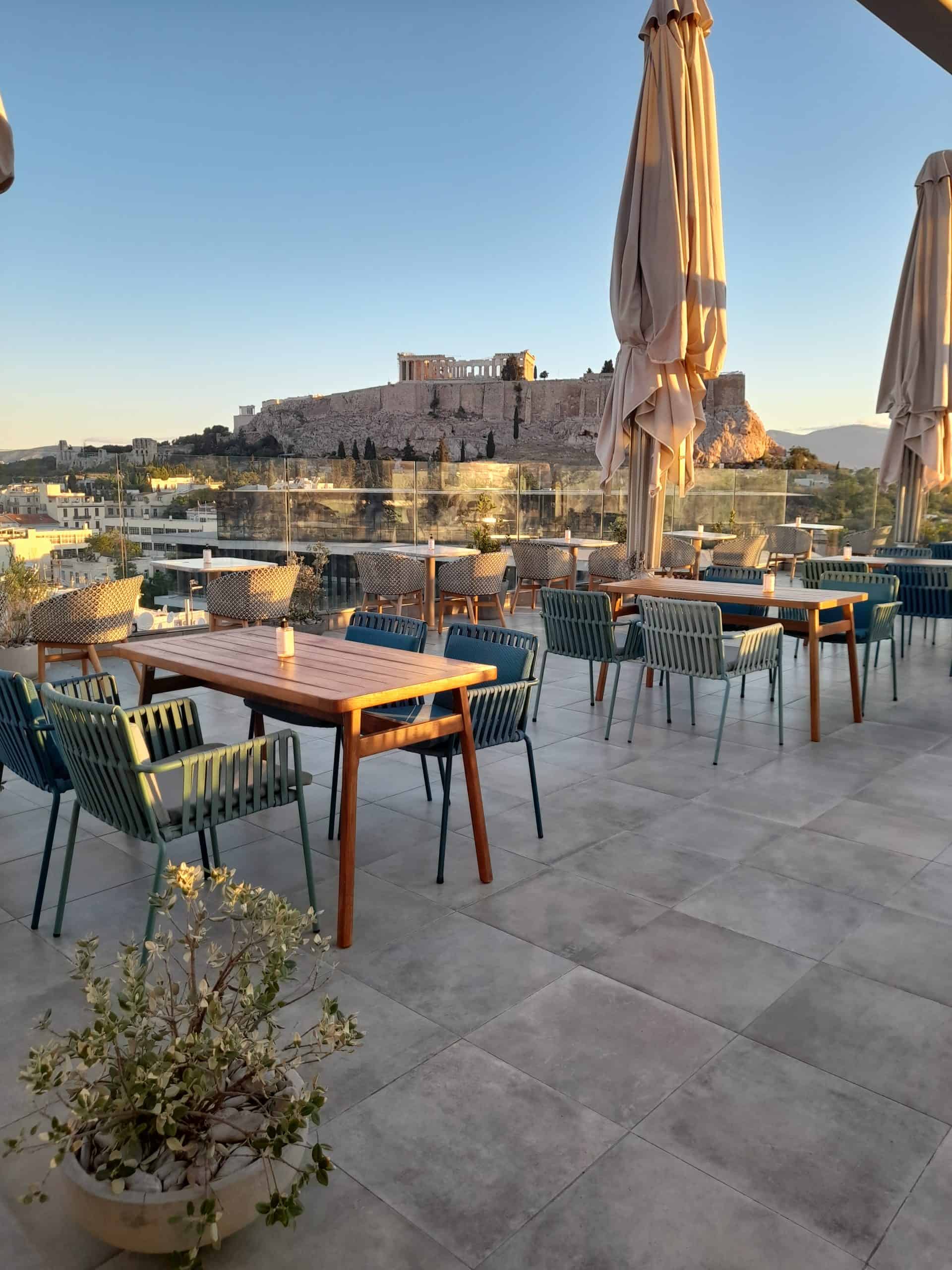 The city of Athens is a colossal urban sprawl. Its higgledy-piggledy layout can be difficult for a first-time visitor to navigate.
Furthermore, Athens does not just have one area or promenade that is considered the city centre. In fact, Athens´ neighbourhoods are like little towns in themselves.
Each district has its own centre, character, and personality. From the hilly upscale Kolonaki area to the crowded piazzas of Pangrati.
Few visitors to Athens realise the size of the city when they first arrive. This can also cause headaches when figuring out the best place to stay in Athens.
An Athens food tour can help you to get your bearings in the city. As such, it is advisable to organise the tour at the beginning of your Athens itinerary.
You can get to know your way around while you are accompanied by a guide. Then, you can make mental notes on how to get to important attractions such as the Acropolis, the Ancient Agora, etc.
Learn How to Order Food in Greek
Okay, modern Greek is not something that you are going to pick up easily during your Greece itinerary. However, learning just a few words is always appreciated – even if those words are simply thank you (efharisto) and hello (kalimera/kalispera).
Your Athens food tour guide will be able to demonstrate how to order certain foods or coffees in Greek. Not to mention, they can help you to master the all-important (and tricky) pronunciation of Greek words.
Make Use of Your Guide's Local Knowledge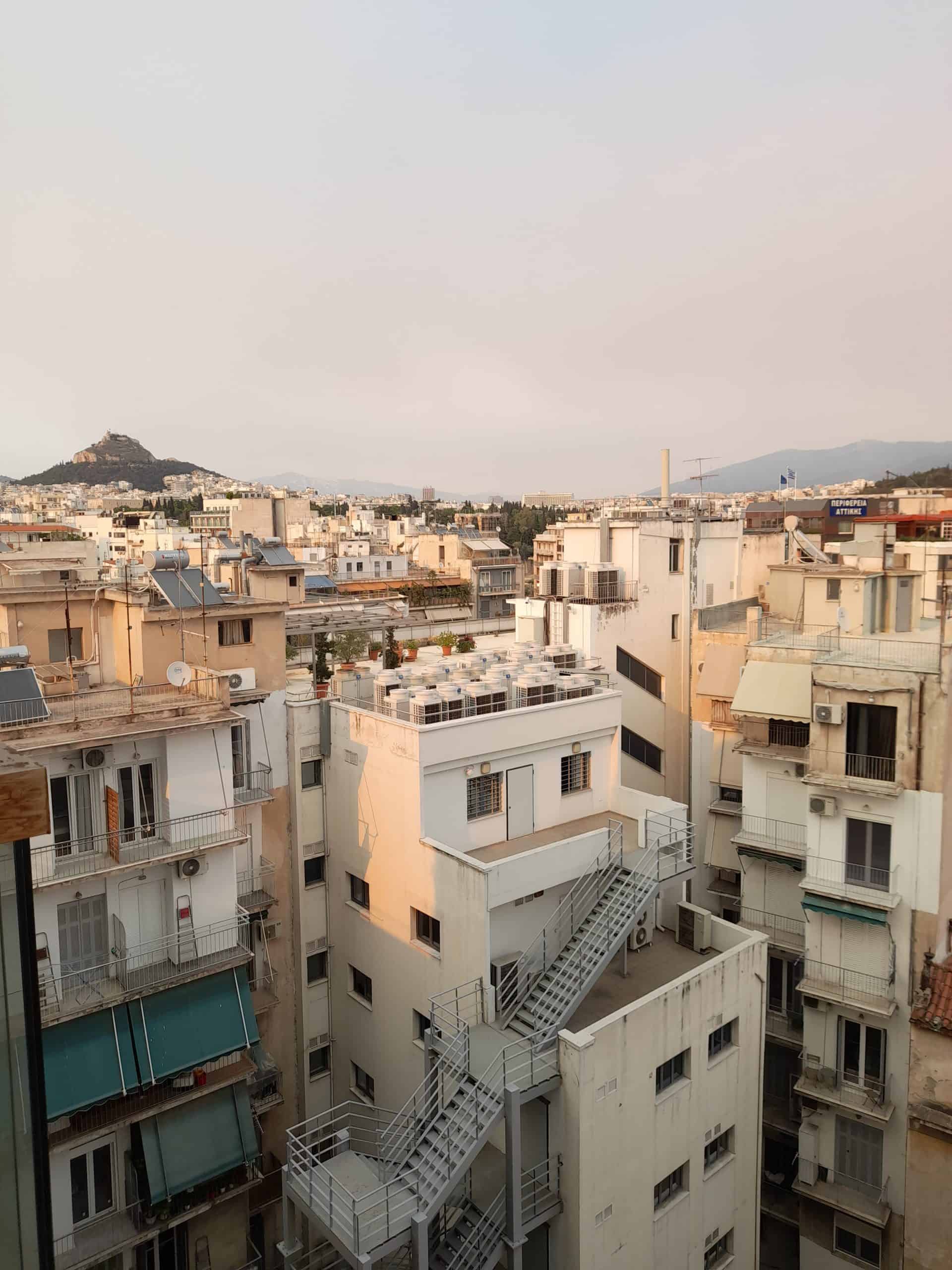 Most likely, your Tour Guide will be someone that has been born and raised in Athens. At the very least they will be someone who has lived in the city for several years.
Your Athens food tour is your opportunity to ask your guide for Athens restaurant recommendations to check out later. Since they probably know the city pretty well, you can also ask them about off-the-beaten-path things to do in the Greek capital, coffee shop recommendations, coworking spots, etc.
Learn Recipes to Recreate Your Favourite Greek Dishes
A lot of Athens food tours send you additional information before or after your trip. These may be in the form of free city guides, itineraries, or food recipes.
My Athens food tour guide sent me a follow-up email with a ton of PDFs for the recipes of the foods that we tried. It may be hard to find Greek treats like souvlaki and spanakopita in your home country. In that case, you can easily replicate your own!
Athens Food Tour Highlights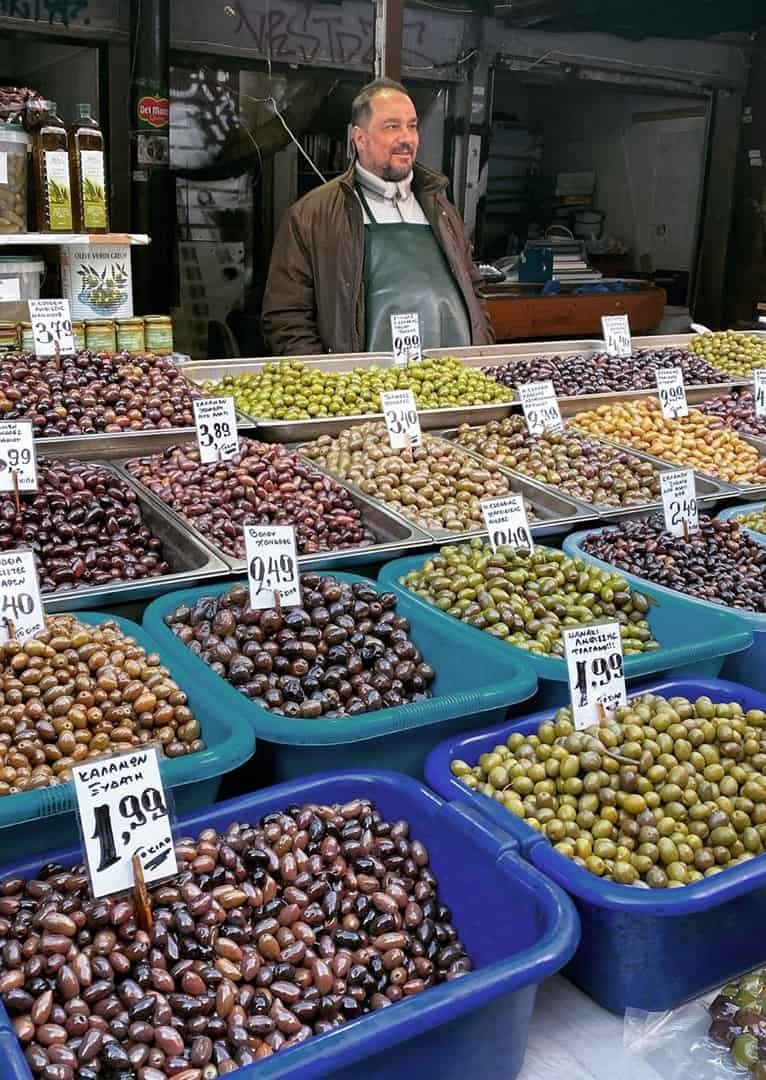 Each Athens food tour is different. However, most of them will enable you to sample a range of famous and lesser-known Greek dishes.
It's important to do a little research and make sure that you find a company that you are happy with. This is the tour that I did.
The highlights of my Athens food tour experience were:
Sampling strong, bitter Greek coffee (Ellinikos Kafes)


Discovering famous Greek street food eats like koulouri and souvlaki


Browsing deli and charcuterie stores


Learning the process behind creating Greek olive oil and discovering the various types


Indulging in sticky, sweet baklava pastries and Greek desserts


Navigating the chaotic pathways of Athens Central Market (Varvakios Agora)


Enjoying classic taverna dishes like split pea puree and moussaka


Falling in love with sweet bougatsa pastry
Learning the History of Greek Coffee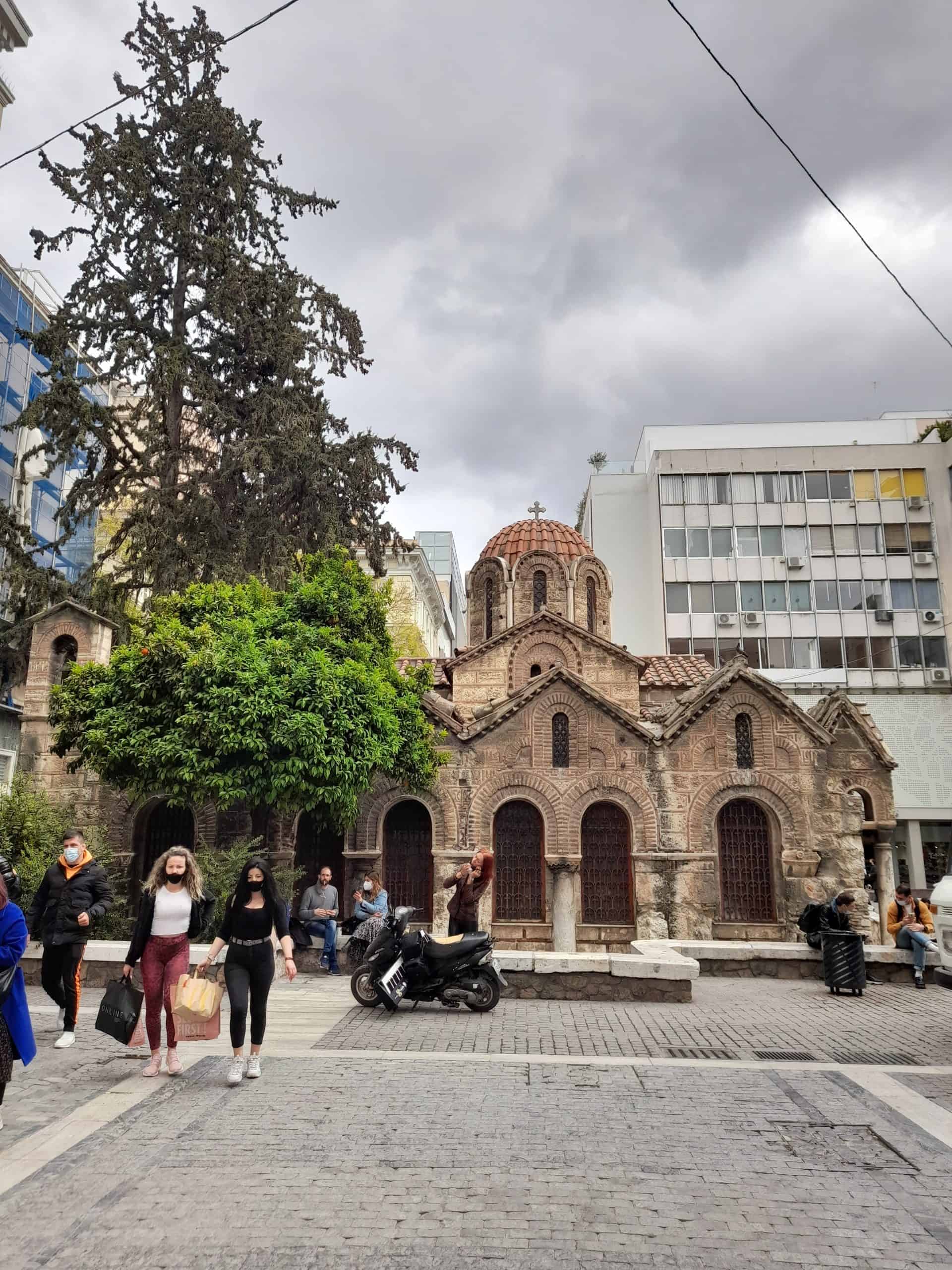 I met my guide Andreas bright and early in Monastiraki Square, ready to start our Athens food tour. Coffee was the first point of call.
We stepped inside Kafenio 111 (Ermou 111). This is a quaint little traditional coffee store that was tucked away from view down a little alley that veered away from Syntagma Square.
This particular store has been serving coffee to the locals for several decades. Today, it's a popular rendezvous point for old-timers who come here to play backgammon and share stories with their friends.
Greek coffee has an interesting history. It was first brought into the country by the Ottoman Turks during their occupation of Greece.
Traditional Greek coffee is essentially "Turkish" or "Arabic" coffee. It is bitter, strong, and much thicker in consistency than your average cup of coffee.
Greek coffee is brewed in a traditional copper biriki and is usually prepared over hot coals. Locals say that it is possible to read your fortune in the dregs left at the bottom.
To do so, you simply swirl the remnants at the bottom of the cup around and then tip the cup upside down. You can ask the waiters to help you if you want to try it!
The coffee was served with a side of loukoum. This is the Greek answer to Turkish delight. Greek loukoum is commonly rose flavoured and slightly softer in texture than its Turkish counterpart.
Sampling Koulouri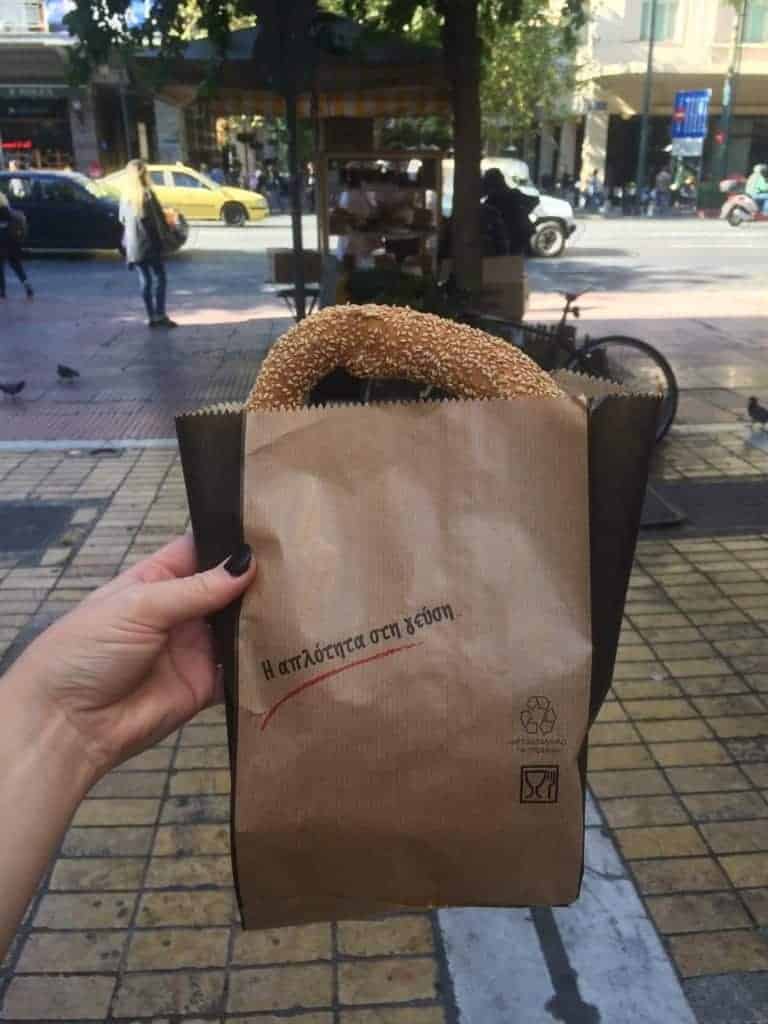 We meandered along the busy streets of Monastiraki and Syntagma. Then, we stopped at a street food stand to sample koulouri.
Koulouri is a sesame seed bread that originated in Thessaloniki in Northern Greece. This circular carby treat is the "go-to" mid-morning snack for Athenian locals.
It is essentially a cross between a pretzel and a sesame-seed bagel. Ermou Street is Athens' main high street and you will find a plethora of street vendors selling kolouri and other treats here.
At some places, you will also find other sweet and savoury variations of traditional kolouri. For example, kolouri made with chocolate chips or kolouri filled with cheese and ham.
Browsing Local Delicatessens
The narrow Athenian streets of Ifestou and Evripidou are some of the most interesting places to go shopping in Athens. There is a fabulously multicultural ambiance here.
The streets are lined with traditional Greek delicatessens, and charcuterie spots selling a variety of cheeses and cold cuts. It is possible to stop by these places any time and have them prepare a bespoke charcuterie board for you to try.
Sampling an array of locally sourced Greek wines, cheeses, olive oils, and meats was a highlight of the Athens food tour. Boutique independent food producers often showcase their wares at little stalls in the store.
Think recipes that place a contemporary twist on traditional classics. For instance, balsamic vinegar made from sour cherries, or honey flavoured with the addition of thyme. These stores are a great place to pick up Greek souvenirs.
There are two Greek delis in particular that your Athens food tour may take you to. Namely, they are Miran (45 Evripidou street) and Karamanladika (Sokratous 1).
Both of these establishments are Athens institutions and are well worth stopping by in your own time. Miran sells charcuterie items that originate from the Kerkini and Serres regions of Northern Greece. Meanwhile, Karamanladika specialises in agro products from the village of Drama.
Discovering Greek Mastic
Mastic (mastiha) is a product that is unique to Greece. It is a type of resin that is taken from the mastic tree – a species of tree native to Chios island. Our Athens food tour stopped by an unusual store that was dedicated to all things mastic.
Mastic is used to make several traditional delicacies, including loukoum. However, historically it was enjoyed as chewing gum in Syria, Lebanon, Turkey, and Greece.
The resin is flavourless at first. However, after some chewing, it revealed a somewhat piney taste.
Mastic is an acquired taste but worth a try. You can also find many specialty cocktails at the various rooftop bars of Athens that infuse mastic in their concoctions.
Indulging in Sweet, Sticky Baklava
Baklava is a beloved sweet treat across Southern Europe and the Middle East. It is made from paper-thin pastry soaked in honey and sprinkled with finely chopped nuts.
Many Athenian bakeries sell baklava. You will find rows and rows of it lined up in different varieties.
Trying the "Best" Souvlaki in Athens
Souvlaki is arguably the most well-known Greek street food. It is also among the most popular.
The dish is simple yet sumptuous and flavourful. Souvlaki is just skewered meat, typically pork, drizzled with lemon juice.
We stopped outside an inconspicuous-looking food place that was rumoured to sell the best souvlaki in Athens. In fact, several local souvlaki stores compete for this title.
O Kostas (Pentelis 5) is an Athens souvlaki joint that has been delighting locals and travellers since the 1950s. Whatever time you stop by, there is always a line of people outside.
Kalyvas Family Grill (Dimitrakopoulou 91-93, G Olymbiou 10) in Koukaki is another spot competing for the title. No frills and no fuss, the store that our Athens food tour stopped at was a simple take-out style eatery with plastic outdoor seating.
Souvlaki is filling and affordable. A skewer served with pita bread and lemon will typically cost no more than €1.40.
Navigating Athens Central Market
Traditional food markets known as "laiki" are still prominent in Greek culture today. These are essentially farmer's markets and locals will often opt to buy their fruit and vegetables here rather than in supermarkets.
Athens' Central Market (Varvakios Agora) is the largest in town. It has withstood the test of time and is a great place to watch locals haggling over the prices of ingredients.
This is arguably one of the best food markets in Europe. A word of warning: Do not wear open-toed shoes or sandals when navigating through Athens Central Market! The floors are often very wet, especially in the fish market section.
Enjoying Classic Taverna Dishes
Psiri is one of Central Athens' most lively districts. This area is a maze of narrow cobbled streets lined with ramshackle eateries. Many excellent traditional tavernas and bouzouki bars (live music places) can be found in this area.
We ducked inside a popular Psiri taverna and were served a number of Greek dishes to sample. An old favourite – Moussaka, was obviously on the table.
So too, was tzatziki with a side of freshly baked bread. Briam (Greek mixed vegetables) and fava (yellow split pea puree made with Santorini fava beans seasoned with lemon juice) also made an appearance.
This is another wonderful thing about taking an Athens food tour: the ability to sample a variety of different dishes without committing to full plates. Better still, you will do so while meeting other travellers.
Falling in Love with Sweet Bougatsa Pastry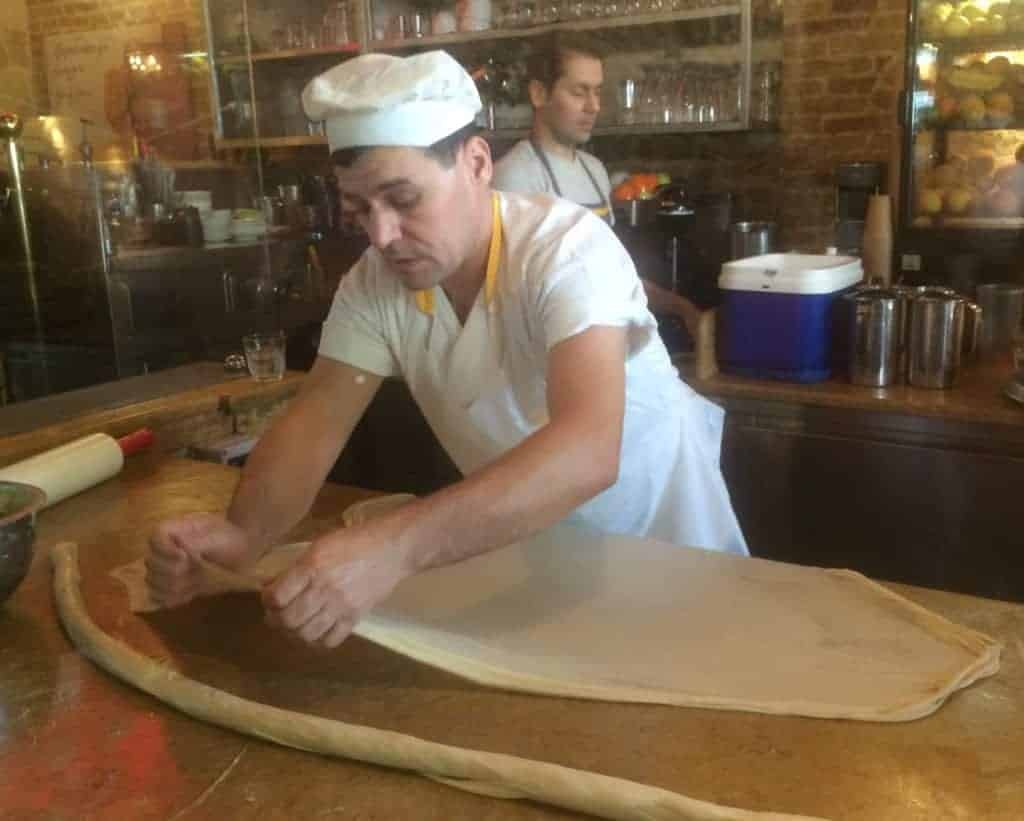 The final stop on our Athens food tour was a Greek bakery adored locally for its bougatsa. Bougatsa is a sweet Greek pastry that is made by stacking layers of handmade filo pastry and then stuffing them with sweet semolina custard.
The process of making this dish was fascinating in itself. It was interesting to watch as the chefs swung the pastry wildly around their heads. Bougatsa is commonly served with a generous sprinkling of icing sugar and cinnamon.
Suggested Athens Tours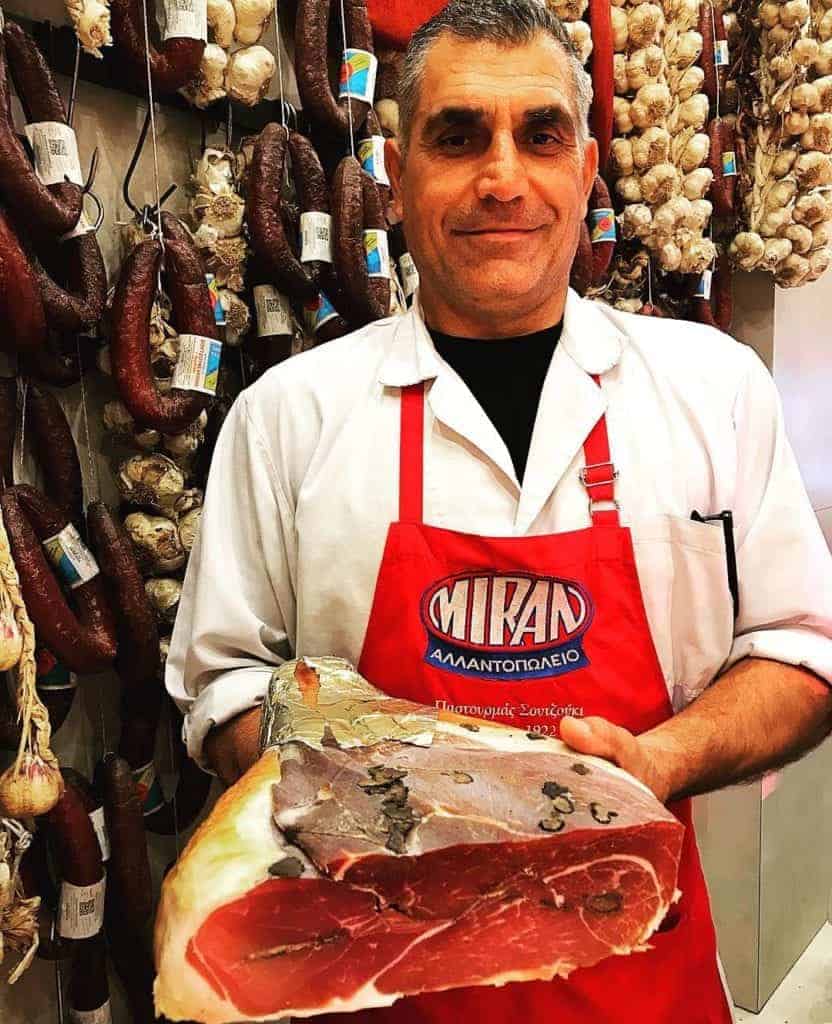 You can find the food tour that I did in Athens here. Foodie travel experiences in Greece go beyond food tours. You can also consider taking cooking classes or organising wine or olive oil tastings.
Cooking classes held in the home of an Athenian local help you learn how to cook traditional cuisine just like yiayia. A few Athens foodie experiences that are worth adding to your radar are detailed below.
Parting Words
An Athens food tour makes a nice introduction to arriving in the city. It is more interactive and engaging than a standard walking tour.
Do you have any additional questions about organising an Athens food tour or planning a trip to Greece? I have lived in Athens for the last three years now.
I am happy to assist with any questions that you may have. Please don't hesitate to reach out to me. Safe travels!
Geia sou! Melissa xo
---