Finding vegetarian and vegan food in Greece probably sounds like it's going to be a difficult task. After all, meat is a huge part of Greek food culture. The reality is that it is much easier to find than you might imagine. Not to mention, there is lots of variety too!
Don't think that being veggie/vegan in Greece means having to order the same boring salads every day because that is simply not the case.
About This Guide
I have lived in Greece for almost three years now. As a self-proclaimed foodie (aka a nice way of saying "greedy person"), I've tried almost every dish here! I've written this article as a listicle. It details lots of different foods and then specifies if they are vegetarian and/or vegan.
Where to Find Vegetarian and Vegan Food in Greece
As I mentioned, it's not as difficult as you may imagine to find vegetarian and vegan food in Greece. In large cities like Athens and Thessaloniki, you can find lots of good restaurants that cater specifically to vegetarians and vegans (will write an article on that soon). Besides those though, you are not short of choices.
I would recommend that you look out for mezedopoleio places. These are traditional taverna-style restaurants that specialise in "small plates" – kind of like Spanish tapas. You can order lots of little dishes to share with your dining companions and they only cost a few euros each. The best thing is that a lot of them are vegetarian and vegan!

Classic Greek tavernas will have popular vegetarian and vegan dishes, but the menus tend to focus on either meat or seafood. Sometimes the atmosphere is very smoky and you can see meat being prepared on a spit, so I'm not sure if that's the kind of place that you want to dine in.
Vegetarian and Vegan Foods in Greece
A selection of great choice vegetarian and vegan foods to try in Greece is detailed below. This is not exhaustive, and I will keep adding more suggestions to this list as and when I discover new things!
Greek Fava (Yellow Split Pea Puree)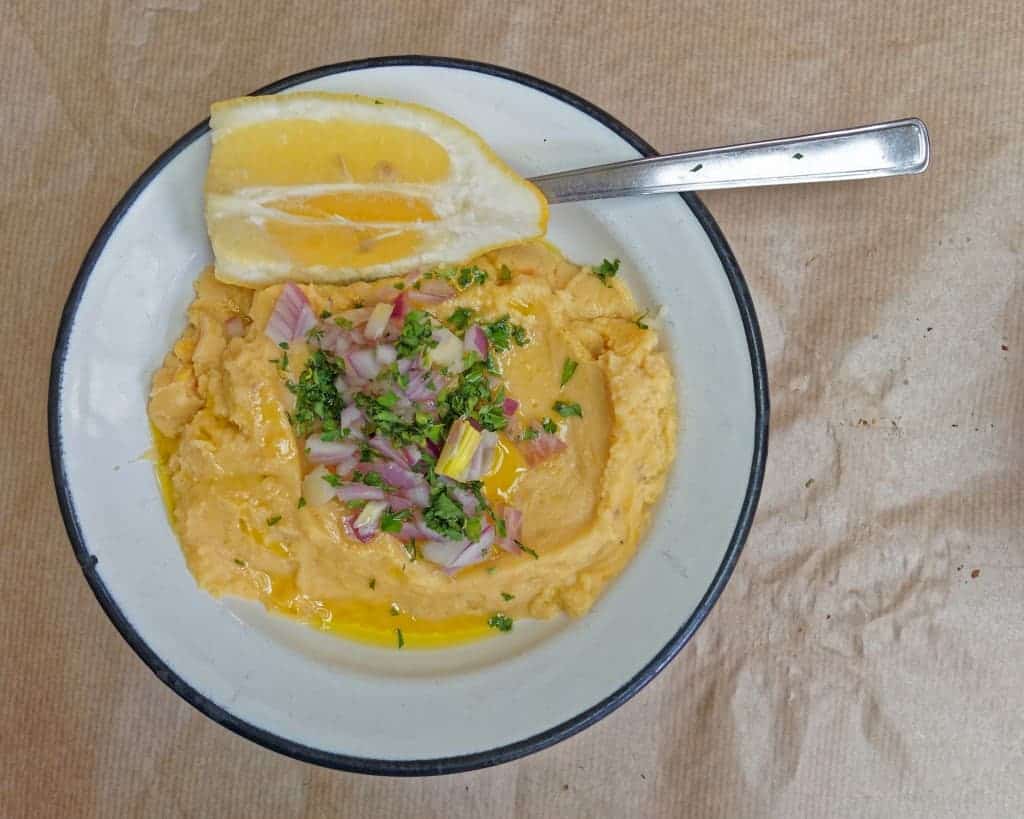 Fava bean puree is my favourite dish in Greece. It comes from beautiful Santorini and I've ordered it pretty much every time I've seen it on a menu – which is a lot considering I've been here for three years! I'll never get sick of it.
This dish is simple. Yellow fava beans are pureed and then red onions, garlic, olive oil, lemon juice, and thyme are added. Some restaurants add other goodies too, like capers.
You usually eat this with homemade bread that the restaurants make themselves. Or you can eat it with a spoon if you're a troll like me. You'll find this dish almost EVERYWHERE. It's one of the most popular Greek meze dishes.
Vegan-friendly? Yes but check with the restaurant about their bread.
Fasolakia (Greek Braised Green Beans)
Fasolakia is one of the most flavourful dishes in Greece. Honestly… it will change your life! Fasolakia is Greek green beans cooked until they are incredibly soft and have a texture that is kind of like tagliatelle.
The beans are served in a sauce made from pureed tomatoes, olive oil, onions, garlic, and spices (usually oregano and cumin – it's not spicy!) Portions are huge in Greece and actually sometimes I order a plate of fasolakia as a main, even though it's a meze. Some restaurants make their fasolakia in different ways and add potatoes or other veggies inside.
Vegan-friendly? Yes, and gluten-free!
Dakos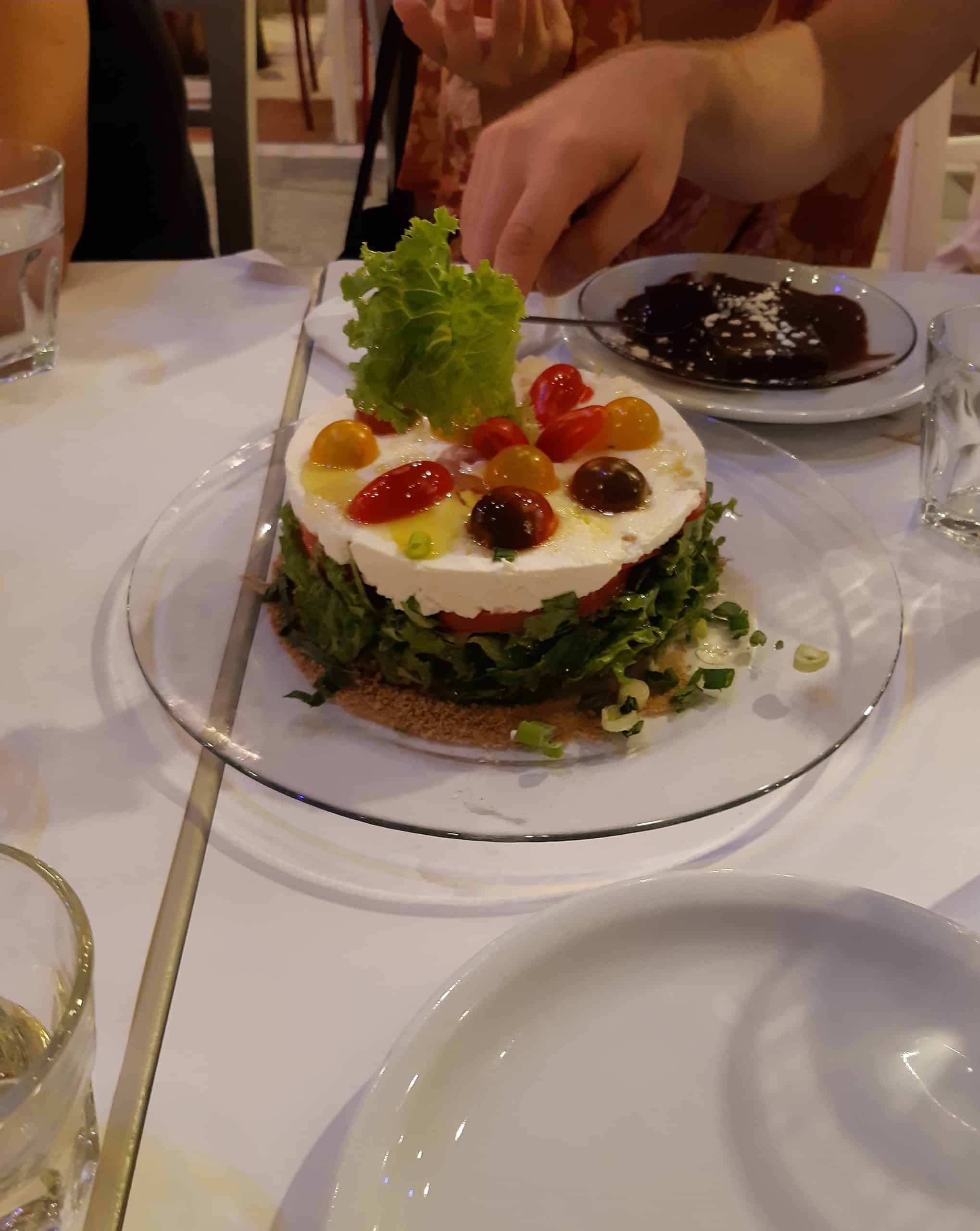 Dakos is a really delicious salad that is presented like a cake – a salad cake! It is a Cretan dish so it's not a super common thing to find in mainland Greece/outside of Crete, but some restaurants do prepare their versions of it.
Unfortunately, Dakos contains cheese so it isn't vegan-friendly. The base layer of this salad is made up of barley rusks. It is then topped with a generous serving of soft cheese – commonly Cretan mizithra, or feta if you're outside of Crete. Cherry tomatoes and black olives decorate the top of the salad and then the whole thing is drizzled with olive oil. The idea of Dakos is to share it between two or more people.
Vegan-friendly? No. This dish contains cheese.
Lentil Soup (Fakes)
Greek lentil soup (fakes) is a popular starter dish across Greece. The soup is very similar to lentil soups that you may have sampled in Turkey or the Middle East. If you travel to Greece during the winter months, there is nothing cosier than a steaming hot bowl of fakes. Typically, this is served with a drizzle of olive oil and a dash of vinegar. Huge portions of lentil soup in Greece typically cost no more than €4-5.
Vegan-friendly? Yes, and gluten-free!
Chickpea Soup (Revithia)
Delicious, creamy, filling and golden, Greek chickpea soup (revithia) is a classic Greek winter dish. You can find it here all year round of course, but whether you want to eat hot soup during 40-degree heat in the height of summer is another matter!

Revithia is prepared with chickpeas, chopped celery, carrots, sage, and thyme. It is incredibly simple, yet so hearty and filling!
Vegan-friendly? Yes, and gluten-free!
Spanakopita
Spanakopita is essentially the national pastry of Greece. This light, fluffy filo pastry is filled with delicious, crumbly feta cheese and spinach. You can buy huge slices of spanakopita (enough for 2 portions essentially) at most Greek bakeries for €1.70.
If you opt to stay in self-catered accommodation, you can enjoy your spanakopita with Greek yogurt for a lovely light lunch. Spanakopita is also commonly served as part of a continental breakfast at a lot of hotels in Greece.
Vegan-friendly? No. Spanakopita contains feta cheese
Greek Salad
When you eat out in Greece, people pretty much always order a salad for the table to accompany their main dishes. Menus at restaurants and tavernas usually detail a range of different salad dishes, but Greek salads ("horiatiki") is the best known.

Did you know that there is not actually any lettuce contained in Greek salads? The dish is made from fresh Greek cherry tomatoes, cucumbers, onions, and black olives. It is then seasoned with sprinklings of salt and oregano before a dash of olive oil is added. Horiatiki usually contains feta cheese, but vegan diners can request that this is omitted.
Vegan-friendly? No, the salad contains feta cheese. However, you can request that this is not added. 
Tomato Keftedes
Tomatokeftedes are a type of vegetable fritter that originates from Santorini. This is a popular appetiser in the Cyclades, but you will see tomato keftedes also served at a lot of tavernas in mainland Greece as well. The dish is made by pureeing tomatoes, and then frying them in olive oil. You can enjoy tomato keftedes alone, or dip them in tzatziki.
Vegan-friendly? Yes
Kolokithokeftedes
There are a few variations of the Santorini tomato keftedes, each made with different vegetables. One popular version of this dish is kolokithokeftedes – fried zucchini fritters commonly prepared with feta and herbs. Sometimes you can also find tiganita kolokithakia (Zucchini chips) but these are less common.
Vegan-friendly? Maybe – check with the specific taverna to see if they are preparing the dish with feta cheese.
Black-Eyed Pea Salad
The Greek black-eyed pea salad is refreshing and tasty. This is another very popular dish that you will find in most tavernas and meze places. The peas are boiled and served with leeks, carrots, tomatoes, spring onions, mint, and parsley. The dish usually tastes quite minty. Olive oil is then drizzled over the top.
Vegan-friendly? Yes, and gluten-free!
Bean Soup (Fasolada)
Fasolada soup is often referred to as being the "national dish of the Greeks", but it's similar to a lot of other Mediterranean dishes. If you've spent a lot of time travelling across Europe, chances are that you've had something similar to this before (It's like Spanish "fabada" or Italian "fagiolata").

This dish is prepared using Greek white/butter beans, vegetables (commonly onion and celery), extra virgin Greek olive oil, and balsamic vinegar.
Vegan-friendly? Yes
Vegetarian "Imam"
Vegetarian Imam is a popular veggie dish here in Greece. Its origins are actually Turkish (in Turkish the dish is called Imam bayildi). Imam consists of aubergine stuffed with tomatoes, garlic and spices. This is often cooked in an oven in Greece, however sometimes it is BBQ'd or cooked over hot coals creating a wonderful smoked flavour.
A lot of Greek dishes have Turkish origins, as a result of the country formerly being part of the Ottoman empire. Legend has it that when this dish was first created, it was so delicious that the Imam that sampled it fainted! (Imam bayildi literally translates to "the Imam fainted").

Note: Be sure to clearly specify that you want vegetarian Imam. The non-vegetarian version of this dish is very popular and is prepared with lamb.
Vegan-friendly? Yes
Spanakorizo
Spanakorizo is a simple dish comprised of white rice prepared with spinach. It is regarded as being the Greek answer to pilaf. Generous amounts of fresh lemon juice are squeezed over the top of the rice (you'll be given your own lemons), and then virgin olive oil is drizzled on top of it. This dish is more commonly found in the country and in more rural areas, however, you will sometimes find it at tavernas and canteens.
Vegan-friendly? Yes
Gemista
Gemista is the Greek answer to risotto – fresh vegetables stuffed with fluffy white rice, vegetables, and spices. Countless variations of gemitsa (also called "yemitsa") are available. Commonly, this is made with tomatoes or bell peppers.
Vegan-friendly? Maybe – check the specific recipe to ensure that cheese is not added.
Dolmades
Dolmades are a classic Greek dish comprised of stuffed vine leaves. You might have sampled a variation of this dish before. Dolmades are the same as "dolmas" found across Turkey, Central Asia, and the Middle East.

Dolmades are served in both vegetarian and meat-filled forms so be sure to double-check what you order. The vegetarian version of dolmas is often stuffed with white rice, onions, nuts, and dill. Fresh lemons are squeezed over the top for taste.
Vegan-friendly? Yes
Gigantes Plaki
Gigantes Plaki are baked beans served Greek style. If you're grossed out by the concept of the British-style baked beans, don't use that as a basis for judging Greek baked beans. Gigantes Plaki are infinitely more tasty and fresh. "Gigantes" means "giant" in Greek – aka the dish translates to "giant beans"
Large white Greek beans are cooked in a delicious, tomato sauce with cinnamon and oregano seasonings. You can order this as part of a meze, or enjoy the beans drizzled over homemade sourdough bread.
Vegan-friendly? Yes
Lahanosalata
Lahanosalata is essentially Greek coleslaw. You will often find that it is served as a side dish at tavernas and it is especially popular during the winter months on account of the seasonal, autumnal veggies that are used in the dish.
To make lahanosalata, finely shredded carrot and cabbage are flavoured with fresh fennel, extra virgin olive oil, and lemon juice. Like most Greek dishes, it is incredibly simple yet tasty.
Vegan-friendly? Yes
Skordalia
Skordalia is more of a condiment or sauce than a main dish. However, it is worth mentioning here as it is incredibly tasty and easily becomes a nice addition to a light lunch in Greece.
Potatoes are pureed and then mixed with crushed garlic, olive oil, and white wine vinegar to form skordalia. This thick and tasty sauce is then enjoyed over homemade bread or sourdough.
Vegan-friendly? Yes
Briám
Briam are Greek oven-baked vegetables that are seasoned and cooked to perfection. You can easily enjoy a plate of briam for one person and enjoy it as a main, or order it for the table as a side dish. Zucchini, aubergine, potatoes, and tomatoes are flavoured with aromatic herbs, drizzled with olive oil, and then baked in the oven.
Vegan-friendly? Yes
Patzaria
Patzaria is quite simply – roasted beetroot. This another popular meze dish here in Greece. Order patzaria in accompaniment of 4-5 other small dishes. The "Greek way" to eat patzaria is to pair it with Skordalia garlic puree.
Vegan-friendly? Yes
Lemon Roasted Potatoes
Lemon roasted potatoes are a staple at the Greek dinner table on Sundays. They are also commonly served as a side dish at tavernas. Don't underestimate how much more tasty potatoes become with just the simple addition of lemon juice and oregano.
Vegan-friendly? Yes
Tzatziki
Tzatziki is a staple Greek condiment. Go over to any Greek friend's house and you will likely find huge tubs of homemade tzatziki in their fridge. Tzatziki is Greek yogurt that is flavoured by adding chopped cucumbers, olive oil, salt, and garlic. Depending on the specific recipe, the condiment is also sometimes seasoned with vinegar or herbs.
Vegan-friendly? No
Vrasta
Vrasta (also referred to as "Horta Vrasta") are simply boiled greens. These are usually dandelion greens or spinach, made tasty with the addition of salt and lemon juice to taste.
Vegan-friendly? Yes
Excellent Farmer's Markets in Greece
You will find weekly farmer's markets (laiki) all over Greece. In large cities such as Thessaloniki and Athens, each neighbourhood hosts its own farmer's market. This is a great place to pick up fresh fruits and vegetables as well as other goodies like homemade jams and marmalades. If you are staying in self-catered accommodation, ask your host/reception where your local laiki is.
Parting Words
As I hope this list shows – you will have quite a few delicious food options here in Greece if you are vegetarian or vegan. Another thing to love about Greece is the freshness of the ingredients. All of the fruits and veggies here are locally grown and sourced.
There are also a lot of Greek restaurants that adopt the "farm to table" concept and grow their own veggies in their own backyard. I grew up in the UK where most things were imported and tomatoes were DISGUSTING. It's unbelievable how much more sweet and tasty they are in Greece.
If you have any more questions about this, or perhaps you've tried some wonderful vegetarian dishes in Greece that you'd like to share, feel free to drop me a comment below. I'll do my best to get back to you as soon as I can. Yiassou! Melissa xo
---