Taking a Florence day trip from Rome is a nice way to see a different Italian region if you only have a limited amount of time in Italy. If you are short on time, you can easily base yourself in the Italian capital and take day trips out from there.
Florence is very popular among international tourists and often becomes crowded during the summer months. However, the city's popularity certainly does not detract from its charm.
This is the art and culture capital of the country. Florence is somewhere that you absolutely must schedule the time to see at least once in your lifetime.
The gorgeous Tuscan capital boasts grand 15th-century palazzi (palaces), quaint medieval churches, beautiful sculpture gardens, and narrow cobbled streets that run alongside the scenic Arno river. It should come as no surprise that the entire centre of Florence is UNESCO protected.
Florence Day Trip from Rome:
Is One Day Enough?
Is a Florence day trip from Rome enough time to dedicate to the Tuscan capital? It is not ideal.
But if you are limited on time, it is better than not venturing here at all. One day in Florence is enough to see the city's most important places and to get a feel for Tuscan life.
If you have the flexibility to extend your time in Tuscany by even a day, you should consider doing so. That way, you can spend a day meandering through the UNESCO-protected centre, and another in the vineyards of Tuscany.
Best of all, the transportation links between Rome and Florence are excellent. This is one of the most popular day trips from Rome.
The Italo and Frecciarossa trains will get you to beautiful Firenze in just one hour and twenty minutes, meaning that you have a good full day of city exploration ahead of you.
Florence Day Trip from Rome:
The Best Things to do in Florence
Try to set out as early as possible on your day trip to Florence from Rome. If you can get there at about eight or nine in the morning, you can have a full day of exploration. It'll be tiring but worth it!
Have your prima colazione at the Piazza Duomo
On arrival in Florence, head to the Piazza Duomo for your prima colazione (Italian-style breakfast). This is one of the most important squares in the Tuscan capital and home to the city's cathedral – Santa Maria del Fiore.
Pull up a chair beneath one of the cabanas outside the restaurants that spill into the piazza. Typical Italian breakfasts are sweet, and locals will eat some biscotti or a pastry.
Order a "cornetti" (Croissant), brioche, or a Neapolitan sfogliatella. Then, wash it down with a strong Italian espresso.
Breakfast views don't get much better than this! Enjoy people-watching here and marveling at the impressive gothic architecture in the square. Then, prepare to explore the magnificent duomo.
Explore the interiors of the Duomo
After breakfast, take a quick trip inside the Duomo (cathedral). Construction on Florence's duomo started in the 13th century and it took more than two centuries to complete!
The cathedral was built over the top of a 7th-century church (church of Santa Reparata). This ancient church's remains can be seen inside the crypt.
The duomo's interiors are just as impressive as its exterior. Admire the impressive frescoes inside, the fabulous mosaic floor art, and keep an eye out for the intricately designed 14th-century clock that sits above the entryway. Despite being centuries-old, it still works to this day.
Entrance to the Duomo is free but there is often a queue outside (albeit one that moves rather quickly). If you want to, you can also ascend to the top of the Cupola for wonderful views across Florence and the Piazza Duomo below.
Keep in mind though that tickets for the cupola must be booked in advance. Only a limited amount of people are permitted entry each day.
See Michelangelo's David
Michelangelo's David is undoubtedly one of the most important pieces of Renaissance artwork in the world. The 14-foot statue was crafted sometime between 1501 and 1504.
"David" depicts the biblical hero as a standing male nude. Even if you don't consider yourself as someone with any real interest in art, you should still take the time to go say hey to David while taking a Florence day trip from Rome.
David waits inside the Galleria dell'Accademia. This is a small museum that was built with the specific purpose of housing David.
The museum is small and you only really need to spend thirty minutes or an hour here. Again, like a lot of Florence attractions, you must book your tickets to see David in advance. You can reserve your David tickets here.
Indulge in sumptuous local delicacies
Italy is generally considered as being the foodie capital of the world and in fact, the country's entire cuisine is UNESCO protected. Each region of Italy is renowned for its different culinary delicacies.
While taking a Florence day trip from Rome, be sure to sample some classic Tuscan dishes when you stop for lunch and dinner. Similar to Bologna, cured meats are popular in Florence.
An Affettati Misti (mini charcuterie board) is a common starter for main meals. Ordering one as an appetiser is a great opportunity to sample an array of cured Italian meats and cheeses.
Wild boar is a delicacy here too. The dish is typically paired with a strong, earthy red wine.
Consider ordering a pappardelle al cinghiale if you would like to sample this rich, flavourful meat. Your Italian servers can help to advise you on the best wine pairings for your food.
Ask locals or the people at your hotel for their recommendations when choosing where to eat. This way you can ensure that you avoid falling into a tourist trap. The best restaurants in Florence range from elegant and award-winning osterias to quaint little family-owned trattorias with handwritten menus.
See the statues at the Piazza Signoria
Piazza Signoria is Florence's main square and a work of art in itself. The piazza is filled with detailed marble statues that are well worth stopping to admire.
Several notable sites encompass the Piazza Signoria. These include the Uffizi Gallery, the fountain of Neptune, and the Palazzo Della Signoria.
The magnificent fountain of Neptune was sculpted by Bartolomeo Ammannati and Giambologna in 1563-5. It is also often referred to as "the great white" due to its shimmering marble appearance.
Admire incredible sculptures and art pieces at the Uffizi Gallery
The Uffizi Gallery is Florence's most famous and important museum. The gallery boasts both historical and art exhibits. There is an extensive collection of sculptures contained inside which range from the Middle Ages to the Ancient Greek and Roman eras.
Most notably, the Uffizi Gallery is globally renowned for its extensive collection of Renaissance art pieces. The various rooms display works from the likes of Michelangelo, Botticelli, Raffaello, and Caravaggio.
The Gallery sprawls across several floors and to explore it all would take a fair few hours. It is necessary to purchase your entrance tickets in advance.
If there is a particular section of the Gallery that interests you, it is possible to take a guided tour that allows you to concentrate on that part of the museum. For instance, perhaps you want to discover more about ancient sculptures or artwork.
Visiting the Uffizi Gallery can easily take up an entire afternoon in Florence. So, it is completely your call as to whether you want to incorporate it into your Florence day trip or not.
Depending on your interest in art, you may just want to hurry through it, or spend an entire afternoon there. Fastrack Uffizi gallery tickets can be reserved online in advance here.
Sample Tuscan wines at a Florence wine tasting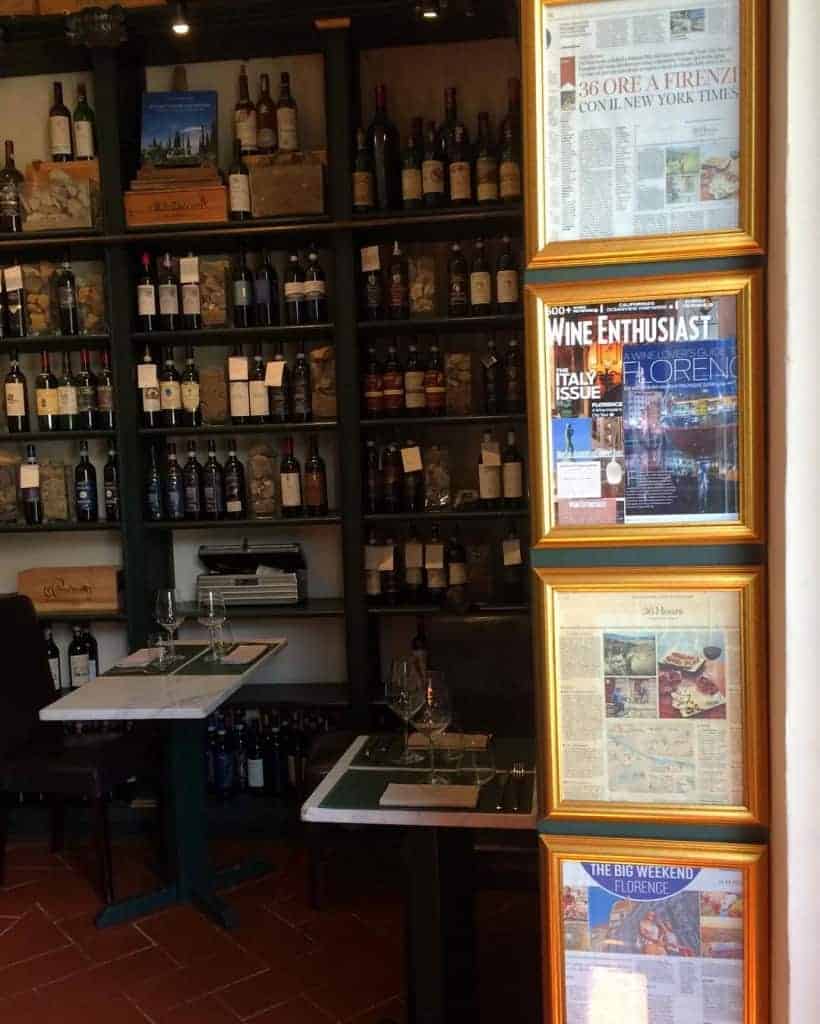 There are plenty of opportunities to go wine tasting in Tuscany. This is one of the best wine regions in Italy.
Beloved Carmignanos, Tignanellos, and Sassicaias are produced here. There is a reason that people from across the world travel hundreds of miles to sample Tuscan wine.
Arguably the best way to have a Tuscan wine tasting experience is to do so at one of the scenic vineyards that surround Florence. However, if you are short on time, you can also do so at one of the wineries close to the city centre.
Alternatively, there are many excellent wine bars in Florence where you can enjoy wine pairings with charcuterie boards. Casa del Vino is a lovely hole in the wall that is hidden away behind the San Lorenzo market.
Enoteca Pitti Gola e Cantina and Enoteca Alessi are two other highly rated establishments to add to your radar. Both offer a tasting whereby you can try a selection of 5-6 wines paired with an Italian cheese board and some rustic Tuscan bread.
Stroll along the Arno River
A scenic stroll along the Arno River is a nice activity to do on your Florence day trip from Rome. The view is particularly stunning as the sunsets.
Look out for the beautiful Ponte Vecchio bridge. This is the oldest bridge in the city and it is surrounded by charming pastel-coloured houses and stores.
Furthermore, this structure has some historical significance. The Ponte Vecchio is the only bridge the Nazis did not destroy during their WWII invasion of Florence.
Enjoy magnificent panoramic views from the Piazzale Michelangelo
Seeing Florence from above is a magnificent sight, regardless of whatever time of day you stop by. Piazzale Michelangelo is one of the city's best viewpoints.
It is situated on a hill in Florence's eastern Oltrarno district. It is well worth following the path to the top of the hill. From up here, you can enjoy fabulous panoramas over the artsy city and the Arno river glistening down below.
The piazza is a somewhat new Florentine monument. It was designed in 1869 by local Architect Giuseppe Poggi.
A bronze replica of the statue of David awaits at the square's centre. Various historic walking routes weave through the cityscapes and take you to the square.
One particularly scenic trail is the 3km hike from Porta Romana/exit of Boboli Gardens. This leads you along Viale Machiavelli and Via Galileo.
Haggle your way through the San Lorenzo Market
Florence's San Lorenzo Market is a great place to pick up trinkets and souvenirs as a reminder of your time in Tuscany. Essentially, the market is divided into two sections.
There is the indoor Mercato Centrale and the outdoor San Lorenzo market. Start your time here by exploring the outdoor section of the market.
Here, hundreds of vendors spill out onto the cobbled streets that surround the Mercato Centrale. You can purchase practically every item imaginable from the various stalls.
Everything from handmade pottery to leather goods, fine fabrics, and souvenirs can be found here. Head into the indoor section of the market – the Mercato Centrale.
This is housed inside a beautiful structure that was designed by Architect Giuseppe Mengoni. He is the same Architect that envisaged the Galleria Vittorio Emanuele II in Milan.
His Milan masterpiece is widely regarded as being one of the most beautiful shopping malls in the world. Mercato Centrale's indoor market dates back to 1870 and has retained a lot of its original character.
The ground floor is filled with food stalls catered to locals. They sell meat, fresh fish, fruits, vegetables, and specialty products.
Parinis is one stall well worth checking out. This family-owned stall sells cured meats, cheese, condiments, olive oils, balsamic vinegar, and local wines.
You should also be sure to head to the gourmet food court on the first floor of the market. Here you can order sumptuous dishes from restaurants with open kitchens where you can watch your food being prepared.
Getting from Rome to Florence
You have a number of options available for getting from Florence to Rome. Arguably the best choice depends a lot on your personal preferences, budget, and travel style.
The best way to get from Rome to Florence via public transport is to do so by train. Renting a car in Italy is perhaps the option that comes with the most freedom. If you prefer to have everything organised for you, rather than worrying about transport logistics, you can also take a guided tour.
Rome to Florence Day Tours
A number of reputable local tour companies offer day trips from Rome to Florence. A lot of these include pick up and drop off at your hotel in Rome.
Opting to participate in a tour omits a lot of the stress of wondering how to get from A to B, worrying about transport schedules, etc. It also means that you will have an expert local on hand to ask questions about the best places to eat, drink, and hang out in Italy.
If you don't want to spend the entire day with a tour guide, you can also do short walking tours and food tours when you arrive in Florence. A number of reputable tours are detailed below for your consideration.
Rome to Florence Train
Taking a Florence day trip from Rome by train is very easy. However, there are a few things that you need to take into consideration.
First of all, you need to ensure that you travel to Rome via fast train, not by regional train. The latter is extremely slow and the journey takes almost four hours in each direction.
It is also worth noting that "fast" trains can get quite expensive. You should consider reserving your tickets online, in advance, if possible.
There are two main Italian train companies that service this route: Italo Treno and Trenitalia. Both offer frequent services on clean modern trains.
Trenitalia Trains depart every thirty minutes from Termini and travel to Firenze Santa Maria Novella. Some trains stop at Roma Tiburtina en route. Many do not.
Italo Treno trains depart 30-60 minutes from Roma Termini and Roma Tiburtina.
Try to get Roma Termini station as early as possible to make the most of your Florence day trip from Rome. Early morning trains do sell out occasionally. This is particularly true if you are travelling during the peak summer months or on an Italian holiday.
Driving from Rome to Florence
Driving in Italy is not as daunting as it might seem. Yes, the roads can seem a little more chaotic here but when it comes down to road rules and the overall driving experience, driving in Italy is little different from driving anywhere else in the world.
Italians drive on the right-hand side of the road like the majority of Europe and the world. Speed limits are strictly enforced here, and speed cameras are located along roads and highways in and between towns and cities.
The limits are 50km/h (30 mph) in cities and towns, 90 km/h (55 mph) on single carriageways, 110 km/h (about 68 mph) on dual carriageways, and 130 km/h (80 mph) on motorways. You also need to be mindful of Zona a Traffico Limitatos (ZTL).
These are no-car zones. They are clearly marked and exist to protect historical and cultural areas.
The fines for accidentally entering a ZTL can be hefty. The entirety of old town Firenze is a ZTL so be mindful that you will have to find parking a short walk away.
Opting to rent a car and drive from Rome to Florence gives you a lot more flexibility in your schedule. You can also visit attractions in wider Tuscany en route.
For instance, you may like to spend your evening unwinding in a Tuscany spa. Alternatively, if you have a designated driver, you may enjoy touring some of the nearby vineyards.
Parting Words
Do you have any further questions about taking a Florence day trip from Rome, planning a trip to Italy? Alternatively, do you need assistance with crafting an Italy travel itinerary?
I used to live in Italy (Napoli) and have explored this beautiful country extensively. Feel free to drop me a comment below if you need any assistance. I will do my best to get back to you as quickly as I can.
Buon Viaggio! Melissa xo

---