Taking a Florence day trip from Rome is a nice way to see a different Italian region if you only have a limited amount of time in Italy. Florence may be popular among tourists, but as the art and culture capital of the country, it is somewhere that you absolutely must schedule the time to see at least once in your lifetime.
With grand 15th century palazzi (palaces), quaint medieval churches, beautiful sculpture gardens, and narrow cobbled streets that run alongside the scenic Arno river, it should come as no surprise that the entire centre of Florence is UNESCO protected.
Florence Day Trip from Rome:
Is One Day Enough?
In a perfect world, you would be able to spend a few days in Florence exploring the city at a relaxed pace. Wandering around the various neighbourhoods, gelato in hand is as much a part of the Firenze experience as seeing the most notable sites.
From there, you would move onto the vineyards of Tuscany. That said, if you only have a day to spend in Florence then yes, that is ample time to see the most important places and to get a feel for Tuscan life.
Best of all, the transportation links between Rome and Florence are excellent. The Italo and Frecciarossa trains will get you to beautiful Firenze in just one hour and twenty minutes, meaning that you have a good full day of city exploration ahead of you.
Florence Day Trip from Rome:
The Best Things to do in Florence
Try to set out as early as possible on your day trip to Florence from Rome. If you can get there for about eight or nine in the morning, you can have a full day of exploration. It'll be tiring but worth it!
Have Your Prima Colazione at the Piazza Duomo
On arrival in Florence, head to the Piazza Duomo for your prima colazione (Italian-style breakfast). This is one of the most important squares in the Tuscan capital and home to the city's cathedral – Santa Maria del Fiore.
Pull up a chair beneath one of the cabanas outside the restaurants that spill into the piazza. Typical Italian breakfasts are sweet, and locals will eat some biscotti or a pastry. Order a "cornetti" (Croissant), brioche, or a Neapolitan sfogliatella and wash it down with a strong Italian espresso. Breakfast views don't get much better than people watching here and marveling at the impressive gothic architecture in the square!
Explore the Interiors of the Duomo
After breakfast, take a quick trip inside the Duomo (cathedral). Construction on Florence's duomo started in the 13th century and it took more than two centuries to complete! The cathedral was built over the top of a 7th-century church (church of Santa Reparata) whose remains can be seen inside the crypt.
Admire the impressive frescoes inside the cathedral, the fabulous mosaic floor art, and keep an eye out for the intricately designed 14th-century clock that sits above the entryway and still works!
Entrance to the Duomo is free but there is often a queue outside (albeit one that moves rather quickly). If you want to, you can also ascend to the top of the Cupola for wonderful views across Florence and the Piazza Duomo below. Keep in mind though that tickets for the cupola must be booked in advance.
See Michelangelo's David
Michelangelo's David is undoubtedly one of the most important pieces of Renaissance artwork in the world. Even if you don't consider yourself as someone with any real interest in art, I would still recommend taking the time to go say hey to David while taking a Florence day trip from Rome.
David waits inside the Galleria dell'Accademia – a small museum which was built with the specific purpose of housing David. The museum is small and you only really need to spend thirty minutes or an hour here. Again, like a lot of Florence attractions, you must book your tickets to see David in advance.
Indulge in Sumptuous Local Delicacies
While Italy is generally considered as being the foodie capital of the world, each region of Italy is renowned for its different culinary delicacies. While taking a Florence day trip from Rome, be sure to sample some classic Tuscan dishes when you stop for lunch and dinner.
Similar to Bologna, cured meats are popular in Florence. An Affettati Misti (mini charcuterie board) is a common started for main meals. Wild boar a delicacy here too. The dish is typically paired with a strong, earthy red wine. Consider ordering a pappardelle al cinghiale if you would like to sample this rich, flavourful meat.
When choosing places to eat, ask locals or the people at your hotel/Airbnb for their recommendations. This way you can ensure that you avoid falling into a tourist trap. The best restaurants in Florence range from the elegant and award-winning osterias to quaint little family-owned trattorias with handwritten menus.
See the Statues at the Piazza Signoria
Piazza Signoria is Florence's main square and a work of art in itself. The piazza is filled with detailed marble statues that are well worth stopping to admire. Several notable sites encompass the Piazza Signoria – including the Uffizi Gallery, the fountain of Neptune, and the Palazzo Della Signoria.
Admire Incredible Sculptures and Art Pieces at the Uffizi Gallery
The Uffizi Gallery is Florence's most famous and important museum. The gallery boasts both historical and art exhibits. There is an extensive collection of sculptures contained inside which range from the Middle Ages to the Ancient Greek and Roman eras.
Most notably, the Uffizi Gallery is globally renowned for its extensive collection of Renaissance art pieces and works from the likes of Michelangelo, Botticelli, Raffaello, and Caravaggio.
The Gallery sprawls across several floors and to explore it all would take a fair few hours. It is necessary to purchase your entrance tickets in advance. If there is a particular section of the Gallery that interests you (i.e. the ancient sculptures or the artwork), it is possible to take a guided tour that allows you to concentrate on that part of the museum.
Since the Uffizi Gallery can easily take up an entire afternoon in Florence, it is completely your call as to whether you want to incorporate it into your Florence day trip or not, and how much time you would like to dedicate to spending inside.
Sample Tuscan Vinos at a Firenze Wine Tasting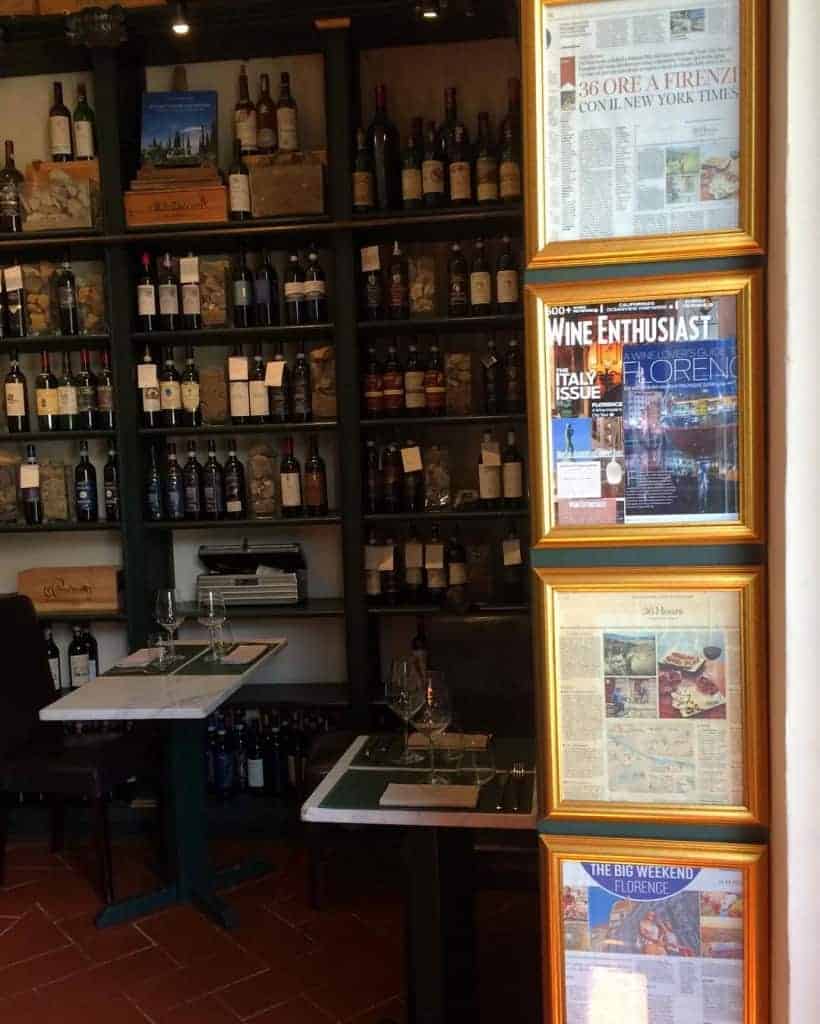 The idea of wine tasting in Tuscany no doubt conjures up romantic ideals of sipping a glass of chianti in a scenic vineyard surrounded by rolling green hills. With that said, getting out to the vineyards requires extra time. When enjoying a Florence day trip from Rome, a nice alternative is to do a wine tasting at a local wine shop or bar.
Casa del Vino is a lovely hole in the wall that is hidden away behind the San Lorenzo market. The bar staff can assist in recommending an excellent wine for you based on your taste. With each wine purchase, you are given a selection of canapes. Rest assured, you will find plenty of locals inside Casa del Vino so it is certainly not a tourist trap.
Very highly rated alternative places to add to your radar for wine tastings are Enoteca Pitti Gola e Cantina and Enoteca Alessi. Both establishments offer a tasting of a selection of 5-6 wines paired with an Italian cheese board and some rustic Tuscan bread.
Stroll Along the Arno River
A scenic stroll along the Arno River is a nice activity to do on your Florence day trip, especially as the sunsets. Look out for the beautiful Ponte Vecchio bridge – the oldest bridge in the city which is surrounded by charming pastel-coloured houses and stores. The Ponte Vecchio is the only bridge the Nazis did not destroy during their WWII invasion of Florence.
Enjoy Magnificent Panoramic Views from the Piazzale Michelangelo
Piazzale Michelangelo (Michelangelo's Square) is situated on a hill in Florence's eastern Oltrarno district. From up here, you can enjoy fabulous panoramas over the artsy city and the Arno river.
Haggle Your Way Through the San Lorenzo Market
Florence's San Lorenzo Market is a great place to pick up trinkets and souvenirs as a reminder of your time in Tuscany. Essentially, the market is divided into two sections: The indoor Mercato Centrale, and the outdoor San Lorenzo market.
Start your time here by exploring the outdoor section of the market where hundreds of vendors spill out onto the cobbled streets that surround the Mercato Centrale. Practically every item imaginable can be procured from the various stalls – from handmade pottery to leather goods, fine fabrics, and souvenirs.
Head into the indoor section of the market – the Mercato Centrale. This is housed inside a beautiful structure that was designed by the same architect who envisaged the Galleria Vittorio Emanuele II in Milano (Giuseppe Mengoni). The indoor market dates back to 1870 and has retained a lot of its original character.
The ground floor is filled with food stalls catered to locals selling meat, fresh fish, fruits, vegetables, and specialty products. Parinis is one stall well worth checking out. This family-owned stall sells cured meats, cheese, condiments, olive oils, balsamic vinegar, and local wines. You should also be sure to head to the gourmet food court on the first floor of the market where you can watch Tuscan classic dishes being prepared.
Getting from Rome to Florence by Train
Taking a Florence day trip from Rome by train is very easy. I would advise getting to Roma Termini station as early as possible to make the most of your trip. There are two main Italian train companies that service this route: Italo Treno and Trenitalia. Both offer frequent services on clean modern trains.
Trenitalia Trains depart every thirty minutes from Termini and travel to Firenze Santa Maria Novella. Some trains stop at Roma Tiburtina en route but many do not.
Italo Treno trains depart 30-60 minutes from Roma Termini and Roma Tiburtina.
Early morning trains do sell out occasionally, especially if you are travelling during the peak summer months. Italy train tickets can be purchased online in advance, or from one of the ticket machines/booths at Roma Termini station a day or two before departure.
Have any further questions about taking a Florence day trip from Rome, planning a trip to Italy, or crafting an Italy travel itinerary? I used to live in Italy (Napoli) and have explored this beautiful country extensively. Feel free to drop me a comment below if you need any assistance. I will do my best to get back to you as quickly as I can. Buon Viaggio! Melissa xo

---