Best things to do in Bologna? There are plenty of things to do in Bologna to warrant spending a long weekend here. This is the capital of Northern Italy's Emilia Romagna region.
Bologna may well be one of the most picturesque and underrated cities in all of Italy. Medieval terracotta structures, porticoed streets, and cobbled piazzas combine to give Bologna its signature charm.
The ancient city's graffiti-laden squares and buildings add a layer of grit and personality to an otherwise elegant city. A visit to Bologna is best enjoyed as part of a wider Italy travel itinerary.
You can easily pair a visit to Bologna with an exploration of nearby Modena and Parma. Alternatively, Bologna makes a nice destination for a long weekend break in Europe.
A Little History of Bologna
Over the centuries, Bologna has gained several nicknames. Locals referred to it as "La Rossa" (The red one).
This name was awarded on account of the city's signature rusty-coloured buildings. Others affectionately donned it as "La Grassa" (the fat one).
Bologna is essentially Italy's foodie capital. Various food delicacies originated from Bologna, winning the city international acclaim.
You may also hear a reference to Bologna as La Dotta – the learned one. Bologna's university dates back to 1088. As such, Bologna is Europe's oldest university town. 
The Best Things to Do in Bologna Italy 
At first glance, Bologna seems like a relatively compact, unassuming city. When you compare it to Italian cities such as Milano, Roma, or Firenze, Bologna appears like a small town with few archaeological highlights.
Don't be deceived. Whether you are embarking on a weekend break to Bologna or exploring the area as part of a wider Italy travel itinerary, rest assured, you won't be short of things to do in Bologna while in town.
Hang Out in Piazza Maggiore
The graffiti-laden walls of Piazza Maggiore make up Bologna's main square. Here, dozens of restaurants and coffee shops encompass the cobbled piazza.
One of the best things to do in Bologna is to head to Piazza Maggiore in the morning. Enjoy your prima colazione (breakfast) here at a leisurely pace.
Sip a cappuccino, indulge in a sweet Italian pastry, and people watch from beneath one of the cabanas in the square. Piazza Maggiore is one of the oldest plazas in all of Italy. It has been the heart of the Bolognese social scene since the 13th century.
Take the time to marvel at the ornate exteriors of the historic buildings around the square while you're here. The Palazzo D'Accursio, the Palazzo del Podestà, the Basilica of San Petronio, and the Palazzo Re Enzo are all worth making a note of.
Today, bustling Piazza Maggiore exudes a charming atmosphere. Well-dressed Italians use the square as a rendezvous point for their meetings, coffee breaks, and dates.
Historically, the atmosphere here was much more macabre. This square was once used for political announcements and hangings!
Confess Your Sins at the Palazzo del Podestá
Most people who visit Bologna's Piazza Maggiore just wander through. However, if you enjoy stumbling across lesser-known attractions when you travel, add the secret whispering wall at the Palazzo del Podesta to your radar.
Once upon a time, lepers would come here to confess their sins and secrets to the wall. In some ways, you could compare it to the wailing wall in Jerusalem, Israel.
The site in itself is interesting. However, it is also worth having a try yourself and testing out the acoustics.
Stand diagonally across from your travel buddy and have a go at whispering to them or confessing your deepest, darkest secrets. You will be impressed by how well the message carries!
The entrance to the whispering wall is not obvious. Follow the narrow passageway that runs down the side of the Bologna Tourist Office in Piazza Maggiore.
Sample a Charcuterie Board and Wine Pairing
Bologna and the Emilia Romagna region of Italy are both widely regarded as being the foodie capital of Italy. Even Italians from other parts of the country will begrudgingly admit that yes, okay, the Emilia Romagna cuisine is perhaps the best in the country!
In central Bologna, and particularly along Via Drapperie, you will find countless salumerias. These traditional establishments specialise in serving up charcuterie boards.
This way, visitors to Bologna can sample an array of the finest cured meats, wines, and cheeses from the region. Mortadella is the most well-known cured meat to be found in Bologna.
This beloved Bolognese delicacy is essentially ground pork that is mixed with lard and then seasoned. It is more delicious than it sounds!
You will find mortadella practically everywhere you turn in Bologna. However, a charcuterie board offers you a chance to sample some of the lesser-known cold cut delicacies.
Salame rosa and Lyon are two other cold cuts to look out for. La Baita (Via Saragozza, 87/a, 40135 Bologna), Vecchia Malga (Via Mazzini, 93, 40137 Bologna), Simoni Laboratorio (Via Pescherie Vecchie, 3/b, 40124 Bologna BO), and Salumeria Simoni (Via Drapperie, 5/2a, 40100 Bologna) are three local establishments that prepare excellent charcuterie boards.
Experience Bologna Like a Local on a Food Tour
Eating is one of the best things to do in Bologna. That is followed by eating, and.. oh yes… more eating!
Bologna is the birthplace of numerous internationally renowned Italian delicacies. Ragu, tortellini, and tagliatelle all originated here.
As you meander through the narrow streets and cobbled passageways of old Bologna, you will stumble across countless restaurants that serve authentic local dishes.
If you want to ensure that you try the best of the best, consider booking a Bologna food tour. This way you will uncover hidden trattorias that only the Bolognese locals know about.
Recommended Bologna Food Tours
A selection of the best-rated Bologna food tours are detailed below. If you opt to do a tour like this early on in your Bologna trip, it will help you get your bearings around the city.
Better yet, you will discover places that you may not have found independently. A local city expert will be able to advise you of the best places to eat, drink and hang out while you are in Bologna.
Admire the Torri degli Asinelli e Garisenda
The Due Torri of Bologna (two leaning towers) are the city's most iconic landmark. Pisa's leaning tower may be the most famous leaning tower in the world. However, Bologna's Garisenda tower actually leans at a greater angle! 
The two towers date back to the 1100s. Historically, they were used for military and defensive purposes.
At one point, over 100 similar defensive structures were scattered across the region. Sadly only a handful remain today.
Get a Bird's Eye View of the City from Asinelli Tower
While it's not possible to climb to the top of the leaning Garisenda Tower, you CAN ascend its neighbour: The Asinelli Tower. The winding narrow staircase provides quite a fitness challenge. There are no less than 498 steps to conquer!
When you arrive at the top though, you can enjoy breathtaking panoramic views over Bologna. You must purchase tickets for the Asinelli Tower in advance.
Entering the tower is just 5 euros per person. However, tickets should be bought from the Bologna Tourist Office in Piazza Maggiore.
Visitor numbers are limited each day. But you should not have an issue getting hold of a ticket, particularly if you head to the ticket office in the morning.
Take a Bologna Cooking Class
What better souvenirs could you take back from your time in Bologna than traditional Bolognese recipes that you have picked up from an Italian local? Cooking classes in Bologna are a great way to get beneath the surface of Italian food culture.
They are one of the best things to do in Bologna if you are looking to meet locals. You can organise cooking classes at local restaurants and culinary academies or in the home of an Italian local.
It all depends on your personal preference. Handmade tortellini, fresh tagliatelle, stuffed zucchini flowers, Bolognese ragu, and pannacotta are among the most renowned delicacies of Bologna.
Best Bologna Cooking Classes
Join a Boho Crowd at the Eclectic Bars of Via del Pratello
When night falls, Bologna offers a very vibrant and varied party scene. Via Zamboni has long been heralded as the city's student district.
The street is home to dozens of cheap and cheerful pubs. Meanwhile, nearby Via del Pratello is its quirky, bohemian counterpart. 
The bars along Via del Pratello range from craft breweries to bars-cum-art galleries and live music spots. Local favourites include Macondo (Via del Pratello, 22, 40122), Birroteca Bukowsky (Via del Pratello, 81/a, 40122), and Bar De' Marchi (Piazza S. Francesco, 4, 40122). 
Hang Out at an Ancient Italian Inn
Bologna's Osteria del Sole (Vicolo Ranocchi, 1, 40124 Bologna) provides a glimpse into what the city was like several centuries ago. The Osteria dates all the way back to 1465. Its simple, original style remains unchanged.
The concept of Osteria del Sole is different from what you may expect when you hear the phrase "Osteria". This place is certainly not a restaurant and does not even serve food.
This is a BYOF ("bring your own food") kind of place. Locals prepare their own pasta, lunches, and snacks, and bring them to the Osteria. Once inside, they enjoy their meals with locally sourced wines and Italian aperitifs.
Osteria del Sole is not signposted so it may be tricky to find at first. The establishment is a hole in the wall that brings literal meaning to the phrase "hole in the wall".
It is located on Via Ranocchi, a short walk away from Piazza Maggiore. This is one of the best things to do in Bologna if you want to experience authentic Bolognese nightlife without breaking the bank.
Visit a Bologna Winery
The most famous wine regions in Italy are perhaps the rolling hills of Tuscany or Veneto. However, the Bologna region too is home to several excellent and lesser-known vineyards.
If you consider yourself to be something of a wine connoisseur (or you just love a drink!), one of the best things to do in Bologna is to treat yourself to a wine tasting. There are several Italian wines that are native to this region.

A particularly beloved one is the Sangiovese di Romagna. This is a dry, tasty, ruby red wine. Its production is only allowed in the provinces of Forlì-Cesena, Ravenna, Rimini, and in seven municipalities of Bologna.
If you are interested to try Sangiovese de Romagna and other local blends, you can organise a tasting and tour of a local winery. It is easy to do this independently.
You can simply reach out to the winery that interests you via phone or email. Many also participate in agriturismo and have places where you can stay overnight. Alternatively, they can aid with organising your transport to and from the vineyard.
The Gaggioli vineyard and winery is a gorgeous place set in a converted farmhouse that once belonged to the noble Salina family. It sits in the district of Zola Predosa.
Winemaking traditions in this area date back as far as 1000AD and indeed, Benedictine Monks would produce wine in the town of Zola.
Admire the Works of Local Artists at the National Gallery
Art and creativity contribute a lot to modern Italian culture. The National Gallery (Via Delle Belle Arti, 56, 40126 Bologna) in Bologna offers insight into life in Emilia Romagna through the centuries.
The National Gallery is quite unlike other art museums. It does not display a diverse collection of works from around the globe. Instead, the art pieces on display here are all somehow linked to Emilia Romagna and Bologna.
The exhibitions at the National Gallery feature both Byzantine paintings and fine art pieces. The works date from the 13th century to the 18th century.
See the Hidden Canale di Reno
Venice may well be the Italian city that is known for its canals. However, Bologna is also home to an intricate network of waterways.
Sadly, the vast majority of Bologna's canals have now been covered up with construction or hidden from view. That said, if you know where to look, you can find incredibly photogenic waterways that most tourists don't realise exist.
A glimpse of one of the last remaining portions of Bologna's canals can be enjoyed at Via Piella. This is a narrow street nestled between Via Augusto Righi and Via Bertiera.
Wander the Cobbled Streets and Porticoes of Bologna
One of the best things to do in Bologna is to simply allow yourself the time to wander along the narrow cobbled passageways of the old town. If you use Piazza Maggiore and the two towers as landmarks, you can never really get lost.
Part of the charm of this vibrant Italian city is its quaint backstreets. Here, Vespas whizz by, ladies cook pasta at the side of the road, and locals sell fresh produce.
Outside of the cobbled old town, you will notice one of the most famous sites of Bologna – the city's porticoes. Porticoes are enclosed walkways and they are present on the majority of Bologna's streets and roads.
It is estimated that the porticoed areas of the city add up to 40km in length! Some of the most detailed walkways are situated close to the Sanctuary of the Madonna di San Luca and at the Bonaccorsi Arch. 
Visit the San Petronio Basilica
The San Petronio Basilica is Bologna's largest and most important church. However, on arrival, you will note that the structure was never completed.
At the time of San Petronio's construction, Bologna hoped that the grand church would become the largest and grandest in Italy. This was much to the dismay of the Pope who refused to fund the project.
Even though The San Petronio Basilica is incomplete, it is still one of the largest churches in the world. Within the basilica's grounds is the world's largest sundial.
You will also find some religious paintings here that have caused controversy. San Petronio Basilica sits in the charming Stefano Square, surrounded by two other churches.
Browse Traditional Stores at the Quadrilatero
Wander down the narrow street that leads away from Piazza Maggiore and you will find yourself at the Quadrilatero. This held the title of being Bologna's most important shopping district for centuries. Today, the Quadrilatero is a juxtaposition of ancient tradition that meets modern culture.  
Explore the traditional medieval market here, and check out the stalls at via Pescherie and via Drapperie. Bolognese locals still frequent these stores and markets in order to obtain the freshest ingredients for their home cooking.
Don't be shy to venture inside the various delicatessens, cheese shops, and patisseries. The store owners are typically very accommodating and will allow you to sample regional produce.
You will be able to sample different types of aged parmesan, various blends of balsamic vinegar from Modena, etc. The Quadrilatero is a good place to pick up foodie souvenirs or to buy high-quality ingredients from the markets if you are staying in self-catered accommodation.
Enjoy an Aperitivo at Piazza Santo Stefano
The Piazza Santo Stefano is best known for being home to the infamous San Petronio Basilica. However, this little square is also a great place to enjoy an aperitivo as the sun goes down. An aperitivo is a Northern Italian tradition that typically occurs between 6 and 8 pm.
Order a drink during this time period and you will be served an array of complimentary light snacks and bruschettas to tide you over until dinner time. A popular drink choice is the Aperol spritz.
Camera con Vista (Via Santo Stefano, 14/2a, 40125) is an upscale bar and bistro just off the Piazza Santo Stefano. It is renowned for its excellent aperitivo.
Marsalino (Via Marsala, 13/D), Camera S Sud (Via Valdonica, 5, 40126), and Bar with No Name (Via Belvedere, 11/B) are other great spots to enjoy an aperitivo in Bologna.
Browse the Boutique Stores of Local Italian Designers
A short walk away from the Quadrilatero is the Cavour Gallery. This exquisite mall is dedicated to some of the most exclusive Italian and international brands.
Nearby Via Clavature is filled with Independent boutique stores and is the best place to shop for unique pieces. Whether you are looking for beautifully crafted handmade Italian leather shoes or bespoke tailored garments, you will find it all here. 
Roberta Biaggi, Liviana Conti, and Liu Jo are all Italian Designers worth having on your radar. Italian designers often offer quality and luxury without the luxury price tag.
Indulge in Bolognese Delicacies in the City they Were Invented
Emilia Romagna and Bologna are not considered the foodie capital of Italy for nothing. Some of the most prominent Italian culinary classics were founded here.
When in Rome, or when in Bologna as it were, you must sample the city's namesake dish: Spaghetti Bolognese (aka tagliatelle al ragù). Italians pride themselves on their cuisine. It is UNESCO protected after all!
Most restaurants in Bologna serve a very good ragu. Ristorante Diana, Trattoria Anna Maria, and Osteria dell' Orsa are local favourites for this dish.
Bologna is the home of egg pasta and houses some of the best sfogline (pasta makers) in Italy. Meat-stuffed tortellini is another Bolognese food classic that should not be missed.
To enjoy tortellini the local way, head into a local deli and buy a box of handmade pasta to cook and enjoy at your accommodation. Le Sfogline, Bottega Dei Portici, and Salumeria Simoni are among the best-regarded pasta makers in town.
Marvel at the Sanctuary of the Madonna di San Luca
The Sanctuary of the Madonna di San Luca is situated 3 miles south of Bologna centre. But it is well worth the journey.
The basilica's hilltop location offers phenomenal views over the city of Bologna. From up here, you can marvel at the sweeping vistas of the city's delicate terracotta buildings, its ornate belfries and towers, and the beautiful greenery and rolling hills that surround it.
A blackened statue of the Virgin Mary is held inside the basilica. It is this statue that gives the place its name.
The "piece de resistance" of visiting this place is the view. A train runs between Piazza Maggiore and the Sanctuary every 30 minutes.
Go Off-the-Beaten-Path to the Oratory of Battuti
Bologna is filled with ancient churches that await down practically every passageway. Their interiors are adorned with vivid, vibrant frescoes that depict scenes from the bible.
One of the most beguiling, yet frequently overlooked chapels in the city is the Oratory of Battuti. This small chapel is nestled inside the church of Santa Maria Della Vita.
The chapel dates back to the 1600s. Its interiors are filled with incredibly detailed baroque structures that were created by Michelangelo. Look out for the figures of St. Petronius, and St. Proculus.
Most people bypass the church of Santa Maria Della Vita and the Oratory of Battuti. Guidebooks do not list the chapel as one of the recommended things to do in Bologna.
The distinct lack of tourists in these places makes the ambiance even more magical. You can admire the frescoes and carvings beneath a haze of incense and candles.
Schedule a Time to Visit the Museums of Bologna
If you are interested in learning more about Bologna's history, there are several noteworthy museums in the city that make for an interesting visit. Bologna's Archaeological Museum hosts a number of fascinating exhibitions.
The exhibits here display locally excavated artifacts from various civilisations and time periods. Everything from the Ancient Greeks and the Roman Empire to the modern era can be found inside. 
The Museum for the Memory of Ustica is a thought-provoking place. It is dedicated to Italy's biggest conspiracy theory: the "Ustica massacre" (Strage di Ustica).
This tragic incident saw a domestic Italian flight from Bologna to Palermo mysteriously explode. All of those on board lost thier lives.
A number of theories surround the Ustica massacre, each of which is discussed at the museum. The wreckage of the plane is also on display.
Haggle Your Way Through La Piazzola Market
Traditional markets selling food and fresh produce have existed in Bologna for centuries. To this day, they are still a very big part of the local culture.
La Piazzola market in Bologna's Piazza dell'Agosto is made up of over 400 stalls. The vendors here sell an array of clothing and food products.
It has been operating in the square for hundreds of years. Today it is loved by locals and tourists alike.
La Piazzola is just one of several specialty markets in Bologna. Others worth looking out for include the Mercato Delle Erbe food market and the Fiera del Libro book market. 
Admire the Ornate Architecture of the Palace of Archiginnasio
The Palace of Archiginnasio dates back to the 16th century. It exudes grandeur and elegance at every turn.
The building was heavily damaged during a bombing in World War II. However, it has been well reconstructed.
The palace makes for an interesting visit. One of the most interesting things to do in Bologna is to carve time to see its municipal library and anatomical theatre.
Climb the Torre Prendiparte for an Alternative View of the City
As mentioned, Bologna was once home to hundreds of defensive towers. The Torri degli Asinelli e Garisenda are the most famous towers in the city.
The Torre Prendiparte is another well-preserved tower that remains. Visiting the tower is one of the lesser-known things to do in Bologna.
It awaits, hidden among an entangled maze of narrow streets and cobbled passageways. It is possible to climb to the top of the tower for excellent views over old Bologna.
Better yet, some floors of Torre Prendiparte have been renovated into quirky hotel rooms that offer some of the best views in town! This is arguably one of the most unique places to stay while in town.
Where to Stay in Bologna in 2023
Bologna boasts a diverse range of hotels to suit every travel style and budget. A selection of reputable accommodation properties are discussed below.
Hotel Porta San Mamolo
Where: Vicolo del Falcone, 6, 40124 Bologna BO, Italy
Hotel Porta San Mamolo is an adorable, shabby-chic style hotel in the centre of Bologna. The hotel sits inside an elegant, refined building that boasts beautiful interior courtyards, and picturesque gardens.
Breakfast is served in the hotel's lovely garden where you are surrounded by fragrant oleanders and pomegranates. Bologna's two towers can be reached in less than five minutes on foot. You can browse the latest room rates and availability at Hotel Porta San Mamolo here.
Casa Isolani Santo Stefano
Where: Via Santo Stefano, 16, 40125 Bologna BO, Italy
Casa Isolani Santo Stefano is a charming, quaint boutique hotel in the heart of old Bologna. The property is set inside the renovated 18th-century Palazzo Isolani. 
The location places you in the centre of Italy's red city, in close proximity to many of the main attractions. The furnishings are simple, yet homely.
Guests can enjoy views of the Piazza Santo Stefano from their rooms. You can browse the latest rates and availability at Casa Isolani here.
The Best Day Trips from Bologna
There are plenty of things to do in Bologna to keep you occupied for a few days. However, the wider Emilia Romagna region of Italy is also incredibly beautiful. It is very much worth taking the time to see if your schedule permits.
There are numerous medieval settlements and cultural sites right on Bologna's doorstep. The day trips from Bologna detailed below can easily be reached by public transport, or by renting a car in Italy.
Visit Parma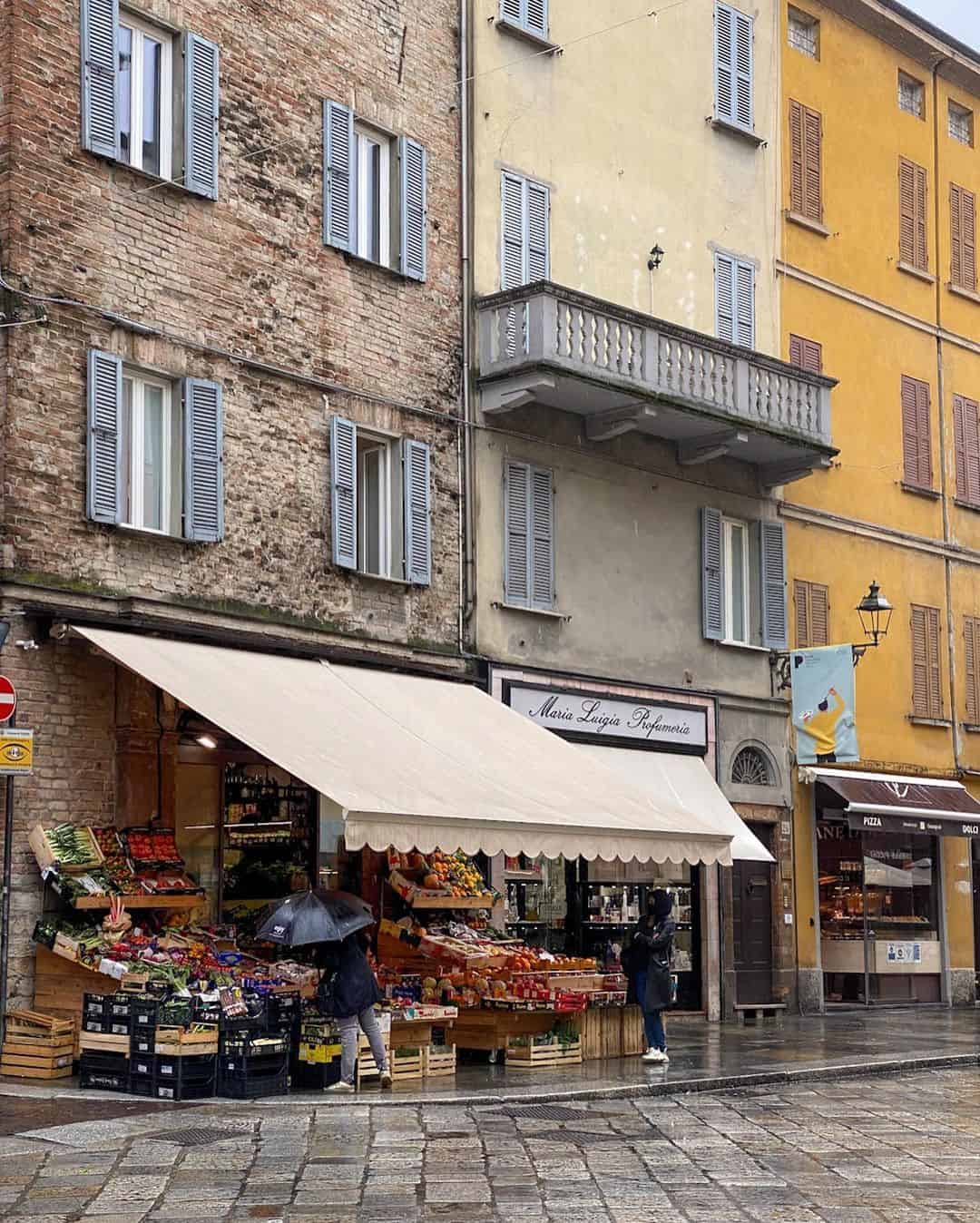 Taking a day trip to Parma is one of the best things to do in Bologna. This is particularly true if you consider yourself quite the gourmand.
Two beloved Italian delicacies were invented here. Namely, prosciutto di parma ham and parmesan cheese.
There are several excellent food tours that take you through Parma if you are interested in discovering all of the best local eateries and delicacies. Alternatively, it is just as enjoyable to explore Parma independently and stop by various trattorias and delis to try different cold cuts, cheese, balsamic vinegar, etc.
If you decide to stay overnight, you can catch a performance at the Teatro Regio Di Parma or the Teatro Farnese. Be sure to take a short walk along the River Torrente Parma from the town centre to the Pilotta Palace.
The grand palace was once home to the noble Farnese family and was sadly, badly damaged during World War II. It is now a ducal palace and a courtyard.
Experience Agriturismo
Agriturismo is a popular vacation pastime in Italy. The intention is for travellers to get back to nature by opting to stay on farms, or in country homes.
This is a perfect way to escape the hustle and bustle of modern living. You can use the Agriturismo Italia website to browse farm stays around Bologna.
Some places offer a rustic escape while others offer absolute luxury. Think about renting a gorgeous cabin on a sprawling estate in the Sammogia Valley, complete with your own jacuzzi, pool, and decadent suite.
Head to the Pastel-Coloured Medieval Town of Brisighella
The pastel-coloured medieval town of Brisighella is a lovely alternative day trip from the Emilia Romagna capital. It sits perched on a hilltop an hour away from Bologna.
This may well just be one of the most beautiful towns in all of Italy. Better still, it is relatively unknown among international tourists!
Charming Brisighella is quite a sight to behold. Its pastel-coloured houses and shops are set amidst a backdrop of rolling green hills, vineyards, and olive groves that extend as far as the eye can see.
The town's silhouette is defined by three hills. At the top of each one, awaits a historical monument and an excellent hiking opportunity that rewards you with breathtaking panoramas for your efforts.
On one, you will find the imposing Rocca Manfrediana fortress (14th century). On the second hill, awaits the Sanctuary of Our Lady of Monticino (18th century), and on the third, a 19th-century clock tower.
Take a Day Trip to Pavarotti's Modena
The underrated city of Modena is the city that gave us Luciano Pavarotti and Balsamic Vinegar. It is well worth visiting on one of your day trips from Bologna.
Start your time in Modena by heading to the city's main square – Piazza Grande. The little streets that veer off from Piazza Grande decorate their windows with stunning displays of the finest silk scarves, Italian leather handbags, and chic apparel.
Head into a local tavern to sample Modena's finest delicacies. You can perhaps order a serving of zampone (stuffed pig's feet) if you are feeling adventurous!
At the Enoteca Ducale store, you can try different blends of locally produced Modena balsamic vinegar. Depending on your interests, you can also admire the finest Italian supercars at the Enzo Ferrari Museum. Alternatively, you can visit Pavarotti's former home. 
Tour a Parmesan Cheese Factory
Parmigiano Reggiano is another Italian delicacy that originated in Emilia Romagna. From Bologna, it is possible to organise a day trip to a local parmesan factory to see how the cheese is produced.
Once created, cheeses are matured for 12, 24, and 36 months, to create different textures and flavours. The cheese is a product of designated origin. There is nowhere else in the world that you would have the opportunity to tour a Parmesan factory!
At the end of the tour, you will have the chance to sample a range of different parmesan cheeses. These are all paired with local condiments, jars of honey, and jams.
Soak up the Summer Sun in Rimini
If you want to enjoy a little respite from the heat and humidity, consider venturing out to the coast. Rimini is a popular beach getaway spot for Italians. It sits on the Adriatic Coast, bordered by translucent cerulean waters.
Relaxing on the pristine coastlines of Rimini is a major draw of most people. However, the area also boasts an Ancient castle, Roman ruins, and beautiful hiking trails.
Getting to Bologna
Getting to Bologna is easy, particularly if you are flying in from the UK or other parts of Western Europe. Bolognas Guglielmo Marconi airport is located just 6km outside of the city centre.
British Airways, Turkish Airlines, Lufthansa, KLM Wizz Air, Ryan Air, and other European carriers and budget airlines offer routes to Bologna. You can often find great low-cost flight details, particularly if you book in advance.
There are no direct flights to Bologna from the USA. So, if you are traveling from outside Europe, it may be easier and cheaper to fly into a larger Italian airport and then take ground transportation.
For example, you can fly into Roma Fiumicino or Milan Malpensa and then take a train to Bologna. From Bologna airport to the city centre, you can take the brand new "People Mover" train that takes you to Stazione Centrale in less than 7 minutes.
Best Things to Do in Bologna: Parting Words
Do you have any further questions about these best things to do in Bologna or planning a trip to Italy? I used to live in Naples and have explored the country quite extensively, taking day trips from Naples and beyond.
I would be happy to answer any queries that you may have so feel free to reach out to me or drop me a comment below. Buon Viaggio! Melissa xo
---